2018's Final Four lineup is so good, it almost makes you forget how exploitative NCAA basketball is
Get the Think newsletter.
The 2017-18 NCAA men's basketball season has been a disaster, pretty much from the get-go. Mere days before the season began in November, word came down that the FBI had arrested four assistant coaches at major universities and had opened up a massive investigation into potentially felonious payments from shoe companies to amateur players, with schools and coaches enriching themselves and their programs as middlemen.
Then, just before the start of the NCAA Tournament — the NCAA signature event and moneymaker — a massive Yahoo Sports report revealed the depths of the alleged corruption, naming specific athletes and programs. The scandal rocked the NCAA in large part not because it was surprising, but because it wasn't; the allegations were widely considered part and parcel of college sports, the price of doing business. The whole business threatened to derail the whole NCAA Tournament.
Except, of course, it didn't. This nightmare college basketball season has been saved by the same thing college basketball is always saved by: The irresistible, almost compulsive allure of the NCAA Tournament itself. College basketball might not be the best sport — the quality of play in the NBA is so much higher you can barely tell it's actually the same athletic activity happening in both — but it absolutely awards its championships in the most consistently satisfying way.
This nightmare college basketball season has been saved by the same thing college basketball is always saved by: The irresistible allure of the NCAA Tournament.
Some years the Super Bowl stinks; some years the World Series is a dud. But the NCAA Tournament — with its 68 teams, from all across the country and featuring an endless supply of fascinating characters and unlikely heroes — always satisfies. It gives sports fans (or just office pool dabblers) a stake in the action, and it is a constant generator of storylines. No matter how angry you might be at college basketball, no matter how fundamentally unfair you may feel the sport is, no matter how absurd it is that coaches sign million-dollar shoe contracts but players are punished for trying to get their often-underprivilged families some money to survive… the tournament always wins you over.
And this year, this is especially true. This tournament has been filled with indelible moments, from stunning buzzer-beaters to superstar individual performances. And this doesn't even include what is arguably the biggest underdog story of the tournament's history: tiny Maryland-Baltimore County defeating Virginia, the first time a No. 16 seed has ever beaten a No. 1 seed. In keeping with this trend, the Final Four is particularly enticing. You have:
Kansas, a classic, blueblood college basketball program, whose first coach happens to be the guy who invented basketball
Villanova, a big-city college basketball school that has over the last half-decade entered the elite top-tier of the sport, culminating in the most exciting ending to a national championship game ever in 2016
Michigan, one of the top brands in college sports, with a massive, affluent alumni base spread all across the country (and the team most likely to have the most fans who travel to San Antonio)
Loyola of Chicago, the most unlikely Final Four team in at least a decade, cheerlead by a beloved nun — the now ubiquitious Sister Jean
If the NCAA was looking to pick four teams to maximize excitement and make people forget about its horrible year, you really couldn't do better than those four. They come from major American cities, they have future NBA stars and scrappy kids you've never heard of, they have romantic and Hollywood-worthy stories — there's even a nun. Nobody wants to be the person screaming about corruption when those Loyola kids are having such a blast. What, do you not like Sister Jean? Why don't you like nuns?
Think about how differently this could have gone for the NCAA. The Final Four, theoretically, could have been filled with teams like Arizona, whose coach Sean Miller was reportedly caught on tape discussing a payment of $100,000 to star player Deandre Ayton, or Auburn, a team coached by a man who has actually been banned from college basketball twice for recruiting violations, returning years later each time. The storyline certainly would have been different had the final featured North Carolina, a blueblood program who just skated on NCAA punishment despite admitting to decades of academic fraud, and Michigan State, a school currently wrapped up in the ugliest college athletics scandal since Penn State.
All four of those schools had excellent teams this year, but none of them sneaked into the Final Four. And so, you will not hear broadcasters Jim Nantz, Bill Raftery and Grant Hill talking about the scandal this weekend, at least not outside any cursory mentions. You will hear about Sister Jean, and Villanova's big shot, and Kansas' history, and Michigan's style of play, and also about Sister Jean and in addition Sister Jean and perhaps a little bit of Sister Jean too. And you will hear about Capital One and Coca-Cola and AT&T and the NCAA's other "corporate champions." And you will probably get a little misty eyed at "One Shining Moment," like you always do.
And they will get away with it again. The NCAA Tournament is the one time a year the letters "N.C.A.A." aren't mud in American sports, and it is this two-week stretch that allows them to get away with everything else the rest of the year.
You will not hear broadcasters talking about the scandal this weekend, at least not outside any cursory mentions. You will hear about Sister Jean, and Villanova's big shot, and Kansas' history, and Michigan's style of play.
College basketball is imbalanced, cruel, unfair and exploitive of the thousands of young men and their families who play these huge games in massive billion-dollar stadiums for the amusement of college presidents and coaches and network executives getting rich off their labor and making sure any money slid under the table to them is duly taken away. We know this 11 months out of the year. But we always forget it in March. The tournament is too much fun. The Final Four is too much of a grand spectacle. Sister Jean is just too damn lovable.
So if you want to know how this corrupt system stays in place, this month is how. (Well, that and because college football is arguably even worse. Nobody tell Sister Jean.)
Will Leitch is a national correspondent for MLB, contributing editor at New York Magazine, host of "The Will Leitch Show" on Sports Illustrated and the founder of Deadspin.
St Vincent volcano: Around 16,000 people flee communities after eruption of La Soufriere | World News
About 16,000 people have had to flee their ash-covered communities after a volcano erupted on the Caribbean island of St Vincent.
The eruption of La Soufriere on Friday has transformed the island's usual lush towns and villages into a gloomy, grey landscape.
It was the 4,000-ft volcano's first major eruption since 1979.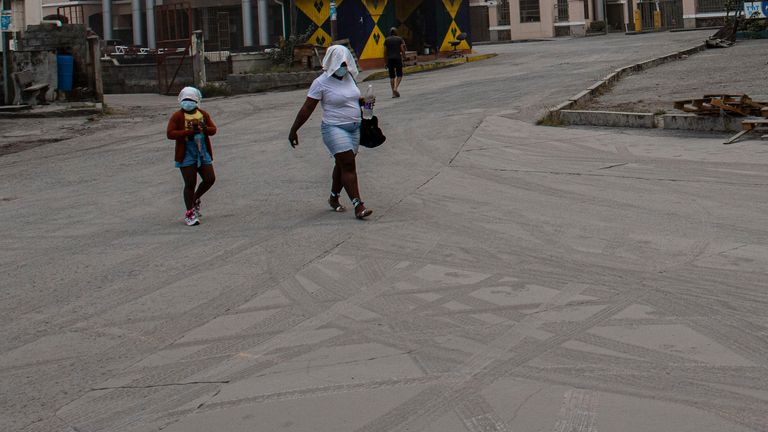 Thousands of residents have had to evacuate their homes and seek shelter with as many belongings as they could stuffed into suitcases and backpacks.
It comes after a strong sulphur smell was unavoidable on Saturday as ash blanketed large parts of the island.
There have been no reports of anyone being killed or injured by the initial blast or those that followed.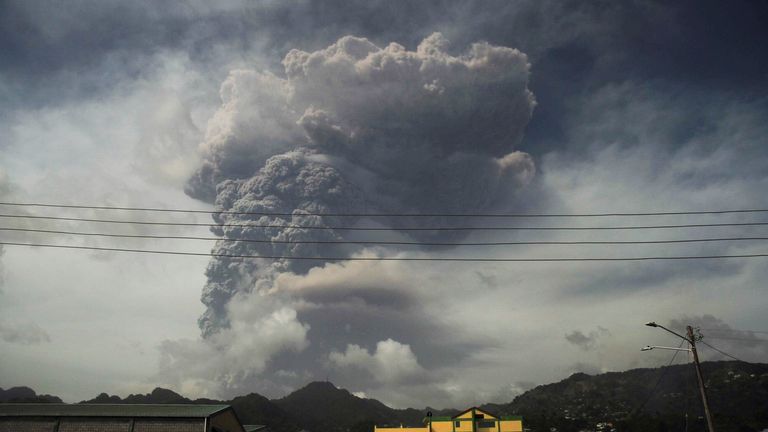 The had government ordered people to evacuate the most high-risk area around the volcano before the eruption after scientists warned that magma was moving close to the surface.
Government authorities delivered water, food and supplies to the shelters where many had fled to.
The island's international airport remained blanketed in ash and smoke on Saturday making the runway barely visible.
Western Australian towns evacuated after tropical cyclone barrels down with 100mph winds | World News
A tropical cyclone has hit the western coast of Australia with winds of more than 100mph (170km) and much of the area put on "red alert".
A spokesman for the Bureau of Meteorology, Todd Smith, said cyclone Seroja was now at category two but had reached "category three cyclone intensity" with damaging winds which would continue into the night.
Emergency services opened shelters in preparation for the high winds and coastal flooding.
Category 2 #TCSeroja rapidly moving southeast. Impacts to the west coast of WA begin this afternoon and inland parts this evening and overnight. Dangerous conditions including destructive wind gusts, intense rainfall and a dangerous storm tide. Latest info https://t.co/bku7VbhoZa pic.twitter.com/UD1DrGfve9

— Bureau of Meteorology, Western Australia (@BOM_WA) April 11, 2021
The Department of Fire and Emergency Services (DFES) said in a bulletin: "There is a possible threat to lives and homes.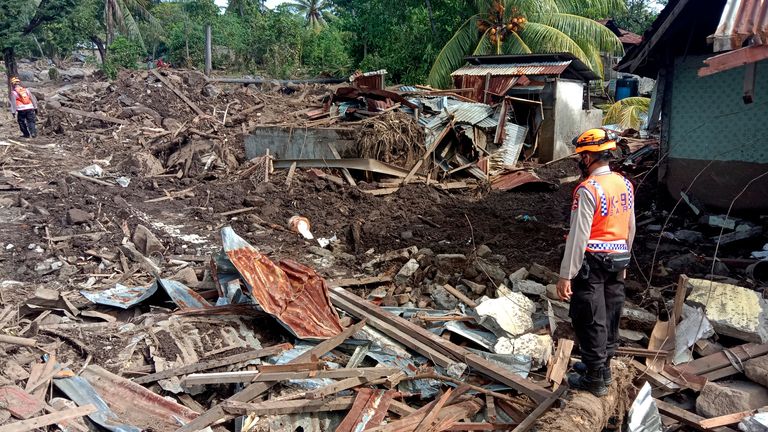 "You need to take action and get ready to shelter."
The DFES has so far put five coastal towns on "red alert".
Some towns north of Perth were evacuated while sandbags were being made available to residents further down the coast.
A category three classification can see wind speeds of up to 170mph (224km).
After touching down on the north western town of Geraldton (124 miles/200km north of Perth) and dumping more than 10cm of rain in just two hours, tropical cyclone Seroja headed inland, lessening slightly in intensity.
However, officials were still braced for a "high degree of damage" to buildings in the area.
A spokesman for the Western Australia emergency services department explained that buildings were not constructed to withstand such strong winds in a region as it typically too far south to fall into the path of cyclones.
Russia: Inside the Kremlin's military build-up along the Ukraine border | World News
At the Maslovka railway station just south of the Russian city of Voronezh, there's a small military camp, a few trucks and a tent.
The clearing in front is rutted thanks to the steady unloading of military equipment in recent weeks.
A soldier recognises us from the day before.
"Hello spies," he said.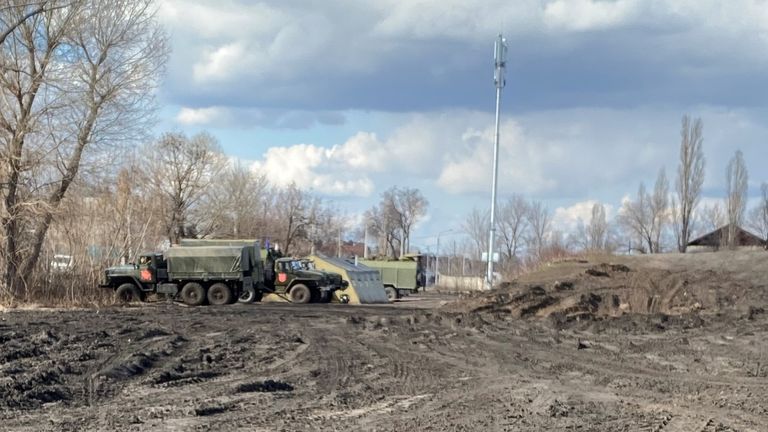 Russia's military build-up in Crimea and along the border with Ukraine has hardly been subtle.
It has coincided with the breakdown of the latest ceasefire in the simmering conflict between Ukraine and Russian-backed separatists in eastern Ukraine.
More and more videos have appeared on social media of Russian troop movements – artillery convoys along the bridge connecting Russia with Crimea; trains loaded with weaponry coming from as far east as Siberia.
These sightings from ordinary Russians alongside warnings from Ukrainian generals preceded the Russian military's announcement of exercises in the region and sent alarm bells ringing across Western capitals.
The kit unloaded at Maslovka is headed to a nearby training ground, which has been turned into a huge military field camp.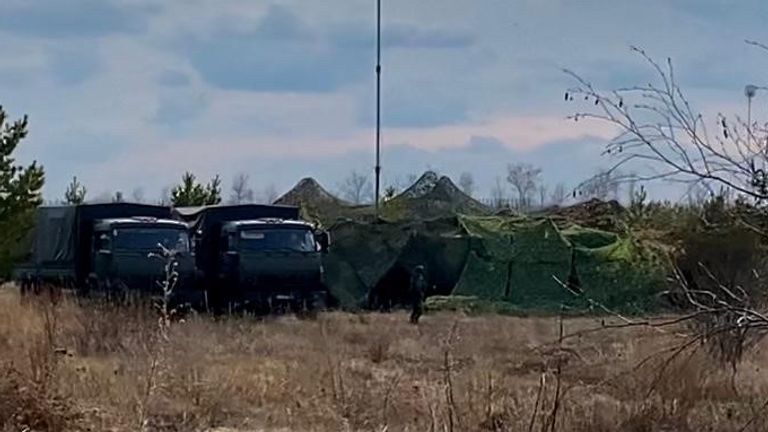 It stretches for around a mile and a half and backs right onto a neighbourhood of dachas, the weekend homes of mostly Voronezh city-folk who tell us the build-up began in late March.
We accidentally drive right in, though the soldiers make no effort to come after us.
There are a large number of military trucks, row after row of tents, troops milling about.
The sign at the entrance is one that most Russian conscripts remember from military service – "Difficult on exercise, easier in the fight".
The site was first identified through open source methods by the Conflict Intelligence Team (CIT) in Moscow.
"It looks more like preparing for an offensive operation, not just to protect our land," CIT's Ruslan Leviev told us in Moscow.
But he does not believe it's a prelude to war.
"It looks like a show of force to put pressure on the Ukrainian government, to show your posture on the international stage, to show your position to the new American administration."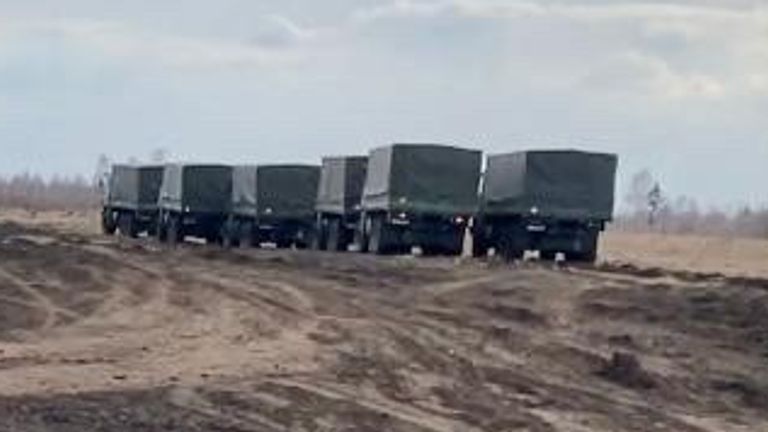 Locals pottering around their dachas hardly spare a thought for the military build-up next door.
"If Zelensky (the Ukrainian president) isn't a fool, then nothing will happen. If he is a fool, anything could happen," said Nina, a pensioner who we meet watering her garden.
"'Anyway, it's not him who decides things, it's the Americans."
She does not want to give her surname.
"I hope I haven't revealed any military secrets," she added.
"There are always exercises here, every summer," said Yuri, a local guard.
"Stop all this talk of war."
But there are not exercises on this scale.
Neither here nor elsewhere along Russia's border with Ukraine.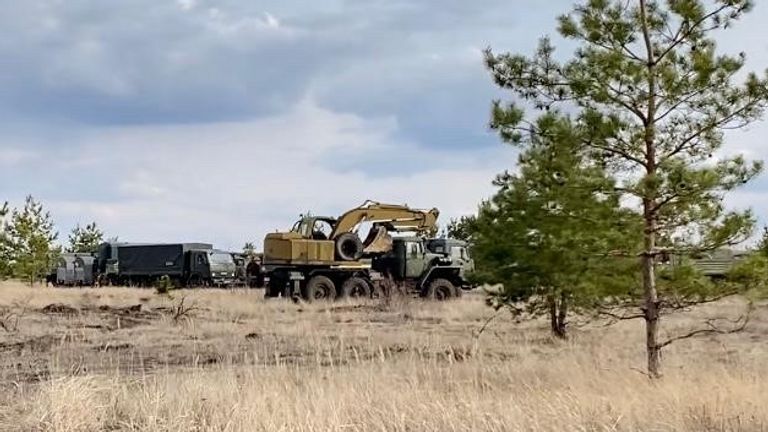 Not since the annexation of Crimea has Russia beefed up its presence there to this extent, re-deploying an air brigade from near the Estonian border and sending 10 naval vessels from the Caspian to reinforce the Black Sea fleet.
In response, the US has announced it will send two warships into the Black Sea.
The German chancellor asked Vladimir Putin this week to wind down the military build-up.
This Sunday after consultations with his US counterpart, Britain's Foreign Secretary Dominic Raab tweeted the same.
It does not appear to be happening.
The Russian position is clear. What happens on Russian soil is Russia's business.
It is hard to argue with that.
The UK 🇬🇧 & US 🇺🇸 firmly oppose Russia's campaign to destabilise Ukraine. @SecBlinken & I agreed Russia must immediately de-escalate the situation & live up to the international commitments that it signed up to at @OSCE. Our support for Ukraine's sovereignty is unwavering.

— Dominic Raab (@DominicRaab) April 11, 2021
But ostentatious muscle-flexing around Ukraine is not an option for the West to ignore – the stakes are too high, they are for all involved.
Ukraine's leader Volodymyr Zelensky may clamour for fast-track NATO membership but he will not get it.
For all their loud protestations over NATO's possible eastward-creep, the Kremlin knows that.
US President Joe Biden may declare his unwavering support for Ukraine's territorial sovereignty and integrity but he will be wary of walking anywhere near potential conflict with Russia.
Ukraine president visits Donbas region amid tensions

And surrounded as he is by Russian forces, president Zelensky knows re-taking the country's eastern Donbas region, parts of which are held by separatists, is wishful thinking as is any large-scale fight with his powerful neighbour to the East.
It is of course hard to know what Russia is playing at but they seem to be eyeing the long game.
Coercive diplomacy to extract concessions in negotiations on Donbas, a powerful display of military muscle for the new US administration to take note of while the de facto annexation of the separatist regions of Ukraine chugs along apace.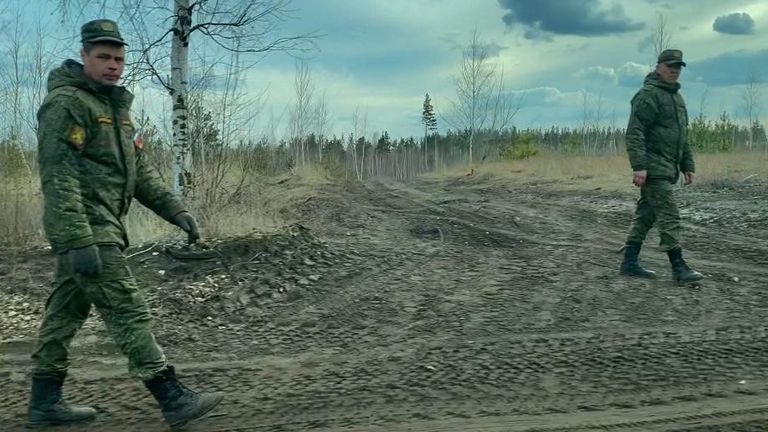 According to Russian state news agency Ria Novosti, 420,000 people in the Donetsk and Luhansk people's republics have already received Russian passports.
Russia is aiming for one million by parliamentary elections this September.
"It's unifying their legislation with the Russian one, it's providing them with the Russian vaccine, it's providing them with passports. It doesn't mean Russia wants to annex them," said Maxim Samorukov from the Moscow Carnegie Institute.
"At least in the near future," he added.
It also provides quite the justification for full-scale intervention should Russia's calculus change.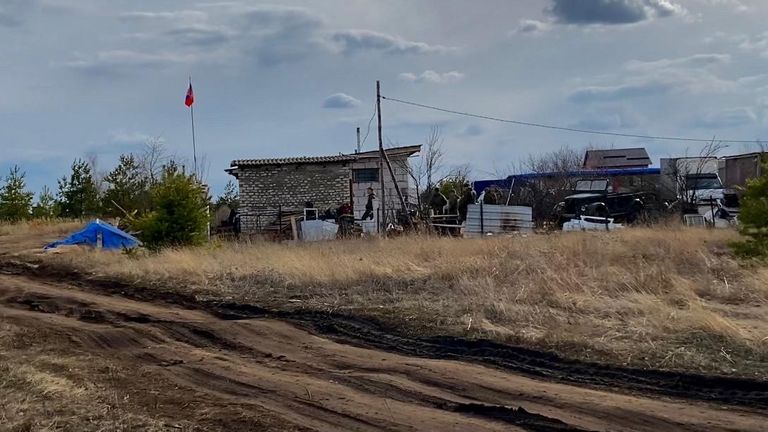 President Putin has said allowing Ukrainian troops along Russia's border with the separatist regions could lead to a Srebrenica-type massacre – the 1995 genocide of more than 8,000 Bosnian Muslims by Bosnian Serb forces.
Dmitry Kozak, Russia's representative in negotiations on Ukraine, has threatened that a Ukrainian assault on Donbas would be a '"self-inflicted gunshot wound in the foot and to the head".
"If the Srebrenica massacre takes place there, we will have to stand up for their defence," he said.
Sharp rhetoric to match an aggressive display of military might.
All in the interests of deterrence? Perhaps.
But also an indication that eight years of sanctions has hardly served to deter Russia from at the very least flexing its muscles, if not more.