Trump hails 'great progress' ahead of meeting with Kim Jong Un
Donald Trump has hailed the "great progress" made with North Korea after agreeing to meet with Kim Jong Un by May this year.
In an extraordinary turn of events, he confirmed on Twitter that a meeting was being planned despite the two leaders trading insults for months and economic sanctions on North Korea being ramped up in response to its nuclear weapons programme.
President Trump had previously threatened "fire and fury" in response to threats from North Korea. Mr Trump also referred to the North Korean leader as "Little Rocket Man".
But on Friday, the US leader tweeted: "Kim Jong Un talked about denuclearisation with the South Korean representatives, not just a freeze.
"Also, no missile testing by North Korea during this period of time. Great progress being made but sanctions will remain until an agreement is reached. Meeting being planned!"
It comes after South Korea's national security adviser Chung Eui Yong announced at the White House Mr Kim's desire to meet with Mr Trump following talks in Pyongyang on Monday.
"He (Mr Kim) expressed his eagerness to meet President Trump as soon as possible," said the South Korean official. "President Trump appreciated the briefing and said he would meet Kim Jong Un by May to achieve permanent denuclearisation."
Mr Chung also said Mr Kim had vowed that his country would "refrain from any further nuclear or missile test" and that he was "committed to denuclearisation".
He said North Korea understood routine military exercises carried out by the US and South Korea must continue and that there would be continuing pressure on the country until it makes "concrete actions".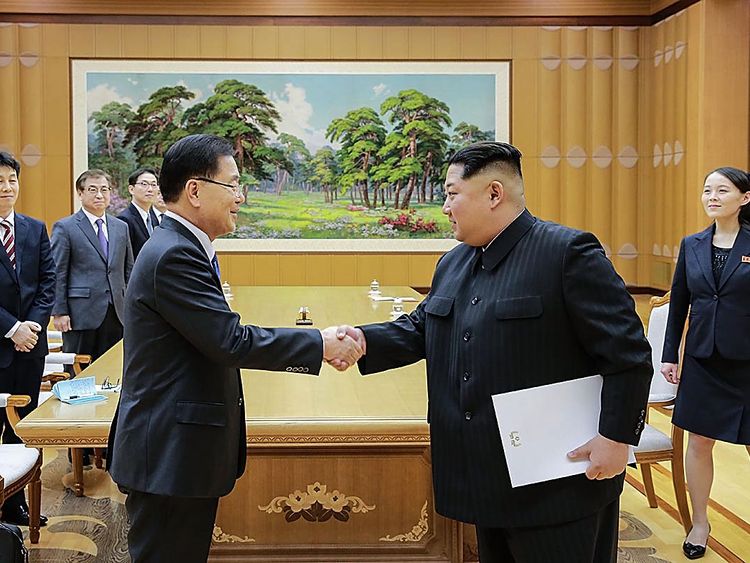 The White House confirmed a meeting between the two would be held "at a place and time to be determined".
South Korean President Moon Jae In said a meeting between Mr Trump and Mr Kim would be a "historical milestone" that will put the denuclearisation of the Korean Peninsula "really on track".
Mr Moon also complimented Mr Trump for accepting Mr Kim's invitation for a summit, saying Mr Trump's leadership will be praised "not only by the residents of South and North Korea but every peace-loving person around the world".
No serving US President has ever met with a North Korean leader and the two countries do not have formal diplomatic relations.
The nations are still technically at war following the 1950-1953 Korean War, which ended with an armistice and not a peace treaty.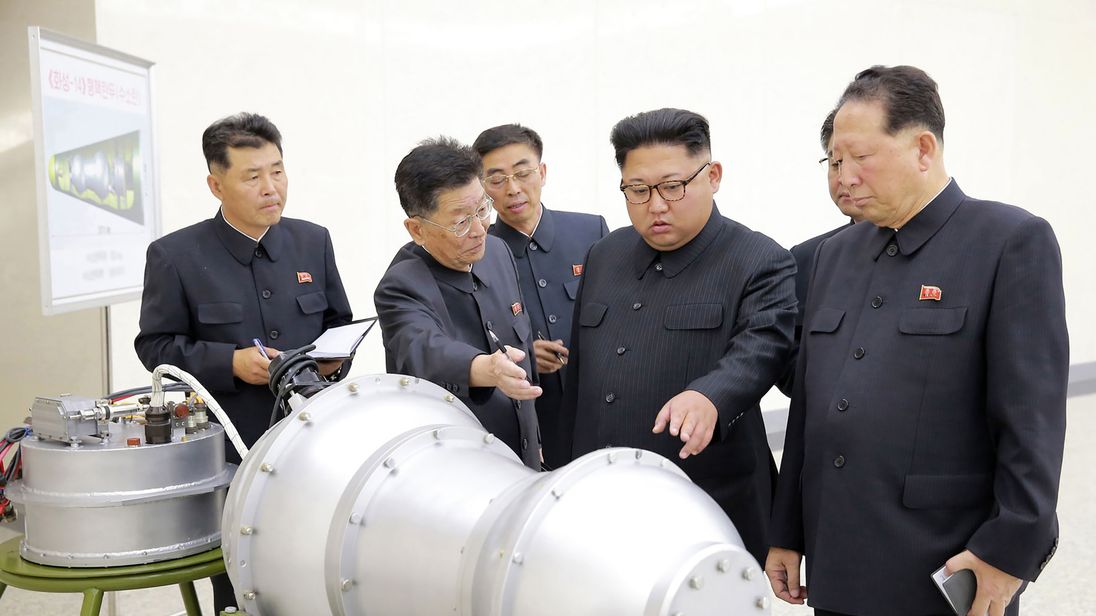 The latest attempt to open a dialogue between the two countries comes after Mr Kim hit out at the US in his New Year's address and referred to the "nuclear button" on his office desk.
Mr Trump later tweeted that he had a nuclear button too that was a "much bigger and more powerful one than his, and my button works!"
Former US ambassador to South Korea Christopher Hill said North Korea's invitation was "quite extraordinary".
He told Sky News: "I spent four years negotiating with the North Koreans as part of the six-party talks and I can tell you we never had a moment anything close to this.
"Certainly, the North Koreans have invited American heads of state before but this is the first time an American head of state has said 'sure I'll go' – so this is really quite extraordinary."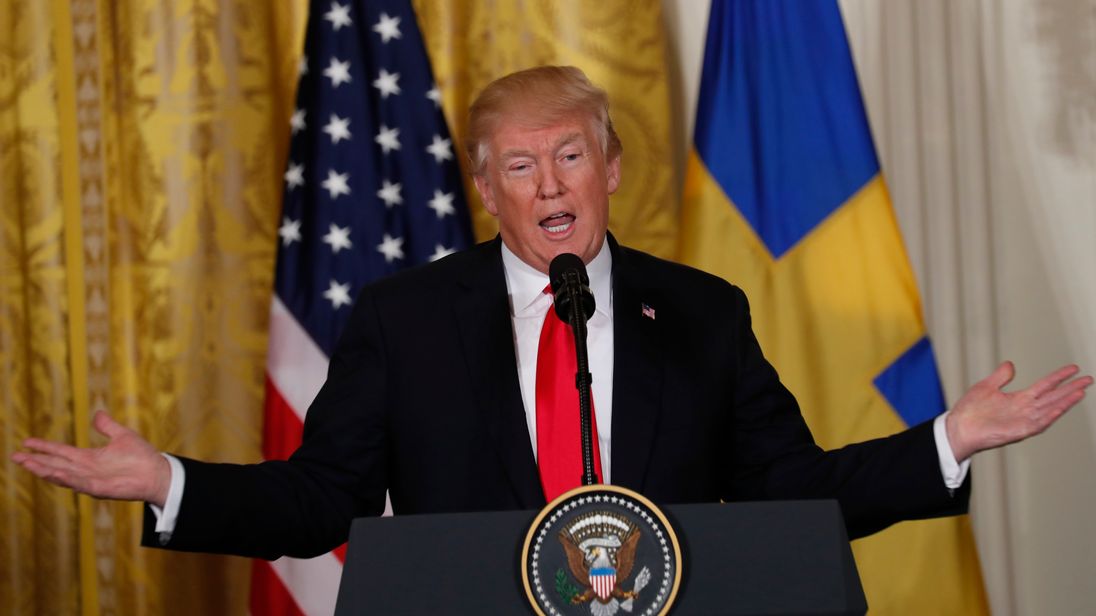 Sky News Correspondent Mark Austin said the timing of the meeting was "bizarre to say the least".
"He's had this invitation today, he's accepted it today and he's said he's going to meet by May. Now, by any standards, that is an incredibly quick decision to make on something as important as this," he said.
"Most summit meetings take place after months and months of preparatory meetings by lower level officials – now there's not time for that in this case."
He added: "It may be that Donald Trump is anxious to get this photocall and get things moving… It will take months and months and months to come to any sort of deal with North Korea on this. The Americans will go in with acute suspicion and they'll be wondering why on earth there's been this sudden turn around by Kim Jong Un.
"It's all very odd and we should treat it with suspicion."
Leading Republican senator Lindsey Graham hailed Mr Trump's North Korea strategy and warned Mr Kim not to "try and play" the US President when they meet, with it being "the worst possible thing you can do".
"If you do that, it will be the end of you – and your regime," he added in a statement on Twitter.
Airstrikes launched against Hamas after incendiary devices are sent into Israel | World News
Israel has launched airstrikes in Gaza less than a month after a ceasefire agreement was reached.
The move, also the first strikes under the new Israeli government, came after incendiary balloons were launched from Palestinian territory.
The balloon launches appeared to be in retaliation for a march on Tuesday in East Jerusalem where Jewish nationalists celebrated Israel's capture of the area in 1967.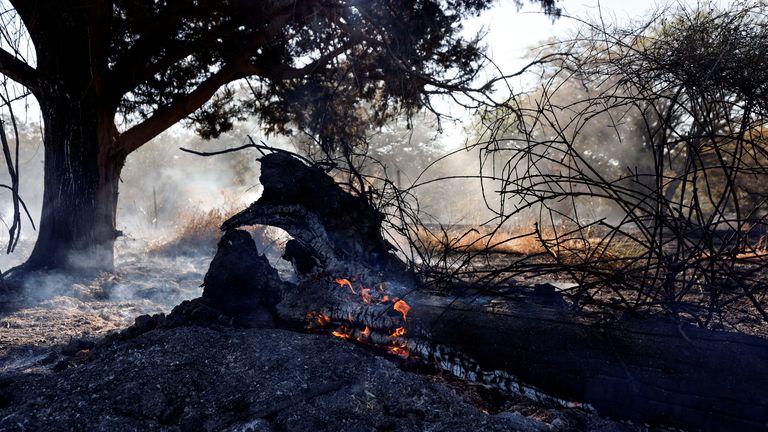 Palestinians consider the march a provocation and it sparked threats of action from Hamas.
Israel said the balloon launches had caused 20 fires in open fields in communities near the Gaza border.
Commenting on Tuesday's air strikes, the Israel Defense Forces said jets attacked Hamas military complexes that "served as camps and meeting places for terrorist operatives".
"The attack was carried out in response to the inflating of incendiary balloons into Israeli territory," it added.
"The terrorist organization Hamas is responsible for what is happening in the Gaza Strip and will bear the consequences of its actions.
"The IDF is prepared for all scenarios, including the resumption of hostilities, in the face of continued terrorist operations from the Gaza Strip."
Jerusalem is claimed by both sides – Israel regards the city as its capital, having occupied the east in the 1967 war and annexed it in 1980.
But Palestinians want East Jerusalem to be the capital of a future state that would include Gaza and the West Bank.
A spokesman for Hamas said on Tuesday that Palestinians would continue their "brave resistance and defend their rights and sacred sites" in Jerusalem.
The renewing of tensions provides a challenge for Israel's new prime minister Naftali Bennett, a nationalist who presides over a diverse but delicate coalition government.
The government was sworn in on Sunday and one of the first problems was whether to cancel the Israeli march – there were concerns it would spark tensions but also that cancelling would be seen as giving in to Hamas.
Previously the march has passed through Damascus Gate and into the heart of the Muslim Quarter but police changed the route to avoid the Muslim Quarter on Tuesday.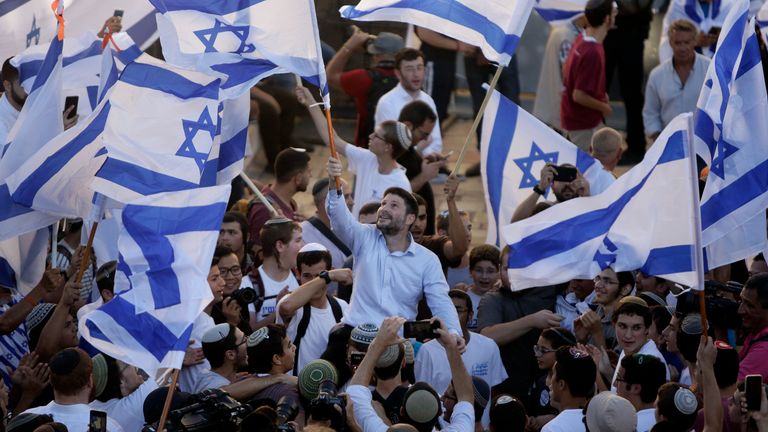 But not every party in the coalition agreed with the decision to let the march go ahead.
Mansour Abbas's Raam party is the first Arab faction to be part of an Israeli coalition and he said the march should have been cancelled.
He described it as "an attempt to set the region on fire for political aims", adding: "I call on all sides not to be dragged into an escalation and maintain maximum restraint."
United Nations deputy spokesman Farhan Haq said UN officials have urged all sides to avoid "provocations" in order to solidify the informal cease-fire that halted last month's 11-day Gaza conflict.
COVID-19: New York returns to 'life as we know it' as state hits 70% adult vaccination target | World News
New York is returning to "life as we know it" after at least 70% of adults in the state have received at least one COVID jab, its governor has said.
Andrew Cuomo announced on Tuesday he is lifting virtually all remaining COVID-19 restrictions for businesses and social settings.
It comes on the day the US, the worst-affected country during the global pandemic, hit another grim milestone as the number of people who have died passed 600,000 from more than 33 million cases.
Latest COVID news from the UK and around the world
Today New York State reached our goal of 70% adult vaccination.

That means we can return to life as we know it.

Effective immediately, state-mandated COVID restrictions are lifted across commercial and social settings. pic.twitter.com/sMdqkSJ6h5

— Andrew Cuomo (@NYGovCuomo) June 15, 2021
Addressing an invited audience at the World Trade Centre, Mr Cuomo said: "What does 70% mean? It means that we can now return to life as we know it."
COVID restrictions are being lifted across more than a dozen commercial and social settings, including childcare, camps, food services, offices, real estate, amusement, gyms and more, Mr Cuomo said.
The state is immediately lifting restrictions that limited the size of gatherings and forced some businesses to follow cleaning protocols, take people's temperatures or screen them for recent COVID-19 symptoms.
Firms no longer have to adhere to social distancing rules or limits on the number of people allowed inside.
But for the time being, masks will still need to be worn in schools, subways, large venues, homeless shelters, hospitals, nursing homes and prisons.
Fireworks displays will be held across the state on Tuesday evening to honour essential workers, Mr Cuomo said, with bridges, along with the Empire State Building, lit blue and gold.
Good morning California.

It's reopening day.

We've administered over 40 million vaccines.

Now…

No more social distancing.

No more capacity limits.

No more colors or county tiers.

And if you're vaccinated—no more masks.

It's a good day.

— Gavin Newsom (@GavinNewsom) June 15, 2021
Mr Cuomo said: "It's our way of saying thank you all across the state. I'll tell you how to honour essential workers. You get vaccinated so you don't need the essential workers again."
Half of all 20 million residents in New York are fully vaccinated, according to government figures released on Monday, while about 58% of residents of all ages have at least one dose of the COVID-19 vaccine.
The city has been averaging around 450 new coronavirus cases a day over the last week, the lowest level since the pandemic began.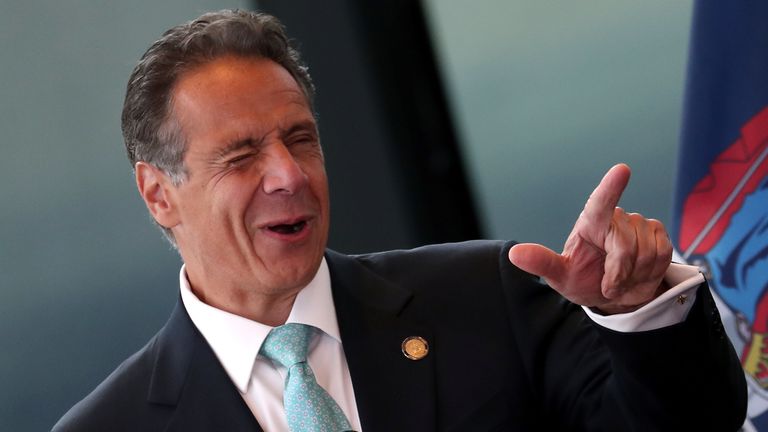 Vaccination rates are particularly low in parts of the state that were hit hard by the winter coronavirus surge, including parts of New York City and rural counties in western and central New York.
California, the most populous US state and the first to impose a coronavirus lockdown, has also dropped state rules on social distancing and limits on capacity at restaurants, bars, supermarkets, gyms, stadiums and other places, governor Gavin Newsom said on Tuesday.
Passing 600,000 means the US death toll is now more than the population of cities such as Baltimore or Milwaukee and about equal to the number of Americans who died of cancer in 2019.
Worldwide, about 3.8 million people have died from COVID-19.
Climate protester parachutes on to pitch at Euro 2020 game | World News
A climate change protester parachuted into the stadium and landed on the pitch before Germany's Euro 2020 game against France.
He appeared to parasail from the roof on to the turf at the Allianz Arena in Munich using a bright yellow parachute with the slogan "Kick out oil Greenpeace" written on it.
The man was quickly met by security staff and given medical attention on the side of the field.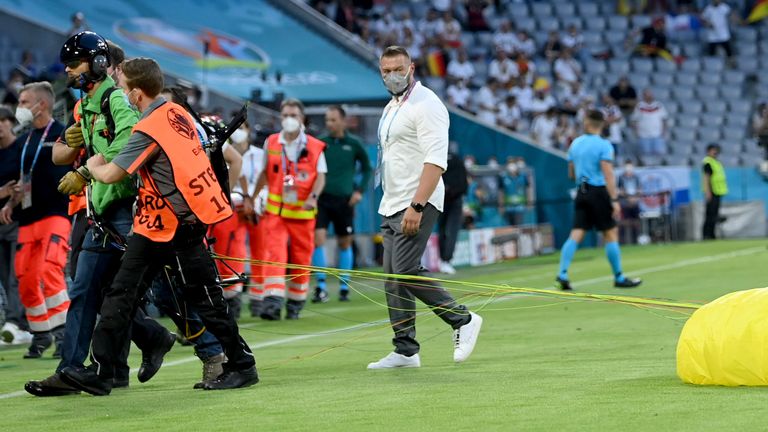 Kick-off in the group F match was not delayed and the game started as scheduled at 8pm UK time.