U.S. vs. the world: Here's what a trade war over tariffs looks like
WASHINGTON — President Donald Trump could finalize new tariffs on imported steel and aluminum as soon as Thursday as he looks to make good on years of fiery threats to confront allies and rivals alike on trade policy.
Trump's plan has unsettled stock markets and scrambled political alliances, with Republican leaders like House Speaker Paul Ryan, R-Wis., criticizing the tariffs and Democrats like Sen. Sherrod Brown, D-Ohio, talking them up. Trump's top economic adviser, Gary Cohn, who reportedly opposed the tariffs, resigned over the issue.
The large tariffs will impact the American economy and could touch off a trade war, with other countries already threatening to respond in kind. Here's what you need to know.
What is Trump doing?
While the White House has not officially announced its plan and observers are eagerly awaiting the details, the president has said he intends to impose a tariff of 25 percent on steel imports and 10 percent on aluminum imports.
Trump tweeted Thursday morning about an afternoon meeting at the White House on the issue in which he vowed to protect the steel and aluminum industries while at the same time showing flexibility toward the U.S.'s "real friends."
The president's tariff initiative comes after the Commerce Department, led by Secretary Wilbur Ross, released a report declaring that current levels of steel and aluminum imports threatened national security and recommending tariffs and quotas on imports to protect the industries at home. Under Section 232 of the 1962 Trade Expansion Act, the White House can take action to confront such threats, but it's been invoked only rarely to confront oil crises in the '70s and '80s.
Who do tariffs help?
The immediate beneficiaries are likely steel and aluminum companies, which will now be able to sell their product at cheaper prices in the U.S. relative to foreign competitors. U.S. Steel announced it would send 500 idled workers to an Illinois plant in response to Trump's plan.
The industry has long complained that it's been undermined by overproduction of steel in China, which the Commerce Department says is "by far" the largest contributor toward 700 million tons of excess steel capacity worldwide. While China represents only a small fraction of steel imports to America, critics say it and other countries distort the global market by subsidizing cheap steel in order to build up their industry at home and muscle out rivals abroad.
"We put those duties in place and we can help industries recover," Robert Scott, an economist at the Economic Policy Institute who is broadly supportive of the tariffs, told NBC News. "It leads to more investment, it leads to increasing employment."
Who gets hurt?
Companies that rely on steel and aluminum to make their products, from auto manufacturers to construction firms, will face higher costs that could cause them to raise prices or cut jobs. Beer companies, which use aluminum in their cans, are livid.
Since there are vastly more businesses that use steel and aluminum rather than produce it (the American Iron and Steel Institute estimates there are 140,000 jobs in the industry), most economists expect the tariffs to hurt growth, if only modestly.
But the bigger fear for the economy isn't the tariffs — it's what other countries might do in response and whether it leads to a broader trade war.
What's a 'trade war'?
Trade is based on reciprocity. Countries agree to lower tariffs together and when one throws up a new barrier, their trading partners have the option to respond in kind. That means the United States could be vulnerable to retaliation if it goes ahead with tariffs, which other countries are likely to challenge as a violation of existing agreements.
The European Union is already weighing its own 25 percent tariffs on $3.5 billion of iconic American products in politically sensitive U.S. states.
"We will put tariffs on Harley-Davidson, on bourbon and on blue jeans, Levis," European Commission President Jean-Claude Juncker said in a German TV interview.
But Trump's position is that its tariffs are justified, which means the White House could declare everyone else's retaliation illegitimate and escalate tariffs further. Trump, who said recently that "trade wars are good" on Twitter, has already threatened Europe with a tax on imported autos in response.
"If it does get out of hand to some degree, where there's tit-for-tat with a lot of countries, it will have some impact on the economy," said Claude Barfield, a trade policy scholar at the American Enterprise Institute.
In addition to affecting goods that are hit with tariffs, the uncertainty created by a trade war could spook investors, who worry about fallout. A company might think twice about opening that factory to roll out a new product line for European markets if they are concerned that European countries are about to throw up a bunch of tariffs.
Has it happened before?
There hasn't been a full-blown, no-holds-barred trade war since after World War II, when countries began opening up their markets and joining international agreements. The free trade movement, led by the United States, was in part a response to the Great Depression, in which economists blamed a global cycle of tariffs for prolonging the downturn.
But there have been plenty of smaller disputes over tariffs and trade barriers, including over steel.
In 2002, President George W. Bush imposed steel tariffs as high as 30 percent in response to a surge of imports. Japan and European countries challenged their legality at the World Trade Organization, which ruled against the United States, and Bush ended up withdrawing them in 2003 before the countries acted on their threats to retaliate.
Bush declared victory at the time, saying steel companies had gained time to reorganize. But advisers concluded that the tariffs had also been a drag on the economy, costing it more in jobs than they were worth.
"The results were not what we anticipated in terms of its impact on the economy or jobs," Bush's chief of staff at the time, Andy Card, recently told the Washington Post. The United States International Trade Commission issued a report estimating the tariffs had reduced overall GDP by about a negligible $30 million.
Have past presidents done this?
Not really.
For one thing, Bush exempted certain products from allies like Mexico and Canada, which imports the most steel into the U.S., and it remains unclear if Trump will grant those two trading partners or other allies carve outs to his tariffs. On Wednesday, White House Press Secretary Sarah Huckabee Sanders said it was possible those nations could be granted exceptions but she made no commitment.
Trump's team also includes more prominent trade skeptics and the president has been far more hostile to free trade in his rhetoric than Bush or any other postwar president, which could inform the administration's future moves and raise tensions with allies.
The nature of the White House's legal complaints is also different than in the past in an important way. The Bush administration cited a provision of trade law allowing the White House to respond to a sudden increase in imports. The Trump administration is invoking national security as the reason for the tariffs, which trade experts say is unusual and harder for other countries to legally challenge before the WTO.
Few countries are likely to accept Trump's stated rationale, but the president could set a precedent for rivals like China to make similar security claims to justify tariffs on anything from minerals to agriculture.
"It has not been litigated, ever," said Julian Arato, an Assistant Professor at Brooklyn Law School who researches trade policy. "If you push this far enough, you risk undermining the system."
Joe Biden-Vladimir Putin summit: Leaders agree to return ambassadors to posts in bid to lower tensions | World News
Russia's Vladimir Putin says he and US President Joe Biden have agreed to return their ambassadors to their respective posts in an attempt to lower tensions.
It comes after around four hours of talks between the leaders at a summit in Switzerland.
The two men have had face-to-face discussions at a villa on the shores of Lake Geneva.
The first round of talks involved both leaders, US Secretary of State Anthony Blinken, Russian Foreign Minister Sergei Lavrov and a pair of translators.
A second session involved other senior officials on both sides.
Putin and Biden meet in Geneva

President Biden gave a thumbs up as he left the villa and then entered his limousine, TV footage showed.
Diplomats deemed it to be too risky for them to appear together because of the potential of an embarrassing public spat in response to media questions.
Opening the talks earlier, Mr Putin said he hoped for a "productive" meeting, while Mr Biden called it a discussion between "two great powers" and insisted "it is always better to meet face to face".
As they appeared together for the first time since 2011, both men appeared to avoid looking directly at the other during a brief and chaotic photocall before jostling reporters and photographers.
Mr Biden instigated the summit, and for months the two leaders have criticised each other.
Biden: Putin is a worthy adversary

Mr Biden has repeatedly called out Mr Putin for malicious cyberattacks by Russian-based hackers on US interests, a disregard for democracy with the jailing of Kremlin critic Alexei Navalny and alleged interference in American elections.
Mr Putin, in turn, has pointed to the US Capitol riot on 6 January to argue America has no business lecturing on democratic norms.
And he insisted the Russian government has not been involved in any election interference or cyberattacks despite US intelligence showing otherwise.
Russia's View: Exclusive interview with Putin

The jailing of Mr Navalny, whose novichok poisoning was blamed on the Kremlin, was a subject on which Mr Biden was unlikely to get much traction with Mr Putin who considers the case an internal Russian affair.
But there were areas where cooperation was expected. They include arms control, climate change, containing Iran's nuclear ambitions, humanitarian assistance to Syrians and working together on the COVID-19 pandemic.
US-Russia summit: Putin hopes for 'productive' meeting and Biden says it is 'better to meet face to face' as event gets under way | World News
US President Joe Biden and Russia's Vladimir Putin have embarked on hours of face-to-face talks at a lakeside mansion in Switzerland.
Opening the talks, Mr Putin said he hoped for a "productive" meeting, as Mr Biden insisted "it is always better to meet face to face".
Their encounter at a villa on the shores of Lake Geneva is full of the potential for high drama but low on expectations for diplomatic breakthroughs.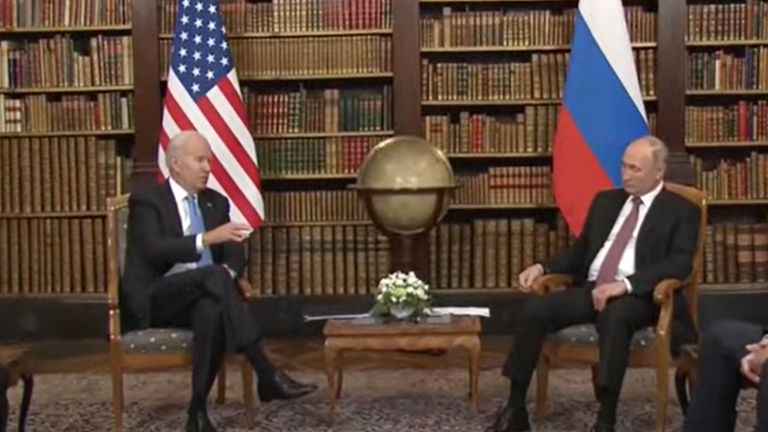 As they appeared together for the first time since 2011, both men appeared to avoid looking directly at the other during a brief and chaotic photocall before jostling reporters and photographers.
When a reporter asked if Mr Putin could be trusted, Mr Biden appeared to nod, but the White House quickly sent out a tweet insisting the president was "very clearly not responding to any one question, but nodding in acknowledgment to the press generally".
Mr Putin ignored shouted questions from reporters.
The two leaders shook hands with Mr Biden extending his hand first.
Shortly before, Mr Biden had smiled at the Russian leader when they posed with Swiss President Guy Parmelin, who welcomed them to Switzerland for the summit.
The meeting, which is expected to last four or five hours in total, comes at the end of Mr Biden's first foreign trip as US president which has taken him to Cornwall for the G7 meeting and Brussels for separate NATO and EU summits.
About two hours in, the Kremlin announced that the first round of talks had concluded, with a short break, followed by their resumption with a larger group of people in attendance – the first of two such rounds.
The first meeting involved the two leaders, US Secretary of State Anthony Blinken, Russian Foreign Minister Sergei Lavrov and a pair of translators.
At all of these meetings, messages have been moulded and red lines set by western leaders which sources say Mr Biden will spell out to Mr Putin.
Ukraine, Belarus, Iran, Syria and issues like arms proliferation are all expected to be discussed as well as behaviour by Russia which western nations consider to be contrary to the so-called international rules based system.
The fate of Russian opposition leader Alexei Navalny, poisoned then imprisoned in Russia, will be raised by the American president. It is a subject on which he is unlikely to get much traction with his Russian counterpart who considers the case an internal Russian affair.
Russia's View: Exclusive interview with Putin

But domestically for Mr Biden, who is facing criticism for agreeing to a meeting with Mr Putin so early in his presidency, it's important to be seen to be pressuring the Russians.
The US president, who famously called Mr Putin "a killer" has conceded already that there is "no guarantee" that the meeting will effect any change of behaviour by the Russian president.
As well as the Navalny case, the poisoning of former Russian spy Sergei Skripal and his daughter in Salisbury in 2018 is likely to feature in the talks.
Defence rivalry will be a key issue with an attempt at a new dialogue on arms control. Issues like the territorial control in the Arctic, space, cyber and autonomous weapons systems could all be up for discussion.
Andrey Kortunov is director general of the Russian International Affairs Council and considered to be a Kremlin insider.
He told Sky News: "They will not resolve these issues in Geneva, they might only authorise their respective bureaucrats and military and diplomats to get into a serious conversation on all of these issues. That would be already a major accomplishment."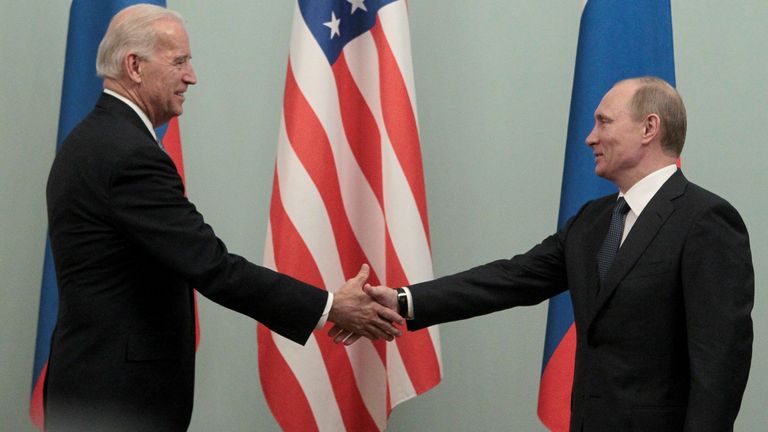 He continued: "I think that Biden and Putin will probably articulate their positions on issues like Ukraine or Belarus too. But it's hard to believe that they can achieve a breakthrough on such sensitive issues."
Expectations by diplomats on both sides are being kept intentionally low. From that base it's possible to build up even small wins as diplomatic breakthroughs.
There is a chance that the two leaders could agree to repair the basic mechanics of their bilateral relationship by reinstalling ambassadors in their respective capitals. But beyond that sort of gesture, bigger announcements are not likely.
On Monday, Mr Biden said he will make clear to Putin "what the red lines are" and "if he chooses not to cooperate and acts in a way that he has in the past relative to cybersecurity and some other activities, then we will respond in kind."
Asked for his assessment of the former KGB officer, Mr Biden said: "He's bright, he's tough, and I have found that he is a – as they say when I used to play ball – a worthy adversary."
Biden: Putin is a worthy adversary

The meeting, which was initiated by President Biden, has been arranged over just a few weeks and will involve one-plus-one talks with Mr Putin and his Foreign Minister Sergei Lavrov and Mr Biden and his Secretary of State Anthony Blinken.
A second session will then include other senior officials on both sides.
The two leaders will not hold a joint news conference. Diplomats deem it to be too risky for them to appear together because of the potential of an embarrassing public spat in response to media questions.
"Definitely the summit was prepared in a haste. It's the very beginning (of the relationship). And it's going to be a modest beginning especially for Biden. He cannot look as if he yielded too much to the Russian counterpart," Mr Kortunov told Sky News.
There are areas where cooperation is expected. They include arms control, climate change, containing Iran's nuclear ambitions, humanitarian assistance to Syrians and working together on the COVID-19 pandemic.
Nora Quoirin: Malaysia court overturns coroner's verdict that teen's death was misadventure | UK News
A High Court in Malaysia has overturned a coroner's verdict that the death of French-Irish teenager, Nora Quoirin, was likely misadventure with no one else involved.
The 15-year-old, who lived in Balham, in southwest London, was staying with her family at a hotel around an hour from the capital, Kuala Lumpur, when she disappeared in August 2019.
After a ten-day search, her body was discovered around 2.5 kilometres from where she was last seen at the Dusun eco-resort in southern Negeri Sembilan.
A coroner in Malaysia ruled in January that the death of British teenager Nora Quoirin was most likely a misadventure.

Meabh Quoirin said her daughter was born with holoprosencephaly, a disorder that affects brain development leaving Nora with learning and physical disabilities.
During a short virtual hearing, Judge Azizul Azmi Adnan laid out the reasons for revising the judgement and returning an open verdict.
In particular, he highlighted Nora's struggles with balance and coordination, the steep terrain around the resort, which was challenging for people without her physical disabilities, and her shy personality which made her "unadventurous" and "uncomfortable with the unfamiliar".
"Having reviewed the material, that was before the court, I am of the view that the verdict of misadventure ought to be vacated in the interests of justice and substituted with an open verdict, as there was no credible evidence to support any other verdict," he explained to Nora's listening parents.
"I am willing to accept that on the evidence before the court the possibility for third party involvement was lower than the possibility that Nora Anne had inadvertently got herself into a situation from which she could not extricate herself.
"That does not mean, however, that I should enter a verdict of misadventure," he added.
The ruling is a legal victory for the family who believe Nora may have been abducted and challenged the coroner's decision.
Police have always suggested there was no evidence of foul play, claiming she likely climbed out of a window and wandered off into the jungle alone.
Her family has dismissed this saying that Nora would not have been physically able to disappear into thick forest unaided and evade detection during the intensive search involving drones and sniffer dogs.
Nora's parents said they were "utterly disappointed" by a coroner's verdict in January.
They have suggested her body may have been placed in the area where it was finally found.
Legal representatives for the family previously said an open verdict would be "appropriate".