Lies spread faster on social media than truth does
Get breaking news alerts and special reports. The news and stories that matter, delivered weekday mornings.
If it seems like fake news is everywhere, that may be because it is.
Falsehoods spread like wildfire on social media, getting quicker and longer-lasting pickup than the truth, researchers reported on Thursday.
A deep dive into Twitter shows that false news was re-tweeted more often than true news was, and carried further.
"Falsehood diffused significantly farther, faster, deeper, and more broadly than the truth in all categories of information, and the effects were more pronounced for false political news than for false news about terrorism, natural disasters, science, urban legends, or financial information," the team, led bySinan Aral of the Massachusetts Institute of Technology, wrote in the journal Science.
"It took the truth about six times as long as falsehood to reach 1,500 people."
And it wasn't bots spreading most of the falsehoods, they found. It was real people doing most of it. Usually ordinary people, too, they found: so-called 'verified' users and those with many followers were not usually the source of some of the most popular untrue viral posts.
It might be because false statements sound more surprising, they said.
"We found that false news was more novel than true news, which suggests that people were more likely to share novel information," they wrote.
It should come as no surprise that the internet has spawned a resurgence of fake news. Congress and the FBI are investigating evidence that Russian and other foreign users deliberately flooded social media with untrue reports and posts intended to mislead people about political candidates.
And the term "fake news" has taken on its own life, referring not only to untrue reports but being increasingly used to dismiss reports that the user does not wish to agree with.
So Aral's team decided to use the term "false news" instead. They also used a broad definition of "news". "We refer to any asserted claim made on Twitter as news," they said.
The study started with PhD research by MIT's Soroush Vosoughi, who was struck by the false reports that spread rapidly after the 2013 Boston Marathon bombings, in which three people were killed and 264 injured.
"Twitter became our main source of news," Vosoughi said in a statement. "I realized that … a good chunk of what I was reading on social media was rumors," he added.
To objectively separate truth from lies or mistakes, Vosoughi and colleagues used sites devoted to fact-checking: factcheck.org, hoax-slayer.com, politifact.com, snopes.org, truthorfiction.com, and urbanlegends.about.com. The six sites agreed on which reports were true about 95 percent of the time, they said.
For the report, they examined 126,000 stories tweeted by about 3 million people more than 4.5 million times.
They found that false news stories were 70 percent more likely to be retweeted than true stories were.
Untrue stories also had more staying power, carrying onto more "cascades," or unbroken re-tweet chains, they found.
When they looked at who was spreading the wrong stuff, they found it was ordinary users of social media.
"We conclude that human behavior contributes more to the differential spread of falsity and truth than automated robots do," they wrote.
Why retweet that post before you know whether it's actually true?
Status, Aral said. "People who share novel information are seen as being in the know," he said.
But don't forget about the bots, argue Filippo Menczer of Indiana University and colleagues. They estimate that 60 million "bots" post automatic updates on Facebook and up to 48 million are on Twitter.
"The spreaders of fake news are using increasingly sophisticated methods," Menczer said in a statement.
Why do people fall for it, whether it's from a bot or a real friend?
"False news is more novel, and people are more likely to share novel information," Aral said. Plus, people like to repeat information that seems to affirm their beliefs.
"People prefer information that confirms their preexisting attitudes, view information consistent with their preexisting beliefs as more persuasive than dissonant information (confirmation bias), and are inclined to accept information that pleases them," David Lazer of Northeastern University and colleagues wrote in an editorial.
And fact-checking can backfire, they noted. "Fact-checking might even be counterproductive under certain circumstances," they wrote. "There is thus a risk that repeating false information, even in a fact-checking context, may increase an individual's likelihood of accepting it as true."
They call for more high-quality research into the false news problem and what can be done about it, pointing to reforms in the early 20th century that gave rise to legitimate newspapers with ethics promoting objectivity and credibility out of the ashes of a boisterous yellow press.
Prince Harry and Meghan meet top UN official amid world leaders' gathering in New York | World News
Prince Harry and Meghan have met with a top UN official during the world body's biggest annual gathering.
The Duke and Duchess of Sussex visited the UN headquarters in New York to speak with deputy secretary-general Amina Mohammed.
Ms Mohammed said they discussed "how to engage on issues we care about deeply", such as vaccine equity, climate action, the economic empowerment of women, youth engagement and mental wellbeing.
Harry and Meghan pay respects at 9/11 memorial

"It was a lovely meeting," Meghan said afterwards.
The UN said Ms Mohammed welcomed the couple's work to address the organisation's 17 sustainable development goals, which were created in 2015 and include objectives like ending hunger and poverty, achieving gender equality and combating climate change.
The trio met ahead of their scheduled appearances at the Global Citizen concert in Central Park later on Saturday.
The star-studded, 24-hour event aims to encourage climate action and urge wealthier countries to share one billion doses of COVID-19 vaccines with other nations.
Billie Eilish and Ed Sheeran are among the musicians expected to headline the festival, which features performances in cities including New York, London and Sydney.
Tens of thousands of people are set to attend, with millions likely to tune in to the broadcast.
Prince Harry and Meghan are due to speak at the event in New York as part of their first major public trip since quitting as senior royals.
Earlier this week they visited the city's memorial for the 9/11 attacks on the World Trade Center, with New York City mayor Bill de Blasio and the state's governor, Kathy Hochul, joining them.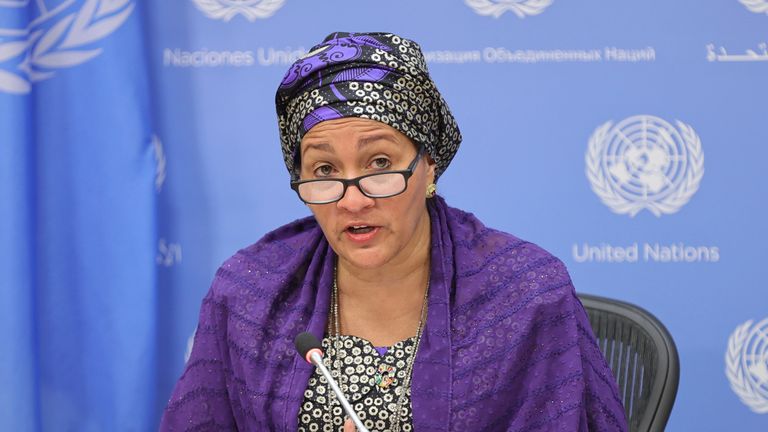 The UN is currently hosting the annual general assembly of world leaders, who have been discussing efforts to fight climate change and COVID-19.
Meghan has been involved with the UN women's agency for several years, acting as "advocate for political participation and leadership".
Were Prince Harry and Meghan cut off financially?

The Duke and Duchess of Sussex were among those chosen as Time magazine's 100 most influential people last week.
Last year, the couple stepped down from royal duties, moving to California and launching their Archewell Foundation.
They have previously supported other Global Citizen initiatives, acting as campaign chairs for a Vax Live event in May which encouraged donations to Covax, an initiative working to provide vaccines for low and middle-income countries.
In a speech he made on stage, Prince Harry called for coronavirus jabs to be "distributed to everyone everywhere".
German election: Voters want fresh leadership even if many seem unconvinced by the options | Politics News
They're already putting Angela Merkel out to pasture at the Tussauds waxworks in Berlin, decking her out in clothes to go hiking, which the chancellor says she wants to do more of when she's retired.
Mrs Merkel has been chancellor for 16 years.
Madam Tussaud's studio assistant Karen Fries says it will be strange when she is gone.
Germany election: What's at stake?

"It's going to be weird, yes, because it's now 16 years and we are not used to getting along without her, but we'll see."
The same sentiments are around the corner at the Brandenburg Gate.
Another race was under way ahead of the election: rollerbladers gathering to speed around the route of the marathon that is run this weekend.
"Both of us, we are 23," two young bladers told us. "We just know Angela Merkel. So I think an era comes to an end."
Another man told us none of the candidates can replace her: "No, they are too weak."
Is this just another country's election or one we should all be interested in?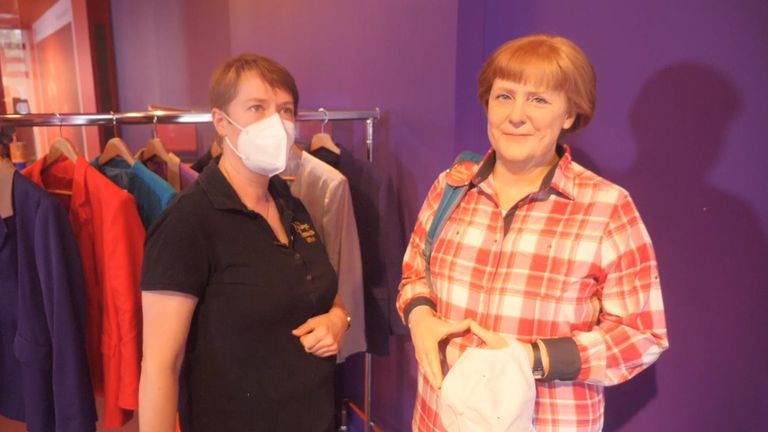 Angela Merkel was called the leader of the free world, a moniker she herself thought was absurd. But it gives a sense of the void she may leave in these uncertain times.
Mrs Merkel has been credited with steering Germany through numerous crises but critics say she did not do enough to see them coming or warn Germans about others on their way.
Matthew Karnitschnig, Politico's chief Europe correspondent, says: "The problem is that Merkel has shielded the population for a very long time from the realities of what's going on in the world."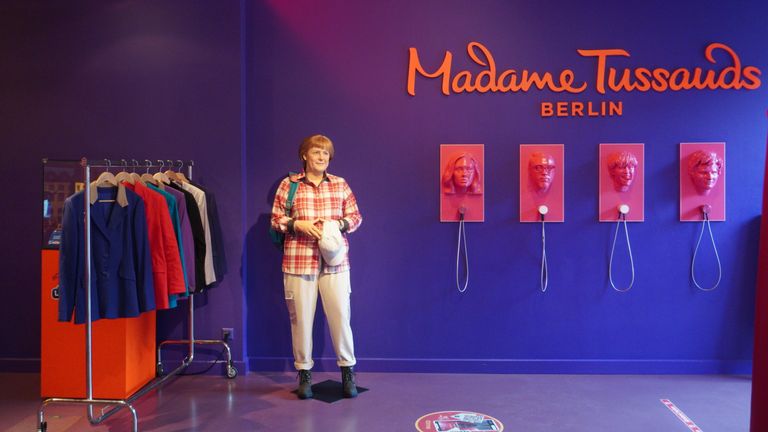 Mrs Merkel was more of an administrator than a leader, he says, and has left one key question unanswered for her successors to address.
The way they do could have ramifications far beyond Germany.
"What's at stake, really, is what role Germany is going to play in the world," he says.
"Does Germany want to be a real player on the world stage, or does it want to act more like a giant Switzerland in the middle of Europe, trying to be all things to all people?"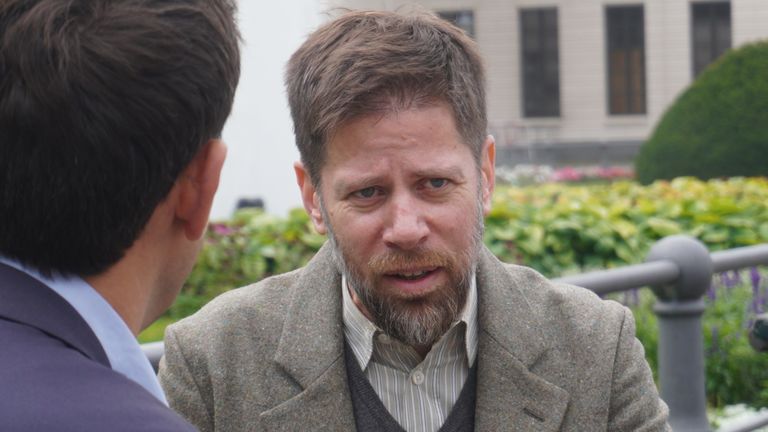 Germany after Mrs Merkel will be under pressure from America to take on Russia more and be a more useful partner within the EU.
For Europe's largest country and richest economy, it has not punched at its weight in the minds of many in Washington and elsewhere.
Others agree that Mrs Merkel cossetted Germans and protected them from global realities too much.
Green MEP Sergei Lagodinski, who helped write his party's foreign policy, told Sky News: "I do hope very much that after this very comfortable sleep that we had with a very comforting leader who actually drove us and directed us quite good through a couple of crises, we need now to wake up not only to survive crisis and get back to the business as usual, but try to reimagine both Germany and Europe in this new age."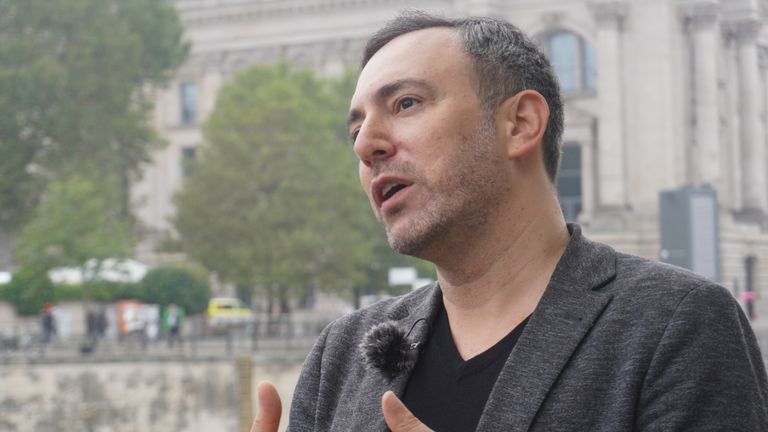 The world and Germany are very different now than 16 years ago when Merkel first came to power.
Climate change, populism and artificial intelligence are all challenges that need proactive leadership, arguably not a strength of Mrs Merkel's.
"I think it's tremendously important, not just for Germany but for Europe," Mr Lagodinski says.
German voters take to the polls

"We have a situation where we have a change in terms of who's going to lead Germany but also we have a totally changed global situation."
There is the sense of an era coming to an end on the eve of this important election.
In the dusky light of a warm September evening, the voters we spoke to seemed relaxed about the future but conflicted too.
Germany's election: The end of Merkel

They want change but also continuity.
There is a yearning for stability with such a familiar figure bowing out and in such unpredictable times. But 16 years is a long long time to have one leader, we have been told repeatedly.
Germany and the world have new challenges to take on and new demons to fight, and voters want fresh leadership even if many seem unconvinced by the line-up they have to choose from.
Dean Berta Vinales: Fifteen-year-old World Superbike star dies after crash during race in Spain | World News

Fifteen-year-old motorcyclist Dean Berta Vinales has died following a crash at a World Superbike Championship race in Jerez, Spain.
After 11 laps in the Supersport 300 support race, the Spanish athlete crashed at the second turn, along with three other riders.
He suffered severe head and spinal injuries and was treated by medical crews who arrived on the scene, World Superbike said.
They attended to him on the track, in an ambulance and at the circuit medical centre.
"Despite the best efforts of the circuit medical staff, the Medical Centre has announced that Berta Vinales has sadly succumbed to his injuries," World Superbike said.
The race was red-flagged by the director and cancelled, along with the rest of Saturday's action.
Vinales was MotoGP rider Maverick Vinales's cousin and he rode for his uncle's Vinales Racing Team.
In a statement on social media, Vinales Racing Team said it was "devastated".
MotoGP said on Twitter: "We're devastated by the tragic loss of @DeanBerta21 following a crash in #WorldSSP300 Race 1 today.
"Sending all our love and strength to Maverick Vinales and Dean's entire family, his team and loved ones."
Six-time MotoGP champion Marc Marquez wrote: "Rest in peace Dean. All my support to family and friends."
We're deeply saddened to report the loss of Dean Berta Viñales.

The #WorldSBK family sends love to his family, loved ones, and his team. Your personality, enthusiasm, and commitment will be hugely missed.

The whole motorcycle racing world will miss you, Dean. Ride in Peace. pic.twitter.com/46KuUt4Vnl

— WorldSBK (@WorldSBK) September 25, 2021
World Superbike said Vinales was "enjoying a recent run of good form" in his rookie season in the FIM Supersport 300 World Championship, coming in fourth in Race 2 at the Magny-Cours circuit and sixth in Race 2 at the Barcelona-Catalunya track.
He had set the fastest lap in Race 1 and the organisation said he was "showing great potential".
The tragedy is the latest in a series of crashes that have claimed the lives of young riders.
Fourteen-year-old Hugo Millan died after crashing at a race in Alcaniz, Spain in July, while Swiss Moto3 rider Jason Dupasquier, 19, died in May from injuries he sustained in a three-bike crash during a qualifying session at the Mugello circuit in Italy.