UK government plans to build prison in Nigeria

Ministers plan to build a prison in Nigeria to enable the government to transfer prisoners from the UK.
The proposed 112-bed wing, built to United Nations specifications in the Kiri Kiri prison in Lagos, is to be built as part of a compulsory prisoner transfer agreement.
It will cost around £700,000, according to a statement submitted to Parliament by Foreign Secretary Boris Johnson on Wednesday evening.
"As part of this agreement, eligible prisoners serving criminal sentences in Nigeria and the UK can be returned to complete their sentences in their respective countries," Mr Johnson said.
The UK and Nigeria signed an agreement in 2014 that means Nigerian nationals in UK jails can be returned to serve their sentences in Nigeria, and vice versa.
But poor conditions in some prisons overseas have created a legal barrier to returning foreign nationals convicted in the UK.
"The Government believes that wherever possible foreign nationals should serve their sentences in their own country," a Foreign Office spokesperson told Sky News.
"Helping Nigeria to improve its prison conditions and increase prison capacity will enable us to transfer more prisoners to Nigeria, which will in turn free up prison places in the UK."
Deals to transfer prisoners in UK jails to their countries of origin have been made with Albania, Rwanda, Jamaica and Libya, and well as Nigeria.
In 2015 the Government pitched an ambitious £25m project to build a 1,500 bed prison in Jamaica, with the aim of sending more than 300 Jamaican inmates with sentences of more than four years there.
But the Jamaican government rejected the deal, with local media quoting ministers as saying the offer was not beneficial to Jamaica and did not cover the prison's full cost.
Mr Johnson said tenders for the planned Nigerian jail had been placed and suppliers identified, bringing the project's total cost to £695,525 including support, monitoring and evaluation.
The bill will be met by the CSSF (Conflict, Stability and Security Fund), he said.
According to House of Commons statistics there were 320 Nigerian nationals in prisons in England and Wales at the end of 2016.
Foreign nationals make up about 12% of the prison population compared to about 9% of the general population.
The annual overall cost of a prison place in England and Wales is about £38,000, according to the Ministry of Justice.
Germany election: As Angela Merkel bows out, the race to succeed her remains unclear with just hours left to run | World News
The Hofbrauhaus in the heart of Munich is a huge building dedicated to the art of beer.
It's been welcoming drinkers for 432 years, during which time Bavaria has been ruled variously by princes, emperors, kings, dukes, dictators and, latterly, a load of democrats.
The walls here have heard every grumble and every political aspiration. And now they seem to reverberate to a desire for…something.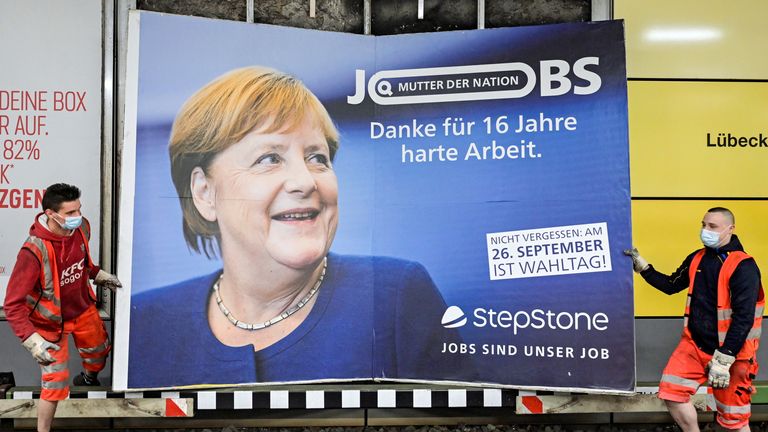 "We need a lot of change because over the last 16 years, even though lots of things have happened, not a lot has changed in the culture of the country," one drinker told us.
"Germany needs to think about lots of things, like climate change."
Climate change is one of those topics you hear mentioned a lot in this election.
Ever since the floods that wreaked such damage a few months ago, the topic has crept up in every interview and every debate.
But the curiosity is that, for all the discussion, it's still not clear whether voters really, truly care about climate change as much as they do about, say, income tax, the minimum wage or rent controls.
The Greens, for instance, are likely to enjoy the best result they've ever had in a federal election. But far from capitalising on the angst created by the floods, their polling is actually worse now than when water was cascading through so many houses.
Back in May, the Greens, and their young leader Annalena Baerbock, were the most popular party; now they're running in third place.
So what's going on? Michael Pahle is a working group leader at the Potsdam Institute for Climate Impact Research. He has watched the election with interest.
"The Green Party stands for change so when the election was a few months away, Germans embraced change as a concept and offered their support," he told Sky News.
"But the closer we came to the election, it's clearer that voting is actually a decision about what their lives will look like in the next four years so then they kind of stepped back into this old comfort zone of having stability and not embracing change as much."
Is Germany as green as it would like to think?

Mr Pahle told Sky News it was wholly predictable that, at a time of economic stability, people would think of stability. But he also raised the prospect that the Green Party might actually benefit from not winning, but instead playing a significant role in a coalition government.
"That's definitely not their worst option," he said. "They would have more responsibility, of course, if they led the government, but then they also have to make concessions.
"If they are in a coalition then they can push through their agenda, probably more than if they were the head of the government."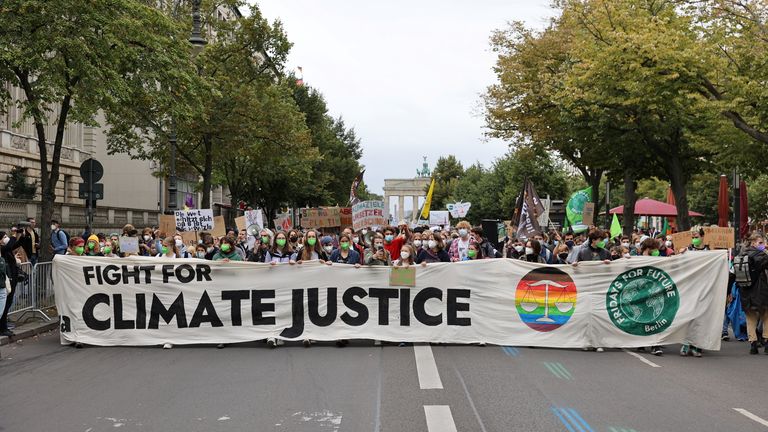 Greta: We must take to streets to demand climate action

Back in Munich, and we move across town.
Angela Merkel is back in Bavaria for a rally of her party, the CDU. Her successor as leader, Armin Laschet, arrives alongside her, but it's obvious who carries the star quality.
Ms Merkel has the presence of someone who has bestrode the global stage; Mr Laschet, by contrast, looks slightly edgy and awkward.
When he took over as head of the CDU, Mr Laschet inherited a political golden ticket. The party's alumni include some of the great names from German politics – Adenauer, Kohl, Schauble and, of course, Merkel.
And yet his campaign has stuttered. He was pictured, horribly, chuckling during a presidential speech to recognise victims of the floods. His performances during debates have sometimes seemed wooden.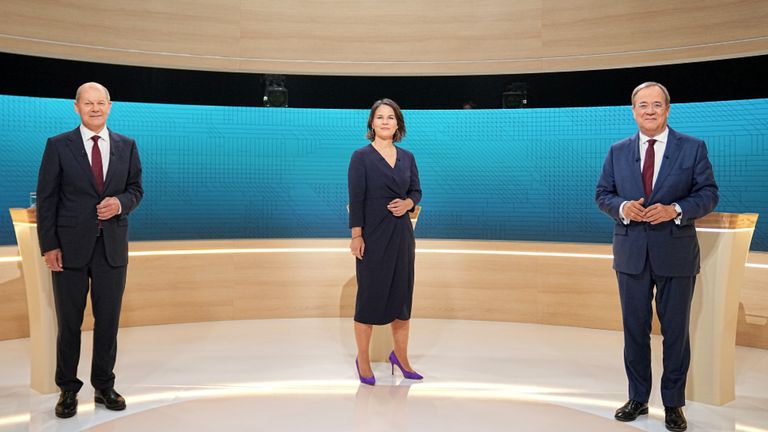 Were it not for the fact that his chief rival, the social democrat Olaf Scholz, is another uncharismatic white man in his 60s, Mr Laschet's failings may have appeared even more acute.
Yet it is Mr Scholz who leads, narrowly, as this race enters the home straight. We are bound to end up with another coalition, but the winner of the popular vote will probably end up as chancellor. Probably, but not definitely.
The bottom line is that nobody has really grasped this election, like a long-distance race where none of the runners wants to hit the front.
We are just hours from the end and, truly, we don't know what's going to happen. Mr Scholz and Mr Laschet, so often criticised for being dull, may just combine to create a thrilling denouement.
Netherlands: Thief jailed for stealing van Gogh and Frans Hals paintings worth millions of pounds from museums | World News
A man has been convicted of stealing a painting by Vincent van Gogh worth several million pounds from a museum in the Netherlands.
The 59-year-old was also found guilty of snatching a Frans Hals piece from another museum in the country, again worth millions of pounds, and neither of the works have been recovered.
Described as an "incorrigible and calculating criminal", he was sentenced to a maximum of eight years in prison.
The man, whose identity has been kept anonymous under Dutch privacy laws, was found guilty of taking Van Gogh's "The Parsonage Garden at Nuenen in Spring 1884" from the Singer Laren museum near Amsterdam.
He later stole the 17th century Frans Hals' "Two Laughing Boys" from the Museum Hofje van Mevrouw van Aerden in Leerdam, 60km (35 miles) south of the Dutch capital.
The Central Netherlands Court said the Hans painting was valued at €16m (£13.7m), but did not give a value for Van Gogh's painting.
Both were stolen by a man who broke into the museums at night and fled on a scooter driven by an accomplice.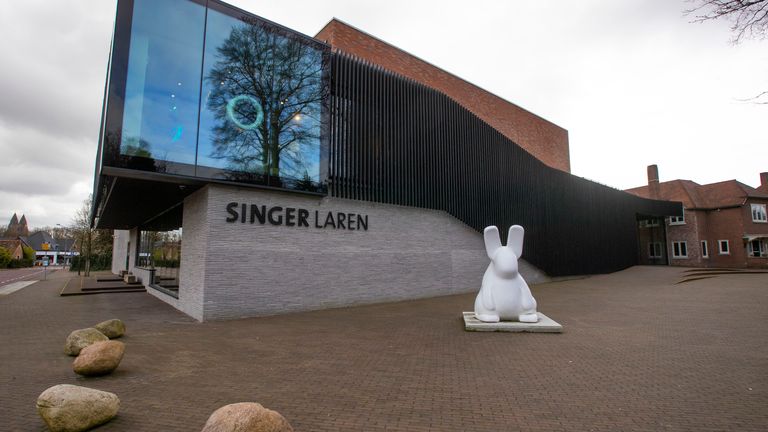 The defendant, who has a previous conviction for a similar heist, denied any involvement.
"The court doesn't believe this," the court said in a statement. "His DNA was found at both crime scenes, and the man can't explain how that is possible."
The paintings were described as "part of the national cultural heritage, they are important for present and future generations".
"That is why and given the criminal record of the suspect who is, according to the court, an incorrigible and calculating criminal, the court considers the maximum sentence to be appropriate," the court added.
La Palma volcano: What caused it to explode and how long could the eruption last? | World News
A volcano that erupted on the Spanish island of La Palma in the Canary Islands is continuing to explode and spew out lava five days after it erupted.
Unstoppable lava flows have destroyed nearly 400 buildings on the western side of the volcanic island of 85,000 people and the authorities have warned of new dangers including toxic gases, volcanic ash and acid rain.
Where is the volcano in La Palma?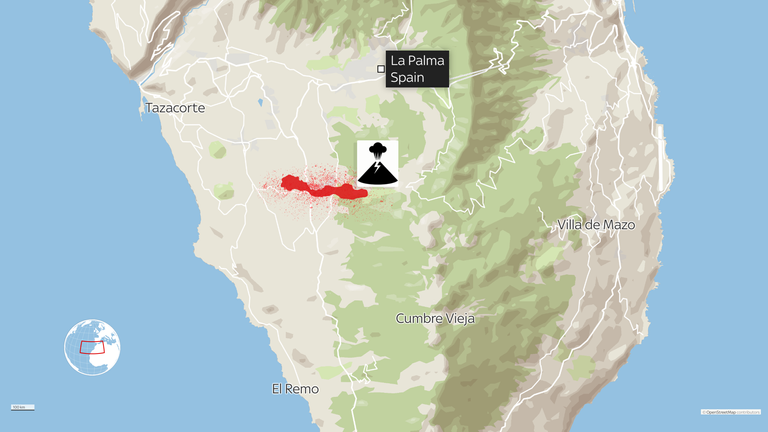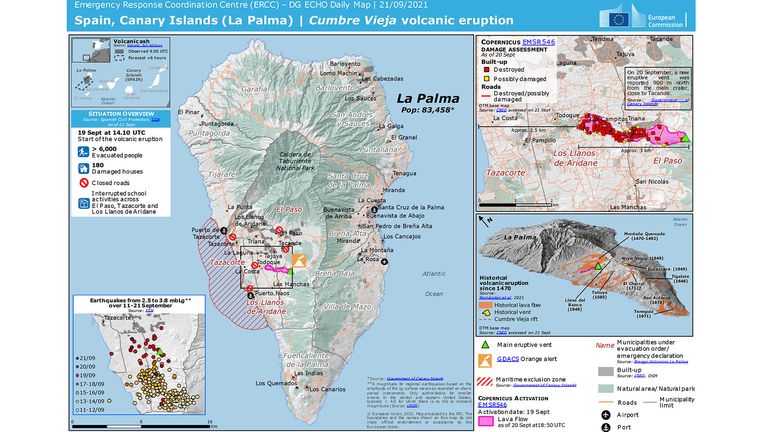 The volcano erupted along the Cumbre Vieja volcanic ridge in La Palma, one of eight volcanic islands in Spain's Canary Islands archipelago, which sit off the northwestern coast of Africa.
The Canary Islands are popular with European tourists and the nearby island of Tenerife has one of the world's tallest volcanoes, Mount Teide.
La Palma island itself is made up of two main volcanic complexes: a large one to the north and a smaller one to the south, which erupted on Sunday. The island last saw an eruption in 1971.
How did scientists know the eruption was coming?
Scientists had been monitoring a build-up of underground magma beneath La Palma for a week before the eruption and were able to warn of a possible eruption, allowing nearly 7,000 people to evacuate.
They had detected more than 20,000 earthquakes in an "earthquake swarm" which can indicate a coming eruption.
What caused the volcano to erupt?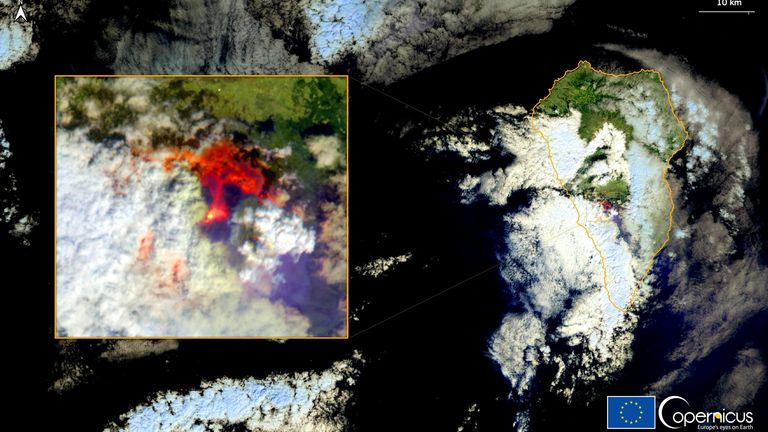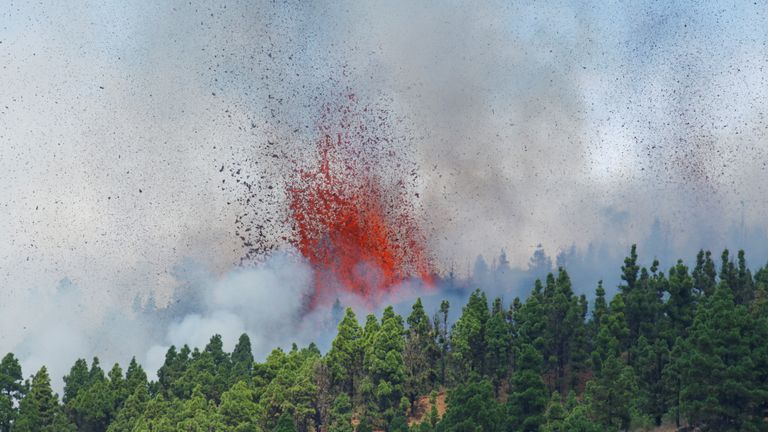 Three days before the volcano erupted, the Canary Islands Volcanology Institute reported that 11 million cubic metres (388 million cubic feet) of molten rock had been pushed into the volcano.
Professor David Pyle, a volcanologist at the University of Oxford, told Sky News: "Magma is generated within Earth's mantle and below La Palma that magma is probably being generated continuously at depths of 100km or so. Every now and then those magmas will collect and break through, pushing up into the shallow parts of the Earth's crust.
"When the latest swarm of earthquakes started a week before the eruption began, scientists recognised they were happening at a shallower depth than they had seen in previous years.
"They were able to look at satellite images which showed deformation of the surface and they were very confident that from these they could recognise the movement of magma towards the surface."
Lava from the volcano is destroying and burying homes, leaving thousands devastated

A 4.2-magnitude earthquake was recorded before the eruption, which saw two fissures open up and bright red magma bubble up into the air.
How has the eruption developed?
Earthquakes have continued and a new fissure opened on Monday following a 3.8-magnitude quake. Scientists have warned that new lava vents and cracks could emerge, putting new areas at risk.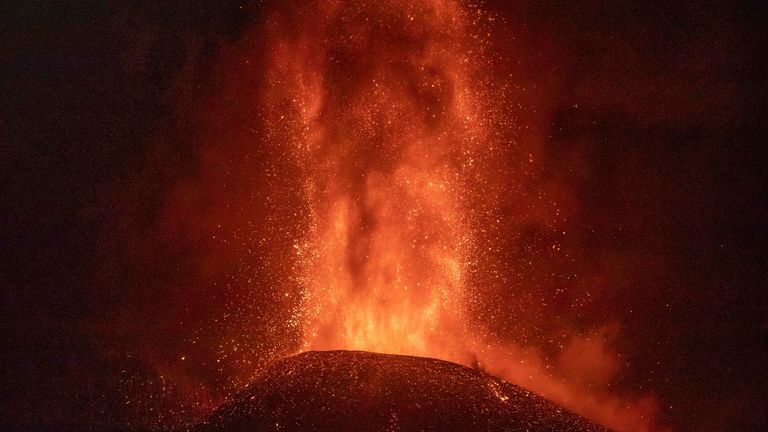 Prof Pyle said scientists will now be measuring the amount of gas escaping from the volcano, checking whether the composition of magma changes over time and measuring the quantity of material that is being expelled to see how quickly the volcano is erupting.
"With these they will be forming an expert judgement in terms of what the trajectory is looking like in terms of the eruption, whether it is waxing or waning," he said.
"In this crisis they are deploying all the tools they can to try and work out what is changing during the eruption. And that will give them the clues in terms of whether or not to expect the activity to last for days, or weeks, or months."
Scientists say the volcanic eruption could continue until December

Officials in La Palma have recorded 1,130 tremors in the area over the past week as the volcano blasted molten lava into the air.
The explosions have propelled ash almost 15,000ft into the air, according to the Guardia Civil police force. Two rivers of lava have flowed slowly down the hillside, consuming houses, banana farms and infrastructure.
How long could the eruption last?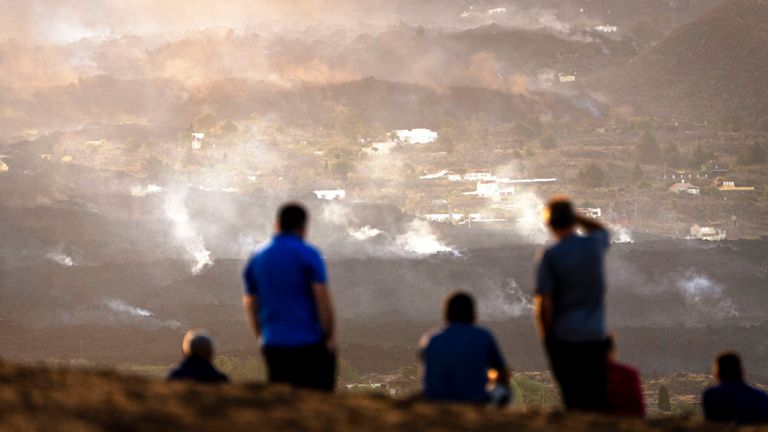 Scientists are unclear about how long the eruption could last, with estimates ranging between weeks and even months.
The previous eruption in 1971 lasted for just over three weeks. The last eruption in the Canary Islands happened underwater off the coast of El Hierro island in 2011 and lasted for five months.
Professor Mike Burton, a volcanologist at the University of Manchester, told Sky News that while scientists were able to predict the eruption, knowing how long it could last was "the tricky bit".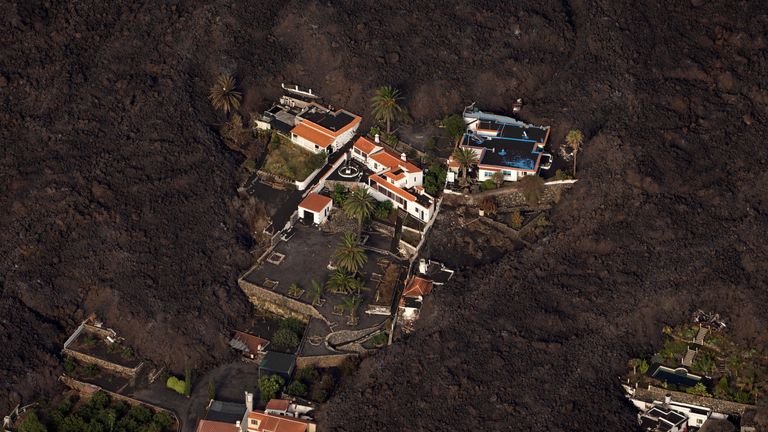 "It's great that we can see when something like this is coming, but once it has started it is quite hard to be clear about how it is going to evolve.
"I think the best thing we can do is watch and look for signs of waxing and waning, increasing and decreasing activity.
"The last eruption went on for about three months, but every eruption is different. This one appears to have started with a higher lava eruption rate than the 1971 eruption, so already it seems to be more powerfully supplied.
"That might mean it goes on much longer, but you have to be cautious about making any deterministic predictions. We really need to wait and see what nature does."