Sen. Orrin Hatch apologizes for calling Obamacare supporters 'stupidest, dumbass people'
Sen. Orrin Hatch, R-Utah, apologized on Friday for calling Obamacare supporters the "stupidest, dumbass" people that he's ever seen.
"Yesterday, I made a poorly worded joke about Obamacare supporters — a joke that was not reflective of my actual feelings towards my friends on the other side," the 83-year-old lawmaker said in a prepared statement.
"Throughout my term of service, I have always recognized the importance of civility, particularly in engaging with those of different political perspectives. While I occasionally slip up, I believe that my legislative record reflects my commitment to bipartisanship and civility much more than my flippant, off-the-cuff comment."
Hatch, the longest-serving Republican in the Senate, made the comment while speaking about the GOP tax overhaul at the American Enterprise Institute on Thursday.
"We also finally did away with the individual mandate, a tax that was established under that wonderful bill called 'Obamacare,'" Hatch said. "That (Obamacare) was the stupidest, dumbass bill that I've ever seen. Now, some of you may have loved it. If you do, you are one of the stupidest, dumbass people I've ever met, and there are a lot of them up there on Capitol Hill from time to time."
Senate Minority Leader Chuck Schumer, D-N.Y., said Friday the comment was uncharacteristic of Hatch.
"Orrin Hatch, I think, is frustrated. He's usually a very polite man, you know, but I guess he sort of lost it," Schumer said on CNN, adding, "Obamacare is not perfect, but the overwhelming majority of Americans say don't repeal it, make it better."
Hatch announced in January that he will retire at the end of his term this year, ending months of speculation about his political future. Mitt Romney, the GOP presidential nominee in 2012 and a former governor of Massachusetts, announced in February that he was running for Hatch's seat.
3 GOP House members lose appeals over $500 fines for not wearing masks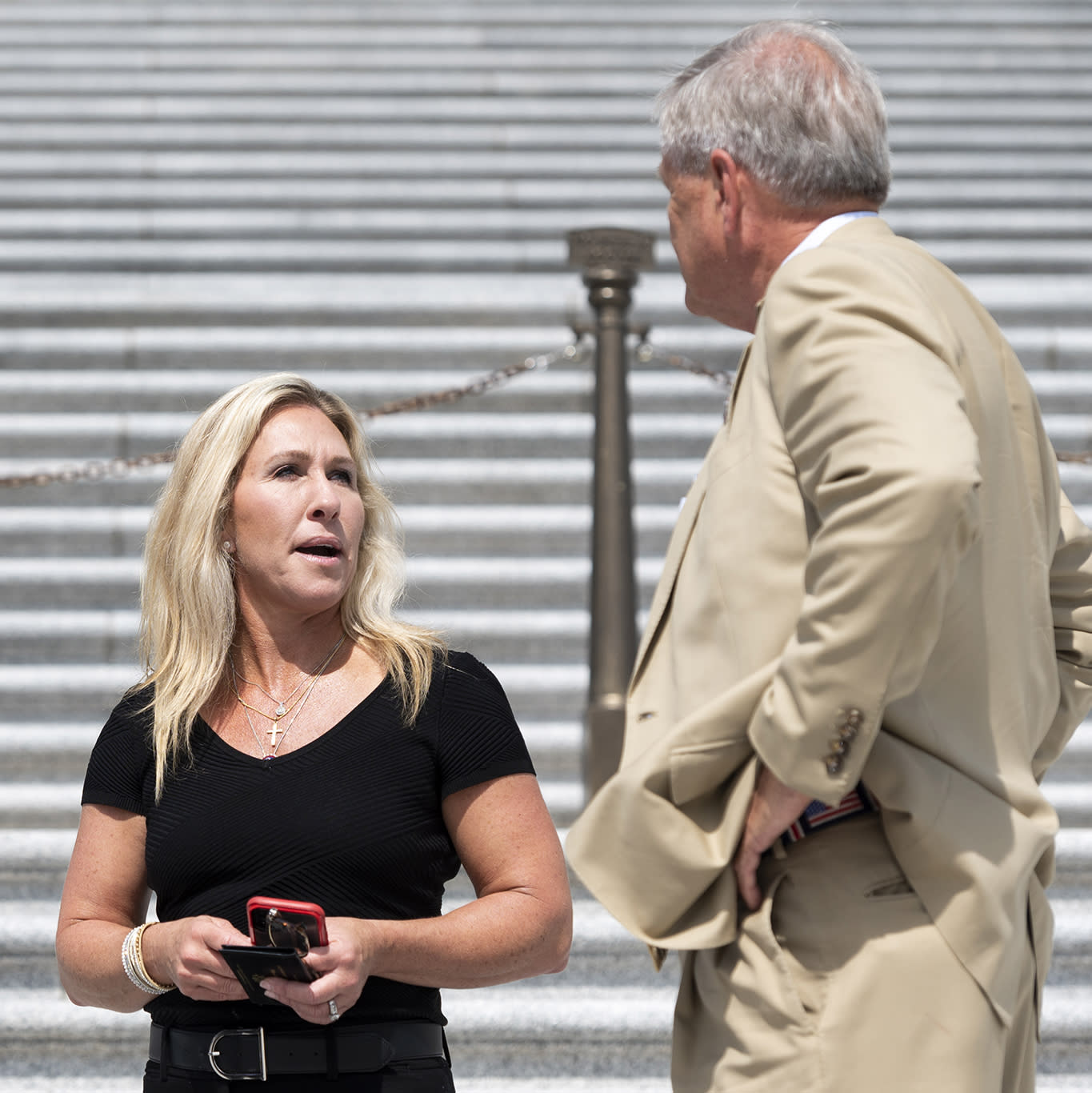 COLUMBIA, S.C. — Three Republican U.S. House members have lost appeals challenging fines for not wearing face coverings on the House floor earlier this year.
On Tuesday, the U.S. House Ethics Committee released statements noting that U.S. Reps. Marjorie Taylor Greene of Georgia, Thomas Massie of Kentucky and Ralph Norman of South Carolina had failed in their appeals of $500 fines issued in May.
The Republicans challenged the fines in June, arguing that the mandate was out of sync with recent federal guidance on face coverings during the COVID-19 pandemic. The incident happened a week after the U.S. Centers for Disease Control and Prevention issued guidance noting that "fully vaccinated people can resume activities without wearing a mask or physically distancing."
At the time, face coverings were still required on the floor, a mandate put in place by House Speaker Nancy Pelosi in June 2020. Even after the updated CDC guidance in May, Dr. Brian Monahan, Congress' attending physician, wrote that "mask requirement and other guidelines remain unchanged until all Members and floor staff are fully vaccinated."
"I voted on the House floor without wearing my mask," Norman wrote. "I did so because I was following the direction of our nation's top scientists that fully vaccinated individuals do not need to wear a mask."
In her appeal, Greene called the fine "arbitrary and capricious, an abuse of discretion, and otherwise not consistent with law or with principles of fairness."
A handful of Republican lawmakers were fined. Greene, Massie and Norman, along with Rep. Mary E. Miller of Illinois, took a maskless selfie on the House floor.
On June 11, the requirement was lifted, with Monahan writing that fully vaccinated members, staff and visitors to the chamber could shed their masks. Norman said in his appeal that he has been fully vaccinated since February. Both Greene and Massie have said they have not taken the vaccine.
Texas House Republican introduces bill calling for forensic audit of 2020 election
A Republican member of the Texas House of Representatives introduced a bill Monday seeking a forensic election audit of the state's largest counties.
The Texas Voter Confidence Act, filed by GOP Rep. Steve Toth, authorizes the governor, lieutenant governor, and speaker of the House — all of whom are currently Republicans — to select an independent third party to conduct the election audit. The review would focus on the votes cast in Texas' 13 counties with a population over 415,000.
Former President Donald Trump carried Texas in the 2020 election, however, President Joe Biden won in areas including Houston, Austin and San Antonio — the biggest metropolitan areas in the state.
"We need a forensic audit to uncover all the voter fraud," Toth said Monday in a post on Woodlandsonline, a community web site. "Texans want to know more about the claims of voter fraud and deserve to have confidence in their elections…Voters want to know that their legal vote counts and matters."
The move comes as the Texas House Democratic delegation fled the state en masse to Washington, D.C., to deny Republicans a quorum to enact voting restrictions. It also comes as GOP-led states have introduced or passed dozens of election-related bills following Trump's repeated baseless claims that the election was stolen. In states such as Arizona, where Biden won the presidential race, Republicans are also conducting a costly and controversial audit of ballots in the state's largest county.
The act introduced by Toth would take effect immediately if it received a vote of two-thirds of all the members elected to each chamber of the Texas Legislature. If it passed but did not achieve that margin, it would take effect on the 91st day after the last day of the legislative session.
Rep. Chris Turner, who chairs the Texas House Democratic Caucus, told The Dallas Morning News on Tuesday that the legislation appears to be based on "the lie that there's widespread voter fraud and Donald Trump really won the election." Turner said that the bill's parameters also appear to include both Democratic and Republican strongholds in the states.
"I don't know if these folks are aware of it, Trump actually did carry Texas," Turner said. "So I'm not sure what they're trying to find in their audit."
Looking back at President Biden's first six months
IE 11 is not supported. For an optimal experience visit our site on another browser.
With today marking six months since the beginning of the Biden presidency, NBC News' Kelly O'Donnell takes a look back at whether his early pledges have been met in key areas concerning Covid, immigration, and the economy.July 20, 2021