Italy heads to the polls in unpredictable election
Polls have opened in Italy for a national election that is as hard to predict as it is important, with up to 10 million voters said still to be undecided.
In a fractured and polarised political landscape, Italians will choose from numerous political parties; some centrist, some anti-establishment, some extreme and with a new, untested electoral system.
The economy and immigration have dominated the campaign, and the likely consequence of the race to lead the Eurozone's third largest economy is either a government formed of anti-establishment, anti-immigration parties or prolonged uncertainty with a hung parliament.
The characters vying for power include Luigi Di Maio, a 31-year-old novice who leads the anti-establishment Five Star Movement; Matteo Salvini, the controversial leader of the far-right League Party; Matteo Renzi, the centrist who quit as prime minster last year after losing a referendum; and the self-styled, controversial grandfather of Italian politics, Silvio Berlusconi.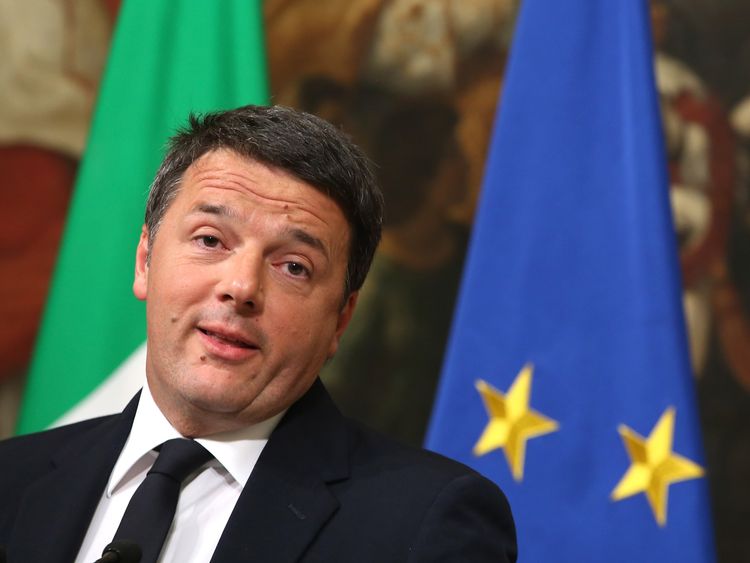 The centre-left Democratic Party which has dominated Italian politics for the past five years with three different prime ministers is expected to perform badly despite leading the country back from the brink of economic disaster.
Italy is Europe's fourth largest economy and the third largest in the Eurozone, and yet it is growing at a much slower pace than other European nations.
The country carries debt worth 135% of its GDP, representing 20% of the Eurozone total debt, and so its political direction and economic success matters right across the continent.
The ballot box decisions made by the young will be particularly important. A third of Italians under the age of 25 are unemployed. Apathy among the young is high with polls suggesting as many as 40% of young voters may abstain.
:: Berlusconi is back: The main players in Italy's election
Mr Berlusconi, Italy's longest serving prime minister and convicted fraudster, is attempting a remarkable comeback as the leader of the centre-right Forza Italia Party.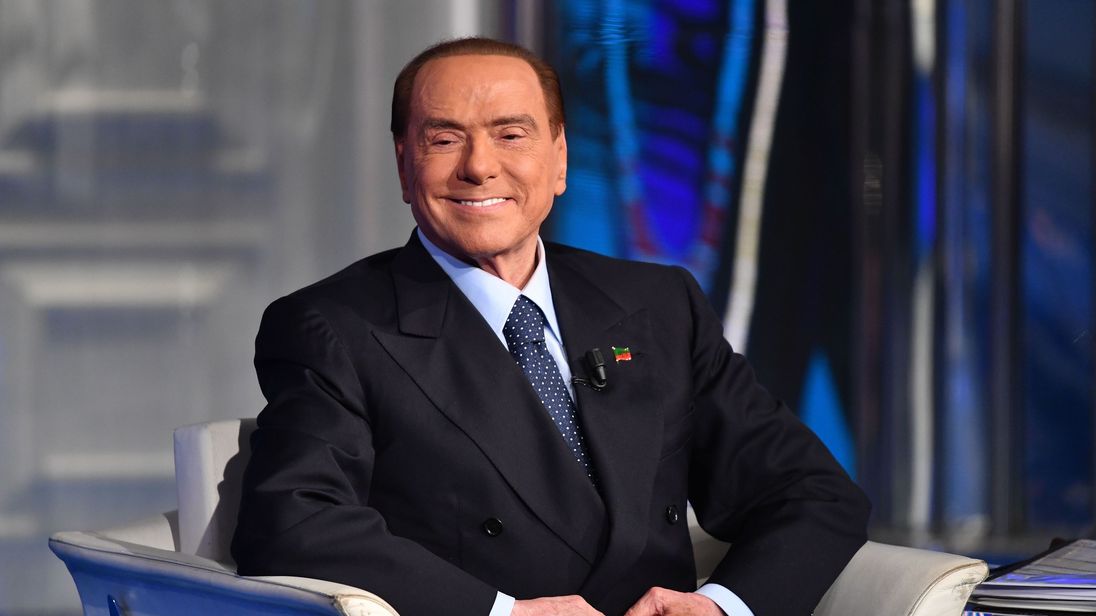 The 81-year-old's conviction bars him from becoming leader himself, but he has cast himself as experienced elder statesman who can provide clarity and certainty for voters.
The sex and financial scandals which dominated his latter years of office seem to have been forgotten.
"Today the country needs to capitalise on his experience because there are no other leaders except him," one voter told us.
"I think that his experience is a good thing for us," another said.
Alberto Castelvecchi, a political analyst at Rome's Luiss University, told Sky News: "Berlusconi comes out and he says 'I will put you together, I am the leader for tenderness, and good sentiment and good feelings', so he presented himself as Mr Feelgood in a moment when Italians were feeling very bad."
However, his party is unlikely to win a majority on its own and so he is relying on a loose coalition with two far-right parties: Mr Salvini's League Party and the radical Brothers of Italy led by Giorgia Meloni.
The League, with the motto "Italy First', and the Brothers of Italy are both very eurosceptic and have hardline anti-immigration policies.
Mr Salvini, 44, has pledged to repatriate 100,000 illegal immigrants and has talked of "cleansing the streets".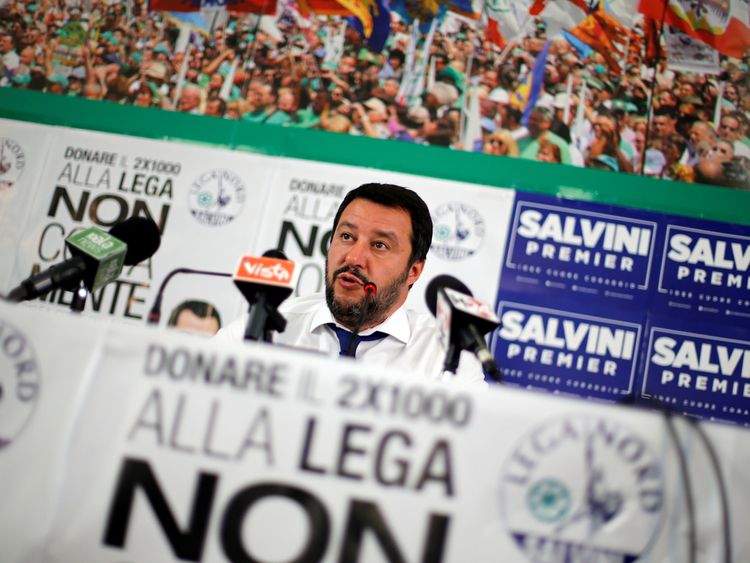 As a frontier EU country, Italy has seen a huge influx of migrants from countries across Africa with 630,000 arriving since 2014.
Although the perception of a migration problem may be greater than the reality (the country has among the lowest share of immigrants across the EU), asylum processing has been poor as has the system to turn back failed asylum seekers.
:: Sky Views: Italy could be Britain's most influential ally during Brexit
All three parties in the right-wing coalition have proposed a single flat rate of income tax and pledged to introduce a parallel currency for domestic use, retaining the Euro only for international trade.
Support for the single currency in Italy is the lowest in the Eurozone.
Campaigning against them, the Five Star movement, founded by comedian Beppe Grillo and now led by 31-year-old Mr Di Maio, is anti-establishment and known more for what it rejects than what it stands for.
Yet for voters fed up with what they see as the stagnation of establishment politics, it provides an attractive alternative.
The movement's rejection of the establishment makes it hard for it to propose coalitions. It is polling well on its own but is unlikely to get the 40% needed for a majority of seats, making a coalition tempting.
It has proposed an unconditional basic income for all of 780 euros, early retirement, a reduction of taxes and a raise in the tax threshold – populist policies which may appeal but will make reducing the country's debt even harder.
Speaking at his last rally in Rome, Mr Di Maio told supporters: "People think voting on Sunday won't make any difference. But in every seat in this country the difference is made by you. That's not a sentimental point – it's mathematical… we are one step from victory."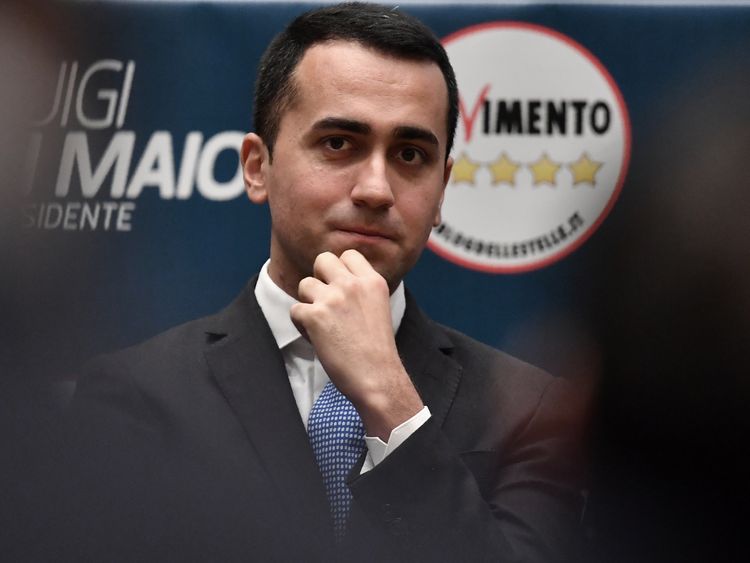 He accused the centre-left incumbent government of not changing anything in years and promised that his party would deliver on all its promises as soon as it won office.
The centre-left Democratic Party, with candidate Mr Renzi, is expected to be the biggest loser in the vote.
Mr Berlusconi's right-wing coalition could get the most votes but within it, Mr Salvini's League may get more votes than Mr Berlusconi's Forza Italia. In that scenario, Mr Salvini will claim he should be prime minister.
From the centrist perspective, and that of the European Union establishment in Brussels, a prime minister Salvini would be a bad outcome.
But the nightmare scenario for the establishment would be a coalition between Mr Salvini's League and the Five Star Movement – unlikely but possible.
A centrist grand coalition between Mr Berlusconi's party and Mr Renzi's Democratic Party is seen as the least volatile option.
However a hung parliament with months of jockeying and uncertainty is the most likely prospect.
HMS Defender: Boris Johnson insists warship was sailing legally as Moscow warns 'no options can be ruled out' | UK News
Boris Johnson has insisted Royal Navy warship HMS Defender was sailing legally in Ukrainian waters and that Russia did not any fire warning shots.
Russia has accused the UK of "barefaced lies" over Wednesday's incident and said it would respond robustly to any future incursions into what it says are Russian waters.
It summoned the British ambassador in Moscow for a dressing down, while a Kremlin spokesman called it a "deliberate and premeditated provocation".
Russia claims this is HMS Defender 'chased out'

"In the event of a repeat of unacceptable provocative action – if those actions go too far, no options can be ruled out in terms of legally defending Russia's borders," added Dmitry Peskov.
The UK rejects Russia's claim that a border patrol boat fired warning shots and that warplanes dropped bombs into path of the ship off the Crimean coast.
Speaking on Thursday, Boris Johnson said it was "not my information" when asked if the Russians had fired warning shots.
"My understanding is that the Carrier Strike Group proceeded in a way you would expect through international waters and in accordance with the law," said the prime minister.
He added: "We don't recognise the Russian annexation of Crimea – it was illegal. These are Ukrainian waters and it was entirely right to use them to get from A to B."
Foreign Secretary Dominic Raab has also said shots were not fired and called the Russian account "predictably inaccurate".
The Ministry of Defence said it had been made aware in advance that the Russians were conducting "gunnery exercises" in the area.
"No shots were directed at HMS Defender and we do not recognise the claim that bombs were dropped in her path," it said.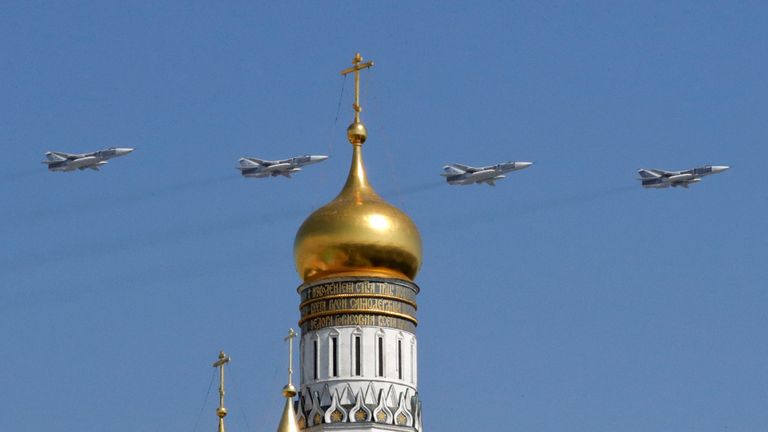 However, a BBC journalist on board the 152 metre-long ship said Russian planes had flown nearby and he also heard radio warnings that shots would be fired if HMS Defender didn't change course .
He said firing was later heard but "well out of range".
Foreign ministry spokeswoman Maria Zakharova accused Britain of "barefaced lies" over the incident.
Russia claims the British ship had gone as far as three kilometres (2 miles) into Russian waters near Cape Fiolent, near the port of Sevastopol in Crimea.
Crimea was seized from Ukraine in 2014 by the Russians, who claim ownership of waters around its coast.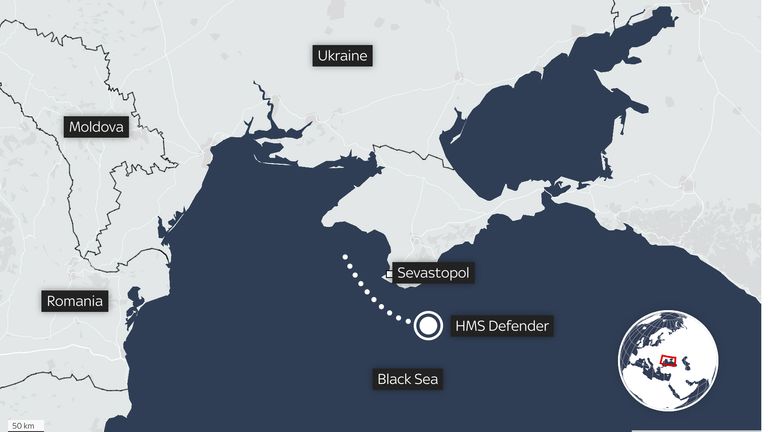 Western countries regard Crimea to have been taken illegally.
Mr Johnson also rejected the assertion that the relationship with Russia was now at a new low, following other recent incidents such as the poisoning of former spy Sergei Skripal in the UK in 2018.
"I can remember times in my own lifetime when things have been far worse," the prime minister said.
Sky's Moscow correspondent Diana Magnay said the incident was to a large extent about "testing each other's mettle" and seeing "how far Russia is prepared to go to defend what it claims are its territorial waters – and how far the UK and NATO are prepared to go to defend Ukrainian sovereignty".
'Several injured and one dead' after building partially collapses in Miami Beach | World News

A huge emergency operation is under way after a partial building collapse in Miami Beach, with reports of at least one person killed and several injured.
More than 80 fire and rescue units were at the scene of the collapse in the Florida city, with images showing a pile of rubble with debris spilling down from what was left of the balconies of the building.
MBPD and @MiamiBeachFire are assisting the Town of Surfside at a partial building collapse located at 8777 Collins Avenue in Surfside, Florida. Multiple police and fire agencies from across Miami-Dade are assisting. Please follow @MiamiDadeFire for updated information. pic.twitter.com/8tORIfZfjY

— Miami Beach Police (@MiamiBeachPD) June 24, 2021
CBS reported that at least one person had died, while ABC News said eight people were being treated for injuries in hospital.
Sergeant Marian Cruz of the Surfside Police Department said: "We're on the scene so it's still very active.
"What I can tell you is the building is 12 floors. The entire back side of the building has collapsed."
Police have cordoned off nearby roads, with scores of fire and rescue vehicles, ambulances and police cars deployed in the area.
NBC said the rescue teams included a unit that is trained in the removal of victims trapped in complex or confined spaces.
NBC Miami showed a video of a young boy being pulled alive from the rubble.
HMS Defender: Moscow releases footage it says shows Navy vessel being 'chased out' by Russian military | World News
The Russian Defence Ministry has released footage it says shows HMS Defender being "chased out of Crimea waters" by military aircraft and vessels.
It comes as Britain dismissed Moscow's claims that warning shots were fired at the Royal Navy destroyer and that bombs were dropped in the warship's path.
The Russian Defence Ministry said a border patrol boat fired the shots at HMS Defender after it entered the country's territorial waters in the Black Sea.
It also said that a Su-24M warplane dropped four bombs close to the ship.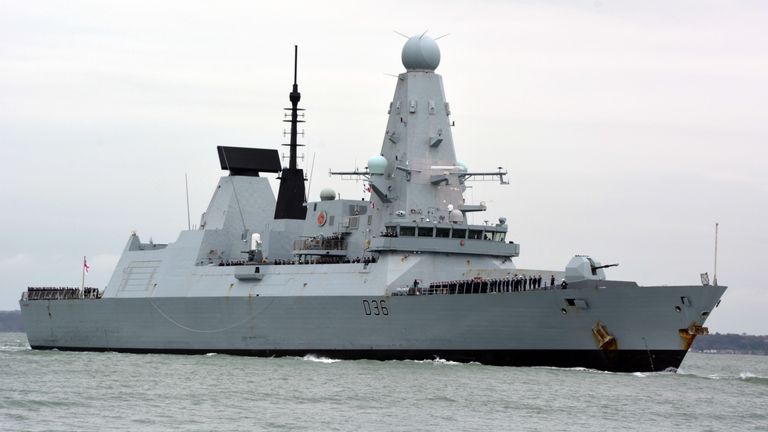 But the Ministry of Defence (MoD) said the 152 metre-long, 8,500-tonne vessel was "conducting innocent passage through Ukrainian territorial waters in accordance with international law".
In a statement posted on Twitter, it said: "We believe the Russians were undertaking a gunnery exercise in the Black Sea and provided the maritime community with prior warning of their activity.
"No shots were directed at HMS Defender and we do not recognise the claim that bombs were dropped in her path."
The confrontation is thought to have taken place near Cape Fiolent, a landmark on the coast of Crimea.
Sky's Moscow correspondent Diana Magnay said: "To a large extent this is about testing each other's mettle, seeing how far Russia is prepared to go to defend what it claims are its territorial waters – and how far the UK and NATO are prepared to go to defend Ukrainian sovereignty.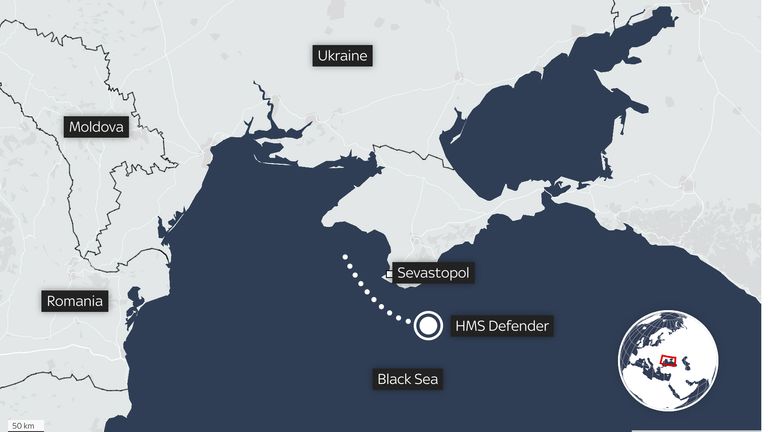 "These are not Russian territorial waters, whatever Russia says. Crimea was annexed illegally in 2014; its waters are Ukrainian. Russia in April tried to restrict for six months access to warships around its port at Sevastopol which drew strong condemnation from NATO
"The UK says it was passing through an internationally recognised traffic separation corridor; Russia clearly doesn't see it that way."
Russia annexed the Crimean peninsula from Ukraine in 2014 in a move condemned by the West, which still considers it Ukrainian territory.
Defence Secretary Ben Wallace said in a statement that the ship – whose Sea Viper missiles can destroy jets and drones from up to 70 miles away – "carried out a routine transit from Odessa towards Georgia across the Black Sea".
He said: "As is normal for this route, she entered an internationally recognised traffic separation corridor. She exited that corridor safely at 0945 BST. As is routine, Russian vessels shadowed her passage and she was made aware of training exercises in her wider vicinity."
Appearing later before the Commons Defence Committee, Mr Wallace said the crew of HMS Defender did hear "training noises" to the rear of the ship, but it was "beyond visual range".
He said the Russians had previously made false claims to have "chased out" another British warship, HMS Dragon.
No warning shots have been fired at HMS Defender.

The Royal Navy ship is conducting innocent passage through Ukrainian territorial waters in accordance with international law.

— Ministry of Defence Press Office (@DefenceHQPress) June 23, 2021
"These are the things that come and go with Russia. Disinformation, misinformation is something that we have seen regularly. We are not surprised by it," he said.
"We plan for it and we take all steps to make sure we are not escalatory or provocative.
"However we will not shy away from upholding international law and our rights on the sea."
Mr Wallace also confirmed that the British ambassador to Russia has been summoned by Moscow authorities.
British defence attache summoned in Moscow

The Russian ministry said earlier in a statement: "The destroyer was warned in advance that weapons would be fired in case of a violation of the Russian state border. It disregarded the warning.
"As a result of joint actions of the Black Sea Fleet and the Border Service of the Russian Federal Security Service, HMS Defender left the territorial sea of the Russian Federation at 12.23pm."
Sky News' foreign affairs editor Deborah Haynes said: "Even if the ship wasn't directly fired at, as the Russian defence ministry is claiming, the fact that these exercises were taking place so close to a transiting Royal Navy ship is clearly going to be seen from the UK side as a provocation."
Boris Johnson's official spokesman said: "It's incorrect to say either that it was fired upon or that the ship was in Russian waters. HMS Defender was taking the most direct and internationally recognised route between Ukraine and Georgia.
"As you know, the UK does not recognise Russia's claim to Crimea and we continue to uphold the international consensus that Russia's annexation of Crimea is illegal."
Ukraine's foreign minister Dmytro Kuleba said the incident showed Russia's aggressive and provocative policy that constituted a threat to Ukraine and its allies.
HMS Defender – one of six navy Type 45 destroyers – is part of the UK Carrier Strike Group currently heading to the Indo-Pacific region.
However, it was announced earlier this month that it would be temporarily breaking away from the group to carry out its "own set of missions" in the Black Sea.
The Royal Navy says HMS Defender – based out of Portsmouth and launched in 2009 – is "one of the most advanced warships ever constructed".
Type 45 destroyers carry Sea Viper missiles, with the navy saying they can "can knock moving targets out of the sky from up to 70 miles away".
The destroyers can fire eight missiles in less than 10 seconds and simultaneously guide up to 16 missiles at a time.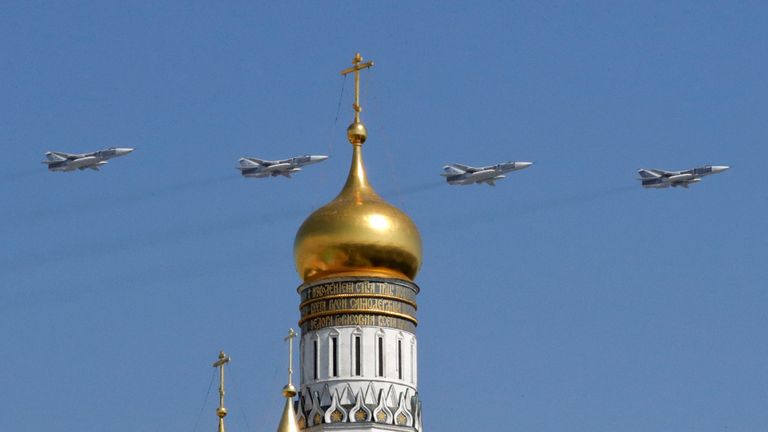 They also have conventional weaponry, such as the 4.5-inch Mark 8 gun and up to six machine guns.
The Su-24M warplane said to have dropped the bombs near HMS Defender is a 22-metre-long aircraft made by Russian firm Sukhoi, and first entered service in 1983.
It carries weaponry such as laser-guided bombs of up to 1,500kg, as well as laser-guided missiles.