World's 'oldest tattoos' found on ancient Egyptian mummies
The discovery of picture tattoos on the upper arms of two ancient Egyptian mummies is changing the way we interpret body art.
The inkings pre-date previous evidence for tattooing in Africa by 1,000 years.
Older tattoos do exist, but this is the first time figurative body art has been found, rather than geometric patterns.
Lines and S-shaped symbols were found on the upper arm and shoulder of "Gebelein Woman" – named after the Egyptian town where it was found 100 years ago.
Images of a wild bull, a Barbary sheep (a wild African species of sheep that looks a lot like a goat) were found on the upper arm of "Gebelein Man".
They would have lived in Gebelein, around 24m (40km) south of modern-day Luxor, between 3,351 and 3,017 BC, in the Predynastic Period before Egypt was unified by the first Pharaoh.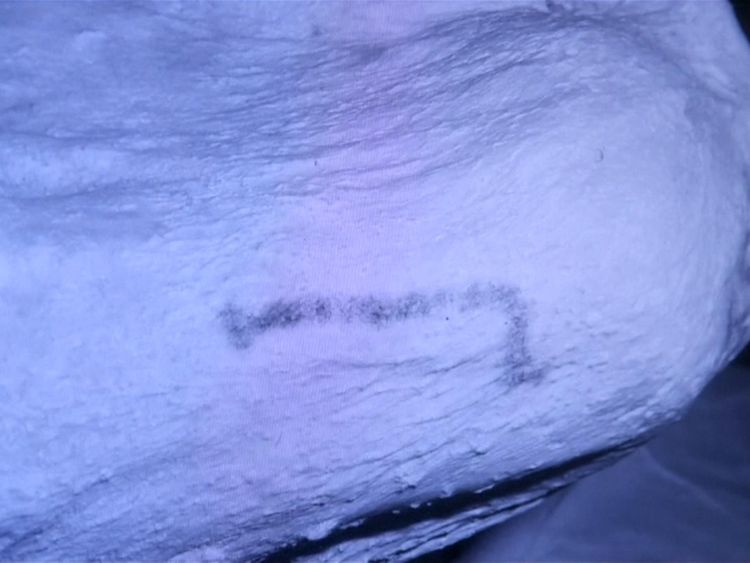 British Museum researchers say the female's tattoos may have denoted status, bravery or magical knowledge, while the male's were likely symbols of virility and strength.
The prominent position of the inkings shows that they were intended to be highly visible, contradicting the earlier belief that tattooing in Egypt was only performed on women.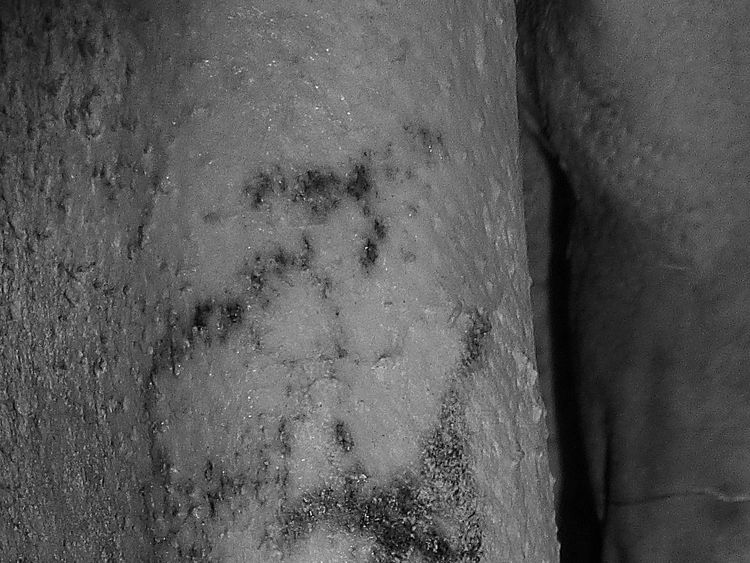 Doctor Daniel Antoine, curator of physical anthropology at the British Museum said: "She has a crooked stave on the upper part of her arm and on her shoulders she has a series of 'S' (marks) and we have parallels for those in the iconography of predynastic art (before about 3,000 BC).
"We think the curved line represents a stave – a crooked stave that's often depicted in ceremonial scenes and it maybe represents a special status but also they're often depicting ritual scenes."
The world's earliest known tattoos were found on a on a mummified corpse known as Oetzi, who had 61 geometric designs spread across his body, organised into 19 groups.
The iceman was found well-preserved in the Italian Alps back in 1991, and would have lived around 5,300 years ago.
Germany's first election in 16 years without Merkel isn't just a political occasion, but also a cultural moment | World News
The world of 2005 feels a long way away.
We had president George W Bush and prime minister Tony Blair; Prince Charles married Camilla Parker Bowles. Bombs in London and a hurricane battering New Orleans. Lance Armstrong winning the Tour de France yet again, despite those rumours; London winning the right to host the Olympic Games in 2012.
And in Germany, a political earthquake. A politician called Angela Merkel, largely unheralded outside her own country, took over as chancellor from Gerhard Schroder, and became the first woman to hold the role.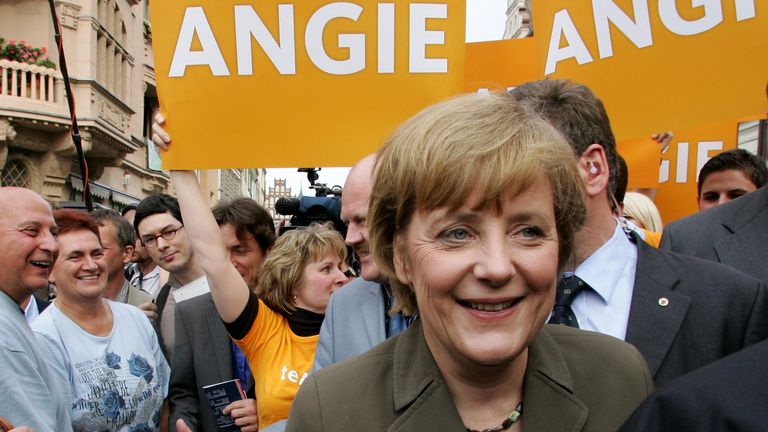 The most powerful woman in Germany became the most powerful woman in Europe and, before long, the most powerful woman in the world. But now, after nearly 16 years in the job, Germany is voting for her successor.
For the first time in Germany's post-war history, an incumbent chancellor isn't running for re-election. That has created a curious blend of uncertainty and caution – how, after all, do you campaign in a post-Merkel world? What works? None of the parties seem very sure of the answer.
Germany's election: What is at stake?

For many in Germany, this isn't just a political occasion, but also a cultural moment. Mrs Merkel, an apparently unflappable presence on the global stage, has been a constant presence for so long that it takes a leap of faith to think of life without her. Her nickname – Mutti, which best translates as "Mummy" – reflects that sense of soothing dependability and reliance.
One in seven of the electorate is aged between 18 and 29 – plenty of them can barely remember a world where Mrs Merkel wasn't in charge. But today they will be forced to select between a range of candidates to take over the top job.
There are six parties in the running, ranging across the width of the political spectrum. Mrs Merkel's role as candidate for the CDU party has been taken by Armin Laschet, the president of the North Rhine-Westphalia region. The social democrat Olaf Scholz, vice chancellor in the present coalition government, is the candidate for the SPD party. Annalena Baerbock is there for the Greens. Then there is the pro-business FDP, the socialist Die Linke and the anti-immigration AfD.
In a country with more than 60 million voters, each party has its pockets of support and opposition. It's clear that more people have applied for postal ballots than ever before, with some regions reporting that the majority of voters have applied. But, then again, German regulations also allow you to use your postal ballot to vote on the day.
As with much else around this election, it's tough to draw conclusions.
It's not even obvious what the main theme has been. A lot of time and effort has been put into discussing climate change, but few doubt that the economy remains uppermost in the minds of many Germans.
Then there's the perennial debate around how this rich, influential country can use its leadership position on the global stage. Again, the shadow of Mrs Merkel hangs over this election – so much of Germany's foreign policy over the past decade and a half has been shaped by the cumulative effect of decisions she has made. The abiding question facing many electors may be about the balance between wanting change or a sense of continuity.
Oh, and a warning: for those hoping for a clear-cut answer later today about the political face of Germany – you may have to wait. All four of Mrs Merkel's victories were followed by negotiations over a coalition government, and that's just about certain to happen again, whoever wins the popular vote. And the tighter the vote, the longer we may have to wait.
Prince Harry and Meghan meet top UN official amid world leaders' gathering in New York | World News
Prince Harry and Meghan have met with a top UN official during the world body's biggest annual gathering.
The Duke and Duchess of Sussex visited the UN headquarters in New York to speak with deputy secretary-general Amina Mohammed.
Ms Mohammed said they discussed "how to engage on issues we care about deeply", such as vaccine equity, climate action, the economic empowerment of women, youth engagement and mental wellbeing.
Harry and Meghan pay respects at 9/11 memorial

"It was a lovely meeting," Meghan said afterwards.
The UN said Ms Mohammed welcomed the couple's work to address the organisation's 17 sustainable development goals, which were created in 2015 and include objectives like ending hunger and poverty, achieving gender equality and combating climate change.
The trio met ahead of their scheduled appearances at the Global Citizen concert in Central Park later on Saturday.
The star-studded, 24-hour event aims to encourage climate action and urge wealthier countries to share one billion doses of COVID-19 vaccines with other nations.
Billie Eilish and Ed Sheeran are among the musicians expected to headline the festival, which features performances in cities including New York, London and Sydney.
Tens of thousands of people are set to attend, with millions likely to tune in to the broadcast.
Prince Harry and Meghan are due to speak at the event in New York as part of their first major public trip since quitting as senior royals.
Earlier this week they visited the city's memorial for the 9/11 attacks on the World Trade Center, with New York City mayor Bill de Blasio and the state's governor, Kathy Hochul, joining them.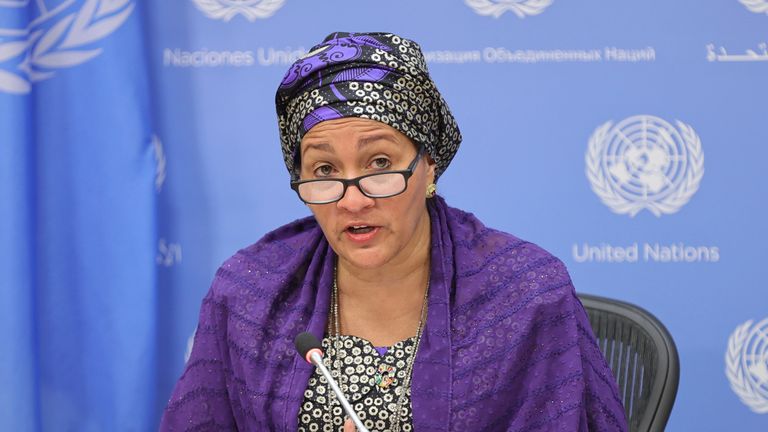 The UN is currently hosting the annual general assembly of world leaders, who have been discussing efforts to fight climate change and COVID-19.
Meghan has been involved with the UN women's agency for several years, acting as "advocate for political participation and leadership".
Were Prince Harry and Meghan cut off financially?

The Duke and Duchess of Sussex were among those chosen as Time magazine's 100 most influential people last week.
Last year, the couple stepped down from royal duties, moving to California and launching their Archewell Foundation.
They have previously supported other Global Citizen initiatives, acting as campaign chairs for a Vax Live event in May which encouraged donations to Covax, an initiative working to provide vaccines for low and middle-income countries.
In a speech he made on stage, Prince Harry called for coronavirus jabs to be "distributed to everyone everywhere".
German election: Voters want fresh leadership even if many seem unconvinced by the options | Politics News
They're already putting Angela Merkel out to pasture at the Tussauds waxworks in Berlin, decking her out in clothes to go hiking, which the chancellor says she wants to do more of when she's retired.
Mrs Merkel has been chancellor for 16 years.
Madam Tussaud's studio assistant Karen Fries says it will be strange when she is gone.
Germany election: What's at stake?

"It's going to be weird, yes, because it's now 16 years and we are not used to getting along without her, but we'll see."
The same sentiments are around the corner at the Brandenburg Gate.
Another race was under way ahead of the election: rollerbladers gathering to speed around the route of the marathon that is run this weekend.
"Both of us, we are 23," two young bladers told us. "We just know Angela Merkel. So I think an era comes to an end."
Another man told us none of the candidates can replace her: "No, they are too weak."
Is this just another country's election or one we should all be interested in?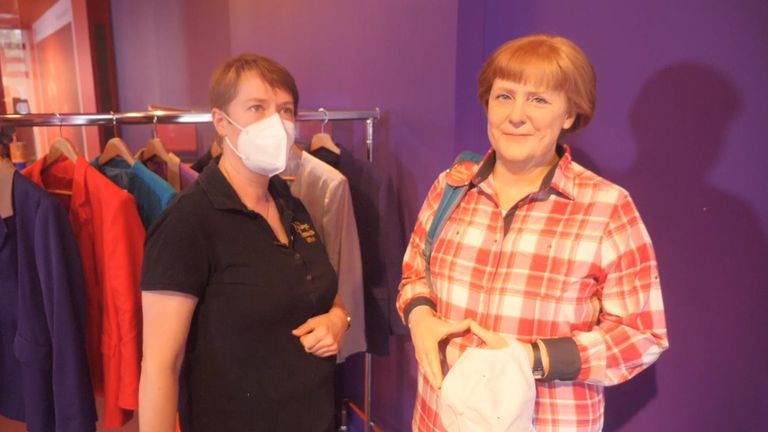 Angela Merkel was called the leader of the free world, a moniker she herself thought was absurd. But it gives a sense of the void she may leave in these uncertain times.
Mrs Merkel has been credited with steering Germany through numerous crises but critics say she did not do enough to see them coming or warn Germans about others on their way.
Matthew Karnitschnig, Politico's chief Europe correspondent, says: "The problem is that Merkel has shielded the population for a very long time from the realities of what's going on in the world."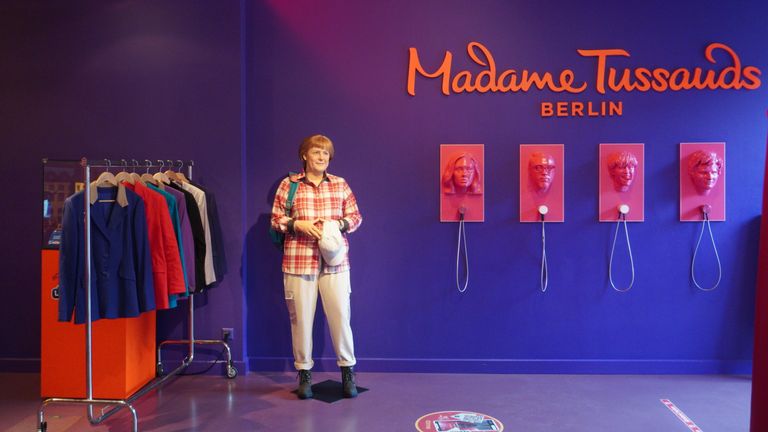 Mrs Merkel was more of an administrator than a leader, he says, and has left one key question unanswered for her successors to address.
The way they do could have ramifications far beyond Germany.
"What's at stake, really, is what role Germany is going to play in the world," he says.
"Does Germany want to be a real player on the world stage, or does it want to act more like a giant Switzerland in the middle of Europe, trying to be all things to all people?"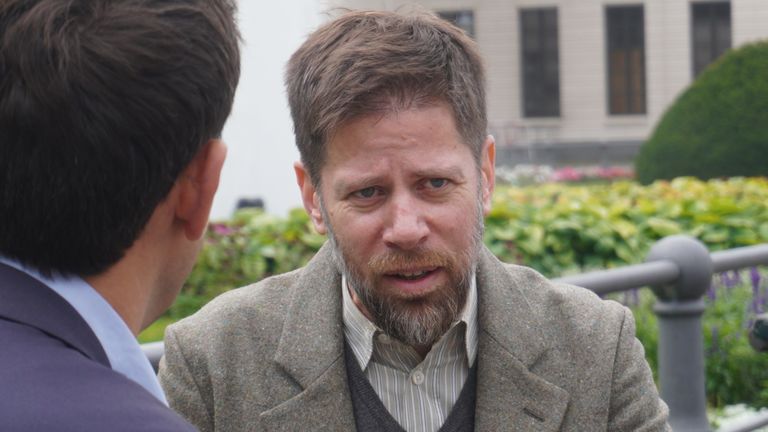 Germany after Mrs Merkel will be under pressure from America to take on Russia more and be a more useful partner within the EU.
For Europe's largest country and richest economy, it has not punched at its weight in the minds of many in Washington and elsewhere.
Others agree that Mrs Merkel cossetted Germans and protected them from global realities too much.
Green MEP Sergei Lagodinski, who helped write his party's foreign policy, told Sky News: "I do hope very much that after this very comfortable sleep that we had with a very comforting leader who actually drove us and directed us quite good through a couple of crises, we need now to wake up not only to survive crisis and get back to the business as usual, but try to reimagine both Germany and Europe in this new age."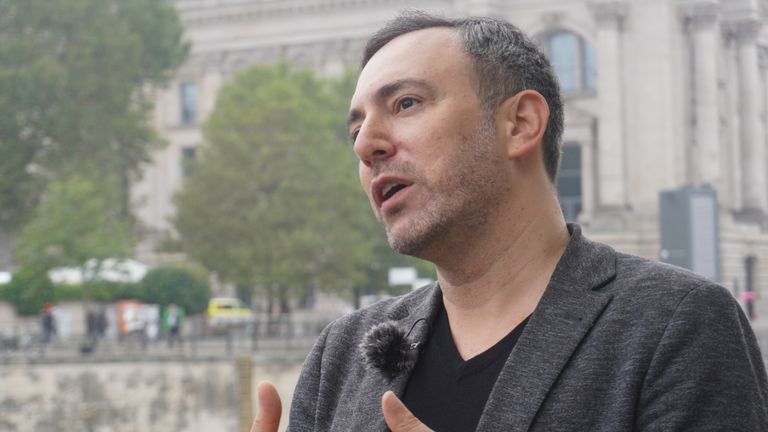 The world and Germany are very different now than 16 years ago when Merkel first came to power.
Climate change, populism and artificial intelligence are all challenges that need proactive leadership, arguably not a strength of Mrs Merkel's.
"I think it's tremendously important, not just for Germany but for Europe," Mr Lagodinski says.
German voters take to the polls

"We have a situation where we have a change in terms of who's going to lead Germany but also we have a totally changed global situation."
There is the sense of an era coming to an end on the eve of this important election.
In the dusky light of a warm September evening, the voters we spoke to seemed relaxed about the future but conflicted too.
Germany's election: The end of Merkel

They want change but also continuity.
There is a yearning for stability with such a familiar figure bowing out and in such unpredictable times. But 16 years is a long long time to have one leader, we have been told repeatedly.
Germany and the world have new challenges to take on and new demons to fight, and voters want fresh leadership even if many seem unconvinced by the line-up they have to choose from.