Two people shot dead at university in Michigan
Two people have been shot dead at Central Michigan University in the US, according to the institution.
The university said the shooting had started on the fourth floor of Campbell Hall at around 9.30am on Friday, local time.
On twitter, they confirmed that the two people shot dead were not students, adding that police "believe the situation started from a domestic situation".
There were no other injuries.
The campus remains on lockdown while the suspect, named by the university as James Eric Davis Jr, is at large.
Officials in Mount Pleasant, where the campus is located, described the suspect as a black 19-year-old, 5ft 9in tall and wearing yellow jeans and a blue hoodie.
They added: "He is considered armed and dangerous."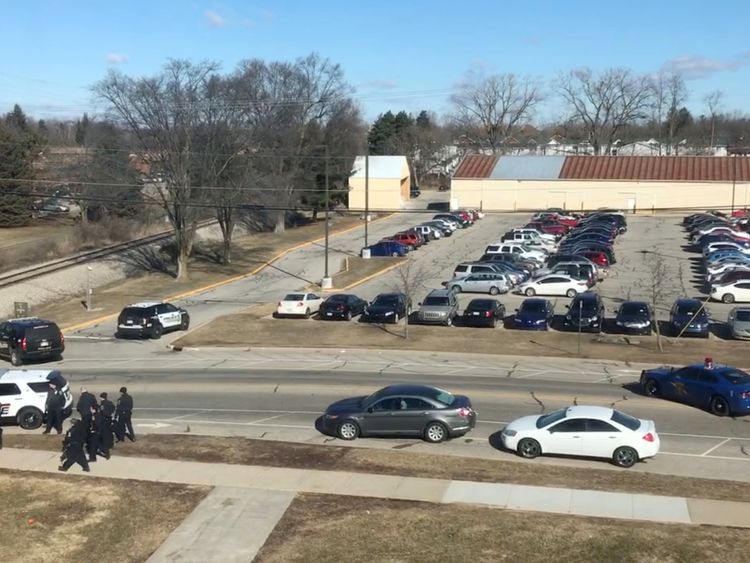 The university's Student Government Association warned those on campus to "please stay inside and lock your doors" while police scour the campus on foot and with helicopters overhead.
Halie Byron, 20, said she locked herself in her off-campus house, about 10 minutes' walk from Campbell Hall.
She said: "It's scary thinking about how easy a shooter can come into a college campus anywhere – a classroom, a library.
"There's so much easy access."
Parents hoping to collect their children for spring break were told to go to a local hotel instead.
Central Michigan University has about 23,000 students in Mount Pleasant, about 70 miles north of Lansing, the state's capital.
The shooting comes two weeks after 17 people were shot dead at a Florida high school, sparking a renewed debate over gun violence in the US.
More follows…
El Salvador could become first country to use Bitcoin as legal tender under president's plans | World News

El Salvador could become the first country in the world to make Bitcoin legal tender under proposals by its president.
The move will "generate jobs and help provide financial inclusion to thousands outside the formal economy", President Nayib Bukele said in a recorded message to the Bitcoin 2021 conference in Miami, Florida.
The cryptocurrency could also be "the fastest growing way" to transfer remittances – or money sent home from abroad – if El Salvador's congress approves legislation he plans to send its way next week, the 39-year-old leader added on Twitter.
#Bitcoin has a market cap of $680 billion dollars.

If 1% of it is invested in El Salvador, that would increase our GDP by 25%.

On the other side, #Bitcoin will have 10 million potential new users and the fastest growing way to transfer 6 billion dollars a year in remittances.

— Nayib Bukele 🇸🇻 (@nayibbukele) June 6, 2021
The US dollar is the current official currency of the Central American nation. About one quarter of El Salvador's citizens live in the US.
Mr Bukele, who has maintained approval ratings above 90% since taking office in 2019, tweeted a large chunk of the $6bn El Salvador nationals living abroad currently send home each year is "lost to intermediaries".
The president, whose New Ideas party has a super-majority in congress, touted adopting Bitcoin as an idea that could help El Salvador progress – despite its recent volatility.
"By using #Bitcoin, the amount received by more than a million low income families will increase in the equivalent of billions of dollars every year," he said.
The president highlighted the fact that 70% of the country's population worked in the informal economy and did not have a bank account. He called financial inclusion a "moral imperative" and a way to grow the economy, providing access to credit, savings, investment and secure transactions.
The legislation due to be sent to congress is expected to pass into law, although Mr Bukele has yet to provide more details about how his policy would work.
Turkey commits to defeating record 'sea snot' outbreak – but it could take three years | World News
Turkey's environment minister has promised to defeat a plague of "sea snot" threatening the Sea of Marmara – but warns the disaster management plan could take up to three years.
Marine biologists and environmentalists have been alarmed by a huge mass of marine mucilage – a thick, slimy substance which has bloomed in Turkey's Marmara, as well as in the adjoining Black and Aegean Seas.
Harbours, shorelines and swathes of seawater have been blanketed by the viscous, greyish substance, some of which has also sunk below the waves, suffocating life on the seabed.
It was first found in Turkey in 2007 but has also been discovered in the Aegean Sea near Greece.
The recent outbreak along Turkey's Sea of Marmara coast is believed to be the biggest in history and is causing chaos for local communities.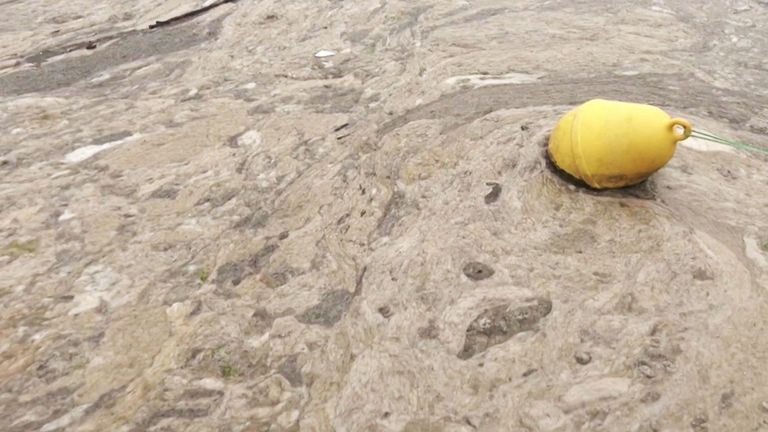 And now environment minister Murat Kurum has outlined a plan to rid the area of the blight.
"Hopefully, together we will protect our Marmara within the framework of a disaster management plan," he said.
Speaking from a marine research vessel which has been taking samples of the slimy substance, he added: "We will take all the necessary steps – and within three years realise the projects that will save not only the present but also the future together."
On Saturday, Turkish President Recep Tayyip Erdogan instructed the Ministry of Environment and Urbanisation to coordinate with relevant institutions, experts and universities to work together on the plan.
He said untreated waste dumped into the Marmara Sea and climate change had caused the sea snot bloom.
Marine experts agree. They say human waste and industrial pollution is choking Turkey's seas.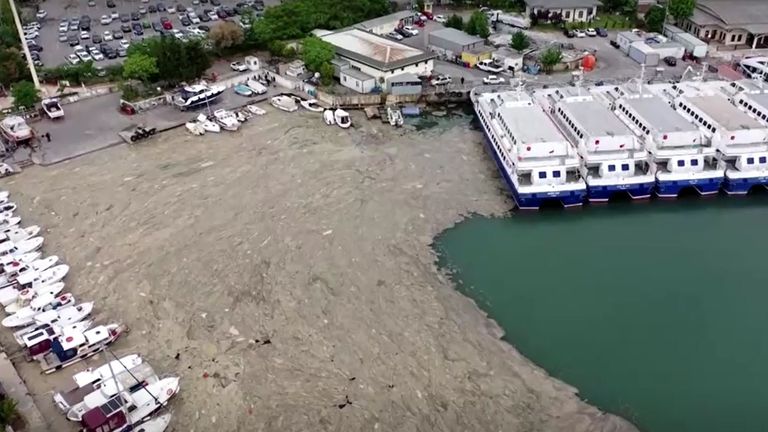 Istanbul, Turkey's largest city with some 16 million residents, factories and industrial hubs, borders the sea.
Mr Erdogan said teams are now inspecting waste water and solid waste facilities, along with other potential sources of pollution.
"We will save our seas from this mucilage calamity, leading with the Marmara Sea," he said.
"We must take this step without delay."
Israeli police detain prominent Palestinian activist for several hours | World News
A Palestinian protest leader was held by Israeli police for several hours after being arrested in the politically sensitive Sheikh Jarrah neighbourhood of Jerusalem.
The detention of Muna al-Kurd, who was later released, came amid heightened tensions in one of the most contentious areas of the city, which has been at the centre of unrest and helped sparked the recent deadly conflict between Israel and Hamas militants.
It follows the release from hospital of a prominent Al Jazeera journalist who was arrested while covering the campaign by Jewish settlers to evict dozens of Palestinian families from the district.
The boss of Givara Budeiri, a veteran correspondent for the satellite TV channel, said she had suffered a broken hand when she was detained on Saturday.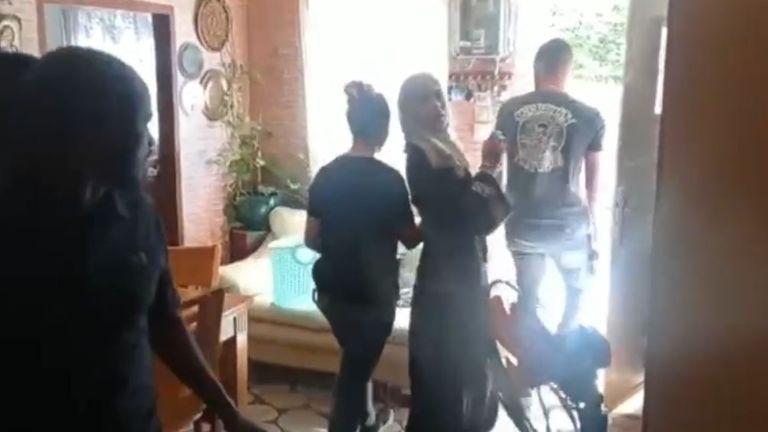 Ms Muna was arrested after Israeli police "stormed the house in large numbers and in a barbaric manner" early on Sunday, her father Nabil al-Kurd said.
Officers said they wanted to arrest his daughter, aged 23, and her 22-year-old brother, he added.
He said: "I was sleeping and I found them in my bedroom."
While his son was not home, police searched the house and arrested Ms Muna, one of the most well-known activists opposing the Israeli eviction drive.
Video posted on social media showed her being taken from the home in handcuffs.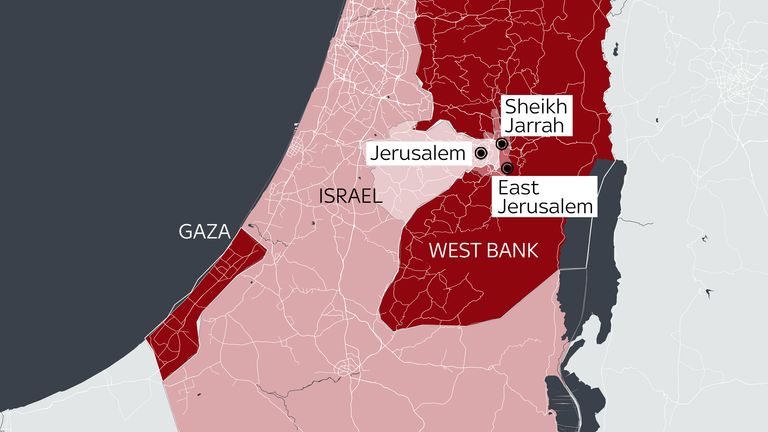 Ms Muna's father said: "The reason for the arrest is that we say that we will not leave our homes, and they do not want anyone to express his opinion, they do not want anyone to tell the truth.
"They want to silence us."
Police later confirmed the arrest of a 23-year-old woman for allegedly participating in "public disturbances" in Sheikh Jarrah.
Responding to her arrest, the Palestinian ambassador to the UK Husam Zomlot wrote on Twitter: "Arresting one or a thousand Palestinian does not end the struggle against injustice. If anything, it only strengthens people's quest for freedom & dignity. You can't defeat a nation, and you won't defeat the nation of Palestine."
A later tweet from writer and researcher Mariam Barghouti said: "The brave @kurd_muna is released! She was first taken from the police station to a detention center notorious for torturing Palestinians.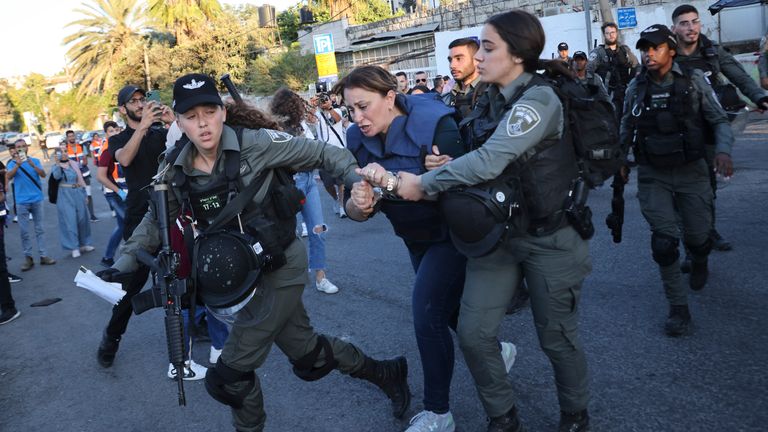 The weekend tensions began on Saturday as Ms Budeiri, wearing body armour marked "press", covered a sit-in by protesters.
Witnesses and the satellite channel said that after the demonstration was over, Israeli police asked her for press identification.
She offered to call her driver to bring it, but officers surrounded her, pushed her and handcuffed her, before leading her to a border police vehicle.
May: Contested claim over Jerusalem neighbourhood

She was held for four hours before she was taken to hospital with a broken hand, said Walid Omary, the Jerusalem bureau chief for Al Jazeera.
In footage posted online, Ms Budeiri can be seen handcuffed and surrounded by border police and she is heard shouting: "Don't touch, enough, enough."
Israeli police said she was detained after she was asked for identification, refused, and pushed a police officer.
Al Jazeera said her cameraman's video camera was also badly damaged by police.
Subscribe to the Daily podcast on Apple Podcasts, Google Podcasts, Spotify, Spreaker
The channel's acting director general, Mostefa Souag, condemned the police actions, saying: "The systematic targeting of our journalists is in total violation of all international conventions."
"They are attacking the journalists in east Jerusalem because they don't want them to continue covering what's happening inside Sheikh Jarrah," Mr Omary added.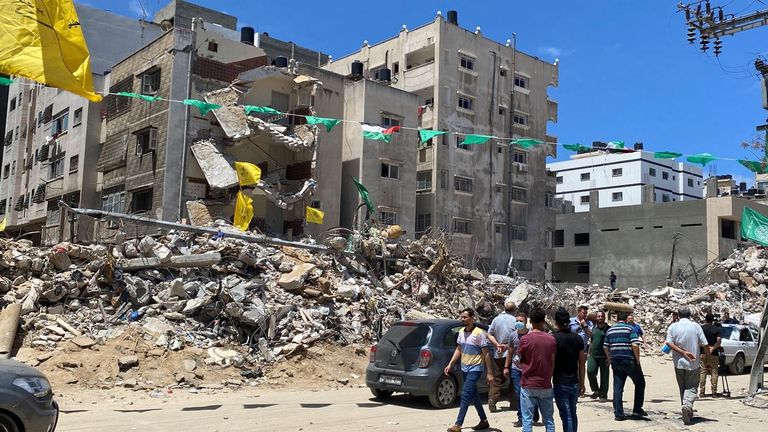 The tension in Sheikh Jarrah has fuelled weeks of unrest and helped trigger fighting between Israel and Hamas after the Islamic militant group fired several rockets towards Jerusalem on 10 May, saying it was defending Palestinian rights in the holy city.
The conflict, in which 254 people were killed in Gaza and 13 in Israel, ended on 21 May. Many of the victims in Gaza were women and children.
In total, Hamas fired more than 4,000 rockets towards Israel, while Israel bombed hundreds of Gaza targets it said were linked to the militants.