Billy Graham remembered as 'faithful,' 'most important evangelist' by religious leaders
After Rev. Billy Graham's death at the age of 99, pastors, authors and faith leaders alike remembered the evangelist as someone with great humility and a passion for the Bible's teachings. 
Some praised Graham – who preached to more than 200 million people in his lifetime – as "the most important evangelist since the Apostle Paul" and "one of the most faithful followers of Jesus." Others recalled the impact he had on their faith or that of loved ones.
About 2,000 people, including prominent religious leaders, were invited to Graham's funeral service, which took place Wednesday under a tent outside the Billy Graham Library near his home in Charlotte, North Carolina.
The Rev. Franklin Graham delivered the main funeral address for his father after personal messages from Billy Graham's three daughters and younger son.
"My father was F-A-T. He was Faithful, he was Available, and he was Teachable … May we all be that way," Graham's son, Nelson, told the crowd of mourners.
"My father was not God but he showed me what God was like," Graham's daughter, Ruth, added.
Several other religious leaders stepped up to the podium to thank Graham for his unwavering faith and leadership.
"Mr. Graham, on behalf of millions of international Christians around the world… thank you for your bringing salvation message to our part of the world," Billy Kim, former president of the Baptist World Alliance, said during the noon service.
As he's honored, here's a look at how Graham is being remembered by fellow Christian faith leaders.
Franklin Graham
Franklin Graham, the late reverend's son, recalled something his father once said about Heaven. 
"My father … was once asked, 'Where is Heaven?' He said, 'Heaven is where Jesus is and I am going to Him soon!' This morning, he departed this world into eternal life in Heaven, prepared by the Lord Jesus Christ — the Savior of the world — whom he proclaimed for 80 years," Franklin Graham said. 
Russell Moore
Russell Moore, president of the Ethics & Religious Liberty Commission, part of the Southern Baptist Convention, said it's almost "impossible" to count the number of people he knows who have become Christians through Graham's work.
In an interview with Fox News, Moore praised the authenticity of Graham, saying he was someone who was the same in both his public and private life.
"The death of Billy Graham is a time for all of us to reflect on the hope that he preached – forgiveness of sins and peace with God through Jesus Christ."

– Russell Moore
"My earliest memories are watching him preach on television as a very small child. I remember being struck as a child with the gravity with which he took the Gospel. That continued with me for the rest of my life," Moore said. "When I met Dr. Graham, that same sense of weightiness of the Gospel was evident in him personally – just as it was in public."
Moore added that Graham was "successful" because his work wasn't all about himself, comparing him to the John the Baptist.
"I think the death of Billy Graham is a time for all of us to reflect on the hope that he preached – forgiveness of sins and peace with God through Jesus Christ," Moore said. "I hope there's a great deal of reflection, not just on what he did, but why." 
Greg Laurie
Pastor Greg Laurie went from watching Graham on his black and white television to attending one of his crusades in San Diego, California, to serving with him as a board member on the Billy Graham Evangelistic Association.
"I wasn't in any way disappointed that I got to know him. He was every much the man you would have hoped he would be," Laurie, the pastor of Harvest Christian Fellowship, told Fox News.
"I don't think anyone will ever take Billy's place. But we can all, in our own way, follow his example and proclaim the same Gospel as he did."

– Greg Laurie
Laurie said Graham, who he has been friends with since the early 1990s, was a "very humble man" who enjoyed meeting and talking with new people. Graham was faithful in his message, Laurie said, which was simply: We're all sinners, but God loves us and sent his son to die for us.
"I don't think anyone will ever take Billy's place. But we can all, in our own way, follow his example and proclaim the same Gospel as he did," Laurie said. 
Rick Warren
"Billy Graham served God's purpose for his generation and then he died," Rick Warren said.
The venerable pastor and author's stark statement about Graham is a reference to Acts 13:36, a Bible verse that says, "Now when David had served God's purpose in his own generation, he fell asleep; he was buried with his ancestors and his body decayed."
That epithet, Warren told Fox News, is perhaps the greatest praise he could give someone. He complimented the late evangelist's integrity, single focus and humility.
"It would be hard to overestimate Billy Graham's impact on my life and ministry."

– Rick Warren
"There will not be a replacement" for Graham, he said. But that's not necessarily a bleak perspective.
"He was irreplaceable and unique, but the world has changed. In each generation, God raises up new women and new men to serve his purpose in his generation," Warren said. "It's one of the greatest lessons we can learn from Graham."
Warren also said, "It would be hard to overestimate Billy Graham's impact on my life and ministry." 
Graham "affirmed the next generation" through his encouragement. Warren, the senior pastor of Saddleback Church in California, said he still has multiple handwritten letters and cards from Graham, sent to him in encouragement when Warren was a young pastor.
Now – carrying on Graham's legacy – Warren continues the tradition. 
James Dobson
Calling Graham a "brother in Christ," Dr. James Dobson said he would miss the evangelist greatly.
"It's not often that you can say someone truly changed the world, but when it comes to Billy, he changed the face of eternity as well," Dobson, author and founder of Family Talk, said in a statement to Fox News. "Through his crusades, he helped turn many millions of hearts to Christ."
"While superlatives abound regarding the life and deeds of Rev. Graham, I believe he would want us all to point our admiration and adoration back to Jesus," he continued. 
Paula White
Paula White, pastor of New Destiny Christian Center in Apopka, Florida, told Fox News that Graham's "love of God was so tangible in his life."
"This man truly lived out Christ-likeness," said White, a spiritual adviser to President Trump, adding that when she met with Graham it was like she was having a conversation with Jesus himself. "His words were powerful and profound, but it was the presence of God in his life."
White continued, "He always pointed everything to Jesus Christ. It's one thing about Dr. Billy Graham – in word, deed, action, presence – he pointed everything back to his Lord and Savior." 
Thom Rainer
It was only the second or third time Thom Rainer was able to meet Graham before a Louisville, Kentucky crusade, but when the reverend saw him, he said, "I am so honored to see you again."
Rainer, president and CEO of the Nashville-based LifeWay Christian Resources, recalled the meeting, telling Fox News that it points to the "incredible humility" that embodied Graham.
Aside from his humility, Rainer praised Graham's ability to understand the context in which he lived in. As an evangelist, Graham was always asking questions, always searching for a better way to reach people, Rainer said. He did that through his crusades, then with the radio and eventually through television programs.
"He was an anointed man – we can only explain that through the right theology of God – but God used him because he was willing to understand the context [of the era]," Rainer, the founding dean of the Billy Graham School of Missions, Evangelism and Ministry at Southern Baptist Theological Seminary in Kentucky, said.  
Samuel Rodriguez
Rev. Samuel Rodriguez recalled watching Graham preaching on his black and white television when he was a young teenager. His sermons about reaching the world with the gospel inspired Rodriguez to do the same, he told Fox News.
The president of the National Hispanic Christian Leadership Conference, Rodriguez praised Graham as the "quintessential unifier," pointing, in particular, to the integration of his crusades at a time when segregation was prevalent.
"He understood that every single person is created in the image of God without exception."

– Samuel Rodriguez
"No Christian leader in modern history brought more unity to the Christian body than Billy Graham," he said.
"He understood that every single person is created in the image of God without exception," Rodriguez said of Graham, who he also called a "civil rights advocate."
Additionally, Rodriguez said Graham brought together different factions of Christianity – charismatics and non-charismatics – through his preaching.
"He taught me if you teach the word, but most importantly if you live the word, if your character lines up with your rhetoric, then God will convict the hearts of mankind," said Rodriguez. 
Anne Graham Lotz
When evangelist Anne Graham Lotz thinks of the late preacher, she doesn't necessarily think of the public figure – but her father, she said in a statement.
"But when I think of him I also think of his message because he was immersed in it. Saturated in it. He was his message…a simple man who had responded to God's love by placing his faith in Jesus, receiving the assurance that his sins were forgiven, that he would not perish, but would have everlasting life," Lotz, an author, said. "Simple faith. Faith that matters more than anything else."
Lotz recalled that she's said she was raised by a single parent, as Graham was often away for his ministry.
"Now, he has left again. This time, he will not be coming back. At least, not until Jesus does, too," Lotz said. "While he may be physically absent and his voice silent, I am confident that his message will continue to reverberate throughout the generations to come."
She said she hopes her father's death will be a "rallying cry" for others to "rise up to take his place." 
David Jeremiah
Pastor and author David Jeremiah said people should "rejoice that this child of God is reunited with his Father in Heaven."  
"I thank God for the life and ministry of this man to whom so many of us pastors, ministers and church leaders have long admired and whose example has inspired so many others to spend their lives in service to Jesus," Jeremiah, senior pastor of Shadow Mountain Community Church in California, said in a statement provided to Fox News.
Jentezen Franklin
Jentezen Franklin, the senior pastor of Free Chapel church in Gainesville, Georgia said, to him, Graham had the most commitment when it came to preaching.
"Upon hearing him preach for the first time one could immediately realize how dearly this man loved Jesus and wanted others to experience that same love – it overflowed from the very depths of his heart," Franklin said in a statement provided to Fox News. "His passion and commitment to sharing the love of Jesus all around the world was instrumental in my own life, inspiring me as I began my ministry."
Lee Strobel
Author of the bestseller "Case for Christ," Lee Strobel tweeted a simple message following Graham's death.
"A life of sharing the Good News with the world. Well done, good and faithful servant!" he wrote.
Beth Moore
Author and evangelist Beth Moore also took to Twitter to remember Graham.
"There simply will never be another Billy Graham," she posted. "What a gift of God to this world."
Steven Furtick
Steven Furtick, pastor of Elevation Church in the Charlotte area, paid tribute to Graham.
"You showed us how to leave the 99 for the 1. Thank you, Dr. Graham," Furtick tweeted.
His social media post referenced the Biblical parable about a shepherd who leaves his flock of 99 safe sheep to look for the one that wandered off.  
Joel Osteen
Evangelist and author Joel Osteen shared photos of himself with Graham with his Twitter followers, calling the late religious leader a "hero in our home."
"Next to my own father, Reverend Graham was the most humble and gracious man I ever knew. I am honored to call him a friend and mentor," Osteen said.
Dave Ramsey
Author and financial counselor Dave Ramsey remembered Graham as "possibly the greatest man of the last 100 years."
"The world is darker today as Billy Graham goes home," Ramsey said. "Thousands of souls applauding in Heaven as he walks in and hears: 'Well done good and faithful servant.'"
Jerry Falwell
Liberty University President Jerry Falwell expressed his prayers for Graham's family on social media.
"The Christian faith has lost its greatest orator of the last century who gave hope to billions that, even [though] we are all sinners, there is hope & eternal life thru faith in Jesus Christ," Falwell said. 
THE ONE THING BILLY GRAHAM WOULD WANT US TO REMEMBER
Cardinal Dolan
Cardinal Timothy Dolan, the archbishop of New York, said his family had "respect and admiration" for Graham, despite a difference in religious beliefs.
"There was no question that the Dolans were a Catholic family, firm in our faith, but in our household there was always respect and admiration for Billy Graham and the work he was doing to bring people to God." 
Archbishop of Canterbury
Justin Welby, the archbishop of Canterbury, said Graham was "an exemplar to generation upon generation of modern Christians."
"When it comes to a living and lasting influence upon the worldwide church he can have few equals: for he introduced person after person to Jesus Christ," said the archbishop, the leader of the Church of England.
"Now he is face to face with Jesus Christ, his saviour and ours. It is the meeting he has been looking forward to for the whole of his life."

– Archbishop of Canterbury
"The debt owed by the global church to him is immeasurable and inexpressible," Welby continued. "Personally I am profoundly grateful to God for the life and ministry of this good and faithful servant of the gospel; by his example he challenged all Christians to imitate how he lived and what he did."
"He was one who met presidents and preachers, monarchs and musicians, the poor and the rich, the young and the old, face to face. Yet now he is face to face with Jesus Christ, his saviour and ours. It is the meeting he has been looking forward to for the whole of his life."
The Associated Press contributed to this report.
Prince Harry and Meghan meet top UN official amid world leaders' gathering in New York | World News
Prince Harry and Meghan have met with a top UN official during the world body's biggest annual gathering.
The Duke and Duchess of Sussex visited the UN headquarters in New York to speak with deputy secretary-general Amina Mohammed.
Ms Mohammed said they discussed "how to engage on issues we care about deeply", such as vaccine equity, climate action, the economic empowerment of women, youth engagement and mental wellbeing.
Harry and Meghan pay respects at 9/11 memorial

"It was a lovely meeting," Meghan said afterwards.
The UN said Ms Mohammed welcomed the couple's work to address the organisation's 17 sustainable development goals, which were created in 2015 and include objectives like ending hunger and poverty, achieving gender equality and combating climate change.
The trio met ahead of their scheduled appearances at the Global Citizen concert in Central Park later on Saturday.
The star-studded, 24-hour event aims to encourage climate action and urge wealthier countries to share one billion doses of COVID-19 vaccines with other nations.
Billie Eilish and Ed Sheeran are among the musicians expected to headline the festival, which features performances in cities including New York, London and Sydney.
Tens of thousands of people are set to attend, with millions likely to tune in to the broadcast.
Prince Harry and Meghan are due to speak at the event in New York as part of their first major public trip since quitting as senior royals.
Earlier this week they visited the city's memorial for the 9/11 attacks on the World Trade Center, with New York City mayor Bill de Blasio and the state's governor, Kathy Hochul, joining them.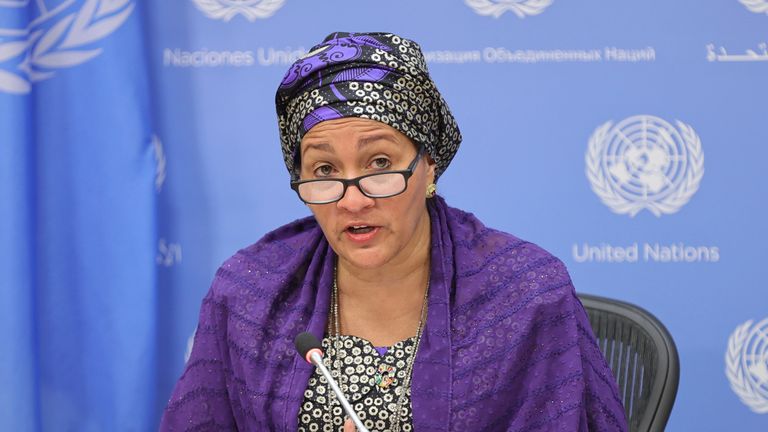 The UN is currently hosting the annual general assembly of world leaders, who have been discussing efforts to fight climate change and COVID-19.
Meghan has been involved with the UN women's agency for several years, acting as "advocate for political participation and leadership".
Were Prince Harry and Meghan cut off financially?

The Duke and Duchess of Sussex were among those chosen as Time magazine's 100 most influential people last week.
Last year, the couple stepped down from royal duties, moving to California and launching their Archewell Foundation.
They have previously supported other Global Citizen initiatives, acting as campaign chairs for a Vax Live event in May which encouraged donations to Covax, an initiative working to provide vaccines for low and middle-income countries.
In a speech he made on stage, Prince Harry called for coronavirus jabs to be "distributed to everyone everywhere".
German election: Voters want fresh leadership even if many seem unconvinced by the options | Politics News
They're already putting Angela Merkel out to pasture at the Tussauds waxworks in Berlin, decking her out in clothes to go hiking, which the chancellor says she wants to do more of when she's retired.
Mrs Merkel has been chancellor for 16 years.
Madam Tussaud's studio assistant Karen Fries says it will be strange when she is gone.
Germany election: What's at stake?

"It's going to be weird, yes, because it's now 16 years and we are not used to getting along without her, but we'll see."
The same sentiments are around the corner at the Brandenburg Gate.
Another race was under way ahead of the election: rollerbladers gathering to speed around the route of the marathon that is run this weekend.
"Both of us, we are 23," two young bladers told us. "We just know Angela Merkel. So I think an era comes to an end."
Another man told us none of the candidates can replace her: "No, they are too weak."
Is this just another country's election or one we should all be interested in?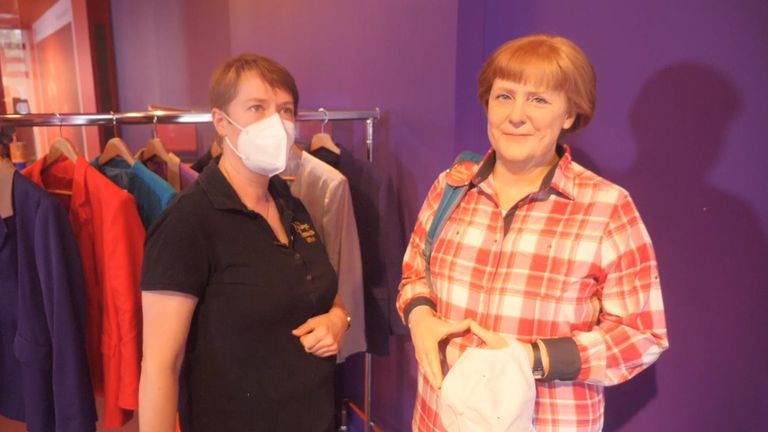 Angela Merkel was called the leader of the free world, a moniker she herself thought was absurd. But it gives a sense of the void she may leave in these uncertain times.
Mrs Merkel has been credited with steering Germany through numerous crises but critics say she did not do enough to see them coming or warn Germans about others on their way.
Matthew Karnitschnig, Politico's chief Europe correspondent, says: "The problem is that Merkel has shielded the population for a very long time from the realities of what's going on in the world."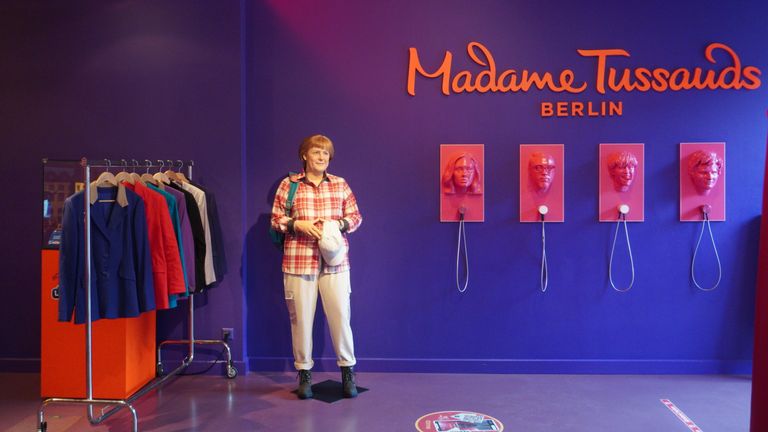 Mrs Merkel was more of an administrator than a leader, he says, and has left one key question unanswered for her successors to address.
The way they do could have ramifications far beyond Germany.
"What's at stake, really, is what role Germany is going to play in the world," he says.
"Does Germany want to be a real player on the world stage, or does it want to act more like a giant Switzerland in the middle of Europe, trying to be all things to all people?"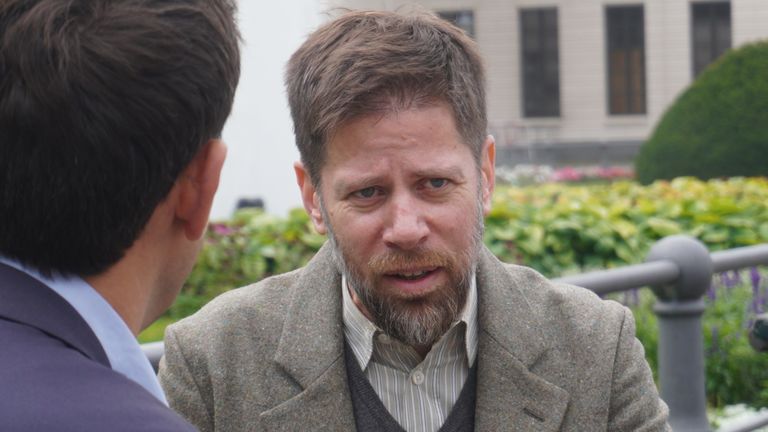 Germany after Mrs Merkel will be under pressure from America to take on Russia more and be a more useful partner within the EU.
For Europe's largest country and richest economy, it has not punched at its weight in the minds of many in Washington and elsewhere.
Others agree that Mrs Merkel cossetted Germans and protected them from global realities too much.
Green MEP Sergei Lagodinski, who helped write his party's foreign policy, told Sky News: "I do hope very much that after this very comfortable sleep that we had with a very comforting leader who actually drove us and directed us quite good through a couple of crises, we need now to wake up not only to survive crisis and get back to the business as usual, but try to reimagine both Germany and Europe in this new age."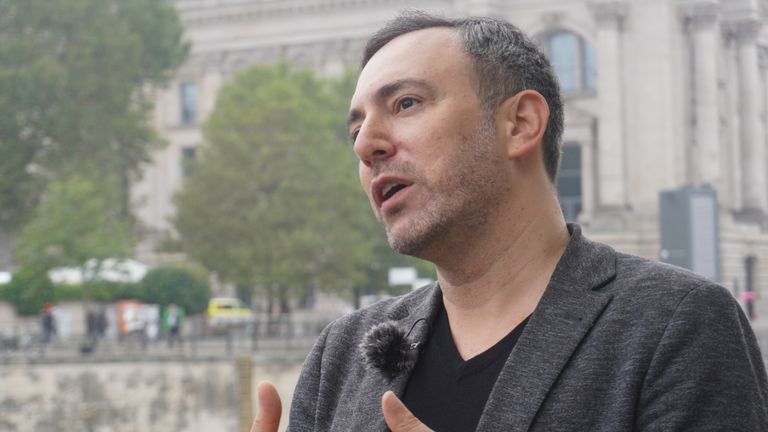 The world and Germany are very different now than 16 years ago when Merkel first came to power.
Climate change, populism and artificial intelligence are all challenges that need proactive leadership, arguably not a strength of Mrs Merkel's.
"I think it's tremendously important, not just for Germany but for Europe," Mr Lagodinski says.
German voters take to the polls

"We have a situation where we have a change in terms of who's going to lead Germany but also we have a totally changed global situation."
There is the sense of an era coming to an end on the eve of this important election.
In the dusky light of a warm September evening, the voters we spoke to seemed relaxed about the future but conflicted too.
Germany's election: The end of Merkel

They want change but also continuity.
There is a yearning for stability with such a familiar figure bowing out and in such unpredictable times. But 16 years is a long long time to have one leader, we have been told repeatedly.
Germany and the world have new challenges to take on and new demons to fight, and voters want fresh leadership even if many seem unconvinced by the line-up they have to choose from.
Dean Berta Vinales: Fifteen-year-old World Superbike star dies after crash during race in Spain | World News

Fifteen-year-old motorcyclist Dean Berta Vinales has died following a crash at a World Superbike Championship race in Jerez, Spain.
After 11 laps in the Supersport 300 support race, the Spanish athlete crashed at the second turn, along with three other riders.
He suffered severe head and spinal injuries and was treated by medical crews who arrived on the scene, World Superbike said.
They attended to him on the track, in an ambulance and at the circuit medical centre.
"Despite the best efforts of the circuit medical staff, the Medical Centre has announced that Berta Vinales has sadly succumbed to his injuries," World Superbike said.
The race was red-flagged by the director and cancelled, along with the rest of Saturday's action.
Vinales was MotoGP rider Maverick Vinales's cousin and he rode for his uncle's Vinales Racing Team.
In a statement on social media, Vinales Racing Team said it was "devastated".
MotoGP said on Twitter: "We're devastated by the tragic loss of @DeanBerta21 following a crash in #WorldSSP300 Race 1 today.
"Sending all our love and strength to Maverick Vinales and Dean's entire family, his team and loved ones."
Six-time MotoGP champion Marc Marquez wrote: "Rest in peace Dean. All my support to family and friends."
We're deeply saddened to report the loss of Dean Berta Viñales.

The #WorldSBK family sends love to his family, loved ones, and his team. Your personality, enthusiasm, and commitment will be hugely missed.

The whole motorcycle racing world will miss you, Dean. Ride in Peace. pic.twitter.com/46KuUt4Vnl

— WorldSBK (@WorldSBK) September 25, 2021
World Superbike said Vinales was "enjoying a recent run of good form" in his rookie season in the FIM Supersport 300 World Championship, coming in fourth in Race 2 at the Magny-Cours circuit and sixth in Race 2 at the Barcelona-Catalunya track.
He had set the fastest lap in Race 1 and the organisation said he was "showing great potential".
The tragedy is the latest in a series of crashes that have claimed the lives of young riders.
Fourteen-year-old Hugo Millan died after crashing at a race in Alcaniz, Spain in July, while Swiss Moto3 rider Jason Dupasquier, 19, died in May from injuries he sustained in a three-bike crash during a qualifying session at the Mugello circuit in Italy.