Trump's feuds with Republican lawmakers, from Jeff Sessions to Lindsey Graham
From the Russia investigation to health care, President Trump has not shied away from fighting those in his own party – especially on social media.
Here's a look at some of the Republican lawmakers Trump has feuded with since he's taken office.
Bob Corker
Tennessee Sen. Bob Corker announced in 2017 that he would retire at the end of his term – and Trump credited himself with the decision.
"Senator Bob Corker 'begged' me to endorse him for re-election in Tennessee. I said 'NO' and he dropped out (said he could not win without my endorsement)," Trump said on Twitter, adding that he also denied Corker a position as secretary of state.
Trump blamed Corker, who he nicknamed "Liddle Bob Corker" for the Iran nuclear deal and said he couldn't "get elected dog catcher in Tennessee."
But Corker wasn't without his own jabs at the administration. He said the "White House has become an adult day care center" and accused Trump of having "not demonstrated he understands the character of this nation" following the Charlottesville attack. He also credited White House chief of staff John Kelly, Defense Secretary James Mattis and Secretary of State Rex Tillerson with "help[ing] to separate our country from chaos."
Jeff Flake
When Arizona Sen. Jeff Flake announced he would not seek re-election, he took the opportunity to call the president "reckless, outrageous and undignified" from the Senate floor.
Prior to Flake's speech, Trump called the lawmaker "weak," particularly on the issue of illegal immigration. He also encouraged Kelli Ward, a controversial Republican, to run against Flake.
Flake, who didn't vote for Trump in the presidential election, again escalated the fracas between the two men when he publicly shared a check he wrote to then-Democratic Senate candidate Doug Jones with the subject line saying, "Country over Party." Jones beat Roy Moore, the beleaguered Republican accused of sexual misconduct in the special election in December 2017.
Additionally, Trump has nicknamed the senator "Flake(y)." And Flake accused Trump of having "inspired dictators and authoritarians with his own rhetoric."
Lindsey Graham
Ever since Trump gave out former GOP candidate Lindsey Graham's cell phone number during the presidential campaign, the two's on-again-off-again relationship has continued.
Graham, a senator from South Carolina, clashed with Trump following his response to the attack in Charlottesville in 2017.
"President Trump took a step backward by again suggesting there is moral equivalency between the white supremacist neo-Nazis and KKK members who attended the Charlottesville rally and people like Ms. Heyer," Graham said, referencing the woman who died when a man drove his car into a crowd of people protesting white supremacists. "I, along with many others, do not endorse this moral equivalency."
Trump, in turn, accused Graham of "publicity seeking."
While the pair seemingly came together during efforts to repeal ObamaCare, Graham and Trump again clashed over immigration.
After Graham partnered with Sen. Dick Durbin, D-Ill., on an immigration bill, the White House accused them of being "completely dishonest" in negotiations.
Graham admonished the administration, saying, "If you continue this attack on everything and everybody and make it a political exercise, we're doomed to fail, and it is President Trump's presidency that will be the biggest loser."
John McCain
The fight between Arizona Sen. John McCain and Trump started during the campaign – and escalated when the then-presidential candidate said McCain was a "war hero because he was captured."
"I like people who weren't captured," Trump said at a 2015 Iowa event.
Since that comment, the two have feuded over a variety of issues, especially when it came to health care reform.
McCain, who is suffering from an aggressive form of brain cancer, voted against a so-called "skinny repeal" of ObamaCare in July 2017. And Trump seemingly hasn't forgotten it.
In a radio interview in 2017, Trump called McCain's vote a "tremendous slap in the face to the Republican Party." And during a speech to those gathered at the Conservative Political Action Conference (CPAC) in February 2018, Trump criticized McCain's vote, shaking his head.
Daughter Meghan, a host on "The View," said she recently spoke to the president and first lady Melania Trump. During the conversation, she said she "was under the impression that this sort of fight between our families, and between him and my father especially at this particular moment, would end."
Mitch McConnell
Trump and Senate Majority Leader Mitch McConnell haven't had the steadiest of relationships since Trump won the White House. The pair have fought over a variety of issues, including health care, the debt ceiling and the investigation into Russia's involvement in the 2016 election.
McConnell has also reportedly questioned Trump's governing style in both public and private comments.
Trump, in turn, blamed McConnell for having "failed" to repeal and replace the Affordable Care Act.
Jeff Sessions
Attorney Gen. Jeff Sessions has often found himself the target of Trump's wrath – especially online.
More recently, Trump blasted Sessions for instructing an "Obama guy" to investigation allegations of government surveillance abuse that came to light after memos were released about FBI and DOJ efforts to obtain FISA warrants to spy on a former Trump campaign adviser.
"Why is A.G. Jeff Sessions asking the Inspector General to investigate potentially massive FISA abuse. Will take forever, has no prosecutorial power and already late with reports on Comey etc. Isn't the I.G. an Obama guy? Why not use Justice Department lawyers? DISGRACEFUL!" Trump said on social media.
In a statement, Sessions said, "As long as I am the Attorney General, I will continue to discharge my duties with integrity and honor, and this Department will continue to do its work in a fair and impartial manner according to the law and Constitution."
Sessions also drew much consternation from the president when he recused himself from the Russia investigation.
Trump later lashed out at Sessions online.
"If all of the Russian meddling took place during the Obama Administration … why aren't they the subject of the investigation?" Trump tweeted.
Afghanistan: Youngsters protest online against order telling girls not to go to school | World News
Afghan girls and boys have joined a social media protest against a decision by the Taliban to prevent young females going to school.
Putting their own safety at risk, many have created makeshift banners to make their points, opposing an edict by the Taliban government that female middle and high school students should not return to school for the time being, while boys of the same age can resume their studies this weekend.
It comes as the interim mayor of Kabul is telling female city authority employees to stay home, with only those whose jobs cannot be done by men allowed to work.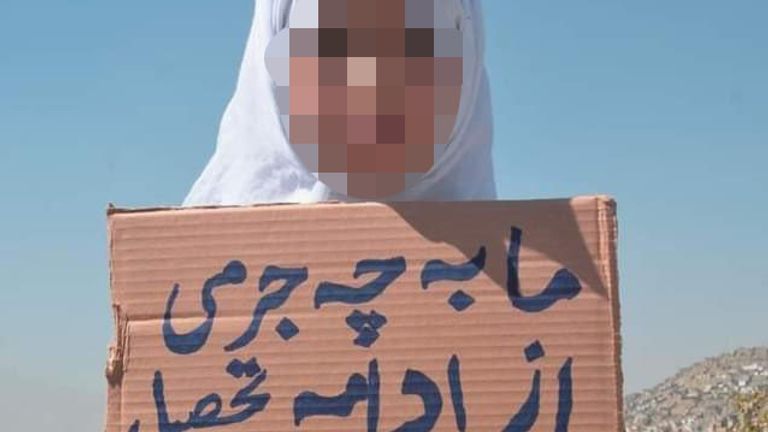 The moves are further evidence the Taliban, which overran Kabul last month, is enforcing its harsh interpretation of Islam despite initial promises that it would be tolerant and inclusive.
Among the slogans on the banners displayed by the youngsters are statements like: "What is our crime that we are prevented from education?" and "I won't go to school without my sister. I support my sister. We are equal."
Sky News has blurred the faces of some of those protesting, as there are fears they could be at risk in a country that appears to be clamping down on the right of expression.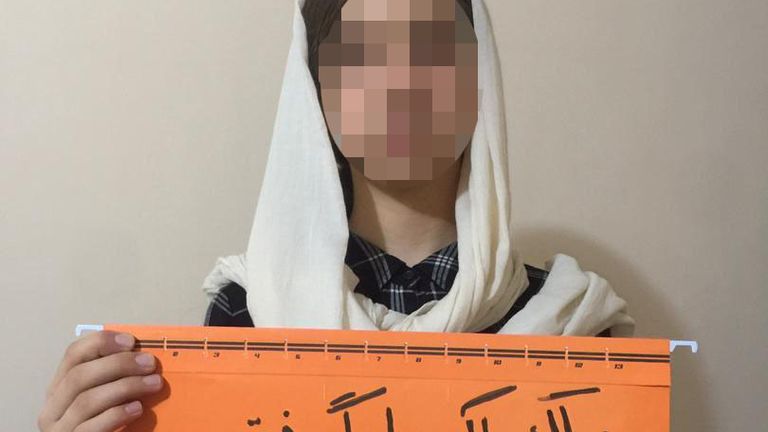 On Sunday, just over a dozen women staged a protest outside the new ministry, holding up placards calling for the right of women to participate in public life.
The protest lasted for about 10 minutes before a short verbal confrontation occurred with a man and the women got into cars and left, as members of the Taliban watched from nearby cars.
Kabul's new interim mayor, Hamdullah Namony, told his first news conference that, pending a further decision, most of the 1,000 or so female city authority employees would be required to stay home.
He said exceptions would only be made for women who could not be replaced by men, including some in the design and engineering departments and the attendants of public toilets for women.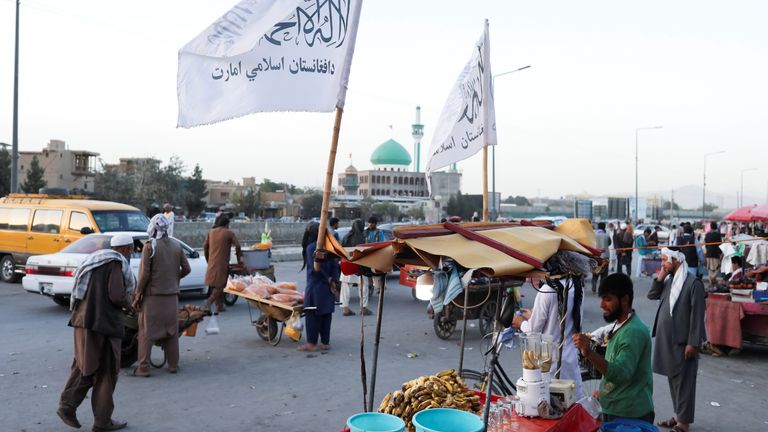 Mr Namony added: "There are some areas that men can't do it, we have to ask our female staff to fulfil their duties, there is no alternative for it."
During its previous rule between the mid 1990s and 2001, the Taliban had forbidden girls and women from schools, jobs and public life.
In recent days, Taliban officials told female university students that classes would take place in gender-segregated settings, and they must abide by a strict Islamic dress code.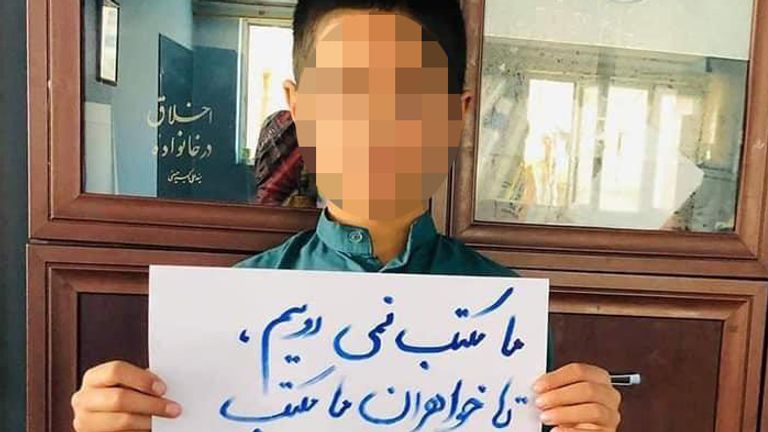 Under the previous US-backed administration, before it was deposed by the Taliban in August, men and women had sat alongside each other in universities, for the most part.
On Friday, the Taliban shut down the ministry for women's affairs, replacing it with a government department responsible for the "propagation of virtue and the prevention of vice", with the job of enforcing Islamic law.
Amid deteriorating conditions for ordinary Afghans, many of whom previously relied on international aid, witnesses said an explosion targeted a Taliban vehicle in the provincial city of Jalalabad, the second such deadly blast in as many days in an area where Islamic State militants are said to dominate.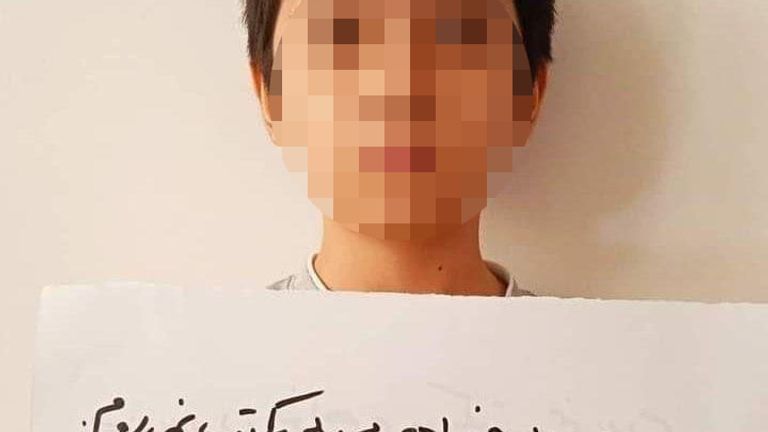 The Taliban and IS extremists are enemies and battled each other before the Taliban took control of Afghanistan last month.
Initial reports said five people were killed, with a child among the two civilians said to have died. The Taliban were not immediately available for comment.
Boris Johnson tells world leaders he is growing 'increasingly frustrated' at their efforts to tackle climate change | Politics News
Boris Johnson has criticised other world leaders over their efforts to tackle climate change, telling them he is growing "increasingly frustrated" that their commitments are "nowhere near enough".
Speaking during a meeting at the United Nations in New York, the prime minister said the gap between what has been promised by industrialised nations and what they have so far delivered remains "vast".
Co-hosting a discussion on the issue at the UN General Assembly, Mr Johnson urged fellow leaders to renew their efforts to meet a key financing pledge to help developing nations.
The PM wants to get countries to commit to giving $100bn (£73bn) a year in support to developing nations to cut their carbon emissions and shield themselves against climate change.
But he earlier told reporters there was only a "six out of 10" chance of this target being met before the COP26 climate summit in Glasgow in November – which he then said will be "a turning point for the world" and "the moment when we have to grow up and take our responsibilities".
He told Sky News' political editor Beth Rigby: "We have been here before, we have all heard lots of positive noises, let's see where we get to.
"We are not counting our chickens."
However, Joe Biden's climate envoy sounded upbeat when questioned by Sky News.
"I think we're going to get it done by COP and the US will do its part," John Kerry said.
Asked if the US president will announce more money this week, he replied: "I'm not hoping… I'm telling you to stay tuned into the president's speech and we'll see where we are."
Chairing the climate discussion on Monday, Mr Johnson noted that "everyone nods and we all agree that something must be done".
Kerry 'confident' of $100bn climate target

"Yet I confess I'm increasingly frustrated that the 'something' to which many of you have committed is nowhere near enough," he continued.
"It is the biggest economies in the world that are causing the problem, while the smallest suffer the worst consequences.
"And while progress is being made all over the world, the gulf between what has been promised, what is actually being delivered, and what needs to happen… it remains vast.
"Too many major economies – some represented here today, some absent – are lagging too far behind."
And the PM warned countries there would be consequences if the financing target is not met, saying: "If you say that the lives of their children are not worth the hassle of reducing domestic coal consumption, will they vote with you in fora such as this?
"Will they work with you, borrow from you, stand with you if you tell the world that you don't care whether their land and their people slip below the waves?
Subscribe to ClimateCast on Spotify, Apple Podcasts, or Spreaker
"To be merely a bystander is to be complicit in their fate – yet that is exactly what you will be if you fail to act this year."
Ahead of the UN meeting, Downing Street said developed countries had "collectively failed" to meet the target.
Figures released last week by the Organisation for Economic Co-operation and Development showed that $79.6bn was mobilised in 2019, more than $20bn off the target.
Watch the Daily Climate Show at 6.30pm Monday to Friday on Sky News, the Sky News website and app, on YouTube and Twitter.
The show investigates how global warming is changing our landscape and highlights solutions to the crisis.
Serbians block roads in Kosovo in protest over license plate restrictions | World News
Protesters have blocked roads in northern Kosovo after authorities stopped cars with Serbian plates from entering the country.
Police in Jarinje, Kosovo are forcing drivers from Serbia to remove or hide license plates and use temporary registration details that are valid for 60 days and cost €5 (£4.30).
Serbia, which lost control of Kosovo in 1999, does not recognise Kosovo and has stopped cars with Kosovo license plates from entering the country.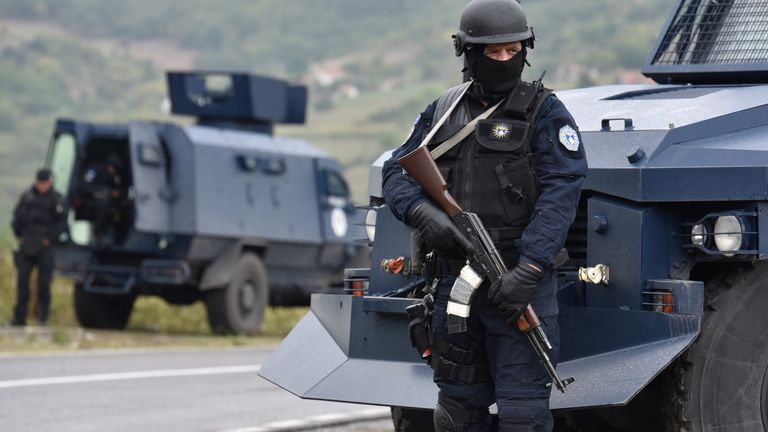 Almost 50,000 Serbs who live in the north of Kosovo and share a border with Serbia, refuse to recognise Pristina's authorities and as restrictions came into force on Monday, cars and trucks blocked roads in protest.
Police in Kosovo deployed riot gear and armoured vehicles as the blockades built up and Kosovo's Prime Minister, Albin Kurti, said the move was not taken to harm drivers but was a retaliation measure against Belgrade.
"Today there is nothing illegal or discriminatory," Mr Kurti said in parliament.
"Just as yesterday, today and tomorrow, Serb citizens will move freely and safely."
Serbian President Aleksandar Vucic said the situation is very "serious and difficult".
"When you are dealing with people who are not responsible, it is difficult to find a solution," Mr Vucic said.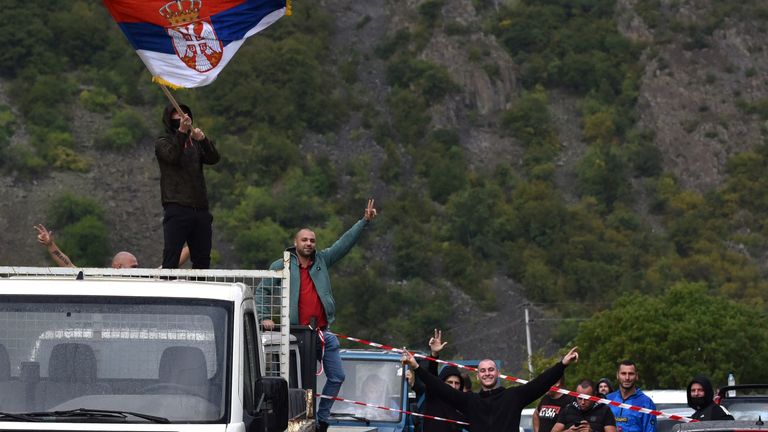 The two countries began talks in 2013, mediated by the European Union, to resolve the issues, but little progress has been made.
Kosovo is recognised by around 110 countries, including the United States, Britain and most western countries, but Russia, Serbia's traditional ally, does not recognise it.