Media unload on Trump for saying he'd have run into Florida school
Just as we're having an intense conversation about mass shootings and gun control, the media are fixating on some remarks by President Trump that do nothing to advance the debate.
The president probably should have avoided the braggadocious comments, but this is the pattern we've seen so many times: Trump says something inartful, that causes a media eruption, and the underlying issue is overshadowed as the pundits race to their battle stations.
To me, the overriding question right now is whether Trump and Congress are going to actually do something in the wake of the Florida school shooting after the president put the issue at the top of the national agenda.
But the coverage took a sharp turn after Trump spoke to the semi-annual gathering of governors. As he denigrated the failure of deputy sheriffs to run into the Parkland high school as the gunman opened fire, the part of the Trump quote that many are using is this: "I really believe I'd run in, even if I didn't have a weapon."
Now that sounds like he's casting himself as some kind of superhero, and was guaranteed to draw criticism.
But here's the full context: "I really believe–you don't know until you test it, but I think–I'd really believe I'd run into–even if I didn't have a weapon, and I think most of the people in this room would have done that too, because I know most of you. But the way they performed was really a disgrace."
So what Trump was saying was that he was not more courageous than "most of the people in this room," but still believes—though you never really know until confronted with a crisis—that he would have done more than the dormant deputies.
That was the lead of the New York Times story. The Washington Post ran a piece saying "here's what he's done in the face of danger": accepting five Vietnam draft deferments (one of them for bone spurs) and appearing spooked when a man charged the stage at a campaign rally.
Others ran pieces on Trump critic Stephen Colbert mocking the president. USA Today's headline: "Late night: Trump's living in a 'fantasy world' for saying he'd have 'run in' to Fla. school."
The Chicago Tribune's headline: "Colbert to Trump: 'What are you going to do, run in there and stab them with your bone spurs?'"
Did Trump open the door with his comments? Sure. But ultimately, who cares? It's a hypothetical. We don't hire presidents to risk their lives fighting crime.
The far more important question (covered by some) is how hard he will push the Hill do act on his gun proposals.
The president repeated his determination to ban bump stocks. He said again that the country needs "very strong" background checks ("If I see a sicko, I don't want him having a gun") and to reform mental institutions.
Trump continues to talk about arming trained teachers and others in school, although the other day he indicated that would be up to the states, which would mean no federal action.
But as some journalists pointed out, Trump did not mention his plan to raise the age limit on buying assault-style weapons like the AR-15 from 18 to 21. He said last week that the NRA would go along, but the group continues to oppose the idea. So is the president backing off?
In disclosing that he had lunch with top NRA officials, Trump told the governors "they're on our side." But he also said, "If they're not with you, we have to fight them every once in a while. That's OK." (Sarah Sanders said yesterday her boss still supports raising age limits on some guns.)
If Trump, a vocal defender of the Second Amendment, does go up against the NRA, that would show a different kind of courage than running into a building under siege by a gunman.
Boris Johnson calls on richest countries to meet $100bn climate pledge | Politics News
Rich countries must do more to help developing nations cut carbon emissions, Boris Johnson will tell other world leaders at a high-level gathering in New York.
The prime minister will be hosting the meeting on climate change with UN secretary general Antonio Guterres.
It is understood Mr Johnson is likely to focus on coal, cash support, cars and trees, which soak up carbon dioxide.
The prime minister is also expected to discuss global warming with US President Joe Biden in a meeting at the White House in Washington.
Ahead of the gathering in New York, Mr Johnson said richer nations have "reaped the benefits of untrammelled pollution for generations".
This has often been "at the expense of developing countries", he added.
"As those countries now try to grow their economies in a clean, green and sustainable way we have a duty to support them in doing so – with our technology, with our expertise and with the money we have promised," the prime minister said.
The UN meeting is seen as a way of galvanising action on climate change ahead of the COP26 summit, being held in the UK in November.
Earlier, however, COP26 president Alok Sharma admitted Chinese President Xi Jinping is yet to commit to attending the gathering in Glasgow, now fewer than 50 days away.
That is despite China being "key" to the talks because it is the "biggest emitter in the world", Mr Sharma told Sky News.
He wants the Chinese to "come forward and make (COP26) a success together with the rest of the world".
How will cabinet reshuffle impact climate goals?

Developed countries agreed to give $100bn (£73bn) a year to developing ones by 2020, to help them cut their emissions, Downing Street said.
But by 2019 the level had reached only $79.6bn (£58bn), more than $20bn (£14bn) short of the target set for the following year.
The UK has asked Germany and Canada to take a lead on developing a "$100bn Delivery Plan", to be published ahead of COP26.
Downing Street said that at the end of the UN General Assembly this week, the UK will publish the detail of countries' climate finance commitments to date.
The UK has already committed £11.6bn in international climate finance over the next five years, Number 10 said – twice the previous five-year commitment.
Boris Johnson will say in New York that £550m of that will be allocated to support developing countries in adopting policies and technologies that end the use of coal.
The prime minister will also be meeting Amazon boss Jeff Bezos, to discuss the amount of tax the giant online retailer pays, and the help it might be able to offer on the environment.
Subscribe to the Daily podcast on Apple Podcasts, Google Podcasts, Spotify, Spreaker
Despite Amazon's UK sales rising by 51% to almost £20bn during coronavirus lockdowns last year, it is estimated to have a tax to turnover ratio of just 0.37%.
Asked if Mr Johnson will bring up tax when he sits down with Mr Bezos, the prime minister's official spokesman said: "We will very much be looking to raise that.
"We have been a lead advocate for an international solution to the tax challenges posed by digitalisation of the economy."
Watch the Daily Climate Show at 6.30pm Monday to Friday on Sky News, the Sky News website and app, on YouTube and Twitter.
The show investigates how global warming is changing our landscape and highlights solutions to the crisis.
Perm State University shooting: At least eight dead and several injured in Russia after gunman opens fire on campus | World News

At least eight people have been killed and several are injured after a gunman opened fire at a university in the Russian city of Perm, officials have said.
The shooter at Perm State University has since been "neutralised", according to the independent Russian news agency Interfax.
Students and staff of the university locked themselves in rooms during the incident, and the university urged those who could leave the campus to do so.
The Tass news agency quoted police as saying that some students jumped out of windows of a building during the incident.
It is not immediately clear whether those reported wounded sustained injuries from the shooting or from trying to escape the building.
The Russian Investigative Committee said, according to reports, at least eight people were killed and several were injured in the incident, but the exact data on the number of fatalities and casualties are being specified.
It added that the suspect has been identified and he was "wounded" while being arrested.
Forensic investigators have been sent to the scene to assist with the investigation.
Nazanin Zaghari-Ratcliffe's husband urges foreign secretary to make case 'top priority' | World News
The husband of Nazanin Zaghari-Ratcliffe had "good" talks with Liz Truss, ahead of her meeting with the Iranian foreign minister to call for the immediate release of detained UK nationals.
Richard Ratcliffe told the foreign secretary during a 10-minute phone call on Sunday that his wife's case should be the top priority and he wanted to see the government tackle hostage-taking head on.
Ms Truss later said she will push for UK nationals trapped in Iran to be released, during a meeting with Hossein Amir-Abdollahian at the UN General Assembly in New York later.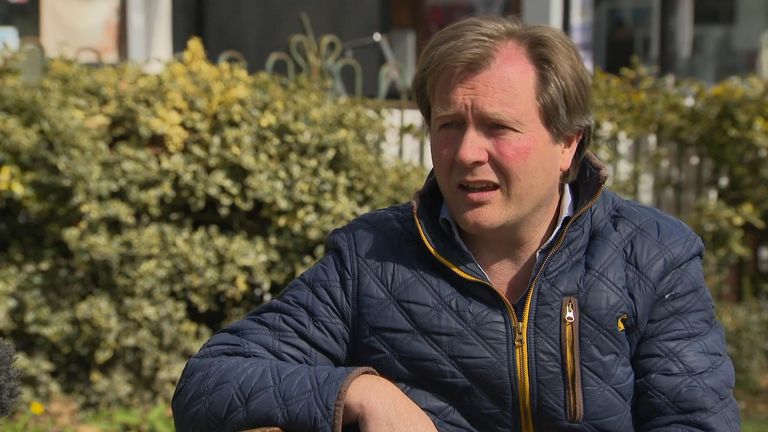 She is expected to bring up the cases of Ms Zaghari-Ratcliffe, Anoosheh Ashoori and Morad Tahbaz.
Ms Truss said: "I will be asking Iran to ensure the immediate and permanent release of all arbitrarily detained British nationals in Iran, and to begin working with us to mend our fractured relations."
She had earlier spoken to Mr Ratcliffe while at the airport before leaving for New York, and is said to have shared his concerns about the situation.
Mr Ratcliffe's wife, a British-Iranian dual national, has been in custody in Iran since 2016 after being accused of plotting to overthrow the government.
Mr Ratcliffe told the PA news agency: "It was nice to hear, considering she is three days into the new job, and is earlier than expected.
"I think it went well overall, she asked me how I wanted to see things – I told her that Nazanin has been used as a bargaining chip of the Iranian government for some time and that I wanted to see Iranian hostage-taking disincentivised."
Mr Ratcliffe earlier said that he had given Ms Truss the names of 10 people he accuses of being involved with "hostage-taking" in Iran.
He called on the foreign secretary to ensure Iran is made aware this is an "unacceptable practice".
Richard Ratcliffe is due to appear on Sky News this morning at around 7.35am.