Media unload on Trump for saying he'd have run into Florida school
Just as we're having an intense conversation about mass shootings and gun control, the media are fixating on some remarks by President Trump that do nothing to advance the debate.
The president probably should have avoided the braggadocious comments, but this is the pattern we've seen so many times: Trump says something inartful, that causes a media eruption, and the underlying issue is overshadowed as the pundits race to their battle stations.
To me, the overriding question right now is whether Trump and Congress are going to actually do something in the wake of the Florida school shooting after the president put the issue at the top of the national agenda.
But the coverage took a sharp turn after Trump spoke to the semi-annual gathering of governors. As he denigrated the failure of deputy sheriffs to run into the Parkland high school as the gunman opened fire, the part of the Trump quote that many are using is this: "I really believe I'd run in, even if I didn't have a weapon."
Now that sounds like he's casting himself as some kind of superhero, and was guaranteed to draw criticism.
But here's the full context: "I really believe–you don't know until you test it, but I think–I'd really believe I'd run into–even if I didn't have a weapon, and I think most of the people in this room would have done that too, because I know most of you. But the way they performed was really a disgrace."
So what Trump was saying was that he was not more courageous than "most of the people in this room," but still believes—though you never really know until confronted with a crisis—that he would have done more than the dormant deputies.
That was the lead of the New York Times story. The Washington Post ran a piece saying "here's what he's done in the face of danger": accepting five Vietnam draft deferments (one of them for bone spurs) and appearing spooked when a man charged the stage at a campaign rally.
Others ran pieces on Trump critic Stephen Colbert mocking the president. USA Today's headline: "Late night: Trump's living in a 'fantasy world' for saying he'd have 'run in' to Fla. school."
The Chicago Tribune's headline: "Colbert to Trump: 'What are you going to do, run in there and stab them with your bone spurs?'"
Did Trump open the door with his comments? Sure. But ultimately, who cares? It's a hypothetical. We don't hire presidents to risk their lives fighting crime.
The far more important question (covered by some) is how hard he will push the Hill do act on his gun proposals.
The president repeated his determination to ban bump stocks. He said again that the country needs "very strong" background checks ("If I see a sicko, I don't want him having a gun") and to reform mental institutions.
Trump continues to talk about arming trained teachers and others in school, although the other day he indicated that would be up to the states, which would mean no federal action.
But as some journalists pointed out, Trump did not mention his plan to raise the age limit on buying assault-style weapons like the AR-15 from 18 to 21. He said last week that the NRA would go along, but the group continues to oppose the idea. So is the president backing off?
In disclosing that he had lunch with top NRA officials, Trump told the governors "they're on our side." But he also said, "If they're not with you, we have to fight them every once in a while. That's OK." (Sarah Sanders said yesterday her boss still supports raising age limits on some guns.)
If Trump, a vocal defender of the Second Amendment, does go up against the NRA, that would show a different kind of courage than running into a building under siege by a gunman.
Drugs kingpin El Chapo's wife faces long sentence after admitting to helping run his empire | World News
The wife of jailed drug lord Joaquin "El Chapo" Guzman has pleaded guilty to a range of charges after being accused of helping to run his vast empire.
Emma Coronel Aispuro faced accusations she aided El Chapo in managing the Sinaloa cartel, assisting his 2015 prison escape and conspiring to distribute illegal drugs.
The 31-year-old could face life in prison after admitting a drug distribution charge at a federal court in Washington DC.
She also pleaded guilty to other charges of money laundering and engaging in financial dealings for the drug cartel, which could carry a combined 30 years in prison – though she is more likely to spend around a decade in jail.
As part of her plea agreement, she also admitted conspiring to helping her husband escape in 2015 from Altiplano,
a Mexican maximum security prison.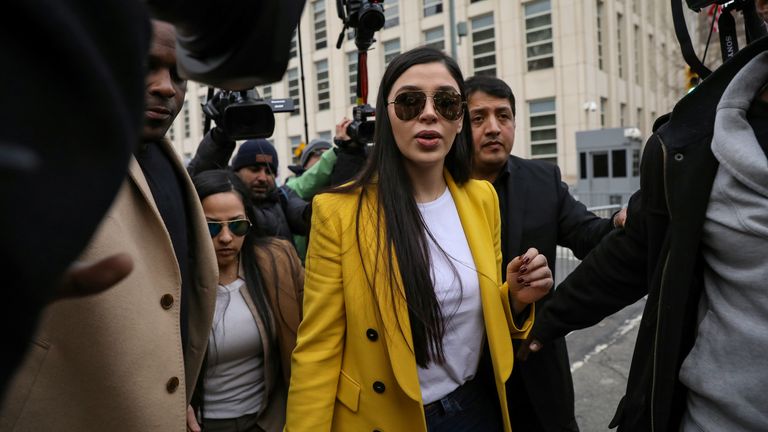 Coronel, who was born in California and holds both US and Mexican citizenship, could also be fined up to $10 million (£7.1 million).
Wearing a green jumpsuit and white face mask to enter her plea before District Judge Rudolph Contreras, she said she understood the charges and repercussions of her guilty pleas.
The judge has set a tentative sentencing date of 15 September.
The former beauty queen was arrested in February on allegations she relayed messages to help her husband traffic drugs between 2012 and 2014 and she continued delivering messages to Guzman during prison visits after his arrest in February 2014.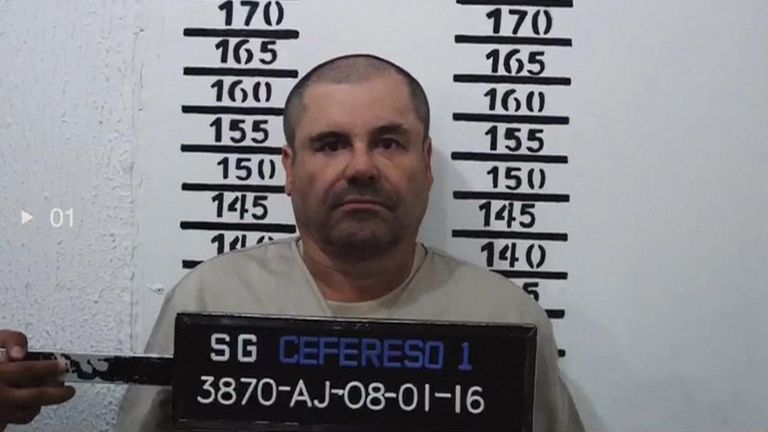 In July 2015, Guzman escaped from a federal prison in Mexico, through a tunnel leading to the Santa Juanita neighbourhood in Puebla.
He was previously arrested in 2001 but had escaped from a Mexican prison with the help of a maintenance worker.
In February 2019, Guzman, 64, was convicted for masterminding the drug empire in a high-profile trial in New York.
He was sentenced to life plus further 30 years, and is being held in a supermax prison in Colorado.
China: Detainees in Xinjiang camps tortured, beaten and given electric shocks, says Amnesty report | World News
China has created a "dystopian hellscape" in Xinjiang, according to the head of Amnesty International, with people who are detained in camps there routinely tortured.
A comprehensive new report from the organisation, based on interviews with more than 50 former detainees of the camps, details alleged crimes against humanity – including mass imprisonment, torture and persecution – carried out by Chinese authorities against Uyghur Muslims and other ethnic minorities.
"China must immediately dismantle the internment camps, release the people arbitrarily detained in them and in prisons, and end the systematic attacks against Muslims in Xinjiang," said Agnes Callamard, the secretary general of Amnesty International.
The report says that from early 2017, hundreds of thousands – and possibly more than one million people – have been sent to camps in Xinjiang.
China for a long time denied the existence of any camps. It eventually changed tack and now says the camps are voluntary "vocational training centres", necessary to combat terrorism.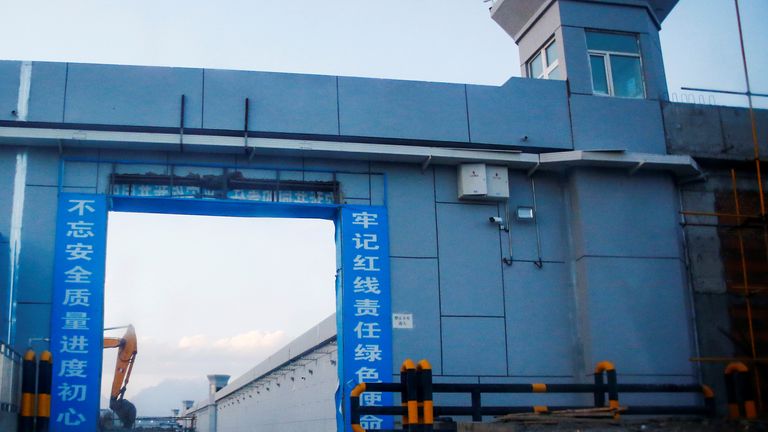 President Xi Jinping has said his government's policies in the region are "totally correct".
Each detainee interviewed by Amnesty suffered torture or other ill-treatment, according to the report.
Some were beaten or given electric shocks, or forced to sit in a "tiger chair" – a steel chair with painful restraints.
Detainees told Amnesty they had been tortured multiple times and others said they were forced to watch their cellmates being tortured.
All the detainees interviewed were held for what appears to be "entirely lawful conduct", including possessing religious-themed pictures or communicating with people abroad.
One interviewee, a government official, said that police took people from their homes without warning and detained them without due process.
Outside the camps, the report described Xinjiang as a "surveillance state".
Those released from the camps are subject to "near-constant electronic and in-person surveillance". The population at large is also heavily monitored.
The report calls for the UN to establish "an independent international mechanism" to investigate abuses in Xinjiang.
The Chinese government has previously said that it was discussing a visit by the UN Human Rights commissioner, and that the "door to Xinjiang is always open" but "the aim of the visit is to provide exchanges and cooperation rather than … so-called investigation based on 'guilty before proven'".
An independent "people's tribunal" was held in the UK last week, although it has no legal power. It heard that minorities are treated "worse than dogs" and "tortured day and night".
Xinjiang is expected to be a topic of discussion at this week's meeting of G7 leaders. The US administration has said China's actions amount to genocide.
No other government has followed suit but the parliaments of the UK, Canada and the Netherlands have all voted to declare the human rights abuses as genocide.
Sky News has contacted the Chinese embassy in London for comment.
Venus: European Space Agency mission aims to unlock mysteries of 'Earth's twin' | Science & Tech News
Scientists aim to explore the mysteries of Venus, including whether it was once habitable, with a new space mission.
British boffins will play a leading role in the EnVision project, studying the atmosphere and geology of the planet known as "Earth's twin".
Commissioned as part of the European Space Agency's (ESA) Cosmic Vision programme, the mission into space will cost about of €610m (£524.7m).
It will look at past and present volcanic activity and track gases that are key in sustaining Venus's clouds and environment, as well as find out why Earth is the only planet able to sustain life.
The EnVision orbiter is expected to launch in 2031 and will take 15 months to reach the planet.
Once it arrives, it will spend a further 16 months slowing down, in a process called aerobraking, until it reaches a low circular orbit.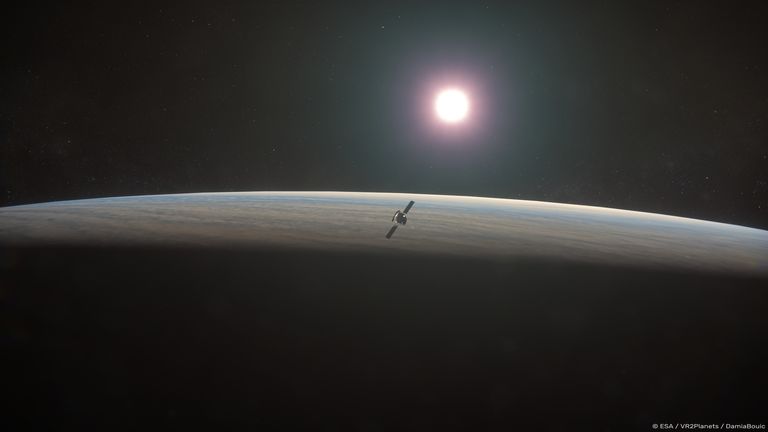 It will start its four-year study using instruments including a sounder to reveal underground layering, and spectrometers to study the atmosphere and the surface.
A NASA-provided radar will also image and map the surface.
Researchers from Royal Holloway, University of London, Oxford University and Imperial College London will work alongside European and American scientists on the project.
Venus is the most Earth-like planet in terms of size, composition and distance to the sun.
Many academics believe the two planets were probably once quite similar, with oceans of molten rock and thick atmospheres of carbon dioxide and steam.
But while Earth evolved to become habitable, Venus may or may not have gone through a habitable stage before developing a greenhouse effect that now cooks its surface to 450C (842F).
UK scientists recently took part in another programme which saw hundreds of worms being sent into space for research on human muscle loss.
Science minister Amanda Solloway said: "I'm proud that once again British scientists have been chosen to play a leading role in a mission that will expand humankind's understanding of the universe."