Syria regime 'in deadly chlorine gas attack on civilians'
The Syrian government has been accused by opposition activists of launching a deadly chlorine gas attack in the rebel-held enclave of eastern Ghouta.
The pro-opposition Orient News claimed a child had been killed in the reported attack by a regime aircraft on the town of al Shifuniyah.
The Syrian Observatory for Human Rights monitor also reported the youngster's death and said 13 people had suffered breathing difficulties.
Yaqub, a doctor who treated those affected in hospital, said he suspected "chemical weapons, probably a chlorine gas attack".
He said a three-year-old had died of asphyxiation.
A US medical organisation said 16 patients in the hospital had symptoms indicating they were exposed to chemical compounds.
The Syrian American Medical Society said among those being treated with oxygen masks were six children and four women.
The Syrian regime, which has repeatedly denied using chemical weapons, has been accused of several chlorine gas attacks in recent weeks, including two in January in eastern Ghouta, on the edge of the capital Damascus.
Moscow, a staunch ally of President Bashar al Assad's regime, accused his opponents of using "toxic substances" to make it appear that they had been deployed by regime forces.
It comes as fresh regime airstrikes and heavy clashes shook the rebel-held enclave despite a UN demand for a ceasefire.
On Saturday, the Security Council adopted a resolution calling for a 30-day truce in Syria "without delay" to allow for aid deliveries and medical evacuations.
At least 14 civilians, including three children, were killed in strikes on Sunday, said the Observatory, bringing the total number of dead in the week to at least 530, among them over 130 children.
Observatory chief Rami Abdel Rahman said there appeared be fewer airstrikes but that fighting had intensified on the ground.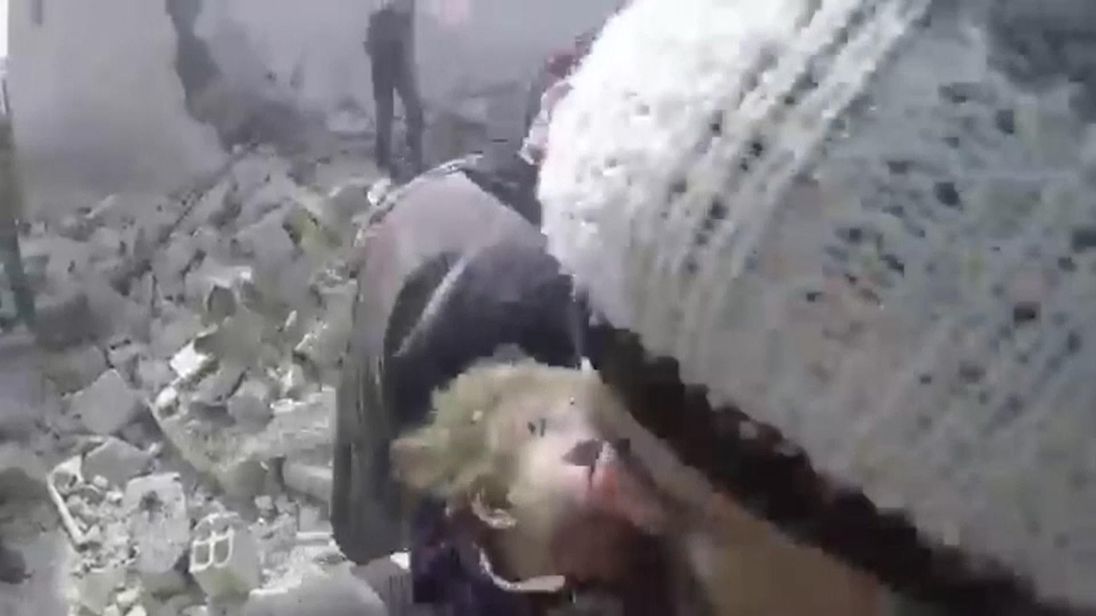 Heavy clashes erupted in southern areas of eastern Ghouta, killing at least 13 members of pro-regime forces and six fighters from the Jaish al Islam rebel group, he said.
Syrian state news agency SANA said insurgents breached the truce by firing 15 shells on Sunday on government-held areas on the edge of Ghouta.
The two main rebel groups controlling the enclave – Jaish al Islam and Faylaq al Rahman – welcomed the Security Council demand, but vowed to fight back if there were renewed attacks.
UN diplomats say the resolution was watered down to ensure it was not vetoed by Russia, which has provided diplomatic and military support to the Assad regime.
Pedro Castillo: Left-wing rural teacher becomes Peru's president, promising a new constitution | World News
A man who was until recently a teacher in a rural part of Peru has been sworn in as the country's new president.
Pedro Castillo, representing a left-wing party, stunned voters and political observers by emerging from a group of 18 candidates and advancing to the run-off, finishing in first place.
His slogan, "no more poor in a rich country", attracted support from the impoverished and those living in rural areas.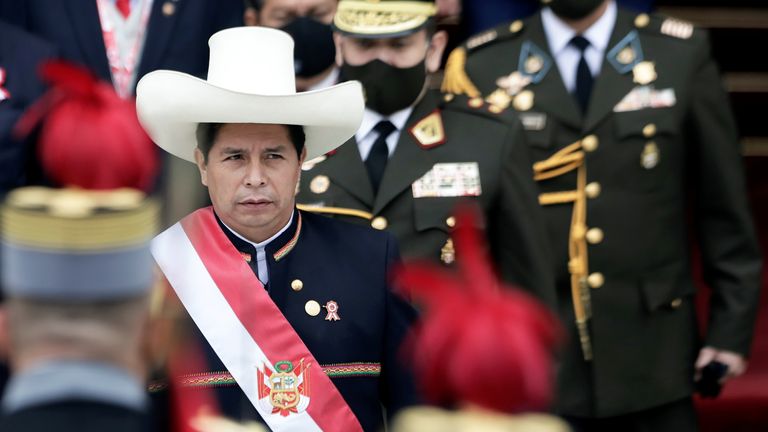 Mr Castillo, 51, has never held political office before, defeating right-wing career politician Keiko Fujimori by just 44,000 votes.
He is promising a new constitution, and to rule for "my peasant sisters and brothers".
The son of illiterate peasants, he led a teachers' strike in 2017. He is his country's first president of peasant origin.
Mr Castillo is married with two children. Video of his wife, filmed at the weekend, shows her sweeping the floor at their house in the Andes and tending to some animals. Their home is in the country's third-poorest district.
Peru is the second largest copper exporter in the world, but its economy has been crushed by the coronavirus pandemic. Economic gains made over the last decade have been eliminated.
Private companies are fearful that Mr Castillo will hike taxes on mining to fund health and education reforms.
Pedro Castillo's family leave behind rural life

But on the day of his inauguration, he said there was "not the remotest" plan to nationalise industry.
He will be seeking a "new pact" with private investors, however.
In a speech shortly after being sworn in, he said he wanted the state-owned bank to compete with private lenders but that he would maintain economic "order and predictability".
He faces a divided Congress, meaning his political abilities will be tested from the start.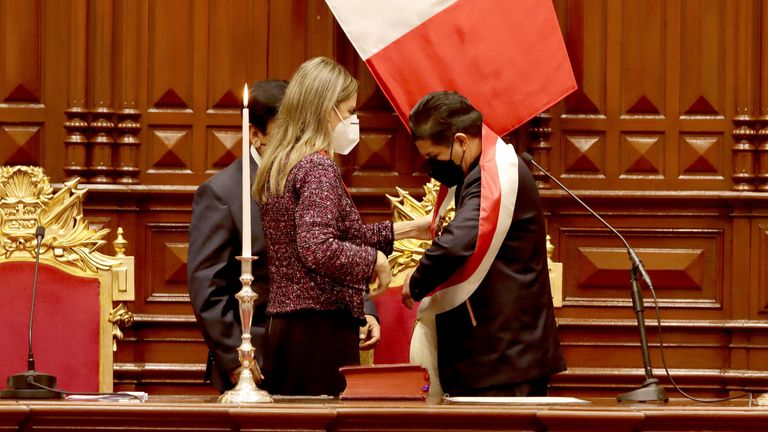 Claudia Navas, an analyst with the global firm Control Risks, said his government begins amid "considerable uncertainty".
She added: "We still do not have clear his main lines of policy. However, we foresee that possibly, due to the characteristics of the Peruvian political system and the current general political and economic situation of the country, that Castillo will maintain a more pragmatic position than he announced during the campaign.
"The key is to build those consensuses and add strength to the proposals on how he is going to achieve them."
Simone Biles: US backs top gymnast after she withdraws from two Olympic finals in Tokyo to focus on her mental health | US News
America's divisions are huge, but the country appears to have come together to support Simone Biles.
The superstar US gymnast, one of the world's most famous athletes, pulled out of two finals at the Tokyo Olympics – the women's team final on Tuesday and then Thursday's women's all-around competition – to focus on her mental health.
The 24-year-old quit after one rotation of the team final and the US went on to claim silver, behind the Russian Olympic Committee.
She had successfully qualified for the event in first place but a mistake on her opening vault prompted her to leave the arena with a US team medic.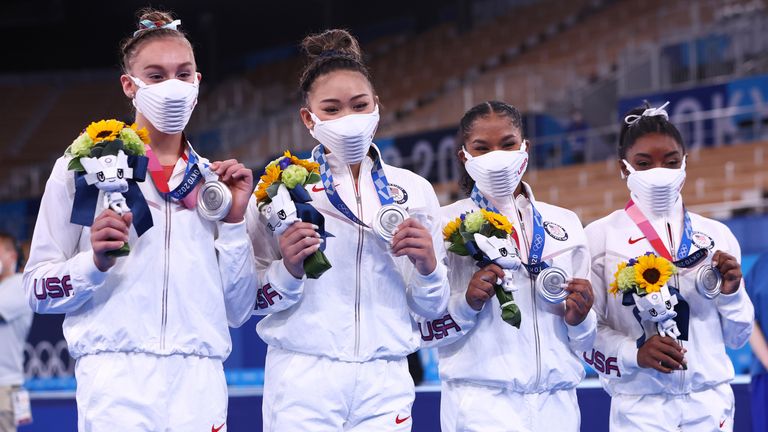 Amid injury fears, Biles returned to the arena to support her team to second place, and later revealed she had made her decision due to a desire to protect her mental health.
And in a statement on Wednesday, USA Gymnastics said: "After further medical evaluation, Simone Biles has withdrawn from the final individual all-around competition.
"We wholeheartedly support Simone's decision and applaud her bravery in prioritising her well-being. Her courage shows, yet again, why she is a role model for so many."
But there has been little public condemnation of her withdrawal, with celebrities as disparate as Michelle Obama and former UFC fighter and Olympic judo medallist, Ronda Rousey, declaring their support.
Am I good enough? Yes, I am. The mantra I practice daily. @Simone_Biles, we are proud of you and we are rooting for you. Congratulations on the the silver medal, Team @USA! 🎊

— Michelle Obama (@MichelleObama) July 28, 2021
Perhaps people have listened to teammate Jordan Chiles, who took Biles' place, when she said the medal was "definitely for her [Biles], because if it wasn't for her, we wouldn't be here".
Her withdrawal was a huge shock across the world, but for Julie Kliegman, Sports Illustrated copy chief, the signs had been there for a while.
When she interviewed Biles, around a year ago, the holder of four golds from the 2016 Rio Games was "deciding whether or not to compete in Tokyo" and admitted the mental challenge was "a lot more difficult" than the physical one.
Her withdrawal "makes sense", she told Sky News, when you recall that Biles was a survivor of the paedophile US team doctor, Larry Nassar.
"Trauma is a very serious thing and I'm sure she's dealing with that in her own way," Kliegman added.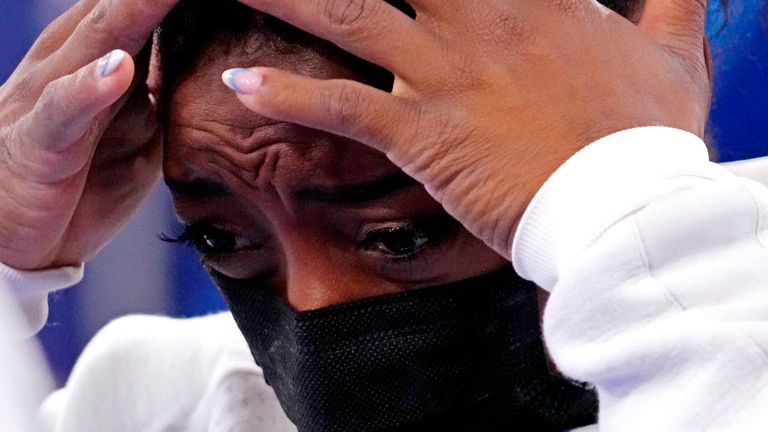 It's easy to forget the physical risks gymnasts take and Kleigman said that was a big concern.
"She said after one of her vaults that she didn't really know where she was in the air and that's incredibly dangerous. If you're not in the right headspace in gymnastics you're really putting your body at risk."
Kliegman is adamant what Biles has done is the opposite of letting down her teammates because "competing when she would've been putting her body in danger and risking medal chances, that wouldn't have been very fair on her team".
"We've seen her on the sidelines, cheering them on and I think what she did is put them in a better position to medal, which they ultimately did."
USA Gymnastics said Biles is yet to decide whether to withdraw from her four individual finals, which are scheduled to take place next week.
So, does Kliegman think Biles, arguably the greatest gymnast of all time, will compete again at Tokyo?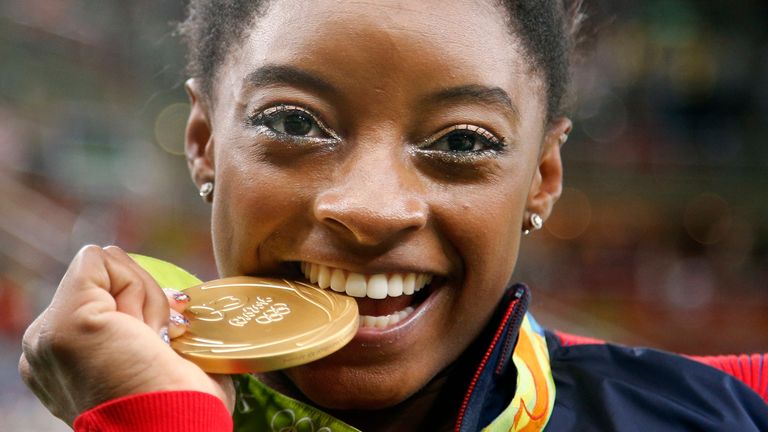 "At this point I would bet it's more likely that she would sit them out.
"We've seen she's going to put her well-being first so I think it's more likely than not that she'll sit out the remaining events."
Tokyo Olympics: The alternative medal tables | World News

Which country is more likely to win the largest number of medals at Tokyo 2020?
No points for guessing either United States or China.
In fact, the US has won more medals than any other country since the 1996 Games in Atlanta.
But what are the reasons behind that success? Data shows that the size of a country's economy is strongly linked to the number of medals it can win.
Having a large economy and population means not only can a nation pick its athletes from a large talent pool, but also fund its elite team to perform at their very best.
But not every country is as big as China or the United States.
What if a country's medal haul was adjusted for its population or wealth? Would the incumbents continue to dominate?
Under our alternative medals table, countries are ranked either by medals per gross domestic product (size of an economy) or by medals in proportion to their population size.
Based on the size of its $1.3bn economy, Grenada, a small low-income country in the Caribbean, would have won the equivalent of 94 medals.
Jamaica's 11 medals in the 2016 Games would translate to 38 when adjusted for its population of three million people.
The UK is on page five of our table. Its status as the fifth largest economy in the world works against it, shrinking the 67 medals won in Rio to just two.
But even after accounting for its small economy and population, North Korea punches far above its weight (despite not winning in boxing) on our count.
Dr Johan Rewilak, lecturer in sports economics and finance, says this is because some countries "manufacture Olympic success" to gain an outsized number of Olympic medals given their GDP and population sizes.
There are others, such as India with 1.35 billion people, that often finds themselves at the bottom of most medal tables.
Dr Rewilak explains that cultural reasons and the country's strong preference for cricket diverts talent and resources from Olympic sports.
Although every country is not destined for a medal at the Olympics, some have better odds of striking gold than others.
As the host country, Japan has a unique chance of success on the medals table.
Data shows that five out of the past six host nations outperformed their previous medal hauls.
So, does that mean Japan is likely to win more medals this time than the 41 it gained in 2016?
There are exceptions, as with the United States in 1992. The breakup of the Eastern Bloc after the fall of the Soviet Union benefited the US on the medal table.
Despite all the data, the unpredictable nature of sports and individual athletes' ability makes the final results far from certain.
The Data and Forensics team is a multi-skilled unit dedicated to providing transparent journalism from Sky News.
We gather, analyse and visualise data to tell data-driven stories. We combine traditional reporting skills with advanced analysis of satellite images, social media and other open source information. Through multimedia storytelling we aim to better explain the world while also showing how our journalism is done.