Florida school shooting timeline | Fox News
A gunman set off fire alarms at a Florida high school on Feb. 14, luring hundreds of students out of their classrooms so he could open fire with a semi-automatic AR-15 assault rifle.
After firing several rounds, the shooting suspect, identified as 19-year-old Nikolas Cruz, dropped his weapon and hid among the crowd as authorities evacuated students and faculty members from Marjory Stoneman Douglas High School in Parkland, Florida.
Police captured Cruz over an hour later in Coral Springs, located about a mile away. He was taken to a local hospital and then released into police custody.
Cruz has been charged with 17 counts of premeditated murder. Fourteen others were wounded in the shooting, including several with life-threatening injuries.
Below is a timeline of events that detail how the shooting unfolded.
Wednesday, Feb. 14
2:06 p.m. 
Cruz was picked up by an Uber, before he was dropped off at the high school at 2:19 p.m., a Wednesday timeline from the Broward County Sheriff's Office showed. 
2:21 p.m.
Cruz went into Building 12's east stairwell with a rifle in a case, according to the timeline. He goes "through all three floors, shooting several students and faculty inside the classrooms and hallways of the building."
2:28 p.m.
Cruz got out and ran in the direction of tennis courts before going south, according to the sheriff's office. At 2:29 p.m., it said he crossed a field and ran west with other people. 
2:35 p.m.
Students reportedly were texting about a shooter at the school.  
2:50 p.m.
Cruz went into a Walmart and purchased a drink at a Subway inside and left the store, per the sheriff's office timeline.
2:53 p.m.
Deputies responded to reports of a shooting at Stoneman Douglas High School, the Broward County Sheriff's Office confirmed in a tweet.
2:55 p.m.
WSVN, a local news station, reported that there were at least five people injured at the school.
2:56 p.m.
The sheriff's office warned the public to "avoid the area of Stoneman Douglas HS" as authorities investigated reports of an active shooter.
3:01 p.m. 
The Broward County Sheriff's Office timeline said Cruz went to a McDonald's, sat down briefly and left. 
3:10 p.m.
A student shared a photo to Twitter to show where he and other students were hiding.
3:11 p.m.
The sheriff's office tweeted the shooter was still at large.
3:36 p.m.
Broward Schools said the school was on lockdown after students and faculty heard what sounded like gunfire.
3:40 p.m.
Broward Schools began dismissing students from the school.
"We are receiving reports of possible multiple injuries," the school district tweeted. "Law enforcement and the District's Special Investigative Unit are currently on site."
3:41 p.m. 
A Coconut Creek police officer detained Cruz in Coral Springs, the timeline indicated, adding that detectives with the sheriff's office performed a show-up procedure. 
3:50 p.m.
President Trump tweeted about the shooting, offering his "prayers and condolences."
4:11 p.m.
The shooter was taken into custody, the sheriff's office confirmed in a tweet, warning that the scene was still active.
4:22 p.m.
The sheriff's office tweeted there were at least 14 "victims," who "have been and continue to be transported to Broward Health Medical Center and Broward Health North hospital."
4:27 p.m.
The suspected shooter was taken to a local hospital.
4:50 p.m. 
Florida Sen. Bill Nelson said there were "a number of fatalities."
4:59 p.m.
Israel confirmed the shooter was not a current student at Stoneman Douglas High School.
In a separate tweet, the sheriff's office said SWAT teams were still clearing the school.
5:39 p.m.
Students started to reunite with their parents.
6:27 p.m.
Sheriff Israel said 17 people were killed in the shooting.
6:29 p.m.
The sheriff's office identified the shooting suspect as 19-year-old Nikolas Cruz.
8:24 p.m.
A local news reporter for WSVN tweeted a photo of the suspect being detained by police.
Thursday, Feb. 15
7:12 a.m. 
Trump urged the public to always report suspicious behavior to authorities.
"So many signs that the Florida shooter was mentally disturbed, even expelled from school for bad and erratic behavior. Neighbors and classmates knew he was a big problem," Trump tweeted. "Must always report such instances to authorities, again and again!"
10:49 a.m.
Cruz was charged with 17 counts of premeditated murder, Israel announced in a news conference.
11:22 a.m. 
Trump addressed the nation, describing the massacre as a "scene of terrible violence, hatred, and evil." 
He vowed to work with state and local leaders to help "secure our schools and tackle the difficult issue of mental health." 
2:00 p.m. 
Cruz made a court appearance on 17 counts of murder. The judge ordered him to be held without bond.
4:43 p.m.
Cruz confessed to arriving at the high school with an AR-15 rifle and a backpack of "additional loaded magazines" and told investigators he shot "students that he saw in the hallways and on school grounds," according to an arrest affidavit filed Thursday evening.
Friday, Feb. 16 
Cruz may plead guilty to avoid the death penalty, his lawyer reportedly said Friday.  
11:53 p.m. 
On Friday, President Trump and first lady Melania Trump visited Broward Health North Hospital in Florida — the same hospital where many of the shooting victims were treated. The two met with survivors and medical professionals while they were there. 
Later that evening, Trump tweeted photos of the visit. 
Monday, Feb. 19
12:49 p.m.  
Cruz arrived at a Fort Lauderdale courtroom for a hearing that started at 1 p.m. During the hearing, a judge ruled that already-sealed documents remain that way, WPTV reported. 
10:30 p.m.
Broward County Public Schools announced that classes are slated to resume at Marjory Stoneman Douglas High School "on a modified schedule" on Feb. 27. 
Wednesday, Feb. 21
6:30 p.m. 
Broward County Sheriff Scott Israel said at a press conference Wednesday evening that county deputies who are qualified will now carry rifles on school campuses.
When the rifles are not in use, they will be locked in patrol cars, he said, adding that the school district's superintendent supports his decision.
"Only deputies who are trained and qualified will carry those rifles. But we need to defeat any threat that comes onto campus," he said.
The deputies will carry AR-15s, Israel said — the same type of gun that the suspected shooter Nikolas Cruz used. But the deputies' rifles will not be fully automatic, he said, according to CBS News. 
8:40 p.m. 
Earlier on Wednesday, Trump met with students and parents who have been affected by various school shootings. Many attendees pleaded with Trump to end gun violence at schools and suggested possible solutions. 
Trump later tweeted about the discussion. 
"I will always remember the time I spent today with courageous students, teachers and families," he wrote. "So much love in the midst of so much pain. We must not let them down. We must keep our children safe!!"
Thursday, Feb. 22 
5:13 p.m.
Israel kicked off a Thursday afternoon press conference, during which he said that school resource Deputy Scot Peterson was "absolutely on campus for this entire event." 
"He was armed, he was in uniform," Israel said of the BSO deputy. "After seeing video, witness statements and Scot Peterson's very own statement, I decided this morning to suspend Scot Peterson without pay pending an internal investigation." He added, Peterson instead resigned and retired. 
"The investigation will continue," the sheriff announced. 
Israel said that "what I saw was a deputy arrive at the west side of Building 12, take up a position — and he never went in." 
He said that Peterson should have "went in, addressed the killer, killed the killer." 
Israel said he thought that Peterson stayed outside of the building "for upwards of four minutes." He confirmed that the shooting lasted six minutes.
At one point during the briefing, a voice said, "He clearly knew there was a shooting."
"Clearly," the sheriff responded. 
Friday, Feb. 23
11:17 a.m.
Florida Gov. Rick Scott announced on Friday a "major action plan" in response to the deadly shooting on Feb. 14. 
The plan is divided into three parts. The first, Scott said, is to keep guns away from dangerous and violent people. The second is a $450 million proposal to keep schools safe. And the third, according to Scott, is a $50 million proposal to expand mental health care initiatives in the state. 
More specifically, the plan proposes to raise the minimum age to purchase a gun to 21, ban mentally ill people from buying a gun and place at least one law enforcement officer at every school.
You can read more about the $500 million plan here.
Saturday, Feb. 24
1:00 p.m.
Several Broward sheriff's deputies reportedly waited outside Marjory Stoneman Douglas High School during the Valentine's Day massacre. 
The Florida Sun-Sentinel reported that according to police sources at least three Broward deputies, including deputy Scot Peterson, waited outside.
The news comes just a day after Peterson resigned under fire because he allegedly stayed outside the high school during the shooting. Trump later labeled Peterson as a "coward" for his alleged inaction.
9:55 p.m. 
"BSO detectives are investigating the claim from the Coral Springs Police Department that some deputies did not go into the school when they should have," the Broward Sheriff's Office tweeted. "Stop reporting it as a fact." 
Sunday, Feb. 25 
9:03 a.m. 
Israel appeared on CNN's "State of the Union" in an interview with Jake Tapper. 
Tapper said he was "told by sources in Coral Springs that Coral Springs police who arrived at the scene saw that three other Broward deputies were standing behind cars not having gone into the building."
Israel said the "investigation to this point shows that, during this horrific attack, while this killer was inside the school, there was only one law enforcement person, period, and that was former Deputy Scot Peterson."
He added, "Coral Springs arrived, a group of Coral Springs officers went in within, I think, about four minutes, we're projecting, after the killer left the campus."
The sheriff said he understood "that they're going to give statements to us regarding the other three, four, five deputies. At this point, we have no reason to believe that anyone acted incorrectly or correctly."
The sheriff was later asked about a Saturday letter sent by state Rep. Bill Hager, R-Boca Raton, to the governor which called for Israel's ouster. 
"It was a shameful – of course I won't resign," Israel said. "It was a shameful letter. It was politically motivated." 
2:10 p.m. 
Florida House Speaker Richard Corcoran, R-Pasco County, tweeted that he sent a letter to Scott calling for him to fire Israel. 
"I was honored to be joined by 73 Republican colleagues," Corcoran wrote. 
2:38 p.m. 
A tweet from a Politico reporter indicated Scott wouldn't fire or suspend Israel — at least not right away.
It included a shot of a statement from the governor, in which he said that he has called on the Florida Department of Law Enforcement "to immediately investigate the law enforcement response and will continue to review this matter as more facts come out."
"I have spoken to Speaker Corcoran about his request and I understand his concerns," Scott said. 
2:59 p.m. 
Parkland shooting survivor Jaclyn Collins tweeted, "Going back to school for the first time…this movement is for the 17." 
A voluntary orientation was scheduled to take place at the school from 3 p.m. to 6 p.m., according to Broward County Public Schools.
3:06 p.m. 
The sheriff's office tweeted that it "welcomes Governor Scott's call for the Florida Department of Law Enforcement to investigate the law enforcement response to the Parkland school shooting."
Fox News' Shira Bush, Kaitlyn Schallhorn, Kathleen Joyce, Zoe Szathmary, Robert Gearty and The Associated Press contributed to this report.
Prince Harry and Meghan meet top UN official amid world leaders' gathering in New York | World News
Prince Harry and Meghan have met with a top UN official during the world body's biggest annual gathering.
The Duke and Duchess of Sussex visited the UN headquarters in New York to speak with deputy secretary-general Amina Mohammed.
Ms Mohammed said they discussed "how to engage on issues we care about deeply", such as vaccine equity, climate action, the economic empowerment of women, youth engagement and mental wellbeing.
Harry and Meghan pay respects at 9/11 memorial

"It was a lovely meeting," Meghan said afterwards.
The UN said Ms Mohammed welcomed the couple's work to address the organisation's 17 sustainable development goals, which were created in 2015 and include objectives like ending hunger and poverty, achieving gender equality and combating climate change.
The trio met ahead of their scheduled appearances at the Global Citizen concert in Central Park later on Saturday.
The star-studded, 24-hour event aims to encourage climate action and urge wealthier countries to share one billion doses of COVID-19 vaccines with other nations.
Billie Eilish and Ed Sheeran are among the musicians expected to headline the festival, which features performances in cities including New York, London and Sydney.
Tens of thousands of people are set to attend, with millions likely to tune in to the broadcast.
Prince Harry and Meghan are due to speak at the event in New York as part of their first major public trip since quitting as senior royals.
Earlier this week they visited the city's memorial for the 9/11 attacks on the World Trade Center, with New York City mayor Bill de Blasio and the state's governor, Kathy Hochul, joining them.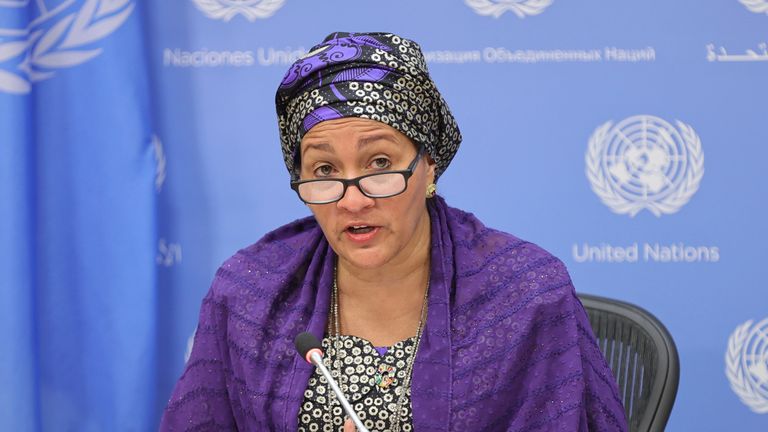 The UN is currently hosting the annual general assembly of world leaders, who have been discussing efforts to fight climate change and COVID-19.
Meghan has been involved with the UN women's agency for several years, acting as "advocate for political participation and leadership".
Were Prince Harry and Meghan cut off financially?

The Duke and Duchess of Sussex were among those chosen as Time magazine's 100 most influential people last week.
Last year, the couple stepped down from royal duties, moving to California and launching their Archewell Foundation.
They have previously supported other Global Citizen initiatives, acting as campaign chairs for a Vax Live event in May which encouraged donations to Covax, an initiative working to provide vaccines for low and middle-income countries.
In a speech he made on stage, Prince Harry called for coronavirus jabs to be "distributed to everyone everywhere".
German election: Voters want fresh leadership even if many seem unconvinced by the options | Politics News
They're already putting Angela Merkel out to pasture at the Tussauds waxworks in Berlin, decking her out in clothes to go hiking, which the chancellor says she wants to do more of when she's retired.
Mrs Merkel has been chancellor for 16 years.
Madam Tussaud's studio assistant Karen Fries says it will be strange when she is gone.
Germany election: What's at stake?

"It's going to be weird, yes, because it's now 16 years and we are not used to getting along without her, but we'll see."
The same sentiments are around the corner at the Brandenburg Gate.
Another race was under way ahead of the election: rollerbladers gathering to speed around the route of the marathon that is run this weekend.
"Both of us, we are 23," two young bladers told us. "We just know Angela Merkel. So I think an era comes to an end."
Another man told us none of the candidates can replace her: "No, they are too weak."
Is this just another country's election or one we should all be interested in?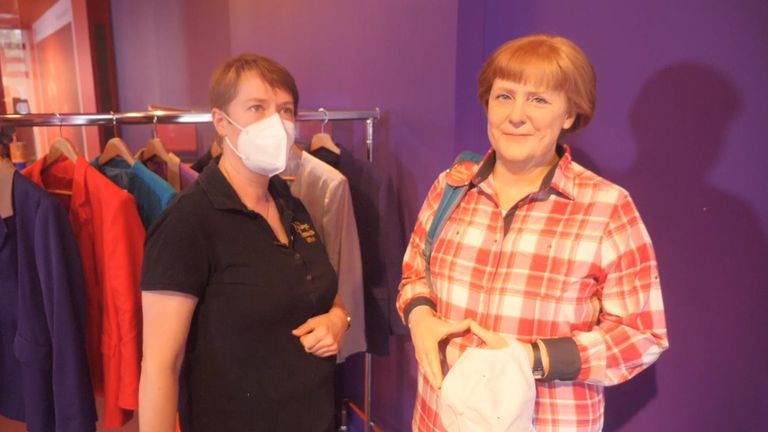 Angela Merkel was called the leader of the free world, a moniker she herself thought was absurd. But it gives a sense of the void she may leave in these uncertain times.
Mrs Merkel has been credited with steering Germany through numerous crises but critics say she did not do enough to see them coming or warn Germans about others on their way.
Matthew Karnitschnig, Politico's chief Europe correspondent, says: "The problem is that Merkel has shielded the population for a very long time from the realities of what's going on in the world."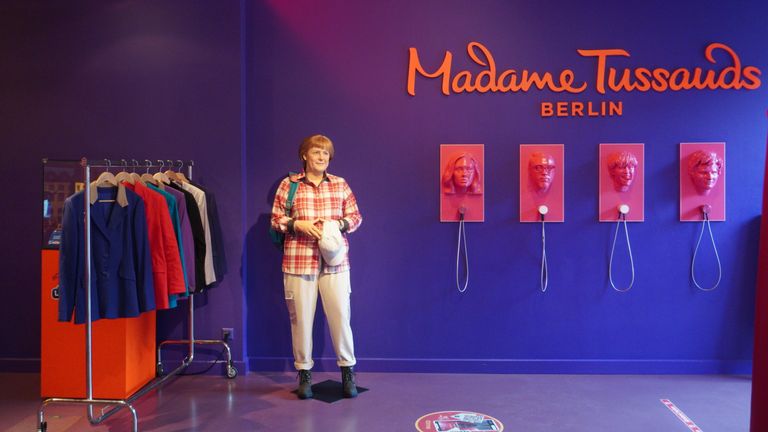 Mrs Merkel was more of an administrator than a leader, he says, and has left one key question unanswered for her successors to address.
The way they do could have ramifications far beyond Germany.
"What's at stake, really, is what role Germany is going to play in the world," he says.
"Does Germany want to be a real player on the world stage, or does it want to act more like a giant Switzerland in the middle of Europe, trying to be all things to all people?"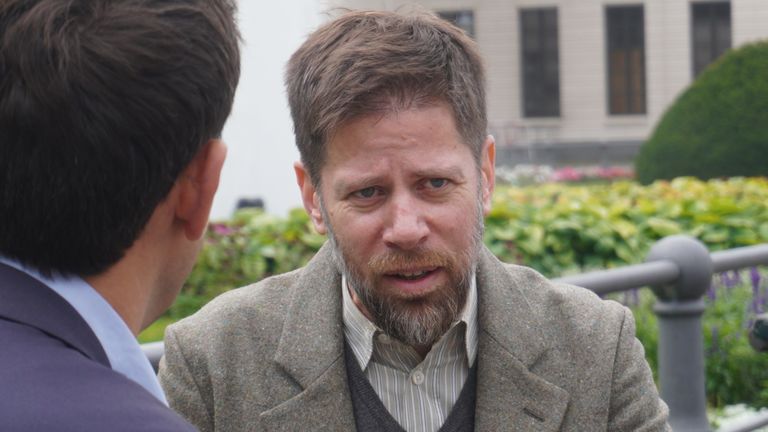 Germany after Mrs Merkel will be under pressure from America to take on Russia more and be a more useful partner within the EU.
For Europe's largest country and richest economy, it has not punched at its weight in the minds of many in Washington and elsewhere.
Others agree that Mrs Merkel cossetted Germans and protected them from global realities too much.
Green MEP Sergei Lagodinski, who helped write his party's foreign policy, told Sky News: "I do hope very much that after this very comfortable sleep that we had with a very comforting leader who actually drove us and directed us quite good through a couple of crises, we need now to wake up not only to survive crisis and get back to the business as usual, but try to reimagine both Germany and Europe in this new age."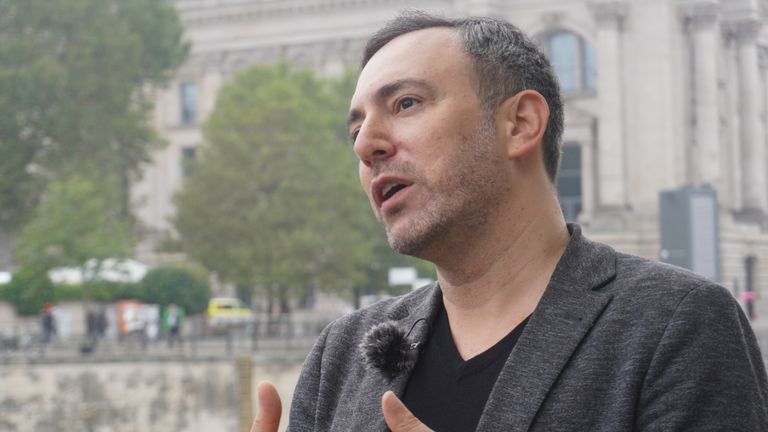 The world and Germany are very different now than 16 years ago when Merkel first came to power.
Climate change, populism and artificial intelligence are all challenges that need proactive leadership, arguably not a strength of Mrs Merkel's.
"I think it's tremendously important, not just for Germany but for Europe," Mr Lagodinski says.
German voters take to the polls

"We have a situation where we have a change in terms of who's going to lead Germany but also we have a totally changed global situation."
There is the sense of an era coming to an end on the eve of this important election.
In the dusky light of a warm September evening, the voters we spoke to seemed relaxed about the future but conflicted too.
Germany's election: The end of Merkel

They want change but also continuity.
There is a yearning for stability with such a familiar figure bowing out and in such unpredictable times. But 16 years is a long long time to have one leader, we have been told repeatedly.
Germany and the world have new challenges to take on and new demons to fight, and voters want fresh leadership even if many seem unconvinced by the line-up they have to choose from.
Dean Berta Vinales: Fifteen-year-old World Superbike star dies after crash during race in Spain | World News

Fifteen-year-old motorcyclist Dean Berta Vinales has died following a crash at a World Superbike Championship race in Jerez, Spain.
After 11 laps in the Supersport 300 support race, the Spanish athlete crashed at the second turn, along with three other riders.
He suffered severe head and spinal injuries and was treated by medical crews who arrived on the scene, World Superbike said.
They attended to him on the track, in an ambulance and at the circuit medical centre.
"Despite the best efforts of the circuit medical staff, the Medical Centre has announced that Berta Vinales has sadly succumbed to his injuries," World Superbike said.
The race was red-flagged by the director and cancelled, along with the rest of Saturday's action.
Vinales was MotoGP rider Maverick Vinales's cousin and he rode for his uncle's Vinales Racing Team.
In a statement on social media, Vinales Racing Team said it was "devastated".
MotoGP said on Twitter: "We're devastated by the tragic loss of @DeanBerta21 following a crash in #WorldSSP300 Race 1 today.
"Sending all our love and strength to Maverick Vinales and Dean's entire family, his team and loved ones."
Six-time MotoGP champion Marc Marquez wrote: "Rest in peace Dean. All my support to family and friends."
We're deeply saddened to report the loss of Dean Berta Viñales.

The #WorldSBK family sends love to his family, loved ones, and his team. Your personality, enthusiasm, and commitment will be hugely missed.

The whole motorcycle racing world will miss you, Dean. Ride in Peace. pic.twitter.com/46KuUt4Vnl

— WorldSBK (@WorldSBK) September 25, 2021
World Superbike said Vinales was "enjoying a recent run of good form" in his rookie season in the FIM Supersport 300 World Championship, coming in fourth in Race 2 at the Magny-Cours circuit and sixth in Race 2 at the Barcelona-Catalunya track.
He had set the fastest lap in Race 1 and the organisation said he was "showing great potential".
The tragedy is the latest in a series of crashes that have claimed the lives of young riders.
Fourteen-year-old Hugo Millan died after crashing at a race in Alcaniz, Spain in July, while Swiss Moto3 rider Jason Dupasquier, 19, died in May from injuries he sustained in a three-bike crash during a qualifying session at the Mugello circuit in Italy.