Daily pauses on Syria strikes 'not good enough'
An order by Vladimir Putin for daily five-hour ceasefires in airstrikes on the rebel-held Syrian enclave of eastern Ghouta does not go far enough, according to Save the Children.
The international aid organisation said the "humanitarian pause" ordered by the Russian leader was not a good enough measure to avoid further civilian casualties in the region.
More than 520 people are thought to have died as a result of relentless attacks by the Syrian government last week.
New footage obtained by Save the Children and given exclusively to Sky News shows the shocking aftermath of a strike on the office of a Syrian aid group on Saturday, hours before the UN Security Council voted on a 30-day ceasefire.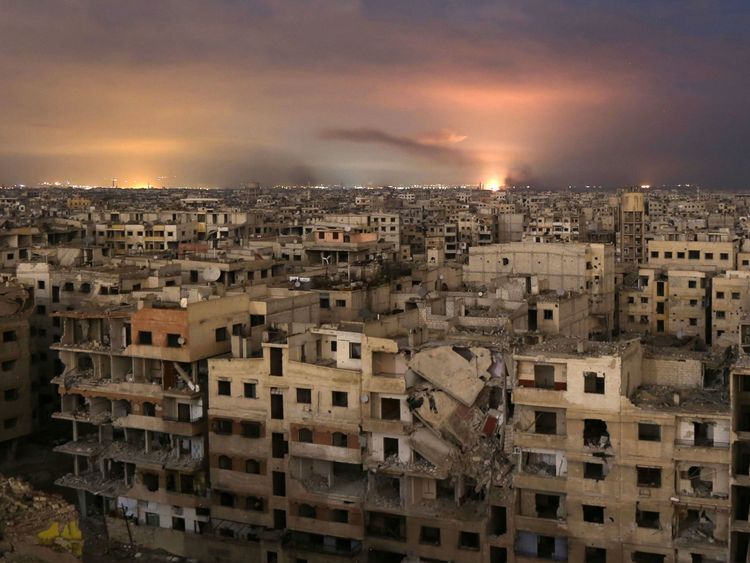 Children are seen screaming as they scramble clear of the rubble while the dust clears. It is believed 46 families had been sheltering in the building before it was hit.
Three of those staying there were injured, including two young girls.
Save the Children – which works with partner organisations in Syria to help those affected by the ongoing conflict – has urged the UN to immediately implement the month-long ceasefire voted on over the weekend.
:: The complex who's who of Syrian civil war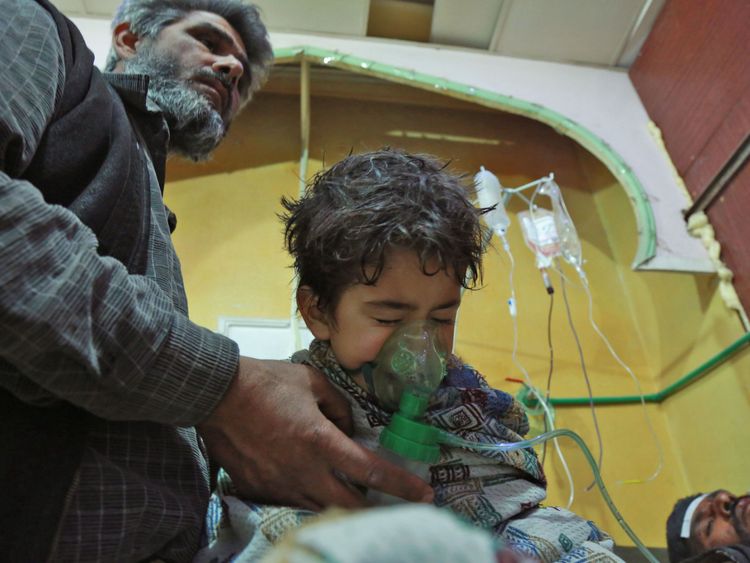 The charity said that the "humanitarian corridor" proposed by the Kremlin, designed to allow civilians to leave the enclave during the "pause" period, would do little to protect families from the "horrifying and never-ending violence".
Local response director Sonia Khush urged the UN to implement the agreed month-long ceasefire immediately.
"As this conflict enters its eighth year, it's clear that it is far from being resolved, and all parties involved continue to show utter contempt for children's lives and wellbeing," she added.
"The fighting must cease and aid agencies must be allowed to deliver lifesaving humanitarian assistance, or more children will die."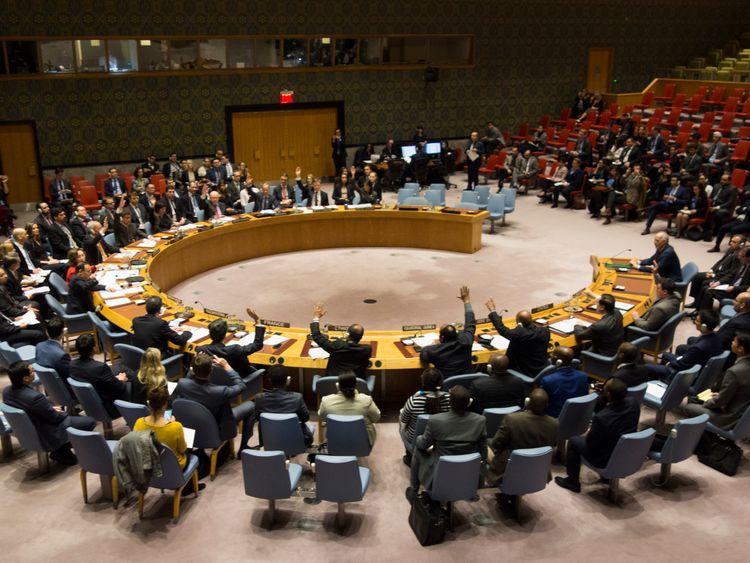 The five-hour daily pauses are due to start on Tuesday, with Monday having seen further strikes.
Many projects Save the Children is involved with in the Middle Eastern country, including repairing damaged classrooms and providing counselling, have had to be suspended as a result of the continued violence.
Aid workers in eastern Ghouta estimate that 4,100 families are now living in underground basements and shelters in a bid to protect themselves from airstrikes, with more than half of them without water, sanitation or ventilation.
One young boy, Ahmed, was among those who spent much of last week trapped in a makeshift shelter.
"We've not been able to go to school, they shelled the school, the teacher was killed," he said.
"There is no food and we can't go outside, the shops are closed, the planes are bombing."
In total, 350,000 people are trapped in eastern Ghouta, with many of those still alive unable to bury their loved ones due to the ongoing shelling.
'Iraq will always remain with me, in my heart': Pope's message to packed Erbil stadium | World News
Pope Francis has said Mass to thousands of people in the packed Franso Hariri stadium in Erbil.
At the end of the last official event before he returns to Rome on Monday, Francis told the crowd: "Iraq will always remain with me, in my heart."
He closed by saying "salam, salam, salam [peace, peace, peace]".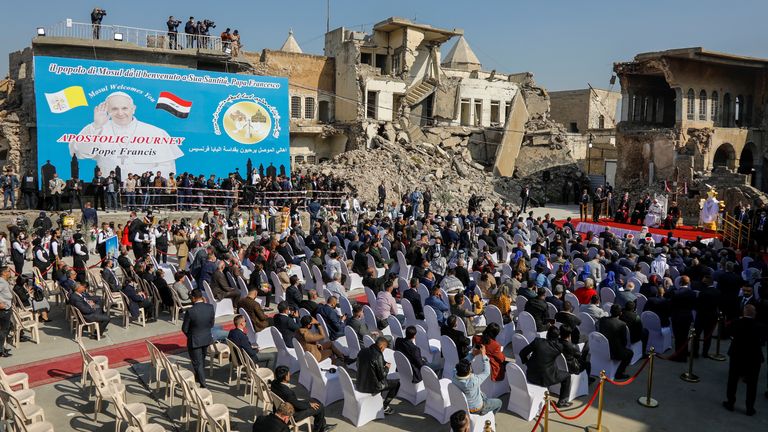 Earlier, The Pope led prayers in Mosul – a former stronghold of terror group Islamic State.
He flew in by helicopter and was greeted by crowds in the decimated northern Iraqi city, where just a handful of Christian families now live.
Thousands of Christians fled the area during the IS occupation, where they were faced with conversion, death, or paying a tax for non-Muslims.
On the way to the venue, he stopped by the ruins of homes and cathedrals that had been destroyed by IS violence, to hold a moment of silence.
He then took part in the service from a once-bustling city square, surrounded by the ruins of several damaged churches, which were destroyed when IS overran the area in 2014.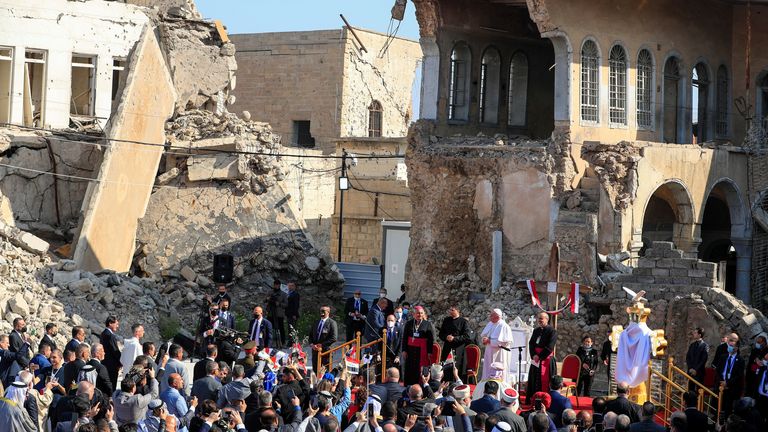 "How cruel it is that this country, the cradle of civilization, should have been afflicted by so barbarous a blow, with ancient places of worship destroyed and many thousands of people – Muslims, Christians, Yazidis and others – forcibly displaced or killed," he told the crowd.
"Today, however, we reaffirm our conviction that fraternity is more durable than fratricide, that hope is more powerful than hatred, that peace more powerful than war."
Pope Francis added that hope could not be "silenced by the blood spilled by those who pervert the name of God to pursue paths of destruction".
In prayer, he said: "If God is the God of life – for so he is – then it is wrong for us to kill our brothers and sisters in his name. If God is the God of peace – for so he is – then it is wrong for us to wage war in his name.
"If God is the God of love – for so he is – then it is wrong for us to hate our brothers and sisters."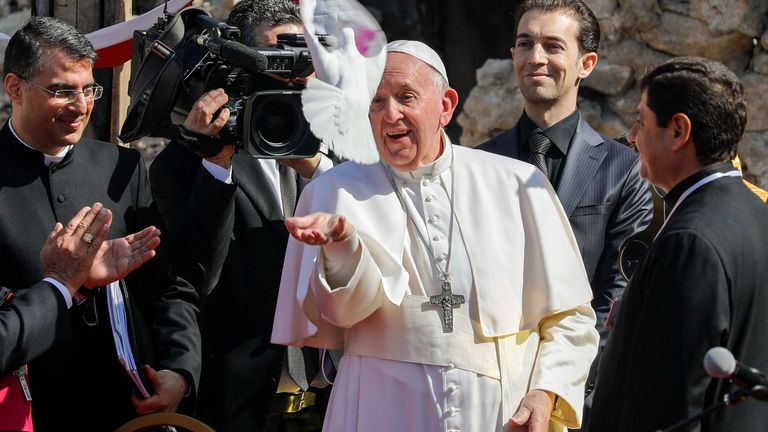 He concluded the prayer saying: "To you we entrust all those whose span of earthly life was cut short by the violent hand of their brothers and sisters; we also pray to you for those who caused such harm to their brothers and sisters. May they repent, touched by the power of your mercy."
A white dove was also released by Pope Francis, to symbolise peace – a running theme for his papal visit.
In 2014, in Mosul's al-Nuri mosque, Abu Bakr al Baghdadi gave a sermon in an extremely rare public appearance, where he announced the IS caliphate.
Mosul was liberated in July 2017 after a brutal three-year regime of terror in the city, that left an estimated 9,000-11,000 people dead.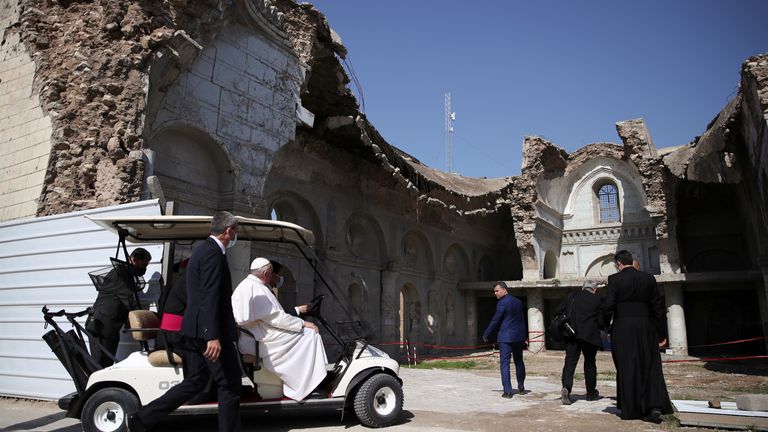 The Vatican hopes that Pope Francis's appearance in Mosul will encourage Christian communities to stay in the area, despite years of violence and persecution.
The Pope visited one of the most influential Muslim leaders in the world on Saturday, Grand Ayatollah Ali al Sistani, where the men discussed the issues facing Christian communities in the country.
Following the meeting, al Sistani said he wanted Muslims and Christians to coexist in Iraq, and called on other religious leaders to hold great powers to account and for wisdom and sense to prevail over war.
Myanmar protests: Demonstrators 'fired on' amid funeral of political organiser said to have died in custody | World News
Witnesses have said police have opened fire on protesters in Myanmar, amid reports at least one political organiser from the democratically elected government's party has died in custody.
Several people were wounded in the historic temple city of Bagan, according to witness accounts and videos on social media, while demonstrations were held in at least half a dozen other Myanmar cities.
Residents in the southeastern city of Dawei said soldiers and police moved into several districts overnight, firing shots. They arrested at least three people in Kyauktada Township, residents there said.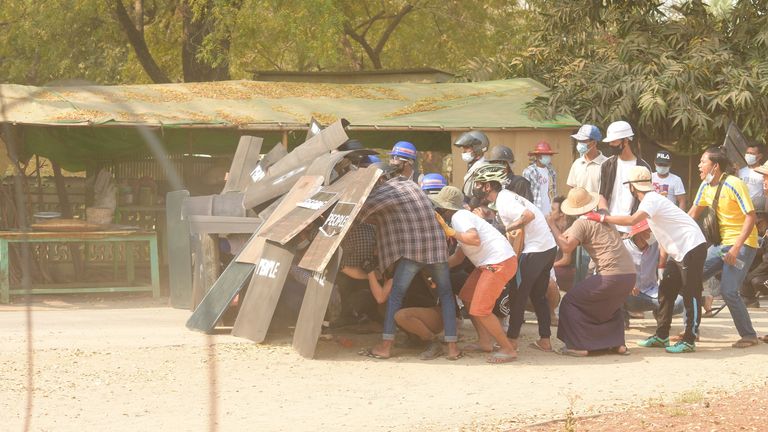 One protest leader said to the crowd in Dawei: "They are killing people just like killing birds and chickens. What will we do if we don't revolt against them? We must revolt."
A ward chairman from Aung San Suu Kyi's National League for Democracy (NLD) party was found dead in a military hospital on Sunday morning by people who lived in his Yangon neighbourhood, according to a post on Facebook by NLD MP Sithu Maung.
Several on social media speculated that U Khin Maung Latt, 58, died after being beaten in custody after being taken from his home, but no official cause of death was immediately announced.
Reuters news agency said it saw a photograph of his body with a bloodstained cloth wrapped around the head.
Another Facebook poster said he had been arrested on Saturday in 30th Street in Pabedan Township.
There were emotional scenes in Yangon as his funeral was held in accordance with Islamic tradition later on Sunday.
At least three protests were held in Yangon, despite overnight raids by security forces on campaign leaders and opposition activists, and video posted by media group Myanmar Now showed soldiers beating up men.
Meanwhile, police fired tear gas to break up a sit-in demonstration by tens of thousands of people in Mandalay on Sunday.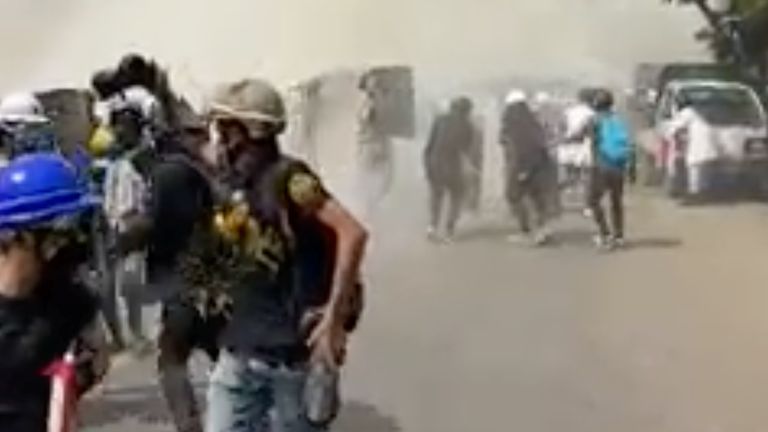 Security forces continued to crack down on many of the other protests, which have erupted following last month's coup.
The United Nations says more than 50 people have been killed by security forces since the military overthrew and detained elected leader Aung San Suu Kyi on 1 February.
A junta spokesman did not respond to Reuters requests for comment.
The state-run Global New Light Of Myanmar newspaper reported that police said security forces were dealing with the protests in accordance with law.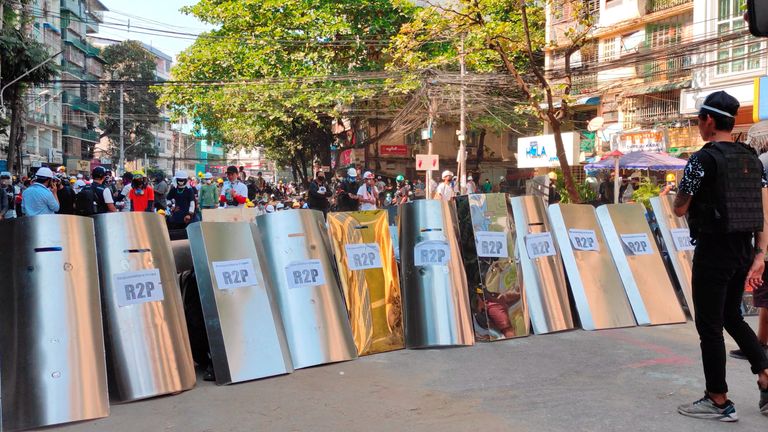 More than 1,700 people have been detained by the police and military in Myanmar, the Assistance Association for Political Prisoners advocacy group said. The latest figure did not include overnight detentions.
Meanwhile, Myanmar's authorities claimed an activist who was shot dead could not have been killed by police because the wrong sort of projectile was found in her head.
They had exhumed the body of 19-year-old Kyal Sin, who died during the protests in Mandalay on Wednesday wearing a T-shirt that read "Everything will be OK".
Moment nun stands up to Myanmar military

State-run MRTV said a surgical investigation showed she had been shot from behind, while police were in front.
Photographs taken on the day showed her head turned away from security forces moments before she was killed.
Opponents of the coup accused the junta of attempting to cover-up their responsibility.
Protesters have demanded the release of Ms Suu Kyi and that military leaders respect the result of November's election – which her party won in a landslide.
Myanmar soldier points gun at hidden resident

The army has said it will hold more elections at a date in the future yet to be set.
Israeli-Canadian lobbyist Ari Ben-Menashe, hired by Myanmar's junta to act as a spokesman, told Reuters the military leaders want to leave politics and improve relations with the United States and to distance themselves from China.
He said Ms Suu Kyi had grown too close to China.
Equatorial Guinea: At least 20 killed in series of explosions at military base | World News

At least 20 people have been killed after a series of large explosions at a military base in the city of Bata in Equatorial Guinea.
The cause of the blasts is not yet known but reports on the TVGE news channel suggested authorities had ruled out an attack.
TVGE called on people to donate blood and said hospitals in the Central African nation were full of people injured in the explosions.
In the blast area, iron roofs were ripped off houses and lay twisted amid the rubble.