Celebrity trout pouts | Fox News
Celebrity trout pouts
Do these pouts make you want to pucker up, or bait a hook?
http://www.foxnews.com/">Fox News
http://www.foxnews.com/
Kylie Minogue
Australian pop star Kylie Minogue was seen arriving at the BBC Studios in London with a noticeable plumper pout.
(Reuters/Splash)
kylie-minogue
Olivia Munn
Olivia Munn turned heads when she stepped out with noticeably-plumper lips (right). However, the star shared on Instagram that her new trout pout was purely due to makeup and not fillers.
(Reuters)
olivia-munn
Christina Aguilera
Christina Aguilera
stepped out (left) to vote
with noticeably plumper lips. Perhaps it was just a combination of pushing out her lips and heavy lipstick, but the singer definitely looks different these days.
(AKM-GSI/Reuters)
christina-aguilera
Kim Zolciak
Kim Zolciak was spotted heading home to Atlanta from LA with a pout (left) that appeared to be more plump than it has looked in the past (right). The reality star has consistently denied any plastic surgery aside from having breast implants and a tummy tuck when she had surgery to fix a hernia after giving birth to her twins in 2013. Maybe Zolciak doesn't count lip fillers as plastic surgery? Click here for more pics of the star on
X17online.com
.
(X17online)
kim-zolciak
McKayla Maroney
McKayla Maroney's pout first became famous in 2012 when she made a face of disapproval that was seen around the world after she settled for silver at the Olympics. Now the athlete's face is getting attention for another reason. Recent pictures of the star show her looking very different — and very enhanced — on social media. Click here for more pics on 
Hollywoodlife.com
.
(Reuters/Instagram)
mckayla-maroney
Kesha
Kesha stepped out at LAX with lips that looked a lot fuller than they did a year ago on the red carpet. Has the singer had a little help with her appearance? Click here for more pictures of the star on
X17online.com
.
(X17/Reuters)
kesha
Snooki
(Instagram/Reuters)
snooki
Courtney Stodden
(AKM-GSI/Instagram)
courtney-stodden
Lisa Rinna
Rinna's lips have always looked somewhat enhanced, but when the star stepped out recently with especially plump-looking lips we can't help but wonder if she had a little more work done. For more pictures of Rinna, go to
X17online.com
.
(Reuters/X7online)
lisa-rinna
Lindsay Lohan
Move over, Meg Ryan and Lisa Rinna, there's a new crop of trout pouts in Hollywood! Lindsay Lohan's lips aren't the only things that look off in this picture, as the troubled star looks nothing like the fresh-faced girl she used to be. 
Click for more Lindsay pics here
.
(AP/x17online)
lindsay-lohan
Kim Kardashian
The reality star has drastically changed her look since becoming famous for her homemade video with Ray J. She blamed her exaggerated lips (right) on "the flu." We've heard of swollen glands, but swollen lips? Unlikely. 
Click for more Kim pics.
(Reuters/X17online)
kim-kardashian
Megan Fox
The "Transformers" star has always had a pretty face, even though it miraculously keeps on changing. Tabloid reports say she has spent upwards of $60,000 in plastic surgery over the years.
(Reuters)
megan-fox
Nicole Kidman
The actress went through a few years where she was barely recognizable but these days, it looks like just the lips are different.
(Reuters)
nicole-kidman
Ashlee Simpson
Her hair color changes nearly as often as her lip size! The former "Melrose Place" star has gotten a total overhaul since her days on "7th Heaven." Did she get a nose job? "As long as people have two eyes, you probably know the answer," Jessica's little sis says coyly. As for the rest of her face, Ashlee's lips are sealed.
(AP/Reuters)
ashlee-simpson
Jessica Biel
The more famous Jessica Biel gets, the more her lips seem to grow! Click here for more pics of the star on 
X17online.com
.
(AP/X17online)
jessica-biel
Hilary Duff
It seems the Disney darling has been messing with her mouth. Hil got veneers in 2005, but are her lips larger, too?
(AP/Reuters)
hilary-duff
Heidi Montag
(X17online)
heidi-montag
Anna Faris
When she first broke out in Hollywood with "Scary Movie," this funny gal was a thin-lipped brunette. These days, Anna's bustin' out all over!
(Reuters/AP)
anna-faris
Nikki Cox
Nikki's always had lush lips, but the actress appears to have gone crazy with the injectables. These suckers are more than "plump" — they're taking over her face! If Nikki's goal was to one-up Lisa Rinna, then consider that mission accomplished.
(Reuters)
nikki-cox
Ashley Tisdale
The "High School Musical" star has admitted to a nose job, but something else looks a bit different too.
(AP/Reuters)
ashley-tisdale
Jessica Simpson
The mom is known for her pout, and has admitted to surgically enhancing her pucker: "I had that Restylane stuff. It looked fake to me. I didn't like that." Good thing Jess came to her senses! 
Click for more Jess pics.
(AP/X17online)
jessica-simpson
'Iraq will always remain with me, in my heart': Pope's message to packed Erbil stadium | World News
Pope Francis has said Mass to thousands of people in the packed Franso Hariri stadium in Erbil.
At the end of the last official event before he returns to Rome on Monday, Francis told the crowd: "Iraq will always remain with me, in my heart."
He closed by saying "salam, salam, salam [peace, peace, peace]".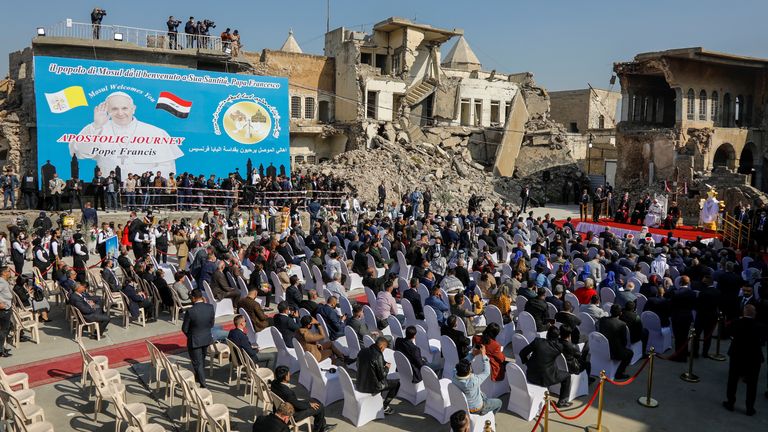 Earlier, The Pope led prayers in Mosul – a former stronghold of terror group Islamic State.
He flew in by helicopter and was greeted by crowds in the decimated northern Iraqi city, where just a handful of Christian families now live.
Thousands of Christians fled the area during the IS occupation, where they were faced with conversion, death, or paying a tax for non-Muslims.
On the way to the venue, he stopped by the ruins of homes and cathedrals that had been destroyed by IS violence, to hold a moment of silence.
He then took part in the service from a once-bustling city square, surrounded by the ruins of several damaged churches, which were destroyed when IS overran the area in 2014.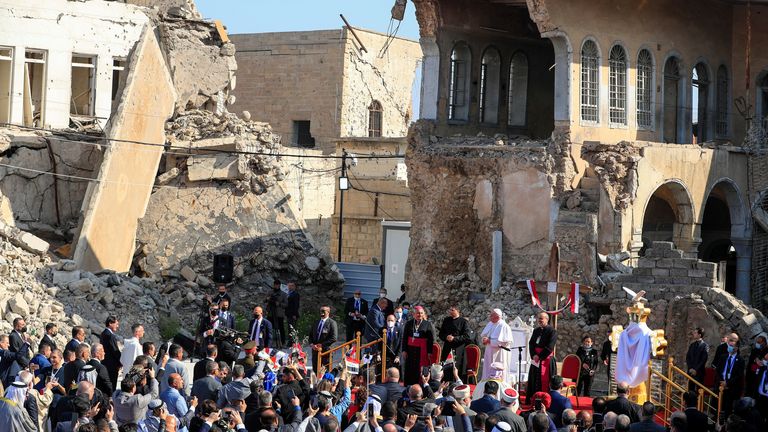 "How cruel it is that this country, the cradle of civilization, should have been afflicted by so barbarous a blow, with ancient places of worship destroyed and many thousands of people – Muslims, Christians, Yazidis and others – forcibly displaced or killed," he told the crowd.
"Today, however, we reaffirm our conviction that fraternity is more durable than fratricide, that hope is more powerful than hatred, that peace more powerful than war."
Pope Francis added that hope could not be "silenced by the blood spilled by those who pervert the name of God to pursue paths of destruction".
In prayer, he said: "If God is the God of life – for so he is – then it is wrong for us to kill our brothers and sisters in his name. If God is the God of peace – for so he is – then it is wrong for us to wage war in his name.
"If God is the God of love – for so he is – then it is wrong for us to hate our brothers and sisters."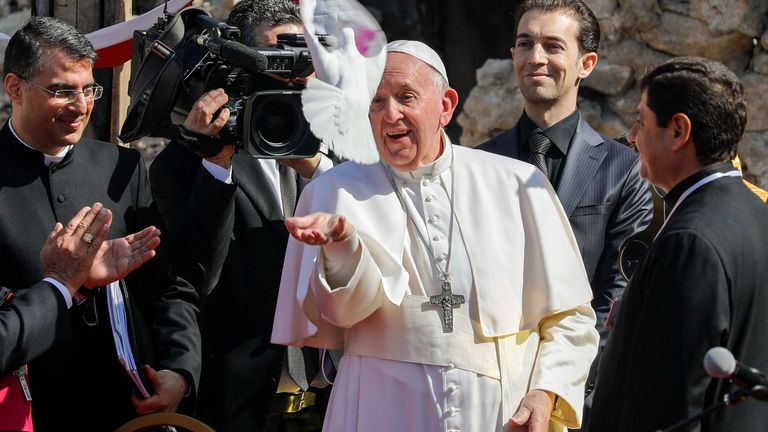 He concluded the prayer saying: "To you we entrust all those whose span of earthly life was cut short by the violent hand of their brothers and sisters; we also pray to you for those who caused such harm to their brothers and sisters. May they repent, touched by the power of your mercy."
A white dove was also released by Pope Francis, to symbolise peace – a running theme for his papal visit.
In 2014, in Mosul's al-Nuri mosque, Abu Bakr al Baghdadi gave a sermon in an extremely rare public appearance, where he announced the IS caliphate.
Mosul was liberated in July 2017 after a brutal three-year regime of terror in the city, that left an estimated 9,000-11,000 people dead.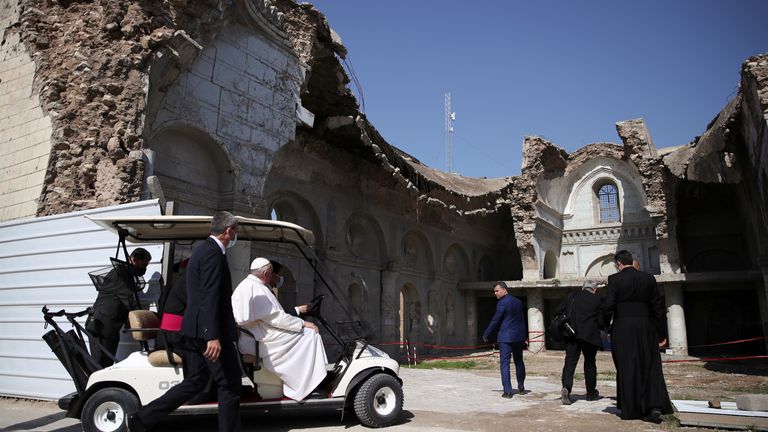 The Vatican hopes that Pope Francis's appearance in Mosul will encourage Christian communities to stay in the area, despite years of violence and persecution.
The Pope visited one of the most influential Muslim leaders in the world on Saturday, Grand Ayatollah Ali al Sistani, where the men discussed the issues facing Christian communities in the country.
Following the meeting, al Sistani said he wanted Muslims and Christians to coexist in Iraq, and called on other religious leaders to hold great powers to account and for wisdom and sense to prevail over war.
Myanmar protests: Demonstrators 'fired on' amid funeral of political organiser said to have died in custody | World News
Witnesses have said police have opened fire on protesters in Myanmar, amid reports at least one political organiser from the democratically elected government's party has died in custody.
Several people were wounded in the historic temple city of Bagan, according to witness accounts and videos on social media, while demonstrations were held in at least half a dozen other Myanmar cities.
Residents in the southeastern city of Dawei said soldiers and police moved into several districts overnight, firing shots. They arrested at least three people in Kyauktada Township, residents there said.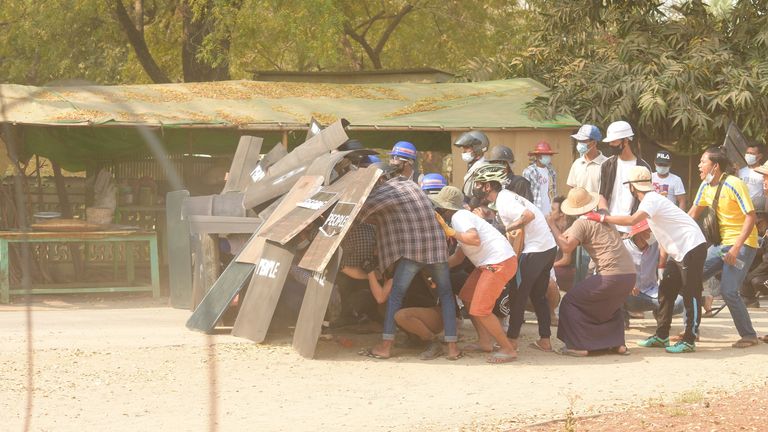 One protest leader said to the crowd in Dawei: "They are killing people just like killing birds and chickens. What will we do if we don't revolt against them? We must revolt."
A ward chairman from Aung San Suu Kyi's National League for Democracy (NLD) party was found dead in a military hospital on Sunday morning by people who lived in his Yangon neighbourhood, according to a post on Facebook by NLD MP Sithu Maung.
Several on social media speculated that U Khin Maung Latt, 58, died after being beaten in custody after being taken from his home, but no official cause of death was immediately announced.
Reuters news agency said it saw a photograph of his body with a bloodstained cloth wrapped around the head.
Another Facebook poster said he had been arrested on Saturday in 30th Street in Pabedan Township.
There were emotional scenes in Yangon as his funeral was held in accordance with Islamic tradition later on Sunday.
At least three protests were held in Yangon, despite overnight raids by security forces on campaign leaders and opposition activists, and video posted by media group Myanmar Now showed soldiers beating up men.
Meanwhile, police fired tear gas to break up a sit-in demonstration by tens of thousands of people in Mandalay on Sunday.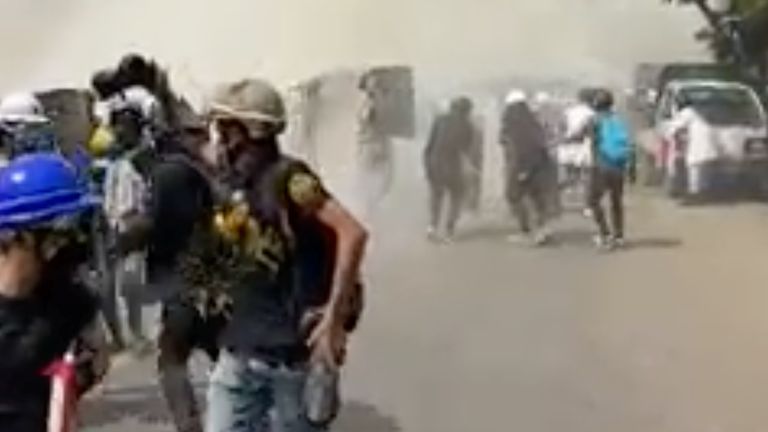 Security forces continued to crack down on many of the other protests, which have erupted following last month's coup.
The United Nations says more than 50 people have been killed by security forces since the military overthrew and detained elected leader Aung San Suu Kyi on 1 February.
A junta spokesman did not respond to Reuters requests for comment.
The state-run Global New Light Of Myanmar newspaper reported that police said security forces were dealing with the protests in accordance with law.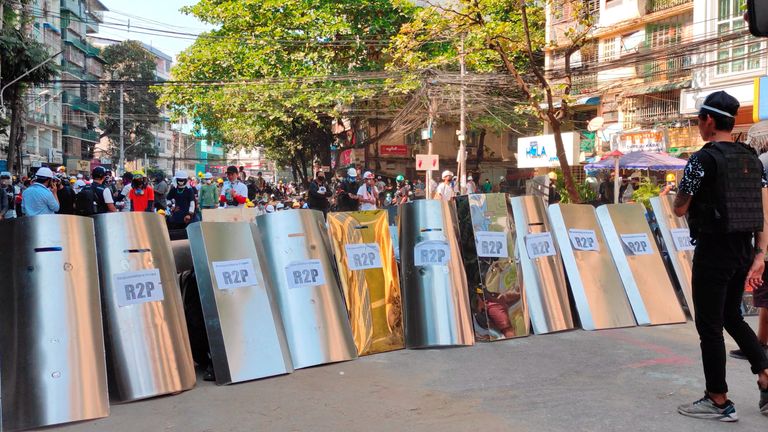 More than 1,700 people have been detained by the police and military in Myanmar, the Assistance Association for Political Prisoners advocacy group said. The latest figure did not include overnight detentions.
Meanwhile, Myanmar's authorities claimed an activist who was shot dead could not have been killed by police because the wrong sort of projectile was found in her head.
They had exhumed the body of 19-year-old Kyal Sin, who died during the protests in Mandalay on Wednesday wearing a T-shirt that read "Everything will be OK".
Moment nun stands up to Myanmar military

State-run MRTV said a surgical investigation showed she had been shot from behind, while police were in front.
Photographs taken on the day showed her head turned away from security forces moments before she was killed.
Opponents of the coup accused the junta of attempting to cover-up their responsibility.
Protesters have demanded the release of Ms Suu Kyi and that military leaders respect the result of November's election – which her party won in a landslide.
Myanmar soldier points gun at hidden resident

The army has said it will hold more elections at a date in the future yet to be set.
Israeli-Canadian lobbyist Ari Ben-Menashe, hired by Myanmar's junta to act as a spokesman, told Reuters the military leaders want to leave politics and improve relations with the United States and to distance themselves from China.
He said Ms Suu Kyi had grown too close to China.
Equatorial Guinea: At least 20 killed in series of explosions at military base | World News

At least 20 people have been killed after a series of large explosions at a military base in the city of Bata in Equatorial Guinea.
The cause of the blasts is not yet known but reports on the TVGE news channel suggested authorities had ruled out an attack.
TVGE called on people to donate blood and said hospitals in the Central African nation were full of people injured in the explosions.
In the blast area, iron roofs were ripped off houses and lay twisted amid the rubble.