Bollywood superstar drowned in bathtub, police say
Bollywood superstar Sridevi Kapoor drowned in her hotel bathtub after fainting this weekend, police have said.
The 54-year-old actress, described as India's first female superstar, died on Saturday night in Dubai.
Her brother-in-law, actor Sanjay Kapoor, told the Indian Express on Sunday she had suffered a heart attack and had no known heart condition.
On Monday Dubai police, citing a post-mortem, tweeted: "The death of Indian actress Sridevi occurred due to drowning in her hotel apartment's bathtub following loss of consciousness."
Police have now referred the case to the public prosecutor.
#DubaiPolice has transferred the case to #Dubai Public Prosecution, which will carry out regular legal procedures followed in such cases.

2/2

— Dubai Policeشرطة دبي (@DubaiPoliceHQ) 26 February 2018
Sridevi, who was known only by her first name, was in the Gulf to attend a wedding with her husband, Boney Kapoor, and younger daughter Khushi.
Videos appearing to show her dancing at the event were widely circulated online.
Born Shree Amma Yanger Ayyapan, the much-loved star started acting at the age of four and worked throughout her childhood, playing her first adult Bollywood role at the age of 13.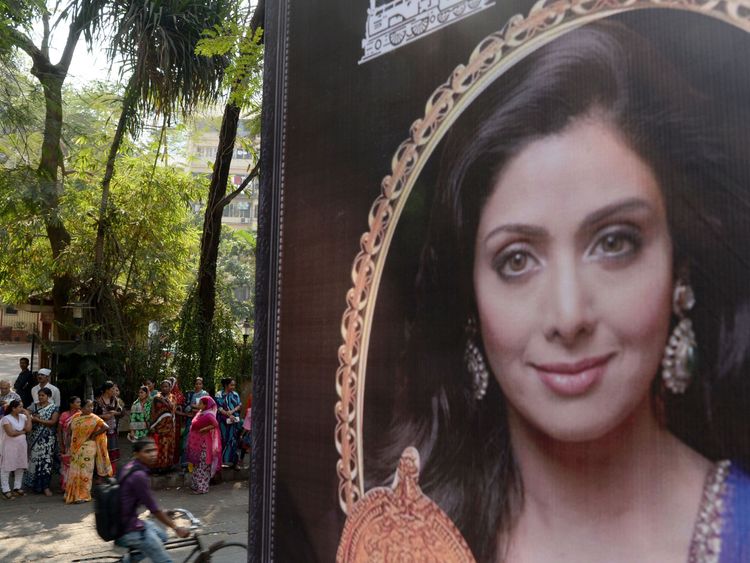 Her most famous roles included playing a reporter in Mr India and in Chandni, when she played a woman choosing between two suitors.
In Lamhe, in 1991, she played dual roles of a woman and her daughter.
Much of her appeal was that she appeared in films in a wide variety of Indian languages, having been born into a Tamil/Telugu family in the southern state of Tamil Nadu.
She won five Filmfare Awards, and was nominated 10 times in the Indian equivalent to the Oscars.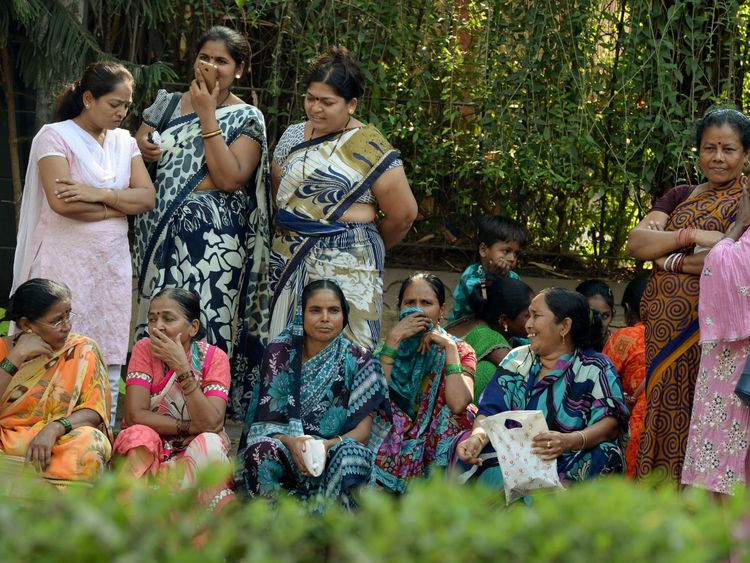 In 2013, she was voted India's Greatest Actress in 100 Years, in a national poll to celebrate a centenary of Indian cinema.
She was married twice; to fellow actor Mithun Chakraborty for three years in the 1980s and latterly, to film producer Boney Kapoor.
She stopped acting after her second marriage but made a well-received comeback in 2012 with English Vinglish, about a woman learning English.
Sridevi last appeared in film, MOM, last year.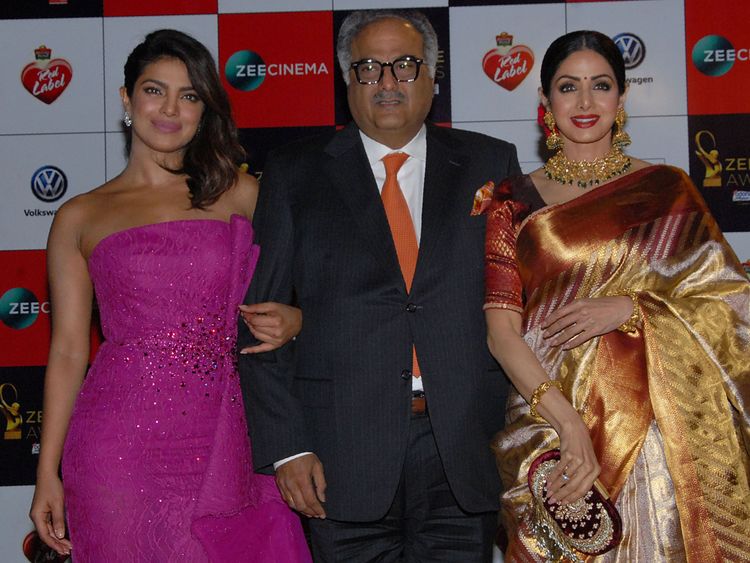 Leading politician, fans and fellow Bollywood stars have paid tribute to the actress on social media, with Prime Minister Narendra Modi saying he was "saddened" by the news.
NATO and European Commission condemn deadly attack on tanker near Oman | World News
Foreign Secretary Dominic Raab has welcomed both NATO and the European Commission's condemnation of the deadly attack on an oil tanker off the coast of Oman.
The UK, US and Israel have blamed Iran for the attack, which killed two people – a Briton and a Romanian.
On Tuesday, NATO called on Iran to "respect its international obligations", while the EU Commission said they oppose "any action that would be detrimental to peace and stability".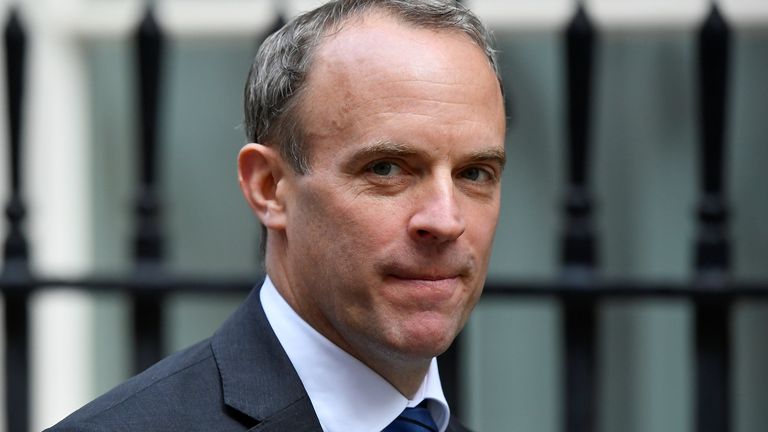 The Commission called the incident "unacceptable" but said the exact circumstances surrounding it "have to be clarified".
Posting on social media, Mr Raab said: "I welcome NATO joining the UK and international partners in condemning the unlawful attack on MV Mercer Street.
"We believe this was a deliberate, targeted attack by Iran – it must end its destabilising actions immediately."
I welcome @NATO joining the UK 🇬🇧 and international partners in condemning the unlawful attack on MV Mercer Street.

We believe this was a deliberate, targeted attack by Iran – it must end its destabilising actions immediately. https://t.co/aZGfjmgk4u

— Dominic Raab (@DominicRaab) August 3, 2021
Reports suggest explosive drones were flown into the MV Mercer Street tanker during the attack, which happened on 29 July.
According to Eikon's ship tracking, the Mercer Street was headed to Fujairah, a bunkering port and oil terminal in the United Arab Emirates, from Dar es Salaam in Tanzania.
The tanker is operated by Zodiac Maritime, which is based in London and owned by Israeli billionaire Eyal Ofer.
Releasing a statement on Tuesday, a NATO spokesperson said: "We join allies in strongly condemning the recent fatal attack on the MV Mercer Street off the coast of Oman, and express our condolences to Romania and the United Kingdom for the losses they have suffered.
"Freedom of navigation is vital for all Nato allies, and must be upheld in accordance with international law.
"The United Kingdom, the United States, and Romania have concluded that Iran is highly likely responsible for this incident. Allies remain concerned by Iran's destabilising actions in the region, and call on Tehran to respect its international obligations."
European Commission spokeswoman Nabila Massrali told reporters: "Of course we condemn the attack on the oil tanker which took place off the island of Masirah in Oman.
"A British citizen and a Romanian were killed and we would like to extend our sympathy to their friends and family.
"The exact circumstances of this attack have to be clarified and we take note of investigations carried out by the United States, the UK and Israel – this is an action that was against freedom of navigation in this area, and of course unacceptable.
"We oppose any action that would be detrimental to peace and stability in this area and the EU will continue to follow developments closely."
'Iran should face up to the consequences' – PM

On Sunday, Mr Raab accused Iran of carrying out a "deliberate, targeted" assault which constituted "a clear violation of international law".
US Secretary of State Anthony Blinken said he was considering "next steps" with the UK and other allies, with "an appropriate response… forthcoming".
Meanwhile, the head of the British armed forces, General Sir Nick Carter, held discussions with his Israeli counterpart at the weekend.
The government held a Cobra emergency meeting at the level of officials over the weekend in a sign of the serious focus on the tanker attack and how to respond, Sky News understands.
There has not yet been a Cobra attended by ministers, which is what happens in the gravest of crises.
Earlier this week, Israeli foreign minister Yair Lapid blamed "Iranian terrorism" for the attack.
Iran has not yet commented on the allegations.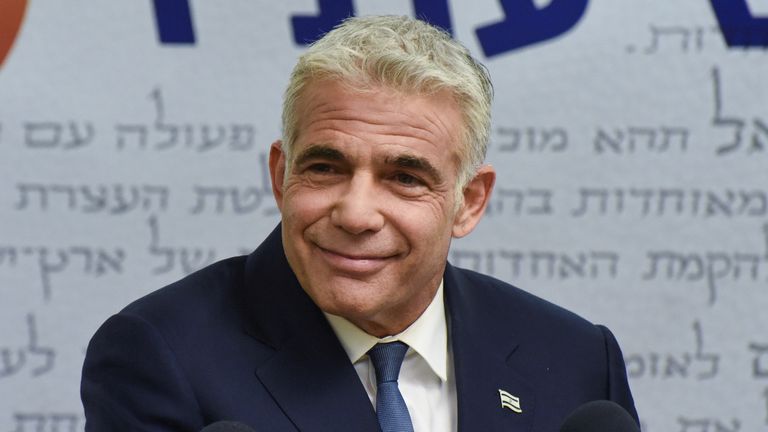 Lisa Nandy, Labour's shadow foreign secretary, said the UK government needs to take a hard line with Tehran.
She said: "The prime minister must make it clear to the incoming Iranian president that lawless actions will carry costs. This is the moment where Britain must show we are resolute in our determination to end this pattern of behaviour.
"The breakdown of a clear strategy to deal with Iran has not served the UK or our allies well in recent years. The foreign secretary must now make it a priority to pursue coordinated international efforts to tackle these actions by the Iranian government."
The incident has sparked concern that tensions are increasing in the region.
A UK source said crew members reported being targeted by "some sort of drone" on Thursday in the Arabian Sea before communications with the ship were lost.
If a drone attack is confirmed it would raise speculation about a possible link to a government or some kind of proxy group.
Iran in the past has repeatedly been accused of targeting tankers in the Gulf.
Heat dome: What is the extreme weather pattern causing record temperatures and wildfires? | Climate News
Heat domes are becoming a more regular weather phenomenon as entire regions deal with increasingly extreme heat and wildfires.
Villages in Turkey, Greece and Italy have been engulfed this July and August, and tourists evacuated by boat from beaches as temperatures reached 47C (116F).
In June, record temperatures hit North America, with more than 100 people dying in the northwestern US and Canada.
Both these extreme weather events were caused by heat domes.
Sky reporter at edge of Turkey wildfires


What is a heat dome?
It's when an area of high pressure stays over a large part of a region for days, or even weeks.
Like a lid on a saucepan, it traps hot air underneath, and can cause heatwaves with temperatures well above the norm.
How does a heat dome form?
Hot air expands vertically into the atmosphere then high pressure from above means it has nowhere to escape and pushes that warm air down.
As the warm air sinks, it compresses and heats up, which then traps more heat underneath.
The ground then heats up and loses moisture which makes it heat up even more, and means it is ripe for fires to start.
The dome of high pressure also pushes the clouds around it, keeping the heat in even more.
Usually, winds can move the high pressure around but as the dome stretches high into the atmosphere, the high pressure system becomes very slow moving, almost stationary.
What has caused the European heat dome?
Met Office spokesman Stephen Dixon told Sky News: "The jet stream has dipped south across western Europe and extended into northeast Europe, allowing a ridge to develop across southeast Europe.
"Within the ridge, the air has become warmer day-on-day."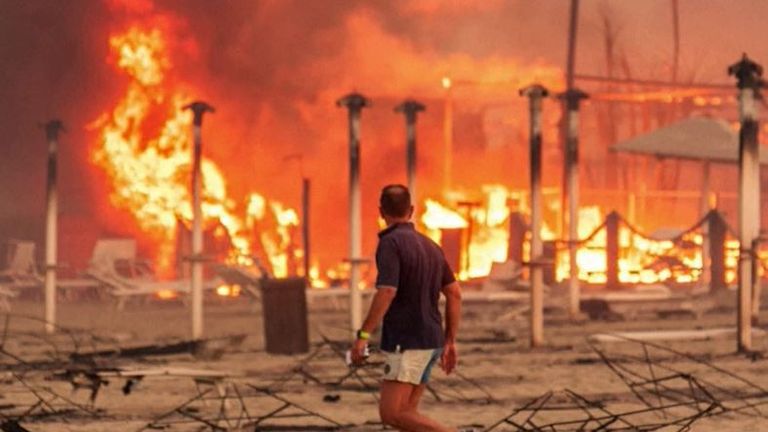 Warm air from a Saharan dust cloud has also contributed to the warmer than usual temperatures
The high pressure from the jet stream ridge and the Saharan warm air has been stuck over southeast Europe for a while, maintaining temperatures 10C to 15C above average.
Are heat domes rare occurrences?
They are quite common in temperate zones but they are getting more intense and regular in areas that do not usually see such extreme heat.
Scientists from the US National Oceanic and Atmospheric Administration (NOAA) found the main trigger is a strong change in ocean temperatures during the preceding winter.
Wildfires ravage Canadian town amid heatwave

For the US, this happens in the Pacific Ocean.
The NOAA scientists said it is like a swimming pool when the heater is turned on – "temperatures rise quickly in the areas surrounding the heater jets, while the rest of the pool takes longer to warm up".
They said the western Pacific's temperatures have risen over the past few decades compared with the eastern Pacific, "creating a strong temperature gradient – or pressure differences that drive wind – across the entire ocean in winter".
The gradient causes more warm air through convection, which is heated by the ocean surface and rises over the western Pacific, decreasing convection over the central and eastern Pacific.
Prevailing winds move the hot air east, towards the US, and the jet stream traps the air, moving it towards land where it sinks to cause heatwaves.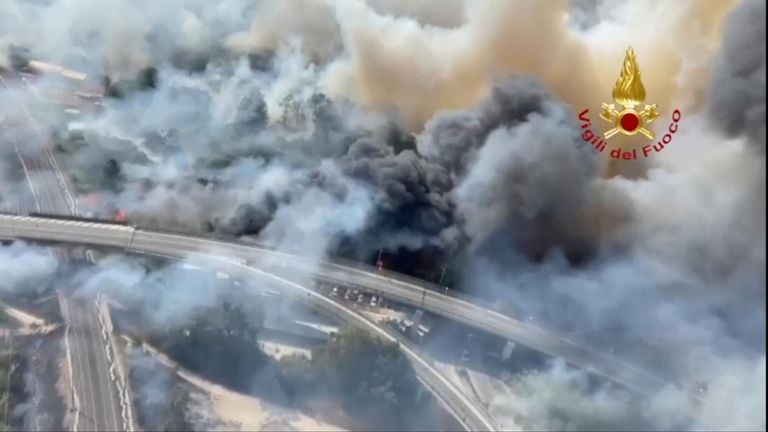 In Europe, the water temperatures are high, especially across the Baltic region where they are more than 6C above normal.
The Atlantic Ocean around the UK and Ireland was about 2-4C above the norm for the end of July.
But it is the Mediterranean, which is warmer than other European seas anyway, that is the most concerning, with sea temperatures nearly 3C above the long-term average.
Tokyo Olympics: Belarusian sprinter says she would have faced punishment if she returned home | World News
The Belarusian Olympic sprinter who refused to board a plane home from the Games has said officials from her country "made it clear" she would face punishment if she returned.
Krystina Tsimanouskaya, 24, has accused her national team's officials of trying to force her to fly to Minsk after she criticised the coaching staff on social media.
After spending a night at an airport hotel, she received a humanitarian visa by Poland and is planning to fly to Warsaw this week and seek refuge in Europe.
"They made it clear that upon return home I would definitely face some form of punishment," she said. "There were also thinly disguised hints that more would await me."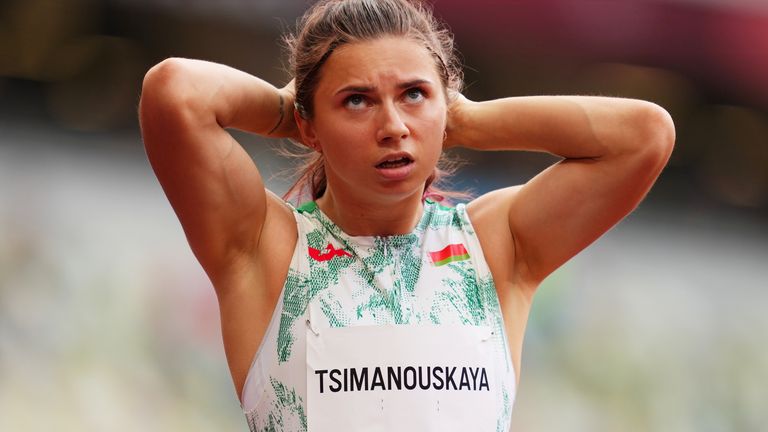 In an interview with the Associated Press news agency, Tsimanouskaya also said she believed she would be kicked off the national team, and demanded an investigation into who gave the order to withdraw her from Tokyo Olympics.
"For now I just want to safely arrive in Europe… meet with people who have been helping me… and make a decision what to do next," she said.
She added: "I would very much like to continue my sporting career because I'm just 24 and I had plans for two more Olympics at least. For now, the only thing that concerns me is my safety."
Belarus National Olympic Committee is headed by the country's authoritarian president Alexander Lukashenko and his son Viktor.