Are supermassive black holes going to eat the universe?
The largest black holes grow faster than their galaxies, according to new research.
Two studies from separate groups of researchers find that so-called supermassive black holes are bigger than astronomers would have calculated from their surroundings alone. Supermassive black holes are enormous gravity wells found in the center of large galaxies.
No stress, though: The black holes are generally no longer growing, and they aren't capable of eating their host galaxies for dinner. [Science Fact or Fiction? The Plausibility of 10 Sci-Fi Concepts]
"The black hole is tiny compared to the whole galaxy, so we are very safe!" said Guang Yang, a graduate student at The Pennsylvania State University who led one of the new studies.
Yang's study found that the larger the galaxy, the faster the black hole grew in comparison to the birth rate of the galaxy's stars. The other study found that the masses of supermassive black holes are about 10 times greater than would be expected if these central black holes grew at the same rate as the galaxies they inhabit.
Galaxies and their black holes
Astronomers are interested in the relationships between black holes and their galaxies for two main reasons. First, if they can calculate the size of one based on another, they can determine, say, the mass of a supermassive black hole even if they can't directly measure it. Second, any constant relationships between the two can help explain the laws that govern how galaxies are formed.
In the first study, published this month in the journal Monthly Notices of the Royal Astronomical Society and available on the preprint site ArXiv, Yang and his colleagues used data on more than 30,000 galaxies from the Great Observatories Origins Deep Survey (GOODS). The astronomical survey combined observations from the Hubble Space Telescope, the Chandra X-ray Observatory and the Spitzer Space Telescope, and more than 500,000 galaxies from the Cosmic Evolution Survey (COSMOS), which uses both space- and ground-based telescopes to explore the universe. The galaxies were between 4.3 billion and 12.2 billion light-years from Earth.
The research team found that the larger the galaxy, the larger the ratio between its black hole's growth rate and its growth rate of stars. A galaxy containing 100 billion of Earth's sun's worth of stars (a measurement known as solar mass) has 10 times the ratio as a galaxy with 10 billion of the sun's worth of stars. [The Strangest Black Holes in the Universe]
"Our paper suggests big galaxies can feed their black holes more effectively than small galaxies," Yang told Live Science. "So, those big galaxies finally end up with very big black holes. However, it is still an unsolved mystery whether the black holes can affect galaxy formation in return."
Going ultra
A second study, also available on ArXiv and set to be published in April in the journal Monthly Notices of the Royal Astronomical Society, similarly found that the larger the galaxy, the weirder its relationship with its black hole.
That research, headed by astrophysicist Mar Mezcua at the Institute of Space Sciences in Barcelona, Spain, focused on 72 galaxies no more than about 3.5 billion light-years from Earth. The galaxies were all "brightest cluster galaxies," a term that refers to the biggest and brightest galaxies in the nearby universe. Using X-ray and radio-wave data from the Chandra X-ray Observatory, the Australia Telescope Compact Array, the Karl G. Jansky Very Large Array and the Very Long Baseline Array, the researchers compared the masses of supermassive black holes to estimates made using traditional methods that assumed that black holes and their galaxies grow more or less at the same rate.
Instead of finding the two growing in lockstep, the research team discovered that the black holes in their study were 10 times larger than would have been predicted with traditional means. In fact, many qualified not just as supermassive black holes, which clock in at a few billion solar masses, but as ultramassive black holes, which can be up to 40 billion times the mass of Earth's sun.
No one previously knew that brightest cluster galaxies could host such enormous black holes, the researchers reported. The black holes could have formed in two ways, they wrote. One possibility is that the black hole grew first and the galaxy grew later. Another possibility is that these black holes are the descendants of "seed" black holes that formed when the galaxies were much younger and more productive in star formation. The bottom line, though, is that black holes and their galaxies don't always grow as a matching set.  
Editor's Note: This article was updated to correct a statement saying ultramassive black holes can be up to 40 "million" times the mass of the sun; they are up to 40 billion times the mass of our sun.
Original article on Live Science.
Prince Harry and Meghan meet top UN official amid world leaders' gathering in New York | World News
Prince Harry and Meghan have met with a top UN official during the world body's biggest annual gathering.
The Duke and Duchess of Sussex visited the UN headquarters in New York to speak with deputy secretary-general Amina Mohammed.
Ms Mohammed said they discussed "how to engage on issues we care about deeply", such as vaccine equity, climate action, the economic empowerment of women, youth engagement and mental wellbeing.
Harry and Meghan pay respects at 9/11 memorial

"It was a lovely meeting," Meghan said afterwards.
The UN said Ms Mohammed welcomed the couple's work to address the organisation's 17 sustainable development goals, which were created in 2015 and include objectives like ending hunger and poverty, achieving gender equality and combating climate change.
The trio met ahead of their scheduled appearances at the Global Citizen concert in Central Park later on Saturday.
The star-studded, 24-hour event aims to encourage climate action and urge wealthier countries to share one billion doses of COVID-19 vaccines with other nations.
Billie Eilish and Ed Sheeran are among the musicians expected to headline the festival, which features performances in cities including New York, London and Sydney.
Tens of thousands of people are set to attend, with millions likely to tune in to the broadcast.
Prince Harry and Meghan are due to speak at the event in New York as part of their first major public trip since quitting as senior royals.
Earlier this week they visited the city's memorial for the 9/11 attacks on the World Trade Center, with New York City mayor Bill de Blasio and the state's governor, Kathy Hochul, joining them.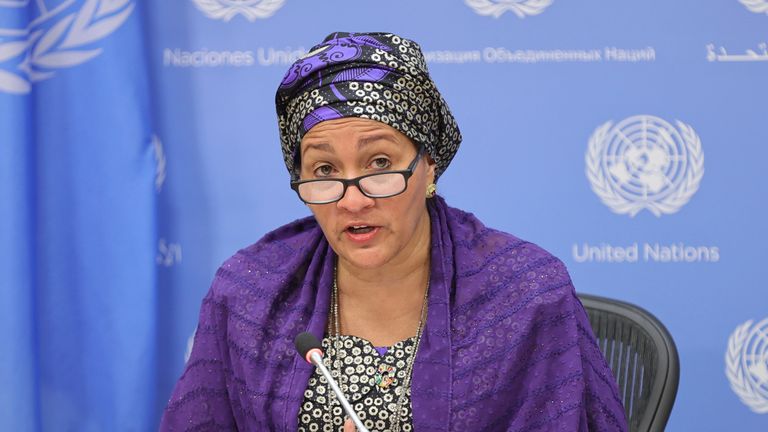 The UN is currently hosting the annual general assembly of world leaders, who have been discussing efforts to fight climate change and COVID-19.
Meghan has been involved with the UN women's agency for several years, acting as "advocate for political participation and leadership".
Were Prince Harry and Meghan cut off financially?

The Duke and Duchess of Sussex were among those chosen as Time magazine's 100 most influential people last week.
Last year, the couple stepped down from royal duties, moving to California and launching their Archewell Foundation.
They have previously supported other Global Citizen initiatives, acting as campaign chairs for a Vax Live event in May which encouraged donations to Covax, an initiative working to provide vaccines for low and middle-income countries.
In a speech he made on stage, Prince Harry called for coronavirus jabs to be "distributed to everyone everywhere".
German election: Voters want fresh leadership even if many seem unconvinced by the options | Politics News
They're already putting Angela Merkel out to pasture at the Tussauds waxworks in Berlin, decking her out in clothes to go hiking, which the chancellor says she wants to do more of when she's retired.
Mrs Merkel has been chancellor for 16 years.
Madam Tussaud's studio assistant Karen Fries says it will be strange when she is gone.
Germany election: What's at stake?

"It's going to be weird, yes, because it's now 16 years and we are not used to getting along without her, but we'll see."
The same sentiments are around the corner at the Brandenburg Gate.
Another race was under way ahead of the election: rollerbladers gathering to speed around the route of the marathon that is run this weekend.
"Both of us, we are 23," two young bladers told us. "We just know Angela Merkel. So I think an era comes to an end."
Another man told us none of the candidates can replace her: "No, they are too weak."
Is this just another country's election or one we should all be interested in?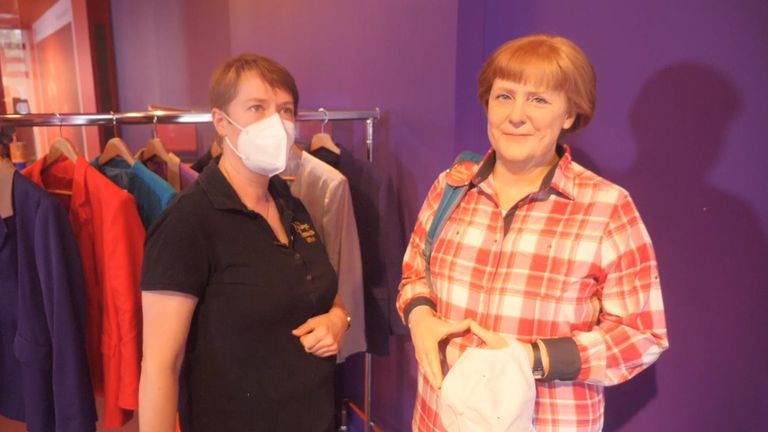 Angela Merkel was called the leader of the free world, a moniker she herself thought was absurd. But it gives a sense of the void she may leave in these uncertain times.
Mrs Merkel has been credited with steering Germany through numerous crises but critics say she did not do enough to see them coming or warn Germans about others on their way.
Matthew Karnitschnig, Politico's chief Europe correspondent, says: "The problem is that Merkel has shielded the population for a very long time from the realities of what's going on in the world."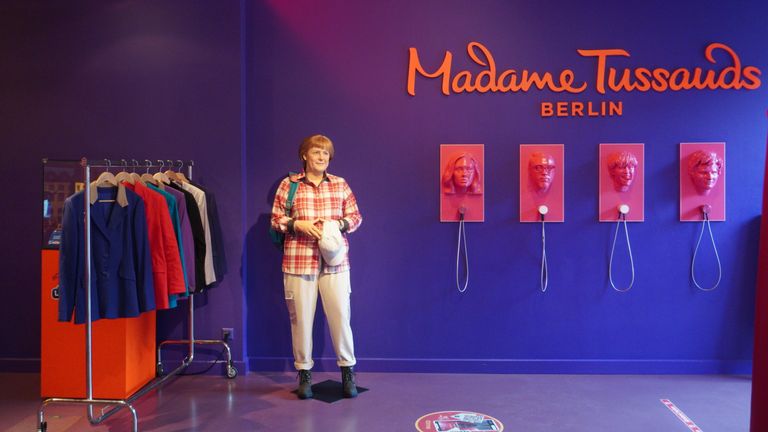 Mrs Merkel was more of an administrator than a leader, he says, and has left one key question unanswered for her successors to address.
The way they do could have ramifications far beyond Germany.
"What's at stake, really, is what role Germany is going to play in the world," he says.
"Does Germany want to be a real player on the world stage, or does it want to act more like a giant Switzerland in the middle of Europe, trying to be all things to all people?"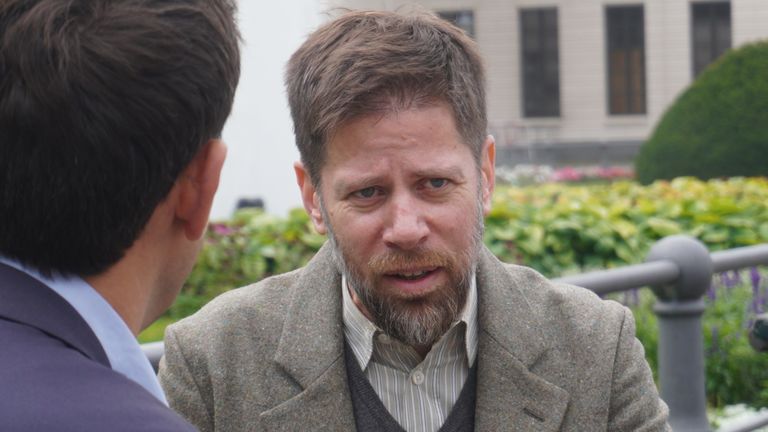 Germany after Mrs Merkel will be under pressure from America to take on Russia more and be a more useful partner within the EU.
For Europe's largest country and richest economy, it has not punched at its weight in the minds of many in Washington and elsewhere.
Others agree that Mrs Merkel cossetted Germans and protected them from global realities too much.
Green MEP Sergei Lagodinski, who helped write his party's foreign policy, told Sky News: "I do hope very much that after this very comfortable sleep that we had with a very comforting leader who actually drove us and directed us quite good through a couple of crises, we need now to wake up not only to survive crisis and get back to the business as usual, but try to reimagine both Germany and Europe in this new age."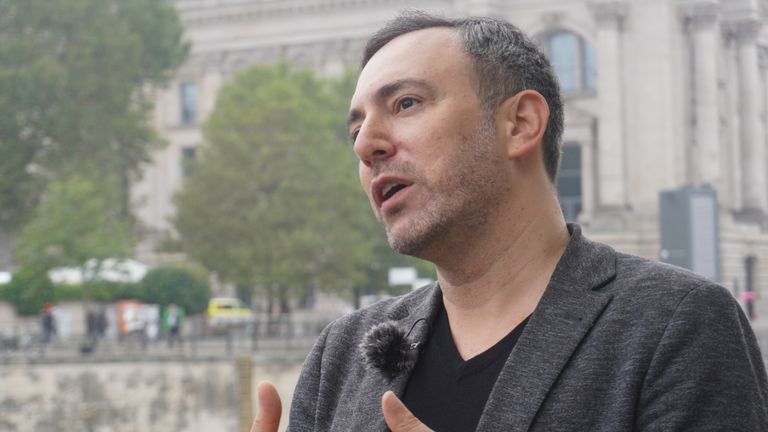 The world and Germany are very different now than 16 years ago when Merkel first came to power.
Climate change, populism and artificial intelligence are all challenges that need proactive leadership, arguably not a strength of Mrs Merkel's.
"I think it's tremendously important, not just for Germany but for Europe," Mr Lagodinski says.
German voters take to the polls

"We have a situation where we have a change in terms of who's going to lead Germany but also we have a totally changed global situation."
There is the sense of an era coming to an end on the eve of this important election.
In the dusky light of a warm September evening, the voters we spoke to seemed relaxed about the future but conflicted too.
Germany's election: The end of Merkel

They want change but also continuity.
There is a yearning for stability with such a familiar figure bowing out and in such unpredictable times. But 16 years is a long long time to have one leader, we have been told repeatedly.
Germany and the world have new challenges to take on and new demons to fight, and voters want fresh leadership even if many seem unconvinced by the line-up they have to choose from.
Dean Berta Vinales: Fifteen-year-old World Superbike star dies after crash during race in Spain | World News

Fifteen-year-old motorcyclist Dean Berta Vinales has died following a crash at a World Superbike Championship race in Jerez, Spain.
After 11 laps in the Supersport 300 support race, the Spanish athlete crashed at the second turn, along with three other riders.
He suffered severe head and spinal injuries and was treated by medical crews who arrived on the scene, World Superbike said.
They attended to him on the track, in an ambulance and at the circuit medical centre.
"Despite the best efforts of the circuit medical staff, the Medical Centre has announced that Berta Vinales has sadly succumbed to his injuries," World Superbike said.
The race was red-flagged by the director and cancelled, along with the rest of Saturday's action.
Vinales was MotoGP rider Maverick Vinales's cousin and he rode for his uncle's Vinales Racing Team.
In a statement on social media, Vinales Racing Team said it was "devastated".
MotoGP said on Twitter: "We're devastated by the tragic loss of @DeanBerta21 following a crash in #WorldSSP300 Race 1 today.
"Sending all our love and strength to Maverick Vinales and Dean's entire family, his team and loved ones."
Six-time MotoGP champion Marc Marquez wrote: "Rest in peace Dean. All my support to family and friends."
We're deeply saddened to report the loss of Dean Berta Viñales.

The #WorldSBK family sends love to his family, loved ones, and his team. Your personality, enthusiasm, and commitment will be hugely missed.

The whole motorcycle racing world will miss you, Dean. Ride in Peace. pic.twitter.com/46KuUt4Vnl

— WorldSBK (@WorldSBK) September 25, 2021
World Superbike said Vinales was "enjoying a recent run of good form" in his rookie season in the FIM Supersport 300 World Championship, coming in fourth in Race 2 at the Magny-Cours circuit and sixth in Race 2 at the Barcelona-Catalunya track.
He had set the fastest lap in Race 1 and the organisation said he was "showing great potential".
The tragedy is the latest in a series of crashes that have claimed the lives of young riders.
Fourteen-year-old Hugo Millan died after crashing at a race in Alcaniz, Spain in July, while Swiss Moto3 rider Jason Dupasquier, 19, died in May from injuries he sustained in a three-bike crash during a qualifying session at the Mugello circuit in Italy.