Over 100 girls missing after Boko Haram attack in Nigeria
More than 100 girls are unaccounted for after a Boko Haram terror attack in north east Nigeria, officials have said.
The Islamist militant group invaded a school in the town of Dapchi, about 45 miles south of the border with Niger, on Monday.
Of the school's 906 students, some "110 have not been accounted for", according to Nigeria's information minister Lai Mohammed.
Since the attack, estimates of the number of girls missing have varied from around 50 to more than 100.
On Wednesday, the Yobe state government said dozens of the girls had been rescued, sparking celebration.
By Thursday, however, it had to admit most of them were still missing.
According to Nigerian news website The Cable, Mr Mohammed met with government and security officials, along with community leaders on Sunday.
He said: "No stone will be left un-turned in our determination to rescue these girls.
"Government will remain focused and resolute in the fight against insurgency to rescue the students and every Nigerian in their custody."
The minister also announced that police and the Nigeria Civil Defence Corps would be deployed to schools.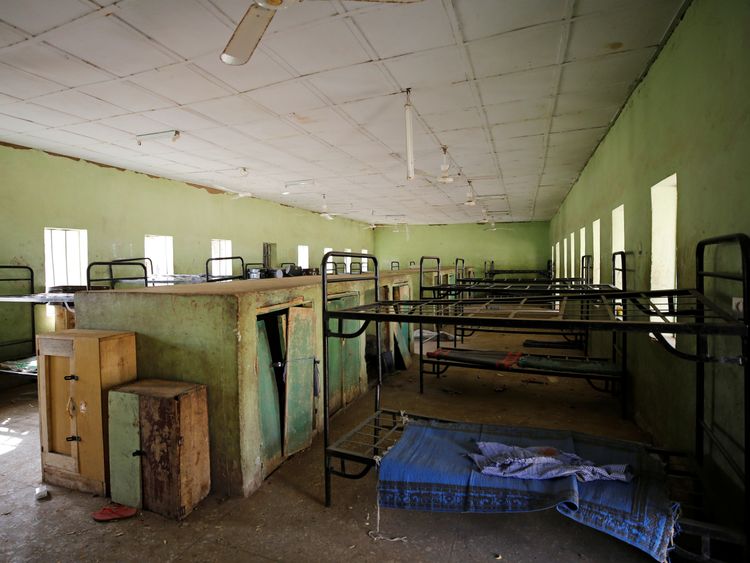 Nigeria's President Muhammadu Buhari said on Friday that the abduction of the girls was "a national disaster".
He added: "We are sorry that this could have happened and share your pain."
Witnesses told reporters that the attackers had asked for directions to the school for girls when they arrived in the town on Monday.
One of those who escaped the attack was Amina Usman, 15, who had been washing when she heard gunfire and saw what looked like soldiers in vehicles.
She ran into nearby bushes to hide before later finding a teacher and other escapees.
She said: "We were 65 girls in all.
"I thought I will never see my parents or family again."
In 2014, Boko Haram – which roughly translates as "Western education is forbidden" – abducted 276 girls from a boarding school in Chibok.
Many of the girls were forced to marry their kidnappers.
Boko Haram fighters have killed more than 20,000 people and forced around 2 million people to flight since their insurgency began almost a decade ago.
The Dissident director Bryan Fogel on Khashoggi film: 'Hearing the recording of Jamal's murder would make it a shock horror – I didn't want that' | Ents & Arts News
As President Joe Biden releases an explosive report implicating Saudi Crown Prince Mohammed bin Salman in the murder of Jamal Khashoggi, Sky News talks to filmmaker Bryan Fogel about his new documentary about the killing – The Dissident.
WARNING: This article contains graphic and upsetting details about Jamal Khashoggi's death.
The murder of Saudi journalist Jamal Khashoggi was without doubt violent and senseless – but in making a documentary about his death, Oscar-winning director Bryan Fogel knew one thing was key – it mustn't become a horror film.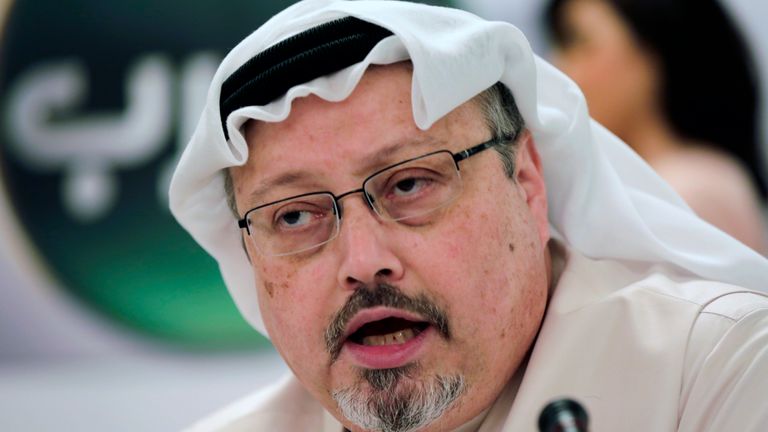 When the 59-year-old Washington Post columnist walked into the Saudi embassy in Istanbul at around 1.14pm on 2 October 2018 to pick up documents that would allow him to embark on a new marriage, he little knew what awaited him inside.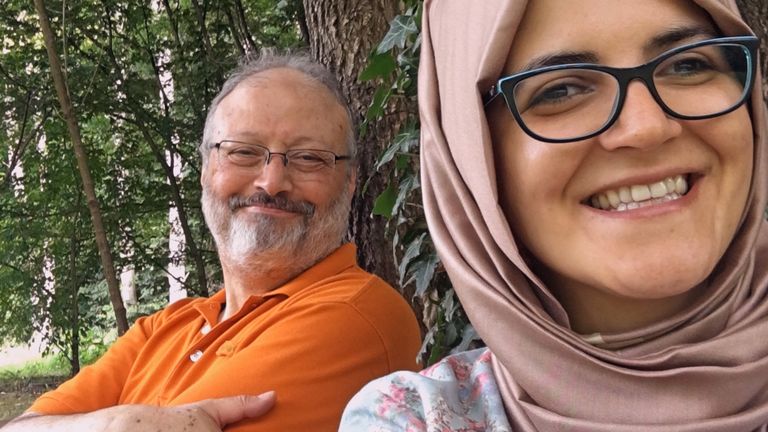 Despite his fiancee, Hatice Cenzig, waiting outside on the pavement for him until the early hours of the morning, Mr Khashoggi never walked out of the building.
A team of 15 Saudi government agents – including a forensic expert specialising in autopsies – flew into Turkey days before the killing and left shortly after. Mr Khashoggi's remains have never been found.
Bizarrely, a lookalike, wearing his clothes, did exit from the back door later that afternoon as CCTV footage shows. The clothes were later retrieved by Turkish authorities from a public toilet waste bin.
Saudi authorities have since admitted Mr Khashoggi was killed in a "rogue" extradition operation, but have denied involvement from Crown Prince Mohammed bin Salman, whose policies were often criticised in the writer's columns.
Mr Khashoggi was well connected (he was the first cousin of Dodi Fayed among other notable family connections), with over two-million Twitter followers, columns in the Washington Post and regular guest slots on UK and US TV news channels.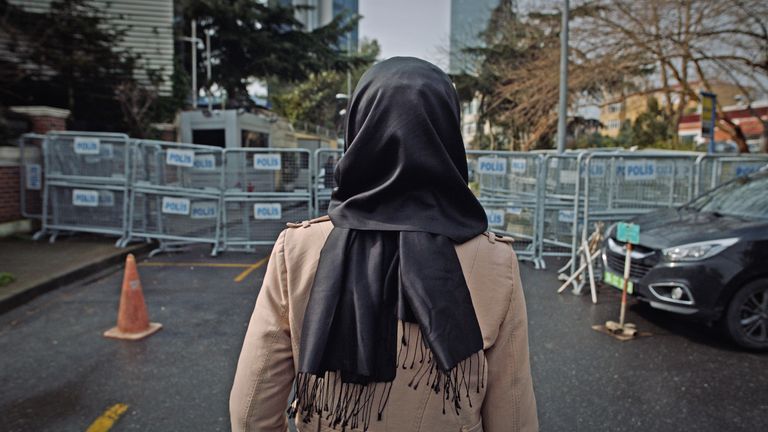 This influence was enough to have him labelled "an enemy of state" by his home country.
Many of the details of the case read like the plot excerpts from a crime novel, with the story feverishly covered around the world, but despite the high levels of drama, filmmaker Fogel tells Sky News he wanted to focus on something far more important.
"I was drawn to this story because of the bigger issues. Jamal's murder was utterly horrific in its nature, but it also shines a light into what is happening in this part of the world, what is happening on the reaches of authoritarian regimes and where the money and business interests are so powerful that somebody can get away with a crime such as this."
Featuring never before seen footage, including videos of forensic testing inside the consulate, he was also given access to the 37-page transcript of Mr Khashoggi's final moments – a document never previously released to global media.
Handed to him by the Turkish authorities after working closely with them for a year, he was also offered access to the audio recordings themselves – but drew a line.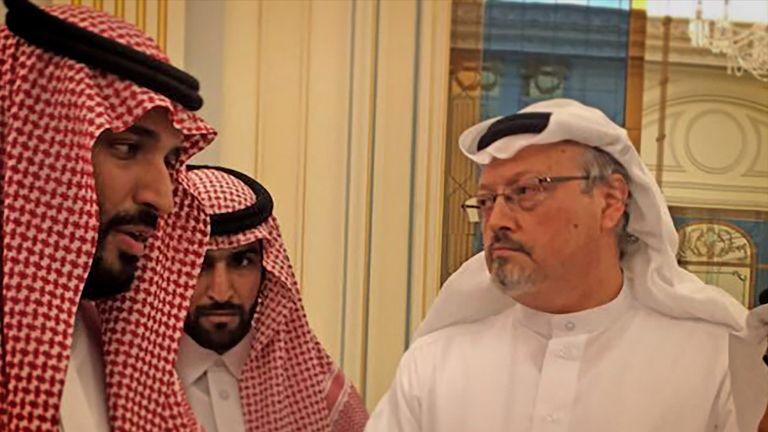 He tells Sky News: "Hearing Jamal being murdered would serve no purpose to an audience other than to shock and to put it into a different genre of category – that of horror film – which is not what I was seeking to make. So, I made that choice to not include the audio…
"I felt that to put it into the film would go into a territory that I didn't want to as a filmmaker and as an activist… And I didn't want Hatice to hear that. I didn't want Jamal's family to hear that. We know what happened."
Although a hardened journalist in his own right – with experience of dealing with corruption at high levels from his 2017 documentary Icarus about the Russian doping scandal – he also admits it was a decision that helps him sleep at night.
"I chose not to listen to it. We all know that he was murdered. We all know it was horrific. We all know he was chopped to pieces by blunt bone saw. What was that going to do other than to give me more nightmares and trauma in regard to this case than I've already experienced?"
And in truth, the transcript alone provides enough graphic detail to chill, with the document showing that Mr Khashoggi – who is referred to by one official as a "sacrificial animal" as he enters the consulate – taking seven and a half minutes to die, with his final words, "I can't breathe".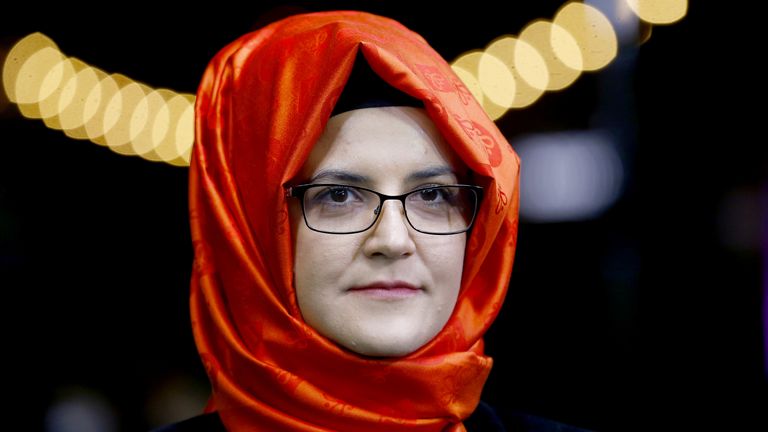 Recordings suggest Mr Khashoggi's body is then dismembered by a bone saw and part of his body burnt in a tandoori oven in the garden.
The existence of this audio recording is thanks to another detail that would sit well in a crime thriller – Turkish authorities had previously bugged the consulate and were recording every word and noise that took place in the media room where Mr Khashoggi was killed.
Despite delving into a murky murder case with very powerful players at its heart, Fogel says he has the privilege of not having felt threatened at any point in its making.
"Being American hopefully still offers me some protection. I am not living in the Middle East… I don't really try to spend a lot of time looking over my shoulder when I'm engaging in making a film like this, because if I was then I shouldn't be making content such as this."
However, Fogel isn't immune to the emotional toll of such a distressing story.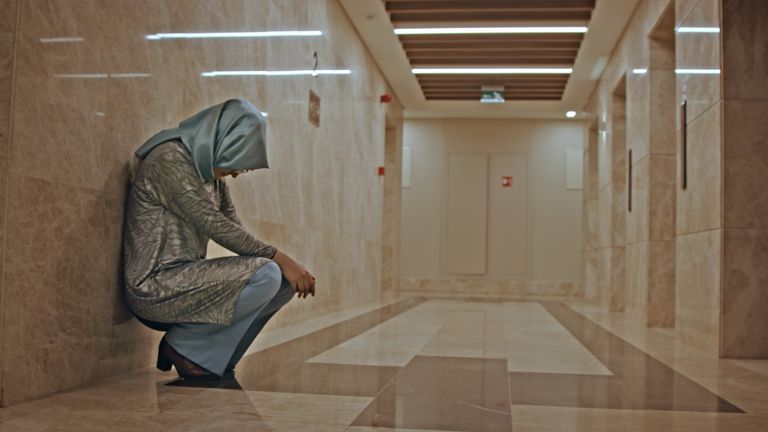 In the film, we see inside the flat bought by Mr Khashoggi to start his new life with fiancee Hatice as she enters it for the first time since his death.
With the cupboards and walls still covered with black fingerprint powder, the cameras follow her into her intended marital home. Fogel describes it as a "difficult" experience.
"That day that I shot with her, as we were allowed back into what was going to be their home, she had not been able to set foot in there in the six months prior to that as first of all, they weren't married.
"Second of all, had been turned into a crime scene and she didn't have access to that apartment. I mean, it was is heart-breaking. That day that we shot was about as authentic as I could get."
And Fogel says it was that access to someone so close to Mr Khashoggi which was so important to the success of the documentary.
"If you're able to engage an audience and able to bring an emotional connection to the viewer, that emotional connection creates resonance which in turn can create impact and change."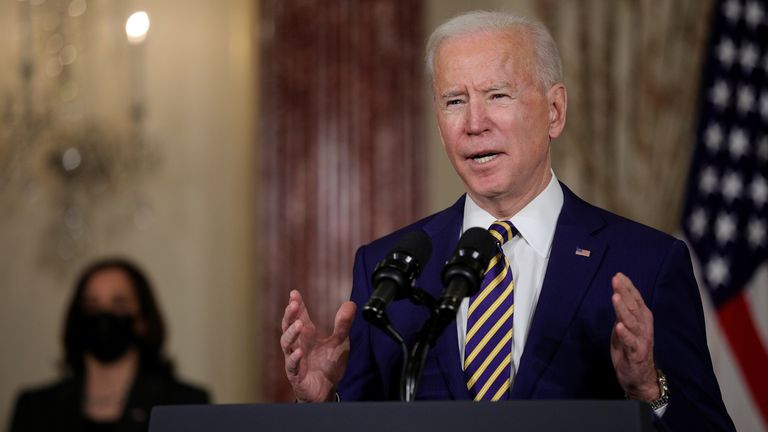 While Mr Khashoggi's death drew global attention and generated front pages and column inches around the world, the response from international world leaders was distinctly more muted.
French, British, and American governments largely turned a blind eye to the murder, and recommendations by independent expert on extrajudicial killings for the UN Agnes Callamard went unheeded, despite her own investigation finding credible evidence of high-level Saudi officials' individual liability, including that of the Crown Prince of Saudi Arabia.
Now, with the recent change of US government and Joe Biden's subsequent declassification of a US intelligence report into the murder, many believe that leading nations will now have to reappraise their relations with the kingdom.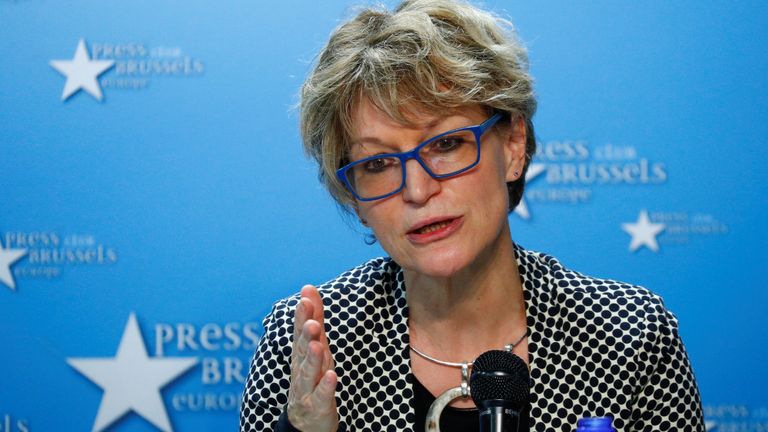 Ms Callamard is certainly hopeful this will be the case, telling Sky News in a statement: "The Director of National Intelligence (DNI) report will further pave the way towards greater accountability for the killing of Jamal Khashoggi. The United States will be in the position to take the lead in… setting in place the international mechanisms to prevent and punish such acts in the future.
"This should include calling for the establishment of an international standing instrument for human rights and criminal investigation into allegations of targeted killing, or other acts of violence against journalists, human rights defenders or others targeted because of their peaceful activities or expressions."
Speaking ahead of the report's release, Fogel too was optimistic: "Time will tell exactly what further actions Biden takes, but clearly there is an appetite there for justice and accountability."
However, as to whether a similar scandal could ever take place again, the filmmaker is rightly cautious: "I don't think they're going to chop up somebody inside of a consulate again… But, I think the authoritarian playbook in today's day and age is increasingly allowing crimes like these to go unpunished.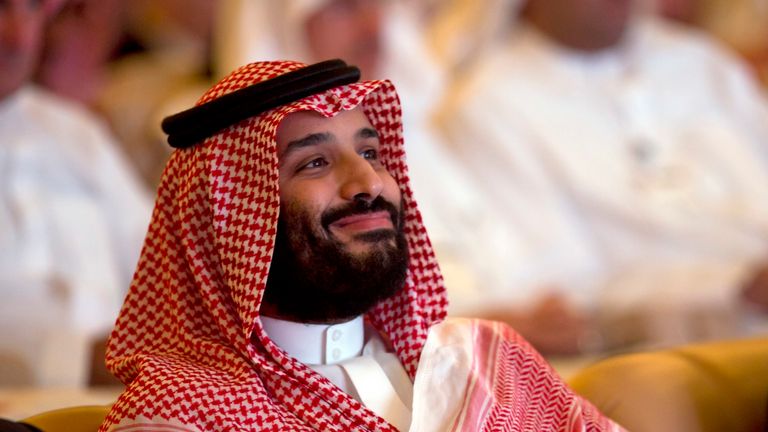 "So, while there's been a tonne of global attention on this murder, really the punishment of this has remained completely elusive.
"I don't think we're going to see something this brazen, but I do think we're going to see a continuation of human rights abuses like this unless there truly is a price to pay. And so far, there hasn't been."
Eight men were eventually convicted of murder, with five sentenced to death, but the death penalty was commuted to 20 years in prison after reportedly being forgiven by Mr Khashoggi's family.
In 2018, Mr Khashoggi was posthumously named Time magazine's person of the year.
Sky News has contacted the Foreign Office for comment on any UK response following the US release of the declassified intelligence report into Mr Khashoggi's death.
The Dissident will have its UK Premiere online at the Glasgow Film Festival on 6 March, and Irish Premiere online at the Virgin Media Dublin International Film Festival on 13 March.
Taylor Swift cancels postponed shows – and warns 'near future' of live gigs remains unclear | Ents & Arts News
Taylor Swift has announced that she is cancelling a series of tour dates that were previously postponed because of the coronavirus pandemic.
In a candid statement, the 31-year-old star also warned that the "near future" of live performances remains unclear.
Swift had suspended her whole 2020 tour last April – expressing hope that shows in the US and Brazil could be moved to a later date.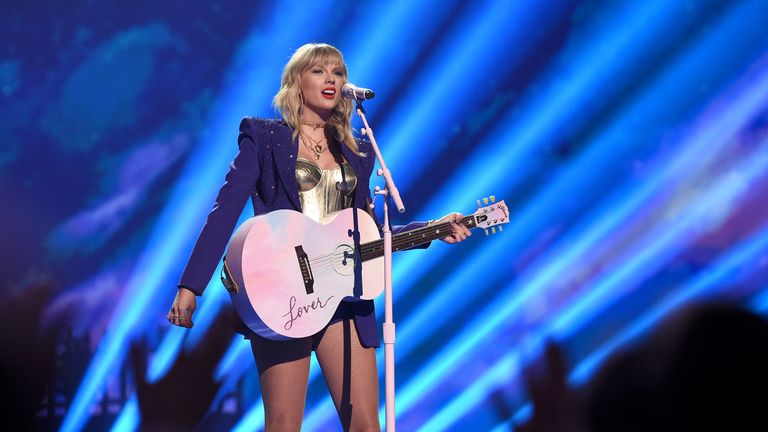 But on Friday, she wrote on her website: "I love coming on here to tell you good news, or to share a new project with you. It's not my favourite thing in the world to have to tell you news I'm sad about. I'm so sorry, but I cannot reschedule the shows that we've postponed.
"Although refunds have been available since we first postponed the Lover Fest shows, many of you hung onto your tickets and I too hung onto the idea that we could reschedule."
She told her fans that "she can't wait 'til we can safely be at shows together again", but added: "This is an unprecedented pandemic that has changed everyone's plans and no one knows what the touring landscape is going to look like in the near future.
"I'm so disappointed that I won't be able to see you in person as soon as I wanted to."
August 2020: Taylor Swift pays for student to go to uni

Despite the setback, 2020 wasn't full of doom and gloom for Swift. She managed to release two albums during lockdown, with both achieving huge commercial success and critical acclaim.
Swift is one of the world's biggest stars, and the cancellations will undoubtedly come as a blow to the live events industry.
Subscribe to the Backstage podcast on Apple Podcasts, Google Podcasts, Spotify, Spreaker
But there have been some promising developments in recent days, with the organisers announcing that the Reading and Leeds music festivals will be able to go ahead based on the government's roadmap out of England's lockdown.
Stormzy, Post Malone and Liam Gallagher are confirmed acts to headline the twin events, which will run on the bank holiday weekend from 27 to 29 August.
A post on Twitter added: "Following the government's recent announcement, we can't wait to get back to the fields this summer. LET'S GO."
'One of a kind' puppy born with six legs and two tails – and it could be a big advantage | Offbeat News

A puppy with six legs has been born in the US – and vets are describing her as a "miracle".
It's believed that Skipper was supposed to have a twin, but they failed to completely split apart… meaning she has twice as many body parts from the waist down.
Although she has just one head and chest, she's got two pelvic regions, two reproductive systems, and two tails.
Veterinary specialists say they haven't been able to find any published case studies of a puppy being born alive with her congenital condition.
Skipper was born in Oklahoma City on 16 February, and at a check-up 10 days later, she was described as "strong and determined".
Because her condition is congenital as opposed to genetic, vets are optimistic that Skipper has a good life ahead of her.
At this point, they don't think she'll need to have any of her legs removed because they are all responding to stimulus.
Her extra legs could even serve as an advantage and help with her stability and balance as she learns how to walk.
The top priority now is teaching her human mum how to perform a simple range of motion exercises that will help keep her legs strong.
With 50% more paws to love, offers have been coming in thick and fast to support Skipper as she grows up.
The pampered pooch's family have been offered funds to foot her veterinary bills… and a lifetime supply of treats to boot.
Neel Veterinary Hospital added: "Positively, her organs appear to be in great shape, she is peeing and pooping, and is very strong! She nurses well and is growing appropriately so far."