NRA defends itself after corporations pull away
The National Rifle Association defended itself in no uncertain terms Saturday after numerous companies sought to cut ties with the gun lobby following the nation's latest mass shooting.
"Let it be absolutely clear," the organization said in a statement. "The loss of a discount will neither scare nor distract one single NRA member from our mission to stand and defend the individual freedoms that have always made America the greatest nation in the world."
The statement came two days after Wayne LaPierre, the NRA's executive vice president, delivered a fiery speech at the Conservative Political Action Conference (CPAC) in Maryland.
The NRA, which represents about 5 million members, has faced public outcry following a mass shooting Feb. 14 in Parkland, Fla., that killed 17 people. That outcry has mostly taken the form of calls for gun control legislation and for boycotts of companies that partner with the NRA on discount offers and other consumer inducements.
On Saturday, United and Delta Airlines joined the list of companies separating themselves from the gun group. Previous companies to do so include MetLife, Symantec and rental car companies Hertz, Budget, Avis and Enterprise.
Those moves prompted Saturday's response from the NRA, which asserted that those corporations had "decided to punish NRA membership in a shameful display of political and civic cowardice."
NRA BACKLASH: THESE ARE THE COMPANIES CUTTING TIES
The NRA's statement argued that other factors besides gun ownership were to blame for events like the Parkland massacre.
"The law-abiding members of the NRA had nothing at all to do with the failure of that school's security preparedness, the failure of America's mental health system, the failure of the National Instant Check System or the cruel failures of both federal and local law enforcement," its statement said.
However, the Washington Post reported that the NRA fought the Brady Handgun Violence Prevention Act, which mandated federal background checks on firearm purchasers, suing the federal government once the National Instant Criminal Background Check System (NICS) was up and running. The NRA had argued that the entire law, including the NICS provision, be struck down as unconstitutional, the report said.   
Tokyo Olympics: Team GB claim six medals on day four with historic swimming and gymnastics success | World News
Team GB added six medals to their Olympic tally on day four of the Tokyo Games, after historic success in the pool and the gymnasium.
It is enjoying its best start to an Olympic Games in modern history, securing 13 medals on a Tuesday full of notable achievements.
Britain added to Monday's gold rush, kicked off by Adam Peaty, when a fourth gold medal went to 21-year-old swimmer Tom Dean in the men's 200m freestyle.
He won alongside fellow Briton Duncan Scott, who secured silver, making it the first one-two for Britain in an Olympic swimming final since 1908.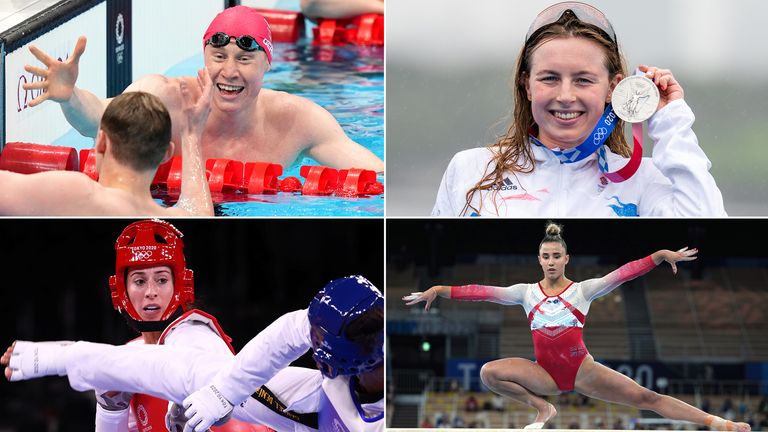 Dean and Scott take 200m gold and silver

"I knew it was going to be a dogfight, I didn't know how people were going to swim it, just race the race and that's how it is," Dean said.
It comes after Dean caught COVID twice in the run-up to the Games, meaning he couldn't train for weeks.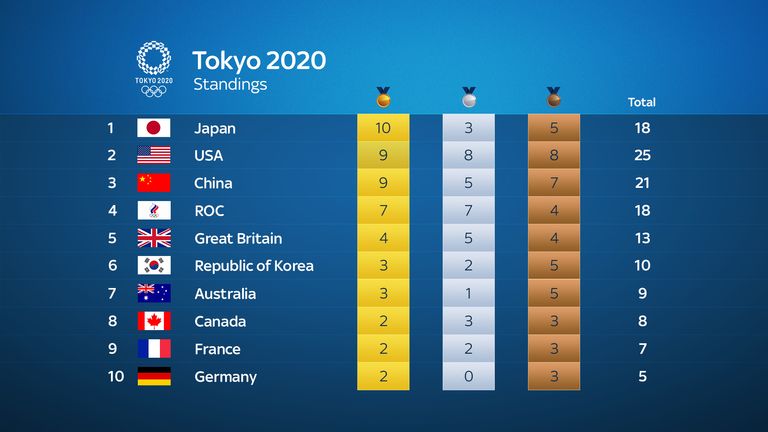 Meanwhile, Britain won a bronze medal in the women's team gymnastics for the first time since 1928.
It came amid a dramatic competition which saw the Russian Olympic Committee take gold over the United States after Simon Biles pulled out due to what officials called a "medical issue".
Biles later said she had to focus on her mental health.
Charlotte Dujardin, Carl Hester and Charlotte Fry took bronze in the dressage team final.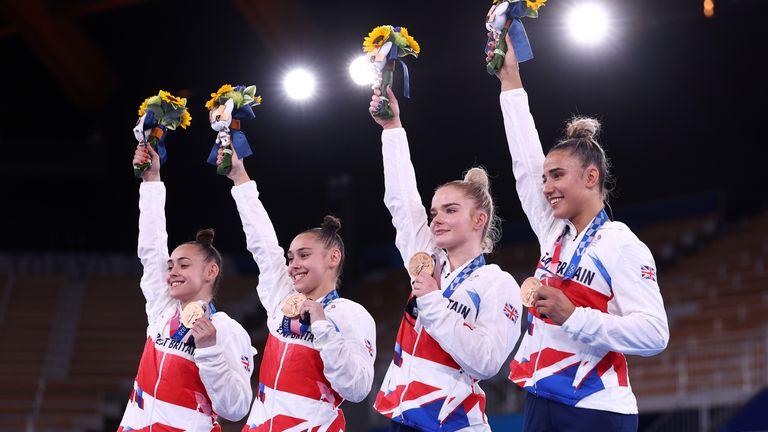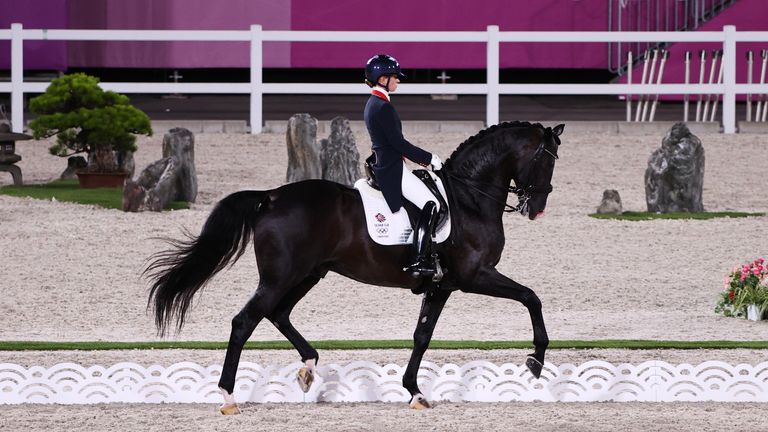 Dujardin has now won five Olympic medals putting her on par with rower Catherine Grainger for the most medals won by a British female athlete.
Elsewhere, team GB's Bianca Walkden battled back from a disappointing semi-final loss to win bronze in the over-67kg taekwondo category at the Olympics.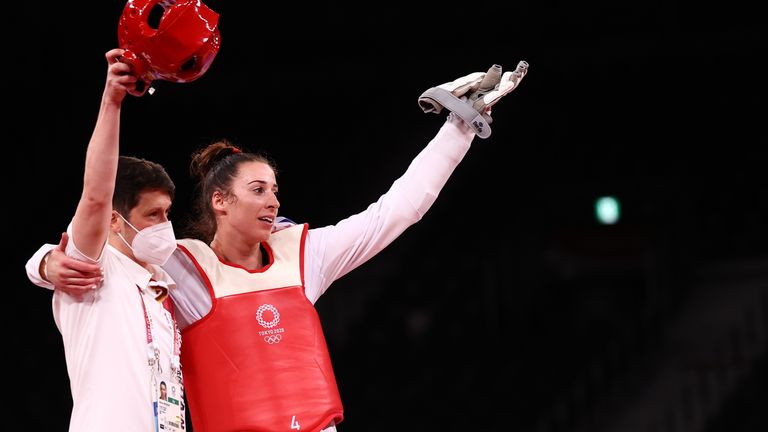 The 29-year-old from Liverpool secured the second Olympic bronze of her career with the win over Polish opponent Aleksandra Kowalczuk.
Georgia Taylor-Brown won silver for Team GB in the women's triathlon early on Tuesday, despite a flat tyre during the cycling section.
Taylor-Brown, who may have challenged for gold but for the puncture, secured silver behind Bermuda's Flora Duffy who took gold to become Bermuda's first-ever Olympic champion.
The 27-year-old told Sky News: "As a kid I always wanted one of these medals. I just wanted to be an Olympian.
Silver medallist rode on flat tyre

"But then you think 'that's a dream I had as a 10-year-old. I'm 27, is it ever going to become a reality?' And yeah this morning it did."
There was heartbreak for Britain's Kimberley Woods in the women's kayak single event.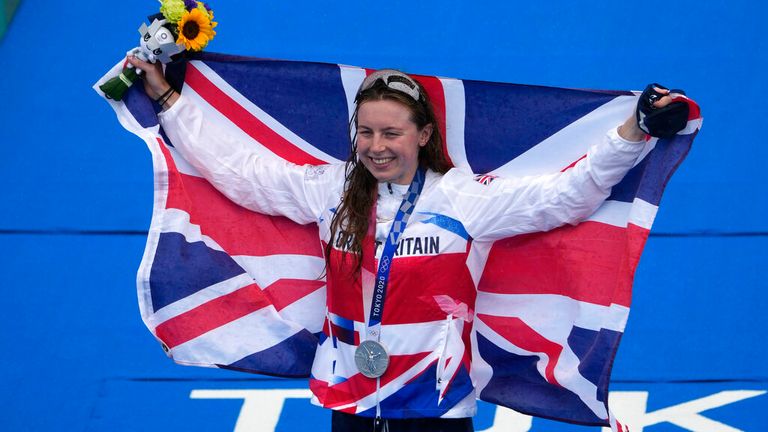 She made it to the final after qualifying second in her heat but didn't manage to win a medal after making an error early on in one of her runs.
Elsewhere, there was an upset in the tennis.
Follow the Daily podcast on Apple Podcasts, Google Podcasts, Spotify, Spreaker
Japan's Naomi Osaka – also one of the stars of the Games – was beaten by Marketa Vondrousova of the Czech Republic 6-1, 6-4 in the third round.
Osaka, who lit the Olympic cauldron in Friday's opening ceremony, had won her opening two matches in straight sets.
E-cigarettes branded 'harmful' as World Health Organisation calls for greater regulation to protect children | UK News
The head of the World Health Organisation has branded electronic cigarettes "harmful" as he warned their use should be better regulated to protect children and teenagers.
The global health body recommended governments bring in measures to prevent non-smokers from starting to use vapes, saying such products are often marketed to young people using an array of different flavours which can "hook children on nicotine".
Better regulation could prevent "re-normalising smoking behaviour" and protect future generations, the WHO said.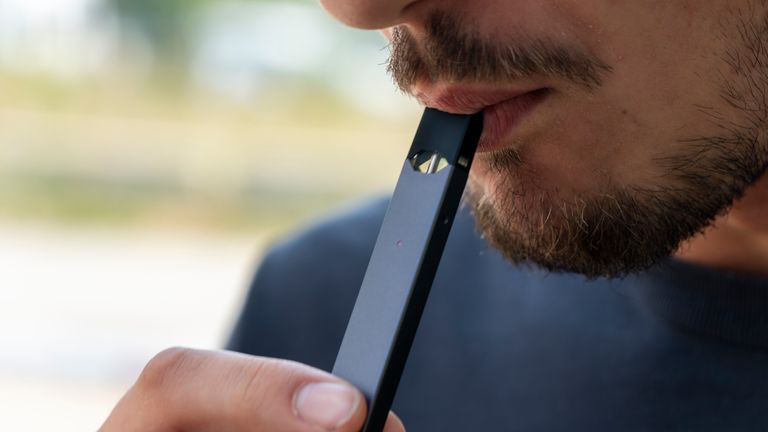 However, experts have accused the WHO of failing to understand the "fundamental difference" between a deadly tobacco addiction and being addicted to nicotine.
The WHO warned e-cigarettes and vapes, which simulate the feeling of smoking, could act as a "gateway" to tobacco consumption.
It said a global systematic review had recently found that children and adolescents using them are more than twice as likely to later use conventional cigarettes.
The sale of e-cigarette products to under-18s is banned in the UK, but a recent report on vaping in England recommended that enforcement of age-of-sale regulations for vaping and smoking needs to be improved.
That report, commissioned by Public Health England (PHE) and published in February, found little change in levels of vaping in recent years, with 4.8% of young people aged 11-18 vaping at least once during March 2020.
A fifth of the young people who tried vaping said they had done so before they smoked and 28.9% said they had tried a vaping product and never tried smoking, according to PHE.
Following publication of the WHO's report, PHE's tobacco control lead Martin Dockrell said vaping is "not risk-free" but is "far less harmful than smoking".
He said: "The best thing that a smoker can do is to stop smoking completely and the evidence shows that vaping is one of the most effective quit aids available, especially for smokers who have tried to quit before and failed, helping around 50,000 smokers quit a year.
"The evidence has been clear for some time that, while not risk-free, vaping is far less harmful than smoking."
WHO director-general Dr Tedros Adhanom Ghebreyesus said: "Nicotine is highly addictive. Electronic nicotine delivery systems are harmful, and must be better regulated.
"Where they are not banned, governments should adopt appropriate policies to protect their populations from the harms of electronic nicotine delivery systems, and to prevent their uptake by children, adolescents and other vulnerable groups."
In the WHO report published on Tuesday, Dr Tedros said electronic devices were being "promoted aggressively as 'safer' or 'smoke-free' alternatives to cigarettes" and that the tobacco and related industries are using "the same old marketing tactics to promote new tools to hook children on nicotine and circumvent tobacco legislation".
But Professor John Britton, emeritus professor of epidemiology at the University of Nottingham, said: "This report demonstrates that, sadly, the WHO still doesn't understand the fundamental difference between addiction to tobacco smoking, which kills millions of people every year, and addiction to nicotine, which doesn't.
"The WHO is also evidently still content with the hypocrisy of adopting a position which recommends the use of medicinal nicotine products to treat addiction to smoking, but advocates prohibition of consumer nicotine products which do the same thing, but better.
"The WHO is right that non-smokers, especially children, should be discouraged from using any nicotine product. But for the more than one billion tobacco smokers in the world, electronic nicotine delivery systems are part of the solution, not the problem."
Dr Derek Yach, president of the Foundation for a Smoke-Free World, described the WHO's approach to tobacco control as "fundamentally flawed".
He said: "The exceptional growth of next generation devices offers the WHO a real opportunity to tackle combustible consumption once and for all.
"Over 100 million ex-smokers use reduced-risk products and the WHO should be taking advantage of massive investment in the sector by encouraging governments to provide an incentivised regulatory framework to enable greater expansion."
Italy flooding: Dozens rescued after towns around popular tourist spot Lake Como hit by landslides and heavy rain | World News
More than 60 people have been rescued after towns surrounding Lake Como were hit by mudslides and floods as extreme weather gripped northern Italy.
Firefighters grappled with debris to save dozens trapped in their homes as storms battered the picturesque lake, which is popular among tourists.
An elderly woman blocked in her house was brought to safety, along with a person with a disability and a carer isolated by a landslide.
No deaths or injuries were reported.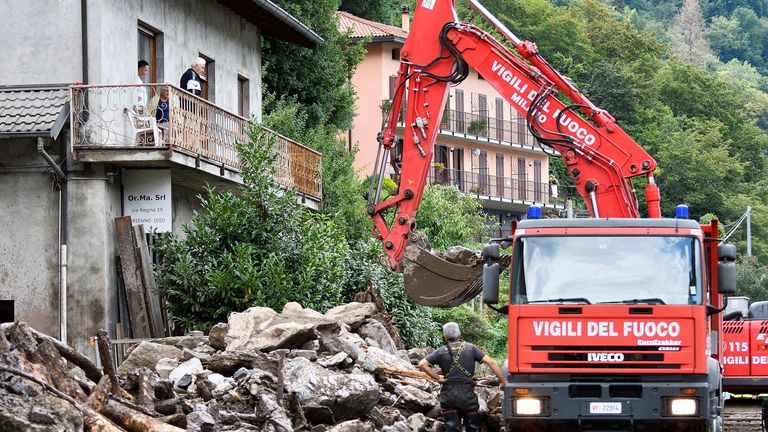 Some 50 residents were trapped in their homes when a landslide caused a gas leak in the hardest-hit town, Brienno, located on the lake's western shore.
Further south in Cernobbio, an apartment building threatened with flooding was evacuated by fire crews.
Agricultural lobby group Coldiretti claim extreme weather has intensified in recent years, citing more frequent, sudden and violent storms, as well as short and intense rainfall and rapid changes from sunny skies to storms.
"We are facing in Italy the consequences of climate change, with a trend toward tropicalisation and the multiplication of extreme events," the group said.
The group estimates there has been €14bn (£12bn) of damage over the last decade to agriculture production, buildings and infrastructure due to climate change-provoked events such as flooding and landslides.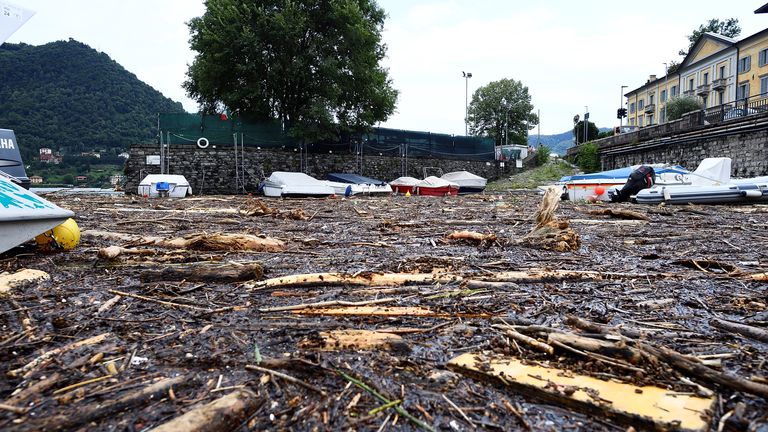 The extreme weather in Lake Como comes just a day after hailstones the size of tennis balls damaged nearly 100 cars and disrupted traffic on a major road near Bologna in northern Italy.
Footage showed cars with windshields shattered by the hailstones pulled over on the side of the road as drivers got out to look at the damage.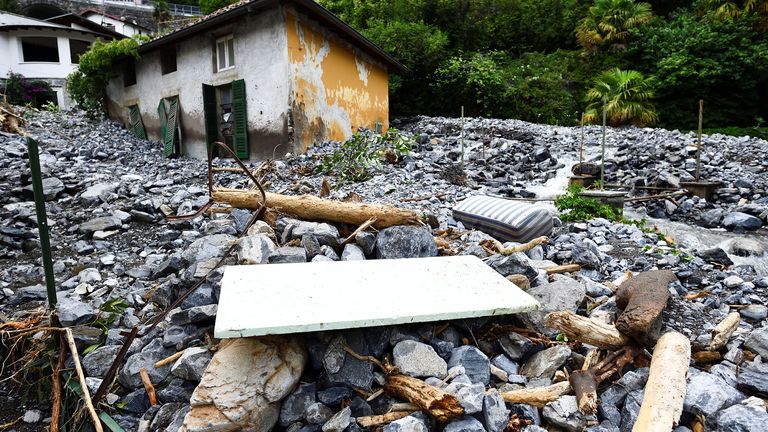 Hailstorms are a common occurrence during the summer in Italy's Po River Valley.
But the strength and frequency of hailstorms this year has made the phenomenon "unusual", according to meteorologist Luca Lombroso.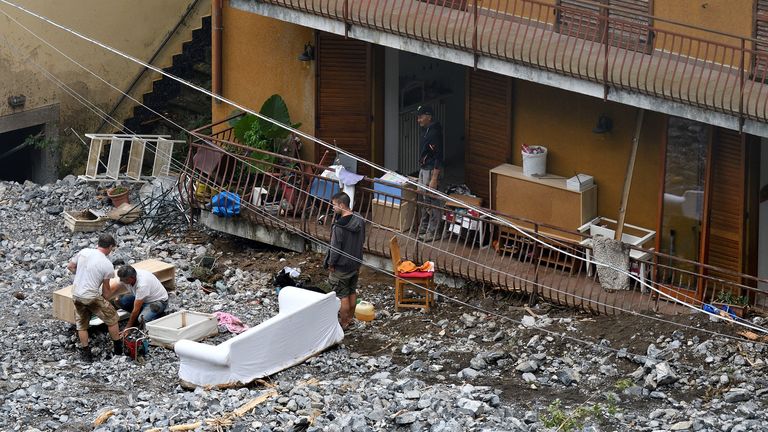 Analysis shows that hailstorms are occurring at the rate of 11 a day this summer, Coldiretti said, and 386 have taken place so far this year – a stark rise from 92 in 2018 and 198 in 2019.
Up to six years ago, only a few dozen hailstorms took place each year.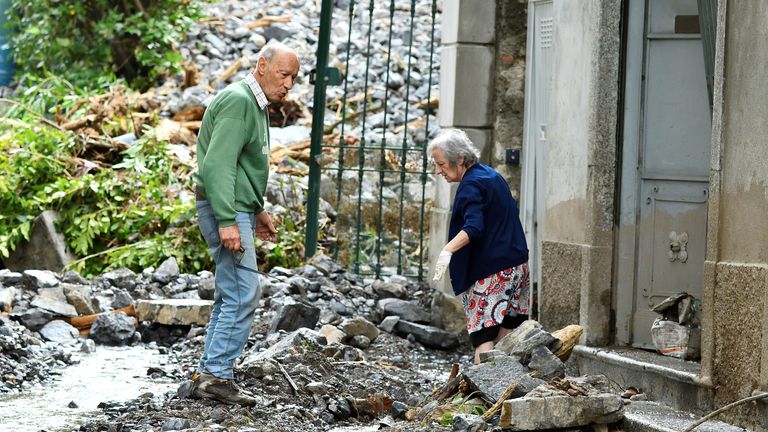 "The dimension of the hailstones also has changed, growing considerably in the last years with real ice blocks falling from the sky – even bigger than tennis balls," the group said.
Hailstorms can wipe out entire fields or vegetable and fruit orchards, and Coldiretti attributes a 40% drop in peach and apricot harvests and a 50% drop in nectarines to "this crazy climate".