Democratic rebuttal to GOP FISA memo sparks reactions from politicians
The House Intelligence Committee on Saturday released a long-anticipated Democratic rebuttal that attempts to dismantle claims made in a GOP memo alleging the government used improper surveillance tactics during the 2016 presidential campaign.
The rebuttal claims that officials at the FBI and Justice Department "did not abuse the Foreign Intelligence Surveillance Act (FISA) process, omit material information, or subvert this vital tool to spy on the Trump campaign."
The Democratic rebuttal backed the FBI and DOJ in its pursuit of the FISA warrant, saying that the agencies "would have been remiss in their duty to protect the country had they not sought a FISA warrant and repeated renewals to conduct temporary surveillance of Carter Page, someone the FBI assessed to be an agent of the Russian government."
They added that the DOJ met the "rigor, transparency, and evidentiary basis" needed to meet FISA's probable cause requirement.
The GOP memo, released in early February, asserted that the FBI and DOJ relied on a Democrat-funded anti-Trump dossier to ask the FISA court for a warrant to monitor Page, a one-time adviser to President Donald Trump. They also claimed that the agencies left out the DNC's funding of the dossier and the anti-Trump motivations of author Christopher Steele, a onetime British spy, in its request for a warrant.
The Democratic memo was voted out of committee earlier this month but a redrafting was ordered after the White House demanded that sensitive information be stripped out before the document be made public. The Justice Department and FBI claimed the initial draft would reveal information about sources and methods, ongoing investigations and other sensitive information.
President Trump tweeted following the rebuttal memo's release, calling it "a total political and legal BUST."
He added: "Dem Memo: FBI did no disclose who the client were – the Clinton Campaign and the DNC. Wow!"
Here are some other reactions to the memo:
White House
White House Press Secretary Sarah Sanders calls the rebuttal a "politically driven document" which "fails to answer serious concerns raised by the Majority's memorandum about the use of partisan opposition research from one candidate, loaded with uncorroborated allegations, as a basis to ask a court to approve surveillance of a former associate of another candidate, at the height of a presidential campaign."
Rep. Adam Schiff, D-Calif.
Ranking Democrat Adam Schiff, who spearheaded the rebuttal's release, said it should "put to rest" any concerns about conduct by the intelligence agencies. Along with a copy of the memo, he tweeted Saturday: "Some time ago, Republicans on our committee released a declassified memo that omitted and distorted key facts in order to mislead the public and impugn the integrity of the FBI. We can now tell you what they left out."
In a follow-up tweet, Schiff responded to Trump's comment about the memo confirming "all of the terrible things that were done."
"Wrong again, Mr. President," Schiff said. "It confirms the FBI acted appropriately and that Russian agents approached two of your advisors, and informed your campaign that Russia was prepared to help you by disseminating stolen Clinton emails."
Rep. Devin Nunes, R-Calif.
House Intelligence Committee chairman Rep. Devin Nunes, D-Calif., who spearheaded the release of the GOP memo, said in a statement that Americans "now clearly understand that the FBI used political dirt pair for the by Democratic Party to spy on an American citizen from the Republican Party."
"Furthermore, the FISA court was misled about Mr. Page's past interactions with the FBI in which he helped build a case against Russian operatives in America who were brought to justice," Nunes said. "It defies belief that the Department of Justice and the FBI failed to provide information to a secret court that they had provided to an open federal court regarding their past interactions with Mr. Page."
Sen. Dianne Feinstein, D-Calif.
Sen. Dianne Feinstein, D-Calif., tweeted that "the Schiff memo is a well-considered rebuttal to the misinformation in the Nunes memo," which she added, "shouldn't have seen the light of day."
Sen. Chuck Schumer, D-N.Y.
Senate Minority Leader Chuck Schumer said the Democratic memo indicated "that Chairman Nunes cherry-picked and distorted information from sensitive inteligence to sow discord and undermine" the FBI. 
"By initially delaying the release of hte memo, the president purposefully silenced any Democratic rebuttal to the fabricated conspiracy theories pushed by Chairman Nunes," he added. "Obviously, there is something the president is afraid of."
Rep. Nancy Pelosi, D-Calif.
House Minority Leader Rep. Nancy Pelosi, D-Calif., in a statement said the Democratic response "helps set the record straight on Republicans' attempts to obstruct the investigation into the Trump-Russia scandal."
She added that it was "imperative" for lawmakers on the other side of the aisle to "end their political charades" and said Congress needed to "take real action to investigate the Russian attacks on our democracy."
Sen. Mark Warner, D-VA
Sen. Mark Warner, D-VA, called the FBI's actions "fully appropriate and entirely lawful" and said it was "deeply unfortunate that House Republicans decided to the release classified information in order to mislead the American people for partisan political purposes."
"Now that the Nunes memo has been thoroughly debunked, the White House and its allies in Congress must put a stop to the dangerous partisan sideshows that jeopardize classified sources and methods and focus on Russia's unprecedented interference in our election."
Fox News' Adam Shaw, Madeline Farber and Kaitlyn Scallhorn contributed to this report.
Tsunami warnings issued and thousands told to evacuate after powerful New Zealand quake | World News

A series of tsunami warnings have been issued after a powerful earthquake off New Zealand's North Island prompted a major evacuation.
Thousands of people on the island's east coast fled to higher ground following the third and strongest quake within hours.
Workers, students and residents were told to leave their homes in areas like Northland and Bay of Plenty – amid warnings tsunami waves could reach as high as three metres (10 feet) above tide levels.
The latest quake had a magnitude of 8.1 and struck the Kermadec Islands, northeast of New Zealand's North Island.
It came shortly after a 7.4-magnitude earthquake in the same region. A large 7.2-magnitude earthquake had struck earlier, about 540 miles away on the east of the North Island.
There were no reports of damage or casualties from the quakes.
New Zealand's National Emergency Management Agency (NEMA) said the first waves would begin to arrive on New Zealand's north shores by about 9.45am local time (8.45pm UK time).
It warned areas under threat were from the Bay of Islands to Whangarei, from Matata to Tolaga Bay including Whakatane and Opotiki, and the Great Barrier Island.
"We want everyone to take this threat seriously. Move to high ground," Whangarei Mayor Sheryl Mai told state broadcaster TVNZ.
Warnings were also issued for other Pacific islands like Tonga, American Samoa, Fiji, Vanuatu, Hawaii and others.
Australia issued a marine tsunami threat for Norfolk Island but said there was no threat to the mainland, while Chile said it could experience a minor tsunami.
"People near the coast in the following areas must move immediately to the nearest high ground, out of all tsunami evacuation zones, or as far inland as possible. DO NOT STAY AT HOME," NEMA said in a statement posted online
"The earthquake may not have been felt in some of these areas, but evacuation should be immediate as a damaging tsunami is possible."
COVID-19: Cyprus to allow vaccinated Britons to holiday in the country without restrictions from 1 May | World News
Cyprus will let British tourists who have had both COVID vaccination doses into the country without restrictions from 1 May.
This means visitors who have had both jabs will not need to supply a negative coronavirus test or have to quarantine, according to plans unveiled by Cypriot deputy tourism minister Savvas Perdios.
However, the UK government has said the earliest date people from England can travel abroad for a holiday is 17 May – provided the four tests for easing lockdown are met.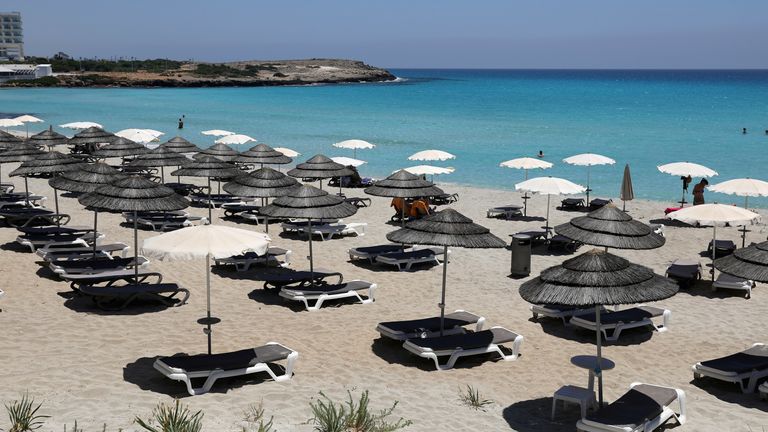 Visitors to Cyprus will need to have been given vaccines approved by the European Medicines Agency and the second dose must have been administered at least seven days before travel.
Authorities still have the right to carry out random tests on foreign arrivals, the tourism minister said.
"We have informed the British government that from 1 May we will facilitate the arrival of British nationals who have been vaccinated… so they can visit Cyprus without a negative test or needing to quarantine," Mr Perdios told Cyprus News Agency.
British tourists are the largest market for Cyprus' tourism industry, which will be keen to get back on track after suffering during the pandemic.
The industry represents about 13% of the Cypriot economy, with arrivals and earnings plunging 85% on average last year.
Cyprus has implemented various lockdowns during the pandemic but has had a milder outbreak than many other countries.
:: Subscribe to the Daily podcast on Apple Podcasts, Google Podcasts, Spotify, Spreaker
The country had recorded a total of 232 coronavirus deaths and 36,004 infections by Thursday.
All UK adults are expected to have been offered a dose of a COVID-19 vaccine by the end of July.
Nearly 21 million people in the country have now had their first dose, with people prioritised by age and clinical vulnerability to the virus.
'We feel like animals': Border testing highlights broader tensions in EU's COVID strategy | World News
French residents who travel to Germany daily for work have reacted angrily after being told they must now get COVID tests every two days in order to cross the border. 
Germany introduced the measure earlier this week as infection rates remained high in the French border region of Moselle – but locals say it destroys the EU's principle of free movement.
Sky News spoke to Laura Jarych, who lives in France but works in a German hotel just two minutes drive away. For decades she has made her journey uninterrupted – but the morning we meet she's had to queue in a line of vehicles for her test. She is furious.
Live COVID updates from the UK and around the world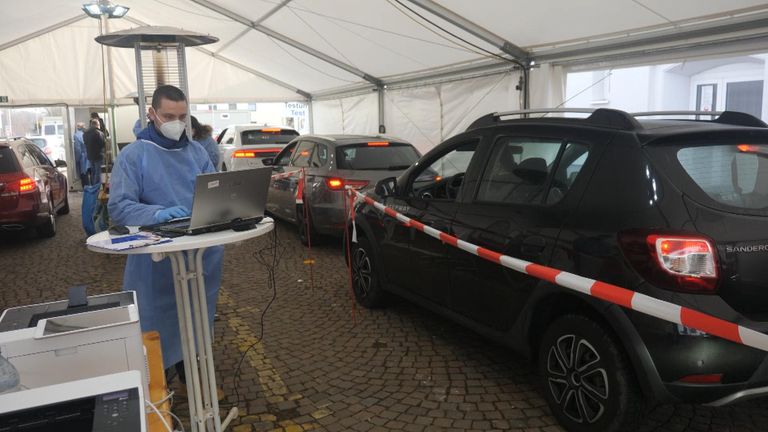 "I am angry, very angry," Laura tells us. "And I think that the 20,000 people who are switching between the two countries in this area feel the same thing.
"We feel like animals because you go inside a drive-in with the car and it's one after the other and the cars are waiting a long time and it just 'come, make the test and pass'."
The inconvenience is one thing, but principle is another. When we talk to people waiting in their cars at the tented testing area, one man says: "It's a very bad feeling because the idea of Europe, free borders, is away now. I feel sad."
Another woman tell us: "It's a terrible situation as it's not possible to come every two days and make a test.
"I'm a German person and I'm living in France. It's like a regime – I can't live free and I can't go where I want to go.
"It's 10 steps back."
We were only able to find one person in the queue who said she understood and accepted the situation, telling us: "It's OK for me, I work for a company in Germany, I live in France. It's not really that bad."
She admitted that she did feel frustrated by the measure but said it posed "another chance to beat this horrible virus".
The issue, however, highlights broader tensions over the EU's strategy against coronavirus – especially with vaccinations.
Coordinated centrally by the European Commission, the vaccine rollout has not been Brussels' finest hour. Officials admit approvals and orders were too slow and production difficulties underestimated.
The AstraZeneca vaccine was given the green light across the EU more than a month ago – but France and Germany both restricted recipients to the under-65s because of a lack of data.
There has since been strong public unease about its safety and is something that might not be erased despite both countries now offering the AstraZeneca jab to older people. Germany confirmed that decision today.
"I think it's a problem of perception for a lot of people," Germany immunologist Carsten Watzl told me.
"So when it was first licensed, the efficacy was only given 60% and then there was this story that in South Africa that it was not at all efficient to prevent infections with the variant or the mutant that is found there.
"All this together has created some negative PR for this vaccine."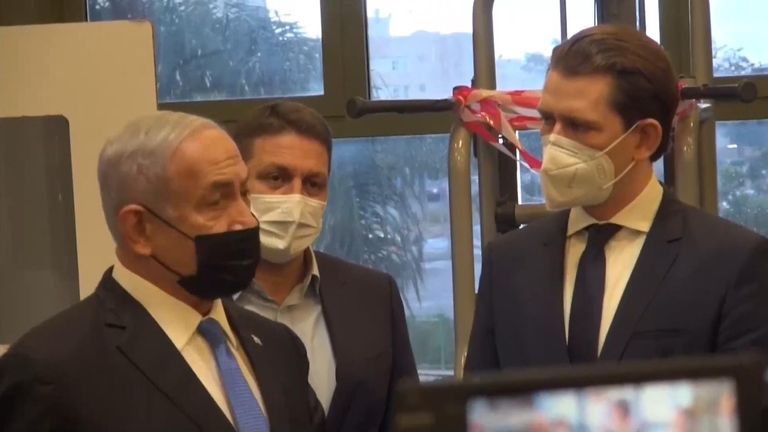 France, Germany and other EU nations desperately need many more vaccines – and frustration with the rollout has prompted several countries to break away.
Today, the leaders of Denmark and Austria travelled to Israel to try and strike deals for supplies to their own nations. It's a move that has promoted some criticism at home.
Danish MEP Margrete Aucken, a member of the European Green Party, said that while this wasn't necessarily a failure of the EU, it showed "some of the weaknesses in the EU construction" that more hasn't been done together for the common goal.
"But I think they are improving this year," Ms Aucken added. "I really dislike that some member states are showing 'we can do best ourselves'.
"None of us are best when we're alone. None of us."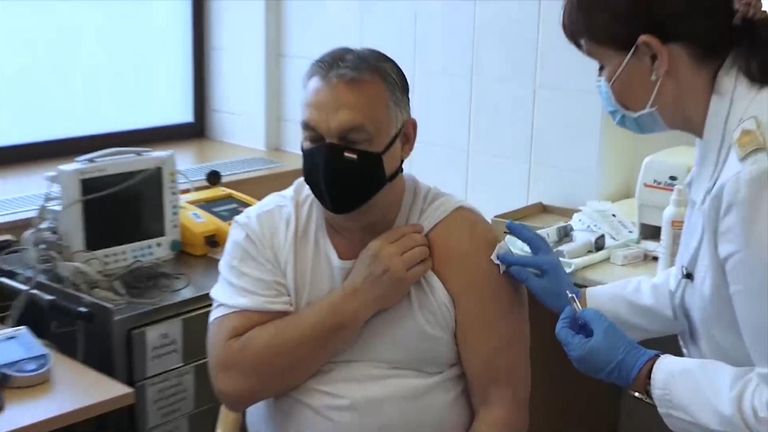 However, Denmark and Austria are not alone in seeking outside help: the Hungarian prime minister was filmed recently getting a Chinese vaccine after getting frustrated with the EU's programme.
Hundreds of thousands of Russia's Sputnik V jabs have also been delivered to Slovakia, despite not being approved by the European Medicines Agency.
The vaccine watchdog has only just begun its review of Sputnik V, according to a statement released on Thursday.
It's clear the COVID crisis has exposed tensions between the idea of European cohesion and national self-interest.
The EU as a body hasn't met all the needs of its citizens. Now there are questions not just about the health of the population but the health of the union itself.