Watch: Moment when police officers catch falling 5-year-old
Talk about being at the right place at the right time.
Three Egyptian police officers on duty guarding a bank in the southern city of Assiut earlier this week jumped into action after they spotted a 5-year-old child holding on to the railing of a balcony on the building's third floor, the country's interior ministry said.
Surveillance video, released earlier this week by the Interior Ministry, showed the officers rushing under the child – catching him just as he fell to the ground.
One of the officers sustained bruises to his face and was transported to a nearby hospital for treatment. The child was uninjured in the fall, officials said.
Local Egyptian media hailed the three policemen's quick reaction as "heroic."
The child's mother told reporters that the officers worked together to protect her son. "Thank God he survived it safely, and we thank the security."
The Associated Press contributed to this report.
<a href='https://www.skysports.com/olympics/live-blog'>Tokyo Olympics Day 5: Gymnastics, cycling and dressage medals up for grabs for Team GB after more swimming success</a>

<a href='https://www.skysports.com/olympics/live-blog'>Tokyo Olympics Day 5: Gymnastics, cycling and dressage medals up for grabs for Team GB after more swimming success</a>

Source link
Tokyo Olympics: Games reveal strain on body AND soul of life in the sporting spotlight | World News
If you do what Simone Biles does, if you take the awe-inspiring risks that she takes, you really have to believe that you can pull them off.
In short, she stopped believing in herself and didn't want to harm herself or her team's chances of doing well.
At the start of the week she posted on Instagram: "I know I brush it off and make it seem like pressure doesn't affect me but damn sometimes it's hard.
"I truly do feel like I have the weight of the world on my shoulders at times."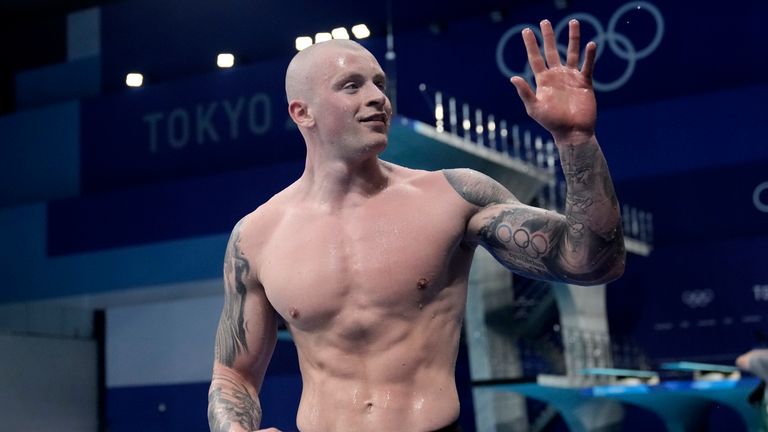 Repeatedly through these Games, competitors have highlighted the pressure they are under inside their compulsory infection control bubbles while the world is craving moments of sporting glory.
After his gold medal in the 100m breaststroke Adam Peaty told us how he really needed a long break after these Games.
He said that COVID had taught him the importance of looking after his mental health as well as his extraordinary physical prowess.
Obsessed with winning he wants to push on to even more medals and records but only as long as he is still enjoying it.
The Japanese tennis star Naomi Osaka who lit the Olympic cauldron in the Opening Ceremony spoke out at the French Open and said she would not put herself through the ordeal of doing news conferences.
She left the Olympic tennis competition in the third round yesterday.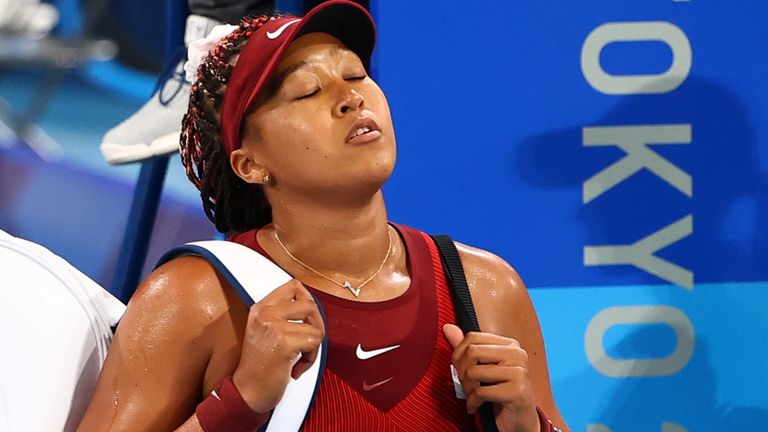 Afterwards, she said: "I feel like my attitude wasn't that great because I don't really know how to cope with the pressure."
We are seeing the strain on both body and soul coming right to the fore this summer.
Simone Biles may be the greatest gymnast of all time – she is one of the genuine global superstars at these Games – but she showed bravery in Tokyo to call time on her competition after her first vault, which was her worst ever Olympic score.
She may still compete in the individual gymnastics competition on Thursday and who would bet against her becoming Olympic champion yet again?
Follow the Daily podcast on Apple Podcasts, Google Podcasts, Spotify, Spreaker
Her sport though has struggled to shake off the culture of keeping quiet and pushing on through the punishing performances.
What Biles did last night in Tokyo was perhaps the most powerful blow to that culture that still lingers to differing degrees in gymnastics in different parts of the world.
Tokyo Olympics: Team GB claim six medals on day four with historic swimming and gymnastics success | World News
Team GB added six medals to their Olympic tally on day four of the Tokyo Games, after historic success in the pool and the gymnasium.
It is enjoying its best start to an Olympic Games in modern history, securing 13 medals on a Tuesday full of notable achievements.
Britain added to Monday's gold rush, kicked off by Adam Peaty, when a fourth gold medal went to 21-year-old swimmer Tom Dean in the men's 200m freestyle.
He won alongside fellow Briton Duncan Scott, who secured silver, making it the first one-two for Britain in an Olympic swimming final since 1908.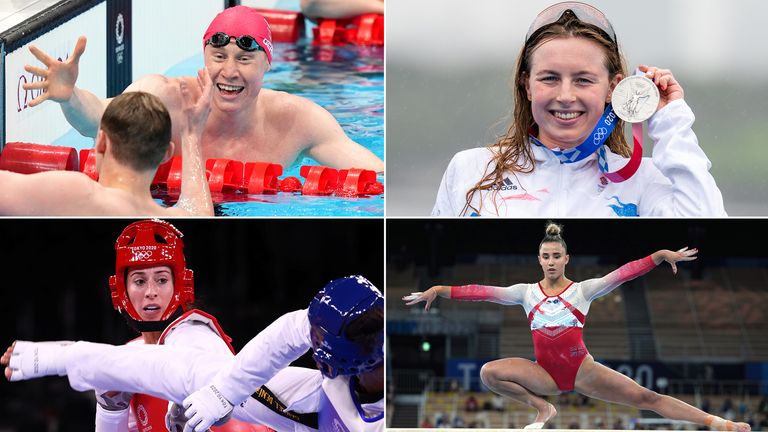 Dean and Scott take 200m gold and silver

"I knew it was going to be a dogfight, I didn't know how people were going to swim it, just race the race and that's how it is," Dean said.
It comes after Dean caught COVID twice in the run-up to the Games, meaning he couldn't train for weeks.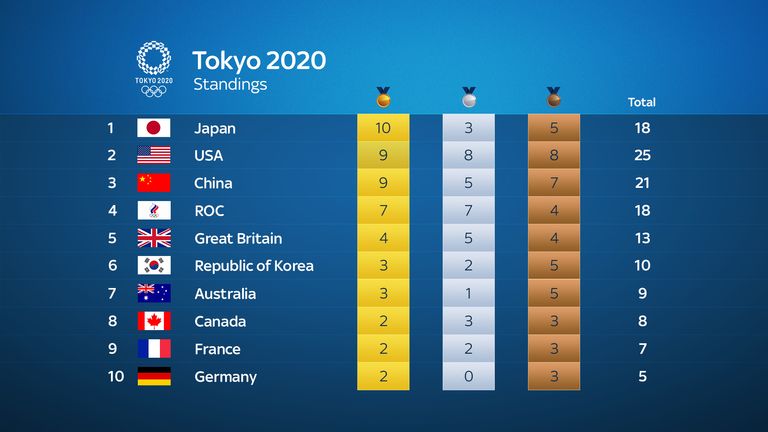 Meanwhile, Britain won a bronze medal in the women's team gymnastics for the first time since 1928.
It came amid a dramatic competition which saw the Russian Olympic Committee take gold over the United States after Simon Biles pulled out due to what officials called a "medical issue".
Biles later said she had to focus on her mental health.
Charlotte Dujardin, Carl Hester and Charlotte Fry took bronze in the dressage team final.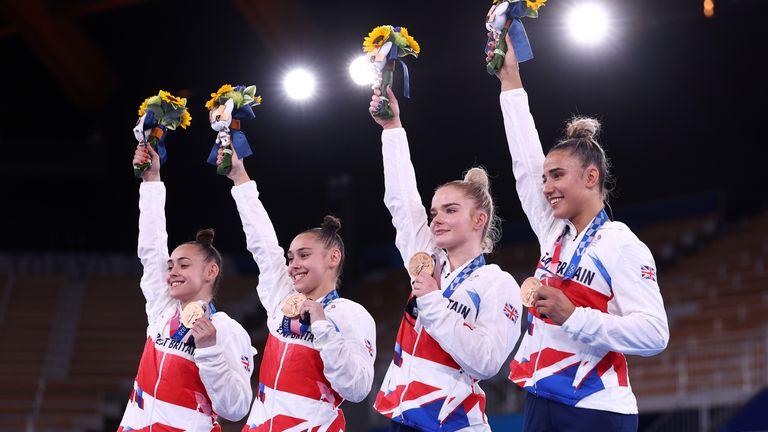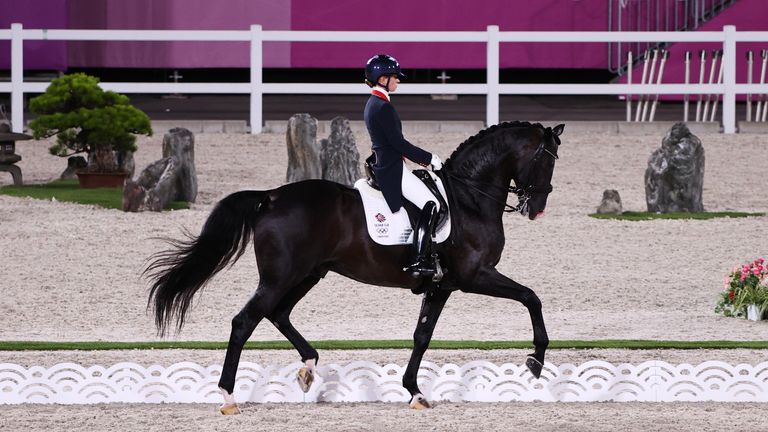 Dujardin has now won five Olympic medals putting her on par with rower Catherine Grainger for the most medals won by a British female athlete.
Elsewhere, team GB's Bianca Walkden battled back from a disappointing semi-final loss to win bronze in the over-67kg taekwondo category at the Olympics.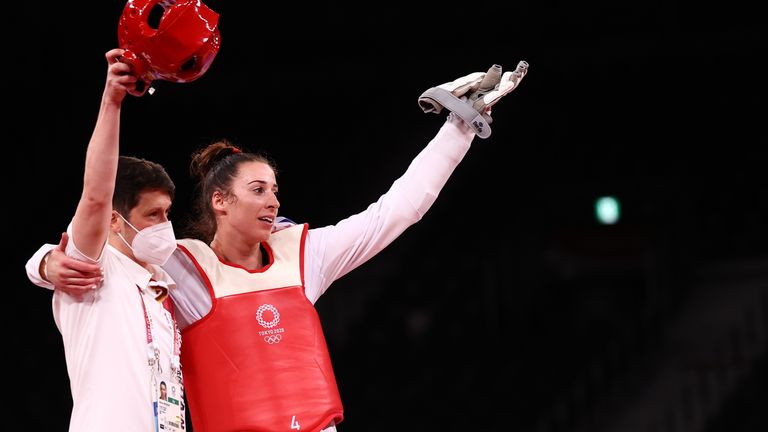 The 29-year-old from Liverpool secured the second Olympic bronze of her career with the win over Polish opponent Aleksandra Kowalczuk.
Georgia Taylor-Brown won silver for Team GB in the women's triathlon early on Tuesday, despite a flat tyre during the cycling section.
Taylor-Brown, who may have challenged for gold but for the puncture, secured silver behind Bermuda's Flora Duffy who took gold to become Bermuda's first-ever Olympic champion.
The 27-year-old told Sky News: "As a kid I always wanted one of these medals. I just wanted to be an Olympian.
Silver medallist rode on flat tyre

"But then you think 'that's a dream I had as a 10-year-old. I'm 27, is it ever going to become a reality?' And yeah this morning it did."
There was heartbreak for Britain's Kimberley Woods in the women's kayak single event.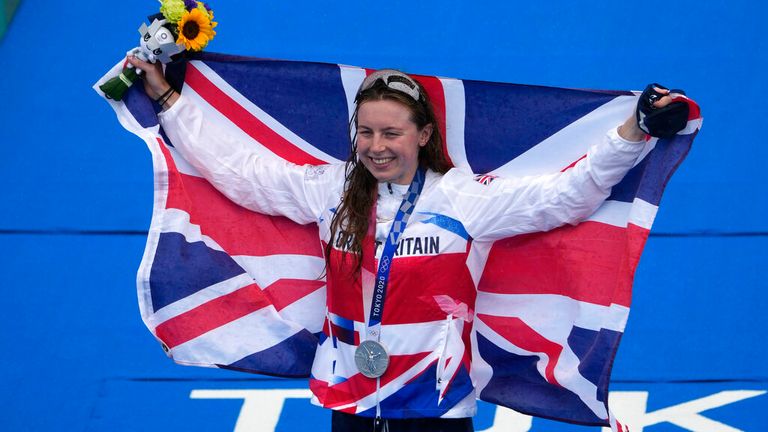 She made it to the final after qualifying second in her heat but didn't manage to win a medal after making an error early on in one of her runs.
Elsewhere, there was an upset in the tennis.
Follow the Daily podcast on Apple Podcasts, Google Podcasts, Spotify, Spreaker
Japan's Naomi Osaka – also one of the stars of the Games – was beaten by Marketa Vondrousova of the Czech Republic 6-1, 6-4 in the third round.
Osaka, who lit the Olympic cauldron in Friday's opening ceremony, had won her opening two matches in straight sets.