Dozens more killed in air raids as UN vote on Syria ceasefire delayed
Syrian government air raids killed a further 32 people in rebel-held suburbs east of Damascus on Friday, activists said, as a vote on a UN-backed ceasefire was delayed.
UN Security Council members had been discussing a cessation of hostilities for 30 days, to allow aid to be brought in and the injured to be taken out.
But negotiations were held up over a number of issues, including when the ceasefire should begin.
The US blamed Russia, which proposed an amendment to delay it.
US Ambassador to the UN Nikki Haley expressed dismay, saying on Twitter: "Unbelievable that Russia is stalling a vote on a ceasefire allowing humanitarian access in Syria.
"How many more people will die before the Security Council agrees to take up this vote? Let's do this tonight. The Syrian people can't wait."
The towns and farms of eastern Ghouta, a suburb to the east of the capital Damascus, have been under government siege since 2013.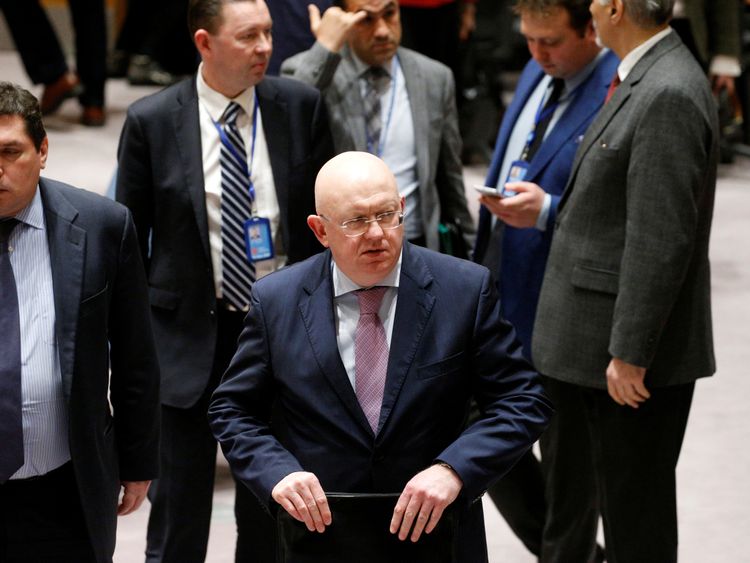 On Friday, the densely populated enclave was bombed for a sixth straight day, witnesses said.
At least 462 people have been killed since the bombing intensified last week, including at least 99 children, the Syrian Observatory for Human Rights monitoring group said.
Russia's UN Ambassador Vassily Nebenzia called an immediate ceasefire unrealistic.
The Russian amendment was rejected by Sweden and Kuwait, sponsors of the proposed resolution.
The ambassador of Kuwait, which holds the council presidency, said agreement was close, but there was still no consensus on the draft resolution.
One of the stumbling blocks was a Russian demand that rebel groups fighting President Bashar al Assad's forces comply with the truce.
In a concession to Russia, the latest draft of the resolution states that operations against Islamic State, al Qaeda, and "individuals, groups…" associated with the extremist groups will not be included.
It also proposes the immediate lifting of all sieges, including in eastern Ghouta, Yarmouk, Foua and Kefraya and ordering all sides to "cease depriving civilians of food and medicine indispensable to their survival".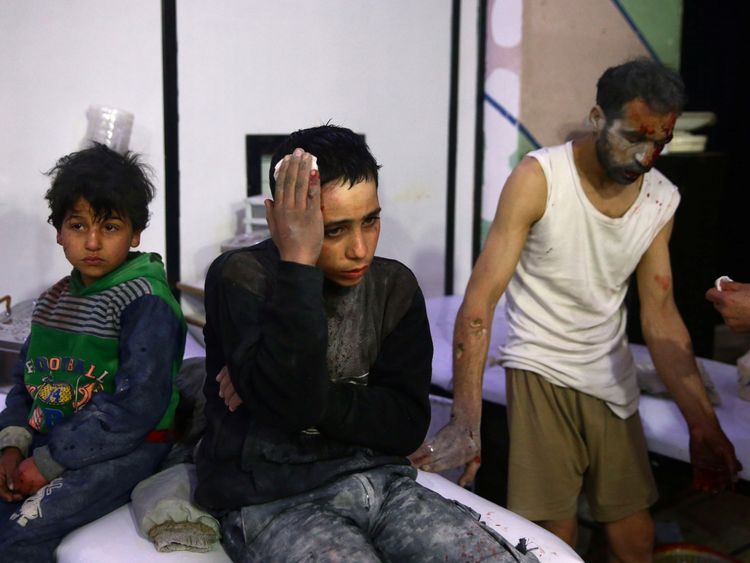 The initial resolution called for the ceasefire to begin 72 hours after its adoption, but diplomats continued discussions into the night about the final wording.
Swedish Ambassador Olof Skoog told reporters on Friday night: "We have not been able to close the gap completely.
"We will work tonight and hopefully, we will definitely come back tomorrow and we will vote."
The proposal was for a vote at midday EST (5pm UK time).
Mr Skoog said earlier: "It is about saving lives.
"UN convoys and evacuation teams are ready to go. It's time for the council to come together and shoulder its responsibility to urgently avert a situation that is beyond words in its desperation."
On Thursday, Syrian army helicopters dropped leaflets over eastern Ghouta, urging residents to leave for their own safety and calling on opposition fighters to surrender.
The 32 killed on Friday died in raids on areas including Hammouriyeh, Zamalka, Douma and al Marj, according to the British-based Syrian Observatory for Human Rights.
The Ghouta Media Centre, run by activists, also reported 32 killed.
Syrian state TV reported that militants fired 70 shells at Damascus, with one person killed and 60 others wounded.
Russia has so far vetoed 11 draft resolutions on Syria that targeted its ally in Damascus.
COVID-19: Russia's Sputnik V vaccine performs well against variants, trials show | World News
Russia's Sputnik V vaccine has produced strong results against new COVID-19 mutations in recent trials, researchers claim.
Denis Logunov, the deputy director of the Gamaleya centre in Russia, where the Sputnik V vaccine was developed, said the trial showed revaccination with the Russian vaccine "is working very well" against new COVID-19 mutations, including the UK and South African variants.
Results of the trial are expected to be published soon, but this was the first indication of how the tests were going.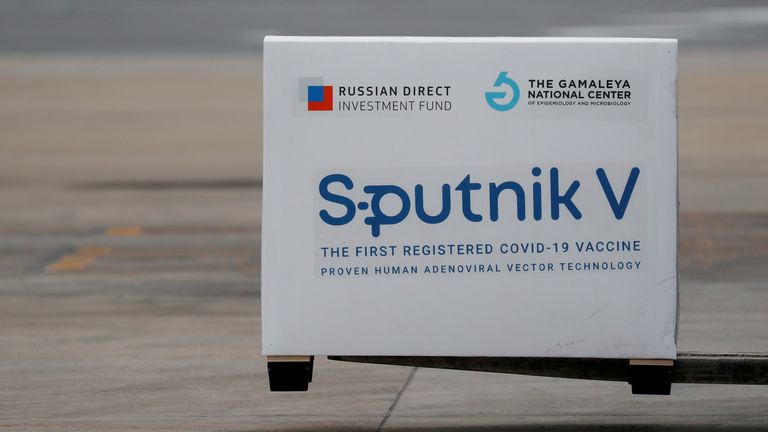 So-called viral vector shots – such as Sputnik V and a shot developed by AstraZeneca – use harmless modified viruses as vehicles, or vectors, to carry genetic information that helps the body build immunity against future infections.
The revaccination used the same Sputnik V shot, based upon the same adenovirus vectors. The trial indicated this did not impact effectiveness, Mr Logunov said.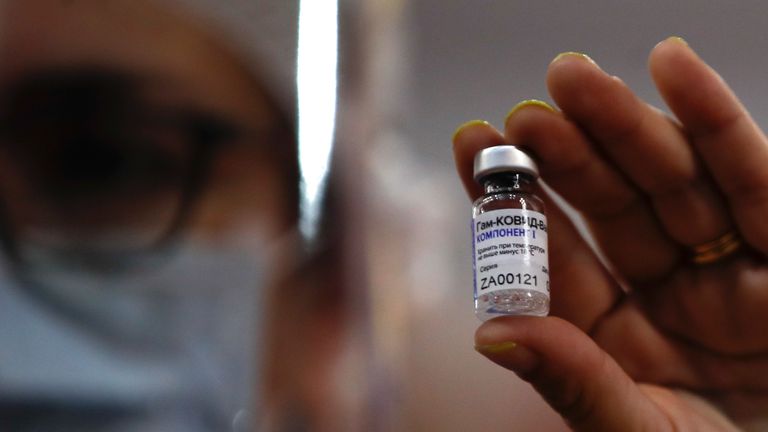 Some scientists have raised the possible risk that the body also develops immunity to the vector itself, recognising it as an intruder and trying to destroy it. But developers of Sputnik V disagreed this would pose long-term problems.
"We believe that vector-based vaccines are actually better for future revaccinations than vaccines based on other platforms," Mr Logunov said.
He also added the researchers found antibodies specific to the vectors used by the shot – which could generate an anti-vector reaction and undermine the work of the shot itself – declined "as early as 56 days after vaccination".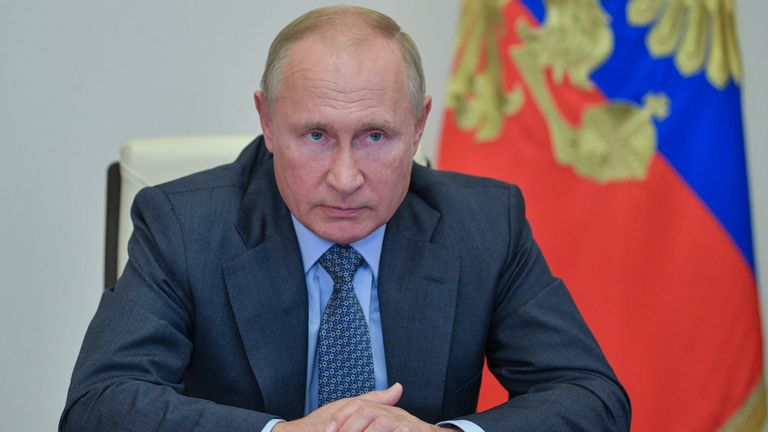 This conclusion was based on a trial of a vaccine against Ebola developed earlier by the Gamaleya Institute using the same approach as for the Sputnik V shot.
Vector immunity is not a new issue but has come under renewed scrutiny as companies including Johnson & Johnson anticipate regular coronavirus vaccinations, like annual influenza shots may be needed to combat new variants of the coronavirus.
Earlier this month, peer-reviewed interim results from the phase three trials showed two doses of Sputnik V are 91.6% effective against the virus.
President Vladimir Putin ordered a review by 15 March of Russian-produced vaccines for their effectiveness against new variants spreading in different parts of the world.
Pompeii: Ceremonial chariot discovered in ruins of settlement outside walls of ancient city | World News
A ceremonial chariot, complete with bronze decorations and mineralised wood remains, has been discovered in the ruins of a settlement north of Pompeii.
The chariot is one of several important discoveries to be made in an area called Civita Giulian outside the walls of the ancient city near Naples in Italy.
The discoveries were made after an investigation into an illegal dig, officials at the archaeological site have said.
The chariot, which has elements, was parked in the portico of a stable where the remains of three horses were previously found.
The Archaeological Park of Pompeii called the chariot "an exceptional discovery" and said "it represents a unique find – which has no parallel in Italy thus far – in an excellent state of preservation".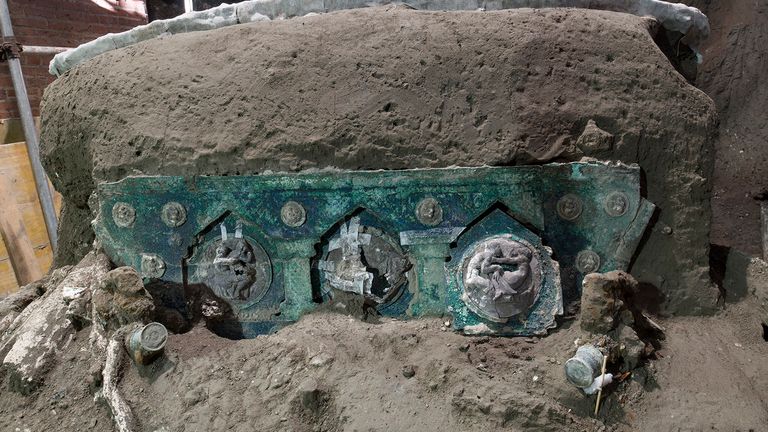 Pompeii was destroyed by the eruption of Mount Vesuvius in 79 AD.
The chariot was spared when the walls and roof of the structure it was in collapsed.
It also survived looting by modern-day antiquities thieves, who had dug tunnels through to the site, grazing but not damaging the four-wheeled cart, according to park officials.
The chariot was found on the grounds of what is one of the most significant ancient villas in the area around Vesuvius, with a panoramic view of the Mediterranean Sea, on the outskirts of the ancient Roman city.
The skeletal remains of what are believed to have been a wealthy man and his male slave attempting to escape death were found in Civita Giulian last year.
The chariot's first iron element emerged from the blanket of volcanic material filling the two-storey portico on 7 January.
Archaeologists believe the cart was used for festivities and parades, perhaps also to carry brides to their new homes.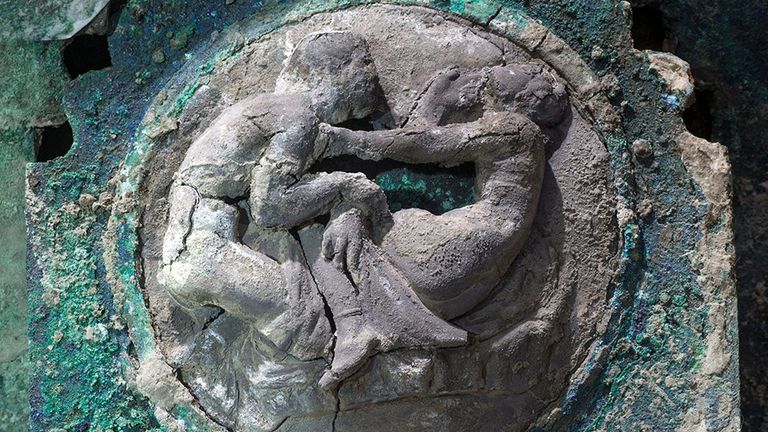 While chariots for daily life or the transport of agricultural products have been previously found at Pompeii, officials said the new find is the first ceremonial chariot unearthed in its entirety.
The villa was discovered after police came across the illegal tunnels in 2017, officials said.
Two people who live in the houses atop the site are currently on trial for allegedly digging more than 80 metres of tunnels at the site.
COVID-19: Auckland faces seven-day lockdown after COVID case of unknown origin detected | World News
New Zealand's prime minister has announced the country's biggest city, Auckland, will go into a seven-day lockdown after a COVID-19 case was detected.
From Sunday, two million people will only be allowed to leave their home for essential shopping and essential work, Jacinda Ardern said, and all public venues will remain closed.
Restrictions in the rest of the country will be tightened to level two restrictions, including limits on public gatherings, following the discovery of the case of unknown origin.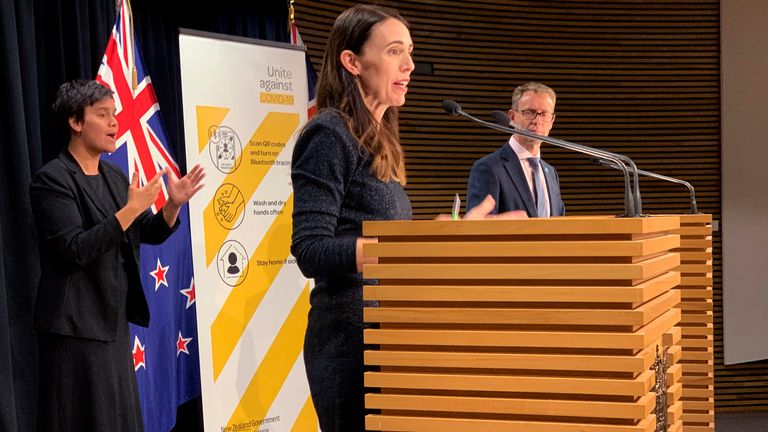 It comes two weeks after Auckland was plunged into a snap three-day lockdown when a family of three were diagnosed with the more transmissible UK variant of coronavirus.
Health officials, who could not immediately confirm how the latest person got infected, said genome sequencing of the new infection was under way.
The patient developed symptoms on Tuesday and is regarded as having been potentially infectious since Sunday, officials said. The person had visited several public venues during that period.
"Based on this, we are in the unfortunate but necessary position to protect Aucklanders again," Ms Ardern said, announcing the lockdown.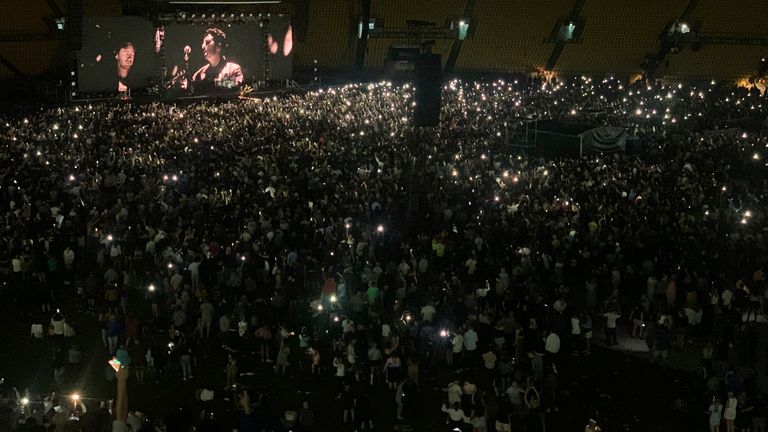 Health authorities were trying to find out whether the new case was linked to the earlier February cluster, now at 12 infections.
New Zealand, one of the most successful developed nations in controlling the spread of the virus, has seen just over 2,000 cases of coronavirus since the start of the pandemic.
A Twenty20 cricket clash in Auckland between New Zealand and Australia, scheduled for Friday, will be played in Wellington without crowds, said New Zealand Cricket.
The new restrictions also complicated the America's Cup Event yacht race scheduled to start on 6 March in Auckland harbour. America's Cup Event said on Twitter it was working "through the implications".