Dozens more killed in air raids as UN vote on Syria ceasefire delayed
Syrian government air raids killed a further 32 people in rebel-held suburbs east of Damascus on Friday, activists said, as a vote on a UN-backed ceasefire was delayed.
UN Security Council members had been discussing a cessation of hostilities for 30 days, to allow aid to be brought in and the injured to be taken out.
But negotiations were held up over a number of issues, including when the ceasefire should begin.
The US blamed Russia, which proposed an amendment to delay it.
US Ambassador to the UN Nikki Haley expressed dismay, saying on Twitter: "Unbelievable that Russia is stalling a vote on a ceasefire allowing humanitarian access in Syria.
"How many more people will die before the Security Council agrees to take up this vote? Let's do this tonight. The Syrian people can't wait."
The towns and farms of eastern Ghouta, a suburb to the east of the capital Damascus, have been under government siege since 2013.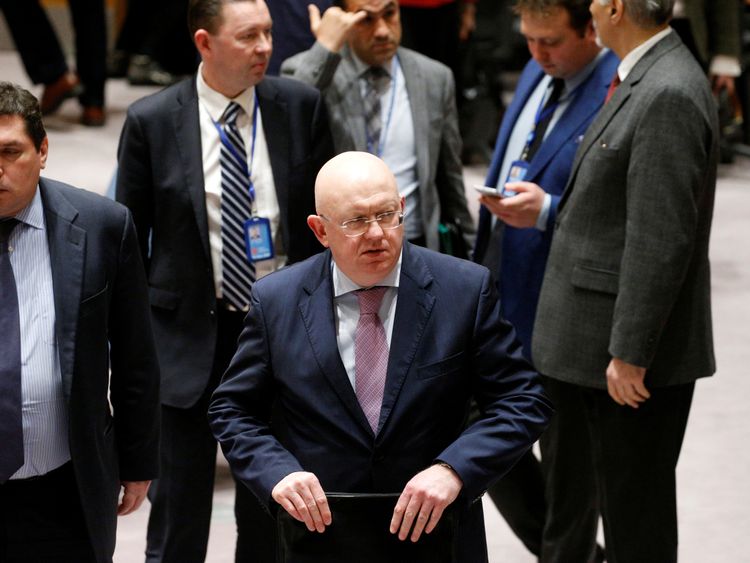 On Friday, the densely populated enclave was bombed for a sixth straight day, witnesses said.
At least 462 people have been killed since the bombing intensified last week, including at least 99 children, the Syrian Observatory for Human Rights monitoring group said.
Russia's UN Ambassador Vassily Nebenzia called an immediate ceasefire unrealistic.
The Russian amendment was rejected by Sweden and Kuwait, sponsors of the proposed resolution.
The ambassador of Kuwait, which holds the council presidency, said agreement was close, but there was still no consensus on the draft resolution.
One of the stumbling blocks was a Russian demand that rebel groups fighting President Bashar al Assad's forces comply with the truce.
In a concession to Russia, the latest draft of the resolution states that operations against Islamic State, al Qaeda, and "individuals, groups…" associated with the extremist groups will not be included.
It also proposes the immediate lifting of all sieges, including in eastern Ghouta, Yarmouk, Foua and Kefraya and ordering all sides to "cease depriving civilians of food and medicine indispensable to their survival".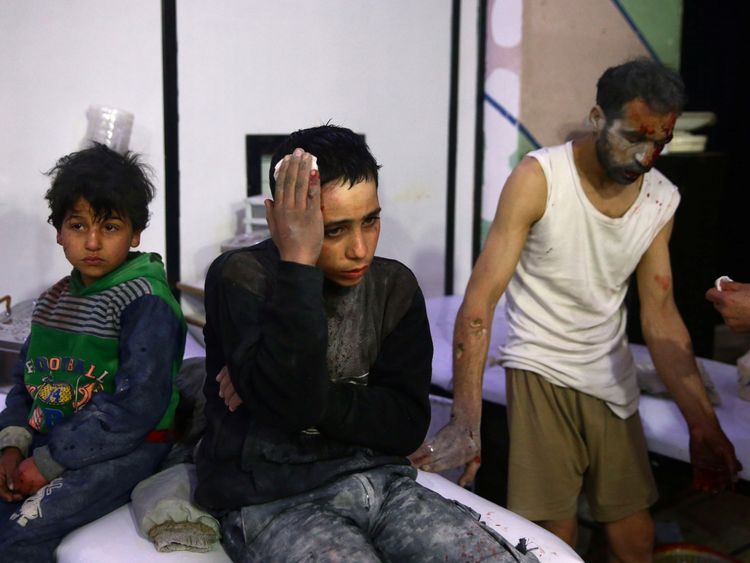 The initial resolution called for the ceasefire to begin 72 hours after its adoption, but diplomats continued discussions into the night about the final wording.
Swedish Ambassador Olof Skoog told reporters on Friday night: "We have not been able to close the gap completely.
"We will work tonight and hopefully, we will definitely come back tomorrow and we will vote."
The proposal was for a vote at midday EST (5pm UK time).
Mr Skoog said earlier: "It is about saving lives.
"UN convoys and evacuation teams are ready to go. It's time for the council to come together and shoulder its responsibility to urgently avert a situation that is beyond words in its desperation."
On Thursday, Syrian army helicopters dropped leaflets over eastern Ghouta, urging residents to leave for their own safety and calling on opposition fighters to surrender.
The 32 killed on Friday died in raids on areas including Hammouriyeh, Zamalka, Douma and al Marj, according to the British-based Syrian Observatory for Human Rights.
The Ghouta Media Centre, run by activists, also reported 32 killed.
Syrian state TV reported that militants fired 70 shells at Damascus, with one person killed and 60 others wounded.
Russia has so far vetoed 11 draft resolutions on Syria that targeted its ally in Damascus.
India: Head of 'world's largest family' Ziona Chana dies – leaving behind 39 wives and 94 children | World News

A man said to be the head of the world's largest family has died in northeastern India.
Ziona Chana had 39 wives, 94 children and 33 grandchildren – all of whom lived together in a four-storey pink house with about 100 rooms in Baktawng in Mizoram state.
The 76-year-old was the leader of a local Christian sect, named Chana, founded by his father in 1942 and with a current membership of hundreds of families.
Ziona married his first wife when he was 17 and claimed he once married 10 women in a year.
They shared a dormitory near his private bedroom and locals said he liked to have seven or eight of them by his side at all times.
The chief minister of Mizoram confirmed his death on Twitter, saying the village of Baktawng had become a "major tourist attraction" because of the family.
With a total of 167 members, the family is the world's largest, according to local media, although this depends on whether you count Mr Chana's grandchildren.
In a 2011 interview with Reuters, Ziona said: "I am ready to expand my family and willing to go to any extent to marry.
"I have so many people to care for and look after, and I consider myself a lucky man."
Vladimir Putin: 'Where is the proof' Russia is waging a cyber war against the United States? | World News
Russian leader Vladimir Putin has denied claims his country is waging a cyber war against the United States.
In an exclusive interview with NBC News, the Russian president rebuffed accusations Russian hackers, or the government itself, is using technological warfare against America – as baseless.
He said claims his country was involved in cyber attacks had become "farcical", asking: "Where is the evidence? Where is the proof?"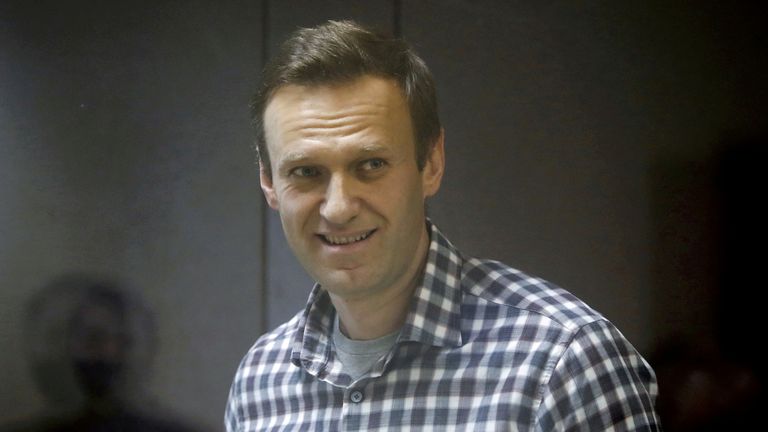 "We have been accused of all kinds of things: election interference, cyber attacks and so on and so forth. And not once, not one time did they bother to produce any kind of evidence or proof," he said.
Evidence has been put forward by US intelligence services of Russian hackers targeting the federal government and meddling in US elections.
Mr Putin also denied ordering the poisoning of Kremlin critic Alexei Navalny.
Pressed on whether he had any involvement, he said: "Look, such decisions in this country are not made by the president."
Russian intelligence services have been accused of poisoning Mr Navalny, who survived the incident but now remains in a Russian prison.
Asked whether the former opposition leader would make it out of prison alive, Mr Putin said: "He will not be treated any worse than anybody else."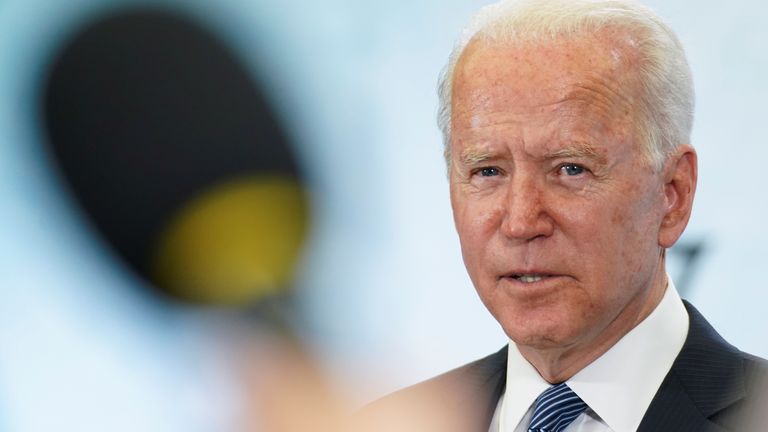 Mr Putin's comments come just two days before he and Joe Biden are due to sit down for talks in Geneva on Wednesday.
The US president will be fresh from his meeting with NATO leaders, who have signalled that Russia remains a security risk to Western allies.
In his interview with NBC, Mr Putin said Russia would be willing to engage with other countries including the US and would value "predictability and stability".
The Russian president has made no secret that he supported Mr Biden's predecessor Donald Trump, who he called "extraordinary" and "talented".
Mr Putin and Mr Biden have had somewhat more rocky relations, with the current US president agreeing when asked whether he thought the Russian president was a killer.
When this was put to Mr Putin, he replied: "Over my tenure, I've gotten used to attacks from all kinds of angles. And none of it surprises me."
Finke Desert Race crash: Spectator killed and two injured at Australian off-road event | World News

A man has died and two others have been injured after a car crashed into spectators during a race in Australia.
The car, which was taking part in the 285-mile (460km) Finke Desert Race, struck a group of people around 22 miles (35km) from the finish.
A 60-year-old man died at the scene.
A man in his 50s was seriously injured and taken to Alice Springs Hospital, while the driver, a woman in her 50s, suffered minor injuries, Northern Territory police confirmed.
Police have issued an appeal for information as they continue to investigate the circumstances.
Motorsport Australia issued a statement calling it "tragic news" and offering "sympathies to the families, friends and all those impacted".
The governing body also said it would begin its own investigation and provide counselling to all competitors, officials and people associated with the race.
The track is described on its website as having a "reputation for being one of the most difficult off-road courses in one of the most remote places in the world".
The two-day off-road, multi-terrain race for motorcycles, cars, buggies and quads through desert country between Alice Springs and the town of Aputula, also known as Finke, takes place every June.
The car section of the race has now been cancelled.