Vehicle strikes security barrier by White House, driver apprehended
The Secret Service apprehended a driver Friday afternoon after she plowed her vehicle into a security barricade at a White House entrance.
Law enforcement sources told Fox News that the driver intentionally hit the barricade. But they did not describe it as an attack against the White House, saying the woman suffers from mental problems and the crash was not about President Trump.
The incident nevertheless caused the White House to increase security. It happened as President Trump was hosting Australian Prime Minister Malcolm Turnbull inside. The White House was on lockdown for about an hour.
Witnesses saw a commotion on the White House grounds as security officers responded. 
The Secret Service later tweeted that the vehicle, a white minivan, "did not breach" the security barrier, and the female driver was "immediately apprehended."
The woman is a 35-year-old from La Vergene, Tennessee and has had previous encounters with the Secret Service near the White House "resulting in numerous arrests for a variety of criminal violations," the agency told The Associated Press.
She was charged with several violations and turned over to the District of Columbia police department, they said.
"No law enforcement personnel were injured during the incident involving a vehicle hitting a barrier near the White House," the Secret Service tweeted.
The Secret Service also said no shots were fired during the incident.
In a tweet Friday evening, President Trump commended "the great men and women of the" U.S. Secret Service "for a job well done!"
Fox News' John Roberts, Jennifer Bowman and The Associated Press contributed to this report. 
Climate change: Global CO2 emissions bounce back to pre-COVID levels, International Energy Agency study finds | Climate News
Global emissions have rebounded to worrying levels after a historic decline in 2020, according to new data.
And the International Energy Agency (IEA), which has compiled the data, says ensuring that 2019 marks a definitive peak in global CO2 emissions will be "extremely challenging".
The IEA says the COVID crisis in 2020 triggered the largest annual drop in energy-related carbon dioxide emissions since the Second World War.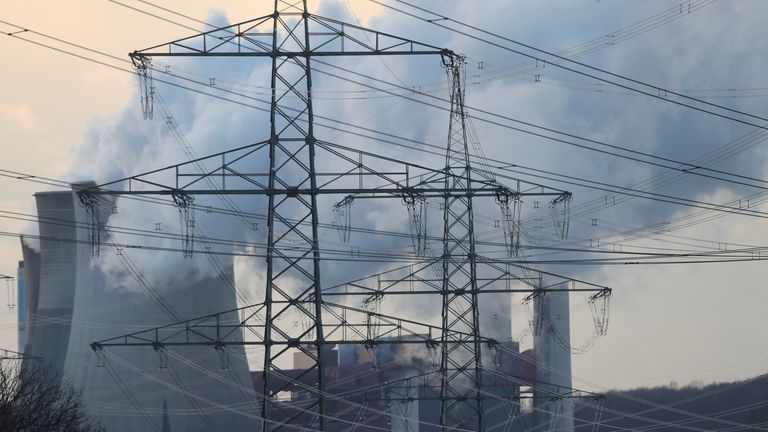 It also says avoiding a rebound in emissions requires "rapid change" around the world in how energy is used and produced.
In April 2020, global emissions registered their largest ever monthly drop. But by December they were two per cent higher than the same month a year earlier.
"The rebound in global carbon emissions toward the end of last year is a stark warning that not enough is being done to accelerate clean energy transitions worldwide," said Dr Fatih Birol, the IEA executive director.
"If governments don't move quickly with the right energy policies, this could put at risk the world's historic opportunity to make 2019 the definitive peak in global emissions."
"In March 2020, the IEA urged governments to put clean energy at the heart of their economic stimulus plans to ensure a sustainable recovery. But our numbers show we are returning to carbon-intensive business-as-usual.
"This year is pivotal for international climate action – and it began with high hopes – but these latest numbers are a sharp reminder of the immense challenge we face in rapidly transforming the global energy system."
The IEA says major economies led the resurgence as a pick-up in economic activity pushed energy demand higher.
China, the first major economy to emerge from the pandemic and lift restrictions, saw a seven per cent increase in emissions in December 2020 compared with a year earlier.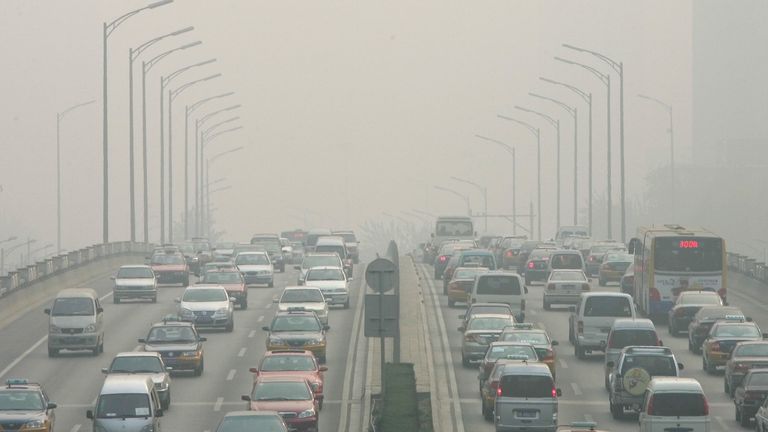 China is the world's biggest emitter of greenhouse gases and is where the pandemic is thought to have originated. It was the only country that experienced an overall increase in emissions – 0.8 per cent – last year.
Emissions in India rose above 2019 levels in September last year as restrictions were relaxed.
The energy forum also said the recovery of road transport activity in emerging economies in the second half of 2020 was one of the principal drivers of a rebound in emissions.
But in advanced economies, road transport activity remained suppressed throughout the second half of 2020 relative to 2019 levels.
Overall restrictions on movement around the world in 2020 saw a significant drop in transport emissions – with global flight activity down 70 per cent last April compared to the previous year.
How many major countries will go net zero?

Energy demand dropped nearly four per cent in 2020 and global energy-related emissions fell by 5.8 per cent – the largest annual percentage decline since World War 11.
The IEA says last year's fall in emissions of almost 2,000 million tonnes of CO2 is "without precedent in human history".
Demand for fossil fuels was hardest hit in 2020 – especially oil which plunged 8.6 per cent and coal which dropped by four per cent.
The drop in road transport accounted for 50 per cent of the decline in global oil demand and the slump in the aviation sector for around 35 per cent.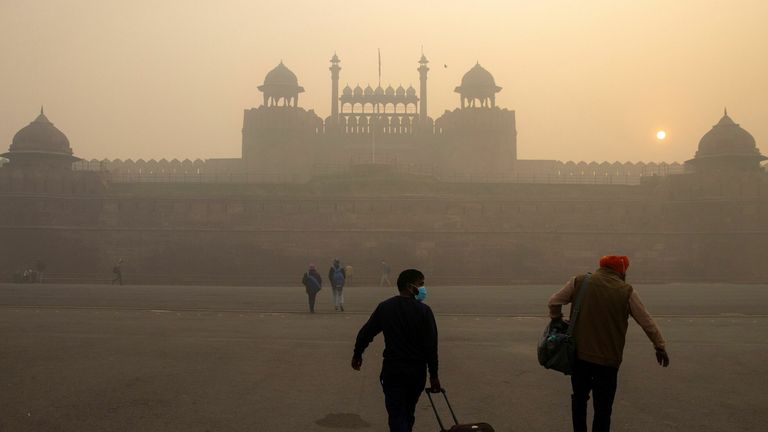 But low-carbon fuels and technologies such as wind and solar reached 20 per cent of the global energy mix – their highest ever annual share.
The pandemic triggered a drop in car sales around the world of 15 per cent – though electric cars bucked the trend with sales growing by over 40 per cent to more than three million.
Subscribe to Sophy Ridge on Sunday on Apple podcasts, Google podcasts, Spotify, Spreaker
Advanced economies saw the steepest declines in annual emissions in 2020, averaging drops of almost 10 per cent, while emissions from emerging and developing economies fell by four per cent relative to 2019.
Across the European Union, which saw restrictions in all member states, annual CO2 emissions fell by 10 per cent relative to 2019.
COVID-19: What EU leaders said about AstraZeneca vaccine – and the data forcing a rethink | World News
European countries are revising their refusal to give older people the Oxford/AstraZeneca COVID-19 vaccine following the release of fresh data.
The French government has made a partial U-turn, with people aged between 65 and 74 with pre-existing health conditions now able to get the AstraZeneca vaccine.
The vaccine, developed with Oxford University, has suffered rollout setbacks and doses are languishing after nearly half of the EU's members limited its use to under 65s.
Follow live COVID-19 updates from the UK and around the world
It was approved for all adults by the EU's drugs regulator but it is up to each member to set out its own policy, with many saying the initial trial did not have enough data on the effectiveness on over 65s.
France's partial U-turn came hours after fresh data published by Public Health England (PHE) based on the UK's vaccine rollout showed protection against symptomatic COVID in those over 70, four weeks after the first jab, ranged between 60-73% and 57-61% for the Pfizer/BioNTech vaccine.
The study found one dose of either vaccine is more than 80% effective at preventing those over 80 years old from being admitted to hospital three to four weeks after the first jab.
Sky News looks at which EU countries have restricted the AstraZeneca vaccine.
France
Emmanuel Macron was one of the vaccine's most vociferous critics, calling it "quasi-ineffective" for the elderly.
Ainsi les personnes entre 65 et 74 ans pourront désormais se faire vacciner en allant voir leur médecin. Nous débuterons par celles qui sont porteuses de fragilité.

— Olivier Véran (@olivierveran) March 1, 2021
At the end of January, having ordered 1.1 million doses, Mr Macron said: "The real problem on AstraZeneca is that it doesn't work the way we were expecting it to.
"We're waiting for the EMA [European Medicines Agency] results, but today everything points to thinking it is quasi-ineffective on people older than 65, some say those 60 years or older."
France's Europe minister, Clement Beaune, then said the UK was taking "a lot of risks" by having a 12-week gap between the two doses and said French citizens would not stand for this type of gamble, even though scientists have approved the method.
Scepticism towards vaccines has been high in France for a few decades, with a very low COVID-19 vaccine take-up compared with its neighbours and just a quarter of its AstraZeneca vaccines administered by Friday.
In an attempt to restore public trust in the AstraZeneca vaccine Mr Macron has now said he would take it if he was offered it.
Germany
The efficacy of the AstraZeneca vaccine in older people started being publicly questioned by European countries after a German newspaper claimed it was only 8% effective on the over-65s.
Handelsblatt's story, which it stood by, was attributed to a single anonymous government source with no explanation of how the number was calculated.
It came in the week that the EMA was due to decide whether to authorise the vaccine, which it did on 29 January – although with a warning that data for over 55s was limited.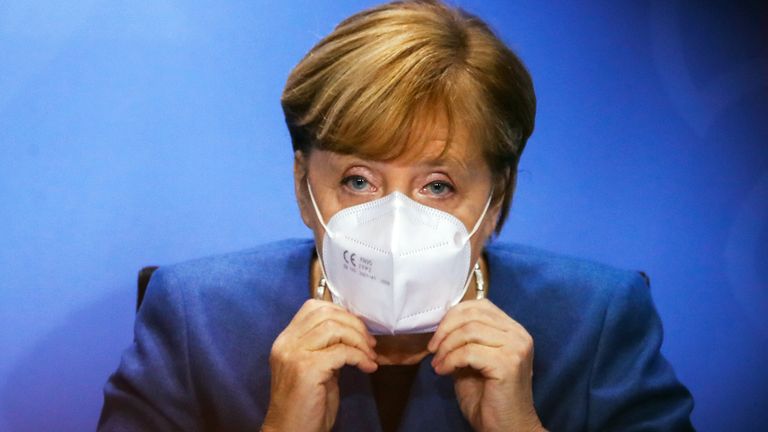 Germany then recommended the vaccine should not be used for people over 65, saying there was a lack of reliable efficacy data on this age group.
Like France, Germany's vaccine rollout has been much slower than the UK's, with purchased vaccines lying unused.
German officials said a key reason for the low uptake was the age restriction and a growing number of leading politicians are now calling for the rule to be relaxed, which is expected to happen soon.
European Commission
Ursula von der Leyen, European Commission president, had a very public spat with AstraZeneca over gaining more of its vaccine doses.
She then suggested the UK had compromised on "safety and efficacy" by approving the jab so early, despite the EMA reaching the same conclusions as the UK's internationally-respected MHRA which approved the vaccine.
EU chief's 'regrets' over vaccine export row

The Commission has been criticised over the slow pace of immunisation across the bloc, with critics saying it failed to secure sufficient early supply.
In late February, Ms von der Leyen changed her tune as officials rushed to ensure doses did not go to waste.
"I would take the AstraZeneca vaccine without a second thought, just like Moderna's and BioNTech/Pfizer's products," she told Germany's Augsburger Allgemeine newspaper.
Which other European countries have restricted the AstraZeneca vaccine?
Greece, Denmark, the Netherlands, Sweden (where AstraZeneca is based along with the UK), Poland and Austria have all blocked its use in over-65s.
Norway, which is not in the EU but is in the European Economic Area, has also blocked its use on under 65s.
Italy initially limited the jab to under 55s but at the end of February raised that to adults up to 65 years old.
Belgium and Spain have limited it to under 55s.
Switzerland, which is not in the EU but is in the single market, has rejected the AstraZeneca jab as it said the trial data is "not yet sufficient".
Kidnapped Nigerian schoolgirls: 'Repentant bandits' key to release of the 279 students it has emerged | World News
"Repentant bandits" helped secure the release of 279 girls kidnapped from a Nigerian boarding school, it has emerged – as the students open up about the horrors of their ordeal.
A group of about 100 gunmen burst into the Girls Science Secondary School in the northwestern state of Zamfara on Friday and abducted the students.
Before ransacking the school in Jangebe town, they also attacked a nearby military camp and checkpoint, preventing soldiers from stepping in.
'They were pointing guns at our heads'

The girls said they were forced to march through stones and thorns and were repeatedly hit with guns if they could not keep up.
Umma Abubakar said: "Most of us got injured on our feet and we could not continue trekking, so they said they will shoot anybody who did not continue to walk."
Farida Lawali, 15, added: "While they were beating the girls with guns, some of them were crying and moving at the same time."
At least a dozen of the schoolgirls have been taken to hospital for treatment.
In spite of their horrific ordeal, the father of seven of the girls, vowed the abduction would not stop him from schooling his children.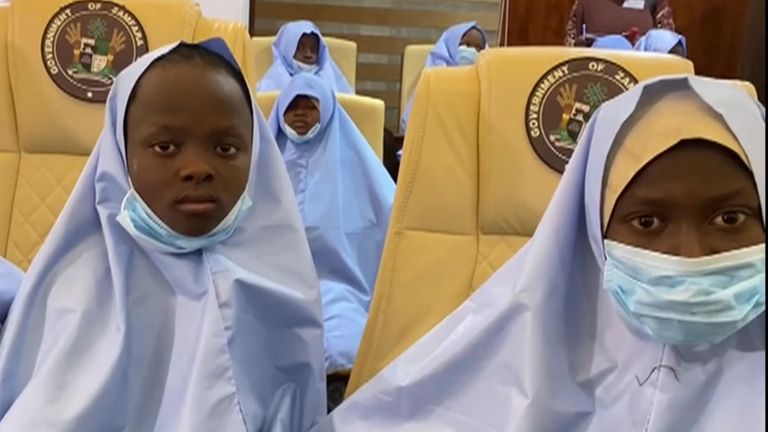 Lawal Abdullahi said: "It's a ploy to deny our girls from getting the western education in which we are far behind.
"We should not succumb to blackmail.
"My advice to the government is that they should take immediate precautions to stop further abductions."
And UN children's agency UNICEF has joined his call, urging the Nigerian government to provide added protection to schools.
Nigerian president Muhammadu Buhari said news of the girls' release had brought "overwhelming joy".
Alhamdulillah! It gladdens my heart to announce the release of the abducted students of GGSS Jangebe from captivity. This follows the scaling of several hurdles laid against our efforts. I enjoin all well-meaning Nigerians to rejoice with us as our daughters are now safe. pic.twitter.com/YKfHoUuiXP

— Dr. Bello Matawalle (@Bellomatawalle1) March 2, 2021
And Zamfara state governor Dr Bello Matawalle revealed it had been "repentant bandits" working with the government under an amnesty programme who had helped secure the Jangebe girls' release.
"Those repentant ones are working for us, and they are working for the government and they are working for security,"
he said.
Several large groups of armed men operate in Zamfara state, described by the government as bandits, and are known to kidnap for money or for the release of their members from jail.
The government has repeatedly denied paying ransoms.
But on Friday president Buhari had issued a statement in which he urged state governments "to review their policy of rewarding bandits with money and vehicles, warning that the policy might boomerang disastrously".
Sky News' Africa correspondent John Sparks said the latest abduction prompted more questions on the ransom debate.
"Was money paid? This is becoming a growth industry in Nigeria," he said.
"It's happening frequently: Criminal gangs or bandits taking advantage of the precarious security situation in the north and central areas."
Such kidnappings in Nigeria were first carried out by jihadist group Boko Haram, and later its offshoot Islamic State West Africa Province, but the tactic has now been adopted by other criminal gangs.
The raid in Zamfara state was the second kidnapping in little over a week in the north west, a region increasingly targeted by criminal gangs.
On Saturday, gunmen released 27 teenage boys who were kidnapped from their school on 17 February in the north-central state of Niger.