Liz Peek: Obama's legacy will be that he allowed Russia to 'sow discord' in the US
In a recent tweet, President Trump asked: "Why didn't Obama do something about the (Russian) meddling?" It's a good question, especially since, as President Trump pointed out, "all of the Russian meddling took place during the Obama administration."
The answer to President Trump's question is that over the course of eight years the Obama administration neglected to take cybersecurity seriously, even though in 2013 Defense Secretary Leon Panetta warned of a "coming (cyber) Pearl Harbor."
Despite repeated intrusions, and though independent agencies concluded that our defenses against hackers were woefully inadequate, the Obama White House made only cosmetic attempts to protect our vital agencies and infrastructure. When this lack of preparedness led to damaging virtual break-ins, President Obama declined to confront the bad actors trying to steal our secrets.
This came in spite of President Obama's easy access to Silicon Valley. The only time the White House called in some help from tech titans was when the ObamaCare rollout crashed, embarrassing the president. Not when the Chinese invaded the White House computer network in 2012 or when North Korea penetrated Sony's systems; the big guns were summoned only when the president's legacy program teetered on the brink of collapse.
In 2014 then-Sen. Tom Coburn, R-Okla., who served on the Homeland Security and Government Affairs Committee, published a report on the dangerous lapses in the government's cyber preparedness, based on 40 reports and audits, including from the Government Accountability Office.
Federal agencies, Coburn reported, had neglected to implement even the most basic safeguards, such as resetting passwords or downloading software updates.
The report contained details of a hack of our Nuclear Regulatory Commission, for instance, in which data on the country's 85,000 dams was stolen from the unprotected computers of the U.S. Army Corps of Engineers. The information included estimates of the potential death counts that would result from the failures of individual dams.
The most significant intrusion during President Obama's two terms was the 2015 penetration of the Office of Personnel Management (OPM), in which sensitive information (Social Security numbers, birth dates, health histories, fingerprints) on 22 million people – many with top security clearances – was stolen.
Not only did the White House allow the break-in to occur – officials there lied about the severity of the attack. OPM officials initially told the Wall Street Journal that no sensitive data had been stolen, though the FBI had informed them otherwise. The Journal reported that the day OPM made that dishonest claim, former Homeland Security Secretary Janet Napolitano emailed to tell friends at the University of California that people who had gone through a security clearance were at risk. She had apparently received a heads-up.
That theft was said to have been the work of the Chinese.
The OPM breach was not unique. During the Obama years the Pentagon, the CIA, the Department of Commerce, Department of Homeland Security and the National Nuclear Security Administration were all hacked. 
After the OPM attack, Director of National Intelligence James Clapper said at a security conference: "Until such time as we can create both the substance and the psychology of deterrence, this is going to go on." He argued that "unintended consequences and other related policy issues" made creating such deterrents difficult.
In other words, the Obama White House did nothing when China hacked the OPM, or when North Korea invaded Sony because there were overarching political considerations. Think climate accord and a nuclear stand-down.
But it was the White House's tolerance of Russian intrusions that in retrospect was the most dangerous action. In 2013 Russia took advantage of a Microsoft glitch to hack into NATO's computer systems, the new Ukrainian government and several European Union agencies. President Obama did nothing to respond to this aggression, emboldening Moscow.
Over the next two years Russian agents invaded the State Department and ultimately penetrated not only the White House but also the Pentagon. The thefts of data were not as public as the plundering of OPM by the Chinese; the Russians appeared to be accumulating virtual weapons.
In late 2015, the FBI warned the Democratic National Committee (DNC) that Russian hackers had breached its computers. A few months later the same group of Russians ensnared John Podesta, Hillary Clinton's campaign chair, harvesting his emails.
The Russians sat on their stolen material until a few weeks before the Democratic National Convention, when they then forwarded the hacked emails from the DNC to Wikileaks. The resulting uproar, which cost DNC Chair Debbie Wasserman Schultz her job, was only the beginning, as we now know.
Because President Obama was beholden to China for agreeing to join the Paris Climate Accord and because he needed both Russia and China to sign off on the Iran nuclear deal, he chose not to push back against their criminal invasions of our private and public institutions. As Luke Thompson has argued in the National Review, this lack of confrontation only encouraged more bad behavior.
Our country has been wracked by discord for more than a year, and the Trump presidency has been severely weakened by charges that his team colluded with the Russians to defeat Hillary Clinton. There has been no evidence of such behavior, but the investigation goes on, dividing the nation and undermining Americans' confidence in our law enforcement and intelligence agencies, as well as our president.
The Justice Department has concluded that the Russians wanted to "sow discord" in the United States. This will be Obama's legacy: he allowed them to do so.
Prince Harry and Meghan meet top UN official amid world leaders' gathering in New York | World News
Prince Harry and Meghan have met with a top UN official during the world body's biggest annual gathering.
The Duke and Duchess of Sussex visited the UN headquarters in New York to speak with deputy secretary-general Amina Mohammed.
Ms Mohammed said they discussed "how to engage on issues we care about deeply", such as vaccine equity, climate action, the economic empowerment of women, youth engagement and mental wellbeing.
Harry and Meghan pay respects at 9/11 memorial

"It was a lovely meeting," Meghan said afterwards.
The UN said Ms Mohammed welcomed the couple's work to address the organisation's 17 sustainable development goals, which were created in 2015 and include objectives like ending hunger and poverty, achieving gender equality and combating climate change.
The trio met ahead of their scheduled appearances at the Global Citizen concert in Central Park later on Saturday.
The star-studded, 24-hour event aims to encourage climate action and urge wealthier countries to share one billion doses of COVID-19 vaccines with other nations.
Billie Eilish and Ed Sheeran are among the musicians expected to headline the festival, which features performances in cities including New York, London and Sydney.
Tens of thousands of people are set to attend, with millions likely to tune in to the broadcast.
Prince Harry and Meghan are due to speak at the event in New York as part of their first major public trip since quitting as senior royals.
Earlier this week they visited the city's memorial for the 9/11 attacks on the World Trade Center, with New York City mayor Bill de Blasio and the state's governor, Kathy Hochul, joining them.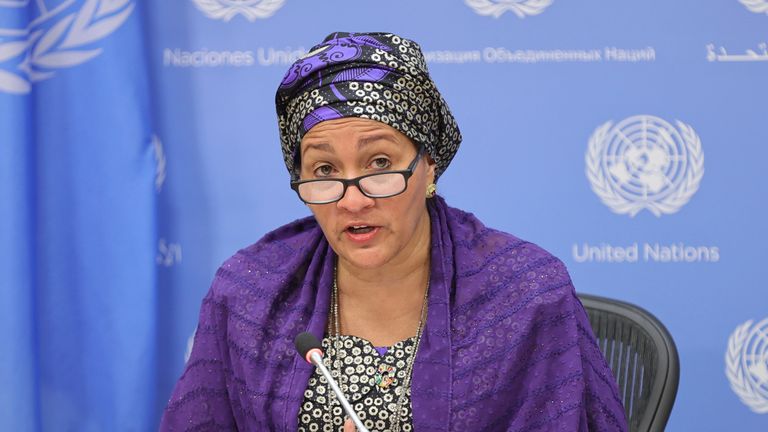 The UN is currently hosting the annual general assembly of world leaders, who have been discussing efforts to fight climate change and COVID-19.
Meghan has been involved with the UN women's agency for several years, acting as "advocate for political participation and leadership".
Were Prince Harry and Meghan cut off financially?

The Duke and Duchess of Sussex were among those chosen as Time magazine's 100 most influential people last week.
Last year, the couple stepped down from royal duties, moving to California and launching their Archewell Foundation.
They have previously supported other Global Citizen initiatives, acting as campaign chairs for a Vax Live event in May which encouraged donations to Covax, an initiative working to provide vaccines for low and middle-income countries.
In a speech he made on stage, Prince Harry called for coronavirus jabs to be "distributed to everyone everywhere".
German election: Voters want fresh leadership even if many seem unconvinced by the options | Politics News
They're already putting Angela Merkel out to pasture at the Tussauds waxworks in Berlin, decking her out in clothes to go hiking, which the chancellor says she wants to do more of when she's retired.
Mrs Merkel has been chancellor for 16 years.
Madam Tussaud's studio assistant Karen Fries says it will be strange when she is gone.
Germany election: What's at stake?

"It's going to be weird, yes, because it's now 16 years and we are not used to getting along without her, but we'll see."
The same sentiments are around the corner at the Brandenburg Gate.
Another race was under way ahead of the election: rollerbladers gathering to speed around the route of the marathon that is run this weekend.
"Both of us, we are 23," two young bladers told us. "We just know Angela Merkel. So I think an era comes to an end."
Another man told us none of the candidates can replace her: "No, they are too weak."
Is this just another country's election or one we should all be interested in?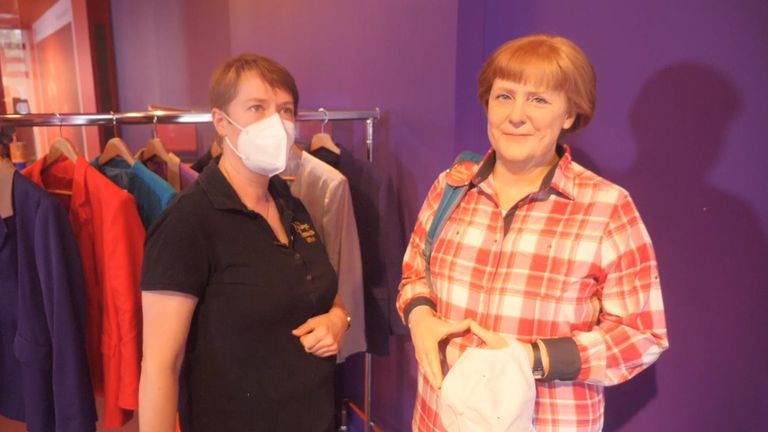 Angela Merkel was called the leader of the free world, a moniker she herself thought was absurd. But it gives a sense of the void she may leave in these uncertain times.
Mrs Merkel has been credited with steering Germany through numerous crises but critics say she did not do enough to see them coming or warn Germans about others on their way.
Matthew Karnitschnig, Politico's chief Europe correspondent, says: "The problem is that Merkel has shielded the population for a very long time from the realities of what's going on in the world."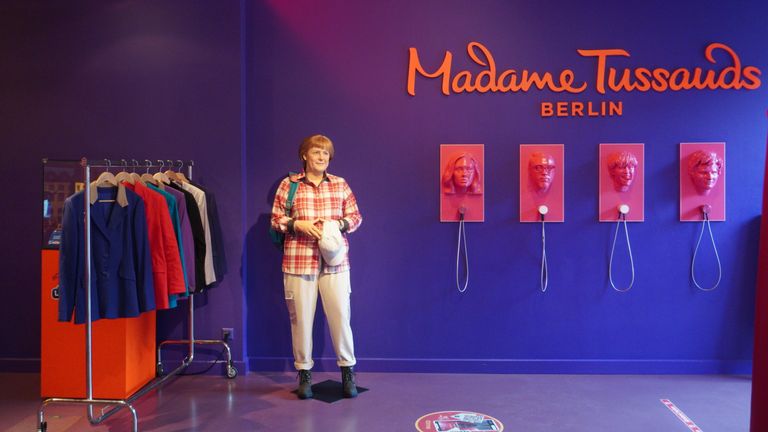 Mrs Merkel was more of an administrator than a leader, he says, and has left one key question unanswered for her successors to address.
The way they do could have ramifications far beyond Germany.
"What's at stake, really, is what role Germany is going to play in the world," he says.
"Does Germany want to be a real player on the world stage, or does it want to act more like a giant Switzerland in the middle of Europe, trying to be all things to all people?"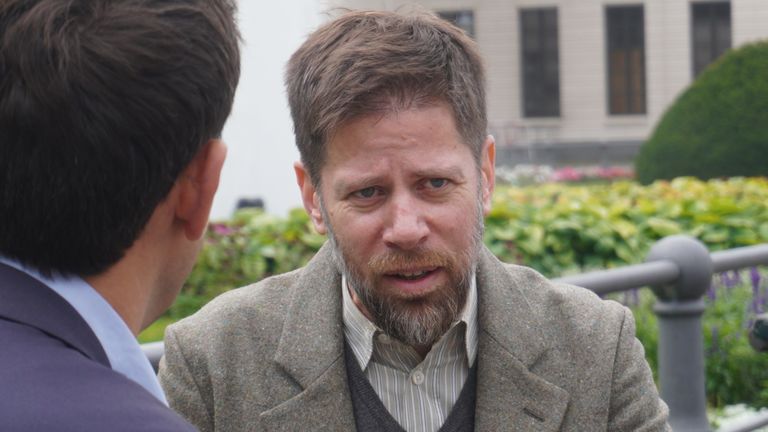 Germany after Mrs Merkel will be under pressure from America to take on Russia more and be a more useful partner within the EU.
For Europe's largest country and richest economy, it has not punched at its weight in the minds of many in Washington and elsewhere.
Others agree that Mrs Merkel cossetted Germans and protected them from global realities too much.
Green MEP Sergei Lagodinski, who helped write his party's foreign policy, told Sky News: "I do hope very much that after this very comfortable sleep that we had with a very comforting leader who actually drove us and directed us quite good through a couple of crises, we need now to wake up not only to survive crisis and get back to the business as usual, but try to reimagine both Germany and Europe in this new age."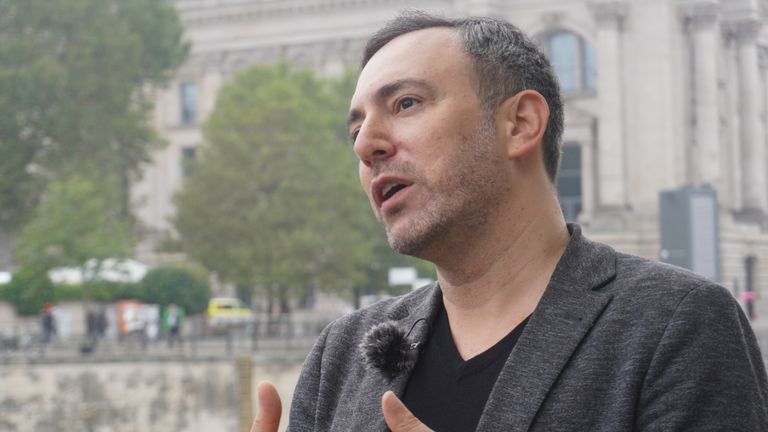 The world and Germany are very different now than 16 years ago when Merkel first came to power.
Climate change, populism and artificial intelligence are all challenges that need proactive leadership, arguably not a strength of Mrs Merkel's.
"I think it's tremendously important, not just for Germany but for Europe," Mr Lagodinski says.
German voters take to the polls

"We have a situation where we have a change in terms of who's going to lead Germany but also we have a totally changed global situation."
There is the sense of an era coming to an end on the eve of this important election.
In the dusky light of a warm September evening, the voters we spoke to seemed relaxed about the future but conflicted too.
Germany's election: The end of Merkel

They want change but also continuity.
There is a yearning for stability with such a familiar figure bowing out and in such unpredictable times. But 16 years is a long long time to have one leader, we have been told repeatedly.
Germany and the world have new challenges to take on and new demons to fight, and voters want fresh leadership even if many seem unconvinced by the line-up they have to choose from.
Dean Berta Vinales: Fifteen-year-old World Superbike star dies after crash during race in Spain | World News

Fifteen-year-old motorcyclist Dean Berta Vinales has died following a crash at a World Superbike Championship race in Jerez, Spain.
After 11 laps in the Supersport 300 support race, the Spanish athlete crashed at the second turn, along with three other riders.
He suffered severe head and spinal injuries and was treated by medical crews who arrived on the scene, World Superbike said.
They attended to him on the track, in an ambulance and at the circuit medical centre.
"Despite the best efforts of the circuit medical staff, the Medical Centre has announced that Berta Vinales has sadly succumbed to his injuries," World Superbike said.
The race was red-flagged by the director and cancelled, along with the rest of Saturday's action.
Vinales was MotoGP rider Maverick Vinales's cousin and he rode for his uncle's Vinales Racing Team.
In a statement on social media, Vinales Racing Team said it was "devastated".
MotoGP said on Twitter: "We're devastated by the tragic loss of @DeanBerta21 following a crash in #WorldSSP300 Race 1 today.
"Sending all our love and strength to Maverick Vinales and Dean's entire family, his team and loved ones."
Six-time MotoGP champion Marc Marquez wrote: "Rest in peace Dean. All my support to family and friends."
We're deeply saddened to report the loss of Dean Berta Viñales.

The #WorldSBK family sends love to his family, loved ones, and his team. Your personality, enthusiasm, and commitment will be hugely missed.

The whole motorcycle racing world will miss you, Dean. Ride in Peace. pic.twitter.com/46KuUt4Vnl

— WorldSBK (@WorldSBK) September 25, 2021
World Superbike said Vinales was "enjoying a recent run of good form" in his rookie season in the FIM Supersport 300 World Championship, coming in fourth in Race 2 at the Magny-Cours circuit and sixth in Race 2 at the Barcelona-Catalunya track.
He had set the fastest lap in Race 1 and the organisation said he was "showing great potential".
The tragedy is the latest in a series of crashes that have claimed the lives of young riders.
Fourteen-year-old Hugo Millan died after crashing at a race in Alcaniz, Spain in July, while Swiss Moto3 rider Jason Dupasquier, 19, died in May from injuries he sustained in a three-bike crash during a qualifying session at the Mugello circuit in Italy.