Florida man screams, yells 'murderers!' as he's put to death
STARKE, Fla. –  A Florida Corrections official says authorities have no indication an inmate's blood-curdling scream and repeated shouts of "murderers!" as he was being put to death were caused by the lethal injection.
Forty-seven-year-old inmate Eric Scott Branch was put to death Thursday evening at Florida State Prison, thrashing about on a gurney as he screamed and yelled. Branch had been sentenced to die for the 1993 rape and killing of a 21-year-old college student, Susan Morris.
Asked later whether Branch's scream could have been caused by the lethal drugs, Department Corrections spokeswoman Michelle Glady said "there was no indication" that the dramatic moments were caused by the execution procedure.
She says that conclusion had been confirmed by the Florida Department of Law Enforcement.
_____
Associated Press writer Curt Anderson in Miami contributed to this story
Myanmar: Violence erupts as police open fire killing four pro-democracy protesters and wounding several others | World News
Police in Myanmar have fired tear gas, water cannons and stun grenades at pro-democracy protestors, killing at least four and leaving several wounded.
Violence erupted in the major city Yangon when a woman died after police broke up a teachers' protest with stun grenades, though the cause of her death might have been a heart attack, her daughter and a colleague said.
Several people were being helped away, leaving blood-smeared pavements, after police opened fire, images posted on social media showed.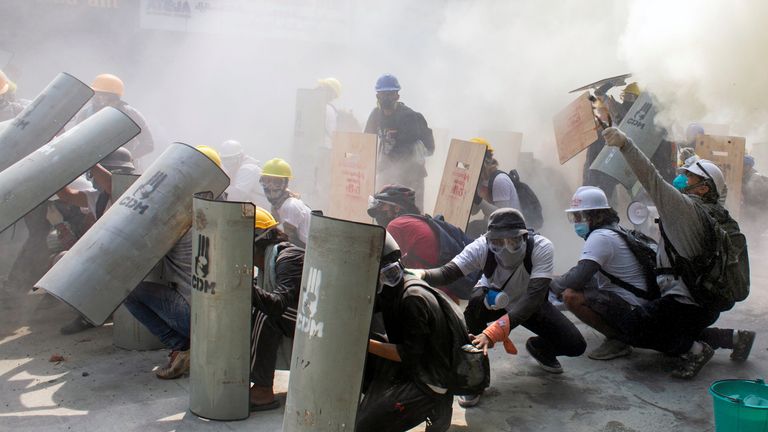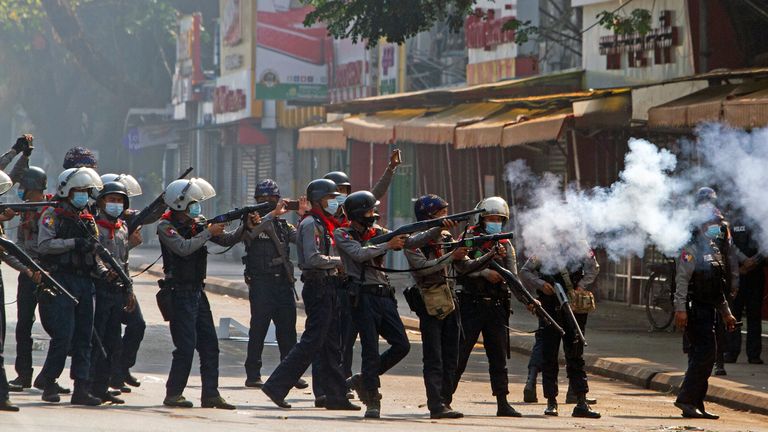 But protesters refused to back down. "If they push us, we'll rise. If they attack us, we'll defend. We'll never kneel down to the military boots," said Nyan Win Shein from one Yangon protest.
Footage also showed protesters running away from police as officers charged at them, makeshift roadblocks being put up to slow the police advance and protesters being bundled into police trucks to be taken away.
Sounds of gunfire could be heard and what appeared to be smoke grenades thrown into the crowds.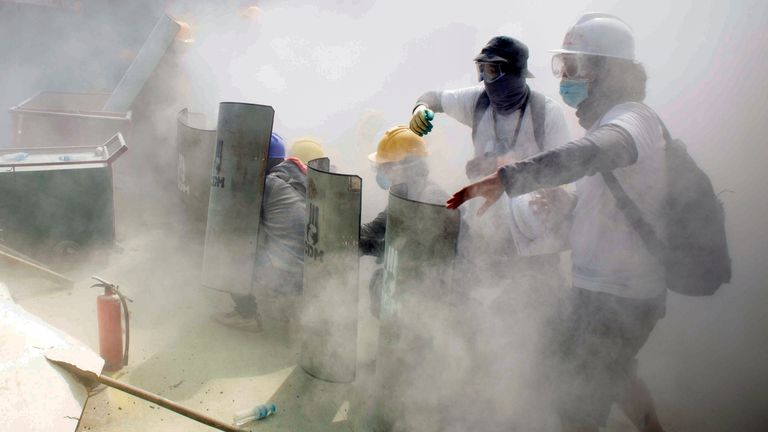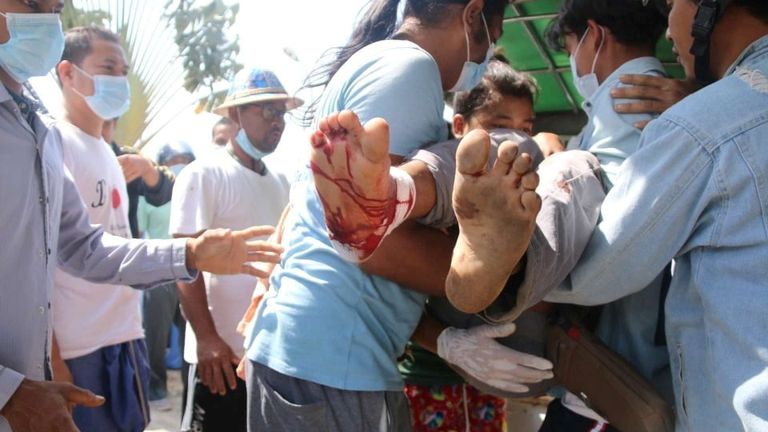 Police also opened fire in the southern town of Dawei, killing three and wounding several others, politician Kyaw Min Htike told Reuters news agency.
The unrest comes after the military took over and detained elected government leader Aung San Suu Kyi and much of her party's leadership, due to alleged fraud in the party's landslide victory in November's elections.
The coup, which brought a halt to tentative steps towards democracy after nearly 50 years of military rule, has drawn hundreds of thousands on to the streets and the condemnation of Western countries.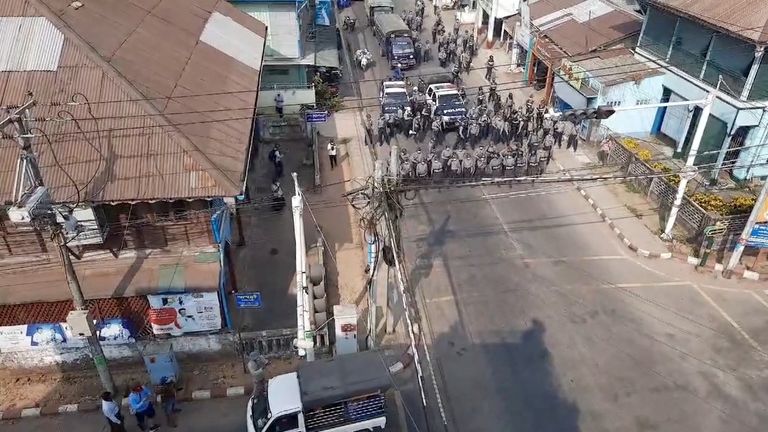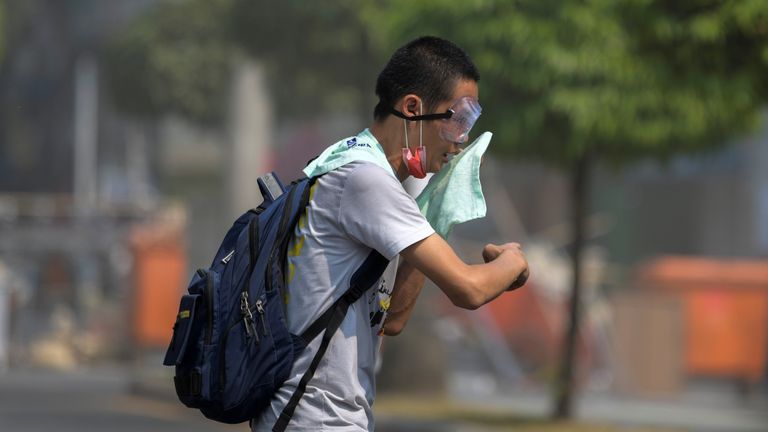 "Myanmar is like a battlefield," the Buddhist-majority country's first Catholic cardinal, Charles Maung Bo, said on Twitter.
A group called the Whitecoat Alliance of medics said more than 50 medical staff had been arrested.
State-run MRTV television said more than 470 people had been arrested on Saturday after police launched the nationwide crackdown.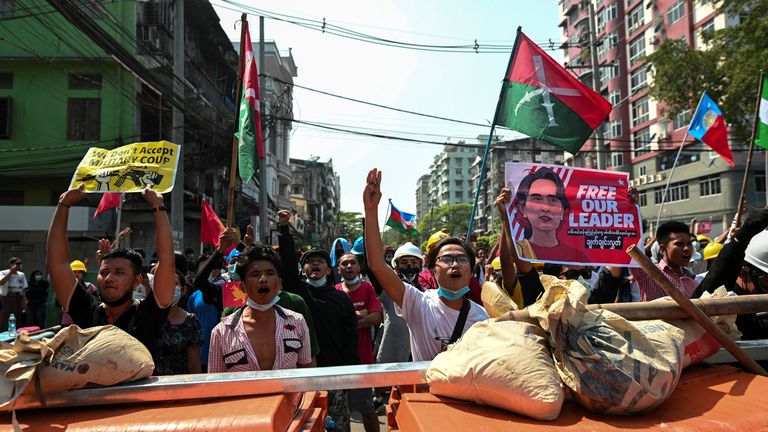 Foreign Secretary Dominic Raab is calling on the United Nation to take action and ramp up the pressure on the military to step aside.
Migrants resorting to treacherous night hikes through Alps to escape to new lives | World News
Migrants and asylum seekers are resorting to dangerous night hikes through the Alps to reach France, aid workers are reporting.
As borders within Europe become increasingly difficult to cross due to pandemic restrictions, some asylum seekers who entered Europe through the Balkans are now braving the extreme, sometimes lethal, mountain cold – often with young children.
The Italian Red Cross has been monitoring the Italian side of the Alps in the town of Claviere for four years.
But for a few months now, they report they are seeing an increase in families, mainly from Afghanistan, Iran and Iraq attempting the route.
Since October more than 1,500 have been intercepted.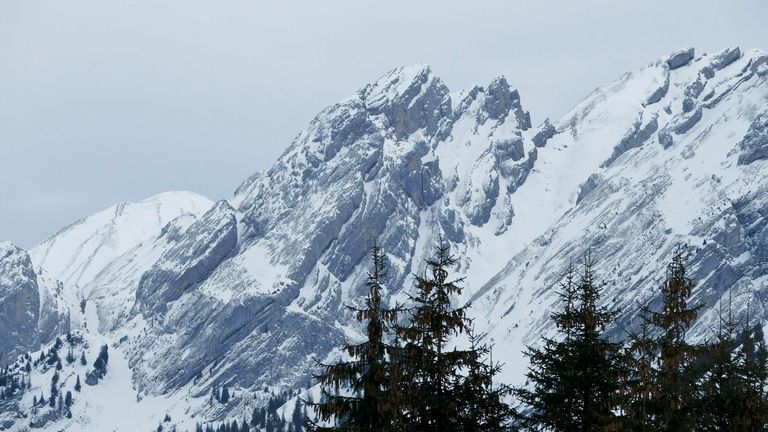 Michele Belmondo, a volunteer with the Italian Red Cross, patrols the mountains to warn people of the dangers, assist them with blankets and sometimes rescue them.
She said: "Unfortunately there have been cases of migrants who were rescued with serious injuries, serious hypothermia.
"In some cases there have been permanent injuries. People who had their fingers amputated due to the extreme cold."
She added: "Initially it used to be young migrants of African origin, often francophones who tried to join France and other European countries.
"Starting some months ago, in 2020, the type of migrants passing in this area has changed a bit, there are many families, often with children who come down the Balkan route, so the main nationalities are Afghan, Iranian, Iraqi."
Amir Hotak, 23, fled his native Afghanistan years ago to get away from the daily violence and insecurity he was facing there.
His odyssey to Italy passed by Iran, Turkey, Greece, Albania, Montenegro, Bosnia, Croatia and Slovenia.
Now he wants to go to Paris.
"In France is good life," he said. "No war."
Hiking the Italian-French Alps, especially in the winter, is difficult even for those who have overcome other obstacles along the way.
Many try to do so at night to avoid being spotted by France's National Gendarmerie who patrol aboard snow bikes.
If they are spotted near the border they are returned to Italy after only a few hours of detention.
COVID-19: Single-dose Johnson & Johnson coronavirus vaccine cleared in the US | US News

US regulators have approved Johnson & Johnson's single-dose COVID jab, enabling millions more Americans to be vaccinated and setting the vaccine up for additional approvals around the world.
The J&J vaccine is the third authorised in the US following ones from Pfizer/BioNTech and Moderna, both of which require two doses.
COVID-19 has claimed more than half a million lives in the US, and states are clamouring for more doses to stem cases, hospitalisations and deaths.
In a 44,000-person global trial carried out by Johnson & Johnson, the vaccine was found to be 66% effective at preventing moderate-to-severe COVID-19 four weeks after inoculation.
It was 100% effective in preventing hospitalisation and death due to the virus.
Both the Pfizer and Moderna vaccines, which are based on new messenger RNA technology, showed higher efficacy rates in pivotal trials that used two doses versus J&J's single-shot vaccine.
Direct comparison, however, is difficult because the trials had different goals and J&J's was conducted while more contagious new variants of the virus were circulating.
Dr William Schaffner, an infectious disease expert at Vanderbilt University Medical Center in Nashville, said: "It potentially could play a very substantial role if we have enough doses because it's only a single-dose vaccine and that will make it attractive to people who are difficult to reach.
"It's one and done."
Subscribe to the Daily podcast on Apple Podcasts, Google Podcasts, Spotify, Spreaker
President Joe Biden hailed the move but cautioned Americans against celebrating too soon.
"Things are still likely to get worse again as new variants spread," he said in a statement, urging people to continue washing their hands, wearing masks and maintaining social distancing.
"There is light at the end of the tunnel, but we cannot let our guard down now or assume that victory is inevitable," he added.
The US government, which has purchased 100 million doses of the J&J vaccine, plans to distribute about 3 million to 4 million next week. That would be on top of the around 16 million doses of the Pfizer and Moderna vaccines the government already planned to ship across the country.
So far, the US has distributed more than 90 million doses of COVID-19 vaccines, some of which have been used for second shots. About 14% of Americans have received at least one dose, according to US government data.