When iceberg broke off, marine habitat hidden for 120G years emerged
When an iceberg the size of Delaware separated from the Larsen C ice shelf last July, it uncovered an Antarctic marine habitat that had been hidden from the rest of the world for over 120,000 years, Quartz reports.
Now scientists are racing to study the 3,600-square-mile ecosystem before it's forever changed by its sudden exposure to sunlight. "The calving of A-68 provides us with a unique opportunity to study marine life as it responds to a dramatic environmental change," marine biologist Dr.
Katrin Linse tells the Guardian. A-68 is the trillion-ton iceberg—the largest in the world—that broke away from the ice shelf last summer. Linse says it's a "very exciting" opportunity for scientists, but they have to hurry because new species will quickly enter the ecosystem now that it has been exposed to sunlight, USA Today reports.
British Antarctic Survey scientists led by Linse were scheduled to arrive in Antarctica on Wednesday. Over the next three weeks they'll explore 2,200 square miles of the newly exposed area while observing marine mammals and birds near the surface and taking samples of microbes and other life at the seafloor.
It won't be easy. The average temperature in the area is 15 degrees, and it's full of large hunks of sea ice. But David Vaughan, science director at the British Antarctic Survey, says studying the area is important for learning about the potential impacts of climate change on Antarctica.
"How fast species can disperse, and how fast ecosystems can colonize new areas, is key to understanding where the Antarctic is likely to be resilient, and where it is vulnerable," he tells the Guardian.
(This Antarctic explorer turned back, but his decision came too late.)
This article originally appeared on Newser: Iceberg Exposes Marine Ecosystem After 120K Years
Iceberg size of Bedfordshire breaks off from Antarctica | World News
An iceberg the size of Bedfordshire has broken off from Antarctica, near to a British Antarctic Survey (BAS) station.
The 1,270km2, 150 metre-thick chunk of frozen water separated from the Brunt Ice Shelf this morning.
According to the BAS, there is no evidence suggesting that climate change played a significant role in the split.
Large cracks in the ice of this part of Antarctica were first discovered a decade ago, and since then the BAS has been monitoring the area in case of just such an event.
Evidence that an iceberg may imminently split off – called calving – was first observed in November 2020 when a new chasm opened up in the region and headed towards other cracks.
During January, this new rift would extend by up to 1km a day.
On the morning of 26 February, the crack opened up several hundred more metres in a few hours and the huge iceberg separated.
The Brunt Ice Shelf is home to the BAS Halley Research station.
In 2016, the station was moved further inland in case of just such a calving event. Since 2017, the 12 staff have only been present in the summer months of November to March.
This is because evacuation during the 24-hour darkness and -50C temperatures of the Antarctic winter can be difficult.
The team left the shelf in mid-February this year.
Simon Garrod, director of operations at British Antarctic Survey, said: "This is a dynamic situation. Four years ago we moved Halley Research Station inland to ensure that it would not be carried away when an iceberg eventually formed.
"That was a wise decision. Our job now is to keep a close eye on the situation and assess any potential impact of the present calving on the remaining ice shelf.
"We continuously review our contingency plans to ensure the safety of our staff, protect our research station, and maintain the delivery of the science we undertake at Halley."
According to the BAS, the changes in the ice shelf are a "natural process" and there is no connection to the events seen at the Larsen C Ice Shelf, where massive bergs have appeared previously.
Professor Dame Jane Francis, director of British Antarctic Survey, said: "Over coming weeks or months, the iceberg may move away; or it could run aground and remain close to Brunt Ice Shelf.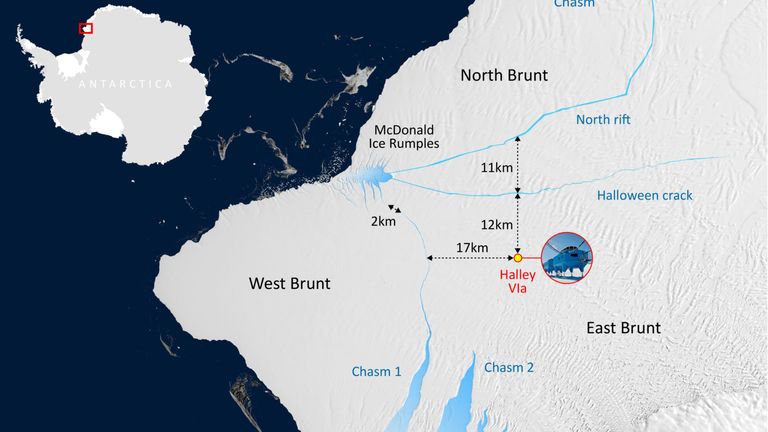 "Halley Station is located inland of all the active chasms, on the part of the ice shelf that remains connected to the continent.
"Our network of GPS instruments will give us early warning if the calving of this iceberg causes changes in the ice around our station."
'Many hundreds' killed by Eritrean soldiers in Ethiopian massacre, Amnesty International says | World News
A massacre in which Eritrean soldiers killed "many hundreds" of people in the Ethiopian city of Axum may amount to crimes against humanity, an Amnesty International report has said.
The report describes what could be the deadliest massacre in the ongoing crisis in Ethiopia's Tigray region, with soldiers in late November gunning down civilians as they fled, and lining men up to shoot them in the back.
It said there were "hundreds, if not thousands" of men lined to be beaten, while soldiers also stopped those grieving from burying their dead.
"Eritrean soldiers deliberately shot civilians on the street and carried out systematic house-to-house searches, extrajudicially executing men and boys," the report said.
"The massacre was carried out in retaliation for an earlier attack by a small number of local militiamen, joined by local residents armed with sticks and stones."
Eritrea has long been an enemy of the Tigray region's now-fugitive leaders, however its government says reports on the massacre are "outrageous lies".
The federal government in Ethiopia has also previously denied the presence of soldiers from Eritrea, but on Thursday said the Ethiopian Human Rights Commission was investigating "allegations relating to incidents in the city of Axum" with unnamed human rights experts.
Daniel Bekele, the commission head, later said the Amnesty report "should be taken very seriously" as his team's own findings "indicate the killing of an as yet unknown number of civilians by Eritrean soldiers" in Axum.
Even senior members in the Ethiopia-appointed interim government in Tigray have acknowledged the presence of Eritrean soldiers in the region, along with widespread allegations of looting and killing.
Tens of thousands have left everything behind to flee to safety in Sudan

In November, Sky News visited the Ethiopia-Sudan border, where tens of thousands of people were attempting to flee conflict in Tigray.
Some described leaving behind all their clothes and money in a bid to escape.
Thousands of civilians have been killed since the violence started last year – but no one knows quite how many as the region has been largely cut off.
Humanitarian groups believe people might be starving to death due to access being largely restricted.
Amnesty has now called for a United Nations-led international investigation and full access to Tigray for human rights groups, journalists and humanitarian workers.
It says the "mass execution" in Axum may also amount to crimes against humanity.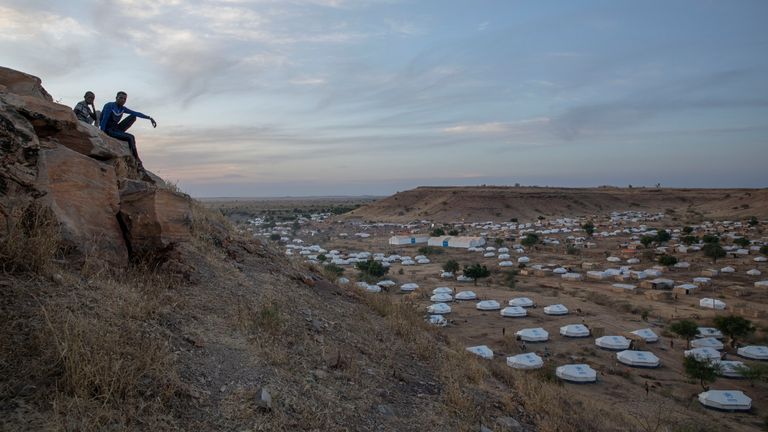 According to witnesses quoted by Amnesty, both Ethiopian and Eritrean soldiers took over Axum, but it was the Eritreans who carried out the massacre.
They described how bodies were left in the streets for days after and how many of the injured died from a lack of care.
"Gathering the bodies and carrying out the funerals took days," Amnesty said. "Most of the dead appear to have been buried on 30 November, but witnesses said that people found many additional bodies in the days that followed."
COVID-19: Briton jailed for breaking Singapore quarantine order to see fiancee | World News

A British man has been jailed for two weeks for sneaking out of his Singapore quarantine hotel room to visit his fiancee.
Nigel Skea was also fined 1,000 Singapore dollars ($753) for breaking coronavirus rules in the city-state.
Skea, 52, left his room at the five-star Ritz-Carlton Millenia Singapore hotel without wearing a mask on three occasions in September to visit his then fiancee – now wife – Agatha Maghesh Eyamalai in a nearby room.
On Monday he pleaded guilty to breaking the country's coronavirus quarantine order.
Eyamalai admitted one charge of aiding Skea and was sentenced to a week in jail.
Skea is the first Briton to be jailed in Singapore for breaking coronavirus rules. A handful of others have had their work passes revoked and paid fines.