US Winter Olympics 2018 medal winners
From the only triple axel landed by a female American skater at the Olympics to the USA's first men's single medal in luge at the Games, U.S. athletes are making history in the 2018 Winter Olympics.
Athletes from 92 nations are fiercely competing for a chance to stand on those coveted Olympic podiums in Pyeongchang, South Korea. There are 15 different sporting activities and a total of 102 events.
Team USA already has 21 Olympic medals. Here's a look at the winning Olympians.
Gold
Jamie Anderson, women's snowboard slopestyle
Team USA's Jamie Anderson took home the gold in the 2018 Winter Games after she performed in less-than-perfect weather conditions.
"I was trying to keep the spirits high, like, 'Let's run it,'" the 27-year-old athlete said, according to the Associated Press. "A handful of the girls were like, 'No, it's not safe,' and things like that. It's not like what we're doing is safe, anyhow."
Jessica Diggins and Kikkan Randall, women's cross-country skiing 
The U.S. women's cross country team won its first ever medal – and it was gold.
Led by Jessica Diggins and Kikkan Randall, the women's team pulled off a huge upset and won the Olympic event, beating out the Swedes and Norwegians.
The women's historic win comes more than 40 years after Bill Koch won the only other Olympic medal in cross-country skiing – silver. 
Red Gerard, men's snowboard slopestyle
The conditions for the men's snowboard slopestyle were less than ideal, but 17-year-old Red Gerard made it through the swirling winds to capture the United States' first gold medal of the 2018 Olympics.
Gerard reportedly overslept before his event because he stayed up too late watching Netflix and had to borrow his roommate's jacket when he couldn't find his own. Still, Gerard, the underdog, overcame the odds and made it to the top of the podium with a score of 87.16.
Chloe Kim, women's snowboard halfpipe
At 17, Chloe Kim became the youngest woman to win an Olympic snowboarding gold medal during the Winter Games. Kim dominated two amazing runs on the women's snowboard halfpipe, earning her the first place spot on the medal podium.
Kim's Olympic dreams were realized with a special family member cheering her on in person – her South Korean grandmother. Kim's parents emigrated to the U.S. from South Korea, making her Olympic debut in Pyeongchang all the more special.
Mikaela Shiffrin, women's giant slalom
Mikaela Shiffrin trailed the competition after her first ride down the slope but powered through her final run to take the top time and win the women's giant slalom, her second career Olympic gold medal.
The 22-year-old won her first gold medal at the 2014 Winter Olympics in the women's slalom. 
David Wise, men's halfpipe
With the most technically precise run ever seen in the sport of halfpipe skiing, David Wise won the gold for the U.S. He scored a 97.2 in the event, beating out his American counterpart.
Four years ago, Wise won gold on the halfpipe in the Sochi Olympics. 
Shaun White, men's snowboard halfpipe
Winning his third Olympic gold medal, snowboarder Shaun White made history in the 2018 Games as he scored America's 100th Winter Games gold medal.
"The Flying Tomato" is the first American male to win gold in three different Winter Games as well; he won his previous two medals in Turin in 2006 and Vancouver in 2010.
White, 31, had a near perfect score of 97.75 on his final run on the halfpipe. He started off strong on his first run, but fell on his second of three attempts.
Team USA, women's hockey
In a dramatic shootout, the United States women's hockey team defeated rival Canada 3-2 to win their first gold medal since 1998.
American Jocelyne Lamoureux-Davidson broke the deadlock in the shootout's sixth round and goalie Maddie Rooney stuffed the last two Canadian shooters to clinch the victory.
Silver
Jamie Anderson, women's snowboarding big air
Her second medal win of the Games, Jamie Anderson clinched a silver medal during the big air event in the second week of the Games. The Team USA snowboarder was in first place until Austria's Anna Gasser's final run.
The silver is Anderson's third Olympic medal.
Alex Ferreira, men's halfpipe
Coming in behind his American teammate, Alex Ferreira won silver in the Olympic men's halfpipe event. He had led in the event after the first two runs, but was unable to beat David Wise's third run score.
Ahead of the Olympics, Ferreira and Wise got matching tattoos of the Pyeongchang Games logo.
Lauren Gibbs and Elana Meyers Taylor, women's bobsled
Driver Elana Meyers Taylor and brakeman Lauren Gibbs took silver in women's bobsled — coming in second to Germany's Mariama Jamanka and Lisa Buckwitz. 
It was Meyers Taylor's third Olympic medal: she nabbed silver at the 2014 Games in Sochi and bronze at the 2010 Winter Olympics in Vancouver. 
Jamanka and Buckwitz, her brakeman, finished their four runs in 3 minutes, 22.45 seconds. Meyers Taylor and Gibbs were second in 3:22.52, the 0.07-second margin is the closest between first and second in any Olympic women's bobsled race.
Nick Goepper, men's freestyle skiing slopestyle
Nick Goepper added a silver medal to the bronze he won four years ago in Sochi. Goepper, now 23, fought depression and went to rehab in the wake of those Games, USA Today reported. 
"I came to this Olympics wanting a different color, wanting the gold, but coming away with the silver is so thrilling," he said while speaking to ABC News. "I couldn't be more stoked."
Norwegian skiier Oystein Braaten and Canadian skiier Alex Beaulieu-Marchand won the gold and bronze medals, respectively. 
John-Henry Krueger, men's 1,000-meter short-track speedskating
John-Henry Krueger, 22, took silver in the men's 1,000-meter short-track speedskating event. His win marks the first U.S. speedskating medal of the Pyeongchang Olympics. 
Krueger finished second behind Canada's Samuel Girard. 
"There were so many thoughts rushing through my head," Krueger said after medaling. 
Krueger's win comes four years after he was forced to withdraw from the U.S. Olympic trials because he came down with swine flu.
Chris Mazdzer, men's luge
Coming in second place, Chris Mazdzer, 29, brought home USA luge's first men's single medal in history. He's also the first non-European athlete to win an Olympic medal in the event.
Mazdzer competed in both the 2010 and 2014 Winter Olympics, placing outside of the top 10.
Americans have been second in doubles luge twice.
Mikaela Shiffrin, women's Alpine combined
Mikaela Shiffrin notched her second medal of the 2018 Games, taking home the silver in the women's Alpine combined. The 22-year-old finished behind Switzerland's Michelle Gisin.
Shiffrin captured a gold medal in the giant slalom earlier in the Olympic Games, taking her career total to three.
Bronze
Arielle Gold, women's snowboard halfpipe
Despite a dislocated shoulder, Arielle Gold earned the bronze medal for the United States in the women's snowboard halfpipe competition – joining her teammate Chloe Kim on the podium.
Gold, 21, similarly injured her shoulder ahead of the 2014 Winter Olympics, causing her to miss the Sochi games.
Maia and Alex Shibutani, ice dance figure skating
American siblings Maia and Alex Shibutani, affectionately known as the Shib Sibs, took home the bronze medal after a near-flawless ice dance free skate, racking up 192.59 points. Canada finished with gold and France with silver.
The Shibutanis squeaked out the bronze finish over teammates Madison Hubbell and Zachary Donohuse by just five points.
Brita Sigourney, women's freestyle skiing halfpipe
Brita Sigourney entered the Olympics as one of the top-ranked women skiers and was able to edge out teammate Annalisa Drew for the bronze medal in the freestyle halfpipe.
Canada's Cassie Sharpe won the gold, and France's Marie Martinod won the silver.
Lindsey Vonn, women's downhill skiing
In what was likely her final Olympic downhill run, Lindsey Vonn took home the bronze medal in women's downhill skiing. The 33-year-old became the oldest female medalist in Alpine skiing at the Winter Games.
"If you think what's happened over the last eight years and what I've been through to get here, I gave it all and to come away with a medal is a dream come true," Vonn, who missed the 2014 Sochi Games after tearing ligaments in her right knee, said. "You've got to put things into perspective. Of course, I'd have loved a gold medal but, honestly, this is amazing and I'm so proud."
Vonn finished third behind Italy's Sofia Goggia and Ragnhild Mowinckel of Norway, who took home the gold and silver, respectively.
Team USA, figure skating team event
The United States' figure skating team won the bronze medal – thanks in part to flawless performances from Adam Rippon and Mirai Nagasu.
Nagasu became the first American woman to land a triple axel in the Olympics. Rippon landed both of his triple axels.
Siblings Maia and Alex Shibutani also propelled Team USA to the podium with their free dance. Teammates Alexa Scimeca-Knierim, Chris Knierim, Nathan Chen and Bradie Tennell also medaled following the event.
Team USA, women's speedskating team pursuit
Heather Bergsma, Brittany Bowe, Mia Manganello and Carlijn Schoutens took bronze for women's team pursuit. It was Team USA's first Olympic medal in the event since it began in 2006.
Bergsma, Bowe and Manganello defeated Canada to clinch the medal in a B final.
Fox News' Nicole Darrah, Ryan Gaydos, Stephen Sorace, Zoe Szathmary and The Associated Press contributed to this report.
Tiger Woods was unaware of his 'grave' injuries after car crash, says first officer on scene | US News
Tiger Woods did not appear to be "aware of how gravely he was injured" after his car crash in California, the first officer on the scene has said.
The 45-year-old golf star suffered serious leg injuries when his car hit a kerb and then a tree before rolling several times on the border of Rolling Hills Estates and Rancho Palos Verdes in Los Angeles on Tuesday morning.
No other cars were involved.
Carlos Gonzalez, a deputy from the Los Angeles County Sheriff's Department, told NBC News he arrived within minutes of a 911 call from a member of the public.
Asked if Woods was aware of his injuries, the officer said: "He didn't mention anything. I don't think he was aware of how gravely he was injured at the time.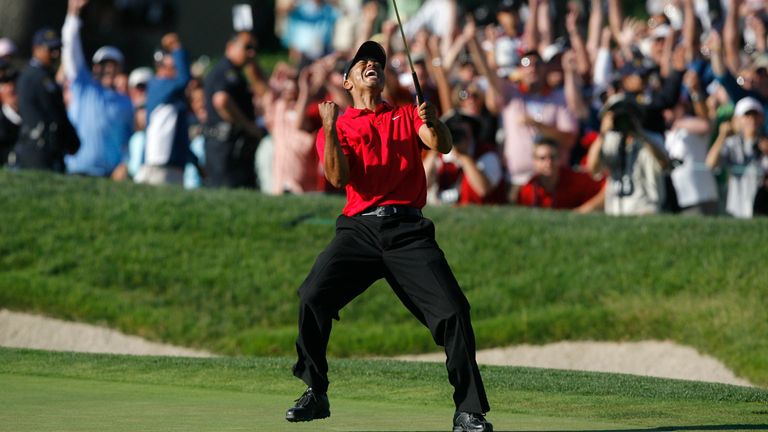 "It could be a mixture of adrenaline. It could have been shock.
"Again, it was very quick – the moment I arrived from the moment he rolled over – so I don't know if he had time to fully assess his injuries."
Woods's 2021 Genesis SUV was found 12m (40ft) from the road. Aerial footage showed the car on its side, with its front end heavily damaged and its airbags deployed.
Asked if Woods was saying anything at that point, the officer replied: "He wasn't. I saw his eyes, because it was dark in there, and my first role as a first responder is to assess the passenger, the occupants of the vehicle, and I want to keep them calm as well."
Aftermath of Tiger Woods' car crash

He asked Woods if he could tell him his first name: "He looked at me and he said, 'Tiger'."
"It took me a half second, but I saw his face and I thought, oh yeah, you're Tiger Woods," continued the officer.
He asked the sportsman questions to assess his physical and mental state.
"He seemed calm. He didn't seem like he was in distress, and he was able to kind of talk to me a little bit," the officer said.
"I noticed the passenger compartment seemed mostly in tact and he didn't seem like he was in any further danger.
"I did consider pulling him out myself, but I decided it would be better to wait for the fire departments since they have the specialised tools and training to remove people safely from vehicles like that."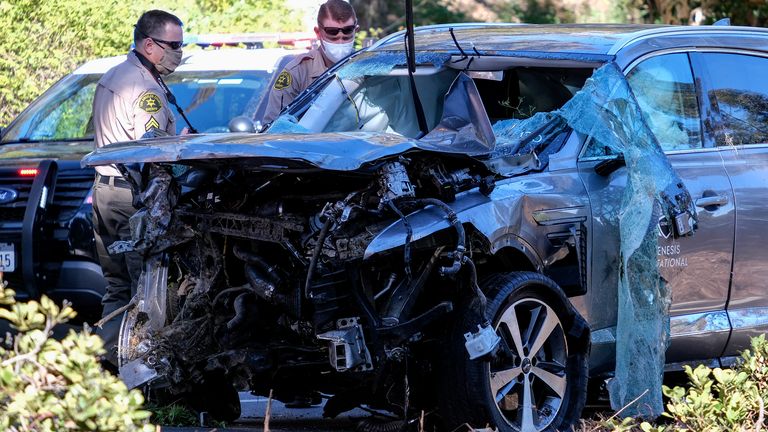 Carlos Gonzalez said earlier that Woods was "very fortunate" to survive the crash.
Authorities investigating the incident have said there is no evidence Woods was impaired at the time.
Asked if a toxicology report was ordered at the scene, the officer said he was "unaware" of one.
"At the scene we are looking for evidence of intoxication, like if there is an odour of an alcoholic beverage or if there is an open container, or prescription medication.
"At this time we didn't see any evidence of impairment, and anything beyond that, in terms of medical or toxicology, I wouldn't be aware at this time."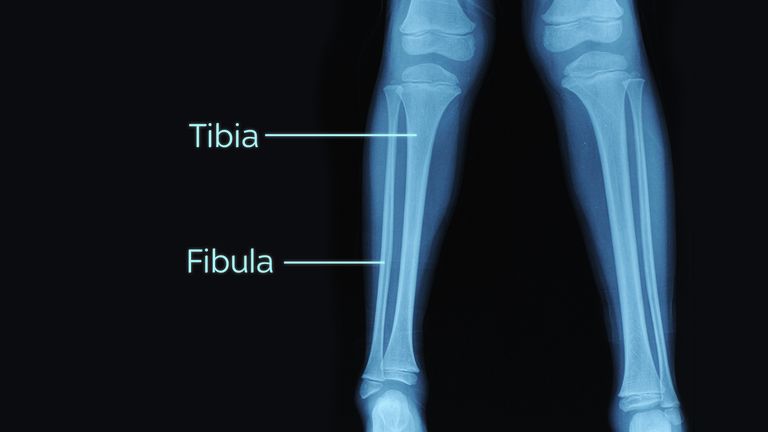 He suggested Woods's injuries may have been more severe if he had not been wearing a seat belt.
"This accident was traumatic in many ways. There is a lot of energy that went into the speeds that made the vehicle travel the distances that it did, the fact that it rolled, the injuries that Mr Woods sustained, and I've seen collisions that didn't look as serious where the occupants were injured much more severely," he said.
"I think that is a testament to the fact that he was wearing a seat belt, the airbags worked as intended and modern vehicles are much more safe than they used to be."
Woods, a 15-time major champion, was cut free from the vehicle and rushed to Harbor-UCLA Medical Center where he underwent significant surgery and is recovering from his injuries.
A statement from his TGR foundation said he is "currently awake, responsive and recovering in his hospital room".
The officer added: "I have a lot of sympathy for Mr Woods because I'm sure he's going through something traumatic and I'm sure he's going through a lot of pain, so I'm hoping for a speedy recovery for him."
Ex-Syrian agent convicted by German court in landmark torture trial | World News
A former member of Syrian president Bashar al Assad's secret police has been sentenced by a German court to four-and-a-half years in jail for facilitating the torture of prisoners.
Human rights activists hope the landmark ruling will set a precedent for other cases connected to the 10-year-old Syrian civil war.
Eyad al Gharib was convicted of accessory to crimes against humanity and sentenced by the Koblenz state court.
It was the first time that a court outside Syria had ruled in a case alleging Syrian government officials committed crimes against humanity.
The court heard Gharib had arrested at least 30 anti-government protesters at the start of the conflict in 2011 and sent them to an intelligence facility where he knew detainees were tortured.
The verdict gives hope to the 800,000 Syrians in Germany who say they were tortured in government facilities after attempts to establish an international tribunal for Syria failed.
Gharib's lawyers had asked for an acquittal, saying he had carried out the arrests in and around Damascus under duress by his superiors.
The 44-year-old had asked the court to consider him a witness in broader legal efforts against the Syrian government.
Syrian government officials did not testify during the trial and the Assad regime has denied it tortures prisoners.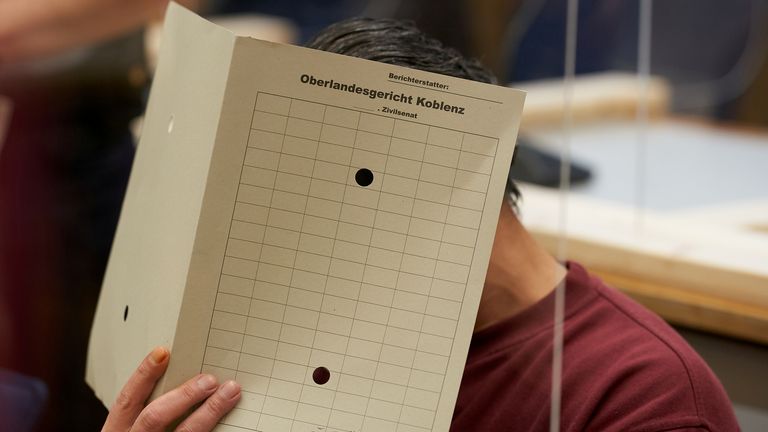 "This is an important step forward in the process of securing accountability for the Syrian government's systematic use of torture against civilians," said Steve Kostas, a lawyer with the Open Society Foundation's Justice Initiative, which is representing Syrian plaintiffs.
Syrian human rights lawyer Anwar al Bunni said the unprecedented verdict would speed up efforts to bring charges against former members of the Syrian government suspected of war crimes who have fled to Europe.
He said: "History has been made. The first verdict against a member of the Syrian regime's torture and murder machine is a verdict against the whole regime, not just against one individual.
"It gives hope that justice is possible."
The same court will continue hearings in the case of a second suspect, a former intelligence officer charged with 58 murders in a Damascus prison where prosecutors say at least 4,000 opposition activists were tortured in 2011 and 2012.
COVID-19: Ghana receives 600,000 free vaccine doses as part of global scheme | World News

A flight carrying 600,000 doses of the AstraZeneca coronavirus vaccine has arrived in Ghana as part of a global effort to immunise the world's poorest people.
The delivery comes eight months after the launch of the COVAX initiative – the World Health Organisation's (WHO) sharing scheme which is aimed at ensuring global vaccine equity.
The shots will be used to kick-start a vaccination drive that will prioritise frontline health workers and others at high risk, according to a plan presented by Ghanaian health officials.
"This is a momentous occasion, as the arrival of the COVID-19 vaccines into Ghana is critical in bringing the pandemic to an end," Anne-Claire Dufay of UNICEF Ghana, and WHO country representative, Francis Kasolo, said in a statement.
"These 600,000 COVAX vaccines are part of an initial tranche of deliveries."
They added the shots paid for by the scheme and produced by the Serum Institute of India will "represent part of the first wave of COVID vaccines headed to several low and middle-income countries".
The roll-out in Ghana is a milestone for the initiative that is trying to narrow a politically sensitive gap between the millions of people being vaccinated in wealthier countries and the comparatively few who have received shots in less-developed parts of the world.
The scheme aims to deliver a total of 2.3 billion doses by the end of the year, including 1.8 billion to poorer countries at no cost to their governments.
Although it hopes to cover up to 20% of countries' populations, it will not be sufficient for nations to reach herd immunity and effectively contain the spread of the virus.
The African Union (AU) has been trying to help its 55 member states buy more doses in a push to immunise 60% of the continent's 1.3 billion people over three years.
Last week, its vaccine team said 270 million doses of AstraZeneca, Pfizer and Johnson & Johnson vaccines secured for delivery this year had been taken up.
China has donated small batches of its Sinopharm vaccine to countries including Zimbabwe and Equatorial Guinea.
Russia has offered to supply 300 million doses of its Sputnik V vaccine to the AU scheme along with a financing package.
But many countries are largely reliant on COVAX.
On Tuesday, WHO Director-General Tedros Adhanom Ghebreyesus urged wealthy nations to share vaccine doses with COVAX, saying the goal of equitable distribution was "in jeopardy".
Boris Johnson has said the UK will share the majority of its surplus COVID-19 vaccines with COVAX, but has not said how many.