US Winter Olympics 2018 medal winners
From the only triple axel landed by a female American skater at the Olympics to the USA's first men's single medal in luge at the Games, U.S. athletes are making history in the 2018 Winter Olympics.
Athletes from 92 nations are fiercely competing for a chance to stand on those coveted Olympic podiums in Pyeongchang, South Korea. There are 15 different sporting activities and a total of 102 events.
Team USA already has 21 Olympic medals. Here's a look at the winning Olympians.
Gold
Jamie Anderson, women's snowboard slopestyle
Team USA's Jamie Anderson took home the gold in the 2018 Winter Games after she performed in less-than-perfect weather conditions.
"I was trying to keep the spirits high, like, 'Let's run it,'" the 27-year-old athlete said, according to the Associated Press. "A handful of the girls were like, 'No, it's not safe,' and things like that. It's not like what we're doing is safe, anyhow."
Jessica Diggins and Kikkan Randall, women's cross-country skiing 
The U.S. women's cross country team won its first ever medal – and it was gold.
Led by Jessica Diggins and Kikkan Randall, the women's team pulled off a huge upset and won the Olympic event, beating out the Swedes and Norwegians.
The women's historic win comes more than 40 years after Bill Koch won the only other Olympic medal in cross-country skiing – silver. 
Red Gerard, men's snowboard slopestyle
The conditions for the men's snowboard slopestyle were less than ideal, but 17-year-old Red Gerard made it through the swirling winds to capture the United States' first gold medal of the 2018 Olympics.
Gerard reportedly overslept before his event because he stayed up too late watching Netflix and had to borrow his roommate's jacket when he couldn't find his own. Still, Gerard, the underdog, overcame the odds and made it to the top of the podium with a score of 87.16.
Chloe Kim, women's snowboard halfpipe
At 17, Chloe Kim became the youngest woman to win an Olympic snowboarding gold medal during the Winter Games. Kim dominated two amazing runs on the women's snowboard halfpipe, earning her the first place spot on the medal podium.
Kim's Olympic dreams were realized with a special family member cheering her on in person – her South Korean grandmother. Kim's parents emigrated to the U.S. from South Korea, making her Olympic debut in Pyeongchang all the more special.
Mikaela Shiffrin, women's giant slalom
Mikaela Shiffrin trailed the competition after her first ride down the slope but powered through her final run to take the top time and win the women's giant slalom, her second career Olympic gold medal.
The 22-year-old won her first gold medal at the 2014 Winter Olympics in the women's slalom. 
David Wise, men's halfpipe
With the most technically precise run ever seen in the sport of halfpipe skiing, David Wise won the gold for the U.S. He scored a 97.2 in the event, beating out his American counterpart.
Four years ago, Wise won gold on the halfpipe in the Sochi Olympics. 
Shaun White, men's snowboard halfpipe
Winning his third Olympic gold medal, snowboarder Shaun White made history in the 2018 Games as he scored America's 100th Winter Games gold medal.
"The Flying Tomato" is the first American male to win gold in three different Winter Games as well; he won his previous two medals in Turin in 2006 and Vancouver in 2010.
White, 31, had a near perfect score of 97.75 on his final run on the halfpipe. He started off strong on his first run, but fell on his second of three attempts.
Team USA, women's hockey
In a dramatic shootout, the United States women's hockey team defeated rival Canada 3-2 to win their first gold medal since 1998.
American Jocelyne Lamoureux-Davidson broke the deadlock in the shootout's sixth round and goalie Maddie Rooney stuffed the last two Canadian shooters to clinch the victory.
Silver
Jamie Anderson, women's snowboarding big air
Her second medal win of the Games, Jamie Anderson clinched a silver medal during the big air event in the second week of the Games. The Team USA snowboarder was in first place until Austria's Anna Gasser's final run.
The silver is Anderson's third Olympic medal.
Alex Ferreira, men's halfpipe
Coming in behind his American teammate, Alex Ferreira won silver in the Olympic men's halfpipe event. He had led in the event after the first two runs, but was unable to beat David Wise's third run score.
Ahead of the Olympics, Ferreira and Wise got matching tattoos of the Pyeongchang Games logo.
Lauren Gibbs and Elana Meyers Taylor, women's bobsled
Driver Elana Meyers Taylor and brakeman Lauren Gibbs took silver in women's bobsled — coming in second to Germany's Mariama Jamanka and Lisa Buckwitz. 
It was Meyers Taylor's third Olympic medal: she nabbed silver at the 2014 Games in Sochi and bronze at the 2010 Winter Olympics in Vancouver. 
Jamanka and Buckwitz, her brakeman, finished their four runs in 3 minutes, 22.45 seconds. Meyers Taylor and Gibbs were second in 3:22.52, the 0.07-second margin is the closest between first and second in any Olympic women's bobsled race.
Nick Goepper, men's freestyle skiing slopestyle
Nick Goepper added a silver medal to the bronze he won four years ago in Sochi. Goepper, now 23, fought depression and went to rehab in the wake of those Games, USA Today reported. 
"I came to this Olympics wanting a different color, wanting the gold, but coming away with the silver is so thrilling," he said while speaking to ABC News. "I couldn't be more stoked."
Norwegian skiier Oystein Braaten and Canadian skiier Alex Beaulieu-Marchand won the gold and bronze medals, respectively. 
John-Henry Krueger, men's 1,000-meter short-track speedskating
John-Henry Krueger, 22, took silver in the men's 1,000-meter short-track speedskating event. His win marks the first U.S. speedskating medal of the Pyeongchang Olympics. 
Krueger finished second behind Canada's Samuel Girard. 
"There were so many thoughts rushing through my head," Krueger said after medaling. 
Krueger's win comes four years after he was forced to withdraw from the U.S. Olympic trials because he came down with swine flu.
Chris Mazdzer, men's luge
Coming in second place, Chris Mazdzer, 29, brought home USA luge's first men's single medal in history. He's also the first non-European athlete to win an Olympic medal in the event.
Mazdzer competed in both the 2010 and 2014 Winter Olympics, placing outside of the top 10.
Americans have been second in doubles luge twice.
Mikaela Shiffrin, women's Alpine combined
Mikaela Shiffrin notched her second medal of the 2018 Games, taking home the silver in the women's Alpine combined. The 22-year-old finished behind Switzerland's Michelle Gisin.
Shiffrin captured a gold medal in the giant slalom earlier in the Olympic Games, taking her career total to three.
Bronze
Arielle Gold, women's snowboard halfpipe
Despite a dislocated shoulder, Arielle Gold earned the bronze medal for the United States in the women's snowboard halfpipe competition – joining her teammate Chloe Kim on the podium.
Gold, 21, similarly injured her shoulder ahead of the 2014 Winter Olympics, causing her to miss the Sochi games.
Maia and Alex Shibutani, ice dance figure skating
American siblings Maia and Alex Shibutani, affectionately known as the Shib Sibs, took home the bronze medal after a near-flawless ice dance free skate, racking up 192.59 points. Canada finished with gold and France with silver.
The Shibutanis squeaked out the bronze finish over teammates Madison Hubbell and Zachary Donohuse by just five points.
Brita Sigourney, women's freestyle skiing halfpipe
Brita Sigourney entered the Olympics as one of the top-ranked women skiers and was able to edge out teammate Annalisa Drew for the bronze medal in the freestyle halfpipe.
Canada's Cassie Sharpe won the gold, and France's Marie Martinod won the silver.
Lindsey Vonn, women's downhill skiing
In what was likely her final Olympic downhill run, Lindsey Vonn took home the bronze medal in women's downhill skiing. The 33-year-old became the oldest female medalist in Alpine skiing at the Winter Games.
"If you think what's happened over the last eight years and what I've been through to get here, I gave it all and to come away with a medal is a dream come true," Vonn, who missed the 2014 Sochi Games after tearing ligaments in her right knee, said. "You've got to put things into perspective. Of course, I'd have loved a gold medal but, honestly, this is amazing and I'm so proud."
Vonn finished third behind Italy's Sofia Goggia and Ragnhild Mowinckel of Norway, who took home the gold and silver, respectively.
Team USA, figure skating team event
The United States' figure skating team won the bronze medal – thanks in part to flawless performances from Adam Rippon and Mirai Nagasu.
Nagasu became the first American woman to land a triple axel in the Olympics. Rippon landed both of his triple axels.
Siblings Maia and Alex Shibutani also propelled Team USA to the podium with their free dance. Teammates Alexa Scimeca-Knierim, Chris Knierim, Nathan Chen and Bradie Tennell also medaled following the event.
Team USA, women's speedskating team pursuit
Heather Bergsma, Brittany Bowe, Mia Manganello and Carlijn Schoutens took bronze for women's team pursuit. It was Team USA's first Olympic medal in the event since it began in 2006.
Bergsma, Bowe and Manganello defeated Canada to clinch the medal in a B final.
Fox News' Nicole Darrah, Ryan Gaydos, Stephen Sorace, Zoe Szathmary and The Associated Press contributed to this report.
New Zealand is best placed to survive a global collapse of society, study suggests | World News
New Zealand is the country most likely to survive a collapse of global civilisation, researchers have said.
A study has suggested a combination of ecological destruction, limited resources and population growth could trigger a worldwide breakdown "within few decades", with climate change making things worse.
A "very likely" collapse would be characterised by the disintegration of supply chains, international agreements and global financial structures, according to researchers at the Global Sustainability Institute at Anglia Ruskin University.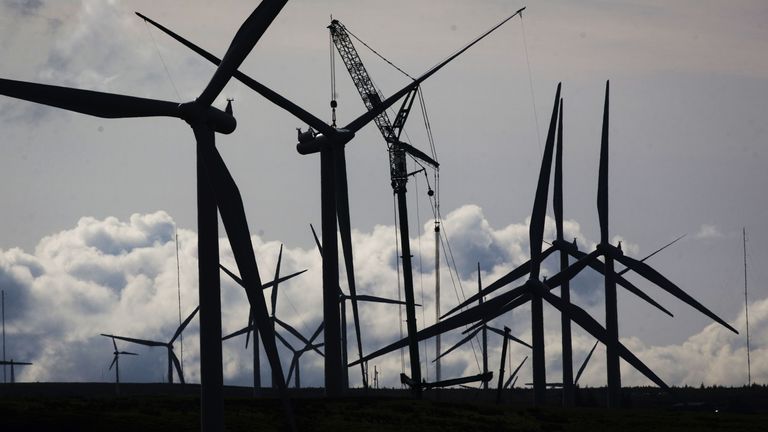 They said problems could spread quickly because of how connected and economically dependant countries are on one another.
Five countries were identified as best placed to maintain civilisation within their own borders: New Zealand, Iceland, the United Kingdom, Ireland and Australia.
All of them are islands or island continents which have fewer extremes in temperatures and varied amounts of rainfall due to their proximity to oceans.
Researchers said this makes them most likely to have relatively stable conditions in the future, despite the effects of climate change – which is expected to hit subtropics and tropics the hardest.
New Zealand's ability to produce geothermal and hydroelectric energy, its abundant agricultural land and its low population would allow it to survive relatively unscathed.
Although the UK has generally fertile soils and varied agricultural output, it does not have as much agricultural land available because of its population density, raising questions about future self-sufficiency.
Britain's reliance on fossil fuels and nuclear energy was considered to be a risk as power sources could be "rendered at least partly inoperable" if global supply chains collapse.
:: Subscribe to ClimateCast on Spotify, Apple Podcasts, or Spreaker.
Researchers said this could be mitigated by the nation's manufacturing capabilities.
Meeting the large population's energy demands through renewables alone would require very extensive infrastructure, they said, but the UK could increase its resilience by harnessing more energy from wind and water bodies like lagoons or barrages in the Severn Estuary.
Professor Aled Jones, Director of the Global Sustainability Institute at Anglia Ruskin University, said "significant changes are possible in the coming years and decades".
He said: "The impact of climate change, including increased frequency and intensity of drought and flooding, extreme temperatures, and greater population movement, could dictate the severity of these changes."
Researchers identified pandemics as another risk to societal stability, citing the United Nations' warning that future pandemics could be even more severe than COVID-19.
Twenty countries were analysed in the report.
Boris Johnson urges world leaders to dig deep to boost children's education across globe | Politics News
Boris Johnson is urging world leaders to dip into their pockets to boost children's education across the globe and help avoid a "legacy of wasted talent" as a result of the coronavirus crisis.
The prime minister will host a summit in London on Thursday with the aim of fundraising among governments, business and charities for the Global Partnership for Education (GPE).
The GPE aims to raise $5bn (£3.6bn) over the next five years in order to get 175 million more children into education around the world.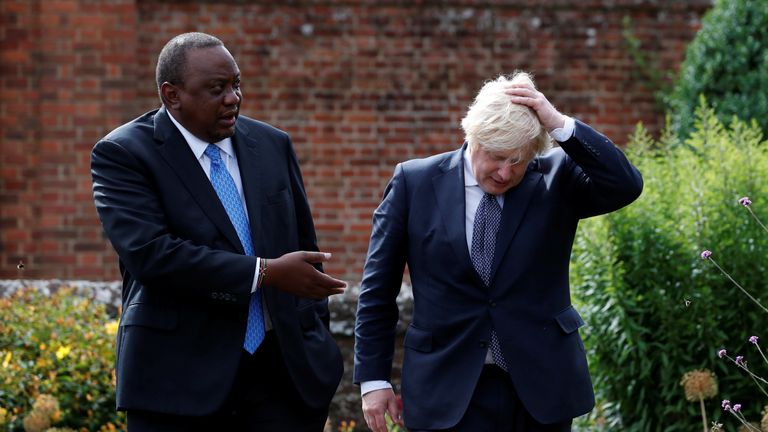 Ahead of the Summit, Mr Johnson said: "We have a fight on our hands to ensure COVID-19 does not scupper the life chances of millions of children, leaving a lasting legacy of wasted talent.
"Too many children around the world – girls in particular – were already out of school before the pandemic.
"Enabling them to learn and reach their full potential is the single greatest thing we can do to recover from this crisis and build better, greener and fairer societies.
"Today I am urging governments, businesses and philanthropists to invest in the future by fully funding the transformative work of the Global Partnership for Education."
Girls are feared to be particularly at risk of never returning to school once they have left, with 132 million girls around the world already estimated to be out of school even before the impact of the COVID pandemic.
Thursday's summit is being jointly hosted with Kenya and will be opened by Foreign Secretary Dominic Raab and his Kenyan counterpart, Raychelle Omamo.
The prime minister and Kenyan President Uhuru Kenyatta, who held bilateral talks at Chequers on Wednesday, will close the summit, along with Australia's former prime minister Julia Gillard, who is the GPE's chair.
World leaders, businesses, UN agencies, charities and youth leaders will join the summit both virtually and in person.
The UK last month pledged £430m to the GPE at the G7 Summit in Cornwall.
Pedro Castillo: Left-wing rural teacher becomes Peru's president, promising a new constitution | World News
A man who was until recently a teacher in a rural part of Peru has been sworn in as the country's new president.
Pedro Castillo, representing a left-wing party, stunned voters and political observers by emerging from a group of 18 candidates and advancing to the run-off, finishing in first place.
His slogan, "no more poor in a rich country", attracted support from the impoverished and those living in rural areas.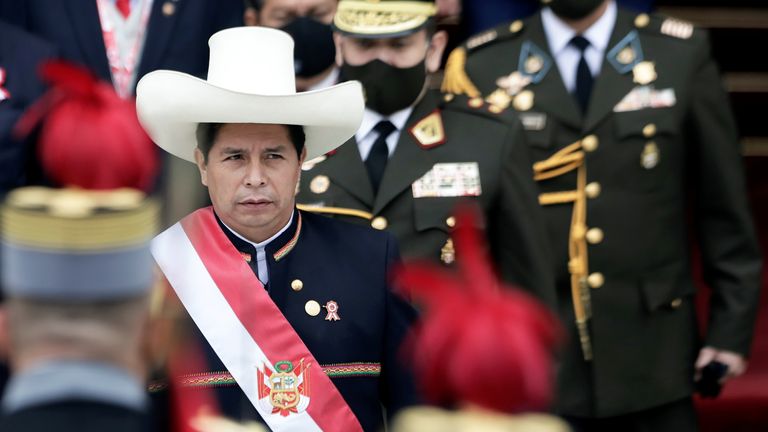 Mr Castillo, 51, has never held political office before, defeating right-wing career politician Keiko Fujimori by just 44,000 votes.
He is promising a new constitution, and to rule for "my peasant sisters and brothers".
The son of illiterate peasants, he led a teachers' strike in 2017. He is his country's first president of peasant origin.
Mr Castillo is married with two children. Video of his wife, filmed at the weekend, shows her sweeping the floor at their house in the Andes and tending to some animals. Their home is in the country's third-poorest district.
Peru is the second largest copper exporter in the world, but its economy has been crushed by the coronavirus pandemic. Economic gains made over the last decade have been eliminated.
Private companies are fearful that Mr Castillo will hike taxes on mining to fund health and education reforms.
Pedro Castillo's family leave behind rural life

But on the day of his inauguration, he said there was "not the remotest" plan to nationalise industry.
He will be seeking a "new pact" with private investors, however.
In a speech shortly after being sworn in, he said he wanted the state-owned bank to compete with private lenders but that he would maintain economic "order and predictability".
He faces a divided Congress, meaning his political abilities will be tested from the start.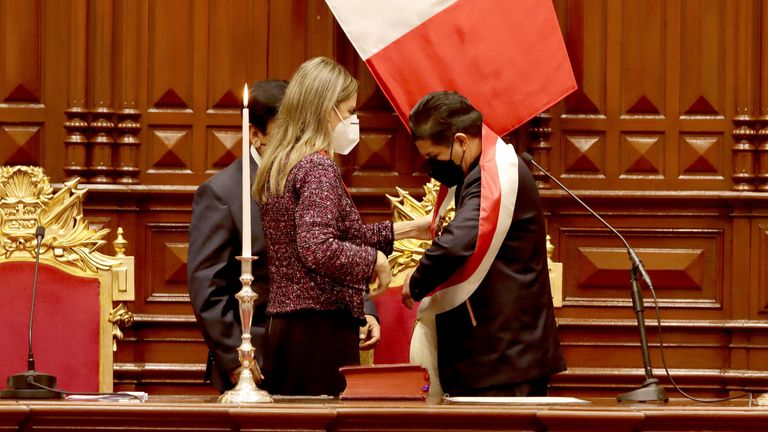 Claudia Navas, an analyst with the global firm Control Risks, said his government begins amid "considerable uncertainty".
She added: "We still do not have clear his main lines of policy. However, we foresee that possibly, due to the characteristics of the Peruvian political system and the current general political and economic situation of the country, that Castillo will maintain a more pragmatic position than he announced during the campaign.
"The key is to build those consensuses and add strength to the proposals on how he is going to achieve them."