Trump on preventing mass shootings: 'We're going to get it done'
President Donald Trump said Wednesday the administration is going to strengthen background checks for gun purchases and "put a strong emphasis on mental health," as he promised students and families "we are going to get it done."
The president, Vice President Mike Pence and Education Secretary Betsy DeVos hosted students, teachers and families affected by the Parkland, Fla., high school shooting for a "listening session" at the White House on Wednesday, which lasted close to two hours. 
Exactly one week ago, 19-year-old Nikolas Cruz, whom the president described as "a sick guy," opened fire at the high school and now is charged with killing 17 teachers and students with an AR-15 rifle.
"We are going to be very strong on background checks, and put a very strong emphasis on the mental health of somebody," Trump said at the beginning of the listening session. "We're going to talk and get it done. It's been going on too long, too many instances and we're going to get it done."
Students and parents from Marjory Stoneman Douglas High School in Parkland, along with Parkland city Mayor Christine Hunschofsky, attended the White House session, along with members of Sandy Hook Promise, a national non-profit organization based in Newtown, Conn., and led by several family members whose loved ones were killed in the tragic Dec. 14, 2012, mass shooting at Sandy Hook Elementary School. Students from Friendship Public Charter School, Parkmont, and Thurgood Marshall Academy in Washington, D.C., also attended.
Parkland Student Body President Julia Cordover opened the session with emotional remarks for the group.
"I'm a survivor. I want you all to emphasize the point that I survived," Cordover said. "I was lucky enough to come home from school and it is very scary to know that a lot of people did not have the opportunity to be here."
Cordover thanked the president for addressing bump stocks earlier in the week. 
The president directed Attorney General Jeff Sessions to create new regulations to ban firearm modifiers, including the "bump stock" used in the Las Vegas massacre in October 2017.
A memo released by the White House earlier this week directed the DOJ to propose a rule "banning all devices that turn legal weapons into machineguns."
The president asked for suggestions to prevent school shootings, leaving the floor open to parents and teachers. 
A parent from Parkland High School suggested that a select few teachers, administrators, or other school employees volunteer to become a designated "undercover police officer," to manage a potential tragedy prior to the arrival of first responders.
"If a tragedy strikes, can we wait for first responders to get to the campus minutes later?" the parent said. "The challenge becomes, once it starts, to end it as quickly as possible."
The president said the administration would look "very strongly" at the option for "concealed carry" at schools, but acknowledged that "a lot of people will be opposed to it."
"Concealed carry only works for people that are very adept at carrying a gun," Trump said. "Where a teacher would have a concealed gun on them, go for special training and they would be there and you would no longer have a gun free zone."
Trump added: "A gun-free zone to a maniac, they're all cowards, it's 'let's go in and attack because bullets aren't coming at us.'"
The president said that an attack lasts, on average "three minutes."
"It takes five to eight minutes for first responders. So the attack is over. If you had a teacher who was adept at firearms, they could very well end [the attack]," Trump said. "We are looking at that very strongly. A lot of people will be opposed to it. A lot of people are gonna like it."
Trump suggested having "20 percent of your teaching force" representing the "type of talent" capable of concealed carry. Trump also floated the idea to add security, like former "marines, people who left the Air Force" to be "spread evenly throughout the school."
The president has also signaled a willingness to raise the minimum age for purchasing certain firearms in the wake of last week's school shooting in Parkland.
A White House source told Fox News on Wednesday that Trump is open to a number of measures to address mass shootings, including a rise in the minimum age for buying firearms.
Under current federal law, licensed firearm dealers cannot sell handguns to people under 21 and cannot sell long guns to people under 18, according to the Giffords Law Center, which tracks gun laws and advocates for more restrictions. Some states already impose laws with tighter minimum age requirements.
The National Rifle Association quickly rejected any talk of raising the age for buying long guns to 21.
"Legislative proposals that prevent law-abiding adults aged 18-20 years old from acquiring rifles and shotguns effectively prohibits them for purchasing any firearm, thus depriving them of their constitutional right to self-protection," the group said in a statement.
It is unclear, however, whether Trump will push for a change in federal law, or encourage a change at the state level.
The president has expressed support for the Second Amendment and said he's against reflexive gun control measures that wouldn't stop tragedies. The NRA endorsed Trump in the 2016 presidential election, and has yet to comment on the president's current stance on gun control.
"Whether we are Republican or Democrat, we must now focus on strengthening Background Checks!" Trump tweeted Tuesday.
The listening session, Trump's openness to tightening age restrictions, and the directive to the Justice Department reflect a different response from the White House than in the aftermath of previous tragedies.
Following the Las Vegas massacre, White House press secretary Sarah Sanders said that it was "premature to discuss policy when we don't know all the facts," and added, "we can have those policy conversations, but today is not the day."
Republican Florida Gov. Rick Scott also is slated to meet with students from Parkland Wednesday evening.
"In addition to what we're going to with background checks, we're going to go very strong into age of purchase, and very strongly into the mental health aspect of what's going on," Trump said. "This person, who was very sick, and people knew he was very sick. We're also going to look at the institutions, what you do when you find someone like this." 
He added: "All I can say is we're fighting hard for you and we will not stop. I grieve for you. There can be nothing worse than what you've gone through. Thank you for pouring out your hearts because the world is watching and we're going to come up with a solution." 
Fox News' John Roberts and Alex Pappas contributed to this report. The Associated Press also contributed to this report.
UK joins US, EU and Canada in imposing sanctions on Belarus following forced landing of Ryanair flight | UK News
The UK has joined the US, the European Union and Canada in imposing sanctions on Belarusian officials following the forced landing of a Ryanair flight last month.
The plane travelling from Greece to Lithuania on 23 May was diverted to the Belarusian capital Minsk where authorities arrested opposition blogger Roman Protasevich.
In a statement on Monday, the Foreign Office said seven individuals and one organisation had been sanctioned due to the diversion of the flight and a further four individuals and an entity had been sanctioned over human rights abuses in Belarus by President Alexander Lukashenko's regime.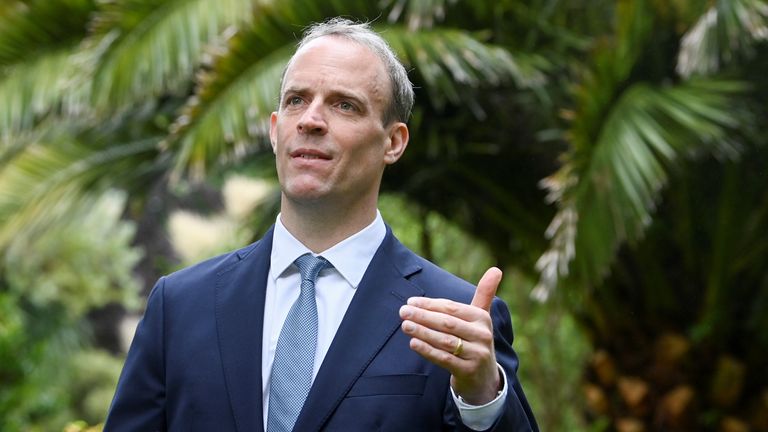 Foreign Secretary Dominic Raab said the joint action has been taken as the Lukashenko regime "endangered the lives of airline passengers and crew" in its attempt to capture Mr Protasevich.
"The UK and our partners have today sanctioned those responsible for the continued suppression of democracy and human rights in Belarus," he said.
"The Lukashenko regime endangered the lives of airline passengers and crew in a shameful ruse to snatch Roman Protasevich.
"We will hold the regime to account in co-ordination with our allies including through further banning travel, freezing assets and cutting off oil export revenue streams."
Those with sanctions imposed include BNK (UK) Ltd, an exporter of Belarusian oil products, one of the country's main revenue streams.
US Secretary of State Antony Blinken added that the sanctions are necessary "to promote accountability for the Lukashenko regime's transnational repression and its affronts to international norms".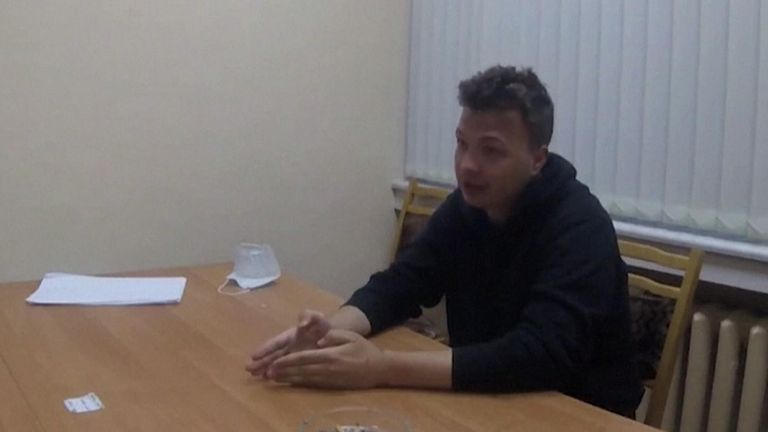 In a joint statement the UK, US, EU and Canada said: "We are committed to support the long-suppressed democratic aspirations of the people of Belarus and we stand together to impose costs on the regime for its blatant disregard of international commitments."
The flight in May was escorted to Minsk city by a warplane following reports it had explosives on board, according to an online flight tracker and Belarus state news agency BeITA.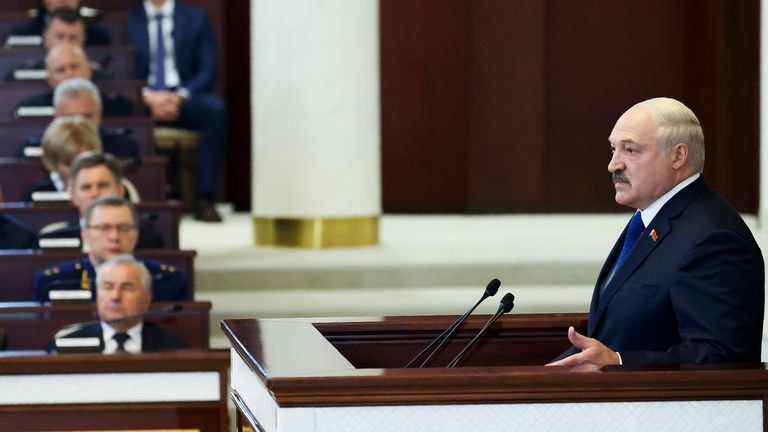 But opposition groups in Belarus called the incident a hijacking operation by the government.
Mr Protasevich was arrested after the plane touched down and no explosives were found.
He runs the opposition Telegram news channel NEXTA, which is hostile to Mr Lukashenko and has become one of the main sources of news about demonstrations in the country.
The blogger was placed on a wanted list after last year's mass street protests following an election in which Mr Lukashenko, who has been in power since 1994, claimed a landslide victory.
Following his arrest he has appeared in several videos shown on state-controlled TV, appearing to praise the president and admit to organising protests.
'They can't hide these secrets anymore': Anticipation is high for impending release of Pentagon's 'UFO report' | US News
On the second floor of the Aquarius Casino Resort, two of Nevada's quirkier attractions are on offer.
Turn left and you can pledge until death do you part in the wedding chapel, turn right and you are deep in wonders of the annual UFO Mega Conference.
For 30 years, researchers and enthusiasts have gathered to digest and dissect the latest mysterious goings-on in the skies above.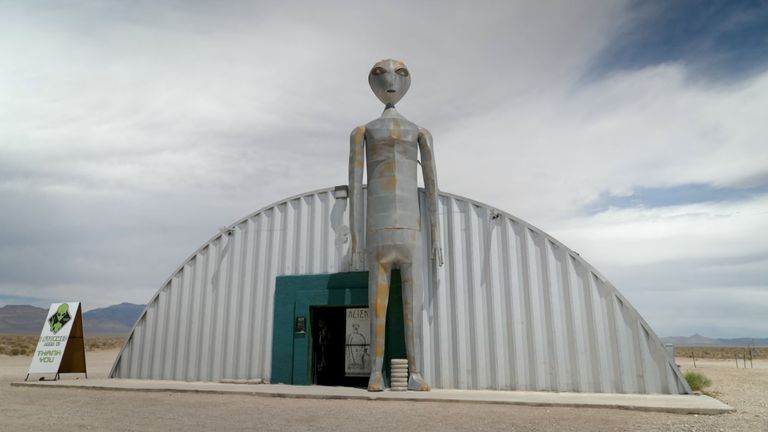 For most of that time, they did so in the knowledge that they were regarded as conspiracy theorists or, as one attendee put it, "people in tin-foil hats".
But this year's conference took place in Laughlin in Nevada with the US gripped by its government's public acknowledgement that there is something out there and that they have no idea what it is.
Well, not that they're telling us anyway.
Among those who have been saying this all along – and often attracted widespread mockery for it – this is a moment of deep satisfaction.
Not that they think we are getting the whole truth.
Curiously, people who believe fervently in alien lifeforms do not believe at all in Washington DC.
Subscribe to the Daily podcast on Apple Podcasts, Google Podcasts, Spotify, Spreaker
"I think the push for disclosure has been happening for decades and I think it's gaining momentum," said Katie Griboski.
The UFO researcher has given a talk called "High Strangeness on a Colorado Ranch".
She added: "I don't think the government can hide these secrets anymore and so they're trying to cover their butts a little bit."
Still, all this mainstream acceptance is a dizzying experience.
"About two years ago, if I told someone I was a UFO researcher, they'd give me that funny little look. And now it's on the news almost daily, they're like 'Oh, really?' and they're inquisitive," Ms Griboski said.
"If nothing else, that's a good thing."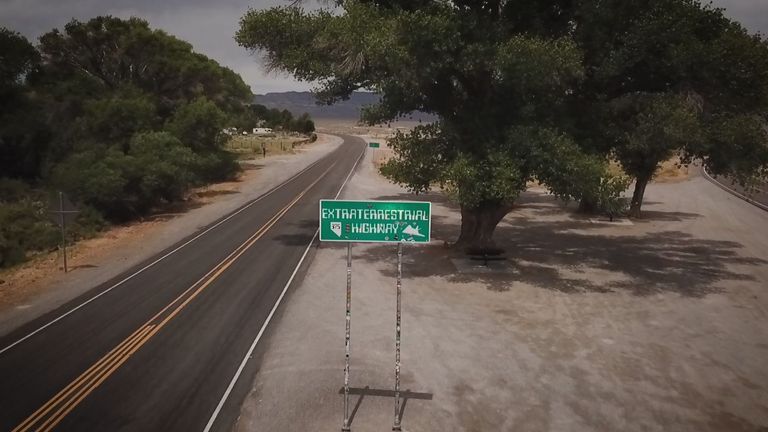 Next to the main conference hall at the casino, attendees stand gossip about this new credibility. Stallholders sell books and DVDs about what the government calls "unidentified aerial phenomena" and others offer a variety of ways of being healed. One involves footballs.
There is a joy on the face of Ronny Dawson. He had already described to a rapt audience a "journey from horror to alien contact" in his Texas bedroom. During alien "home invasion" in 2010, he had been paralysed in his bed.
"They pulled my consciousness out of my sleeping body, apologised for disturbing my rest, and said they needed to have a conversation," he said.
Mr Dawson said his visitors wanted to know how to open a channel of communication with humans. "I said: 'Fly a big ship around the earth until everybody on earth has seen it.'"
He says the US government is reacting to the inevitable. "I think the reason they're doing it is because the ETs are tired of waiting and they've given us a deadline: 'Either you tell them, or we will.'"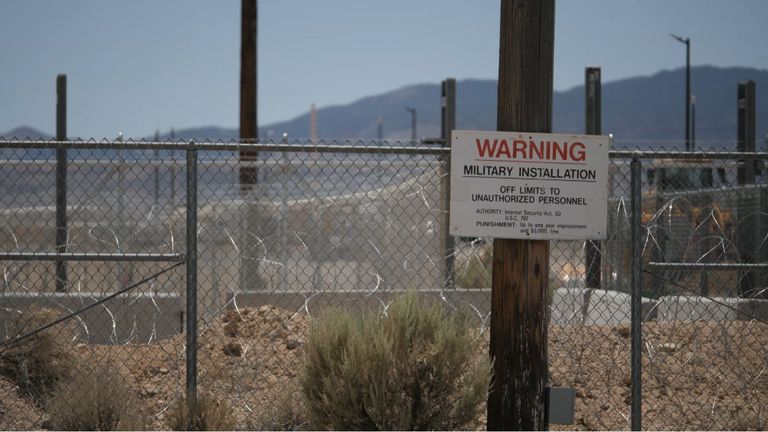 Throughout the week-long conference, attendees were treated to movie premieres, previously-unseen footage and speeches from writers, experts and self-proclaimed "contactees… delving deep into what has been until now a sprawling sub-culture".
There was even an evening of live entertainment with a "master of paramentalism" who promised he could guess the colour of your underwear.
Few of those we spoke to had great faith in the likelihood of full transparency from the Pentagon.
The reason? "I think there would be mass panic," said Tracey Myles. "I think people can't handle the truth. I think they're very closed-minded."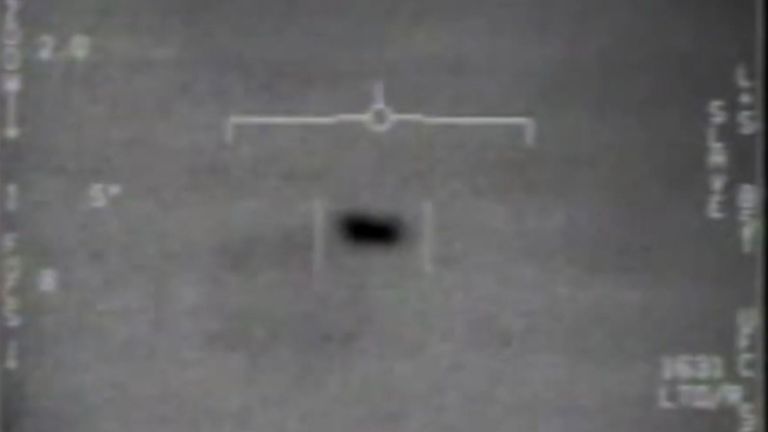 Pollyanna Infante, who describes herself as a "hybrid" who has regular telepathic communication with alien lifeforms, believes we have nothing to fear from them. In fact, she says, their message is a call to action.
"Essentially they want us to stop destroying our earth and they're not going to let us destroy it."
And, armed with the experience of his own encounter a decade ago, Ronny Dawson is realistic about what comes next.
"I think it's a time bomb. It won't matter down the road a few years. Some people are not going to believe it until it's walking down the street and they're still going to scratch their heads.
"But that's the way we're going and the government has no choice."
'Something's out there': UFO researchers welcome release of Pentagon report into 'unidentified aerial phenomena' | US News
The release of a report by the Pentagon, detailing what the US government knows about what it calls "unidentified aerial phenomena", is being seen as a moment of validation by members of the UFO community.
Researchers and investigators, for so long mocked as conspiracy theorists and worse, say the revelation that a "UAP Task Force" has been collecting evidence for the Department of Defence for more a decade confirms their suspicions.
"The phenomenon has just been validated by the papers coming out that, yes, there's something out there. No, we don't know what it is, but it's worth looking into. And that's what we've been doing for decades," said Chris Jones of the Mutual UFO Network.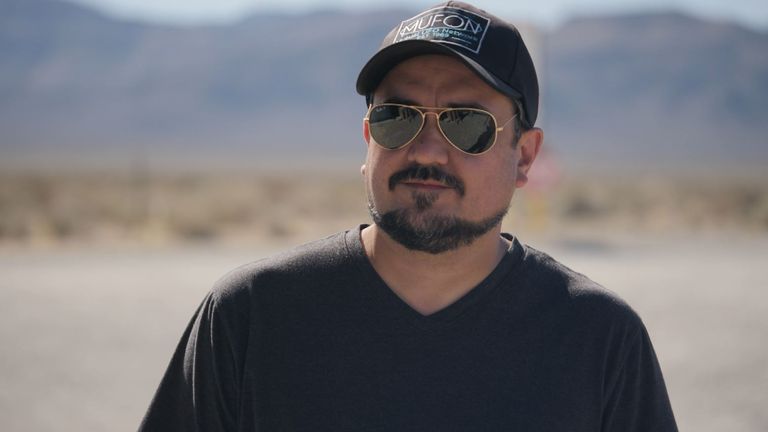 The government task force has been investigating dozens of reported sightings and encounters between US military personnel and unidentified flying objects.
Among the most striking evidence are cockpit videos recorded by US Navy pilots of objects appearing to defy the rules of physics.
Sean Cahill was serving about missile cruiser the USS Princeton in 2004 when he was one of many to witness what has become known as the "tic-tac".
The white oblong-shape, the size of a small aircraft, showed no outward signs of conventional propulsion and darted around alarmingly at high speed.
At the time, Mr Cahill said, he assumed the military's nonchalant reaction to the sightings was evidence the object was part of a secret US programme.
Now, he believes, there are serious national security concerns.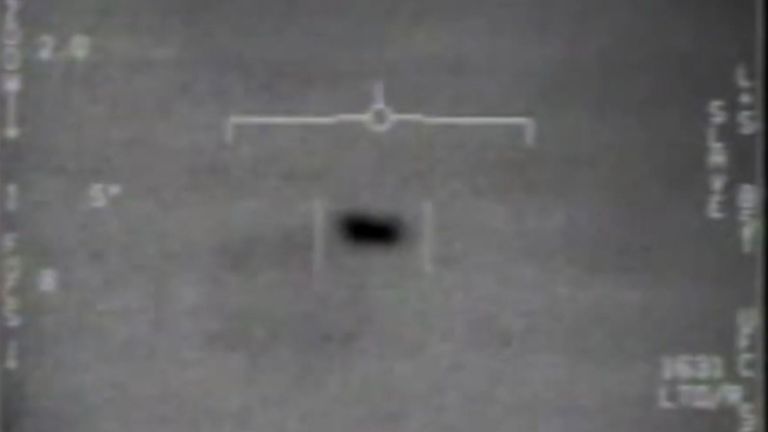 "I feel that I was I was pulling something out of the future," he said.
"This was not just another flock of birds or a balloon or a or swamp gases, we knew that this was a craft that was outstripping our arsenal, and that was in 2004.
"I did feel it was historical then. Now I'm positive of that fact.
"But I think that there's even more out there that we need to we need to see and understand.
"I hazard to say that if we don't pry this out into the daylight right now I fear that it'll go right back into the black and it'll be another 70 years before we actually find out what this is."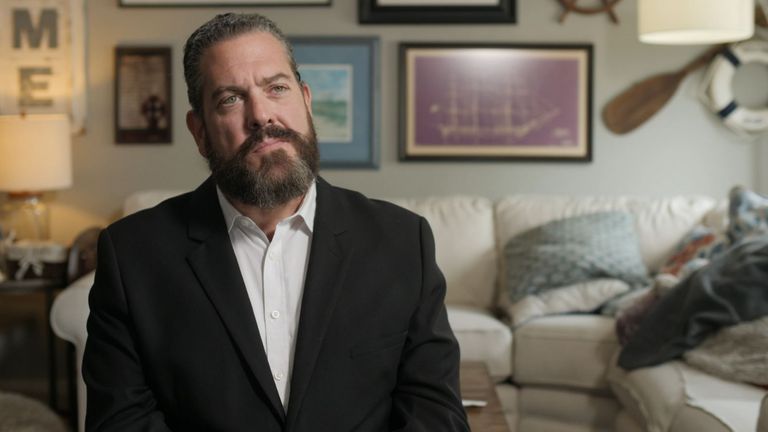 But some of those who have been in space are doubtful the sightings are of alien spacecraft.
Leroy Chiao, a former commander aboard the International Space Station, said: "Although I think there is life elsewhere in the universe, the distances are so vast that I don't think we'll ever find each other."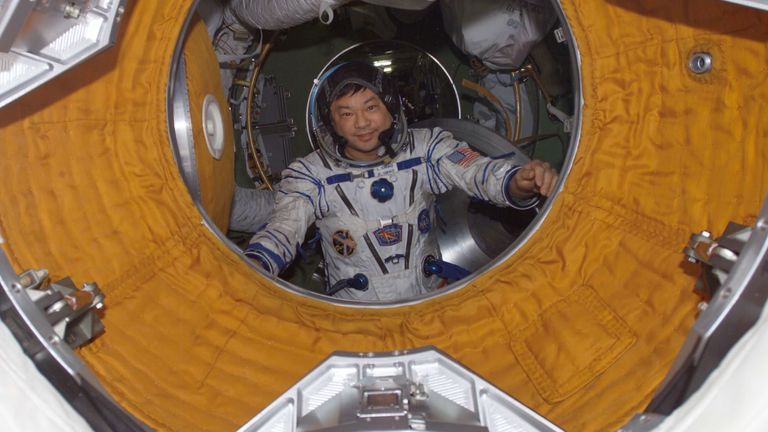 The Pentagon report is the culmination of a push by politicians, including former US Senate majority leader Harry Reid, for greater openness.
He told Sky News: "This goes back 70 years and we know initially the government did everything it could to cover it up. I think the new technology we have has made it more difficult for the government to deny what is going on.
"The government has got to be part of it and no longer be part of a cover-up, they've got to be transparent in everything they do."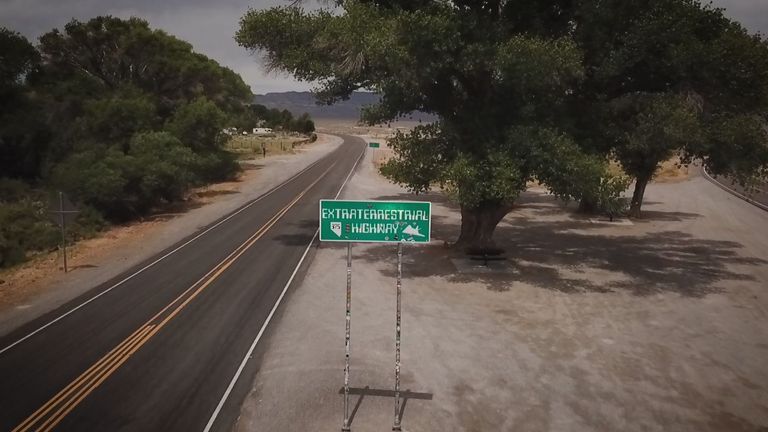 The budget Mr Reid helped secure created the Advanced Aerospace Threat Identification Programme. Now defunct, its former director has heralded the publication of the report.
Luiz Elizondo told Sky News: "We're at a critical mass where at least the conversation has moved forward and I don't think we can go back.
"We now recognise that these things are real, whatever these things are, and I don't know how you can rewind the narrative of that."