President Trump proposes more guns to stop school shooting massacres
Tearful school shooting survivors have met President Trump and urged him to bring in stricter gun control – his response, a proposal to arm teachers.
The "listening session" follows America's latest mass shooting in Florida, in which former-student Nikolas Cruz opened fire at Marjory Stoneman Douglas High School, killing 17 people on Valentine's Day.
Students from the school, along with groups representing Sandy Hook and Columbine, delivered powerful speeches, pleading for a change in laws controlling assault weapons.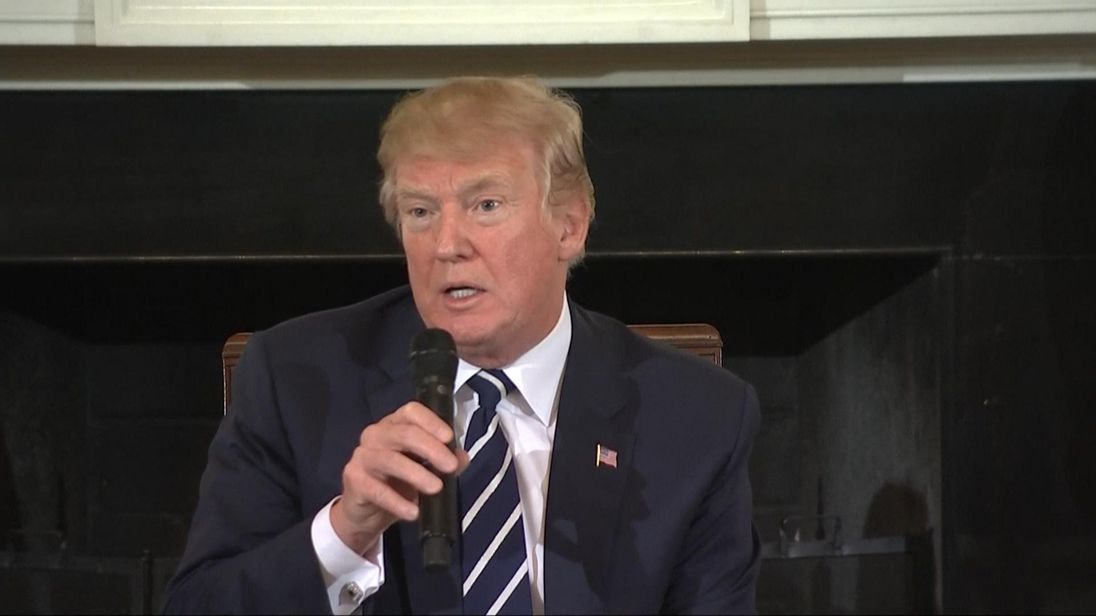 In response Mr Trump suggested arming teachers, who would be specially trained, and getting rid of gun-free zones, which he said encouraged shooters to attack.
The President also promised "very strong background checks" and an "emphasis on mental health".
Andrew Pollock, whose daughter Meadow Pollock was killed in the shooting, yelled at Mr Trump: "Fix it!".
Mr Pollock, who said he has to visit his daughter in the cemetery now, said: "It's not about gun laws right now. We need our children safe."
Student Sam Zeif, 18, told how he texted his mother and two brothers during the shooting saying he wouldn't see them again before realising his 13-year-old brother was in the classroom above him, where teacher Scott Beigel died shielding students from bullets.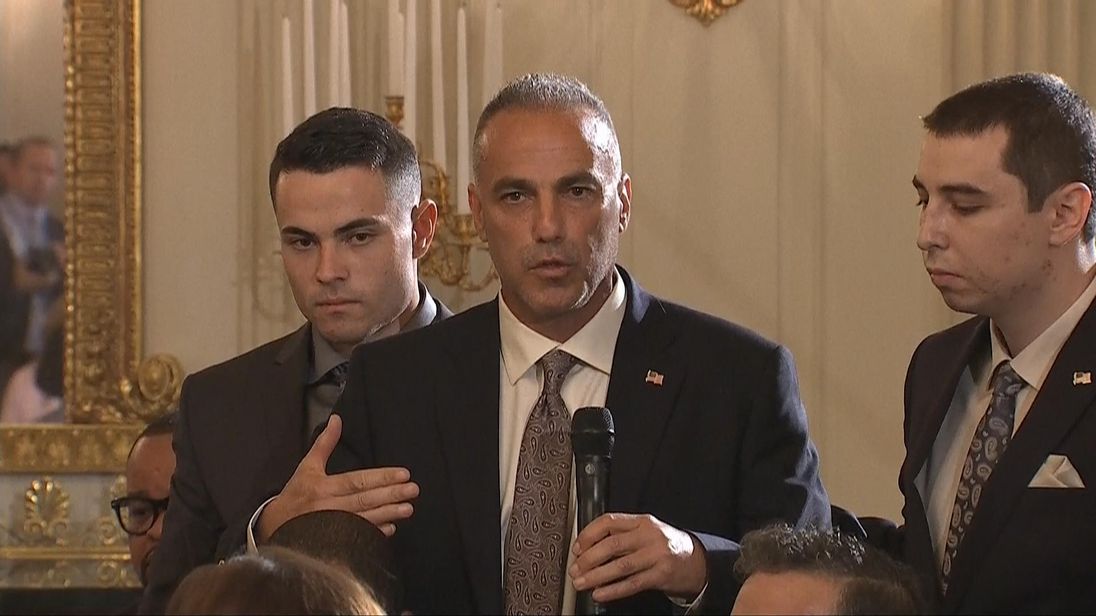 The teenager said: "I don't understand why I can still go in a store and buy a weapon of war, an AR. Let's never let this happen again please, please."
Florida shooting survivor Lorenzo Prado emotionally explained how he feared for his life after being held at gunpoint by six SWAT team members when he was mistaken for the gunman.
Similar clothes, hair colour and facial structure to Cruz led him to be "tossed to the ground and handcuffed" before his real identity was discovered.
The mother of a six-year-old Sandy Hook victim, Nicole Hockley, urged the President to use his time in office to stop school shootings happening.
Talking about her late son Dylan, she said: ""Every parent who sends their child to school should know without any question they're going to be coming home that day.
"How many more deaths as a country can we take? How many more teenagers and six and seven-year-olds can we allow to die? Don't let that happen anymore on your watch."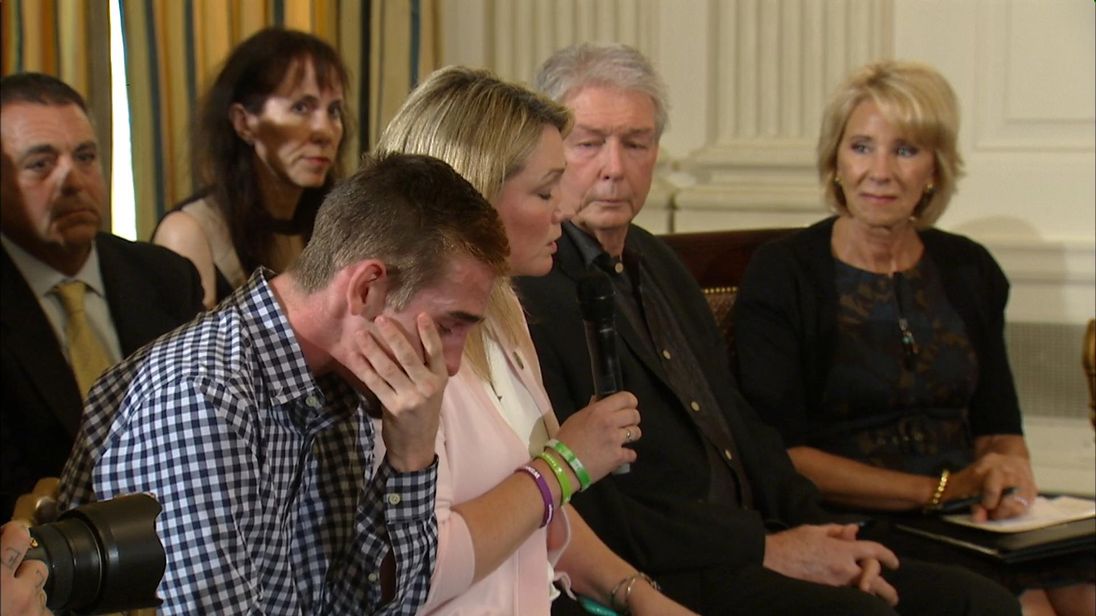 Darrell Scott, the father of a girl killed in the 1999 Columbine shooting, told how Rachel was shot, while her brother had a gun pointed at him as he lay covered with blood from his slain friends.
His son's life was only saved when the two killers were distracted by an emergency alarm going off.
At the same time in Tallahassee, Florida, thousands of students marched into the state Capitol, calling for changes to gun laws, a ban on assault-type weapons and improved care for the mentally ill.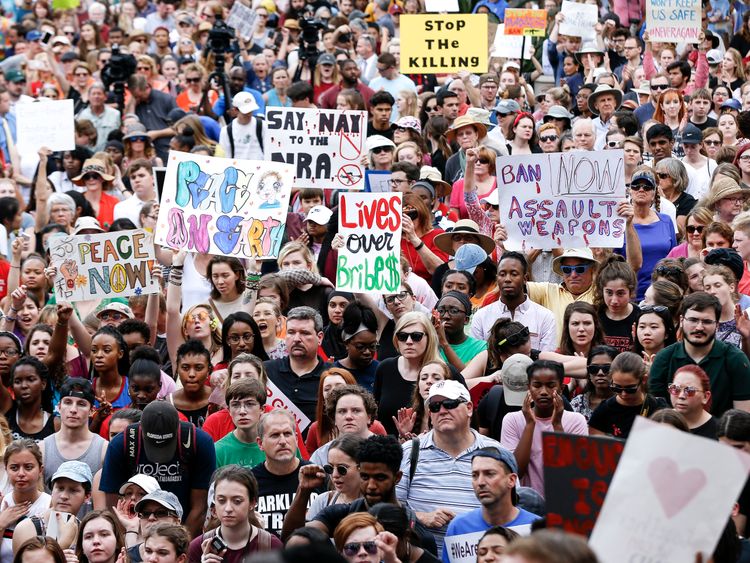 More than 100 survivors from the Marjory Stoneman attack took part, including school senior Delaney Tarr who warned lawmakers that they "were coming after them".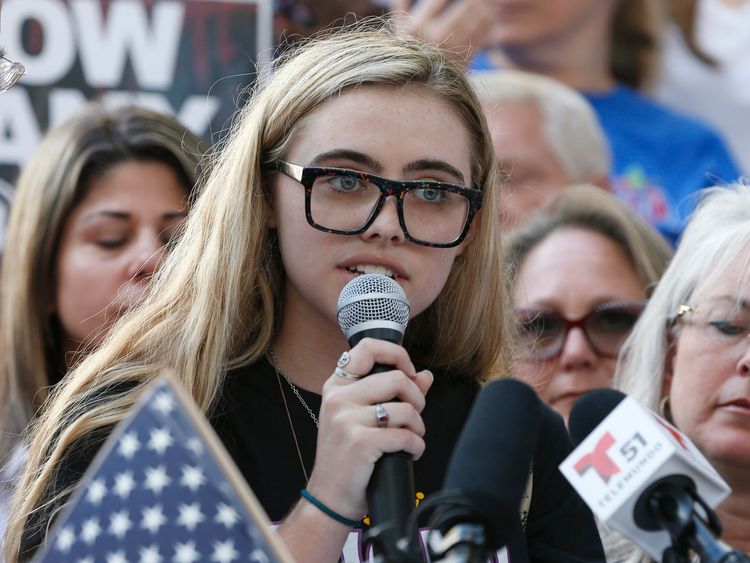 She told reporters at the Capitol: "We know what we want. We want gun reform. We want common sense gun laws. We want change.
"We've had enough of thoughts and prayers. If you supported us, you would have made a change long ago.
"So this is to every lawmaker out there: No longer can you take money from the NRA.
"We are coming after you. We are coming after every single one of you, demanding that you take action."
As the march took place, a 17-year-old student from Godby High School was arrested after writing on Instagram that he was going to "shoot up" the school.
UEFA abolishes away goals rule after more than half a century | UK News
Europe's football governing body UEFA has abolished the away goals rule for all of its club competitions from next season.
All ties that are level on aggregate at the end of the second leg will now go to extra time.
Paris Saint-Germain's victory over Bayern Munich in last season's Champions League quarter-finals will go down in history as the last away goals result in the tournament before the rule change.
The rule, introduced in 1965, has led to some dramatic moments in recent years, including Tottenham's stoppage-time success over Ajax in the 2019 Champions League semi-final.
UEFA said away goals would also no longer be a separating criteria when looking at matches between two or more sides level on points in the group stage of a competition.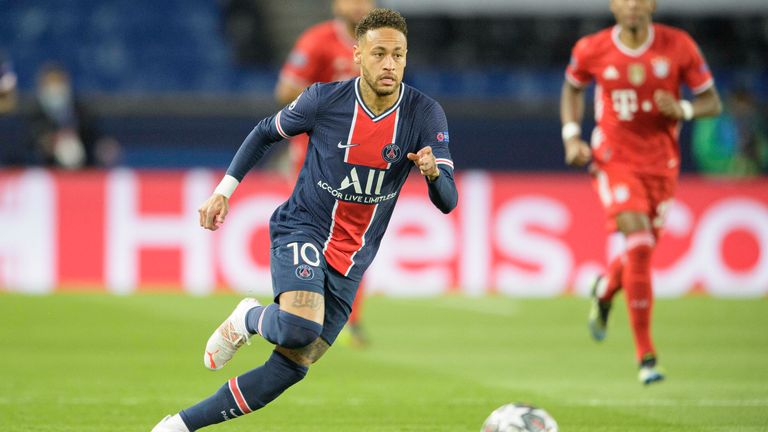 However, the number of away goals scored in all group matches could be used as an additional separating criteria if required.
UEFA president Aleksander Ceferin said as the end of the rule was announced: "The away goals rule has been an intrinsic part of UEFA competitions since it was introduced in 1965.
"However, the question of its abolition has been debated at various UEFA meetings over the last few years. Although there was no unanimity of views, many coaches, fans and other football stakeholders have questioned its fairness and have expressed a preference for the rule to be abolished."
Mr Ceferin added that the away goals rule had begun to go against its original purpose and was dissuading home teams from attacking.
⚽ The away goals rule will be removed from all UEFA club competitions from the 2021/22 season.

Ties in which the two teams score the same number of goals over the two legs will now have two 15-minute periods of extra time, and, if required, penalty kicks.#UCL #UWCL #UEL #UYL

— UEFA (@UEFA) June 24, 2021
This because the sides would fear conceding a goal at their own stadium would give their opponent a crucial advantage.
He continued: "There is also criticism of the unfairness, especially in extra-time, of obliging the home team to score twice when the away team has scored.
"It is fair to say that home advantage is nowadays no longer as significant as it once was."
UEFA has cited statistics since the mid-1970s which showed how the gap between home and away wins had reduced.
It talked about better pitch quality, standardised pitch sizes, and even video assistance referees (VAR) as factors in the decline of home advantage.
EE brings back EU roaming charges for mobile phone customers from next year | Business News
Mobile network EE is to charge customers for using their phone in Europe from next year.
The company, owned by BT, had previously said it had no plans to reintroduce the charges after Brexit.
It will affect new customers and those upgrading from 7 July.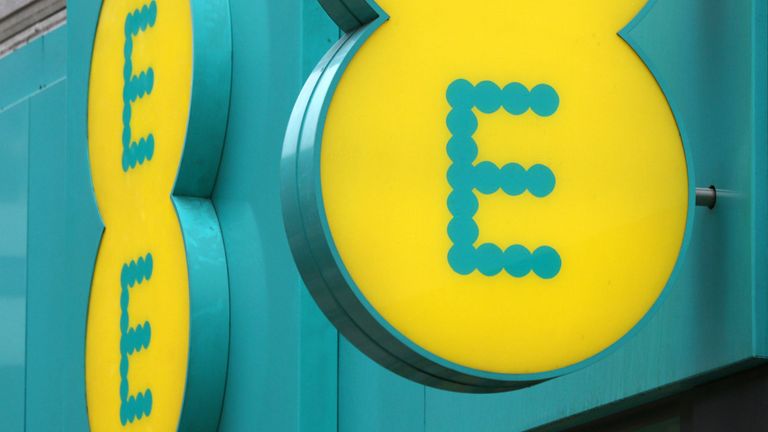 They will face a £2 daily fee from January next year to be able to use their data, call minutes and text allowances in 47 European destinations.
The change will not apply to customers travelling to the Republic of Ireland.
British travellers have not had to pay roaming charges on their mobile phone bills since June 2017, when they were abolished after changes to European regulation.
Before then they added an estimated £350m a year to users' bills.
Britain's departure from the European Union meant that from January UK customers no longer had the right to use their phone in Europe without roaming charges.
However, Britain's major mobile operators had said they had no plans to introduce them.
December 2020: What's in the Brexit trade deal?

EE said its decision was designed to "support investment into our UK-based customer service and leading UK network".
It said customers travelling abroad for longer will be able to use a 30-day Roam Abroad Pass.
Ernest Doku, a mobiles expert at Uswitch.com, said: "It's hugely disappointing for consumers to see that situation change so quickly.
"If you're an existing EE customer, these charges won't affect you yet, but make sure you check the small print if you're due an upgrade in the coming months."
Sky News contacted other networks to ask if they had any similar plans.
O2 and Three said they had not made any changes to roaming.
However, both are altering their policies on "fair usage" daily data limits while in the EU – though in each case said the limits were more than enough for the vast majority of holidaymakers' needs.
Vodafone also said it had no plans to bring back roaming charges.
HMS Defender: Boris Johnson insists warship was sailing legally as Moscow warns 'no options can be ruled out' | UK News
Boris Johnson has insisted Royal Navy warship HMS Defender was sailing legally in Ukrainian waters and that Russia did not any fire warning shots.
Russia has accused the UK of "barefaced lies" over Wednesday's incident and said it would respond robustly to any future incursions into what it says are Russian waters.
It summoned the British ambassador in Moscow for a dressing down, while a Kremlin spokesman called it a "deliberate and premeditated provocation".
Russia claims this is HMS Defender 'chased out'

"In the event of a repeat of unacceptable provocative action – if those actions go too far, no options can be ruled out in terms of legally defending Russia's borders," added Dmitry Peskov.
The UK rejects Russia's claim that a border patrol boat fired warning shots and that warplanes dropped bombs into path of the ship off the Crimean coast.
Speaking on Thursday, Boris Johnson said it was "not my information" when asked if the Russians had fired warning shots.
"My understanding is that the Carrier Strike Group proceeded in a way you would expect through international waters and in accordance with the law," said the prime minister.
He added: "We don't recognise the Russian annexation of Crimea – it was illegal. These are Ukrainian waters and it was entirely right to use them to get from A to B."
Foreign Secretary Dominic Raab has also said shots were not fired and called the Russian account "predictably inaccurate".
The Ministry of Defence said it had been made aware in advance that the Russians were conducting "gunnery exercises" in the area.
"No shots were directed at HMS Defender and we do not recognise the claim that bombs were dropped in her path," it said.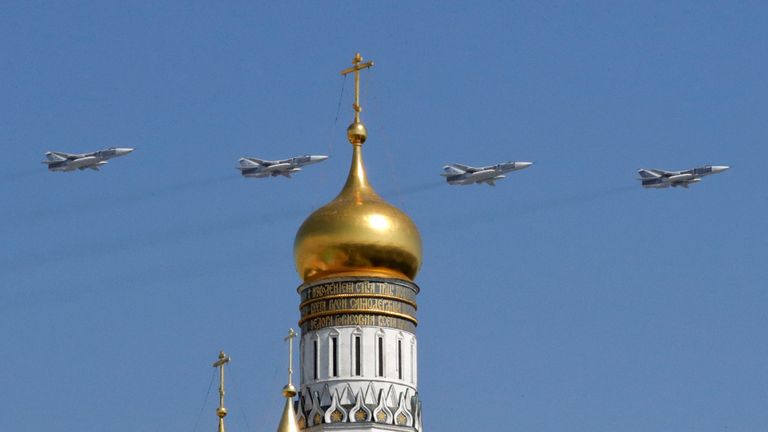 However, a BBC journalist on board the 152 metre-long ship said Russian planes had flown nearby and he also heard radio warnings that shots would be fired if HMS Defender didn't change course .
He said firing was later heard but "well out of range".
Foreign ministry spokeswoman Maria Zakharova accused Britain of "barefaced lies" over the incident.
Russia claims the British ship had gone as far as three kilometres (2 miles) into Russian waters near Cape Fiolent, near the port of Sevastopol in Crimea.
Crimea was seized from Ukraine in 2014 by the Russians, who claim ownership of waters around its coast.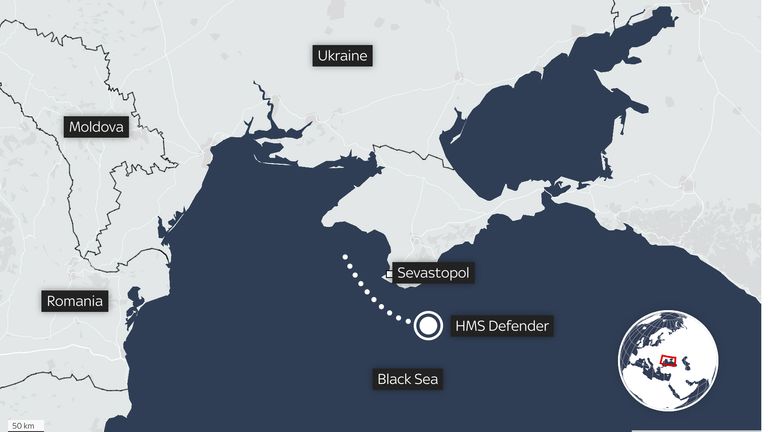 Western countries regard Crimea to have been taken illegally.
Mr Johnson also rejected the assertion that the relationship with Russia was now at a new low, following other recent incidents such as the poisoning of former spy Sergei Skripal in the UK in 2018.
"I can remember times in my own lifetime when things have been far worse," the prime minister said.
Sky's Moscow correspondent Diana Magnay said the incident was to a large extent about "testing each other's mettle" and seeing "how far Russia is prepared to go to defend what it claims are its territorial waters – and how far the UK and NATO are prepared to go to defend Ukrainian sovereignty".