Politicians react to Billy Graham's death: He was a 'pastor to presidents'
Rev. Billy Graham was a "pastor to presidents" and a "faithful servant" of God, politicians commented early Wednesday after learning about the preacher's death at 99.
"The GREAT Billy Graham is dead. There was nobody like him!" President Trump tweeted shortly after news broke of Graham's death. "He will be missed by Christians and all religions. A very special man."
Vice President Mike Pence echoed Trump, saying Graham's ministry "changed the lives of millions."
"We mourn his passing but I know with absolute certainty that today he heard those words, 'well done good and faithful servant,' Pence tweeted. "Thank you Billy Graham. "
During his lifetime, Graham preached in person to more than 210 million people in more than 185 countries and territories across the world. But he was also known for the counsel his gave to decades of presidents.
In 1983, former President Ronald Reagan awarded Graham the Presidential Medal of Freedom — America's highest civilian honor. Additionally, the Billy Graham Museum and Library in Charlotte, N.C., was dedicated to him in 2007.
"When he prays with you in the Oval Office or upstairs in the White House, you feel he's praying for you, not the president," former President Bill Clinton once said of Graham.
Read on for a look at how politicians are reacting to Graham's death.
The Associated Press contributed to this report.
Facebook to lift block on news pages in Australia as standoff ends | World News
Facebook will lift a block on news pages in Australia following a week-long standoff between the social media giant and the government. 
The site had removed access to all news content in the country on its platform and also prevented people around the world from posting links to Australian publications after the government considered legislation to force the company to pay for media content.
The government's move was intended to compel internet companies to pay news organisations, but Facebook had argued it "fundamentally misunderstands the relationship between our platform and publishers who use it".
Following a series of talks over the weekend, a deal has been struck and the Australian government has agreed to change parts of the law.
It will offer four amendments to the legislation, which had already been approved by the House of Representatives.
"We are satisfied that the Australian government has agreed to a number of changes and guarantees that address our core concerns about allowing commercial deals that recognise the value our platform provides to publishers relative to the value we receive from them," Facebook said in a statement.
The case will have been watched closely by other world leaders as countries such as the UK and Canada are considering similar legislation.
News companies have seen their revenues shrink in recent years, with a review commissioned by the UK government finding Facebook and Google had a detrimental impact on British news media because they took such a large share of online advertising revenue.
The Australian government had hoped to redress the balance with its new law, but was met with retaliation from Facebook.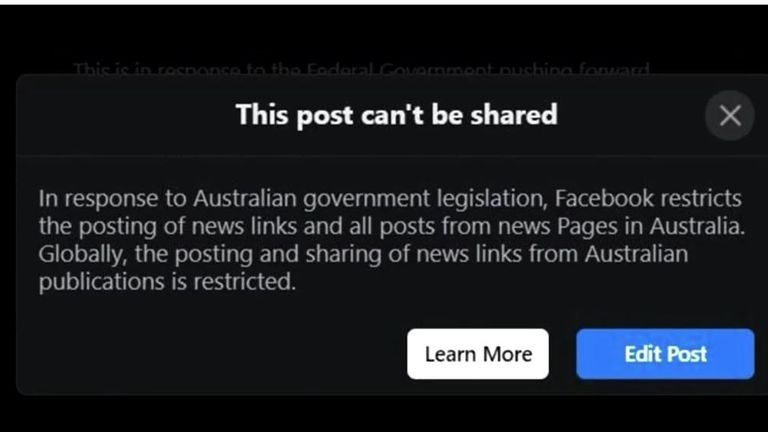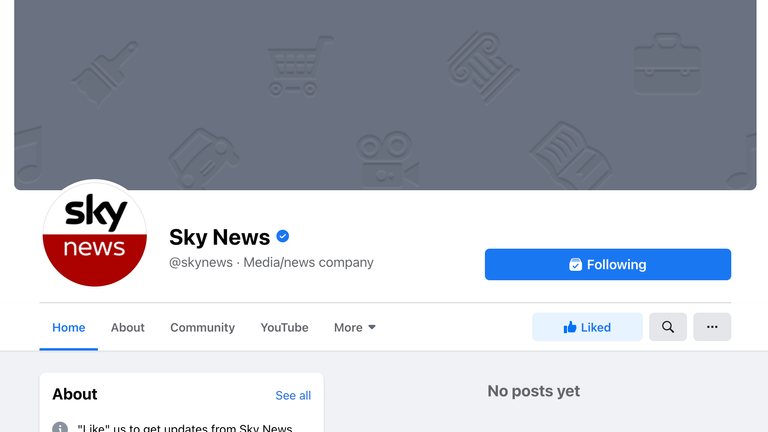 After news pages were blocked on the platform, Prime Minister Scott Morrison called the company's actions "arrogant" and "disappointing".
Facebook hit back, saying: "The proposed law fundamentally misunderstands the relationship between our platform and publishers who use it to share news content.
"It has left us facing a stark choice: attempt to comply with a law that ignores the realities of this relationship, or stop allowing news content on our services in Australia. With a heavy heart, we are choosing the latter."
COVID-19: Biden leads candlelit ceremony for COVID victims as US passes half a million deaths | US News
President Joe Biden has led a minute's silence to honour America's coronavirus victims after the country became the first to record more than half a million deaths.
As 500 lit candles lined the White House steps to commemorate the dead, a military band played Amazing Grace and the president made his emotional remarks.
"Today we mark a truly grim, heartbreaking milestone – 500,071 dead. That's more Americans who have died in one year in this pandemic than in World War One, World War Two and the Vietnam War combined," he said.
"But as we acknowledge the scale of this mass death in America, we remember each person and the life they lived. They're people we knew."
There have now been 500,201 COVID-related fatalities in the country as of 2am, and more than 28 million people have been infected, according to the Johns Hopkins coronavirus tracker.
Mr Biden was joined by First Lady Jill Biden, Vice President Kamala Harris and her husband Doug Emhoff, who bowed their heads solemnly as they observed a minute of silence.
The president also urged Americans to set aside their differences, saying: "We must end the politics and misinformation that has divided families, communities and the country, and has cost too many lives already. It's not Democrats and Republicans who are dying from the virus. It's our fellow Americans.
"We have to fight this together as one people, as the United States of America."
Mr Biden has ordered the nation's flag to be flown at half-mast at the White House, on all public buildings and grounds, and at military posts and naval stations until sunset on Friday.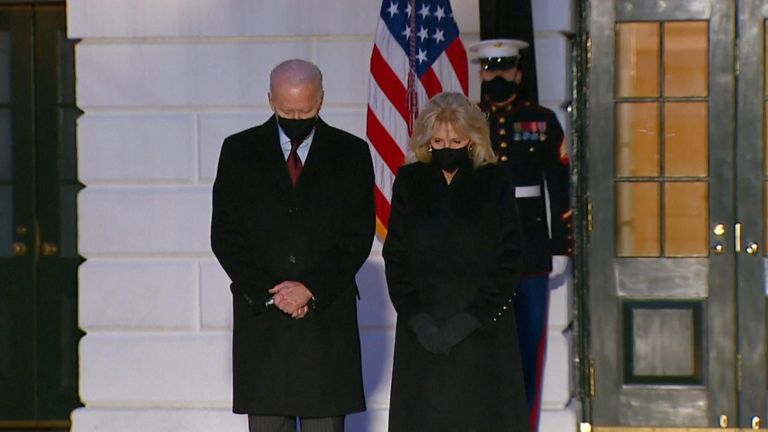 Brazil has the second-highest number of coronavirus deaths globally with about 250,000.
The fact the US leads the world in both death and infection numbers reflected poor planning by the Trump administration, President Biden has previously said.
Confirming the US had bought enough doses "to vaccinate all Americans", he accused Mr Trump of failing to manage the vaccine rollout.
"While scientists did their job in discovering vaccines in record time, my predecessor – I'll be very blunt about it – did not do his job in getting ready for the massive challenge of vaccinating hundreds of millions," he said.
:: Subscribe to the All Out Politics podcast on Apple Podcasts, Google Podcasts, Spotify, Spreaker
In December, the US's average daily deaths linked to COVID-19 touched 2,276 with one daily total exceeding the 2,977 people who lost their lives in the 9/11 terror attacks.
Indigenous Americans are the worst-affected racial group as a percentage of population, recording almost 211 deaths per 100,000 people, Statista said.
Despite Mr Biden's criticisms, there is cause for hope in the vaccine rollout, with official statistics saying about 64 million jabs had so far been given.
That puts the US on course to exceed the president's stated target of 100m doses in his government's first 100 days, though progress was hampered by the recent freezing weather.
And case numbers are also dropping – down to around 100,000 per day this month from 250,000 in January.
It is a far cry from Mr Trump's optimistic prediction last April, that, even if it did nothing, the US would lose 50,000 to 60,000 people to the virus.
Third of freshwater fish threatened by extinction with habitats in 'catastrophic decline' | World News
Nearly a third of fish living in rivers and lakes around the world are facing extinction as their habitats are in "catastrophic decline", a report has warned. 
Freshwater species, which make up more than half of the world's fish species, are central to the livelihoods of 60 million people and the diets of many others.
Some 30% of the 10,336 fish assessed by the IUCN Red List of Threatened Species are at risk of extinction, according to a report from 16 organisations including WWF and the Zoological Society of London (ZSL).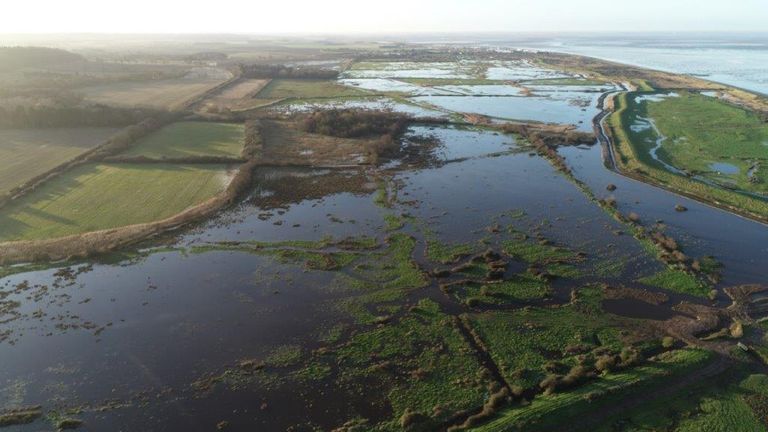 Populations of migratory freshwater fish have fallen by 76% since 1970, while 80 species have been declared extinct.
Burbot and sturgeon are already extinct in the UK, the European eel is critically endangered and salmon have seen significant declines since the 1960s.
Much of the decline in the UK has been driven by the poor state of habitats, with none of England's rivers meeting "chemical standards" for water quality last year.
This is thought to be a result of agricultural pollution, dams and sewage, WWF said.
Globally, similar habitats face threats such as destruction, dams on free-flowing rivers, too much water being taken for agriculture, and pollution.
Fish are also threatened by destructive fishing practices, overfishing, the impacts of climate change, wildlife crime, mining for sand in their habitats and the introduction of non-native species.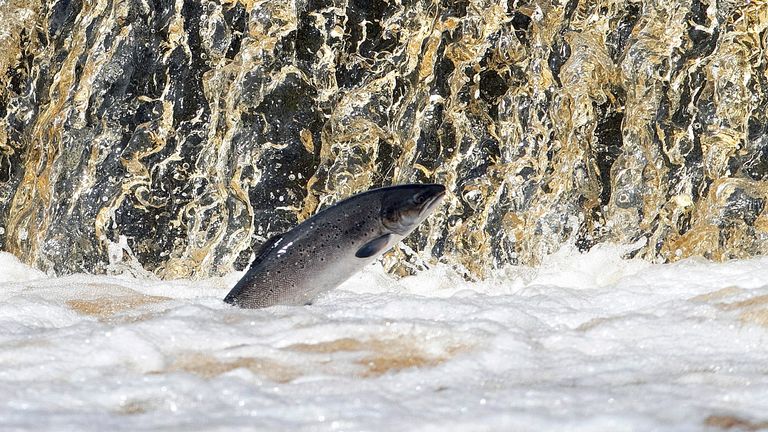 WWF has urged the UK government to support an emergency recovery plan for freshwater wildlife which has been drawn up by a global team of scientists.
The plan would include measures such as reducing pollution, ending overfishing, controlling invasive species and allowing rivers to flow more naturally.
Dave Tickner, chief adviser on freshwater at WWF, said: "Freshwater habitats are some of the most vibrant on earth, but – as this report shows – they are in catastrophic decline around the world.
"Nature is in freefall and the UK is no exception: wildlife struggles to survive, let alone thrive, in our polluted waters."
A Defra spokesperson said: "We remain committed to working closely with water companies, farmers and the fishing industry to restore healthy fish stocks and habitats both through domestic action and international working."