Missouri Governor Eric Greitens indicted on invasion of privacy charge
Missouri Republican Gov. Eric Greitens was indicted Thursday by a St. Louis grand jury on a felony invasion of privacy charge, according to a news release from Circuit Attorney Kimberly Gardner.
The charge stems from an incident that allegedly occurred in March 2015, she said.
Greitens, 43, was booked at the St. Louis Justice Center, officials confirmed to the St. Louis Post-Dispatch. He was released on his own recognizance, St. Louis Circuit Attorney spokeswoman Susan Ryan told The Associated Press.
According to Gardner's news release, the grand jury "found probable cause" that Greiten broke a state law.
An investigation into Greitens' behavior was opened in January following his admiting to an affair, reportedly beginning in March 2015.
Local reports at the time said Greitens allegedly threatened to publicize nude images of the woman he was having the extramarital relations with if she exposed their relationship, according to her ex-husband.
The man secretly recorded a conversation with his then-wife, in which she reportedly admitted to having an affair with Greitens.
While acknowledging that he was "unfaithful" in his marriage, Greitens denied allegations that he blackmailed the woman.
Gardner declined to comment to The AP but Ryan confirmed the indictment stemmed from the alleged photo.
According to the indictment, around March 21, 2015, Greitens allegedly photographed a woman identified only by her initials "in a state of full or partial nudity" without her knowledge or consent and "in a place where a person would have a reasonable expectation of privacy."
The indictment said Greitens "transmitted the image contained in the photograph in a manner that allowed access to that image via a computer," which is a felony, according to Gardner's release.
Greitens' lawyers called the charges "baseless and unfounded," in a statement to the Post-Dispatch. He'll reportedly file a motion to dismiss the charges.
The Missouri governor was elected in November 2016.
The Associated Press contributed to this report.
Alexei Navalny: Putin critic begins sentence in Russian penal colony | World News
Russian opposition leader Alexei Navalny has arrived in a penal colony about 100km (60 miles) east of Moscow to begin his sentence.
Russia's RIA news agency said the jailed Kremlin critic was transferred from a detention centre in Moscow, citing a public commission that defends the rights of Russian prisoners.
The name or exact location of the penal colony was not revealed.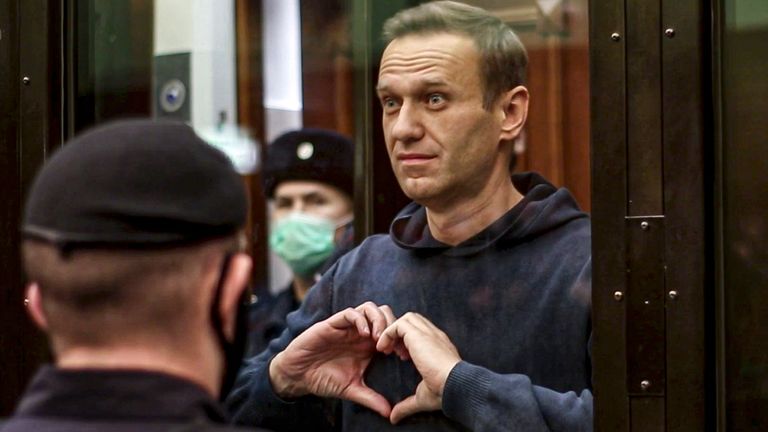 Alexander Kalashnikov, of Russia's federal penitentiary service (FSIN), told reporters: "According to the court's decision, he left to where he currently should be. Everything is done within the framework of the law and the current legislation."
Mr Kalashnikov added Mr Navalny will be kept in "absolutely normal conditions".
Mr Navalny's ally Leonid Volkov said on social media that his family and lawyers had not been officially informed about his whereabouts.
He was jailed earlier this month for two years and eight months for parole violations he claims were trumped up.
The 44-year-old was arrested on 17 January as he returned to Russia from Germany, where he had spent five months recovering from a nerve-agent poisoning that he blames on the Kremlin. Russian authorities have denied being behind the poisoning.
His sentence stems from a 2014 embezzlement conviction that he has rejected as fabricated and the European Court of Human Rights (ECHR) has ruled to be unlawful.
Mr Navalny's allies declared a moratorium on street protests until spring after dozens following his arrest.
They announced the protest freeze after police broke up several nationwide rallies and detained more than 11,000 people, a monitoring group calculated.
Yesterday Alexei Navalny's wife Yulia Navalny joined thousands of people in commemorating the anniversary of fellow Putin critic Boris Nemtsov's murder.
Myanmar: Violence erupts as police open fire killing four pro-democracy protesters and wounding several others | World News
Police in Myanmar have fired tear gas, water cannons and stun grenades at pro-democracy protestors, killing at least four and leaving several wounded.
Violence erupted in the major city Yangon when a woman died after police broke up a teachers' protest with stun grenades, though the cause of her death might have been a heart attack, her daughter and a colleague said.
Several people were being helped away, leaving blood-smeared pavements, after police opened fire, images posted on social media showed.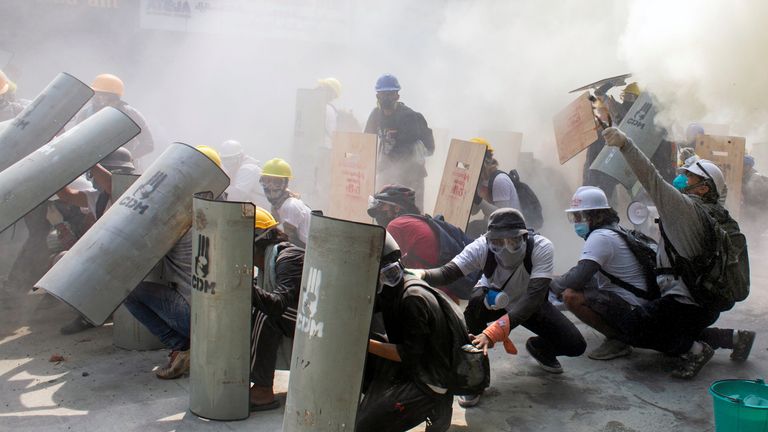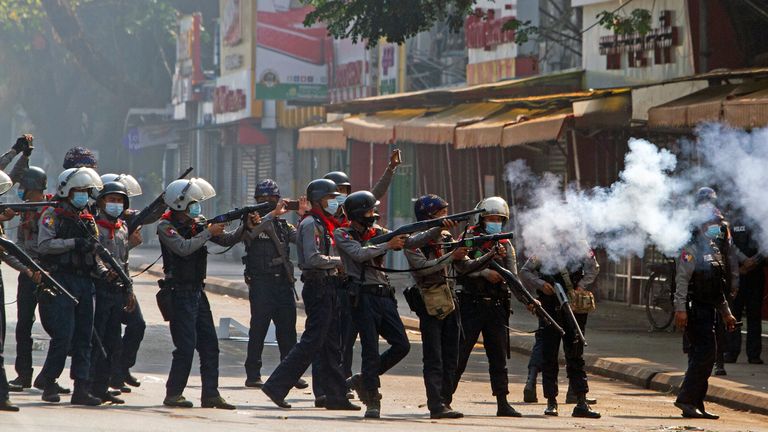 But protesters refused to back down. "If they push us, we'll rise. If they attack us, we'll defend. We'll never kneel down to the military boots," said Nyan Win Shein from one Yangon protest.
Footage also showed protesters running away from police as officers charged at them, makeshift roadblocks being put up to slow the police advance and protesters being bundled into police trucks to be taken away.
Sounds of gunfire could be heard and what appeared to be smoke grenades thrown into the crowds.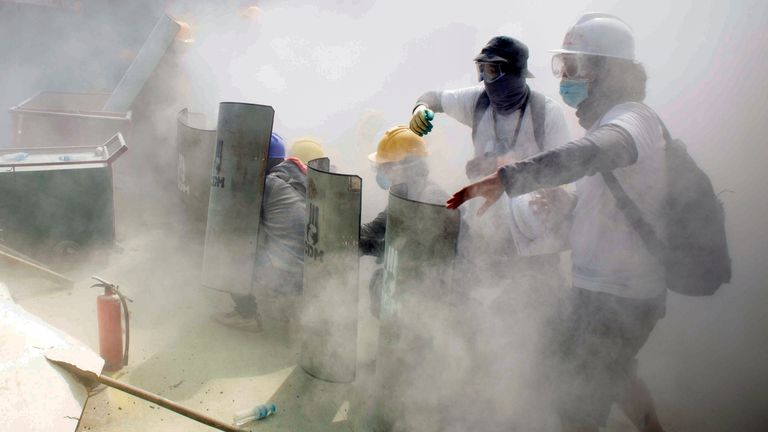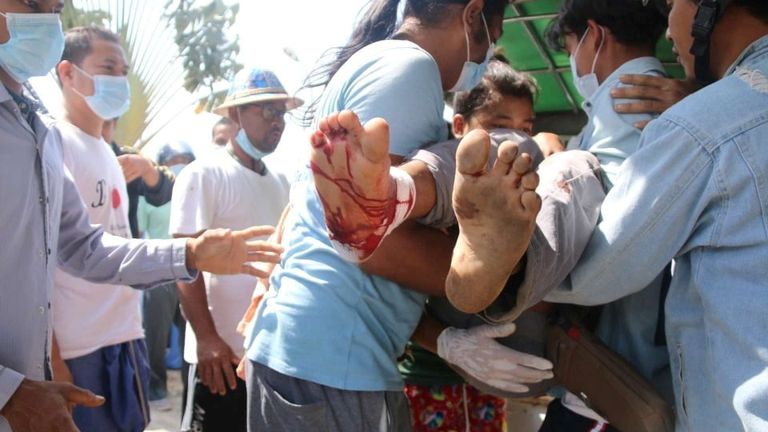 Police also opened fire in the southern town of Dawei, killing three and wounding several others, politician Kyaw Min Htike told Reuters news agency.
The unrest comes after the military took over and detained elected government leader Aung San Suu Kyi and much of her party's leadership, due to alleged fraud in the party's landslide victory in November's elections.
The coup, which brought a halt to tentative steps towards democracy after nearly 50 years of military rule, has drawn hundreds of thousands on to the streets and the condemnation of Western countries.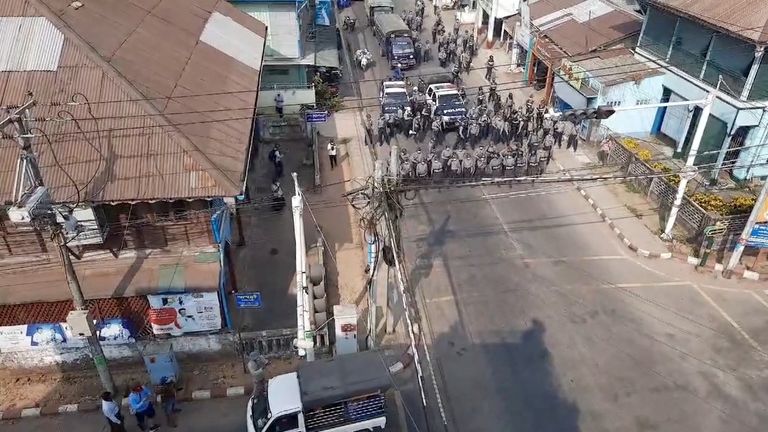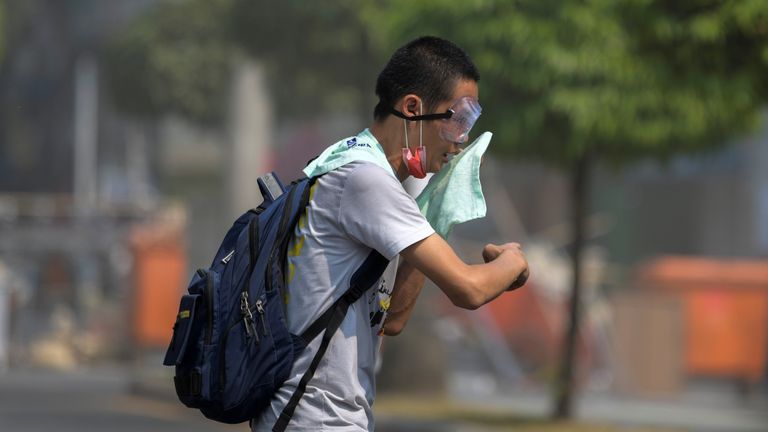 "Myanmar is like a battlefield," the Buddhist-majority country's first Catholic cardinal, Charles Maung Bo, said on Twitter.
A group called the Whitecoat Alliance of medics said more than 50 medical staff had been arrested.
State-run MRTV television said more than 470 people had been arrested on Saturday after police launched the nationwide crackdown.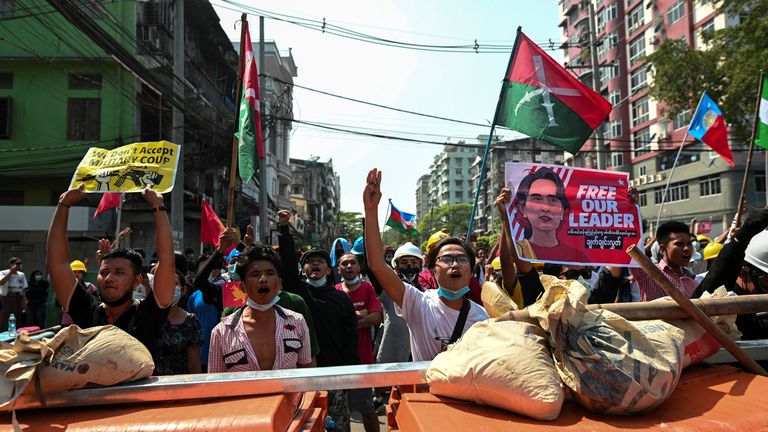 Foreign Secretary Dominic Raab is calling on the United Nation to take action and ramp up the pressure on the military to step aside.
Migrants resorting to treacherous night hikes through Alps to escape to new lives | World News
Migrants and asylum seekers are resorting to dangerous night hikes through the Alps to reach France, aid workers are reporting.
As borders within Europe become increasingly difficult to cross due to pandemic restrictions, some asylum seekers who entered Europe through the Balkans are now braving the extreme, sometimes lethal, mountain cold – often with young children.
The Italian Red Cross has been monitoring the Italian side of the Alps in the town of Claviere for four years.
But for a few months now, they report they are seeing an increase in families, mainly from Afghanistan, Iran and Iraq attempting the route.
Since October more than 1,500 have been intercepted.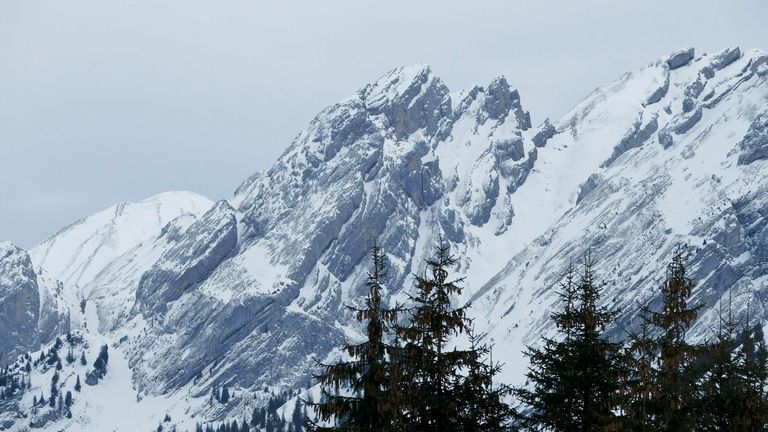 Michele Belmondo, a volunteer with the Italian Red Cross, patrols the mountains to warn people of the dangers, assist them with blankets and sometimes rescue them.
She said: "Unfortunately there have been cases of migrants who were rescued with serious injuries, serious hypothermia.
"In some cases there have been permanent injuries. People who had their fingers amputated due to the extreme cold."
She added: "Initially it used to be young migrants of African origin, often francophones who tried to join France and other European countries.
"Starting some months ago, in 2020, the type of migrants passing in this area has changed a bit, there are many families, often with children who come down the Balkan route, so the main nationalities are Afghan, Iranian, Iraqi."
Amir Hotak, 23, fled his native Afghanistan years ago to get away from the daily violence and insecurity he was facing there.
His odyssey to Italy passed by Iran, Turkey, Greece, Albania, Montenegro, Bosnia, Croatia and Slovenia.
Now he wants to go to Paris.
"In France is good life," he said. "No war."
Hiking the Italian-French Alps, especially in the winter, is difficult even for those who have overcome other obstacles along the way.
Many try to do so at night to avoid being spotted by France's National Gendarmerie who patrol aboard snow bikes.
If they are spotted near the border they are returned to Italy after only a few hours of detention.