McDonald's brings back Szechuan Sauce, launches companion 'Sauce' podcast
McDonald's is determined to squeeze every last drop of sweet, tangy publicity out of its Szechuan Sauce.
On Wednesday, McDonald's officially confirmed the return of its much ballyhooed condiment, which will be available starting on Feb. 26 at all U.S. restaurants — but only for patrons who make a "qualifying purchase."
"Szechuan Sauce returns 2/26! 20 MILLION CUPS spread across all US McD's!" the fast-food chain announced on Twitter.
WATCH: MAN SPOTTED SELLING SZECHUAN-DIPPED McNUGGETS FOR $10 APIECE
But that's not all: According to the tweet, the company also launched an entire companion podcast called "The Sauce" to answer its fans' "burning" questions regarding the condiment, and to discuss all-things Szechuan Sauce.
"We know there were many unanswered questions and even more unbelievable stories from last year's Szechuan saga," read a message posted to WeWantTheSauce.com earlier this week. "So, come this Thursday, February 22nd, we'll not only announce when, where, and how much Szechuan Sauce will be returning. We'll also answer those questions and share those stories via a stranger-than-fiction, three-part podcast series."
WOMAN CLAIMS SHE TRADED SZECHUAN SAUCE FOR A CAR
Die-hard fans of McDonald's Szechuan Sauce have already had an inkling that their favorite condiment would be returning to Mickey D's for a few days now. Twitter users claiming to have inside knowledge have already posted photographs of what appear to be shipments of Szechuan Sauce, as well as documentation that the item would return on Feb. 26.
McDonald's originally released its Szechuan dipping sauce as part of a tie-in promotion during the release of Disney's "Mulan" back in 1998, but it quietly disappeared from the menu shortly afterward. Then, around April 2017, interest in the sauce piqued after a character on Cartoon Network's "Rick and Morty" cartoon series professed his love for the discontinued sauce, and cited it as the impetus for all his time-traveling actions.
McDonald's later announced that the cult-favorite dipping sauce would be available for one day only — Oct. 7, 2017 — at participating locations. However, McDonald's neglected to mention that each location would only have a very limited number of sauce packets, and quickly ran out. In some cases, the patrons became rowdy after learning of the shortage, and police were called to the restaurants to disperse crowds.
Kidnapped Nigerian schoolgirls: 'Repentant bandits' key to release of the 279 students it has emerged | World News
"Repentant bandits" helped secure the release of 279 girls kidnapped from a Nigerian boarding school, it has emerged – as the students open up about the horrors of their ordeal.
A group of about 100 gunmen burst into the Girls Science Secondary School in the northwestern state of Zamfara on Friday and abducted the students.
Before ransacking the school in Jangebe town, they also attacked a nearby military camp and checkpoint, preventing soldiers from stepping in.
'They were pointing guns at our heads'

The girls said they were forced to march through stones and thorns and were repeatedly hit with guns if they could not keep up.
Umma Abubakar said: "Most of us got injured on our feet and we could not continue trekking, so they said they will shoot anybody who did not continue to walk."
Farida Lawali, 15, added: "While they were beating the girls with guns, some of them were crying and moving at the same time."
At least a dozen of the schoolgirls have been taken to hospital for treatment.
In spite of their horrific ordeal, the father of seven of the girls, vowed the abduction would not stop him from schooling his children.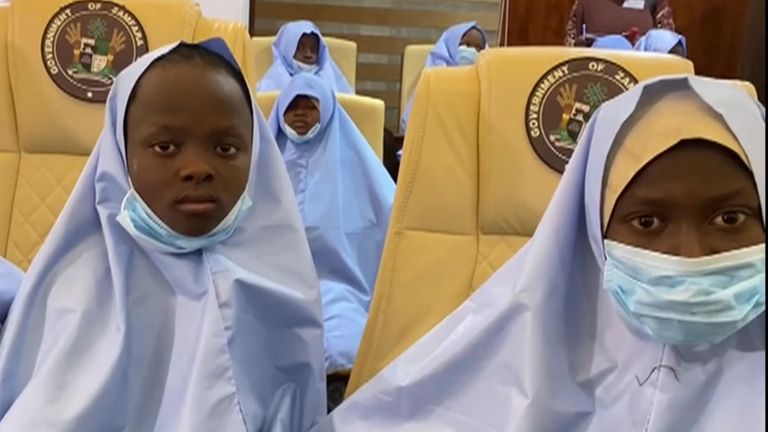 Lawal Abdullahi said: "It's a ploy to deny our girls from getting the western education in which we are far behind.
"We should not succumb to blackmail.
"My advice to the government is that they should take immediate precautions to stop further abductions."
And UN children's agency UNICEF has joined his call, urging the Nigerian government to provide added protection to schools.
Nigerian president Muhammadu Buhari said news of the girls' release had brought "overwhelming joy".
Alhamdulillah! It gladdens my heart to announce the release of the abducted students of GGSS Jangebe from captivity. This follows the scaling of several hurdles laid against our efforts. I enjoin all well-meaning Nigerians to rejoice with us as our daughters are now safe. pic.twitter.com/YKfHoUuiXP

— Dr. Bello Matawalle (@Bellomatawalle1) March 2, 2021
And Zamfara state governor Dr Bello Matawalle revealed it had been "repentant bandits" working with the government under an amnesty programme who had helped secure the Jangebe girls' release.
"Those repentant ones are working for us, and they are working for the government and they are working for security,"
he said.
Several large groups of armed men operate in Zamfara state, described by the government as bandits, and are known to kidnap for money or for the release of their members from jail.
The government has repeatedly denied paying ransoms.
But on Friday president Buhari had issued a statement in which he urged state governments "to review their policy of rewarding bandits with money and vehicles, warning that the policy might boomerang disastrously".
Sky News' Africa correspondent John Sparks said the latest abduction prompted more questions on the ransom debate.
"Was money paid? This is becoming a growth industry in Nigeria," he said.
"It's happening frequently: Criminal gangs or bandits taking advantage of the precarious security situation in the north and central areas."
Such kidnappings in Nigeria were first carried out by jihadist group Boko Haram, and later its offshoot Islamic State West Africa Province, but the tactic has now been adopted by other criminal gangs.
The raid in Zamfara state was the second kidnapping in little over a week in the north west, a region increasingly targeted by criminal gangs.
On Saturday, gunmen released 27 teenage boys who were kidnapped from their school on 17 February in the north-central state of Niger.
Carlos Ghosn: Special forces veteran and son extradited over ex-Nissan chief's 'music box' escape from Japan | World News
A US special forces veteran and his son accused of helping ex-Nissan boss Carlos Ghosn escape from Japan have been extradited to the country.
They are accused of aiding a plot to smuggle Ghosn out of the country, where he was awaiting trial on financial misconduct charges in December 2019.
Michael Taylor and son Peter Taylor allegedly helped him escape in a music box and on a private jet to his home country of Lebanon, which has no extradition treaty with Japan.
Prosecutors say they received at least $1.3m (£936,000) for their services.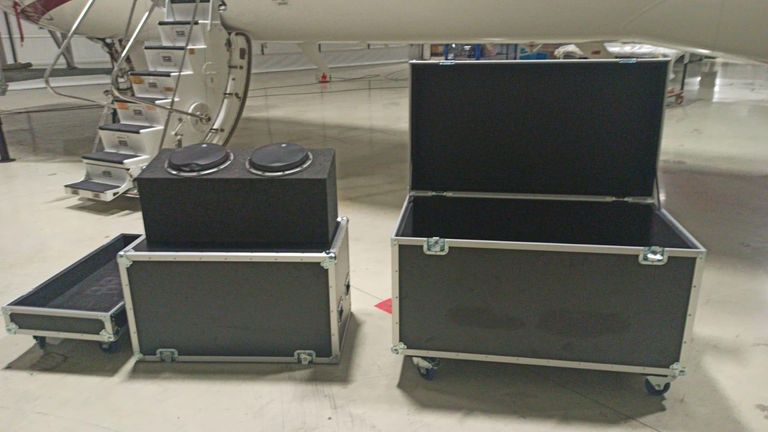 The pair landed in Tokyo on Monday after a high-profile battle to avoid being handed over, with lawyers claiming they faced the prospect of relentless interrogation and "mental and physical torture".
They had been in a Boston jail since May, but last month the US Supreme Court cleared the way for their extradition.
"This is a sad day for the family, and for all who believe that veterans deserve better treatment from their own country," said their lawyer Paul Kelly.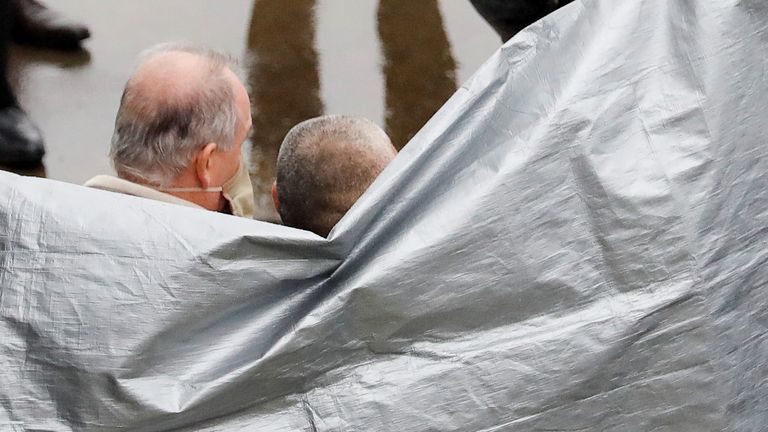 Under Japanese law, suspects cannot have a lawyer present during questioning by prosecutors and can be held for 20 days before being charged or released.
Michael Taylor, 60, is a special forces army veteran and private security specialist who in the past had been hired to rescue abducted children. He has never denied the allegations.
He described the escape plan in detail in an interview with Vanity Fair last year and said he did it "to liberate the oppressed".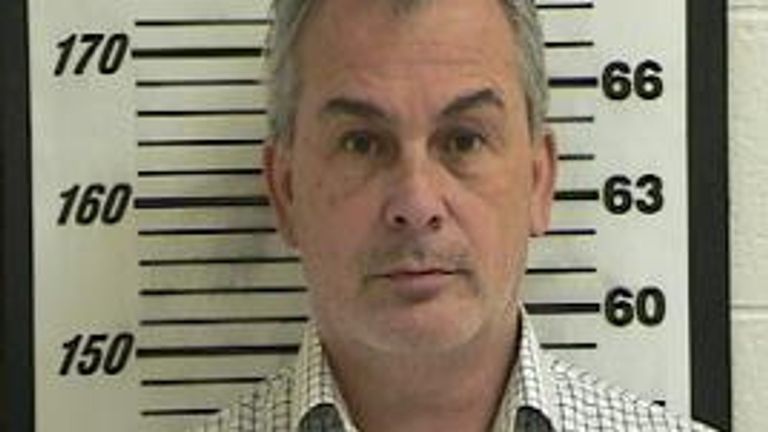 Prosecutors have called it one of the most "brazen and well-orchestrated escape acts in recent history".
Michael Taylor and another man, George-Antoine Zayek, allegedly chartered a jet to Japan with two large boxes in a ruse that they were musicians with audio equipment.
Ghosn, who was out on bail, is said to have met up with Peter Taylor at a Tokyo hotel before the others joined them.
As the younger Mr Taylor flew to China, the other three are said to have taken a bullet train to another hotel near Osaka airport.
They all went into a room but only two came out.
Prosecutors say Ghosn was inside one of the boxes – which passed through security without being checked.
January 2020: 'I was facing conviction rate of 99%' – Ghosn

The private jet landed in Istanbul in Turkey, before Ghosn was transferred to another flight to Lebanon.
He had initially been arrested in November 2018 on claims he diverted money from Nissan for his own gain and underreported his future income.
He denies the charges against him and says he escaped to avoid "political persecution" and an unfair trial.
Michael Gudinski: Kylie Minogue, Bruce Springsteen and Russell Crowe lead tributes to Australian music industry 'legend' | Ents & Arts News

Kylie Minogue, Bruce Springsteen and Russell Crowe are among the stars paying tribute following the death of an Australian music industry "legend".
Promoter Michael Gudinski founded the Mushroom label when he was just 20 in 1972, and it went on to become the country's largest independent entertainment group.
He helped launch the careers of both Kylie and Dannii Minogue and also played a key role in bringing some of the world's biggest stars, including Springsteen, to perform Down Under.
MICHAEL GUDINSKI – Legend. Legacy. LOVE. A Titan of the music industry. One of a kind and forever family to me. My heart is broken and I can't believe he's gone. Irreplaceable and unforgettable, I'll always love you 'The Big G'. #MichaelGudinski pic.twitter.com/f3AH1KlBOL

— Kylie Minogue (@kylieminogue) March 2, 2021
He died peacefully in his sleep at his home in Melbourne, Australia, aged 68, Mushroom said.
Paying tribute on social media, Kylie Minogue described Mr Gudinski as a "legend" and a "titan" of the music industry.
"One of a kind and forever family to me," she wrote. "My heart is broken and I can't believe he's gone."
Springsteen described Mr Gudinski as a friend who was "first, last and always a music man", and a promoter who would be "remembered by artists, including this one, from all over the world every time they step foot on Australian soil".
Crowe said he was a "towering figure on the Australian cultural landscape".
The pair had been friends for 30 years, he said.
RIP Michael Gudinski. Seems almost impossible. A towering figure on the Australian cultural landscape.
I'm not sure we ever agreed on anything, except maybe @edsheeran . Still didn't stop us from being mates for 30 years. I'm going to miss him deeply. My love to his family.

— Russell Crowe (@russellcrowe) March 2, 2021
Ed Sheeran, the Foo Fighters and Dannii Minogue have also shared tributes.
Sheeran, who Mr Gudinski helped while touring in Australia, shared a picture on Instagram of the pair together on a beach, saying: "I'll miss you mate."
Dannii Minogue said: "I will forever be grateful for the opportunity he gave me to release my first single and album, and the journey that it took me on for so many years."
He was always there cheering me on, and I will never forget that. There are so many beautiful moments to cherish spent with Michael and his family, surrounded by music and the joy it brings. The loss will be felt forever, but his legacy will also live on forever.

— Dannii Minogue (@DanniiMinogue) March 2, 2021
Posting a picture on social media, the Foo Fighters said in a statement. "Thank You Michael Gudinski for giving us and countless others the best night of our lives.
"Over and over again. A true f****** legend. We will miss you dearly. Rock & Roll will miss you deeply."
Mushroom Group said Mr Gudinski had spent time in 2020 trying to help artists affected by the shutdown of live music caused by the COVID-19 crisis.
:: Subscribe to the Backstage podcast on Apple Podcasts, Google Podcasts, Spotify, Spreaker
"A larger-than-life figure, Michael was widely respected for his unwavering passion for all music – in particular Australian music," the label said in a statement.
"Most recently, with the music industry severely impacted by the COVID-19 pandemic, Michael conceptualised and developed Music From The Home Front, The Sound and The State Of Music, platforms designed to showcase and support contemporary Australian music in an incredibly difficult time.
"It speaks to the man he was that of his countless illustrious career achievements these projects, that supported the industry he loved, were ones he was particularly proud of."
Mr Gudinski is survived by his wife Sue, son Matt and daughter Kate, the group said.