Lebanon's plea for help with Syrian refugee crisis
The Government is expected to pass the halfway mark today towards meeting its target of relocating 20,000 Syrian refugees from countries around the conflict zone.
But Sky News has visited a single town in Lebanon that hosts more than 25,000 refugees alone. Officials in the border town of Majdal Anjar say they are "overwhelmed" by the crisis.
Every day since the seven-year conflict began, new refugees have been smuggled from war-torn Syria across a low mountain into Majdal Anjar.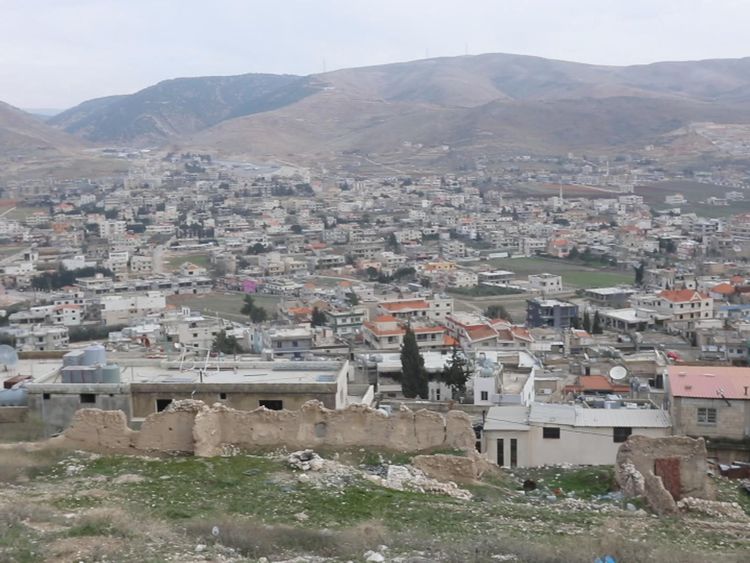 Now refugees outnumber the native Lebanese and occupy over 30 so-called "temporary camps" which are, in reality, becoming a permanent fixture.
:: The complex who's who of Syrian civil war
Mayor of the town, Saeed Yaseen, told Sky News his region was being "ignored" by the international community.
He said: "The number of Syrian refugees exceeds 25,000 while the town population is 22,000."
"Sewage facilities for the town are made for 22,000 people so they are overwhelmed. We need a waste disposal plant. We need a hospital as the nearest one is 25 miles away and most people don't have transport."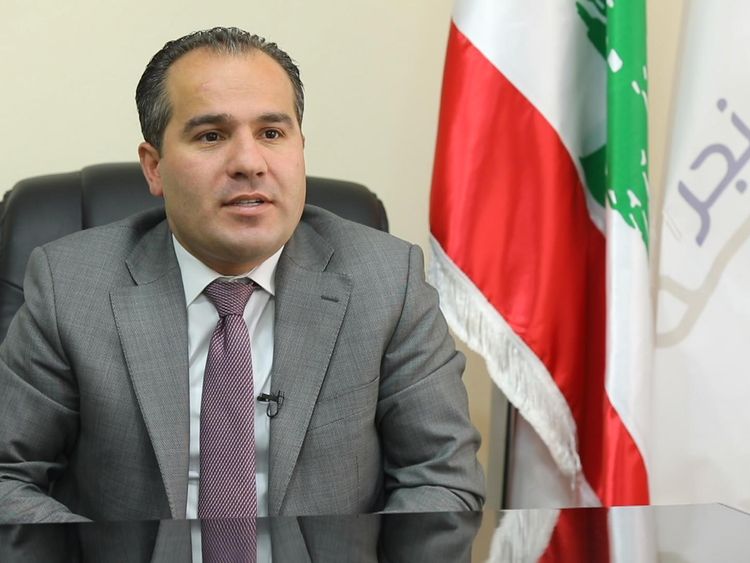 The mayor says only a small number of NGOs are working on the ground and he blames both the international community and the Lebanese government for focusing their efforts in the wrong places.
He said "Majdal Anjar in particular is being ignored as only two organisations barely helped us, while they are helping other towns that are not hosting any refugees."
:: Why Turkey is on a collision course with Syria
Lebanon has 1.5 million refugees now living in the country, making up one quarter of the country's total population.
In 2015, David Cameron's pledged the UK would take 20,000 refugees by 2020.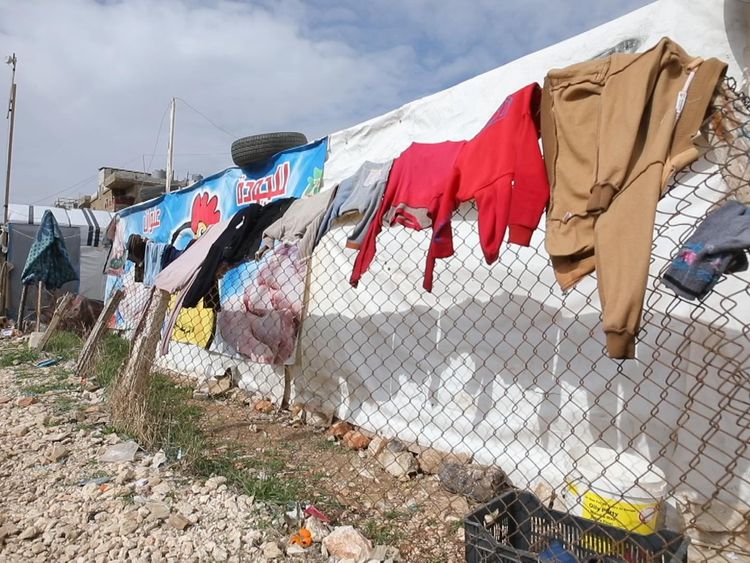 The UK has also given nearly £2.5bn in humanitarian aid to countries in the region since the conflict began.
:: Angelina Jolie's 'heartbreaking' visit to Syrian refugee camp
The decision to take in particularly vulnerable refugees from the camps in Syria, Jordan and Turkey was in part an effort to send a signal that people in camps close to the Syrian border should stay put rather than risk the journey to Europe.
But the situation in these camps is getting increasingly dire.
Despite showing incredible fortitude in the face of the crisis, Lebanon has suffered economically, and hostility to refugees is beginning to grow amongst the native population.
As a result life is getting harder for the displaced people.
The Syrians have to pay an annual $200 (£144) residency renewal fee and many are unable to afford it.
While authorities have recently promised to waive the payment for those registered with the UNHCR, around half a million people are not registered. And these are probably some of the most vulnerable.
Lack of legal status makes it difficult for people to work, send their children to school or access health care.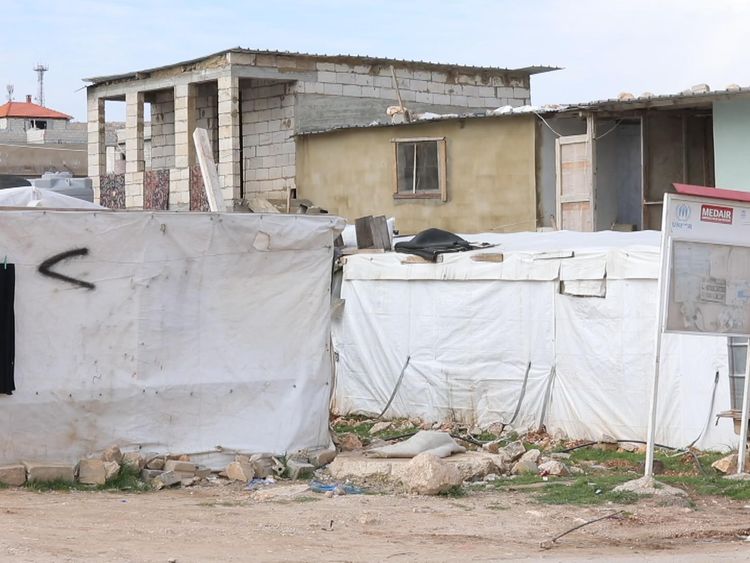 It also leaves them exposed to the risk of arrest, and organised gangs have been known to blackmail the people they have smuggled in by threatening to turn them into the Lebanese authorities.
We spoke to Rami from Homs who left Syria after his wife and child were killed in the war and he feared he would be conscripted into President Assad's forces.
He paid traffickers $2000 (£1438) to take him across the mountains but was turned into the Lebanese military on arrival.
He has been unable to afford the registration fee and has been living illegally in Lebanon for the last year.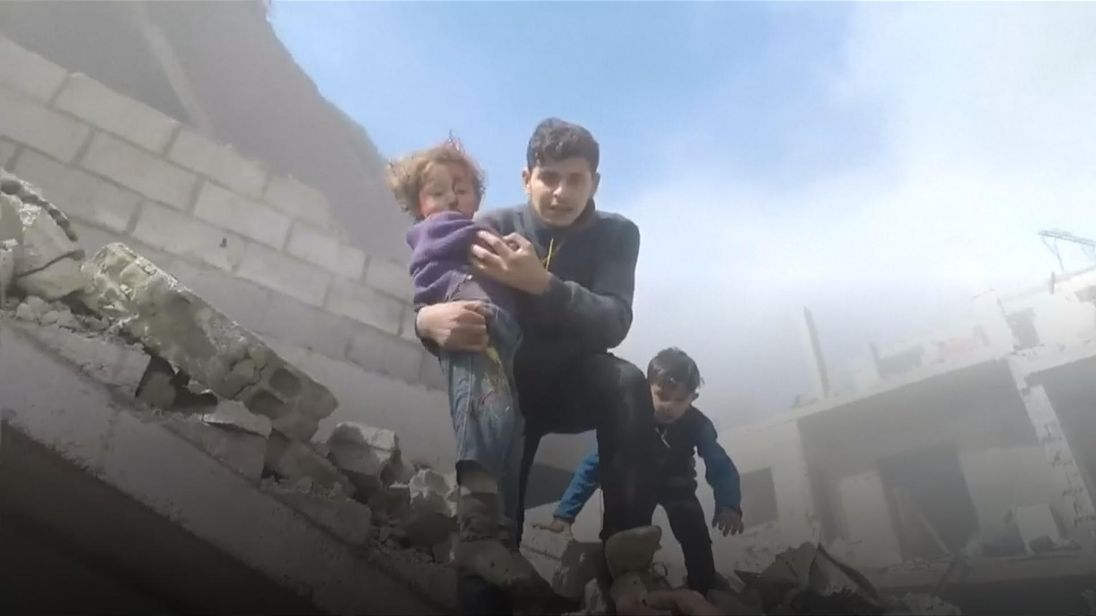 He said: "I can't actually move freely. I can't go to any other area outside the camp and risk getting caught at a checkpoint, so it's almost impossible for me to get a job. I'm stuck. I reached out to the UNHCR but they can't help me as I'm considered an illegal refugee."
The number of refugee families where no one is registered has increased considerably from 20% in 2015, to 55% in 2017.
That also means over half the displaced population would not qualify to get on to the vulnerable persons relocation scheme for a chance to be rehomed in the United Kingdom. Yet it is likely these are the most vulnerable families.
Syrian refugee Mohammed Abu Malek who has a family of five children living on a camp in Majdal Anjar told Sky News: "The support is not enough at all. It is becoming less and less each year and the situation is getting worse."
By now people still in Syria know that what awaits them in Lebanon before they leave. Word gets back that it is a life of hardship and exploitation. But they keep coming anyway.
Olivier Dassault dies: Emmanuel Macron pays tribute to French billionaire politician killed in helicopter crash | World News
Emmanuel Macron has paid tribute to a French billionaire and politician killed in a helicopter crash on Sunday evening.
Olivier Dassault, 69, was the eldest son of French billionaire industrialist Serge Dassault, whose group builds the Rafale war planes and owns Le Figaro newspaper.
The private helicopter he was travelling in crashed on Sunday afternoon in Normandy, where he has a holiday home, a police source told Reuters. The pilot was also killed.
Mr Macron wrote on Twitter: "Olivier Dassault loved France. Captain of industry, deputy, local elected official, reserve commander in the air force: during his life, he never ceased to serve our country, to value its assets.
"His sudden death is a great loss. Thoughts on his family and loved ones."
Olivier Dassault aimait la France. Capitaine d'industrie, député, élu local, commandant de réserve dans l'armée de l'air : sa vie durant, il ne cessa de servir notre pays, d'en valoriser les atouts. Son décès brutal est une grande perte. Pensées à sa famille et à ses proches.

— Emmanuel Macron (@EmmanuelMacron) March 7, 2021
A deputy in the French National Assembly who represented the conservative Les Republicains party since 2002, Mr Dassault was considered the 361st richest man in the world alongside his two brothers and sister.
He stepped down from his role on the board of Dassault due to his political role to avoid any conflict of interest.
He was once considered top choice to succeed Serge at the head of the family holding, but that role went to former Dassault Aviation chief executive Charles Edelstenne.
Myanmar: Nun tries to protect protesters as at least two killed in city of Myitkyina | World News
A nun in Myanmar told junta forces "you'll have to come through me" – moments before they opened fire on protesters.
At least two people were confirmed dead in the city of Myitkyina on Monday following clashes with security forces.
Sister Ann Roza Nu Tawng previously said she was prepared to die to save others after being filmed kneeling in front of armed police in the capital city of Kachin state.
Some have called the scene, on 28 February, Myanmar's "Tiananmen moment".
Dressed in white robes and a dark habit, the 45-year-old was again photographed near protest lines in the city on Monday morning.
Other images show her kneeling in front of police, this time near the Catholic cathedral, as a senior nun looks on.
Recounting the horrifying events of the morning, she told Sky News: "The first time I was pleading with the police not to beat, not to arrest, not to crack down on the protesters, because the protesters were not doing anything bad, they were just shouting slogans.
"And the police told me 'we are from here, we have to do this. Please stay away from here'.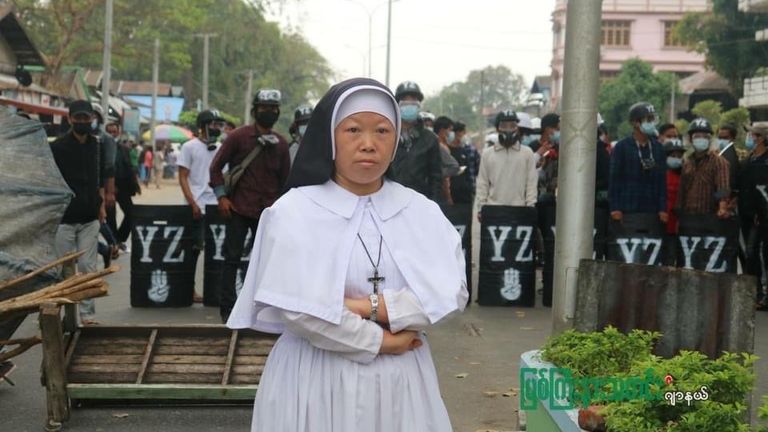 "I replied, 'no, if you want to do this you have to come through me!'
"Later the police said 'we have to remove this barricade on the road'. They then removed the barricade and after a while the protesters returned.
"Then around 12 noon the security forces were about to crack down, so again I was begging with them, I was kneeling down in front of them and I was pleading not to shoot and not to arrest the people.
"The police were also kneeling and they told me they had to do it because this was to stop the protest.
"After that, tear gas was used and I was struggling to breathe and I was dizzy, and then I saw the man who had fallen down in the street and [he had been shot]."
The editor of Myitkyina News Journal told Sky News that, as of lunchtime, at least two people had been confirmed dead.
Distressing photos show Sister Ann Roza standing at the top of the street as protesters run towards the gravely injured person lying in the road.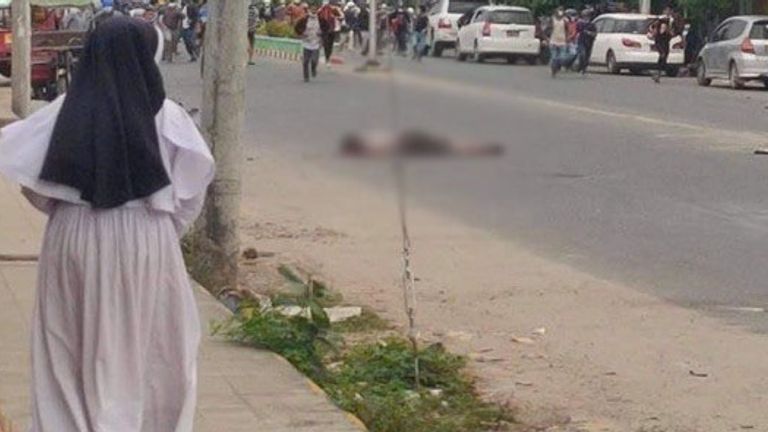 In another graphic image, she is crying out as she leans towards the body of a man who has been shot in the head.
She said that due to the tear gas she did not see if it was police or military who fired on the protesters, but she hoped it wasn't the officers she spoke to.
"I am very sad," she said. "The police told me that they're not going to crack down or shoot brutally, but finally they did.
"I saw another person who died on the spot and had serious injuries.
"The first person who was shot in the head could still breathe when he arrived at the clinic and the people tried to treat him, but finally he died."
It is just over a week since Sister Ann Roza was first filmed kneeling in front of police lines in the city as she begged them to refrain from violence.
In an interview with Sky News on Friday, she explained she was willing to sacrifice her own life to protect protesters.
"Then they opened fire and started beating the protesters. I was shocked and I thought today is the day I will die," she said.
Moment nun stands up to Myanmar military

"I decided to die. I was asking and begging them not to do it and I told them the protesters didn't commit any [crime]," she said, crying.
At least 56 people have been killed and 1,790 detained or arrested since the 1 February coup, according to figures compiled by the Assistance Association for Political Prisoners (Burma) .
On Monday, numerous injuries were reported at locations across the country as the military tried to stop the ongoing protests.
At least one protestor in Pyapon, Ayeyarwaddy region, was also killed according to Khit Thit media agency.
Tear gas, stun grenades and live fire have all been used against unarmed civilians in the five weeks since the coup.
Over the weekend, residents in cities including Yangon also reported soldiers shooting tear gas and bullets after dark as terrified residents watched from their homes.
One video sent to Sky News appeared to show forces firing in the grounds around West Yangon Hospital on 7 March.
In another, soldiers are filmed in a residential street as bright flashes light up the sky.
'Iraq will always remain with me, in my heart': Pope's message to packed Erbil stadium | World News
Pope Francis has said Mass to thousands of people in the packed Franso Hariri stadium in Erbil.
At the end of the last official event before he returns to Rome on Monday, Francis told the crowd: "Iraq will always remain with me, in my heart."
He closed by saying "salam, salam, salam [peace, peace, peace]".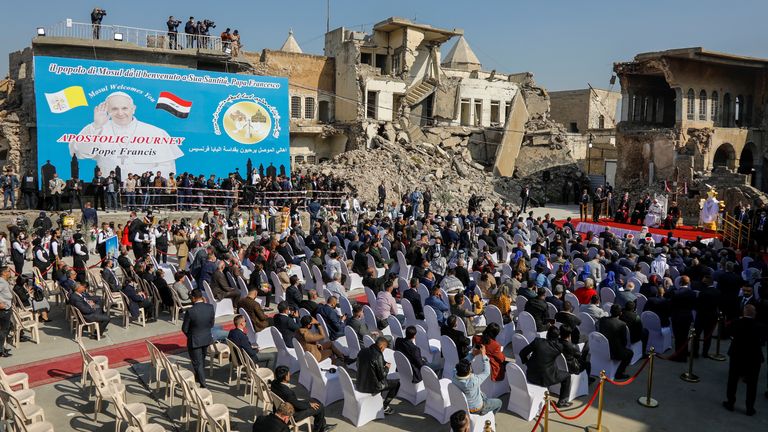 Earlier, The Pope led prayers in Mosul – a former stronghold of terror group Islamic State.
He flew in by helicopter and was greeted by crowds in the decimated northern Iraqi city, where just a handful of Christian families now live.
Thousands of Christians fled the area during the IS occupation, where they were faced with conversion, death, or paying a tax for non-Muslims.
On the way to the venue, he stopped by the ruins of homes and cathedrals that had been destroyed by IS violence, to hold a moment of silence.
He then took part in the service from a once-bustling city square, surrounded by the ruins of several damaged churches, which were destroyed when IS overran the area in 2014.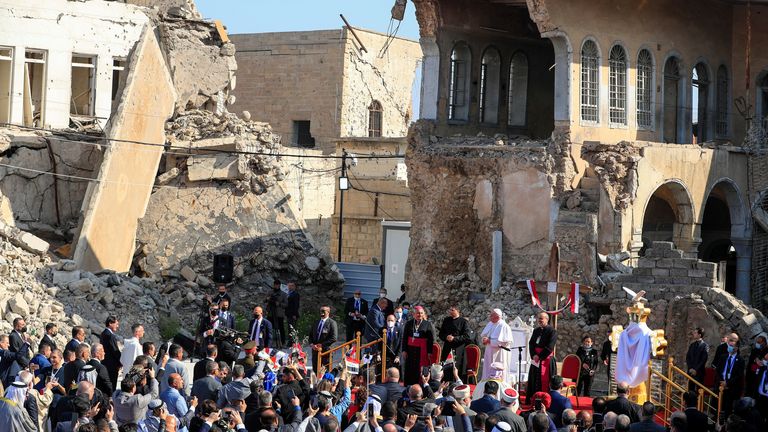 "How cruel it is that this country, the cradle of civilization, should have been afflicted by so barbarous a blow, with ancient places of worship destroyed and many thousands of people – Muslims, Christians, Yazidis and others – forcibly displaced or killed," he told the crowd.
"Today, however, we reaffirm our conviction that fraternity is more durable than fratricide, that hope is more powerful than hatred, that peace more powerful than war."
Pope Francis added that hope could not be "silenced by the blood spilled by those who pervert the name of God to pursue paths of destruction".
In prayer, he said: "If God is the God of life – for so he is – then it is wrong for us to kill our brothers and sisters in his name. If God is the God of peace – for so he is – then it is wrong for us to wage war in his name.
"If God is the God of love – for so he is – then it is wrong for us to hate our brothers and sisters."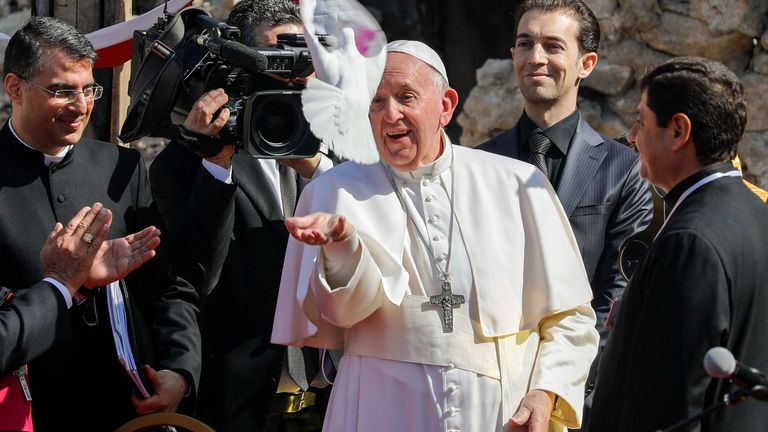 He concluded the prayer saying: "To you we entrust all those whose span of earthly life was cut short by the violent hand of their brothers and sisters; we also pray to you for those who caused such harm to their brothers and sisters. May they repent, touched by the power of your mercy."
A white dove was also released by Pope Francis, to symbolise peace – a running theme for his papal visit.
In 2014, in Mosul's al-Nuri mosque, Abu Bakr al Baghdadi gave a sermon in an extremely rare public appearance, where he announced the IS caliphate.
Mosul was liberated in July 2017 after a brutal three-year regime of terror in the city, that left an estimated 9,000-11,000 people dead.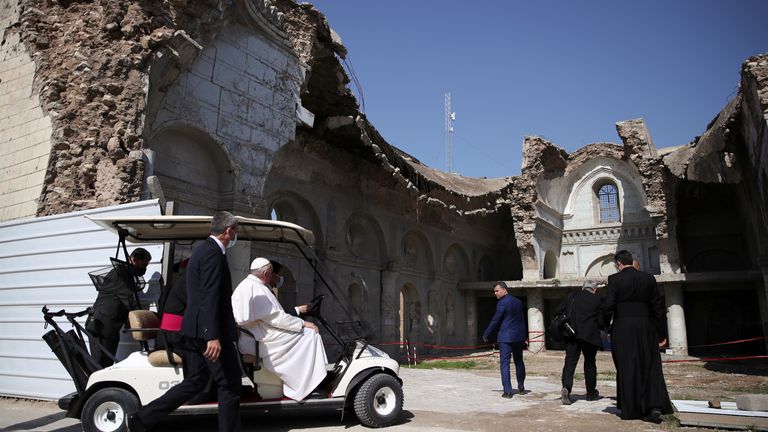 The Vatican hopes that Pope Francis's appearance in Mosul will encourage Christian communities to stay in the area, despite years of violence and persecution.
The Pope visited one of the most influential Muslim leaders in the world on Saturday, Grand Ayatollah Ali al Sistani, where the men discussed the issues facing Christian communities in the country.
Following the meeting, al Sistani said he wanted Muslims and Christians to coexist in Iraq, and called on other religious leaders to hold great powers to account and for wisdom and sense to prevail over war.