France plays catch-up coping with radicalized prisoners
PARIS –  Radicalized inmates in the general prison population can quickly start influencing others and endanger prison staff. It's a problem that has dogged French authorities for years and is set to grow more acute as foreign fighters return to France amid the collapse of the Islamic State group.
More citizens from France have traveled to the battlefields of Syria and Iraq than from any other European country, and the United States is urging allied nations to claim their nationals held by the U.S.-backed Syrian Democratic Forces because facilities there are filling up.
Making room for more returnees in French prisons, some built in the 19th century, could put new strains on the prison system — and be a tight squeeze. By December 2017, some prisons were over capacity by 220 percent, according to the Justice Ministry.
COVID-19: Man who threatened to blow up NHS hospital unless he was paid £10m convicted of extortion | World News

A Berlin-born man who threatened to blow up an NHS hospital unless he was paid £10m in cryptocurrency has been convicted of extortion by a German court.
Emil A, an Italian national, sent the first threatening email to the NHS in April 2020 – at the height of the first peak of the coronavirus pandemic – purporting to be a member of the far-right group Combat 18.
Over a six-week period he sent 18 emails, also making threats to blow up BLM protests and murder members of parliament.
The UK's National Crime Agency (NCA) said their experts worked 24 hours a day analysing leads and electronic communication, eventually tracking Emil A down to a flat in the German capital.
On 15 June, specialist firearms officers from Berlin Police used explosives to force entry to his flat and arrest him.
The 33-year-old – who has been in custody since his arrest – was sentenced to three years in prison, but released on bail by the court before his judgment is ratified.
Tim Court, the NCA's head of investigations, said Emil A's actions were "the most significant threat we've seen to UK infrastructure" – and that he sought to hijack significant social events like the BLM protests for monetary gain and disrupt the treatment of people suffering with coronavirus.
Mr Court said: "At the height of this we were losing nearly 1,000 people a day and we had to manage someone threatening to plant a bomb. He didn't have access to it, but if [his threat] had become public, the impact on the confidence of people to go to hospital would have been significant."
Authorities say Emil A didn't have any links to the UK or its health service, but that his aim was to exploit the vulnerability of NHS, which was dealing with an influx of COVID-19 patients in the first wave of the pandemic.
Nigel Leary, deputy director of the NCA's National Cyber Crime Unit, said a phone call threatening to detonate a bomb in hospital could have resulted in a loss of life because it would have been difficult to evacuate patients on ventilators.
Detectives were initially unsure whether Emil A operated alone or as part of a group, but concluded that he didn't have any links to far-right organisations and posed as a member of a neo-Nazi group in order to stoke fear.
An NHS spokesperson said: "The threat made during the extortion demand significantly added to the pressures on the NHS during the COVID pandemic and meant senior leaders and emergency response staff were called on to direct the NHS aspects of the response to this threat.
"The threat and demand was made at a time that hospitals were at their most vulnerable, and could have resulted in significant loss of life."
Nigeria: Hundreds of schoolgirls abducted as gunmen attack nearby military site | World News
More than 300 girls have been abducted from a boarding school in northern Nigeria in the latest in a series of student kidnappings in the country.
Gunmen abducted 317 students from the Girls Science Secondary School in Jangebe town, Zamfara state, on Friday.
Local man Musa Mustapha said the gunmen also attacked a nearby military camp and checkpoint, preventing soldiers from intervening at the school.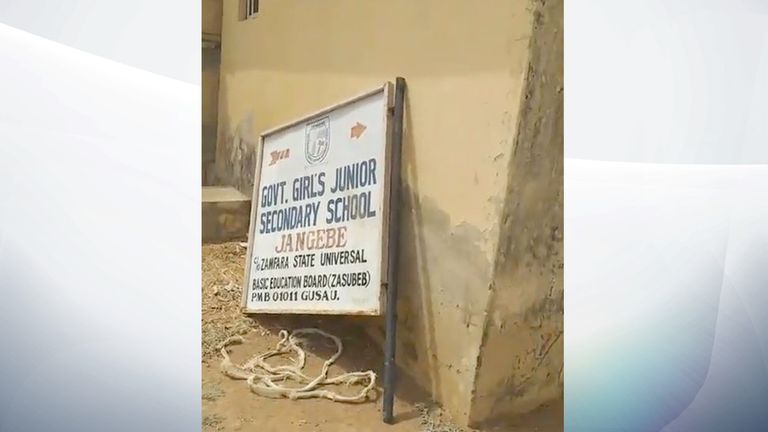 The attackers spent several hours at the camp, but there are no reports of any casualties.
Police and the military have since begun joint operations to rescue the girls, Zamfara state police spokesman Mohammed Shehu said.
Nasiru Abdullahi, who said his daughters, aged 10 and 13, were among the missing, told reporters: "It is disappointing that even though the military have a strong presence near the school, they were unable to protect the girls.
"At this stage, we are only hoping on divine intervention."
Several large groups of armed men operate in Zamfara state, described by the government as bandits, and are known to kidnap for money and for the release of their members from jail.
Peter Hawkins, Nigeria's UNICEF representative, called for the immediate release of the schoolgirls, saying: "We are angered and saddened by yet another brutal attack on schoolchildren in Nigeria.
"This is a gross violation of children's rights and a horrific experience for children to go through."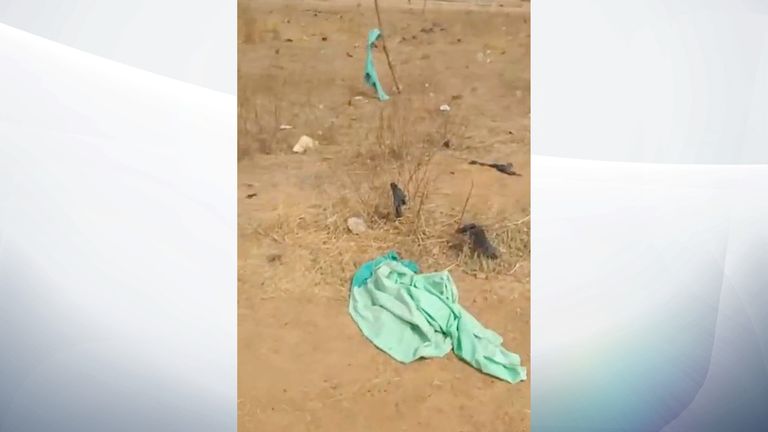 Nigeria has seen several such attacks and kidnappings over the years, notably the mass abduction in April 2014 by jihadist group Boko Haram of 276 girls from a secondary school in Chibok in Borno state.
More than a hundred of the girls are still missing.
Friday's attack came less than two weeks after gunmen abducted 42 people, including 27 students, from the Government Science College Kagara in Niger State.
The students, teachers and family members are still being held.
In December, 344 students were abducted from the Government Science Secondary School Kankara in Katsina State before eventually being released.
And in 2019, a British aid worker, Faye Mooney, was killed by kidnappers in the country.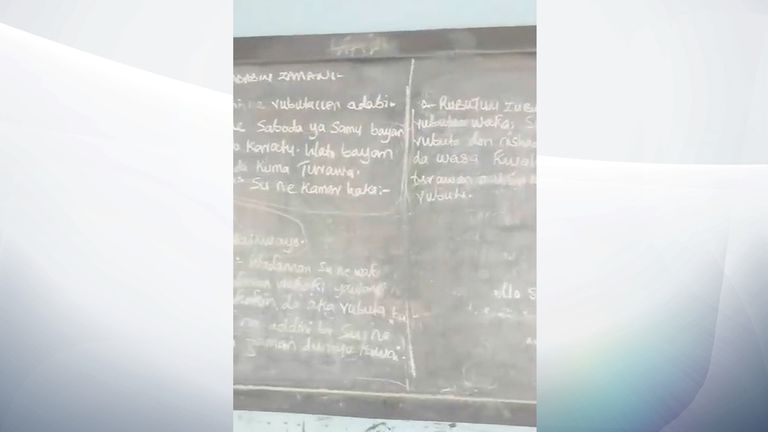 Anietie Ewang, Nigeria researcher at Human Rights Watch, said on Twitter: "Strong action is required from the authorities to turn the tide & keep schools safe."
Amnesty International also condemned the latest "appalling attack," warning in a statement that "the girls abducted are in serious risk of being harmed."
Teachers have been forced to flee to other states for protection, and many children have had to abandon their education amid frequent violent attacks in communities, Amnesty said.
UN report warns governments 'nowhere close' to climate targets | Climate News
A UN climate change report has found that global efforts to reduce CO2 emissions "fall far short of what is required" and that nations must "step up" to fulfil promises made under the Paris agreement. 
In a stark warning ahead of a make or break COP26 climate conference in Glasgow later this year, countries were criticised over their emission reduction plans – known as Nationally Determined Contributions (NDCs) – and urged to make "more ambitious" commitments.
Following a legally binding international treaty on climate change signed in Paris in 2015, almost 200 countries set a goal of limiting global temperature rise by 2C – or ideally 1.5C – by the end of the century.
'It's too late to avoid climate change'

The Initial NDC Synthesis Report looked at how close 75 of those countries – representing approximately 30% of global greenhouse gas emissions – were to meeting those targets.
But UN Secretary-General Antonio Guterres was disappointed with the findings.
"It shows governments are nowhere close to the level of ambition needed to limit climate change to 1.5 degrees and meet the goals of the Paris agreement," he said in reaction to the report.
"Today's interim report is a red alert for our planet."
In order to reduce the rise in global temperature by 1.5C, CO2 emissions need to decline by about 45% from the 2010 level by 2030.
Yet under the targets submitted by countries to this report, combined emissions would fall by just 0.5% of the 2010 level by the same date.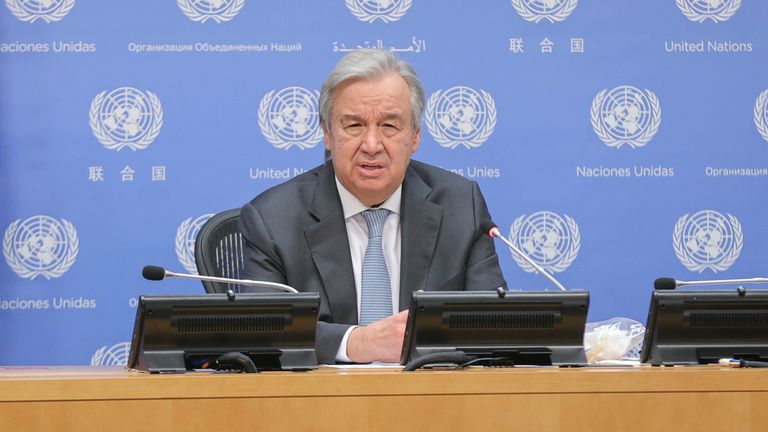 The COP26 conference set to be held in Glasgow this November will bring together representatives from all over the world to build upon the goals set in Paris.
Incoming COP26 president Alok Sharma called today's report "an urgent call to action" and warned that the "window for action to safeguard our planet is closing fast".
The UN has called for all countries to submit new and improved NDCs ahead of a second report, due to be released prior to COP26.
Johnson's 'build back better' slogan at G7 meeting

Patricia Espinosa, executive secretary of UN climate change, said that while some countries had made huge steps to combat global warming in the face of the COVID-19 pandemic, environmental strategies could not be put on hold.
"If this task was urgent before, it's crucial now," she said
In 2019, the government pledged the UK would cut greenhouse gas emissions to almost zero by 2050.
Earlier this month, scientists urged Prime Minister Boris Johnson to bring forward that target to 2030.