EU leaders prepare life without Britain, mull future ties
BRUSSELS –  European Union leaders meet without Britain Friday looking to plug a major budget hole after Brexit and endorse a plan to streamline the European Parliament by sharing out the country's seats.
In an implicit warning to Britain, EU Council President Donald Tusk, who chairs the summit, says he will inform leaders how he plans to draw up the guidelines for future relations with their departing partner.
Britain is set to leave the EU — the first country to exit the world's biggest trading bloc — in late March 2019. But Brexit talks must be finalized by this fall so parliaments can ratify any withdrawal agreement.
EU leaders have appealed for Britain to explain its vision of their future ties, but few details have emerged. Tusk is ramping up the pressure, saying he wants things made clear by the next EU summit on March 22-23, just a month away.
Ahead of Friday's meeting, set to run for only around five hours in Brussels, EU lawmakers said they want to slim down their assembly from 751 seats to 705. About 14 countries would get a few extra seats.
A senior EU official and an EU diplomat, who declined to be named because deliberations are not yet complete, said the leaders are almost certain to endorse the proposal.
The budget talks will be infinitely more complex. The current long-term budget — which ends on December 31, 2020, when the EU wants Britain definitively transitioned out — was only agreed after several months of acrimonious debate.
"We must not repeat the errors of the past," European Commission President Jean-Claude Juncker warned last week, as he urged the 27 remaining EU countries not to slash the next budget package.
Several countries agree in principle to boosting to the seven-year spending plan, to finance the EU's growing ambitions in areas like migration, security and defense, but as Europe slowly makes its way out of the economic crisis some strongly object to paying more.
Friday's summit could be a litmus test of how ambitious a Europe of 27 countries plans to be.
'We feel like animals': Border testing highlights broader tensions in EU's COVID strategy | World News
French residents who travel to Germany daily for work have reacted angrily after being told they must now get COVID tests every two days in order to cross the border. 
Germany introduced the measure earlier this week as infection rates remained high in the French border region of Moselle – but locals say it destroys the EU's principle of free movement.
Sky News spoke to Laura Jarych, who lives in France but works in a German hotel just two minutes drive away. For decades she has made her journey uninterrupted – but the morning we meet she's had to queue in a line of vehicles for her test. She is furious.
Live COVID updates from the UK and around the world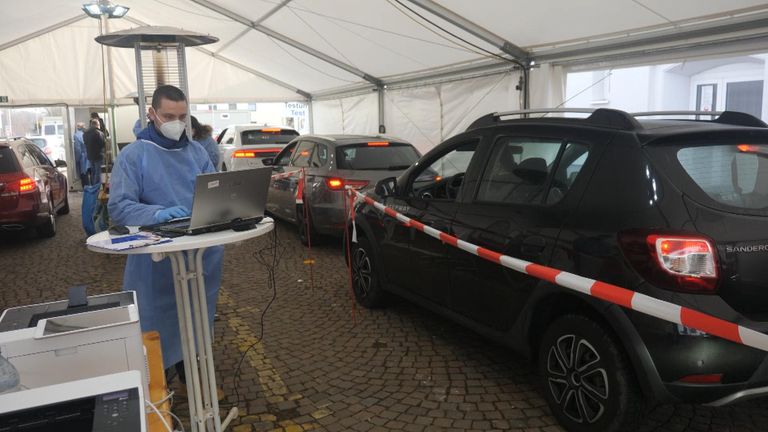 "I am angry, very angry," Laura tells us. "And I think that the 20,000 people who are switching between the two countries in this area feel the same thing.
"We feel like animals because you go inside a drive-in with the car and it's one after the other and the cars are waiting a long time and it just 'come, make the test and pass'."
The inconvenience is one thing, but principle is another. When we talk to people waiting in their cars at the tented testing area, one man says: "It's a very bad feeling because the idea of Europe, free borders, is away now. I feel sad."
Another woman tell us: "It's a terrible situation as it's not possible to come every two days and make a test.
"I'm a German person and I'm living in France. It's like a regime – I can't live free and I can't go where I want to go.
"It's 10 steps back."
We were only able to find one person in the queue who said she understood and accepted the situation, telling us: "It's OK for me, I work for a company in Germany, I live in France. It's not really that bad."
She admitted that she did feel frustrated by the measure but said it posed "another chance to beat this horrible virus".
The issue, however, highlights broader tensions over the EU's strategy against coronavirus – especially with vaccinations.
Coordinated centrally by the European Commission, the vaccine rollout has not been Brussels' finest hour. Officials admit approvals and orders were too slow and production difficulties underestimated.
The AstraZeneca vaccine was given the green light across the EU more than a month ago – but France and Germany both restricted recipients to the under-65s because of a lack of data.
There has since been strong public unease about its safety and is something that might not be erased despite both countries now offering the AstraZeneca jab to older people. Germany confirmed that decision today.
"I think it's a problem of perception for a lot of people," Germany immunologist Carsten Watzl told me.
"So when it was first licensed, the efficacy was only given 60% and then there was this story that in South Africa that it was not at all efficient to prevent infections with the variant or the mutant that is found there.
"All this together has created some negative PR for this vaccine."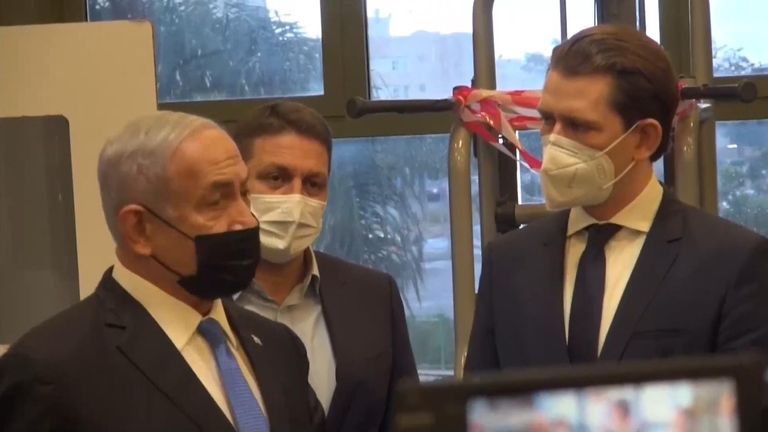 France, Germany and other EU nations desperately need many more vaccines – and frustration with the rollout has prompted several countries to break away.
Today, the leaders of Denmark and Austria travelled to Israel to try and strike deals for supplies to their own nations. It's a move that has promoted some criticism at home.
Danish MEP Margrete Aucken, a member of the European Green Party, said that while this wasn't necessarily a failure of the EU, it showed "some of the weaknesses in the EU construction" that more hasn't been done together for the common goal.
"But I think they are improving this year," Ms Aucken added. "I really dislike that some member states are showing 'we can do best ourselves'.
"None of us are best when we're alone. None of us."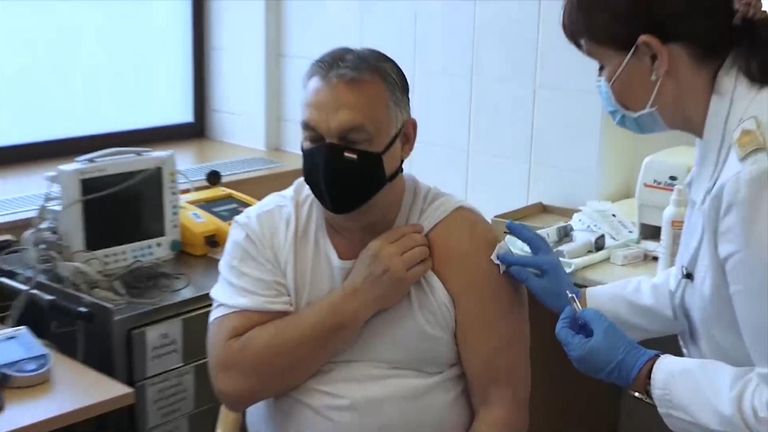 However, Denmark and Austria are not alone in seeking outside help: the Hungarian prime minister was filmed recently getting a Chinese vaccine after getting frustrated with the EU's programme.
Hundreds of thousands of Russia's Sputnik V jabs have also been delivered to Slovakia, despite not being approved by the European Medicines Agency.
The vaccine watchdog has only just begun its review of Sputnik V, according to a statement released on Thursday.
It's clear the COVID crisis has exposed tensions between the idea of European cohesion and national self-interest.
The EU as a body hasn't met all the needs of its citizens. Now there are questions not just about the health of the population but the health of the union itself.
COVID-19: Italy and EU block Oxford-AstraZeneca vaccine shipment to Australia as shortages row escalates | World News
Italy and the European Commission have blocked a shipment of AstraZeneca's COVID-19 vaccine destined for Australia.
The British-Swedish drug manufacturer had failed to meet its EU contract commitments so the Italian government refused its request to export 250,000 doses from its Anagni plant near Rome, according to the Reuters news agency.
Italy made the request and it was signed off by the European Commission under a new export control system that came into law on 30 January. This is the first time it has been used by a member state.
It is understood the doses will now be redistributed within the EU, where about 8% of the population has been vaccinated, compared with more than 30% in the UK.
Live COVID updates from the UK and around the world
Pfizer CEO: An EU vaccine ban would be lose-lose situation

Australia is set to start its rollout of the Oxford vaccine by Monday and is expecting to receive 1.2m doses from Europe, with 300,000 having arrived over the weekend. The Australian government has not yet commented on the blocked shipment.
This is the latest in a running feud with the EU that started in late January when AstraZeneca, whose vaccine was developed with Oxford University, announced it would only be able to deliver about 40% of the doses it had agreed with the EU in the first quarter due to manufacturing issues.
European leaders demanded that the company should do more, including sending doses made in the UK, but AstraZeneca initially refused.
The export control mechanism was introduced during that initial row and means companies have to respect their contractual obligations to the EU before commercial exports can be approved.
Despite this, the vaccine rollout in the 27-member bloc has so far been slow yet the EU insists it wants 70% of adults in Europe to have a jab by the end of the summer.
Italy's new government, led by former European Central Bank president Mario Draghi, has taken a tough line in dealing with vaccine shortages.
In his first heads of state summit as prime minister, Mr Draghi called for the export control mechanism to be applied with greater severity or to block the export of doses by companies that do not respect their EU contracts.
During a phone call with European Commission President Ursula von der Leyen on Wednesday, Mr Draghi said it was necessary to "suffocate" big pharmaceutical companies to force them to respect the agreed delivery terms.
AstraZeneca agreed at the end of January to deliver nine million additional doses in the first three months of the year, making a total of 40 million doses for that period.
Ms von der Leyen said she agreed with British Prime Minister Boris Johnson that vaccine factories in the UK and Europe would deliver doses to the EU.
The EU had threatened to trigger Article 16 of the Northern Ireland Protocol, which only came into force four weeks before. The article would have overridden part of the Brexit agreement in order to control shipments of the doses but was quickly reversed.
That would have risked a hard border on the island of Ireland and Irish Prime Minister Micheal Martin said Northern Ireland's post-Brexit border arrangements had become "collateral damage" in the EU's "nasty row".
Thai navy sailors brave choppy seas to rescue four cats from sinking ship on fire in Andaman Sea | World News
A Thai navy sailor braved choppy seas to rescue four cats abandoned on a sinking ship on fire in the Andaman Sea.
The navy ship had been sent to the capsized vessel on Tuesday, after its crew had been taken to safety, to check for an oil spill, when the beleaguered moggies were discovered.
"I used my camera to zoom into the boat, and I saw one or two cats popping their heads out," said first-class Petty Officer Wichit Pukdeelon of the navy's air and coastal defence division.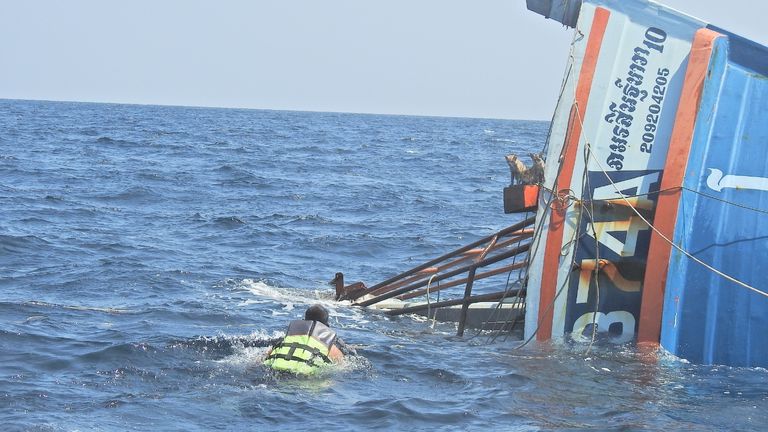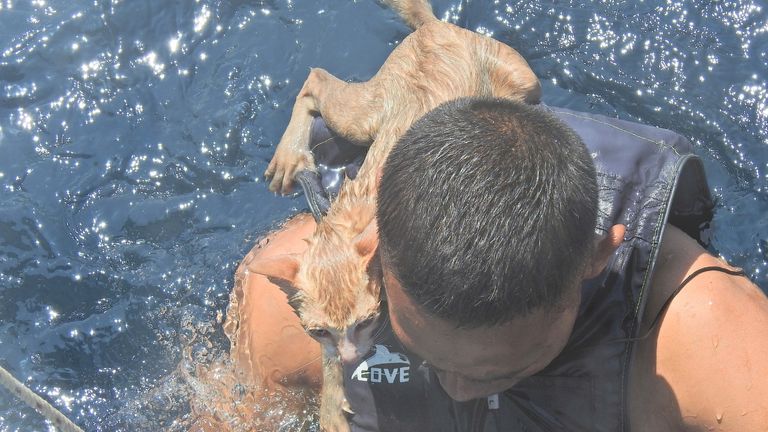 The four frightened ginger cats were huddled together on a wooden beam and a sailor swam out to the boat
The rescuer carried the animals to safety on his shoulders above the water, with his team pulling him in by rope.
The cats are now being taken care of by the officers who saved them, at a command post on Koh Lipe island.

His Facebook post of the rescue received about 2,500 comments, many praising the crew for their efforts.
The cats are now being cared for by the crew at their command post on the island of Koh Lipe.