David Bowie 'struggled for years' to tell the story of Ziggy Stardust guitarist Mick Ronson, says filmmaker
A British filmmaker is hoping a new documentary on the life of late guitarist Mick Ronson will shed light on the seemingly forgotten artist who helped David Bowie achieved superstardom. Ronson died of liver cancer at age 46 in 1993.
Bowie, who would later succumb to the same illness in 2016 at age 69, provided voice-over commentary on the life of his beloved collaborator and sidekick before his passing, which can be heard in Jon Brewer's film "Beside Bowie."
DAVID BOWIE'S WIFE IMAN SHARES PHOTOS OF TRIBUTE TATTOOS ON 2-YEAR ANNIVERSARY OF SINGER'S DEATH
Brewer, a close friend of both artists, told Fox News Bowie struggled with the loss of Ronson, whose contributions to music remained uncelebrated despite his work with Morrissey, Lou Reed, Bob Dylan, Mott the Hoople and most notably, Bowie's Ziggy Stardust and The Spiders From Mars.
"David didn't know what to do," said Brewer. "He wasn't able to handle it all… He got further confused on how to acknowledge the gift Mick Ronson had given to David or added to David's gifts… Unfortunately, David passed before the film was finished."
The film, which also features interviews with Bowie's ex-wife Angie Bowie, as well as Queen's Roger Taylor, Def Leppard's Joe Elliott, Bowie's publicist Cherry Vanilla, Mott the Hoople's Ian Hunter and the late Reed, explores how Ronson, who joined the Spiders From Mars in the late 1960s, would enhance some of the most iconic songs in music history.
Ronson, a classically trained pianist who studied violin as a child, helped transform the songs Bowie wrote on acoustic guitar into theatrical anthems through arrangements and production.
With his first string arrangement, Ronson brought 1971's "Life on Mars" to life. His contributions as an arranger can also be heard in "Hunky Dory," "The Rise and Fall of Ziggy Stardust and the Spiders From Mars," as well as "Aladdin Sane."
However, as the band was selling out arena shows and rapidly achieving fame, Ronson's bank account barely grew. Brewer pointed out Ronson didn't get songwriting or arranging credit on any of Bowie's early albums.
"Mick was being advised not to worry about it and David was being advised not to worry about it," Brewer explained. "As far as Mick Ronson was concerned, it was a partnership. Mick would never lift a finger of complaint or accusation towards David… [And] David didn't know how to deal with it because it got worse… David greatly respected Mick Ronson and felt he was the unsung hero."
Bowie would later shock fans when he abruptly retired his performing alter ego in 1973 at a sold-out concert in London's Hammersmith Odeon Theatre. Brewer believed Bowie's frustration in knowing Ronson wasn't getting rightfully credited for their success, along with his eagerness to explore a different musical direction contributed to the end of Stardust.
"David didn't know how to handle the problem that had been created by the industry," said Brewer. "Mick Ronson co-wrote most of those songs, but as a writer, his managers and publishers told him, 'Arrangers don't get publishing credit.' And David went along with it.
"But he struggled, struggled for years… He wanted to address it, but didn't know how to do it… [And] when David went on Hammersmith and basically said it's over… he didn't mean it was the end of his career. He didn't want to go on and play as Ziggy Stardust for years and years to come. Ziggy Stardust was a fantastic character, but he wanted to stop that role and move on to other things."
Ronson attempted to pursue a solo career, but reportedly lived from paycheck to paycheck when that project failed to skyrocket. Brewer said that despite Ronson's talent, his persona was completely different from that of Bowie's.
"Mick Ronson was an incredibly simple person who was brought up to have neatly white crisp shirts when he went out and worked as a gardener, but basically in his heart, he was a musician," said Brewer. "David Bowie I think was probably born to be an entertainer.
"So you have two people who were so different. Both were brought up in completely different areas of the UK. David was always a star and a front man. Mick Ronson was the man who was the engine to the performance in the recording. He was the engine that started it up and pushed it forward."
Still, Ronson never stopped pursuing his passion for music. Ronson performed and arranged Lou Reed's 1972 album "Transformer," including the iconic hit "Walk on the Wild Side." In 1974 he joined Mott the Hoople and later toured with Dylan's Rolling Thunder Revue. He also arranged John Mellencamp's 1982 hit "Jack & Diane." In 1992, he produced Morrissey's "Your Arsenal."
But Ronson never forgot about his friend. Brewer said Ronson and Bowie collaborated from 1990 to 1991.
"Mick spoke to David all the time to basically find a way that they could work together," added Brewer. "David spoke much more than we even know to Mick… And just when they got back together, Mick passed away."
Ronson's last solo album, "Heaven and Hull," which was released in 1994 would also unite the two artists before his death.
Brewer insisted that even after Ronson was diagnosed with cancer, he kept on working.
"Mick said, 'I have cancer, and it can't be cured,'" said Brewer. "Mick would go through these bouts of radiation and therapy and he just gave up. He said, 'This will kill me quicker than anything.' [But] he carried on recording. He recorded the night before he died. Weak as he was. And then he went to bed and didn't wake up… [But] he never stopped. He just went on… But there just wasn't enough time."
Bowie, who was devastated by Ronson's death, was determined to tell Ronson's story over the years. Brewer said the documentary started a few years before Bowie's own passing.
"When I received the voiceover, I immediately realized he had given the chapters for the documentary," said Brewer. "David fought for years, struggled for years to find a way to tell this story. That's why I believe he gave us his words."
"Beside Bowie: The Mick Ronson Story" is currently available for streaming on Amazon Prime.
Liz Truss hails 'hard-headed' AUKUS submarine deal amid deepening row with France | Politics News
New Foreign Secretary Liz Truss has defended the UK's "hard-headed" security pact with the US and Australia, amid a deepening diplomatic row with France.
The AUKUS deal saw the UK, Australia and the US form a security pact to develop and deploy a new fleet of nuclear-powered submarines, adding to the Western military presence in the Pacific region.
Ms Truss said the agreement showed Britain's readiness to be "hard-headed in defending our interests", adding that it could result in hundreds of new jobs.
France was outraged by the deal which sees them losing out on a £30bn contract to supply conventional submarines to Australia, who opted for nuclear-powered subs provided by Britain and the US.
In response, they recalled their ambassadors to the US and Australia, although there was no similar order to return to Paris for the French envoy to London.
Writing in The Sunday Telegraph, Ms Truss made no mention of the diplomatic stand-off with the French.
British nuclear-powered subs make rare 'surface'

Earlier, however, a French minister scornfully referred to the UK as the "junior partner" in the trilateral agreement and accused it of returning to hide in the "American lap".
It comes after Gerard Araud, a former French ambassador to the US, referenced the omission of UK from the ambassador recall.
He wrote on Twitter: "You can interpret the omission of the UK as a sign of conciliation or contempt. Your choice."
In her article, Ms Truss said the agreement, widely seen as a counter to increasing Chinese military assertiveness in the region, underlined the UK's commitment to the Indo-Pacific.
She said Britain would always be a "fierce champion" of freedom and that the agreement illustrates the nation's commitment to "challenging unfair practices and malign acts".
"Freedoms need to be defended, so we are also building strong security ties around the world," she wrote.
"That is why last week the prime minister announced, alongside our friends President Biden and Prime Minister Morrison, the creation of a new security partnership called AUKUS.
"It shows our readiness to be hard-headed in defending our interests and challenging unfair practices and malign acts."
On Saturday, the president of the French National Assembly told Sky News that the bonds of friendship between France and the UK, US and Australia have been "tarnished" by the AUKUS pact.
Speaking while attending the G7 Speakers' Conference in Chorley, Lancashire, Richard Ferrand said: "I think it has somewhat tarnished the bonds of friendship that we have. Yes, it has made things more difficult in terms of trust and friendship."
'AUKUS alliance will bring us closer than ever'

Pressed on why Catherine Colonna, the top French diplomat in the UK was not recalled, Mr Ferrand said: "Obviously it was not my decision but we thought it was more important to recall the ambassadors of the two main protagonists in this thing."
Andreas Michaelis, Germany's ambassador to the UK, has suggested the AUKUS agreement threatens the "coherence and unity of the West".
In the Commons on Thursday, Boris Johnson sought to smooth over the differences, insisting relations with France remained "rock solid" while Downing Street described Paris as "a close ally and friend" of the UK.
Nevertheless, the prime minister also made clear he expected the agreement to bring "hundreds" of highly-skilled jobs to Britain – jobs which may well have otherwise gone to France.
Ms Truss said the deal could "create hundreds of new and high-skilled jobs, from the shipyards of Govan to the factories of Tyneside".
The French were reportedly given just a few hours' notice of the new agreement ahead of what is expected to be a tough election year for Mr Macron.
French foreign minister Jean-Yves Le Drian said the snub was a "stab in the back" and constituted "unacceptable behaviour between allies and partners".
The pact between the UK, US and Australia has been widely seen as an attempt to counter the growing military assertiveness of China in the Indo-Pacific region.
Beijing swiftly denounced the initiative as "extremely irresponsible" and a threat to regional peace and stability.
Mr Johnson, however, said it was not intended as an "adversarial" move against China or any other power.
SpaceX Inspiration4 mission: All-civilian crew touch down on Earth after historic three days in orbit | US News
A SpaceX capsule carrying the first all-civilian crew into space has touched back down on Earth after three days in orbit.
The four amateur astronauts orbited the planet every 90 minutes at a speed of more than 17,000mph and an altitude of up to 363 miles – higher than the International Space Station and Hubble Telescope – during their time in space.
Their dragon capsule safely parachuted into the ocean just before sunset on Saturday, off the Florida coast where the private flight began three days ago.
Commander Jared Isaacman, pilot Sian Proctor, medical officer Hayley Arceneaux and mission specialist Chris Sembrosk took part in the Inspiration4 mission, making them the first to circle the world without a professional astronaut.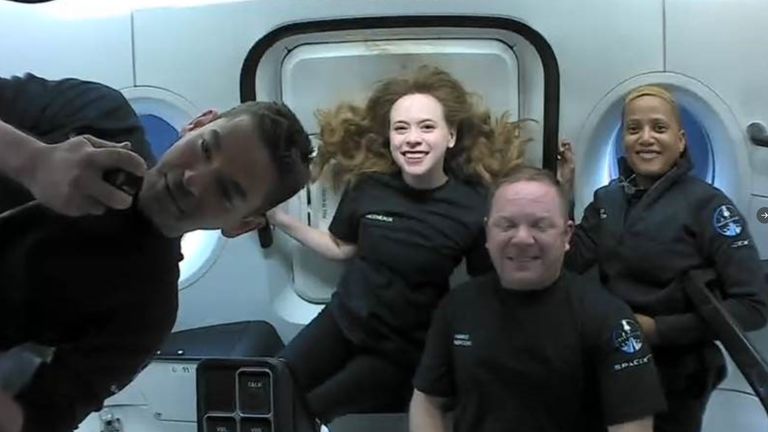 "Your mission has shown the world that space is for all of us," SpaceX Mission Control radioed as the capsule landed.
"It was a heck of a ride for us… just getting started," replied trip sponsor Mr Isaacman, hinting at more private flights in the future.
Mr Isaacman, a billionaire, paid undisclosed millions for the trip for himself and his three guests – all of whom were strangers to him before the trip.
The group wanted to show that ordinary people could blast into orbit by themselves, and SpaceX founder Elon Musk took them on as the company's first rocket-riding tourists.
They were treated to unparalleled views of earth during their time in orbit through a large bubble-shaped window added to the top of the capsule.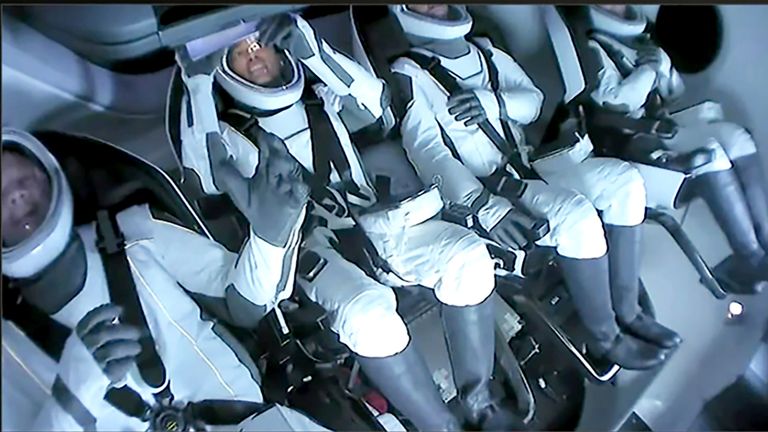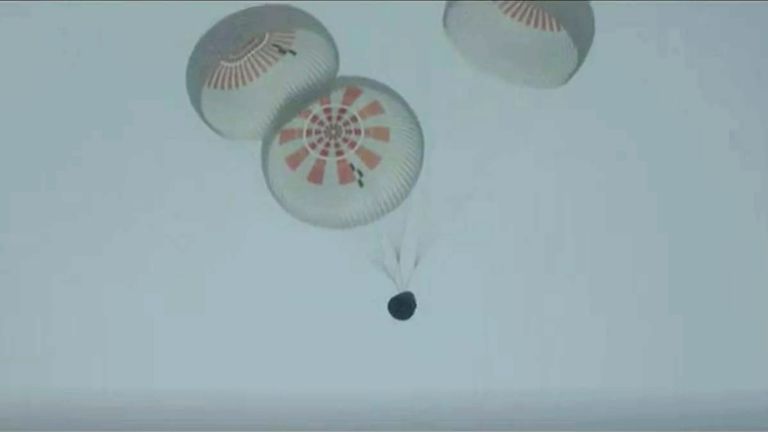 The 38-year-old entrepreneur and experienced pilot aimed to raise $200 million (£145 million) for St Jude Children's Research Hospital through the trip.
Donating 100 million himself (£72.5 million), he held a lottery for one of the four seats. He also held a competition for clients of his Allentown, Pennsylvania payment-processing business, Shift4 Payments.
Ms Arceneaux, 29, a St Jude physician assistant who was treated at the Memphis, Tennessee hospital nearly two decades ago for bone cancer, took one of the seats.
Mr Sembroski, 42, a data engineer in Everett, Washington, and Ms Proctor, 51, a community college educator, scientist and artist from Tempe, Arizona won their seats through competitions.
They spent six months training and preparing for potential emergencies during the flight but did not have to undergo the rigorous preparations that astronauts go through.
During the trip they chatted with St Jude patients, conducted medical tests on themselves, rang the closing bell for the New York Stock Exchange, and complete some drawing and ukulele playing.
The four also took calls from Tom Cruise, interested in his own SpaceX flight to the space station for filming, and the rock band U2's Bono.
Ms Arceneaux, the youngest American in space and the first with a prosthesis, told her patients: "I was a little girl going through cancer treatment just like a lot of you, and if I can do this, you can do this."
Even their space menu was not typical: Cold pizza and sandwiches, but also pasta Bolognese and Mediterranean lamb.
Nearly 600 people have reached space – a scorecard that began 60 years ago and is expected to soon skyrocket as space tourism heats up.
The group are the first space travellers to end their flight in the Atlantic since Apollo 9 in 1969. SpaceX's two previous crew splashdowns – carrying astronauts for NASA – were in the Gulf of Mexico.
NASA had little to do with the mission, only lending the use of its Kennedy Space Centre launch pad.
Faroe Islands pledges review of dolphin killing regulations after uproar over record slaughter | World News
The Faroe Islands has said it will review regulations governing its tradition of hunting dolphins after widespread uproar over the killing of more than 1,400 from a "super pod".
Campaign group Sea Shepherd released footage showing hundreds of dead animals lying on a beach, while others were herded into shallow waters by boats and jet skis.
The footage showed the water turn red as people killed the dolphins with knives for their meat and blubber.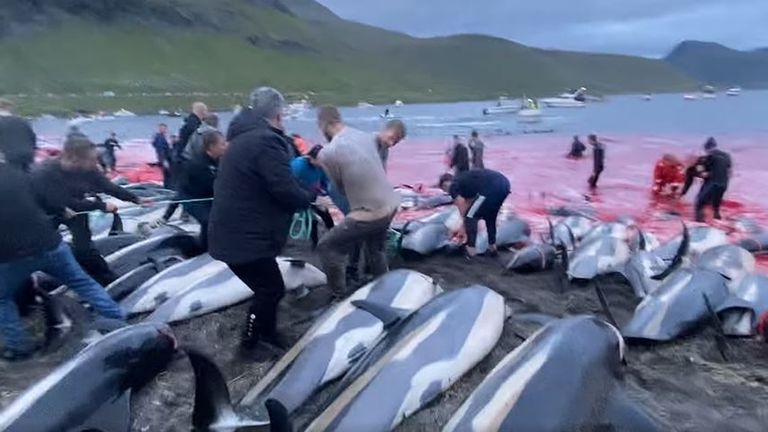 Further out to sea, the fjord boats formed a barrier to stop the Atlantic white-sided dolphins from swimming away.
Sea Shepherd, which is based in the US, described the hunt as "brutal", with the graphic footage leaving many viewers from around the world shocked and calling for action.
The Sea Shepherd Faroe Islands Campaign Facebook page wrote: "We are sharing with you 10 minutes of unedited footage. We are doing this so you can grasp the reality of what happened yesterday.
"Because while the Faroese newspapers have been busy reporting on the reactions to the hunt all through the day, there has been no proper covering of the actual illegalities and brutality of the hunt.
"What will it take for the locals to demand a shut down of all hunts of this sort?
"We believe it takes a good honest look at the truth."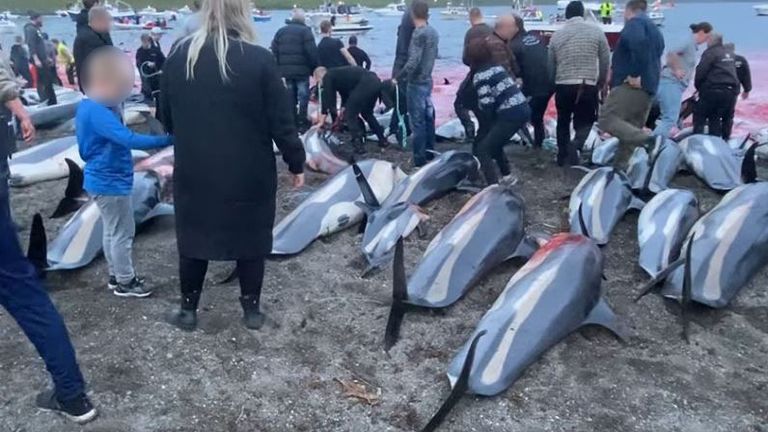 The Faroe Islands has defended its decades-long tradition of chasing dolphins or whales towards the shore and slaughtering them on beaches.
The slaughter has been a part of the archipelago's tradition since the ninth century, and the meat and blubber are shared within the community.
However, the government said the latest catch had been "extraordinary" due to the size of the pod, and it would look into regulations around the tradition.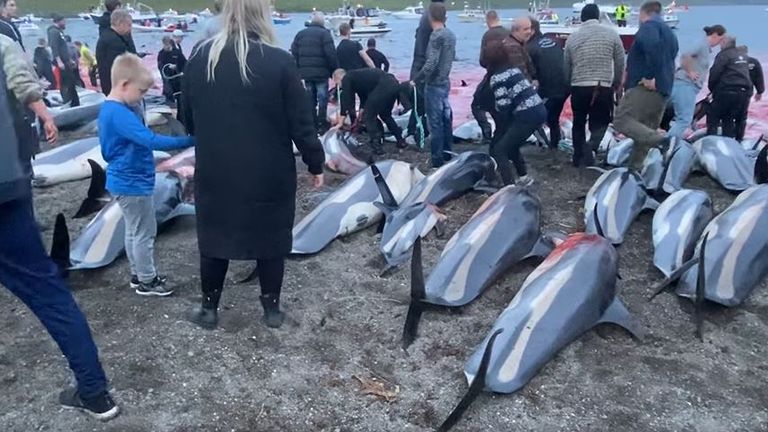 It said the catch was a record – on average around 250 dolphins and 600 pilot whales are caught each year in Faroese waters, it added.
"We take this matter very seriously. Although these hunts are considered sustainable, we will be looking closely at the dolphin hunts, and what part they should play in Faroese society," Prime Minister Bardur a Steig Nielsen said.
Regin Jacobsen, one of the Faroe Islands' largest farmed salmon exporters, condemned the slaughter as "totally unacceptable".
The Bakkefrost CEO said his firm was not involved in the hunt and none of its assets were used.