Woman caught on camera allegedly stealing from Red Lobster tip jar
Police are looking to social media to help them catch a gray-haired bandit accused of stealing from a Red Lobster tip jar in Bourne, MA.
The older woman was standing near the jar at the takeout counter on Monday evening, worker Olivia Slayton told WBZ.
"I turned around and I saw that her hand was near the top of the tip jar, but I wasn't sure so I didn't want to accuse her of anything," Slayton said to WBZ.
The woman had ordered fish and chips and was waiting while Red Lobster workers buzzed around her.
"I didn't even think twice as I was walking by," employee Lainie Hatch said.
SCANTILY CLAD WOMAN WHO STOLE MONEY FROM UBER DRIVER'S TIP JAR SAYS SHE'S BEING HARASSED
Employees remembered the woman was rude and complained about the service during her visit, but did not notice that money was missing from the jar until later. When they did, they went to the surveillance tape for answers.
In the surveillance footage, the woman is seen dipping her hand into the jar and pulling out cash at least three times.
"It looks like she went in three times to grab some cash and maybe look for bigger bills, we're not sure," server Alaina Hatch said to FOX 25 Boston.
"We make obviously a lower wage, it's not a minimum wage. Most of the money we make comes from tips and as hard as we work it's really discouraging that someone would take that cash from us," Hatch added.
This isn't the first time the woman has allegedly stolen from the tip jar. In October, a worker said the same woman came to the restaurant and stole from the Red Lobster Pot.
"It's just kind of scummy, low. I don't get why you would come in here and take money from hard working kids no matter what your situation is," worker E.J. Baraccchini told FOX 25 Boston.
Employees estimate this time around, the woman got away with $20 from the jar.
FOLLOW US ON FACEBOOK FOR MORE FOX LIFESTYLE NEWS
The Bourne Police Department is investigating the incident and posted the surveillance video on Facebook – which has now gone viral – for help identifying the accused thief.
The restaurant owner has stated he doesn't want to press charges – he just wants the woman to come back and apologize to the workers for stealing the money.
"It's basically the principle of it. These are hard-working people that deserve their tips. We would just like to identify this woman and hold her accountable," Police Sgt. Mike Mulligan said to FOX 25 Boston.
'We're just normal sports people': Belarusian sprinter Krystsina Tsimanouskaya arrives at Polish embassy in Tokyo as husband enters Ukraine | World News
Belarusian Olympic sprinter Krystsina Tsimanouskaya has received a humanitarian visa by Poland after refusing to board a Minsk-bound flight from Tokyo.
The 24-year-old was seen entering the Polish embassy in Tokyo on Monday morning after spending the night at an airport hotel where she applied for a visa.
Sky News spoke to Tsimanouskaya's husband, Arseniy Zdanevich, who left Belarus last night for Ukraine.
Mr Zdanevich, who is now in Kiev, said: "I didn't think it would get this serious. I made the decision to leave without thinking twice."
He spoke to his wife this morning and said she was calm and told him that everything was fine and she was in a safe place.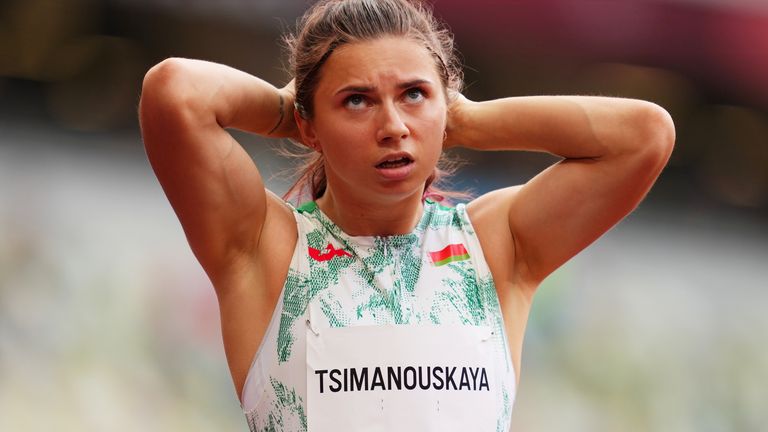 He said he doesn't have any further plans yet but is sure he will join his wife wherever she ends up.
"We never had any connections, never supported the opposition. We're just normal sports people, we're just devoted to sports and we're not interested in the opposition movement," Mr Zdanevich, who is also an athlete, added.
Tsimanouskaya said she was seized by officials from her own country on Sunday after she publicly complained about the national coaches and sought police protection.
Olympic officials later said she was "safe and secure".
The US Ambassador to Belarus, Julie Fisher, tweeted: "Thanks to the quick action of Japanese and Polish authorities, Tsimanouskaya is able to evade the attempts of the Lukashenka regime to discredit and humiliate this #Tokyo2020 athlete for expressing her views. #StandWithBelarus."
Tsimanouskaya's arrival at the Polish embassy came after France's European affairs minister said it would be an "honour" if Europe were to grant Tsimanouskaya political asylum.
Poland, where many critics of Alexander Lukashenko's regime now live, offered help to Tsimanouskaya, with deputy foreign minister Marcin Przydacz tweeting that Tsimanouskaya "has received a humanitarian visa".
He added: "Poland will do whatever is necessary to help her to continue her sporting career."
The Belarusian Embassy in Tokyo has made an official request to the Japanese authorities for information about the athlete, the RIA news agency reported.
The Olympian said she was seized by officials from her own country on Sunday after she publicly complained about the national coaches.
She spent the night in an airport hotel after seeking the protection of Japanese police at Haneda airport.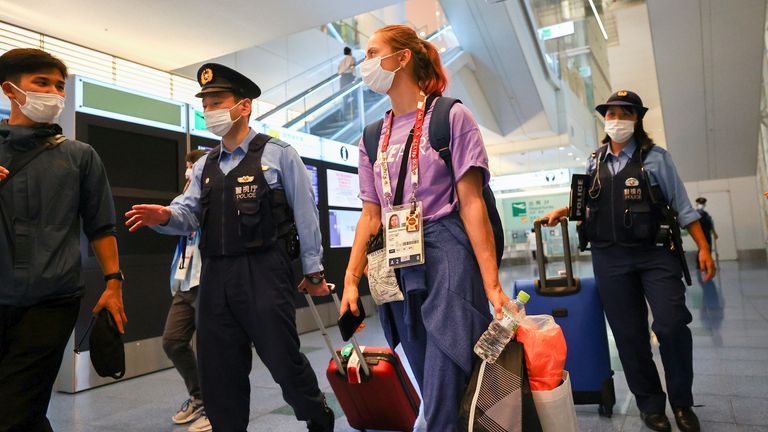 Tsimanouskaya said in a filmed message distributed on social media that she was pressured by Belarus team officials, so had asked the International Olympic Committee for help.
She said: "I was put under pressure and they are trying to forcibly take me out of the country without my consent."
Tsimanouskaya had been due to compete in the women's 200 metres and the 4×400 metres relay at the Tokyo Olympics this week.
But she criticised team officials on her Instagram account, saying she was put in the relay despite never having raced in the event before.
She had also claimed some members of her team were judged ineligible to compete because they had not undergone enough doping tests.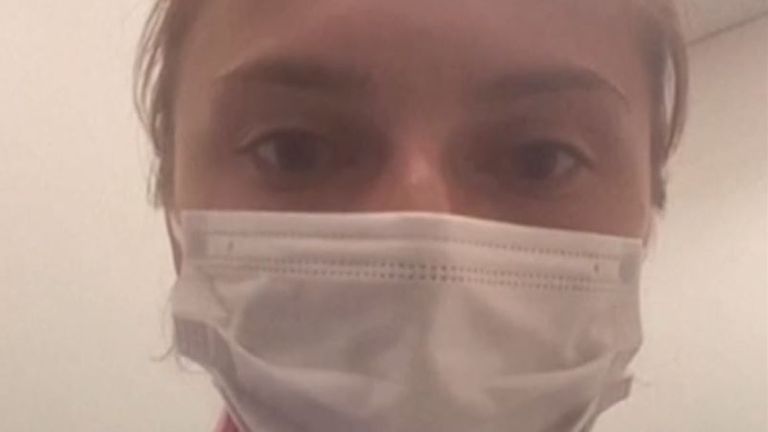 Coaching staff went to Tsimanouskaya's room and told her to pack as a response to what she had said, she claimed.
When she arrived at the airport, she summoned Japanese police and refused to board the flight to Minsk via Istanbul.
An activist group supporting Tsimanouskaya said she believed her life was in danger in Belarus and she would seek asylum with the Austrian Embassy in Tokyo.
A spokesman for the Japanese government, Katsunobu Kato, told reporters that Japan was cooperating with other organisations "to take appropriate measures" and confirmed the sprinter was safe.
The Belarusian Sport Solidarity Foundation (BSSF) said Tsimanouskaya contacted them for help over fears she would be deported to Minsk after government supporters targeted her.
"The campaign was quite serious and that was a clear signal that her life would be in danger in Belarus," BSSF spokesman Alexander Opeikin said.
Analysis by Diana Magnay, Moscow correspondent
Krystsina Tsimanouskaya's husband, Arseniy Zdanevich, said he didn't think twice before packing his bags and fleeing Belarus after he heard his wife had refused to board a plane home.
Even an association with an athlete turned de facto dissident is a risk in Belarus these days, even for the avowedly non-political which both Tsimanouskaya and her husband are. Belarusians have been thrown in jail for far less than taking to Instagram to criticise the "negligence" of the national coaching team at an event President Lukashenko is watching closely. He'd appointed his son head of the Belarusian national Olympic committee, after all.
There are currently 605 political prisoners in Belarus languishing in detention, most of them awaiting trial on fabricated charges. Tsimanouskaya's life may not have been in jeopardy were she to return but her liberty might well have been. That was clearly not a risk worth taking.
According to a leaked transcript of their conversation, Belarusian sporting official Artur Shumak told Tsimanouskaya as he was trying to persuade her to go home quietly, "you know how a fly just gets itself more entangled, the more it struggles after it lands in a web? That's how life works".
Life may not work that way for everyone but it certainly does in Belarus. Tsimanouskaya now has international protection. That's something both Shumak and her coach may wish they had too as they prepare to face the consequences of this international scandal on their return home.
BSSF said it had bought a plane ticket to Warsaw for 4 August and that the sprinter was applying for a visa in the Polish embassy.
In a statement released by the BSSF, Tsimanouskaya said she was in a police station early on Monday.
She said: "I explained the situation to a police officer of how I was taken from the Olympic Village.
"Now I am in a secure situation and am figuring out the question of where I will spend the night."
The IOC has been in dispute with the Belarus National Olympic Committee, which is headed by the country's authoritarian president Alexander Lukashenko and his son Viktor.
Both of them were banned from the Tokyo Games after the IOC received complaints from athletes about intimidation and reprisals following the protests that began last August after the country's disputed presidential election.
Follow the Daily podcast on Apple Podcasts, Google Podcasts, Spotify, Spreaker
Germany on Monday urged Belarus to respect the basic rights and freedoms of its citizens amid the situation with Tsimanouskaya.
"We call on the authorities in Belarus to respect basic democratic rights, including freedom of the media, freedom of the press and freedom of expression," a German Foreign Ministry spokeswoman told a regular government news conference.
In a statement on its Facebook page, the Belarus Olympic Committee said Tsimanouskaya was removed from the Games because of her "emotional and psychological state".
It said: "According to doctors, due to the emotional and psychological state of the Belarusian athlete Krystsina Tsimanouskaya, the coaching staff of the national athletics team decided to stop the performance of the athlete at the XXXII Olympics.
"Consequently, the athlete's application for participation in qualifying races at 200m and in the 4x400m relay was recalled."
Tokyo Olympics: Transgender weightlifter Laurel Hubbard makes history – but fails to complete a lift | World News
New Zealand weightlifter Laurel Hubbard has made history by becoming the first transgender athlete to compete at the Olympic Games – but fell well short of a podium finish as she could not complete a lift.
Competing in the over-87kg category in Tokyo, Hubbard overbalanced on her opening weight of 120kg, taking the bar behind her shoulders.
Her second attempt of 125kg was ruled invalid on a majority decision by the referees.
The third try was similar to the first, ruling Hubbard out of medal contention.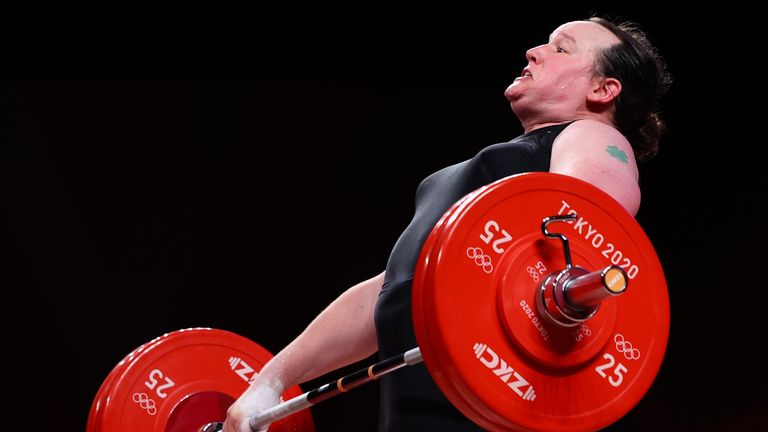 Team GB's Emily Campbell won silver, becoming the first British woman to win an Olympic weightlifting medal by lifting a total of 283kg.
She finished behind China's Li Wenwen, who set a new Olympic record by lifting a total of 320kg. It was her country's seventh victory in the sport at the Tokyo Games.
Bronze went to Sarah Robles of the US.
Hubbard's controversial debut made her the first openly transgender athlete to compete in an individual sport in the 125-year history of the Games.
Upon exiting the competition, she said: "Of course, I'm not entirely unaware of the controversy which surrounds my participation in these Games.
"And, as such, I'd particularly like to thank the IOC, for, I think, really affirming their commitment to the principals of Olympism, and establishing that sport is something for all people. It is inclusive. It is accessible."
She also thanked the International Weightlifting Federation, because "they too have shown that weightlifting is an activity that's open to all of the people in the world," as well as the people of Japan for hosting the Games during the COVID-19 pandemic.
She made a heart gesture to the audience with her hands as she left the competition arena.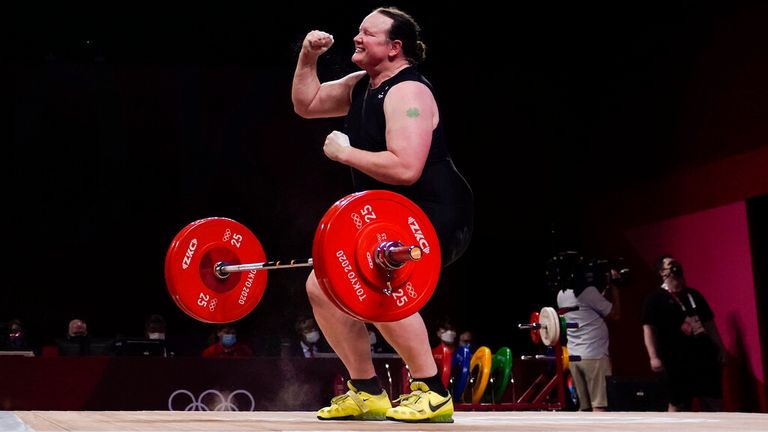 The 43-year-old is almost twice the average age of her competitors and, having shifted 285kg during qualifying, was also one of the strongest in the field.
Athletes are eliminated if they fail to record at least one valid lift in each of the two parts of the competition.
Hubbard's participation has been as divisive an issue as whether the Games should have even gone ahead during the global pandemic.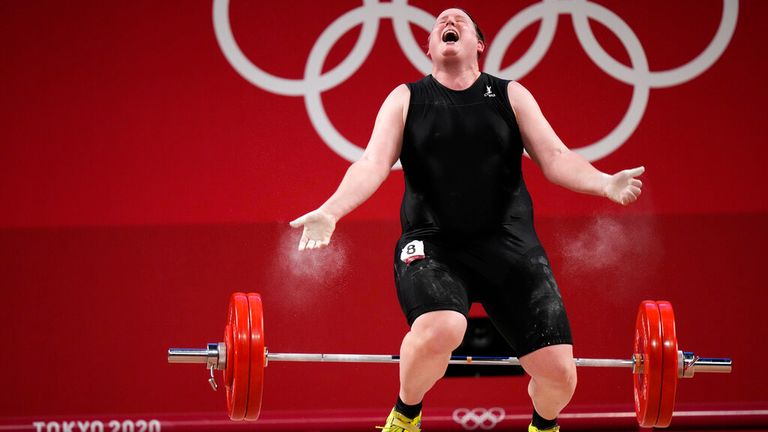 Ahead of the Games, Hubbard – ranked 15th in the world – praised organisers for allowing her to compete.
Critics have argued that her inclusion was unfair on other competitors and that Hubbard is naturally stronger.
Hubbard said ahead of her participation in Tokyo 2020: "The Olympic Games are a global celebration of our hopes, our ideals and our values.
"I commend the IOC for its commitment to making sport inclusive and accessible."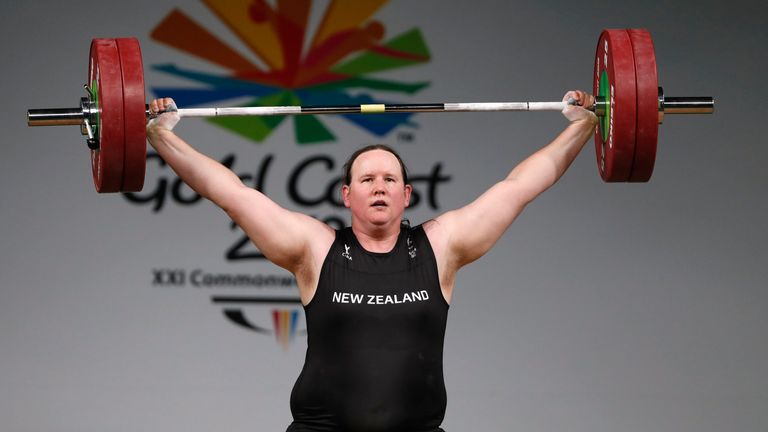 Hubbard transitioned in 2012 and competed in international weightlifting for the first time in 2017 – and has been the focus of both support and criticism in the build-up to her first Olympics.
She met the qualifying criteria on levels of testosterone set by the International Olympic Committee (IOC), which revised its rules for trans athletes in 2016.
Before transitioning to female, Hubbard took part in male weightlifting competitions and set a junior national record in 1998, lifting 300kgs in the M105+ division.
COVID-19: Sumatran tigers recovering after testing positive for coronavirus in Indonesian zoo | World News
Two Sumatran tigers at an Indonesian zoo are recovering after testing positive for coronavirus.
Officials at Ragunan Zoo in Jakarta have launched an investigation into how Tino, who is nine years old, and Hari, 12, became infected.
Both tigers had displayed flu-type symptoms, experienced difficulty breathing and had lost their appetite after they tested positive for COVID-19 in mid-July.
Live COVID updates from the UK and around the world
Following about 10 to 12 days of treatment under close observation, officials said the tigers were showing signs of recovery.
Jakarta's head of the Parks and City Forest Office, Suzi Marsitawati, said: "Their appetites have returned and they are back to being active."
She said authorities were now trying to find out how the tigers became infected.
"When the animals started to show symptoms, the Ragunan Zoo was already closed due to emergency mobility restrictions."
None of the caretakers and workers had tested positive with coronavirus around the time the animals were infected, she added.
Indonesia has suffered the worst COVID-19 infection rate in southeast Asia with over 3.4 million cases and more than 94,000 deaths since the start of the pandemic.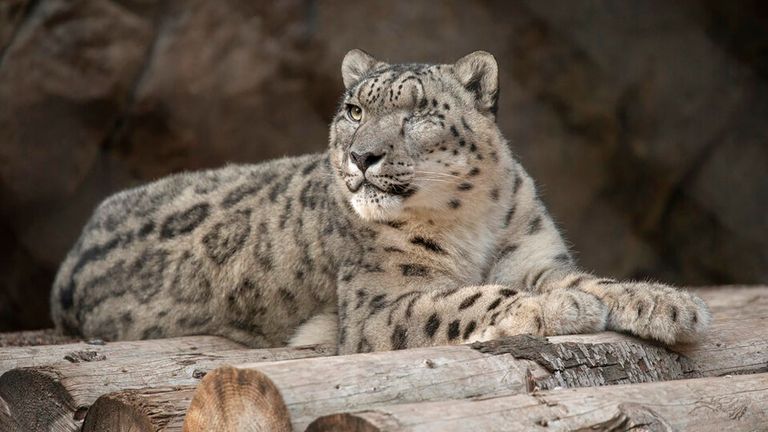 It comes just days after it was revealed that a male snow leopard tested positive for COVID-19 at San Diego Zoo in California.
Caretakers noticed that the nine-year-old animal, called Ramil, was struggling with a cough and a runny nose.
Zoo staff tested a stool sample which confirmed Ramil had COVID-19 and he was placed into isolation alongside a female snow leopard and two Amur leopards with which he shares an enclosure.
Unlike other big cats and apes at the zoo, Ramil had not been vaccinated against the virus, but was said to be "doing well" by staff.
In January, eight gorillas at sister facility the San Diego Zoo Safari Park became infected with COVID-19 in the first known case of the virus spreading to apes.
It led to an experimental vaccine being administered to species deemed most at risk from COVID following a request from the zoo.