'War crimes' claim as at least 250 killed in two days in rebel-held Syria enclave
At least 250 people have been killed over two days of escalating violence in eastern Ghouta as Syrian and Russian airstrikes continue to bombard the rebel-held enclave.
Rockets and artillery fire have been targeting the Damascus suburb in an apparent preparation for a government ground assault.
The UN has described the situation as "beyond imagination", while Amnesty International said "flagrant war crimes" were being committed.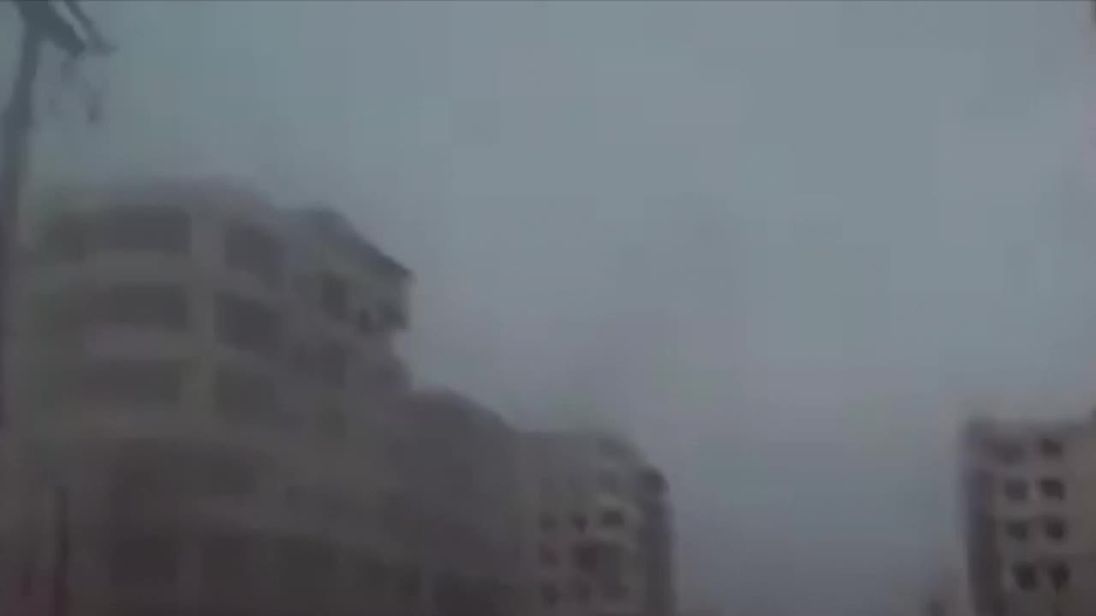 In a major development in Syria's complex seven-year war, forces loyal to Bashar al Assad were sent to the northern Afrin region, where they came under fire by Turkish forces attacking the Kurdish-controlled area.
The bombardment in eastern Ghouta has led to the worst 48-hour death toll in Syria since a chemical attack in 2013.
The Syrian Observatory for Human Rights said 106 civilians, including 19 children, were killed in the violence on Tuesday.
It was the second straight day that the civilian death toll topped 100 after 127 people were killed Monday in eastern Ghouta's bloodiest day in four years.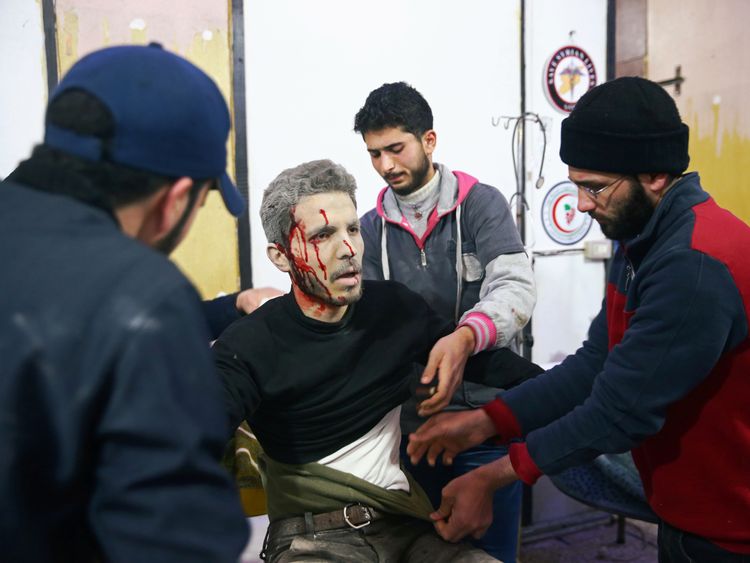 The strikes left an important hospital out of action, further limiting the little medical aid that besieged civilians can access.
The Observatory blamed Russian warplanes, saying Moscow carried out its first strikes in three months on eastern Ghouta.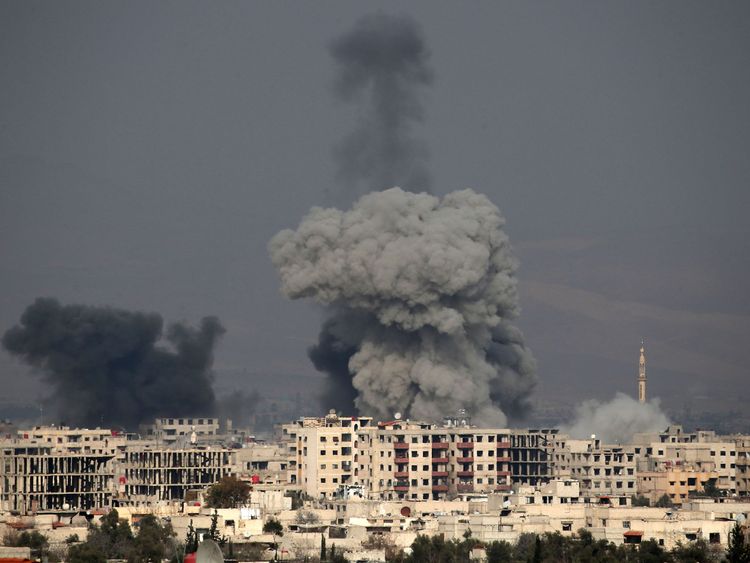 UN Secretary-General Antonio Guterres was "deeply alarmed by the escalating situation in eastern Ghouta and its devastating impact on civilians," spokesman Stephane Dujarric said.
US State Department spokeswoman Heather Nauert criticised the "siege and starve tactics" of the Assad regime, adding: "The cessation of violence must begin now."
Ethiopia: 24 hours of mass executions and unspeakable violence, as told by witnesses | World News
Axum is a historical city – an ancient site of pilgrimage in the Ethiopian region of Tigray.
But a vicious conflict arrived in this community on the morning of 28 November, and it was signalled by the crack of gunfire from the surrounding hills.
These shots would mark the beginning of 24 hours of unspeakable violence and mass executions, according to Amnesty International.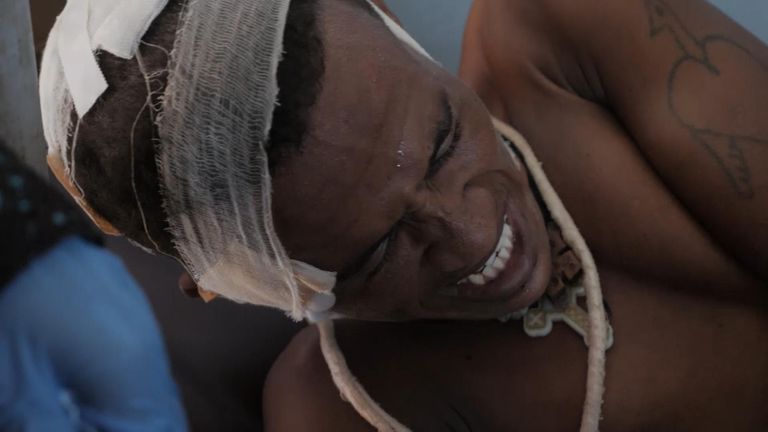 The human rights group has compiled evidence and testimony from more than 40 witnesses and says the allegations contained within its report may constitute crimes against humanity.
Due to restrictions accessing Tigray, Amnesty said the report was based on interviews conducted with refugees in neighbouring Sudan as well as phone interviews with Axum residents.
Witnesses described house-to-house searches, mass executions and shelling and looting after Ethiopian and Eritrean troops had taken control of the city from Tigray People's Liberation Front (TPLF).
Eritrean soldiers systematically killed "many hundreds" according to the report – targeting civilians trying to flee, and lining up men and boys and shooting them in the back.
Sky News tracked down a number of witnesses including a man called Solomon based in the US. He said he was visiting with his relatives when the massacre began.
"On (28 November) there was a big exchange of gunfire and we didn't know who was fighting but we thought it was a local militia trying to take the (Ethiopian and Eritrean forces) out of the city."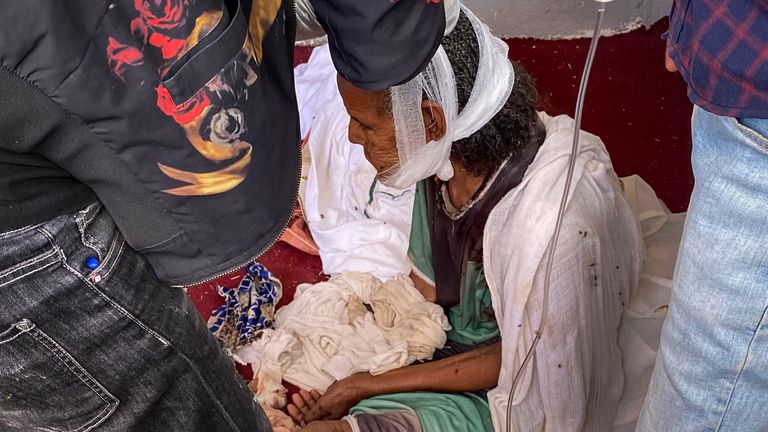 Solomon said the Eritreans launched a brutal campaign of revenge.
He added: "In the afternoon, a division of Eritrean soldiers came into the city and they killed so many people, so many people. There were targeting young people especially and anyone they thought could be a (member of a) militia – so three people from one house, four siblings from one house along with their dad. They were killing them.
"No one was allowed to collect the bodies and see if it was your friend or your brother. You couldn't do that. They would shoot you."
"How long were the bodies left on the ground?" I asked.
"I would say two-and-a-half days," said Solomon.
Another witness, who called herself Woinshet, told Sky News that bodies were left strewn in the streets of Axum. Wild animals and birds, hyenas and vultures, began to pick at the corpses she said.
"That day was a nightmare day. The birds and the hyenas, oh my god, the hyenas (were) eating Axum (residents') bodies."
Solomon recounted a disturbing story about a 65-year-old woman who is related to his wife.
"They knocked on the door, her son opened it and they shot him and then the sister comes and they shot her and (the troops) left the compound. But what they didn't know was the mother was inside and when she walked out of the dining room she saw two children shot dead in her house. She was left inside for a day and a half because no one could help her. They were afraid. Nobody was going to (leave) their houses. Neighbours heard the shots but they couldn't check on her – so she was left in her house with her two dead children."
"Poor woman, she has some mental problems now," he added.
The Ethiopian government has acknowledged that the Ethiopian Human Rights Commission is investigating "allegations relating to the incidents in the city of Axum" – but in a lengthy statement, it cast doubt of the Amnesty International's "methodology" and said the report "depended on scanty information gathered from refugees… and phone interview with individuals in Axum".
A spokesman for Eritrean regime labelled the report "preposterous".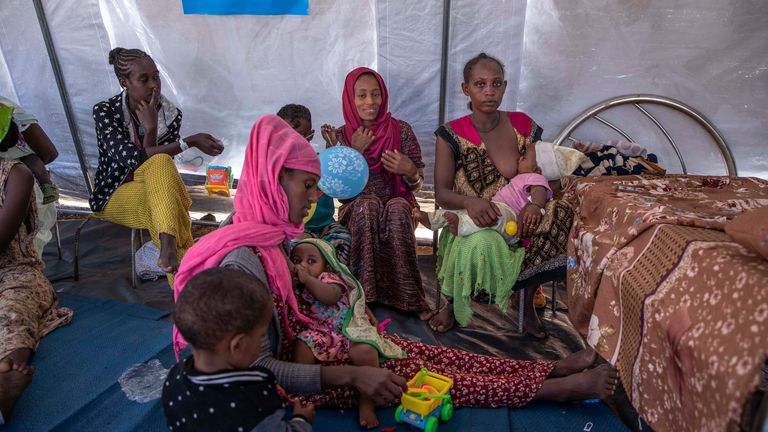 Amnesty called on the Ethiopian government to ensure unfettered access to humanitarian organisations and human rights monitors. Tigray has been largely cut off since the conflict began in early November. UN agencies and the organisations like the Red Cross have been unable to reach much of the region will some officials warning of "imminent starvation".
The president of the International Federation of the Red Cross, Francesco Rocca, told Sky News: "We are still struggling every day to have access to allow our trucks and medicine and additional support they deserve to get in and this is very frustrating, this is something that is the most difficult part (for us)."
Lady Gaga's French bulldogs found after being stolen at gunpoint | Ents & Arts News

Lady Gaga's French bulldogs have been found safe and unharmed – two days after being stolen at gunpoint in Los Angeles.
The pop star had been offering $500,000 for the safe return of Koji and Gustav – and had written in a previous Instagram post that her "heart is sick" and she was praying for their return.
Her friend Ryan Fischer, who was shot while walking the pets, is expected to make a full recovery.
"I can confirm that the dogs have been located and are safe," Captain Jonathan Tippet said.
According to police, Mr Fischer had attempted to fight off the armed robbers – and one of the men was wielding a semi-automatic handgun.
Gaga said: "I continue to love you Ryan Fischer, you risked your life to fight for our family. You're forever a hero."
COVID-19: Man who threatened to blow up NHS hospital unless he was paid £10m convicted of extortion | World News

A Berlin-born man who threatened to blow up an NHS hospital unless he was paid £10m in cryptocurrency has been convicted of extortion by a German court.
Emil A, an Italian national, sent the first threatening email to the NHS in April 2020 – at the height of the first peak of the coronavirus pandemic – purporting to be a member of the far-right group Combat 18.
Over a six-week period he sent 18 emails, also making threats to blow up BLM protests and murder members of parliament.
The UK's National Crime Agency (NCA) said their experts worked 24 hours a day analysing leads and electronic communication, eventually tracking Emil A down to a flat in the German capital.
On 15 June, specialist firearms officers from Berlin Police used explosives to force entry to his flat and arrest him.
The 33-year-old – who has been in custody since his arrest – was sentenced to three years in prison, but released on bail by the court before his judgment is ratified.
Tim Court, the NCA's head of investigations, said Emil A's actions were "the most significant threat we've seen to UK infrastructure" – and that he sought to hijack significant social events like the BLM protests for monetary gain and disrupt the treatment of people suffering with coronavirus.
Mr Court said: "At the height of this we were losing nearly 1,000 people a day and we had to manage someone threatening to plant a bomb. He didn't have access to it, but if [his threat] had become public, the impact on the confidence of people to go to hospital would have been significant."
Authorities say Emil A didn't have any links to the UK or its health service, but that his aim was to exploit the vulnerability of NHS, which was dealing with an influx of COVID-19 patients in the first wave of the pandemic.
Nigel Leary, deputy director of the NCA's National Cyber Crime Unit, said a phone call threatening to detonate a bomb in hospital could have resulted in a loss of life because it would have been difficult to evacuate patients on ventilators.
Detectives were initially unsure whether Emil A operated alone or as part of a group, but concluded that he didn't have any links to far-right organisations and posed as a member of a neo-Nazi group in order to stoke fear.
An NHS spokesperson said: "The threat made during the extortion demand significantly added to the pressures on the NHS during the COVID pandemic and meant senior leaders and emergency response staff were called on to direct the NHS aspects of the response to this threat.
"The threat and demand was made at a time that hospitals were at their most vulnerable, and could have resulted in significant loss of life."