Trump Jr. steals spotlight from Canada's Trudeau as India visits coincide
Donald Trump Jr.'s business trip to India this week is having the unintended effect of overshadowing a coincidental visit to the same country by Canadian Prime Minister Justin Trudeau.
Trump Jr.'s arrival to promote real estate deals in four cities — announced with glossy front-page ads in major Indian newspapers, reading "Trump has arrived. Have you?" — has drawn the attention India's media and elites, while Trudeau's presence has barely registered by comparison.
The business deals Trump Jr. is promoting were inked before his father was elected in November 2016. The president pledged shortly after winning the White House that his businesses would not make new foreign deals while he is in office in order to avoid conflicts of interest that could jeopardize U.S. foreign policy.
"We are refraining from doing new deals while my father is in office. We are turning down deals worth hundreds of millions of dollars around the world," Trump Jr. told the Times of India, describing how his father's presidency is costing the Trump Organization a lot of money in "opportunity cost."
The potential agreements made over a decade cannot be signed now, Trump Jr. said, because of his father's pledge to avoid foreign deals. "It costs us quite a bit of money in terms of lost opportunity."
In fact, whether the business deals get finalized at all remains uncertain, the president's eldest son said. "If he remains in office for seven more years, I don't know whether those deals would remain on the table."
The trip, however, was expected to raise some concerns as Trump Jr. will be sharing the stage with India's Prime Minister Narendra Modi at a New Delhi business summit and giving a speech on Indo-Pacific relations.
Trudeau, similarly, embarked on a weeklong trip to India on Saturday to strengthen business ties and cooperation between the two nations.
But Modi and other top country's figures so far have largely ignored Trudeau – causing speculation that the government is purposely snubbing him over his appointment of Cabinet ministers with alleged ties to the Sikh separatist movement, which aims to create a separate state for Sikhs in India through armed or political struggle.
Modi did not greet Trudeau at the airport, instead sending a junior minister, and despite already being halfway through the trip, the Canadian PM has not yet met a single senior government minister.
But Trudeau denies friction between him and the Indian government, telling a Canadian news channel that he met the prime minister "very recently." He is also expected to speak with Modi on Friday.
The Associated Press contributed to this report.
COVID-19: China orders testing of 12 million Wuhan residents as more Delta variant cases identified | World News
China is conducting mass testing in Wuhan after it identified its first domestic cases of the Delta variant in the city where coronavirus was first detected in late 2019.
Wuhan, which gave the world its first glimpses of lockdowns and mass testing, had reported no local COVID-19 cases since mid-May last year.
But on Monday, authorities confirmed three new cases of the more transmissible variant in the Chinese city.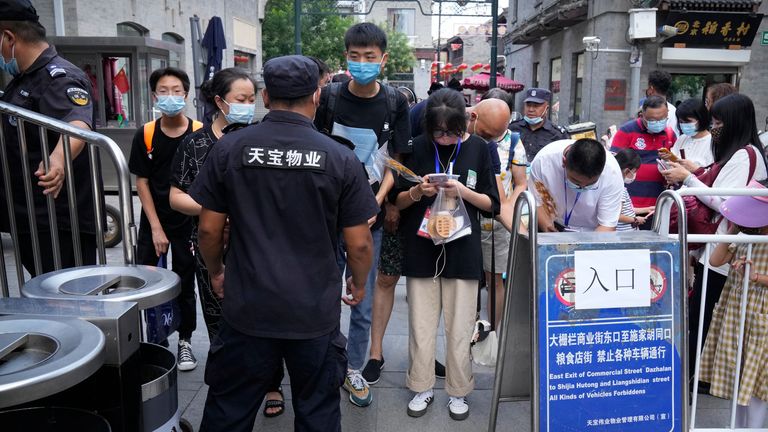 All of its 12 million residents will be tested for coronavirus.
"To ensure that everyone in the city is safe, city-wide nucleic acid testing will be quickly launched for all people to fully screen out positive results and asymptomatic infections," said Li Qiang, an official in the city, the capital of central Hubei province.
The new cases in Wuhan, along with infections in the nearby cities of Jingzhou and Huanggang since Saturday, were linked to cases found in Huaian city in Jiangsu province, said Li Yang, vice director of Hubei's provincial disease control centre.
The outbreak in Jiangsu is believed to have begun in the provincial capital of Nanjing, with the Delta variant mostly likely introduced on a flight from Russia, officials have said.
Since then numerous cities in southern China and a few in the north including Beijing have reported infections.
The number of locally transmitted cases in China since 20 July, when the first Nanjing infections were found, stood at 414 on Monday.
However, it is not clear if all of those cases were of the Delta variant, or if they were all linked to Nanjing, as some authorities have not disclosed conclusive results of their virus-tracing efforts.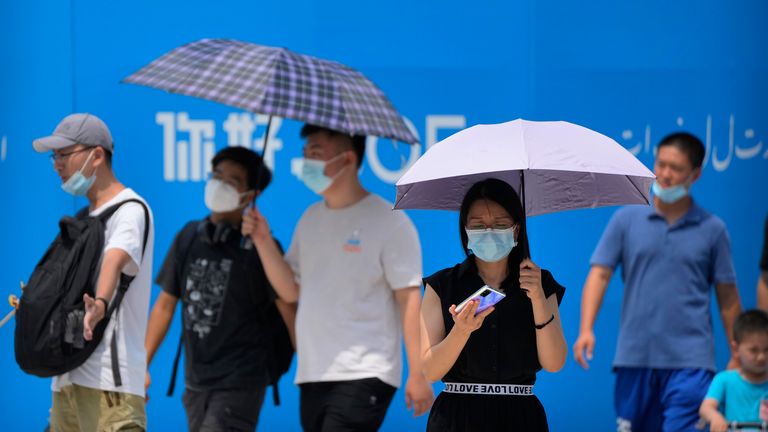 The Delta variant poses new risks to the world's second-largest economy as it spreads from the coast to inland cities.
On Tuesday, the National Health Commission said 90 new cases had been confirmed the previous day, 61 locally spread ones and 29 among people who had recently arrived from abroad.
Most of the local cases were in Jiangsu province, where an outbreak started at the airport in Nanjing, the provincial capital, and has spread to the city of Yangzhou, 65 miles away.
Authorities reported 45 new cases, five in Nanjing and 40 in the city of Yangzhou, which was conducting a second round of mass testing.
Five other provinces and the cities of Beijing and Shanghai reported new local cases in the single digits.
In Shanghai, the nation's largest city, a driver working at one of its two main airports tested positive. Beijing has reported a total of five cases in recent days.
Government-affiliated scientists have said Chinese vaccines are less effective against the new strains of the coronavirus but still offer some protection.
Only Chinese vaccines are currently being given in China, where authorities say more than 1.6 billion doses have been administered.
NATO and European Commission condemn deadly attack on tanker near Oman | World News
Foreign Secretary Dominic Raab has welcomed both NATO and the European Commission's condemnation of the deadly attack on an oil tanker off the coast of Oman.
The UK, US and Israel have blamed Iran for the attack, which killed two people – a Briton and a Romanian.
On Tuesday, NATO called on Iran to "respect its international obligations", while the EU Commission said they oppose "any action that would be detrimental to peace and stability".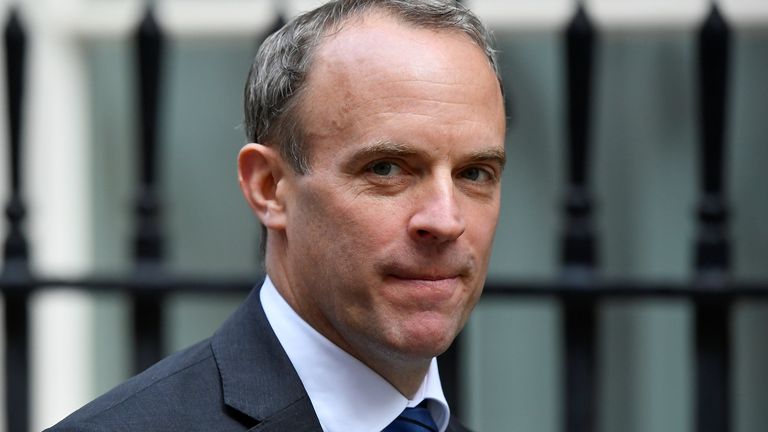 The Commission called the incident "unacceptable" but said the exact circumstances surrounding it "have to be clarified".
Posting on social media, Mr Raab said: "I welcome NATO joining the UK and international partners in condemning the unlawful attack on MV Mercer Street.
"We believe this was a deliberate, targeted attack by Iran – it must end its destabilising actions immediately."
I welcome @NATO joining the UK 🇬🇧 and international partners in condemning the unlawful attack on MV Mercer Street.

We believe this was a deliberate, targeted attack by Iran – it must end its destabilising actions immediately. https://t.co/aZGfjmgk4u

— Dominic Raab (@DominicRaab) August 3, 2021
Reports suggest explosive drones were flown into the MV Mercer Street tanker during the attack, which happened on 29 July.
According to Eikon's ship tracking, the Mercer Street was headed to Fujairah, a bunkering port and oil terminal in the United Arab Emirates, from Dar es Salaam in Tanzania.
The tanker is operated by Zodiac Maritime, which is based in London and owned by Israeli billionaire Eyal Ofer.
Releasing a statement on Tuesday, a NATO spokesperson said: "We join allies in strongly condemning the recent fatal attack on the MV Mercer Street off the coast of Oman, and express our condolences to Romania and the United Kingdom for the losses they have suffered.
"Freedom of navigation is vital for all Nato allies, and must be upheld in accordance with international law.
"The United Kingdom, the United States, and Romania have concluded that Iran is highly likely responsible for this incident. Allies remain concerned by Iran's destabilising actions in the region, and call on Tehran to respect its international obligations."
European Commission spokeswoman Nabila Massrali told reporters: "Of course we condemn the attack on the oil tanker which took place off the island of Masirah in Oman.
"A British citizen and a Romanian were killed and we would like to extend our sympathy to their friends and family.
"The exact circumstances of this attack have to be clarified and we take note of investigations carried out by the United States, the UK and Israel – this is an action that was against freedom of navigation in this area, and of course unacceptable.
"We oppose any action that would be detrimental to peace and stability in this area and the EU will continue to follow developments closely."
'Iran should face up to the consequences' – PM

On Sunday, Mr Raab accused Iran of carrying out a "deliberate, targeted" assault which constituted "a clear violation of international law".
US Secretary of State Anthony Blinken said he was considering "next steps" with the UK and other allies, with "an appropriate response… forthcoming".
Meanwhile, the head of the British armed forces, General Sir Nick Carter, held discussions with his Israeli counterpart at the weekend.
The government held a Cobra emergency meeting at the level of officials over the weekend in a sign of the serious focus on the tanker attack and how to respond, Sky News understands.
There has not yet been a Cobra attended by ministers, which is what happens in the gravest of crises.
Earlier this week, Israeli foreign minister Yair Lapid blamed "Iranian terrorism" for the attack.
Iran has not yet commented on the allegations.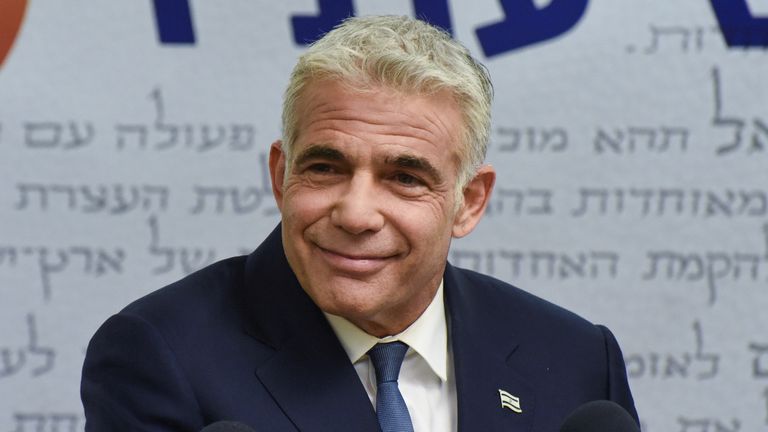 Lisa Nandy, Labour's shadow foreign secretary, said the UK government needs to take a hard line with Tehran.
She said: "The prime minister must make it clear to the incoming Iranian president that lawless actions will carry costs. This is the moment where Britain must show we are resolute in our determination to end this pattern of behaviour.
"The breakdown of a clear strategy to deal with Iran has not served the UK or our allies well in recent years. The foreign secretary must now make it a priority to pursue coordinated international efforts to tackle these actions by the Iranian government."
The incident has sparked concern that tensions are increasing in the region.
A UK source said crew members reported being targeted by "some sort of drone" on Thursday in the Arabian Sea before communications with the ship were lost.
If a drone attack is confirmed it would raise speculation about a possible link to a government or some kind of proxy group.
Iran in the past has repeatedly been accused of targeting tankers in the Gulf.
Heat dome: What is the extreme weather pattern causing record temperatures and wildfires? | Climate News
Heat domes are becoming a more regular weather phenomenon as entire regions deal with increasingly extreme heat and wildfires.
Villages in Turkey, Greece and Italy have been engulfed this July and August, and tourists evacuated by boat from beaches as temperatures reached 47C (116F).
In June, record temperatures hit North America, with more than 100 people dying in the northwestern US and Canada.
Both these extreme weather events were caused by heat domes.
Sky reporter at edge of Turkey wildfires


What is a heat dome?
It's when an area of high pressure stays over a large part of a region for days, or even weeks.
Like a lid on a saucepan, it traps hot air underneath, and can cause heatwaves with temperatures well above the norm.
How does a heat dome form?
Hot air expands vertically into the atmosphere then high pressure from above means it has nowhere to escape and pushes that warm air down.
As the warm air sinks, it compresses and heats up, which then traps more heat underneath.
The ground then heats up and loses moisture which makes it heat up even more, and means it is ripe for fires to start.
The dome of high pressure also pushes the clouds around it, keeping the heat in even more.
Usually, winds can move the high pressure around but as the dome stretches high into the atmosphere, the high pressure system becomes very slow moving, almost stationary.
What has caused the European heat dome?
Met Office spokesman Stephen Dixon told Sky News: "The jet stream has dipped south across western Europe and extended into northeast Europe, allowing a ridge to develop across southeast Europe.
"Within the ridge, the air has become warmer day-on-day."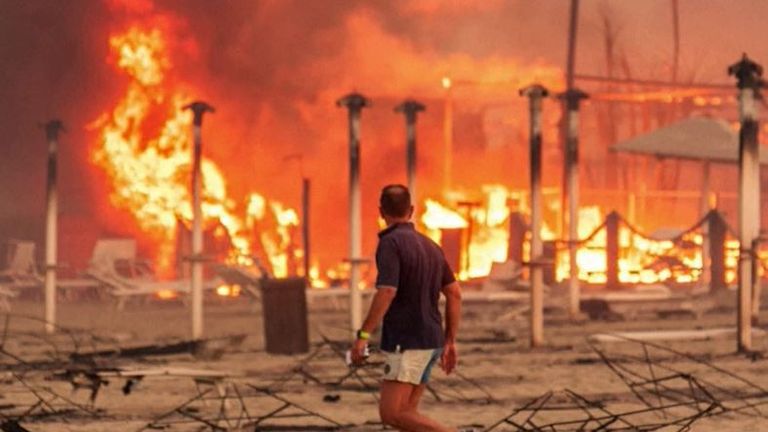 Warm air from a Saharan dust cloud has also contributed to the warmer than usual temperatures
The high pressure from the jet stream ridge and the Saharan warm air has been stuck over southeast Europe for a while, maintaining temperatures 10C to 15C above average.
Are heat domes rare occurrences?
They are quite common in temperate zones but they are getting more intense and regular in areas that do not usually see such extreme heat.
Scientists from the US National Oceanic and Atmospheric Administration (NOAA) found the main trigger is a strong change in ocean temperatures during the preceding winter.
Wildfires ravage Canadian town amid heatwave

For the US, this happens in the Pacific Ocean.
The NOAA scientists said it is like a swimming pool when the heater is turned on – "temperatures rise quickly in the areas surrounding the heater jets, while the rest of the pool takes longer to warm up".
They said the western Pacific's temperatures have risen over the past few decades compared with the eastern Pacific, "creating a strong temperature gradient – or pressure differences that drive wind – across the entire ocean in winter".
The gradient causes more warm air through convection, which is heated by the ocean surface and rises over the western Pacific, decreasing convection over the central and eastern Pacific.
Prevailing winds move the hot air east, towards the US, and the jet stream traps the air, moving it towards land where it sinks to cause heatwaves.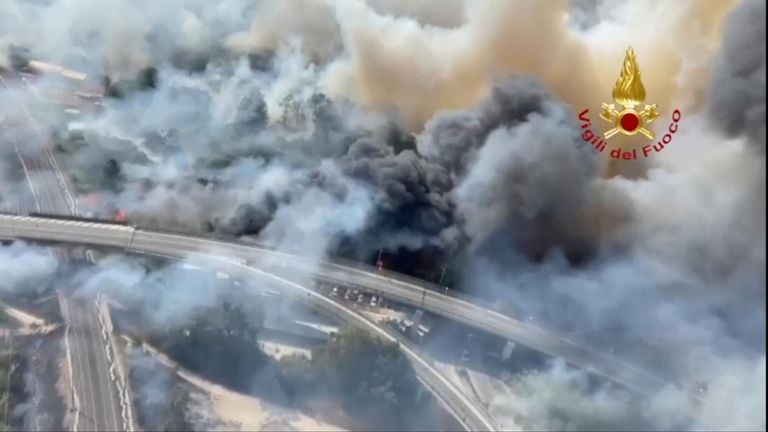 In Europe, the water temperatures are high, especially across the Baltic region where they are more than 6C above normal.
The Atlantic Ocean around the UK and Ireland was about 2-4C above the norm for the end of July.
But it is the Mediterranean, which is warmer than other European seas anyway, that is the most concerning, with sea temperatures nearly 3C above the long-term average.