The desperate fight for survival in Ghouta

At least 250 people have been killed in Ghouta in 48 hours, but government offensives like it in Syria are horrifyingly familiar.
Boris Johnson tells world leaders he is growing 'increasingly frustrated' at their efforts to tackle climate change | Politics News
Boris Johnson has criticised other world leaders over their efforts to tackle climate change, telling them he is growing "increasingly frustrated" that their commitments are "nowhere near enough".
Speaking during a meeting at the United Nations in New York, the prime minister said the gap between what has been promised by industrialised nations and what they have so far delivered remains "vast".
Co-hosting a discussion on the issue at the UN General Assembly, Mr Johnson urged fellow leaders to renew their efforts to meet a key financing pledge to help developing nations.
The PM wants to get countries to commit to giving $100bn (£73bn) a year in support to developing nations to cut their carbon emissions and shield themselves against climate change.
But he earlier told reporters there was only a "six out of 10" chance of this target being met before the COP26 climate summit in Glasgow in November – which he then said will be "a turning point for the world" and "the moment when we have to grow up and take our responsibilities".
He told Sky News' political editor Beth Rigby: "We have been here before, we have all heard lots of positive noises, let's see where we get to.
"We are not counting our chickens."
However, Joe Biden's climate envoy sounded upbeat when questioned by Sky News.
"I think we're going to get it done by COP and the US will do its part," John Kerry said.
Asked if the US president will announce more money this week, he replied: "I'm not hoping… I'm telling you to stay tuned into the president's speech and we'll see where we are."
Chairing the climate discussion on Monday, Mr Johnson noted that "everyone nods and we all agree that something must be done".
Kerry 'confident' of $100bn climate target

"Yet I confess I'm increasingly frustrated that the 'something' to which many of you have committed is nowhere near enough," he continued.
"It is the biggest economies in the world that are causing the problem, while the smallest suffer the worst consequences.
"And while progress is being made all over the world, the gulf between what has been promised, what is actually being delivered, and what needs to happen… it remains vast.
"Too many major economies – some represented here today, some absent – are lagging too far behind."
And the PM warned countries there would be consequences if the financing target is not met, saying: "If you say that the lives of their children are not worth the hassle of reducing domestic coal consumption, will they vote with you in fora such as this?
"Will they work with you, borrow from you, stand with you if you tell the world that you don't care whether their land and their people slip below the waves?
Subscribe to ClimateCast on Spotify, Apple Podcasts, or Spreaker
"To be merely a bystander is to be complicit in their fate – yet that is exactly what you will be if you fail to act this year."
Ahead of the UN meeting, Downing Street said developed countries had "collectively failed" to meet the target.
Figures released last week by the Organisation for Economic Co-operation and Development showed that $79.6bn was mobilised in 2019, more than $20bn off the target.
Watch the Daily Climate Show at 6.30pm Monday to Friday on Sky News, the Sky News website and app, on YouTube and Twitter.
The show investigates how global warming is changing our landscape and highlights solutions to the crisis.
Serbians block roads in Kosovo in protest over license plate restrictions | World News
Protesters have blocked roads in northern Kosovo after authorities stopped cars with Serbian plates from entering the country.
Police in Jarinje, Kosovo are forcing drivers from Serbia to remove or hide license plates and use temporary registration details that are valid for 60 days and cost €5 (£4.30).
Serbia, which lost control of Kosovo in 1999, does not recognise Kosovo and has stopped cars with Kosovo license plates from entering the country.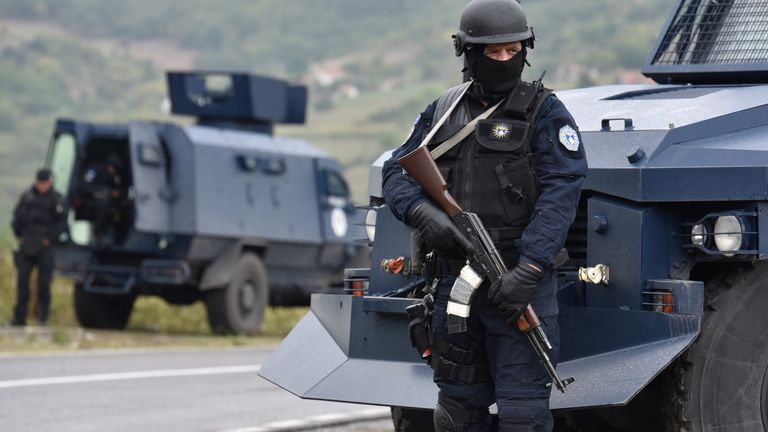 Almost 50,000 Serbs who live in the north of Kosovo and share a border with Serbia, refuse to recognise Pristina's authorities and as restrictions came into force on Monday, cars and trucks blocked roads in protest.
Police in Kosovo deployed riot gear and armoured vehicles as the blockades built up and Kosovo's Prime Minister, Albin Kurti, said the move was not taken to harm drivers but was a retaliation measure against Belgrade.
"Today there is nothing illegal or discriminatory," Mr Kurti said in parliament.
"Just as yesterday, today and tomorrow, Serb citizens will move freely and safely."
Serbian President Aleksandar Vucic said the situation is very "serious and difficult".
"When you are dealing with people who are not responsible, it is difficult to find a solution," Mr Vucic said.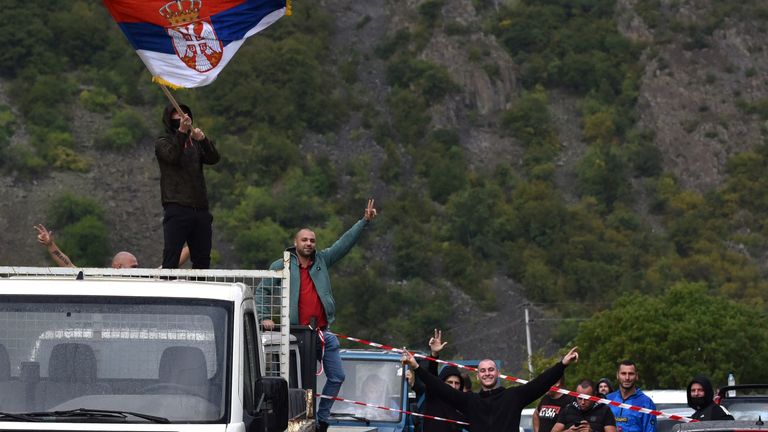 The two countries began talks in 2013, mediated by the European Union, to resolve the issues, but little progress has been made.
Kosovo is recognised by around 110 countries, including the United States, Britain and most western countries, but Russia, Serbia's traditional ally, does not recognise it.
Boris Johnson says UK's relationship with France 'indestructible' despite row over AUKUS military pact | Politics News
Boris Johnson has said the UK's relationship with France is "indestructible" despite the fallout from the new military pact with the US and Australia.
The prime minister said the "AUKUS" initiative is "not exclusionary" after France's defence minister cancelled talks with her UK counterpart over Australia pulling out of a major contract with France for submarines in favour of the pact to build nuclear-powered vessels with the UK and US.
Brokered last week, the agreement ended a £27bn deal with France signed by Australia in 2016 to build 12 diesel-powered submarines.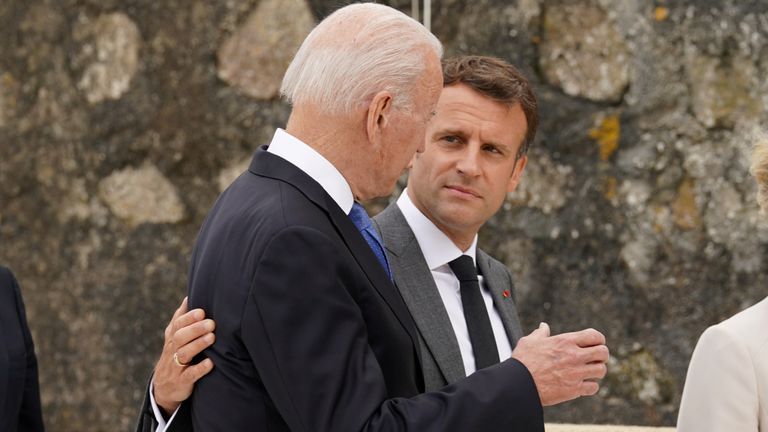 French foreign minister Jean-Yves Le Drian described it as a "stab in the back" that constitutes "unacceptable behaviour between allies and partners".
But Mr Johnson told reporters in New York: "The UK and France have a very, very important and indestructible relationship and of course we'll talk to all our friends about how to make the AUKUS pact work, that it's not exclusionary, it's not divisive and it really doesn't have to be that way.
"This is just the way of the US, the UK and Australia of sharing certain technologies because that is the sensible thing to do in the world in which we find ourselves.
"That does not in any way mean that we wish to be adversarial towards anyone else or exclusive or crowding anyone else out."
He added that the UK's relationship with France is "incredibly important, it's historic" and pointed out the two countries work together "shoulder to shoulder" fighting terrorism in the Sahel region in Africa and as part of the NATO mission in the Baltic states deterring Russian aggression.
"There is one other country in the world with whom we share a programme to do simulated nuclear testing – which country is that? It's France," he said.
'AUKUS alliance will bring us closer than ever'

Defence Secretary Ben Wallace also attempted to play down suggestions of a rift after his French counterpart Florence Parly postponed a bilateral meeting with him.
Mr Wallace told the House of Commons Australia had exercised its "right to choose" but said the US and France are "our closest allies" and said he has an "extremely close relationship" with Ms Parly and "we speak regularly".
French President Emmanuel Macron is notably absent from the UN General Assembly meeting in New York, but is due to speak to US President Joe Biden over the phone in the coming days, an official said.
France recalled its ambassadors from the US and Australia in a sign of the seriousness of the crisis, with the French foreign minister meeting with the two ambassadors on Sunday to discuss "the strategic consequences of the current crisis", the ministry said.
Australian Prime Minister Scott Morrison said France "would have had every reason to know that we have deep and grave concerns" about the capability of France's Attack class subs, which he said cannot meet Australia's strategic interests.