Texas parole board recommends killer be spared from death
AUSTIN, Texas –  The Texas parole board on Tuesday made a rare recommendation to commute a death sentence, unanimously endorsing a "lesser penalty" for a man set to be executed this week for masterminding the killings of his mother and brother.
Thomas "Bart" Whitaker is scheduled for lethal injection Thursday for the shootings of his mother and brother at their suburban Houston home in 2003. Whitaker's father, Kent, also was shot in the attack but survived. He said he wants his 38-year-old son to live.
The recommendation from the seven-member Board of Pardons and Paroles goes to Republican Gov. Greg Abbott. It's unclear whether Abbott will accept or reject it. The governor appoints the parole board members.
It's only the fourth time since the state resumed executions in 1982 that the parole board has recommended clemency within days of an inmate's scheduled execution. In two of those cases, then-Gov. Rick Perry rejected the board's recommendation and those prisoners are among the 548 executed in Texas, more than any other state.
David Gutierrez, the parole board's presiding officer, said the panel recommended the governor commute Whitaker's sentence "to a lesser penalty." Jurors who convicted him and sentenced him to death in 2007 had only one other option, life imprisonment.
In the clemency petition, Whitaker's attorneys said his execution would "permanently compound" his father's suffering and grief, and compared the case to the biblical story of Cain and Abel, where God sent Cain to "restlessly wander" after killing his brother.
Kent Whitaker has said he's seen "too much killing already," has forgiven his son and believes his son is a changed person.
Whitaker, his son's attorney and supporters awaited the decision in a conference room in the Texas Capitol. As lawyer Keith Hampton read the outcome, Whitaker covered his face with his hand and wept softly. After about 15 seconds, he looked at Hampton and murmured, "Thank you."
"I never, ever believed that we were going to get a unanimous decision in favor," he said as he and Hampton headed immediately across the building to Abbott's ceremonial office — even though the governor wasn't there — to plead with the governor that he honor the board's recommendation.
"The best we were hoping was a 4-3," he said. "This is beyond amazing. I can't tell you."
At his trial, Bart Whitaker said he took "100 percent" responsibility for planning and carrying out the killings. Prosecutors said he hated his parents and hoped to collect an inheritance.
"I think it's the wrong decision and clearly the wrong decision," said Fort Bend County District Attorney John Healey, whose office prosecuted Whitaker and convinced a jury to convict him and send him to death row.
He said Tuesday that he didn't know if he could speak with Abbott before the governor made a decision.
"I don't know if that's part of the allowed protocol," Healey said. "It's a unique situation."
Evidence showed the murder plot included two of Whitaker's friends and was at least Whitaker's third attempt to kill his family. The shooting was made to look like an interrupted burglary at the family's home in Sugar Land, southwest of Houston, and Bart Whitaker was shot in the arm to draw attention away from him.
About six months after the shootings, he disappeared. A year later, he was apprehended in Mexico.
The gunman, Chris Brashear, pleaded guilty in 2007 to a murder charge and was sentenced to life in prison. Another man, Steve Champagne, who drove Brashear from the Whitaker house the night of the shootings, took a 15-year prison term in exchange for testifying at Whitaker's trial.
In 2007, death row inmate Kenneth Foster was spared and his sentence commuted to life. The board had voted 6-1 in favor of a commutation. Perry said Foster and a co-defendant in a fatal robbery in San Antonio should not have been tried together for capital murder. Foster was the getaway driver in the slaying and both he and a partner received death sentences. His co-defendant was executed.
In 2004, Perry overruled the parole board's 5-1 vote favoring clemency and convicted killer Kelsey Patterson was executed. He took the same action in 2009 in the case of death row inmate Robert Lee Thompson, who was executed despite a favorable a 5-2 ruling from the board.
___
Michael Graczyk reported from Houston.
Myanmar: 100,000 forced from homes in border state amid fighting as UN concerned at 'deteriorating' situation | World News
Heavy fighting has forced more than 100,000 people from their homes in Myanmar's Kayah State.
In a statement, the United Nations expressed concern at the "rapidly deteriorating" situation including "indiscriminate attacks by security forces against civilians" in the area which borders Thailand.
Many of the displaced are now believed to be sheltering in nearby forests, with the UN warning they could be forced across international borders.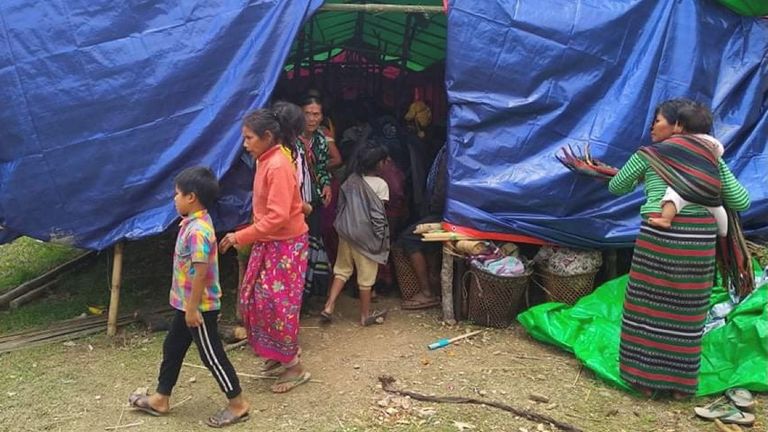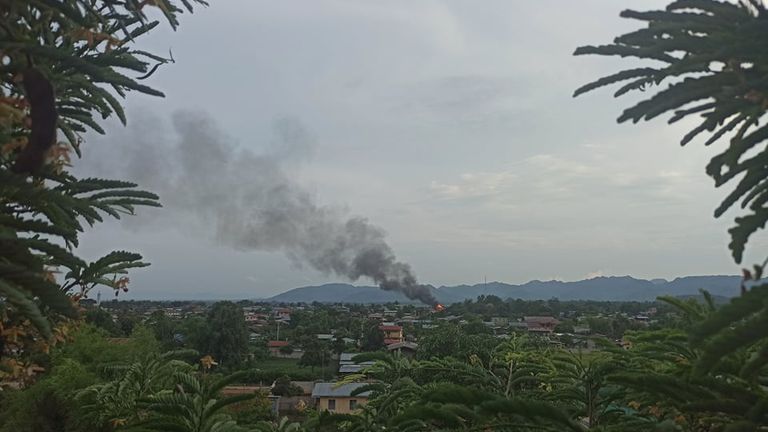 Khun Ra, whose name is changed for protection, is a teacher in the state.
He said: "We have to rely on ourselves. Some parts of Demoso town are under the junta control.
"They are using the fighter jets not only helicopters to bomb us. More than ten thousand people around our area are fleeing now."
Battles between civilian resistance forces and the Burmese army have intensified in recent weeks as local people take up arms to challenge the military which seized power in a coup in February.
Junta security forces are also fighting the Karenni Army, the armed wing of the Karenni National Progressive Party in the state.
The Karenni People's Defence Force (KPDF) has reported coming under heavy fire in response to attacks on troops.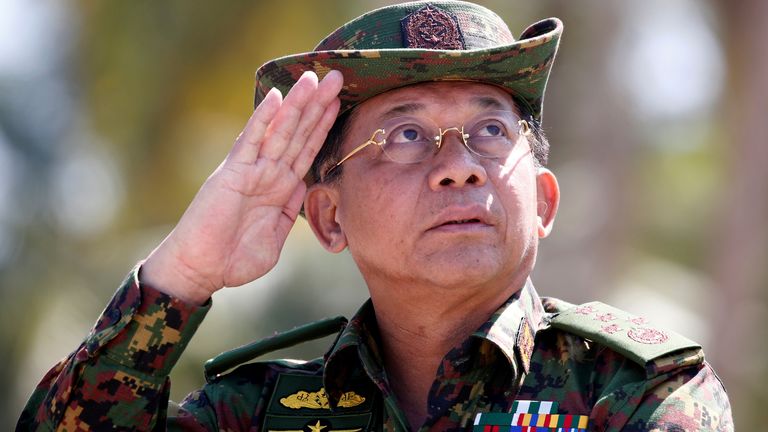 A spokesperson from the Karenni Nationalities Defence Force (KNDF) said: "We need water and food supplies, medical supplies and material for shelter to cover us from the rain.
"And we need fuel for the transportation of supplies."
Residents and rebels have said the military has been using artillery and helicopters as well as carrying out airstrikes in the area.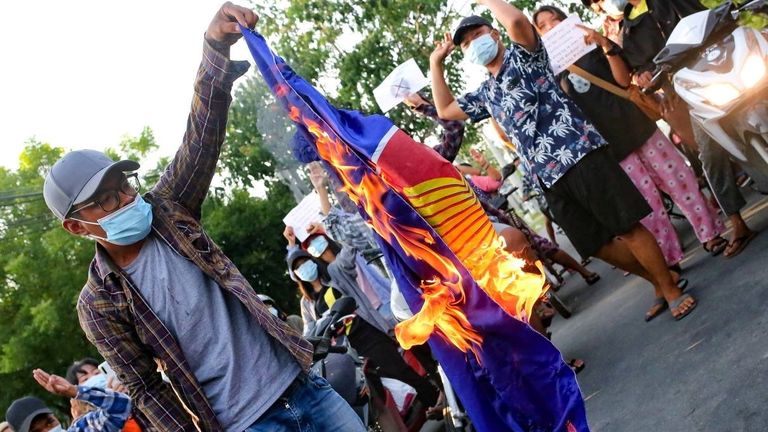 The UN in Myanmar said those fleeing were in urgent need of food, water, fuel and access to healthcare and urged security forces to allow safe passage to humanitarian supplies.
More than 150,000 people are estimated to have been displaced across southeastern parts of the country by armed clashes.
At least 857 people have been killed by security forces since the coup, according to figures from the Assistance Association for Political Prisoners (Burma).
Thailand recently expressed its concern at the situation in Myanmar and said it wants to see an end to the violence.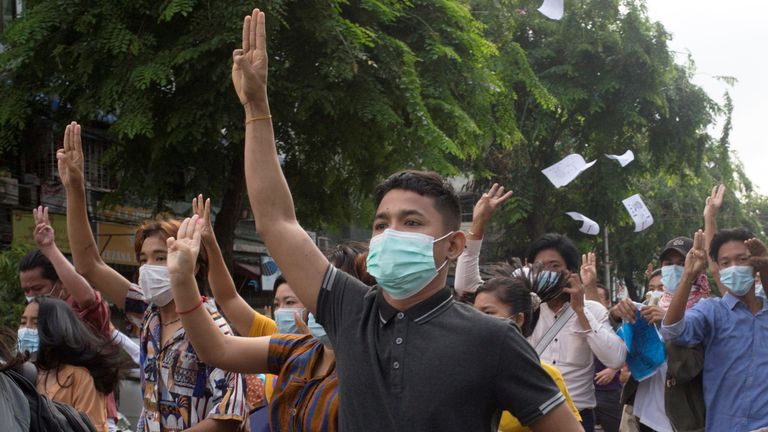 Phil Robertson, deputy Asia director of Human Rights Watch, said: "The Thai government is fooling itself if it thinks the widening conflict, rights abuses, and displacement crisis will remain contained in Myanmar's borderlands.
"What's happening in Kayah State is precisely why authorities in Bangkok should immediately allow humanitarian assistance to flow freely across the border to reach those in need and recognize UNHCR's mandate to protect those who flee into Thailand.
"The days of half measures, and whistling past the graveyard, need to be over in Bangkok, and across ASEAN (Association of Southeast Asian Nations), when it comes to dealing with Myanmar's crisis.
"These figures indicate the scale of displacement in a small state like Kayah is really off charts, and that the SAC junta's offensive against the People's Defence Force (PDF) resistance fighters is really targeting the general population.
"This is precisely the sort of rights-abusing, scorched earth policies the Tatmadaw are infamous for, and the international community needs to act to stop it."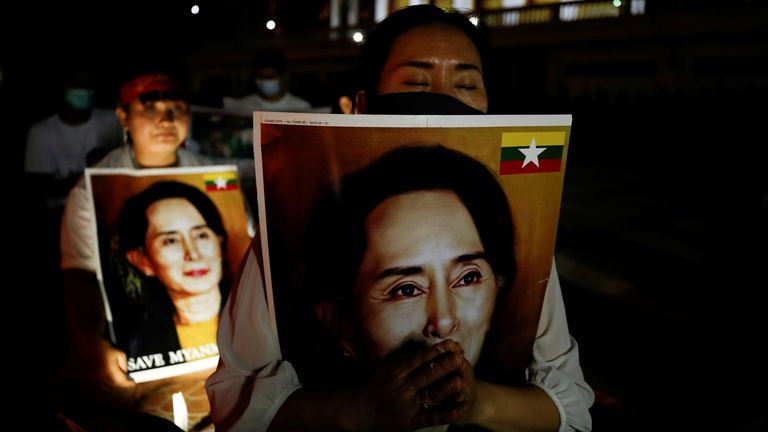 More than 5,800 have been arrested including the country's deposed leader, Aung San Suu Kyi.
Lawyers for the 75-year-old revealed the military junta will begin presenting its case against her next Monday.
Ms Suu Kyi faces a range of charges including illegally importing walkie-talkies, breaking the country's COVID-19 regulations, spreading panic, and breaching the colonial-era Official Secrets Act, which carries a penalty of up to 14 years' imprisonment.
Her supporters say the allegations are false and aimed at discrediting her and legitimizing the military regime.
Sky News contacted the military for comment but so far hasn't received a response.
Former Bosnian Serb military chief Ratko Mladic loses appeal to overturn genocide conviction | World News

Former Bosnian Serb commander Ratko Mladic has lost his appeal to have his conviction for genocide and war crimes overturned.
Five judges handed down the verdict at the UN-backed international criminal tribunal at The Hague on Tuesday.
Mladic, 79, is known as the "Bosnian Butcher" for masterminding atrocities such as the Srebrenica massacre and the siege of Sarajevo during the 1992 to 1995 Bosnian War.
He was appealing his 2017 conviction and life sentence for genocide, war crimes and crimes against humanity.
The former military chief was previously found guilty of the genocide of more than 8,000 Muslim men and boys in Srebrenica in 1995 – the worst massacre in Europe since the Second World War.
He was also convicted of persecution, extermination, murder and terror, but acquitted of a second genocide charge linked to campaigns to drive non-Serbs out of Bosnian towns in the early years of the war.
Widows and mothers of the victims at Srebrenica gathered outside the court ahead of the judgment.
"Today is a historic day for us mothers," leader of the Mothers of Srebrenica Munira Subasic said.
"Today, finally, we are expecting the judgment for the greatest butcher of the Balkans. He committed genocide in all territories that were under his control. He destroyed everything that didn't belong to Serbs."
French President Emmanuel Macron slapped during crowd walkabout | World News
French President Emmanuel Macron has been slapped during a walkabout session with a crowd in southeast France.
In video circulating on social media, Mr Macron, dressed in shirt sleeves, could be seen walking towards a crowd of
well-wishers who were behind a metal barrier.
The president reached out his hand to greet one man, in a green T-Shirt, with glasses and a face mask.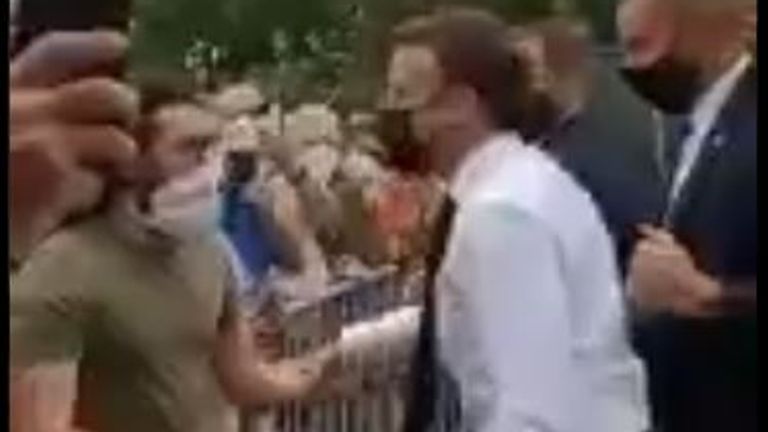 The man could be heard shouting out "Down with Macronia" ("A Bas La Macronie") before then delivering a slap to Mr Macron's face.
The president's security entourage quickly intervened to pull the man to the ground and move Mr Macron away from him.
They confirmed that a man had attempted to slap him.
Mr Macron is visiting the Drome region to meet restaurateurs and students to talk about how life is returning to normal after the COVID-19 pandemic.
He carried on talking to someone behind the barriers for a short time before moving away.
The identity of the man and his motives were unclear.
While slapping the president, he could be heard shouting "Montjoie Saint Denis," which was the battle cry of the
French armies when the country was still a monarchy.
Two people have been arrested, a source told BFM TV.