'Teen Mom 2's' David Eason fired by MTV after alleged anti-gay Twitter rant
"Teen Mom 2" star David Eason has been fired from the MTV reality show after the dad of three reportedly shared a series of homophobic tweets.
On Tuesday, MTV announced that they would officially cut ties with Jenelle Evans' husband. 
"David Eason's personal comments do not reflect the views of MTV," the network said in a statement to People. "With six weeks left of production on 'Teen Mom 2,' effective immediately, we are ending our relationship with him."
The decision to fire Eason came after fans swarmed Twitter, urging for MTV to fire the reality star due to a series of tweets Eason allegedly shared in which he called gay and transgender people  "abominations," according to People.
Though Eason's Twitter account has been removed since the uproar, angry users have shared screenshots which show that Eason also seemingly shared thoughts advocating for the right to carry concealed weapons. Evans' husband reportedly tweeted, "It only makes sense to protect our kids the proper way… the only way we know how."
His remarks sparked backlash on the social media platform prompting a Twitter war between users. 
On Tuesday, Evans defended her husband in statement to TMZ.
"David didn't understand how offensive people would get or how Twitter even works. Now that he realizes his voice is very strong within media/tabloids he has deactivated his account. He agrees he will keep his comments to himself from now on," she said. "David doesn't hate people from the LGBT community. My old manager was gay and used to be one of me and David's close friends. We attended Farrah's birthday in Miami with a lot of LGBT people there, and he didn't act in any type of way. We went had a good time and left. We are sorry for the comments that were made."
The news of Eason's firing comes right after his wife revealed that she used drugs while pregnant with her daughter Ensley last year.
In a new interview with Vince Russo's podcast "The Brand," the "Teen Mom" star admitted that she tested positive for marijuana after giving birth to her daughter. 
"I'm not going to lie about that," she said on the podcast. "I tested positive for THC and Ensley did not test positive. I did. So CPS [Child Protective Services] were like — I was in the hospital — they said, 'Did you smoke when you were pregnant?' I said, 'I did within the past 30 days. I said I have really bad esophageal spasms and I throw up every 5 minutes, I can't even eat.' And they said, 'Okay, some moms do that. We are not here to judge, we are writing down your information.'"
Evans opened up about her battle with drugs in her 2017 book, "Read Between the Lines: From the Diary of a Teenage Mom."
According to People, in the book the mother wrote about the beginning of her opioid abuse and said that she "won't glamorize the drug by going into the long details of why people love it so damned much," but admitted that her "first trip was amazing." 
The star made it clear that her life has significantly changed since then. 
"First of all, if I were on drugs I wouldn't be able to sit here in the morning and get the kids ready and eat healthily," Evans stated on the podcast. "Or I'd be losing a lot of weight."
COVID-19 rips through South African townships leaving a generation facing a 'world without adults' | World News
There is a pink house in the township of Zwide that sounds much like any other family home at six or seven in the morning.
Inside, we watched three boys and one girl race to get ready for school and there were lots of things to brush, tie and polish before the school bell rang.
But there was someone missing in this house in the South African city of Port Elizabeth.
The children's mother, Bela, has died of COVID-19 – and their father has left the scene.
Abuqua, who is 16, his sister Amyoli, 11, and nine-year-old twins Oyi and Ayi are orphans now – and they have been left in the care of their frustrated 23-year-old cousin.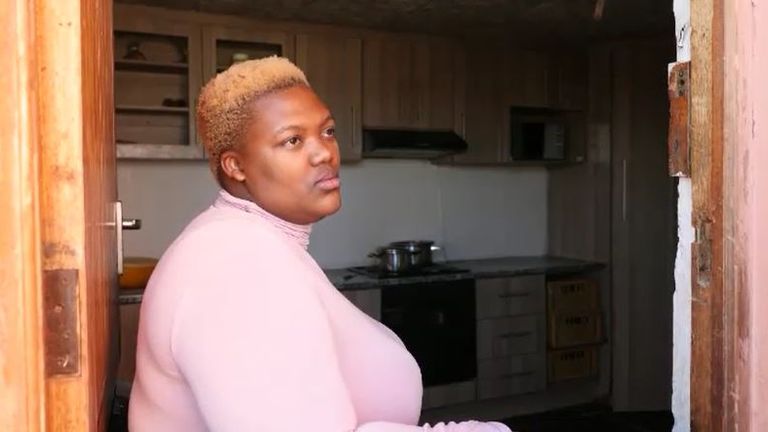 "Would you choose to be doing this, do you want to be doing this?" I asked Anna-Lisa Sondlo.
"No, I don't want to."
"Why?" I asked.
"Why would I want to be doing something like this?"
Without their mother, who worked as an assistant teacher, the children now find themselves in an uncomfortable situation.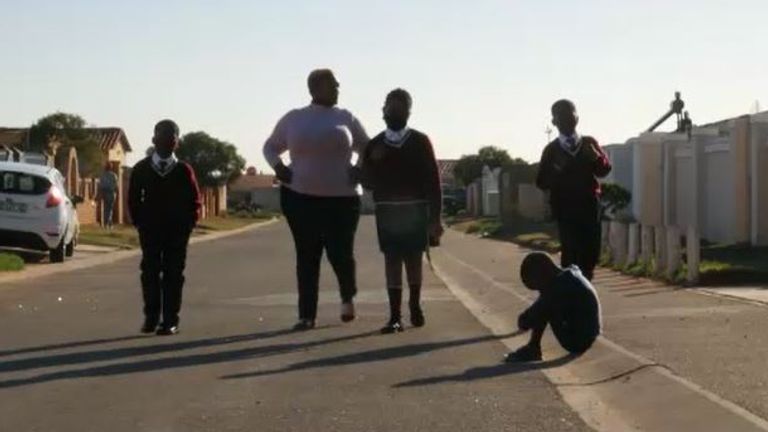 The twins have no one to help them with their homework.
"We teach ourselves – but our mother used to teach us," says Oyi Tyatya.
And without their mother's income, the kids do not always have enough to eat. Amyoli told me that she drinks water to stop the feeling of hunger.
Community leaders in this province, the Eastern Cape, told us that thousands of children have lost their parents or primary care-givers to the virus and it has put families like the Tyatyas under extraordinary strain.
The children's uncle, Khaya Tyatya, does what he can but he works as a pastor and his salary does not go very far.
"You know how much pastors get paid? It's not very much and we have not been able to hold services lately."
Reverend Tyatya is under considerable strain, both financially and emotionally. Three of his sisters – including Bela – have died from COVID-19 and the virus also took the life of his wife, Queenie.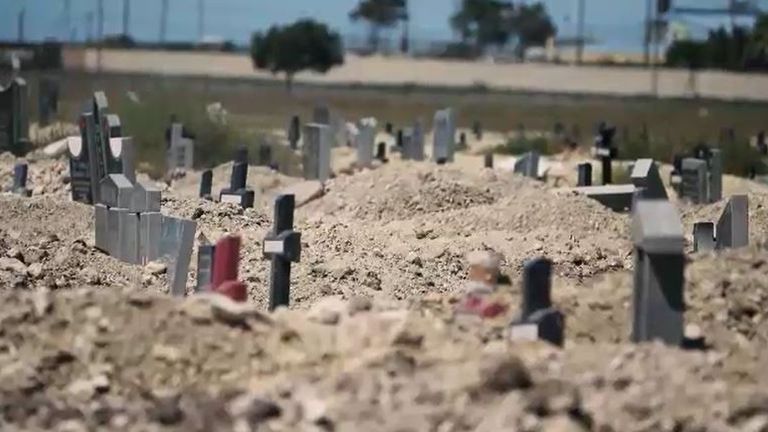 They were buried at a windswept cemetery in Port Elizabeth and the pastor wanted to show us Bela's plot, but it took him several hours to find it. The graveyard has grown dramatically since his loved ones were interred last July.
I asked the church leader if he remembered how he felt.
"I could not understand why this is happening to me alone, what is it that I have done to deserve this? But there are questions that cannot be answered on this side of the world, hence I say, I want to ask Jesus in heaven, one-on-one, why was this allowed happen to us?"
For residents like Reverend Tyatya, COVID-19 has been shocking and traumatic.
More people have died from the virus in the Eastern Cape than anywhere else in the country and a highly contagious strain, known by scientists as 501Y.V2 and others as the South African variant, was first discovered by health workers in and around Port Elizabeth.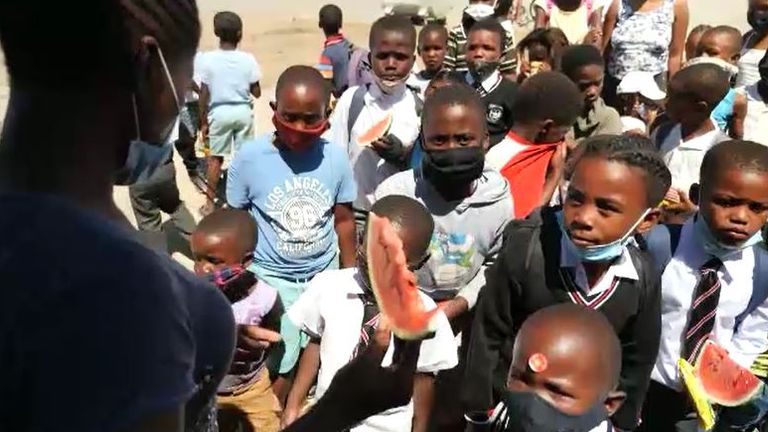 But young people will be forced to live with the legacy of this disease.
In a world without adults, soup kitchens for children are now required and we found volunteers at one, handing out noodles and watermelon in a township in Port Elizabeth.
The youngsters, both orphans and members of vulnerable families, looked grateful but the organisers told us they were sad because this is all they can do to help them.
COVID-19: EU leaders divided over vaccine passports to allow European travel this summer | World News
European Union leaders are divided over developing vaccine passports to open the continent up to tourism this summer.
Some countries want an EU-wide approach instead of individual nations having their own certificates, while others are concerned such documentation could result in discrimination.
Leaders of the EU's 27 countries met online on Thursday to start a two-day summit to discuss the pandemic, and while they agreed to work on vaccine certificates, they could not come up with a unified plan.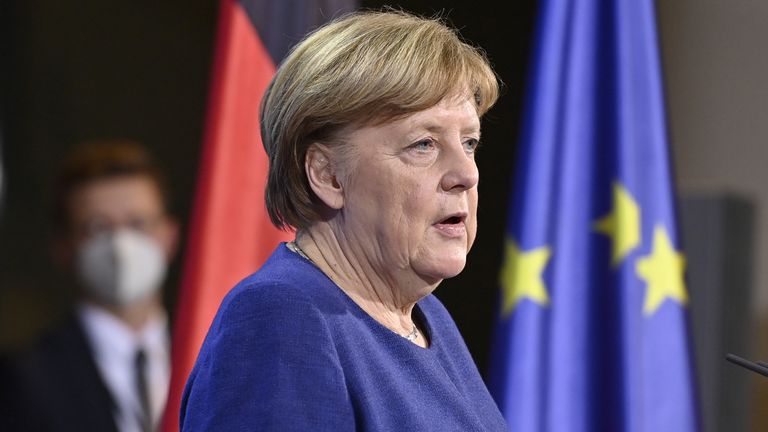 Greece, where tourism contributes to 25% of its GDP, has been leading the call for an EU-wide vaccine certificate to ensure it can benefit from summer tourism.
Athens is in talks with Britain about using a digital "Green Pass", which it has already agreed with Israel, that issues certificates for people who have had both of their coronavirus jabs.
Its tourism minister said on Thursday that even unvaccinated Britons could visit the country, so long as they have tested negative for COVID-19 beforehand.
Spain, Austria and Bulgaria also support the EU-wide certificate, but Vienna said it would implement its own if the EU cannot agree on anything by spring – and wants to include people who have immunity through having COVID-19 and those who have tested negative.
But German Chancellor Angela Merkel doubted whether vaccine certificates of any kind could work.
"First, it must actually be clearly resolved that vaccinated people are no longer infectious," she told German newspaper Frankfurter Allgemeine Zeitung.
"As long as the number of those who have been vaccinated is still so much smaller than the number who are waiting for vaccination, the state should not treat the two groups differently."
However, she provided some hope to countries pushing for certificates and said technical work on them should be completed by the summer.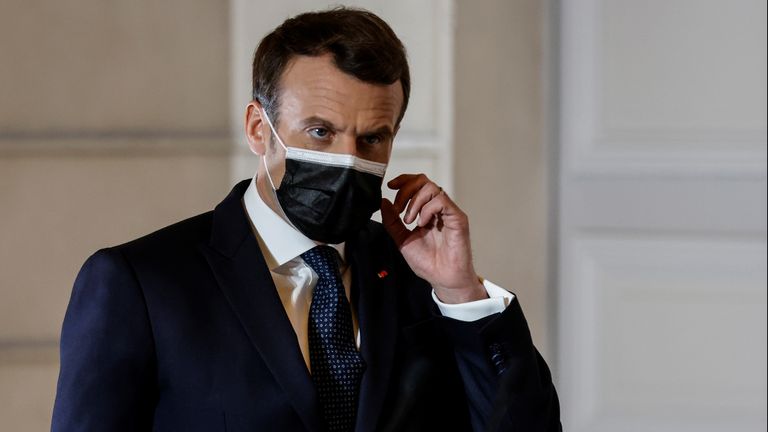 Some countries, though, including France and Belgium, are concerned vaccine certificates would discriminate against those who have not been immunised.
French President Emmanuel Macron said a balance must be found and there are still ethical questions to be resolved, adding that certificates would be unfair for young people who are at the back of the vaccine queue.
France is also beefing up COVID-19 measures on its border with Germany in the Moselle area, with cross-border workers now having to present negative PCR tests to get through.
Romanian President Klaus Iohannis also said vaccine certificates would split Europeans who have and have not had the vaccine.
Other EU countries are developing their own ways of showing people have had the vaccine, with Denmark planning to launch a digital passport to document a traveller's vaccination status, that it said will be compatible with any future EU-wide scheme.
Sweden and Finland are also planning a similar digital passport.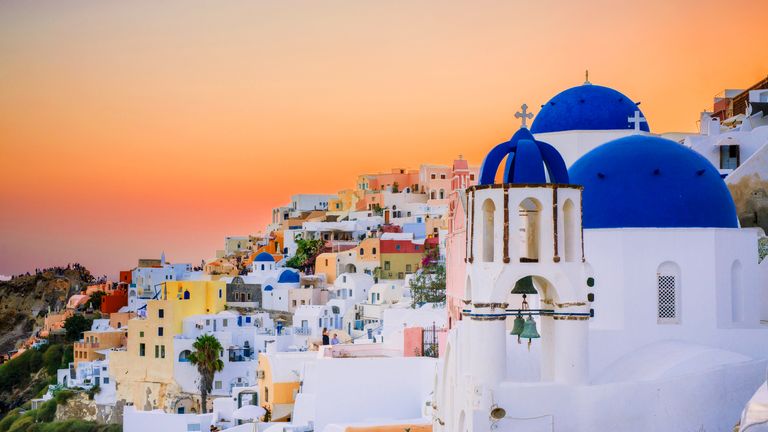 Hungary said from 1 March it will issue a physical vaccination certificate for any citizens who have been inoculated or have immunity from recovering from COVID-19.
The UK is reviewing the use of certificates to help reopen the economy and will consider a travel certificate once more is known about the efficacy of vaccines against variants, though ministers have acknowledged the ethical concerns.
Westminster is working with the World Health Organisation and other countries on an international travel framework.
COVID-19: Anti-fraud probe as EU nations are offered 900 million 'ghost' jabs for €12.7bn | World News

Fraudsters are trying to cash in on mistakes made by the EU's coronavirus vaccination campaign by offering millions of scam jabs to member states.
The bloc's anti-fraud agency OLAF said around 900 million vaccines have been pitched to several countries for €12.7bn (£11bn).
These offers were said to be made by "alleged intermediaries," prompting OLAF to investigate.
Pharmaceutical companies involved in making vaccines against COVID-19 say they sell to governments direct only.
Live COVID updates from the UK and around the world
The 27-nation bloc has struggled to get its vaccination programme off the ground, taking longer to initially approve the jabs and running into procurement issues further down the line.
On Thursday, leaders will discuss via videoconference further action on the bloc's strategy, as well as how best to protect their 450 million citizens from new COVID variants.
Other items on the agenda will be stabilising vaccine deliveries, boosting production and making sure the jabs are up-to-date for tackling any new strains.
Two officials from the European Commission said they were concerned to hear of "ghost" vaccines being put up for sale.
"There is a really large quantity," said one, adding: "Nobody has any idea what is actually in these vials…The best case is it's just not working, in the worst case it's a very serious issue."
Another official, speaking on condition of anonymity to Reuters, said: "It is unclear whether these are genuine vaccine doses or if we are just talking about salt water in small vials."
The first also noted that the majority of the shots being offered were said to be the Oxford/AstraZeneca vaccine, before comparing the situation to the start of the pandemic when fraudsters had also tried to cash-in on PPE shortages.
News of "ghost" vaccines on the market has not been particularly helpful for a continent home to several countries with well-known hesitancies in relation to vaccines.
In France, for instance, a December study from the Jean Jaures Foundation found that just two out of five people trusted French health authorities for information on the jabs, with less than half that number trusting the government.
A YouGov study in November found just 45% of Swedes wanted to get vaccinated, while this was slightly higher at 51% in Germany.
This has since risen to 65% in Sweden and 61% in Germany as of 12 February. The same survey found 48% would be willing to receive the jab in France.