Migrant deported by Israel back to Africa recounts ordeal
KAMPALA, Uganda –  Inside the immigration office in Tel Aviv, Yohannes Tesfagabr considered his options. He could not return to Eritrea, a country he risked his life to flee in 2010. He hoped to avoid the fate of compatriots who languished in a desert jail for illegally staying in Israel.
So in an emotional decision last November, the 29-year-old accepted what Israeli authorities were offering: $3,500 and a one-way ticket to Uganda or Rwanda.
Two weeks later he was on a flight to Uganda.
"They told me, 'If you don't leave you are going to jail,'" Tesfagabr recalled. "It's forced. They tell you to say you are going voluntarily, but it is not voluntary. They force you to deport yourself."
Tens of thousands of Africans in Israel face jail if they do not accept an offer, allegedly without further assurances of safety, to leave for an unnamed African country. Both Uganda and Rwanda, widely presumed to be the destinations, have denied any agreement with Israel's government even though scores of migrants are believed to have already settled in the East African countries.
Tesfagabr said his group of Eritreans was not taken through the official immigration desk upon arrival in Uganda. They were ushered through the cargo area by a Ugandan official and driven to a hotel in the capital, Kampala. Their passports were confiscated. Hours later, the undocumented Eritreans were dismissed.
The five other Eritreans declined to talk to The Associated Press because of safety concerns. But Tesfagabr said he wanted to speak out because he felt he had been harshly treated by Israel, a country he had grown to love.
"My Hebrew is four times better than my English," he said one recent evening.
Tesfagabr, a village boy who felt hopeless after being forcefully conscripted into Eritrea's army, arrived in Israel in 2012, the victim of alleged traffickers in Sudan who helped him cross a border point in the Sinai after his family was made to pay a $3,900 ransom. To force his parents to pay, his captors beat him and staged mock executions.
But after crossing into Israel, Tesfagabr benefited from random acts of kindness. In Rehovot, a city south of Tel Aviv, he found a satisfying job as a sous chef. He had an apartment and a bank account, but he had to get his visa renewed every two months.
When two compatriots were jailed for overstaying their visas, Tesfagabr knew his days were numbered.
"They take you like a dog, like a donkey," he said of the migrants taken to the Holot detention center in the Negev desert. "They do what they want."
This month Israeli authorities began distributing deportation notices to some 40,000 African migrants, who have until April 1 to comply. Nearly all are from Eritrea and Sudan, countries with questionable human rights records.
The deportation plan has sparked outrage in Israel, where many say it is unethical and damages Israel's image as a refuge. Israel cites complaints that the migrants have transformed working-class neighborhoods of southern Tel Aviv into unrecognizable slums. Israeli authorities say women, children and families are exempt from the deportation order.
This month thousands of African asylum seekers protested outside the Rwandan Embassy in Israel, calling the deportations racist and urging Rwanda not to cooperate. They claim they have no rights in Uganda and Rwanda and are forced to flee toward Europe through war-torn countries like Libya.
Okello Oryem, Uganda's deputy minister of international affairs, described reports of a deal to take in migrants from Israel as "fake news." Rwanda's government has insisted it "has never signed any secret deal with Israel regarding the relocation of African migrants."
Mossi Raz, an Israeli lawmaker who recently traveled to Rwanda and Uganda to investigate, said his group concluded that the arrangement "does not ensure the safety and well-being of the refugees."
Raz said the delegation met with two migrants believed to be among the few remaining in Rwanda. He said others, in the hundreds or thousands, were transferred to Uganda within days, forced to pay for their travel.
"The refugees will arrive in these countries and will not receive refugee status, their documents will be taken from them and they will be left with nothing," Raz said. "Rwanda is only participating in this agreement because of the money it will receive from Israel."
Tesfagabr, the Eritrean migrant, is now jobless, without a passport and dependent on his savings to pay the rent. The soft-spoken man said he feels like a prisoner and dreams of relocating to Europe.
"I want to start a new life," he said.
___
Associated Press writers Ignatius Ssuuna in Kigali, Rwanda and Tia Goldenberg in Jerusalem contributed.
AstraZeneca's jab has had a bumpy rollout in the EU – but how did it play out? | World News
The EU's vaccination drive has been a bumpy ride – but its rollout of the Oxford/AstraZeneca jab has been especially so.
In November, the European Commission celebrated its plan for a common approach, heralding the creation of a "health union" along with its deal to purchase at least 300 million doses from the British-Swedish drugmaker.
This deal came with the option of purchasing another 100 million doses for its 450 million citizens.
Four months later, however, and the bloc's programme has been beset with shortages and delays, and has prompted a very public and very bitter row with the pharmaceutical company.
It then almost resulted in a nuclear option – triggering Article 16 of the Northern Ireland Protocol, before peaking again on Thursday when the commission blocked a shipment of vaccines bound for Australia.
So – how did we get here?
22 January, shortages announced
The European Medicines Agency (EMA) approved the AstraZeneca jab for use on 29 January – but the issues had already begun.
Exactly a week earlier, the company informed Brussels there would be a 60% shortfall due to a production glitch in its European supply chain.
It left the EU expecting deliveries of 31 million doses by the end of March instead of the agreed 80 million.
Coupled with a temporary shortfall of the Pfizer/BioNTech vaccine, the drive was off to a bad start.
25 January, efficacy questioned in German report
Handelsblatt, a German newspaper, published a report suggesting the efficacy of the AstraZeneca jab could be as low as 8% in over-65s.
The claim was rebutted by the German health ministry as well as AstraZeneca and Oxford University, which said there had been "no basis" for the assertion.
28 January, Germany advises against use in over-65s
On the eve of the EMA's approval of the jab, health authorities in Germany said the vaccine should not be administered to people over 65, saying there was a lack of data on this age group.
France, Greece, Denmark, the Netherlands, Sweden, Poland and Austria eventually followed suit with the same restriction.
Italy initially limited the jab to under 55s but at the end of February raised that to adults up to 65 years old.
Belgium and Spain have limited it to under 55s.
COVID vaccine rollout in the EU has slowed down due to skepticism over UK vaccine production

28 January, EU orders inspection at AstraZeneca site
Quarrels ensued in the days after the shortfall was announced as EU officials urged AstraZeneca to limit the expected cuts.
The commission also threatened to impose strict export controls to ensure the bloc received its fair share of the vaccine, and later pointed to a clause in its contract which said doses would be delivered from two UK-based factories.
However, Pascal Soriot, the French chief executive of AstraZeneca, said no timetable for deliveries had been agreed, adding that the contract included a best-effort clause.
He said the UK's contract had also been signed three months before Brussels, and it stipulated that vaccines made in the UK should be supplied to the UK first.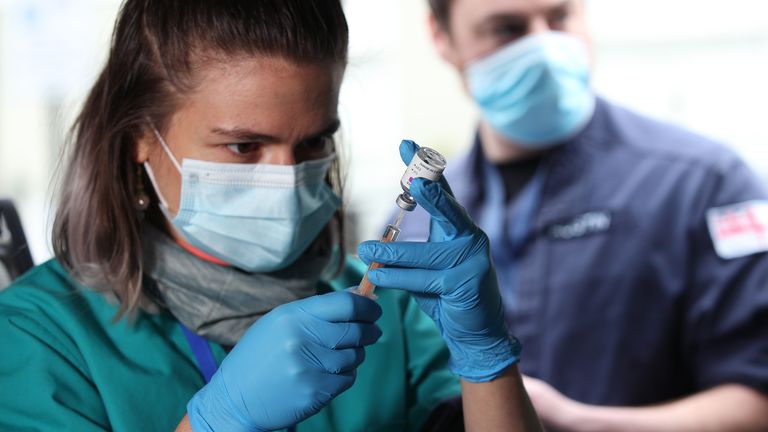 In response, the EU hinted that Mr Soriot's revealing of this information – said to be confidential – could amount to a breach of contract.
But to top this busy couple of days, the EU on 28 January ordered officials to inspect AstraZeneca's facility in Seneffe, Belgium, to confirm there was an issue with supply.
29 January, AstraZeneca jab approved; EU publishes its contract
The EMA approved AstraZeneca for use on 29 January for all adults over 18 years old – despite conflicting recommendations from Germany.
French President Emmanuel Macron then dampened confidence further, saying the jab was "quasi-ineffective".
It was also the day Brussels released a heavily-redacted version of its contract; although, this appeared to create more questions than it answered.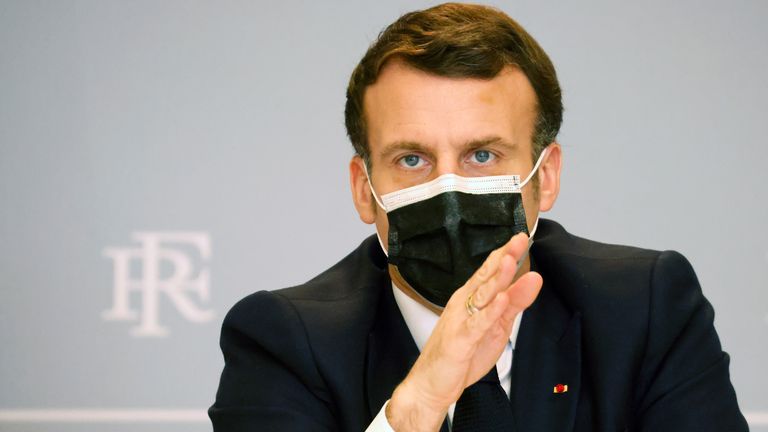 29 January, EU moves to trigger NI protocol
The procurement row soon reached its first peak as the commission made moves to trigger Article 16 of the Northern Ireland Protocol to prevent vaccines entering the UK.
This would have seen checks made at the border of the Republic and Northern Ireland.
London, Belfast and Dublin widely condemned the move – and it ultimately resulted in the commission making a swift U-turn.
February-March, low uptake reported
Bad publicity in earlier weeks appeared to have a knock-on effect for AstraZeneca in Germany as slow uptakes of the jab were reported.
Meanwhile, the head of Germany's Standing Committee on Vaccination (STIKO) Thomas Mertens said "the whole thing has somehow gone badly," and insisted the vaccine was "very good".
He told broadcaster ZDF: "We never criticised the vaccine, we only said that the data was not good or not sufficient for over 65s."
Northern Ireland Protocol became 'collateral damage'

4 March, U-turns on recommendations for over-65s
Germany later reversed its recommendation on restricting jabs to under-65s only, while France partially U-turned by allowed the AstraZeneca vaccine to people aged between 65 and 74 with pre-existing health conditions.
It comes after fresh data published by Public Health England (PHE) based on the UK's vaccine rollout showed protection against symptomatic COVID in those over 70, four weeks after the first jab, ranged between 60-73% and 57-61% for the Pfizer/BioNTech vaccine.
4 March, EU blocks shipment to Australia
As AstraZeneca failed to meet its contractual commitments, Italy and the European Commission blocked a request to export 250,000 doses from its Anagni plant near Rome.
The move came under a new export control system that passed into law on 30 January and was the first time it had been used by a member state.
In a statement, the Italian foreign ministry cited reasons such as Australia being considered "not vulnerable" due to a low number of COVID cases, along with the shortage of vaccines in Europe.
It is understood the doses will now be redistributed within the EU, where about 8% of the population has been vaccinated, compared with more than 30% in the UK.
Tsunami warnings issued and thousands told to evacuate after powerful New Zealand quake | World News

A series of tsunami warnings have been issued after a powerful earthquake off New Zealand's North Island prompted a major evacuation.
Thousands of people on the island's east coast fled to higher ground following the third and strongest quake within hours.
Workers, students and residents were told to leave their homes in areas like Northland and Bay of Plenty – amid warnings tsunami waves could reach as high as three metres (10 feet) above tide levels.
The latest quake had a magnitude of 8.1 and struck the Kermadec Islands, northeast of New Zealand's North Island.
It came shortly after a 7.4-magnitude earthquake in the same region. A large 7.2-magnitude earthquake had struck earlier, about 540 miles away on the east of the North Island.
There were no reports of damage or casualties from the quakes.
New Zealand's National Emergency Management Agency (NEMA) said the first waves would begin to arrive on New Zealand's north shores by about 9.45am local time (8.45pm UK time).
It warned areas under threat were from the Bay of Islands to Whangarei, from Matata to Tolaga Bay including Whakatane and Opotiki, and the Great Barrier Island.
"We want everyone to take this threat seriously. Move to high ground," Whangarei Mayor Sheryl Mai told state broadcaster TVNZ.
Warnings were also issued for other Pacific islands like Tonga, American Samoa, Fiji, Vanuatu, Hawaii and others.
Australia issued a marine tsunami threat for Norfolk Island but said there was no threat to the mainland, while Chile said it could experience a minor tsunami.
"People near the coast in the following areas must move immediately to the nearest high ground, out of all tsunami evacuation zones, or as far inland as possible. DO NOT STAY AT HOME," NEMA said in a statement posted online
"The earthquake may not have been felt in some of these areas, but evacuation should be immediate as a damaging tsunami is possible."
COVID-19: Cyprus to allow vaccinated Britons to holiday in the country without restrictions from 1 May | World News
Cyprus will let British tourists who have had both COVID vaccination doses into the country without restrictions from 1 May.
This means visitors who have had both jabs will not need to supply a negative coronavirus test or have to quarantine, according to plans unveiled by Cypriot deputy tourism minister Savvas Perdios.
However, the UK government has said the earliest date people from England can travel abroad for a holiday is 17 May – provided the four tests for easing lockdown are met.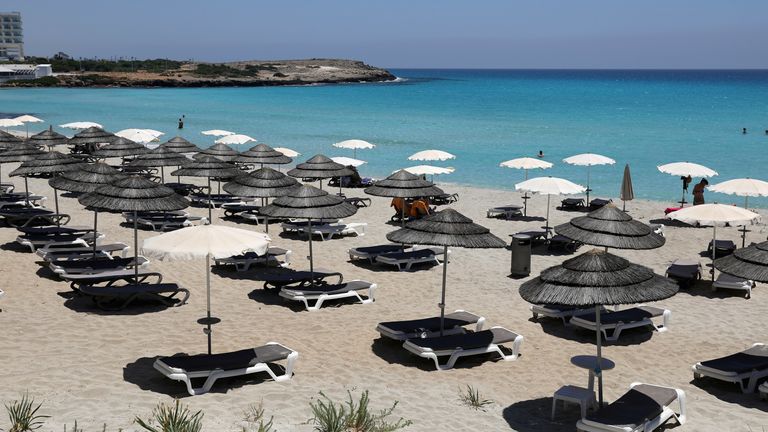 Visitors to Cyprus will need to have been given vaccines approved by the European Medicines Agency and the second dose must have been administered at least seven days before travel.
Authorities still have the right to carry out random tests on foreign arrivals, the tourism minister said.
"We have informed the British government that from 1 May we will facilitate the arrival of British nationals who have been vaccinated… so they can visit Cyprus without a negative test or needing to quarantine," Mr Perdios told Cyprus News Agency.
British tourists are the largest market for Cyprus' tourism industry, which will be keen to get back on track after suffering during the pandemic.
The industry represents about 13% of the Cypriot economy, with arrivals and earnings plunging 85% on average last year.
Cyprus has implemented various lockdowns during the pandemic but has had a milder outbreak than many other countries.
:: Subscribe to the Daily podcast on Apple Podcasts, Google Podcasts, Spotify, Spreaker
The country had recorded a total of 232 coronavirus deaths and 36,004 infections by Thursday.
All UK adults are expected to have been offered a dose of a COVID-19 vaccine by the end of July.
Nearly 21 million people in the country have now had their first dose, with people prioritised by age and clinical vulnerability to the virus.