Man dies after police chase, struggle with officer
MERIDIAN, Miss. –  Mississippi authorities say a man has died in custody after a chase that ended with his car in a ditch and the man struggling with an officer.
Meridian Police Sgt. Dareall Thompson tells WTOK-TV that passengers ran as the officer tried to arrest the driver Monday, and a state Wildlife, Fisheries and Parks officer tried to help.
Coroner Clayton Cobler identified the dead man Tuesday as 33-year-old Jason Stevens of Meridian.
The short chase began in Meridian, ending just outside the city.
Lauderdale County Sheriff's department Chief Deputy Ward Calhoun tells the Meridian Star that officers arrested the man, saw that he was in distress and called an ambulance, which took him to a hospital.
Spokesman Warren Strain says the Mississippi Bureau of Investigation is looking into the death.
Tokyo Olympics: The alternative medal tables | World News

Which country is more likely to win the largest number of medals at Tokyo 2020?
No points for guessing either United States or China.
In fact, the US has won more medals than any other country since the 1996 Games in Atlanta.
But what are the reasons behind that success? Data shows that the size of a country's economy is strongly linked to the number of medals it can win.
Having a large economy and population means not only can a nation pick its athletes from a large talent pool, but also fund its elite team to perform at their very best.
But not every country is as big as China or the United States.
What if a country's medal haul was adjusted for its population or wealth? Would the incumbents continue to dominate?
Under our alternative medals table, countries are ranked either by medals per gross domestic product (size of an economy) or by medals in proportion to their population size.
Based on the size of its $1.3bn economy, Grenada, a small low-income country in the Caribbean, would have won the equivalent of 94 medals.
Jamaica's 11 medals in the 2016 Games would translate to 38 when adjusted for its population of three million people.
The UK is on page five of our table. Its status as the fifth largest economy in the world works against it, shrinking the 67 medals won in Rio to just two.
But even after accounting for its small economy and population, North Korea punches far above its weight (despite not winning in boxing) on our count.
Dr Johan Rewilak, lecturer in sports economics and finance, says this is because some countries "manufacture Olympic success" to gain an outsized number of Olympic medals given their GDP and population sizes.
There are others, such as India with 1.35 billion people, that often finds themselves at the bottom of most medal tables.
Dr Rewilak explains that cultural reasons and the country's strong preference for cricket diverts talent and resources from Olympic sports.
Although every country is not destined for a medal at the Olympics, some have better odds of striking gold than others.
As the host country, Japan has a unique chance of success on the medals table.
Data shows that five out of the past six host nations outperformed their previous medal hauls.
So, does that mean Japan is likely to win more medals this time than the 41 it gained in 2016?
There are exceptions, as with the United States in 1992. The breakup of the Eastern Bloc after the fall of the Soviet Union benefited the US on the medal table.
Despite all the data, the unpredictable nature of sports and individual athletes' ability makes the final results far from certain.
The Data and Forensics team is a multi-skilled unit dedicated to providing transparent journalism from Sky News.
We gather, analyse and visualise data to tell data-driven stories. We combine traditional reporting skills with advanced analysis of satellite images, social media and other open source information. Through multimedia storytelling we aim to better explain the world while also showing how our journalism is done.
Ethiopia: UN warns it will imminently 'run out of food' in refugee camps | World News
The head of the United Nations World Food Programme (WFP) has warned the agency will "run out of food" for refugee camps in Ethiopia's conflict-ravaged Tigray region as early as Friday.
Around 24,000 refugees are trapped in two camps in the Ethiopian region, where they are cut off from humanitarian aid.
Some 170 trucks carrying food and other supplies are "stuck" in the neighbouring Afar region and "must be allowed to move NOW," David Beasley tweeted on Tuesday.
WFP runs out of food in #Tigray this Friday. It takes 100 trucks per day to reach everyone we are aiming to feed. 170 trucks bound for Tigray with food and other supplies are stuck right now in Afar and can't leave. These trucks must be allowed to move NOW. People are starving.

— David Beasley (@WFPChief) July 27, 2021
He said 100 such trucks are needed per day in Tigray, adding: "People are starving."
Shortly after his statement, Ethiopia's government blamed the aid delivery problem on Tigray forces' "provocations" in the Afar region.
The UN has said Afar has the only remaining route into Tigray. A WFP convoy trying to use that route was attacked on 18 July.
Fighting between armed groups has escalated in and around the Mai Aini and Adi Harush camps, with two refugees killed this month, according to the UN refugee agency.
"The last food distribution to the two refugee camps was done during the month of June, the ration supplies then were only enough for 30 days," Babar Baloch, spokesman for the UN High Commissioner for Refugees (UNHCR), told a Geneva news briefing on Tuesday.
"There is a real danger of hunger among these refugees if supplies do not resume as they may have already run out of food supplies that were given to them."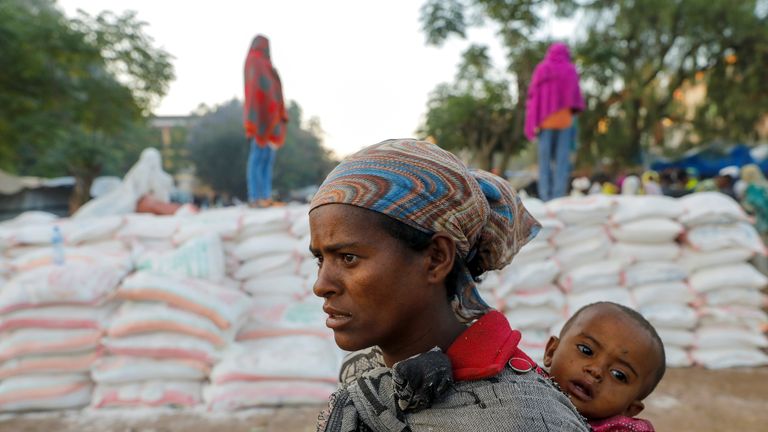 Clean drinking water is also running out, he added.
Conflict erupted between the Ethiopian government and the Tigray People's Liberation Front (TPLF) in November.
Three weeks later, the government seized control of the region's capital, Mekelle, and declared a unilateral cease-fire, saying it was in part on humanitarian grounds while its forces retreated from Tigray.
Ceasefire declared in Ethiopia's Tigray conflict

TPLF forces then retook the regional capital and most of Tigray, and called the cease-fire a "sick joke" while vowing to secure the region and chase "enemies" over its borders.
Ethiopia's government has since been preparing for a renewed offensive in Tigray.
Spain's former king Juan Carlos accused of harassment by ex-mistress | World News
Spain's former king Emeritus Juan Carlos is being sued by his former mistress in a British court for allegedly spying on her.
Corinna Larsen, a Danish-German businesswoman, has asked a London court for a restraining order against the royal and compensation for damages for his alleged harassment, according to a public relations firm representing her.
The development is the latest twist in a financial scandal involving 83-year-old Carlos.
Carlos' lawyer, who did not immediately respond to a request for comment, has repeatedly defended the ex-monarch during the ongoing financial scandal that prompted the suspicions of investigators in Switzerland and Spain.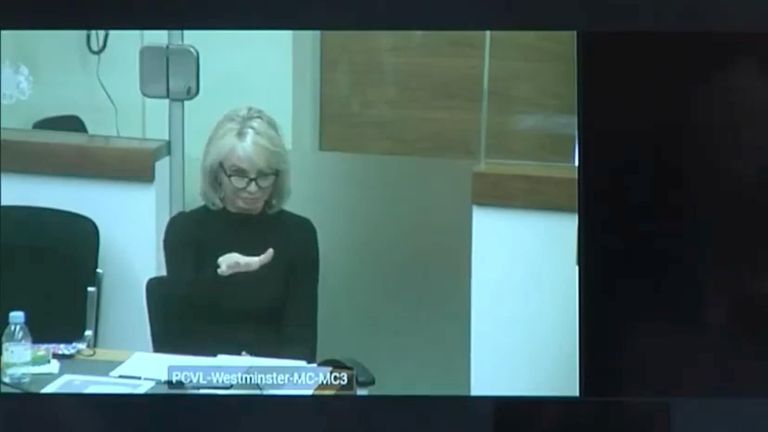 Swiss prosecutors are looking at the transfer of several million euros that Saudi Arabia's late King Abdullah gave to Carlos.
In 2012, it was reported that the former Spanish king transferred around 65 million euros (£55m) to Ms Larsen, 57, as "a gift".
Investigators suspect the transfer was an attempt to hide the money from authorities.
It is believed that Ms Larsen's reluctance to return the money to Carlos is the cause of their current fallout.
Recordings of Ms Larsen, who now lives in England, speaking with a former police chief were leaked to the press in 2018.
She claimed that Carlos received kick-backs from commercial contracts in the Gulf States – particularly in the late-2000s construction of the 6.7bn euros (£5.6bn) Haramain high-speed railway in Saudi Arabia.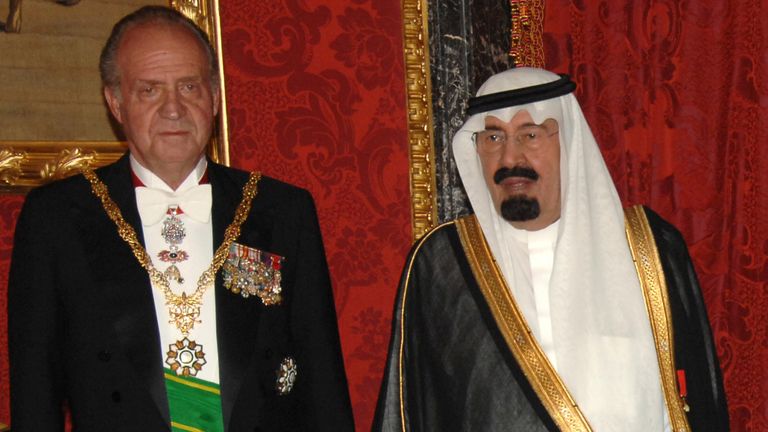 She also said he maintained these proceeds in a bank account in Switzerland.
The businesswoman then alleged the former king had bought properties in Monaco under her name to circumvent the tax treatment of lawful residents.
Ms Larsen's allegations drew demands for Carlos to be investigated for corruption in June 2019.
Carlos abdicated to his son, Felipe VI, in 2014, citing personal reasons.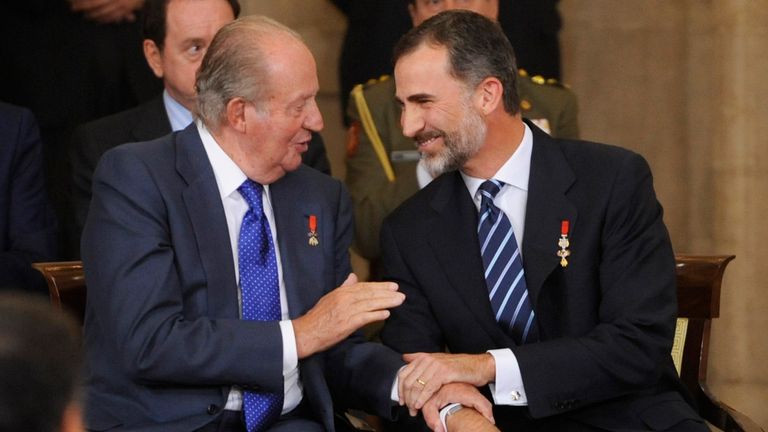 His reputation as a leader of Spain's democratic transition following the dictatorship of General Francisco Franco has been tarnished by this and other scandals.
In March 2020, the Spanish royal household announced that King Felipe VI would renounce any inheritance from his father.
They also said the former king would lose his salary from the state's general budget.
Since August 2020, Carlos has lived in self-exile from Spain in the United Arab Emirates after Spanish investigators opened an inquiry into whether he had received kickbacks for a contract that Saudi Arabia had awarded a Spanish consortium.