Leaders express admiration, sadness for Billy Graham
Leaders expressed admiration and respect for evangelist Billy Graham, who died at his North Carolina home Wednesday morning.
PRESIDENT DONALD TRUMP
In a tweet, President Donald Trump said: "The GREAT Billy Graham is dead. There was nobody like him! He will be missed by Christians and all religions. A very special man."
VICE PRESIDENT MIKE PENCE
"Billy Graham's ministry for the gospel of Jesus Christ and his matchless voice changed the lives of millions," Pence tweeted. "We mourn his passing but I know with absolute certainty that today he heard those words, 'well done good and faithful servant.'"
FORMER PRESIDENT JIMMY CARTER
"Rosalynn and I are deeply saddened to learn of the death of The Reverend Billy Graham," Carter said in a statement. "Tirelessly spreading a message of fellowship and hope, he shaped the spiritual lives of tens of millions of people worldwide. Broad-minded, forgiving, and humble in his treatment of others, he exemplified the life of Jesus Christ by constantly reaching out for opportunities to serve."
NORTH CAROLINA GOV. ROY COOPER
"Billy Graham was a strong, humble, positive and passionate North Carolina man of faith who made a difference in the lives of so many. Rest with God, Reverend Graham," Gov. Cooper said in a statement.
SEN. LINDSEY GRAHAM
"One of the greatest messengers of Christ has gone to his heavenly reward," Sen. Graham wrote in a tweet. "Dr. Graham spread the good news to millions across the world and led a life beyond reproach."
Trainer Gordon Elliott apologises 'profoundly' for photo of him sitting on top of dead horse | World News
Horse trainer Gordon Elliott has apologised "profoundly" for an image in which he appeared to be sitting on a dead horse.
The image was posted and shared on Twitter during the weekend and the Irish Horseracing Regulatory Board said the matter was under investigation.
In a statement the trainer said: "I would like to address the speculation and rumours that have been rife since an old photo of me began circulating on social media yesterday afternoon.
"Firstly, I apologise profoundly for any offence that this photo has caused and can categorically state that the welfare of each and every horse under my care is paramount and has been central to the success that we have enjoyed here at Cullentra.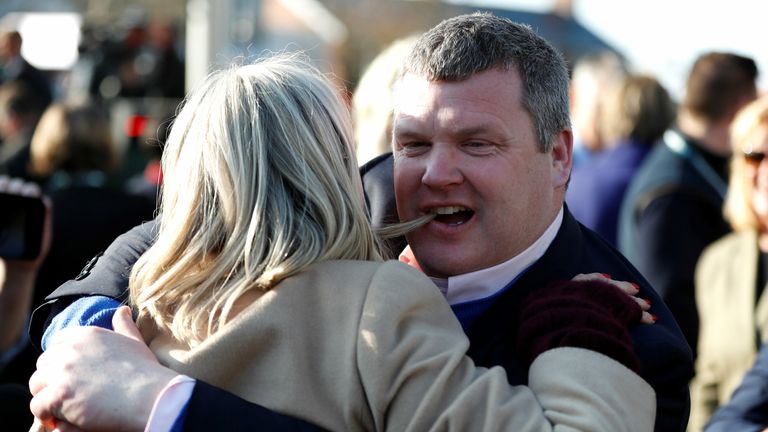 "The photo in question was taken some time ago and occurred after a horse had died of an apparent heart attack on the gallops. I appreciate that an initial viewing of this photo suggests it is a callous and staged photo but nothing could be further from the truth.
"At what was a sad time, which it is when any horse under my care passes away, my initial reaction was to get the body removed from where it was positioned.
"I was standing over the horse waiting to help with the removal of the body, in the course of which, to my memory I received a call and, without thinking, I sat down to take it. Hearing a shout from one of my team, I gestured to wait until I was finished.
"Such background information may seem trivial at this time and will not allay the concerns of many people both within and outside the world of horse racing.
"However, I feel it is important to provide people with some context surrounding this photo. To the racing community, to anyone who has worked with and loves horses and to anyone offended by this image I cannot apologise enough.
"Horse welfare and the care and attention to detail involved is absolutely at the core of everything we do here and both myself and all of my team pride ourselves on those standards.
"Again I apologise for any offence caused and ask people to consider this statement as opposed to the various falsehoods and misinformation being circulated on social media.
"At this time, I would like to stress that I continue to extend my full cooperation with the ongoing IHRB investigation."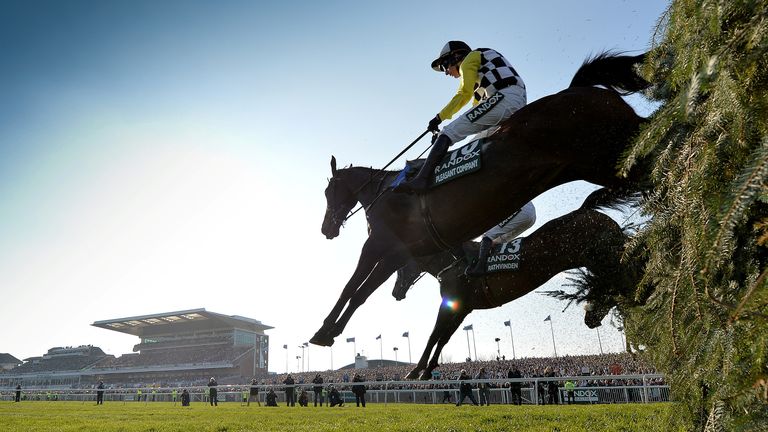 An IHRB spokesman said: "The investigation is under way, and it will be dealt with as quickly as possible."
Elliott is a three-time Grand National winner, having sent out Silver Birch to claim the Aintree prize before Tiger Roll became the first back-to-back winner of the race since Red Rum when lifting the marathon event in 2018 and 2019.
The British Horseracing Authority said: "We hope the Irish authorities will quickly confirm how this shocking picture originated.
"Respect for horses is a fundamental value of our sport, contrary to the impression in this picture. The IHRB have assured us that the investigation will be carried out as quickly as possible and that they will keep us informed as more information becomes available."
Trump CPAC speech: Former president says he may run again in 2024 | US News
Donald Trump has suggested he may run for president again in 2024 – amid an angry attack on Joe Biden in his first major address since leaving the White House.
The Republican used his speech at the Conservative Political Action Conference (CPAC) in an apparent effort to cement his status as the party's undisputed leader despite his defeat in November.
"Do you miss me yet?" Mr Trump began, amid rapturous applause
In his first speech since leaving office, former US president Donald Trump says he may consider running for office again.

"I stand before you today to declare that the incredible journey we began together… there's never been a journey so successful – we began it together four years ago and it is far from over," he said.
He dismissed suggestions he may start a new party, saying "we're not interested in them".
"We all knew the Biden administration was going to be bad, but none of us even imagined just how bad they would be," he said.
"He talked about energy. I thought 'this guy, actually he's ok with energy'. He wasn't ok with energy… he wants windmills."
Continuing his attack, he suggested the Democrat would lose in 2024, adding: "Who knows, I may even decide to beat them for a third time" – a reference to repeated and baseless claim that he did not lose the last election.
The former reality TV star returned to many of his favourite themes, apparently deviating from his prepared speech while railing over immigration, the Paris Climate Agreement and attacking China.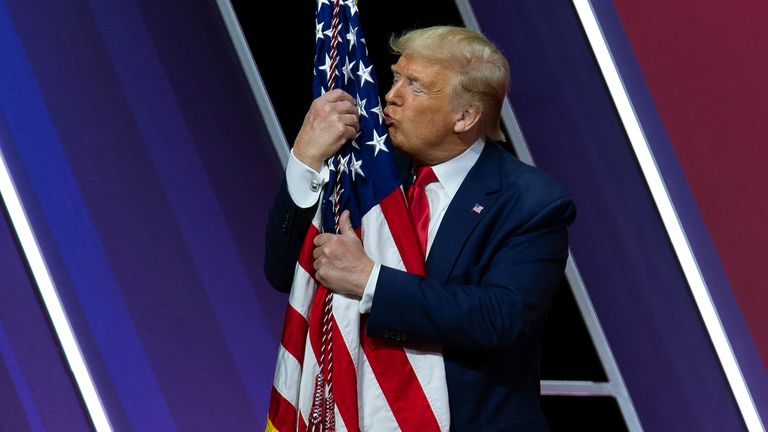 Despite his entirely unfounded allegations that last year's election was not fair having helped trigger deadly riots involving his supporters at the US Capitol on 6 January, Mr Trump repeatedly returned to the claims.
The event so far at a Hyatt hotel in Orlando, Florida, has been a tribute to Trump and Trumpism – even featuring a golden statue in his likeness.
Speakers, including many potential GOP 2024 hopefuls, have argued the party must embrace the former president and his followers, even after the insurrection at the Capitol.
They face opposition from others who argue the party must move in a new, less divisive direction after Republicans lost not only the White House to Mr Biden but both chambers of Congress in the last elections.
COVID-19: New West Bank lockdown as Palestinians face surge of coronavirus cases | World News
A new lockdown has been imposed across the West Bank as Palestinians face a fresh surge of coronavirus cases and a continued wait for a proper vaccine rollout.
The Palestinian Prime Minister Mohammed Shtayyeh announced the 12-day shutdown late on Saturday and blamed it on the struggle to get vaccines delivered to the territory.
In the last 24 hours there have been 910 new cases and five deaths in the West Bank.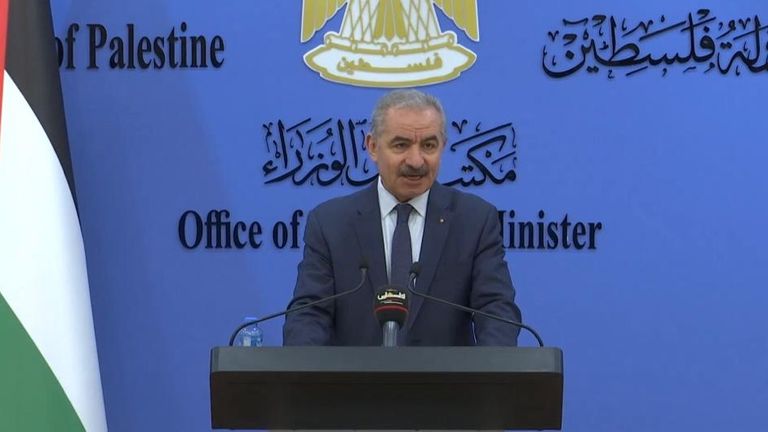 To date Palestinians in the West Bank have received 10,000 doses of Russia's Sputnik vaccine.
A separate delivery of 20,000 Russian vaccines has been delivered to the other Palestinian territory, Gaza.
The Covax scheme, the global initiative to get vaccines to poorer nations, has yet to provide any for Palestinians but a delivery is expected this week.
Israel has now vaccinated half of its population but has only provided 2,000 jabs to the West Bank.
Under a plan approved this weekend, Israeli government has now authorised a plan to vaccinate over 120,000 Palestinians who are legally employed in Israeli settlements, according to Israel's military liaison to the Palestinians.
But a huge imbalance remain which has added a new dynamic to the decades long Israel-Palestine conflict as well as put focus on Israel's obligations as an occupying power.
Last month, Israel's Health Minister Yuli Edelstein told Sky News that it was in the country's interest to ensure the Palestinian population is vaccinated.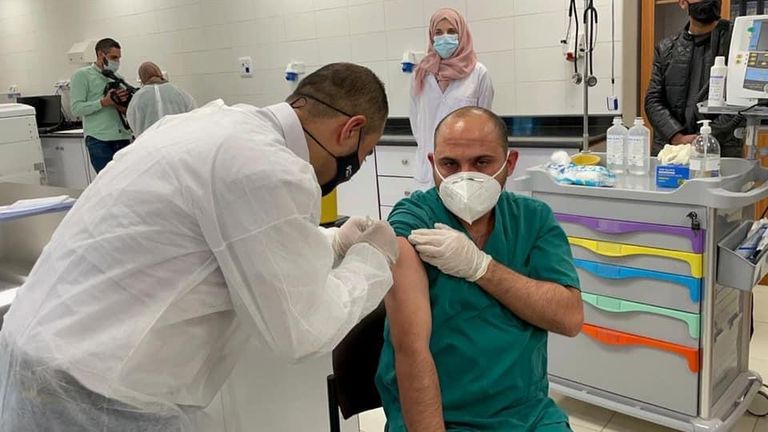 But asked if Israel would provide the vaccine to Palestinians in the West Bank and Gaza, Mr Edelstein said it would only happen once Israel's population is vaccinated.
"We definitely will consider that but as I've said, I sincerely hope that by that time, part of their population will be vaccinated by different vaccines that they are trying to purchase. If any other help will be needed, we will offer."
Will COVID jab get to occupied territories?

Israeli officials have constantly said that Palestinians, who have limited self-rule in parts of the West Bank and all of Gaza, are responsible for their own health system under agreements made in the Oslo peace accords of the 1990s.
However, an annex of the Oslo Accords, which were only meant to be a temporary route to full Palestinian statehood, also calls for co-operation to combat epidemics.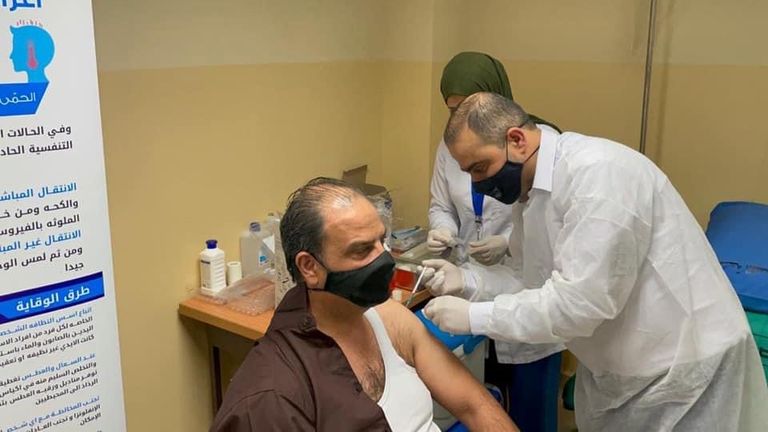 Human rights groups also cite the Fourth Geneva Convention which says occupying powers are obliged, as far as possible, to take responsibility for the public health of people living under occupation.
Under the West Bank lockdown, schools, universities and non-essential shops will all be shut.
All movement will also be restricted during night-time hours.