Judge declares mistrial in case of Philly mob boss who reportedly greeted juror by name
A mistrial has been declared in the racketeering trial of a notorious Philadelphia mob boss who was reported to have greeted a juror by name while surrounded by members of his "crew" outside a courtroom in Manhattan earlier this month.
Jurors at the trial of Joseph "Skinny Joey" Merlino told U.S. District Judge Richard Sullivan in a series of five notes Thursday they were hopelessly deadlocked after nearly four days of deliberations.
"Thank God for the jury," a subdued Merlino told reporters afterward. He declined further comment.
Merlino, after the jury was picked, bizarrely predicted his trial would end in a "deadlock win" for him and offered what turned out to be a winning tip on the Super Bowl: "Oh, and bet the Eagles."
A female juror told the judge in early February that she was waiting for an elevator in the courthouse following the end of testimony on Feb. 7 when Merlino approached her, according to court records viewed by the New York Post.
The juror said Merlino was "not close, but, like, he was on that side, on the opposite side over there, before you get to the exit, and he just said, 'Hi, Sylvia,' and I just turned my head, like, 'Some nerve.'
She added: "There was some people. I guess his crew. I'm saying 'crew' because I don't know what else to say, his crew that was all over that side, I guess waiting for somebody to come out or something."
There was no word from the government Thursday on whether it would seek another trial, the Associated Press reported.
Prosecutors had alleged that instead of retiring, Merlino muscled his way into gambling and health insurance schemes run by crime families on the East Coast. He used his standing as a feared figure in the Mafia to demand protection payments from bookies and other underlings running a scheme to collect thousands of dollars of insurance claims by bribing doctors to write phony pain cream prescriptions for people who had no ailments, prosecutors said.
"Being with Merlino did not come for free," Assistant U.S. Attorney Lauren Schorr said during closing arguments. "You pay tribute."
Defense attorney Edwin Jacob countered by telling jurors that they were being misled by "compromised" turncoat mobsters who testified against Merlino, including one who made hundreds of hours of secret recordings of him.
"Have you heard anybody say Joseph Merlino is the boss of the Philadelphia mob?" Jacobs asked, referring to tapes played for the jury. "The answer is obvious — not a peep that he's the boss of [the] Philadelphia mob."
But prosecutors argued the tapes showed Merlino had full knowledge of the frauds. In one conversation played for the jury about bribing doctors, he is heard saying, "We do the right thing, make 20,000." In another, he frets about "stool pigeons."
Merlino, 55, once controlled the remnants of a Philadelphia organized crime family that was decimated by a bloody civil war in the 1980s and 1990s. Federal authorities said he was frequently targeted by murder plots after rivals put a $500,000 murder contract on his head.
In 2001, a jury acquitted Merlino and six co-defendants of three counts of murder and two counts of attempted murder that could have put him behind bars for life. He was convicted of lesser racketeering charges and served 12 years in prison.
Merlino claimed he retired from the mob for good and started a new life by running an upscale Italian restaurant in Boca Raton, Florida. At the time of the alleged conspiracy, he was a gambling addict who took money from a cooperator because he was always broke, his lawyer said.
There also was testimony from government witnesses, heard by his wife in the audience, that he drank heavily and that he had an affair with a pharmaceutical saleswoman.
After the testimony about the fling, Merlino approached a New York Post reporter outside court and told him, "Don't put the girl in" a story, the tabloid reported.
The Associated Press contributed to this report.
Netherlands: Thief jailed for stealing van Gogh and Frans Hals paintings worth millions of pounds from museums | World News
A man has been convicted of stealing a painting by Vincent van Gogh worth several million pounds from a museum in the Netherlands.
The 59-year-old was also found guilty of snatching a Frans Hals piece from another museum in the country, again worth millions of pounds, and neither of the works have been recovered.
Described as an "incorrigible and calculating criminal", he was sentenced to a maximum of eight years in prison.
The man, whose identity has been kept anonymous under Dutch privacy laws, was found guilty of taking Van Gogh's "The Parsonage Garden at Nuenen in Spring 1884" from the Singer Laren museum near Amsterdam.
He later stole the 17th century Frans Hals' "Two Laughing Boys" from the Museum Hofje van Mevrouw van Aerden in Leerdam, 60km (35 miles) south of the Dutch capital.
The Central Netherlands Court said the Hans painting was valued at €16m (£13.7m), but did not give a value for Van Gogh's painting.
Both were stolen by a man who broke into the museums at night and fled on a scooter driven by an accomplice.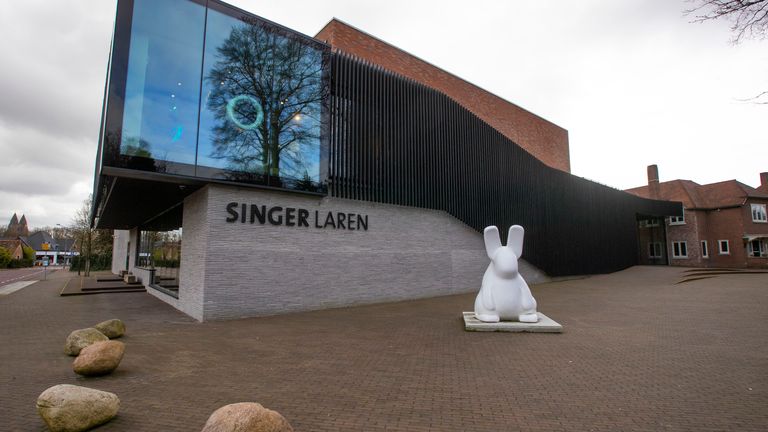 The defendant, who has a previous conviction for a similar heist, denied any involvement.
"The court doesn't believe this," the court said in a statement. "His DNA was found at both crime scenes, and the man can't explain how that is possible."
The paintings were described as "part of the national cultural heritage, they are important for present and future generations".
"That is why and given the criminal record of the suspect who is, according to the court, an incorrigible and calculating criminal, the court considers the maximum sentence to be appropriate," the court added.
La Palma volcano: What caused it to explode and how long could the eruption last? | World News
A volcano that erupted on the Spanish island of La Palma in the Canary Islands is continuing to explode and spew out lava five days after it erupted.
Unstoppable lava flows have destroyed nearly 400 buildings on the western side of the volcanic island of 85,000 people and the authorities have warned of new dangers including toxic gases, volcanic ash and acid rain.
Where is the volcano in La Palma?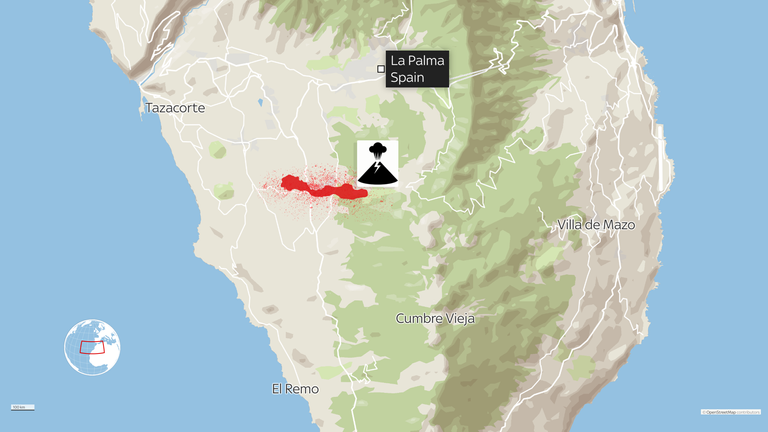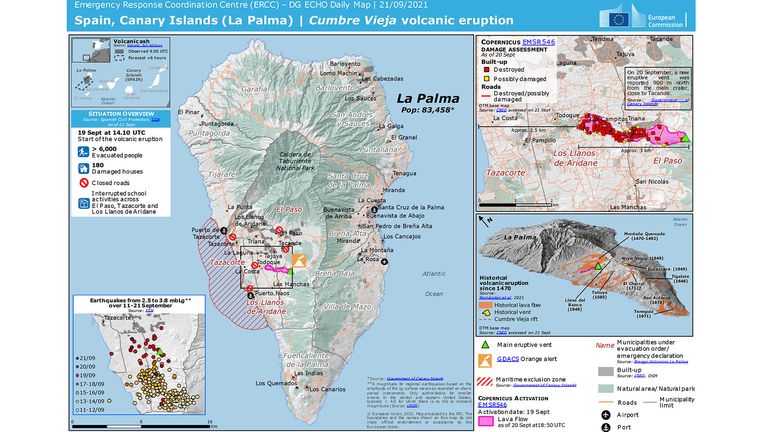 The volcano erupted along the Cumbre Vieja volcanic ridge in La Palma, one of eight volcanic islands in Spain's Canary Islands archipelago, which sit off the northwestern coast of Africa.
The Canary Islands are popular with European tourists and the nearby island of Tenerife has one of the world's tallest volcanoes, Mount Teide.
La Palma island itself is made up of two main volcanic complexes: a large one to the north and a smaller one to the south, which erupted on Sunday. The island last saw an eruption in 1971.
How did scientists know the eruption was coming?
Scientists had been monitoring a build-up of underground magma beneath La Palma for a week before the eruption and were able to warn of a possible eruption, allowing nearly 7,000 people to evacuate.
They had detected more than 20,000 earthquakes in an "earthquake swarm" which can indicate a coming eruption.
What caused the volcano to erupt?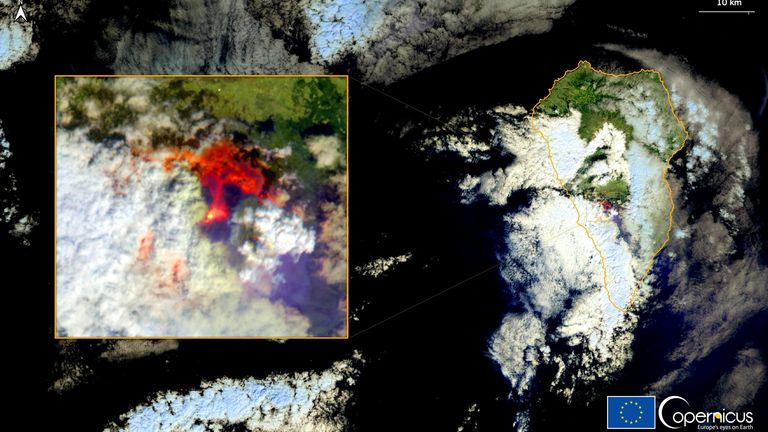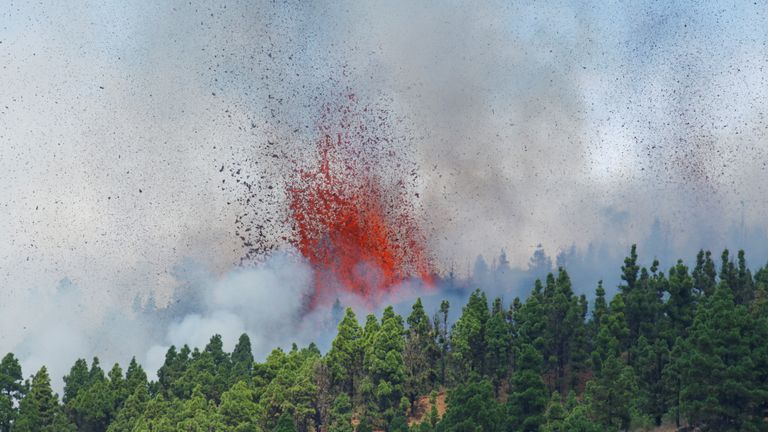 Three days before the volcano erupted, the Canary Islands Volcanology Institute reported that 11 million cubic metres (388 million cubic feet) of molten rock had been pushed into the volcano.
Professor David Pyle, a volcanologist at the University of Oxford, told Sky News: "Magma is generated within Earth's mantle and below La Palma that magma is probably being generated continuously at depths of 100km or so. Every now and then those magmas will collect and break through, pushing up into the shallow parts of the Earth's crust.
"When the latest swarm of earthquakes started a week before the eruption began, scientists recognised they were happening at a shallower depth than they had seen in previous years.
"They were able to look at satellite images which showed deformation of the surface and they were very confident that from these they could recognise the movement of magma towards the surface."
Lava from the volcano is destroying and burying homes, leaving thousands devastated

A 4.2-magnitude earthquake was recorded before the eruption, which saw two fissures open up and bright red magma bubble up into the air.
How has the eruption developed?
Earthquakes have continued and a new fissure opened on Monday following a 3.8-magnitude quake. Scientists have warned that new lava vents and cracks could emerge, putting new areas at risk.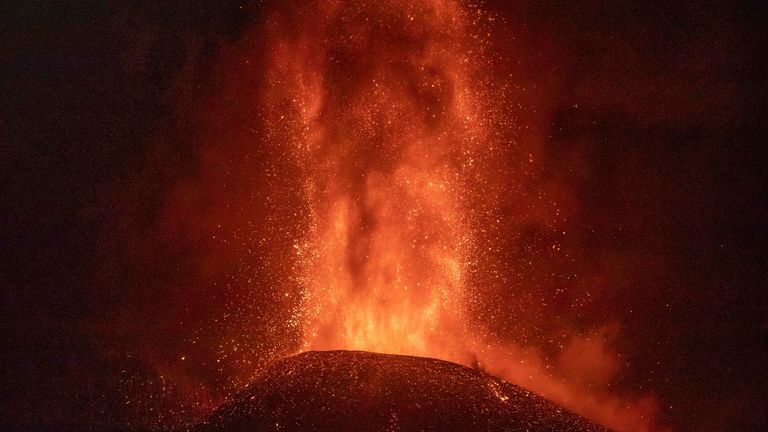 Prof Pyle said scientists will now be measuring the amount of gas escaping from the volcano, checking whether the composition of magma changes over time and measuring the quantity of material that is being expelled to see how quickly the volcano is erupting.
"With these they will be forming an expert judgement in terms of what the trajectory is looking like in terms of the eruption, whether it is waxing or waning," he said.
"In this crisis they are deploying all the tools they can to try and work out what is changing during the eruption. And that will give them the clues in terms of whether or not to expect the activity to last for days, or weeks, or months."
Scientists say the volcanic eruption could continue until December

Officials in La Palma have recorded 1,130 tremors in the area over the past week as the volcano blasted molten lava into the air.
The explosions have propelled ash almost 15,000ft into the air, according to the Guardia Civil police force. Two rivers of lava have flowed slowly down the hillside, consuming houses, banana farms and infrastructure.
How long could the eruption last?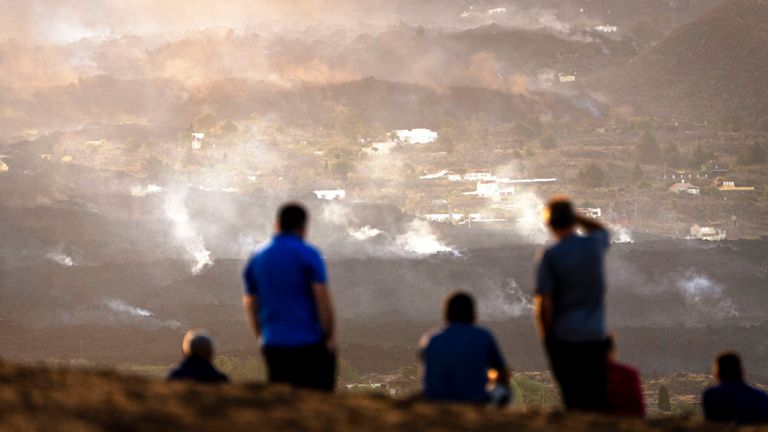 Scientists are unclear about how long the eruption could last, with estimates ranging between weeks and even months.
The previous eruption in 1971 lasted for just over three weeks. The last eruption in the Canary Islands happened underwater off the coast of El Hierro island in 2011 and lasted for five months.
Professor Mike Burton, a volcanologist at the University of Manchester, told Sky News that while scientists were able to predict the eruption, knowing how long it could last was "the tricky bit".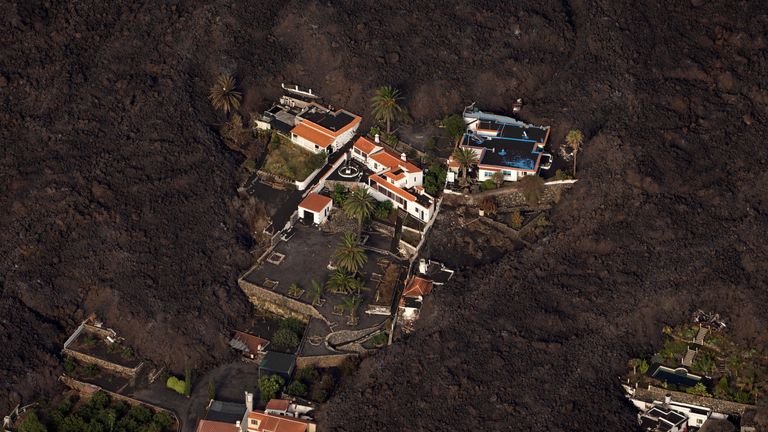 "It's great that we can see when something like this is coming, but once it has started it is quite hard to be clear about how it is going to evolve.
"I think the best thing we can do is watch and look for signs of waxing and waning, increasing and decreasing activity.
"The last eruption went on for about three months, but every eruption is different. This one appears to have started with a higher lava eruption rate than the 1971 eruption, so already it seems to be more powerfully supplied.
"That might mean it goes on much longer, but you have to be cautious about making any deterministic predictions. We really need to wait and see what nature does."
Elon Musk and Grimes split up after three years together but 'remain on great terms' | Ents & Arts News
Elon Musk and Grimes have split up after three years together, according to reports.
Musk, who is the founder of SpaceX and Tesla, confirmed to Page Six that he and the Canadian singer are semi-separate but on good terms.
The 50-year-old added that they will continue to co-parent their one-year-old son, X Æ A-Xii Musk.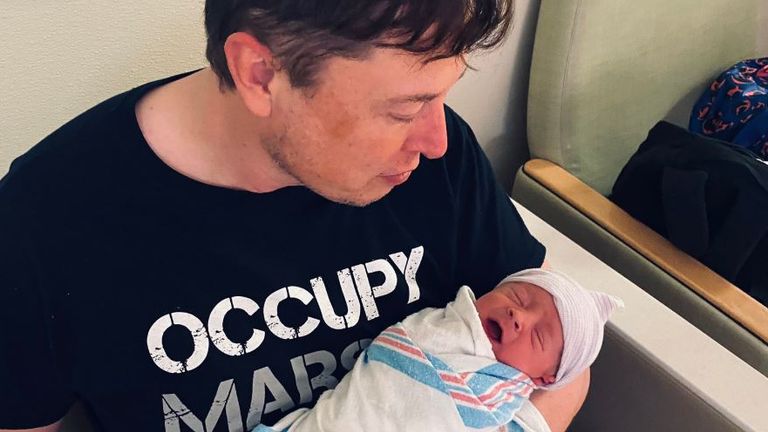 "We are semi-separated but still love each other, see each other frequently and are on great terms," Musk told Page Six.
"It's mostly that my work at SpaceX and Tesla requires me to be primarily in Texas or travelling overseas, and her work is primarily in LA. She's staying with me now, and Baby X is in the adjacent room."
The pair started dated in May 2018 and welcomed their first son two years later.
They were last seen together at the Met Gala on 13 September, when Grimes, 33, walked on the red carpet alone and Musk joined her inside.
Grimes joined Musk at a Met Gala after-party, which he was hosting, and the duo were seen leaving New York together the next day.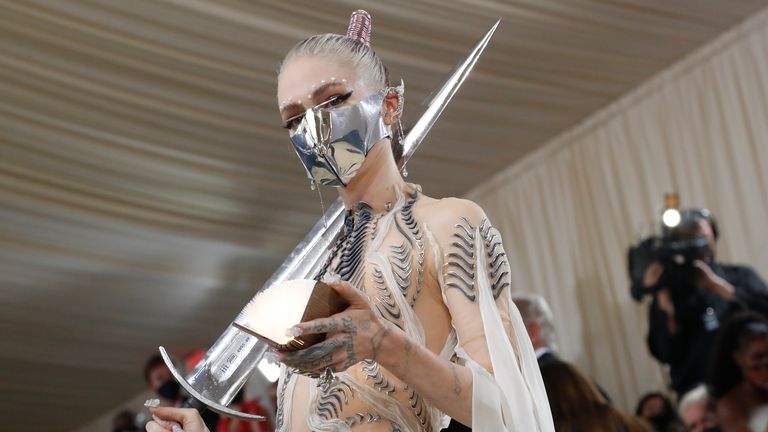 Musk was previously married to author Justine Wilson, with whom he has five sons – 17-year-old twins Griffin and Xavier, and triplets Damian, Saxon and Kai, aged 15.
He has also been married twice to Westworld actress Talulah Riley, and dated Amber Heard for a year.