Judge declares mistrial in case of Philly mob boss who reportedly greeted juror by name
A mistrial has been declared in the racketeering trial of a notorious Philadelphia mob boss who was reported to have greeted a juror by name while surrounded by members of his "crew" outside a courtroom in Manhattan earlier this month.
Jurors at the trial of Joseph "Skinny Joey" Merlino told U.S. District Judge Richard Sullivan in a series of five notes Thursday they were hopelessly deadlocked after nearly four days of deliberations.
"Thank God for the jury," a subdued Merlino told reporters afterward. He declined further comment.
Merlino, after the jury was picked, bizarrely predicted his trial would end in a "deadlock win" for him and offered what turned out to be a winning tip on the Super Bowl: "Oh, and bet the Eagles."
A female juror told the judge in early February that she was waiting for an elevator in the courthouse following the end of testimony on Feb. 7 when Merlino approached her, according to court records viewed by the New York Post.
The juror said Merlino was "not close, but, like, he was on that side, on the opposite side over there, before you get to the exit, and he just said, 'Hi, Sylvia,' and I just turned my head, like, 'Some nerve.'
She added: "There was some people. I guess his crew. I'm saying 'crew' because I don't know what else to say, his crew that was all over that side, I guess waiting for somebody to come out or something."
There was no word from the government Thursday on whether it would seek another trial, the Associated Press reported.
Prosecutors had alleged that instead of retiring, Merlino muscled his way into gambling and health insurance schemes run by crime families on the East Coast. He used his standing as a feared figure in the Mafia to demand protection payments from bookies and other underlings running a scheme to collect thousands of dollars of insurance claims by bribing doctors to write phony pain cream prescriptions for people who had no ailments, prosecutors said.
"Being with Merlino did not come for free," Assistant U.S. Attorney Lauren Schorr said during closing arguments. "You pay tribute."
Defense attorney Edwin Jacob countered by telling jurors that they were being misled by "compromised" turncoat mobsters who testified against Merlino, including one who made hundreds of hours of secret recordings of him.
"Have you heard anybody say Joseph Merlino is the boss of the Philadelphia mob?" Jacobs asked, referring to tapes played for the jury. "The answer is obvious — not a peep that he's the boss of [the] Philadelphia mob."
But prosecutors argued the tapes showed Merlino had full knowledge of the frauds. In one conversation played for the jury about bribing doctors, he is heard saying, "We do the right thing, make 20,000." In another, he frets about "stool pigeons."
Merlino, 55, once controlled the remnants of a Philadelphia organized crime family that was decimated by a bloody civil war in the 1980s and 1990s. Federal authorities said he was frequently targeted by murder plots after rivals put a $500,000 murder contract on his head.
In 2001, a jury acquitted Merlino and six co-defendants of three counts of murder and two counts of attempted murder that could have put him behind bars for life. He was convicted of lesser racketeering charges and served 12 years in prison.
Merlino claimed he retired from the mob for good and started a new life by running an upscale Italian restaurant in Boca Raton, Florida. At the time of the alleged conspiracy, he was a gambling addict who took money from a cooperator because he was always broke, his lawyer said.
There also was testimony from government witnesses, heard by his wife in the audience, that he drank heavily and that he had an affair with a pharmaceutical saleswoman.
After the testimony about the fling, Merlino approached a New York Post reporter outside court and told him, "Don't put the girl in" a story, the tabloid reported.
The Associated Press contributed to this report.
Lady Gaga's French bulldogs found after being stolen at gunpoint | Ents & Arts News

Lady Gaga's French bulldogs have been found safe and unharmed – two days after being stolen at gunpoint in Los Angeles.
The pop star had been offering $500,000 for the safe return of Koji and Gustav – and had written in a previous Instagram post that her "heart is sick" and she was praying for their return.
Her friend Ryan Fischer, who was shot while walking the pets, is expected to make a full recovery.
"I can confirm that the dogs have been located and are safe," Captain Jonathan Tippet said.
According to police, Mr Fischer had attempted to fight off the armed robbers – and one of the men was wielding a semi-automatic handgun.
Gaga said: "I continue to love you Ryan Fischer, you risked your life to fight for our family. You're forever a hero."
COVID-19: Man who threatened to blow up NHS hospital unless he was paid £10m convicted of extortion | World News

A Berlin-born man who threatened to blow up an NHS hospital unless he was paid £10m in cryptocurrency has been convicted of extortion by a German court.
Emil A, an Italian national, sent the first threatening email to the NHS in April 2020 – at the height of the first peak of the coronavirus pandemic – purporting to be a member of the far-right group Combat 18.
Over a six-week period he sent 18 emails, also making threats to blow up BLM protests and murder members of parliament.
The UK's National Crime Agency (NCA) said their experts worked 24 hours a day analysing leads and electronic communication, eventually tracking Emil A down to a flat in the German capital.
On 15 June, specialist firearms officers from Berlin Police used explosives to force entry to his flat and arrest him.
The 33-year-old – who has been in custody since his arrest – was sentenced to three years in prison, but released on bail by the court before his judgment is ratified.
Tim Court, the NCA's head of investigations, said Emil A's actions were "the most significant threat we've seen to UK infrastructure" – and that he sought to hijack significant social events like the BLM protests for monetary gain and disrupt the treatment of people suffering with coronavirus.
Mr Court said: "At the height of this we were losing nearly 1,000 people a day and we had to manage someone threatening to plant a bomb. He didn't have access to it, but if [his threat] had become public, the impact on the confidence of people to go to hospital would have been significant."
Authorities say Emil A didn't have any links to the UK or its health service, but that his aim was to exploit the vulnerability of NHS, which was dealing with an influx of COVID-19 patients in the first wave of the pandemic.
Nigel Leary, deputy director of the NCA's National Cyber Crime Unit, said a phone call threatening to detonate a bomb in hospital could have resulted in a loss of life because it would have been difficult to evacuate patients on ventilators.
Detectives were initially unsure whether Emil A operated alone or as part of a group, but concluded that he didn't have any links to far-right organisations and posed as a member of a neo-Nazi group in order to stoke fear.
An NHS spokesperson said: "The threat made during the extortion demand significantly added to the pressures on the NHS during the COVID pandemic and meant senior leaders and emergency response staff were called on to direct the NHS aspects of the response to this threat.
"The threat and demand was made at a time that hospitals were at their most vulnerable, and could have resulted in significant loss of life."
Nigeria: Hundreds of schoolgirls abducted as gunmen attack nearby military site | World News
More than 300 girls have been abducted from a boarding school in northern Nigeria in the latest in a series of student kidnappings in the country.
Gunmen abducted 317 students from the Girls Science Secondary School in Jangebe town, Zamfara state, on Friday.
Local man Musa Mustapha said the gunmen also attacked a nearby military camp and checkpoint, preventing soldiers from intervening at the school.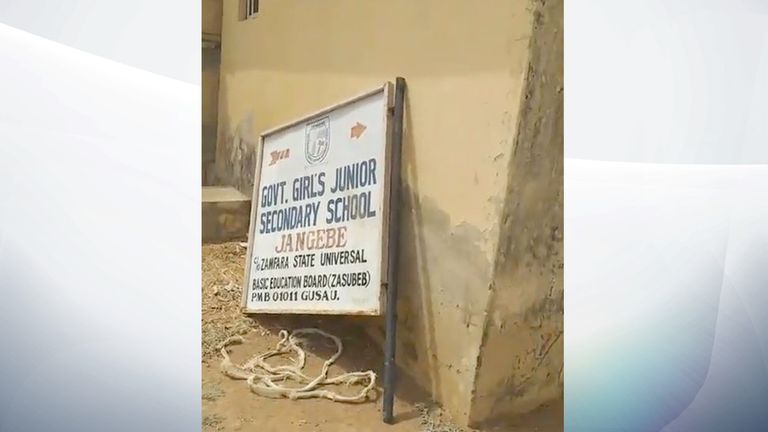 The attackers spent several hours at the camp, but there are no reports of any casualties.
Police and the military have since begun joint operations to rescue the girls, Zamfara state police spokesman Mohammed Shehu said.
Nasiru Abdullahi, who said his daughters, aged 10 and 13, were among the missing, told reporters: "It is disappointing that even though the military have a strong presence near the school, they were unable to protect the girls.
"At this stage, we are only hoping on divine intervention."
Several large groups of armed men operate in Zamfara state, described by the government as bandits, and are known to kidnap for money and for the release of their members from jail.
Peter Hawkins, Nigeria's UNICEF representative, called for the immediate release of the schoolgirls, saying: "We are angered and saddened by yet another brutal attack on schoolchildren in Nigeria.
"This is a gross violation of children's rights and a horrific experience for children to go through."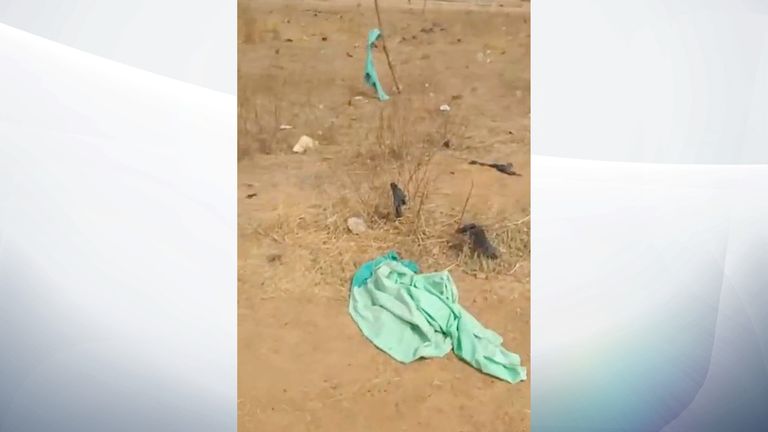 Nigeria has seen several such attacks and kidnappings over the years, notably the mass abduction in April 2014 by jihadist group Boko Haram of 276 girls from a secondary school in Chibok in Borno state.
More than a hundred of the girls are still missing.
Friday's attack came less than two weeks after gunmen abducted 42 people, including 27 students, from the Government Science College Kagara in Niger State.
The students, teachers and family members are still being held.
In December, 344 students were abducted from the Government Science Secondary School Kankara in Katsina State before eventually being released.
And in 2019, a British aid worker, Faye Mooney, was killed by kidnappers in the country.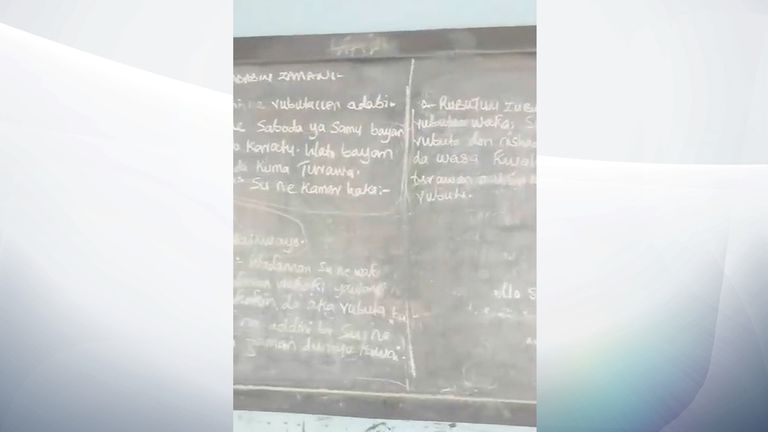 Anietie Ewang, Nigeria researcher at Human Rights Watch, said on Twitter: "Strong action is required from the authorities to turn the tide & keep schools safe."
Amnesty International also condemned the latest "appalling attack," warning in a statement that "the girls abducted are in serious risk of being harmed."
Teachers have been forced to flee to other states for protection, and many children have had to abandon their education amid frequent violent attacks in communities, Amnesty said.