Flynn urged by supporters to withdraw guilty plea, as judge's actions raise eyebrows
Supporters of former national security adviser Michael Flynn are floating the possibility he could withdraw his guilty plea in Robert Mueller's investigation, as the new judge in the case makes some curious moves amid speculation over whether the special counsel "withheld" evidence. 
Legal experts caution that a defendant successfully withdrawing a guilty plea is rare and likely wouldn't get him off the hook.
But Flynn's siblings, who are vocal in their support for the former Trump adviser on social media, seem to be advocating that he withdraw his plea.
"Say it very loud….!" Joseph J. Flynn, who helped set up a legal defense fund for his brother, tweeted Monday in response to an activist calling on Flynn to withdraw the plea.
Another sister and brother of Flynn, Barbara Redgate and Jack Flynn, separately retweeted the same message from another activist that read: "Mueller suppressed evidence from the General Flynn case. His plea must be withdrawn and all charges dropped." 
The chatter also comes amid reports that then-FBI Director James Comey told lawmakers last year that agents did not think Flynn intentionally lied to the FBI. Yet Flynn, in December, pleaded guilty to one count of making false statements to the FBI about his conversations with then-Russian Ambassador Sergey Kislyak during the transition.
Flynn lost his White House job over that controversy, after being accused of misleading Vice President Mike Pence and other administration officials.
The idea of Flynn withdrawing his plea has picked up steam online in recent days, especially after the Washington Examiner's Byron York reported on Comey's comments 2017.
SHOCK CLAIM ABOUT FBI'S MICHAEL FLYNN INTERVIEW RAISES QUESTIONS
Fueling more speculation are other unusual moves behind the scenes: days after Flynn's plea, U.S. District Judge Rudolph Contreras recused himself and was replaced by Judge Emmet Sullivan. Sullivan has a reputation for punishing Department of Justice overreach, including during the case against the late Alaska Republican Sen. Ted Stevens.
Sullivan then raised eyebrows when he ordered prosecutors to give Flynn's lawyers "any evidence in its possession that is favorable" to Flynn.
Mueller's team has since postponed Flynn's sentencing. And last Wednesday, Mueller's team filed a protective order "governing the production of discovery," which indicates they won't fight the order to hand over documents.
The developments have piqued the interest of former federal prosecutors, who argue there could be bombshells in the material.
"Typically, exculpatory information is not required to be turned over when a plea has been done, but I think this judge is particularly sensitive to those issues, given some of his history and cases he's had," John Lauro, a former federal prosecutor in New York and defense attorney who specializes in white-collar criminal defense, told Fox News. 
Law professor Jonathan Turley, writing Wednesday in The Hill, questioned whether Flynn might believe evidence was "withheld." 
Former federal prosecutor Sidney Powell wrote in a recent op-ed for The Daily Caller that "the recent postponement of General Flynn's sentencing provides an opportunity for more evidence to be revealed that will provide massive ammunition for a motion to withdraw Flynn's guilty plea and dismiss the charges against him."
Andrew McCarthy, a former assistant U.S. Attorney for the Southern District of New York, wrote in the National Review that it "certainly appears that Sullivan's order supersedes the plea agreement."
"Could this provide General Flynn with factual grounds of which he was previously unaware to seek to have his plea vacated?" McCarthy wrote. "Would he have a viable legal basis to undo the plea agreement that he and his lawyer signed on November 30? We do not know at this point."
An attorney for Flynn, Robert K. Kelner, declined to comment.
But legal experts say there's a high bar for a defendant to reach to successfully withdraw a guilty plea, though it's not an impossible scenario.
"Withdrawing a federal plea is extremely rare and very difficult," Robert Stahl, a white-collar criminal defense attorney in New York and New Jersey and a former assistant U.S. Attorney, told Fox News.
Even if the judge dismissed Flynn's guilty plea, Mueller could still indict him, and charge him with other crimes in addition to lying to the FBI.
"There are lots of factors that go into a decision to plead guilty … In Flynn's case, there are also the factors of other potential charges that were not pursued by the government in exchange for his plea entered," Stahl said.
Lauro said withdrawing a guilty plea is "not typically an easy thing to do" but "it is something that can happen if it's fair and just to do so under the circumstances."
"It may be very well be that he makes a strategic decision to keep the plea in place because he has other issues," he said of Flynn.
As part of his guilty plea last year, Flynn agreed to cooperate with Mueller's Russia probe. In a written statement at the time of his plea, Flynn said his "guilty plea and agreement to cooperate with the Special Counsel's Office reflect a decision I made in the best interests of my family and of our country. I accept full responsibility for my actions."
Meanwhile, President Trump, who previously said Flynn "lied," has not ruled out pardoning his former adviser.
"I don't want to talk about pardons with Michael Flynn yet," Trump said last year. "We'll see what happens. Let's see." 
Fox News' Adam Shaw and Brooke Singman contributed to this report.
COVID-19: Syrian president Bashar al-Assad and wife test positive for coronavirus | UK News
Syria's President Bashar al-Assad and his wife have tested positive for COVID-19, his office has confirmed.
Officials said 55-year-old President Assad and his wife Asma are both in "good heath and in a stable condition".
The pair will return to work after spending two to three weeks in isolation in their home.
Live coronavirus updates from the UK and around the world
In a statement, Mr Assad's office said the couple took PCR tests after they felt minor symptoms consistent with coronavirus.
Syria, which marks 10 years of war next week, has recorded nearly 16,000 cases of COVID-19 and more than 1,000 deaths from the virus, according to Johns Hopkins University.
The country began a vaccination campaign last week, but no details have been given about the process.
The health minister said the government procured the vaccines from a friendly country, which he declined to name.
It was not immediately clear if Mr Assad and his family members have been vaccinated.
Olivier Dassault dies: Emmanuel Macron pays tribute to French billionaire politician killed in helicopter crash | World News
Emmanuel Macron has paid tribute to a French billionaire and politician killed in a helicopter crash on Sunday evening.
Olivier Dassault, 69, was the eldest son of French billionaire industrialist Serge Dassault, whose group builds the Rafale war planes and owns Le Figaro newspaper.
The private helicopter he was travelling in crashed on Sunday afternoon in Normandy, where he has a holiday home, a police source told Reuters. The pilot was also killed.
Mr Macron wrote on Twitter: "Olivier Dassault loved France. Captain of industry, deputy, local elected official, reserve commander in the air force: during his life, he never ceased to serve our country, to value its assets.
"His sudden death is a great loss. Thoughts on his family and loved ones."
Olivier Dassault aimait la France. Capitaine d'industrie, député, élu local, commandant de réserve dans l'armée de l'air : sa vie durant, il ne cessa de servir notre pays, d'en valoriser les atouts. Son décès brutal est une grande perte. Pensées à sa famille et à ses proches.

— Emmanuel Macron (@EmmanuelMacron) March 7, 2021
A deputy in the French National Assembly who represented the conservative Les Republicains party since 2002, Mr Dassault was considered the 361st richest man in the world alongside his two brothers and sister.
He stepped down from his role on the board of Dassault due to his political role to avoid any conflict of interest.
He was once considered top choice to succeed Serge at the head of the family holding, but that role went to former Dassault Aviation chief executive Charles Edelstenne.
Myanmar: Nun tries to protect protesters as at least two killed in city of Myitkyina | World News
A nun in Myanmar told junta forces "you'll have to come through me" – moments before they opened fire on protesters.
At least two people were confirmed dead in the city of Myitkyina on Monday following clashes with security forces.
Sister Ann Roza Nu Tawng previously said she was prepared to die to save others after being filmed kneeling in front of armed police in the capital city of Kachin state.
Some have called the scene, on 28 February, Myanmar's "Tiananmen moment".
Dressed in white robes and a dark habit, the 45-year-old was again photographed near protest lines in the city on Monday morning.
Other images show her kneeling in front of police, this time near the Catholic cathedral, as a senior nun looks on.
Recounting the horrifying events of the morning, she told Sky News: "The first time I was pleading with the police not to beat, not to arrest, not to crack down on the protesters, because the protesters were not doing anything bad, they were just shouting slogans.
"And the police told me 'we are from here, we have to do this. Please stay away from here'.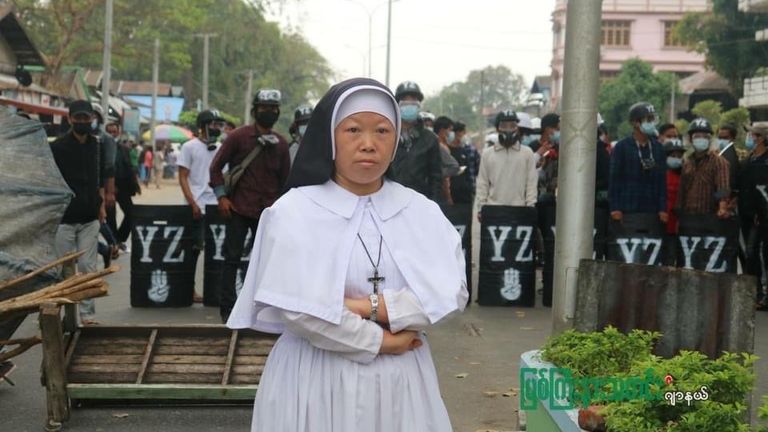 "I replied, 'no, if you want to do this you have to come through me!'
"Later the police said 'we have to remove this barricade on the road'. They then removed the barricade and after a while the protesters returned.
"Then around 12 noon the security forces were about to crack down, so again I was begging with them, I was kneeling down in front of them and I was pleading not to shoot and not to arrest the people.
"The police were also kneeling and they told me they had to do it because this was to stop the protest.
"After that, tear gas was used and I was struggling to breathe and I was dizzy, and then I saw the man who had fallen down in the street and [he had been shot]."
The editor of Myitkyina News Journal told Sky News that, as of lunchtime, at least two people had been confirmed dead.
Distressing photos show Sister Ann Roza standing at the top of the street as protesters run towards the gravely injured person lying in the road.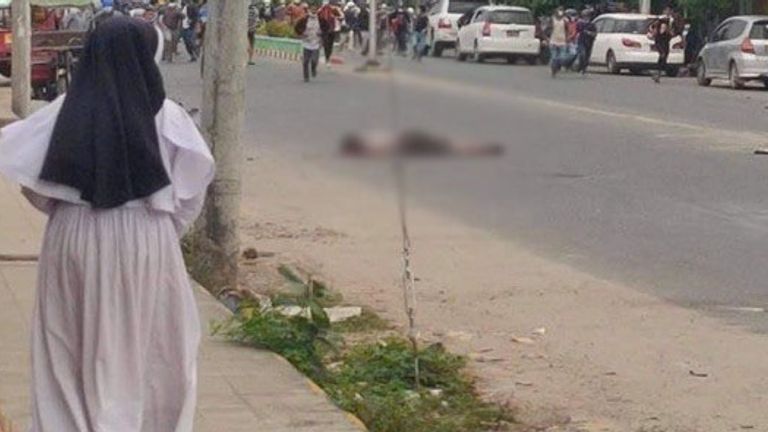 In another graphic image, she is crying out as she leans towards the body of a man who has been shot in the head.
She said that due to the tear gas she did not see if it was police or military who fired on the protesters, but she hoped it wasn't the officers she spoke to.
"I am very sad," she said. "The police told me that they're not going to crack down or shoot brutally, but finally they did.
"I saw another person who died on the spot and had serious injuries.
"The first person who was shot in the head could still breathe when he arrived at the clinic and the people tried to treat him, but finally he died."
It is just over a week since Sister Ann Roza was first filmed kneeling in front of police lines in the city as she begged them to refrain from violence.
In an interview with Sky News on Friday, she explained she was willing to sacrifice her own life to protect protesters.
"Then they opened fire and started beating the protesters. I was shocked and I thought today is the day I will die," she said.
Moment nun stands up to Myanmar military

"I decided to die. I was asking and begging them not to do it and I told them the protesters didn't commit any [crime]," she said, crying.
At least 56 people have been killed and 1,790 detained or arrested since the 1 February coup, according to figures compiled by the Assistance Association for Political Prisoners (Burma) .
On Monday, numerous injuries were reported at locations across the country as the military tried to stop the ongoing protests.
At least one protestor in Pyapon, Ayeyarwaddy region, was also killed according to Khit Thit media agency.
Tear gas, stun grenades and live fire have all been used against unarmed civilians in the five weeks since the coup.
Over the weekend, residents in cities including Yangon also reported soldiers shooting tear gas and bullets after dark as terrified residents watched from their homes.
One video sent to Sky News appeared to show forces firing in the grounds around West Yangon Hospital on 7 March.
In another, soldiers are filmed in a residential street as bright flashes light up the sky.