Fisherman hook two Great White Sharks in 10 minutes: 'I couldn't believe it'
Two fishermen in Hilton Head, S.C., managed to hook two different Great White sharks — including one 16-footer — within just ten minutes during a fishing trip earlier this week.
"I couldn't believe it, it was like the two sharks were traveling close to each other," Captain Chip Michalove told Hilton Head's Island Packet. "I've hooked multiple in one day before, but they're usually hours apart."
WATCH: FISHERMAN CUTS OPEN FISH TO FIND GARBAGE IN ITS STOMACH
Michalove, who owns and operates the Outcast Sport Fishing charter company, and who also works alongside the Atlantic White Shark Conservancy in Massachusetts, was out fishing with his friend Patrick on Monday afternoon when they hooked the first of the day's big catches.
"I couldn't tell if it was a male or female, but it took the bait right by the port side motor and looked to be about 9-10 feet long," Michalove wrote on Facebook. "Perfect size for the two of us."
Unfortunately, despite a 15-minute "battle," Michalove said the shark spit out the hook. But he and Patrick wouldn't have to wait long for their next bite.
"In less than 10 [minutes]," Michalove said a bigger Great White — one measuring 16 feet — had snagged the line. In fact, the fish was so big that Michalove and Patrick radioed a nearby fisherman friend and his daughter for help, Island Packet reported.
SEE IT: FISHERMAN JUMPS INTO RIVER TO AVOID ONCOMING MOTOR BOAT
"She was so big, my skeleton crew had to call for help," Michalove told the outlet.
The four were eventually able to pull the Great White alongside the boat, at which point the shark stopped resisting. Michalove then tagged the shark's fin and released her back into the ocean.
"What I've noticed is, the less stressed they are, the more likely they are to stay in the location they're caught," said Michalove on Facebook.
FOLLOW US ON FACEBOOK FOR MORE FOX LIFESTYLE NEWS
Scientists with the Atlantic White Shark Conservancy have since estimated the shark to be around 3,000 pounds, which was easily "the biggest" Great White Michalove has tagged this season, Michalove says. But he's not just doing it for bragging rights, though — the captain's work helps the conservancy to monitor the migratory patterns of the species.
COVID-19: Calls to deport Australian woman who refused COVID tests during 28-day New Zealand hotel quarantine | World News

There are calls to deport an Australian woman who refused to take a COVID test while spending 28 days in quarantine at a New Zealand hotel.
Lucinda Baulch travelled to New Zealand as a foster carer last month with three children who were moving into the care of local families.
The children tested negative and were allowed to leave isolation on time – but Ms Baulch refused all tests during her stay, and has now been released from the managed isolation facility.
She told New Zealand news website Stuff on her departure from Wellington's Grand Mercure on Tuesday that she still had not taken a test but she had answered a "series of questions" about her health.
Live COVID news from UK and around the world
She was taken to Wellington Airport by a van organised by the hotel and said she planned to fly to Auckland and stay there "for a night or two" while considering her next step.
Ms Baulch, a veterinary nurse, had earlier said she refused to take the tests because the information about them was not enough for her to give informed consent.
She told Radio NZ: "As someone with a medical background and knowing the importance of informed consent, for my own peace of mind I really need that informed consent, I'm entitled to it, it's a right, it's an obligation of the party offering a consent form. For me, that's quite an important step."
But COVID-19 response minister Chris Hipkins said the claims were absurd, adding that nurses had spoken with Ms Baulch and additional information was provided in response to her phone calls and emails.
New Zealand's National Party leader Judith Collins called for Ms Baulch to be deported immediately.
"If a New Zealander went to Australia and refused to get tested in an MIQ facility, what do you think would happen to them?" she said. "They'd be back on a plane to New Zealand.
"So unless this woman is a New Zealand citizen – actually, we shouldn't put up with this behaviour from anybody. And frankly, the Australian government needs to take back their own person if she's one of theirs."
Ms Baulch has reportedly launched judicial review proceedings in protest of her "unlawful detention" at the quarantine facility.
Under New Zealand's strict anti-COVID laws, arrivals in the country must stay 14 days in a government-chosen hotel to make sure they are not carrying the virus.
During their stay they are tested two or three times, depending on where they have come from.
If a person refuses to take the day 12 test, they are offered a test each day of their extended stay to a maximum of 28 days – Ms Baulch refused every one of them.
According to a report by the NZ Herald, she had been told by officials that she would not need a COVID-19 test because she had come from Australia, but once she arrived she was told this was not the case.
Facebook to lift block on news pages in Australia as standoff ends | World News
Facebook will lift a block on news pages in Australia following a week-long standoff between the social media giant and the government. 
The site had removed access to all news content in the country on its platform and also prevented people around the world from posting links to Australian publications after the government considered legislation to force the company to pay for media content.
The government's move was intended to compel internet companies to pay news organisations, but Facebook had argued it "fundamentally misunderstands the relationship between our platform and publishers who use it".
Following a series of talks over the weekend, a deal has been struck and the Australian government has agreed to change parts of the law.
It will offer four amendments to the legislation, which had already been approved by the House of Representatives.
"We are satisfied that the Australian government has agreed to a number of changes and guarantees that address our core concerns about allowing commercial deals that recognise the value our platform provides to publishers relative to the value we receive from them," Facebook said in a statement.
The case will have been watched closely by other world leaders as countries such as the UK and Canada are considering similar legislation.
News companies have seen their revenues shrink in recent years, with a review commissioned by the UK government finding Facebook and Google had a detrimental impact on British news media because they took such a large share of online advertising revenue.
The Australian government had hoped to redress the balance with its new law, but was met with retaliation from Facebook.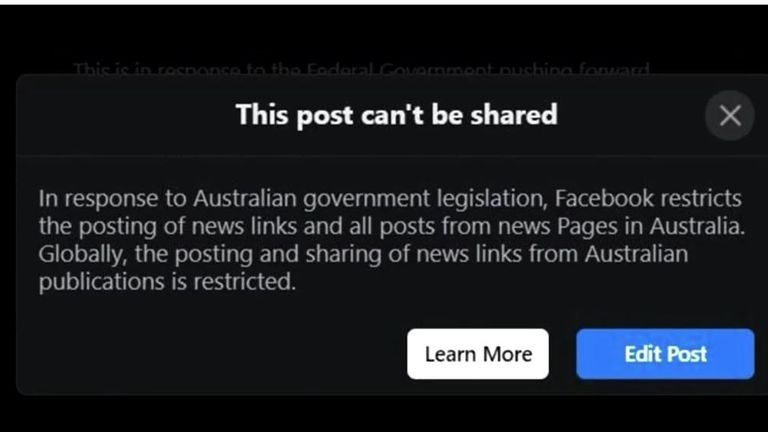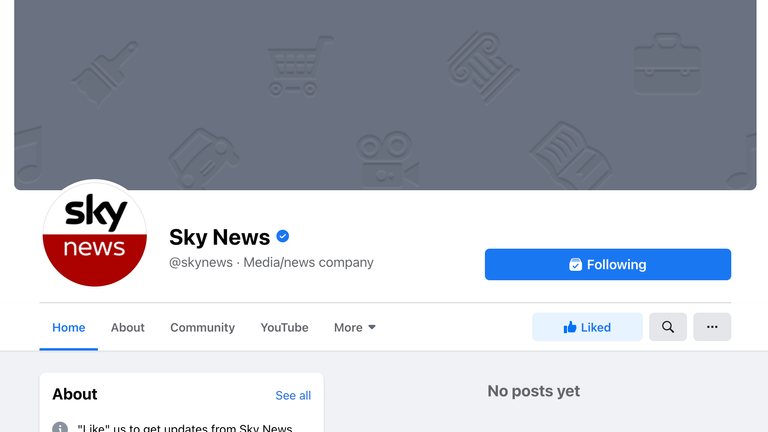 After news pages were blocked on the platform, Prime Minister Scott Morrison called the company's actions "arrogant" and "disappointing".
Facebook hit back, saying: "The proposed law fundamentally misunderstands the relationship between our platform and publishers who use it to share news content.
"It has left us facing a stark choice: attempt to comply with a law that ignores the realities of this relationship, or stop allowing news content on our services in Australia. With a heavy heart, we are choosing the latter."
COVID-19: Biden leads candlelit ceremony for COVID victims as US passes half a million deaths | US News
President Joe Biden has led a minute's silence to honour America's coronavirus victims after the country became the first to record more than half a million deaths.
As 500 lit candles lined the White House steps to commemorate the dead, a military band played Amazing Grace and the president made his emotional remarks.
"Today we mark a truly grim, heartbreaking milestone – 500,071 dead. That's more Americans who have died in one year in this pandemic than in World War One, World War Two and the Vietnam War combined," he said.
"But as we acknowledge the scale of this mass death in America, we remember each person and the life they lived. They're people we knew."
There have now been 500,201 COVID-related fatalities in the country as of 2am, and more than 28 million people have been infected, according to the Johns Hopkins coronavirus tracker.
Mr Biden was joined by First Lady Jill Biden, Vice President Kamala Harris and her husband Doug Emhoff, who bowed their heads solemnly as they observed a minute of silence.
The president also urged Americans to set aside their differences, saying: "We must end the politics and misinformation that has divided families, communities and the country, and has cost too many lives already. It's not Democrats and Republicans who are dying from the virus. It's our fellow Americans.
"We have to fight this together as one people, as the United States of America."
Mr Biden has ordered the nation's flag to be flown at half-mast at the White House, on all public buildings and grounds, and at military posts and naval stations until sunset on Friday.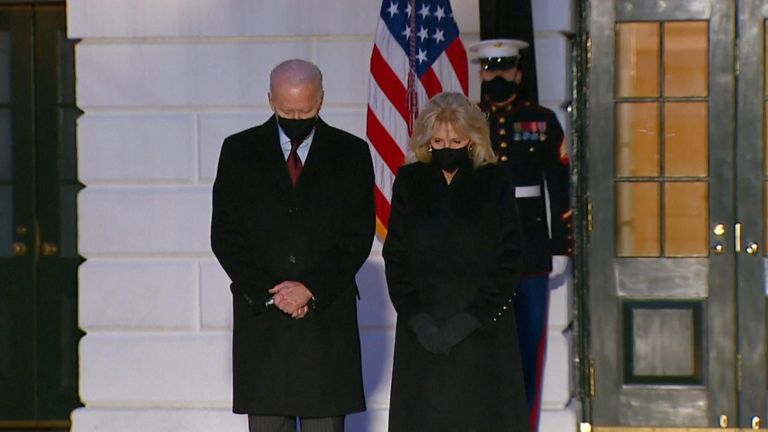 Brazil has the second-highest number of coronavirus deaths globally with about 250,000.
The fact the US leads the world in both death and infection numbers reflected poor planning by the Trump administration, President Biden has previously said.
Confirming the US had bought enough doses "to vaccinate all Americans", he accused Mr Trump of failing to manage the vaccine rollout.
"While scientists did their job in discovering vaccines in record time, my predecessor – I'll be very blunt about it – did not do his job in getting ready for the massive challenge of vaccinating hundreds of millions," he said.
:: Subscribe to the All Out Politics podcast on Apple Podcasts, Google Podcasts, Spotify, Spreaker
In December, the US's average daily deaths linked to COVID-19 touched 2,276 with one daily total exceeding the 2,977 people who lost their lives in the 9/11 terror attacks.
Indigenous Americans are the worst-affected racial group as a percentage of population, recording almost 211 deaths per 100,000 people, Statista said.
Despite Mr Biden's criticisms, there is cause for hope in the vaccine rollout, with official statistics saying about 64 million jabs had so far been given.
That puts the US on course to exceed the president's stated target of 100m doses in his government's first 100 days, though progress was hampered by the recent freezing weather.
And case numbers are also dropping – down to around 100,000 per day this month from 250,000 in January.
It is a far cry from Mr Trump's optimistic prediction last April, that, even if it did nothing, the US would lose 50,000 to 60,000 people to the virus.