Donald Trump Jr 'likes' post attacking Florida school shooting survivor
A survivor of the Florida shooting has denied he is a "crisis actor" after Donald Trump Jr appeared to endorse an article which labelled the student a "Trump-hater".
Marjory Stoneman Douglas High student David Hogg, who witnessed the massacre in which 17 students and teachers were killed, is one of a number of youngsters to have called for tougher gun control laws in the wake of the latest mass shooting at a US school.
Directly addressing Donald Trump during an interview with Sky News in the aftermath of the massacre, the 17-year-old told the President to "realise the true gravity of the situation".
Since then he and several of his classmates have continued to speak out, notably Emma Gonzalez, who questioned the $30m Mr Trump's election campaign received from the National Rifle Association.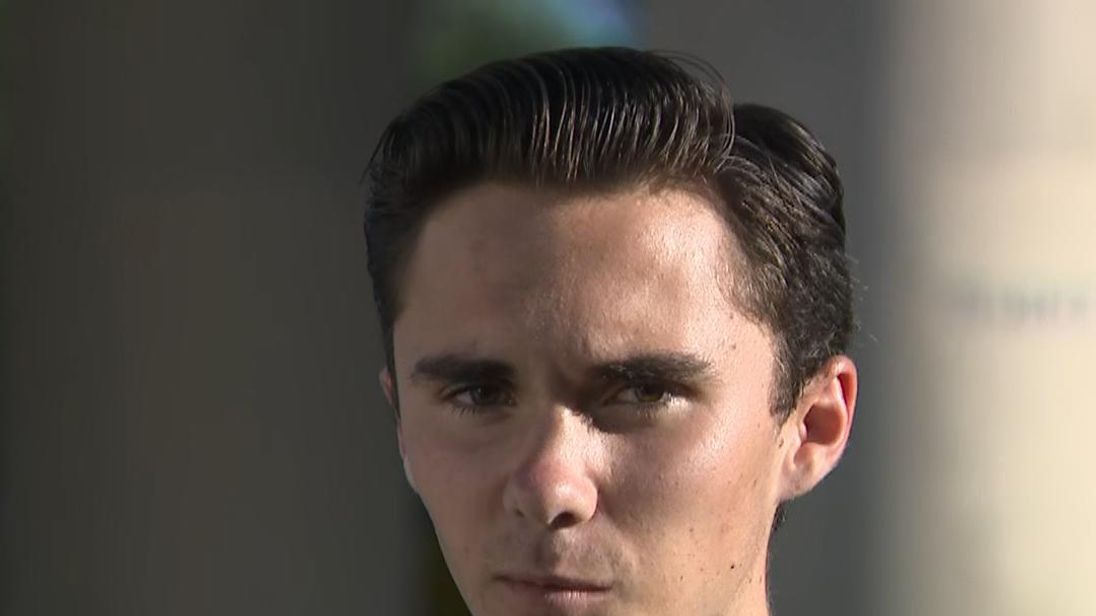 The students have become the subject of online conspiracy theories which claim they are working for a group that travel across the country planting "actors" at the scene of crises.
On Tuesday, the President's eldest son, Donald Trump Jr, 'liked' a tweet linking to an article which claimed Mr Hogg was an "outspoken Trump-hater" who should have told his father, a retired FBI agent, that he knew the Florida gunman "would snap".
It added: "Oh but wait, his father was in the FBI. It would not have mattered anyway.
"That's the funny thing about the limelight, kid. Often the lights can come crashing down on your head."
:: Clooneys donate to Florida shooting survivors' gun control campaign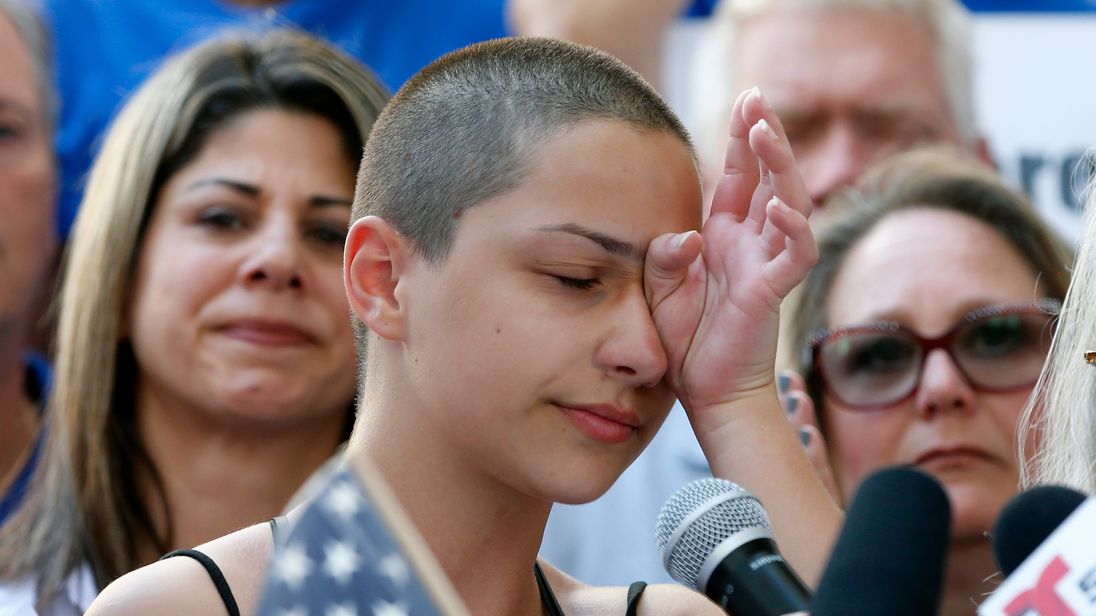 Speaking to CNN, Mr Hogg said it was "disturbing" that Mr Trump Jr had appeared to endorse the claim.
He said: "I'm not a crisis actor. I'm someone who had to witness this and live through this and I continue to be having to do that.
"I'm not acting on anyone's behalf. Unlike the people who are tweeting that stuff about me and my dad, I haven't lost hope in America and my dad hasn't either."
Republican Florida Senator Marco Rubio is among those to have come to the students' defence, describing the claims against them as "the work of a disgusting group of idiots with no sense of decency".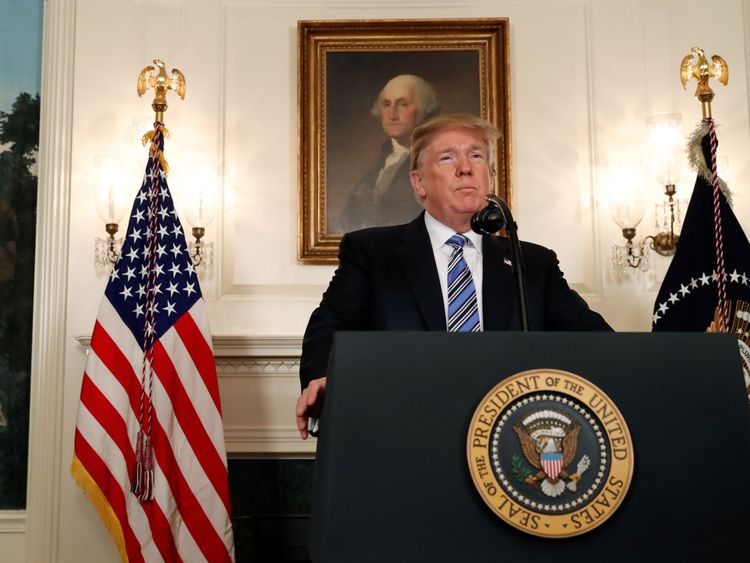 Students and teachers who survived the shooting will meet the President at the White House on Wednesday to discuss ways of improving school safety and addressing gun violence.
On Tuesday, Mr Trump signed an order recommending a ban on bump stock gun modifications, and is said to be supportive of proposals to improve background checks.
But Florida's House of Representatives has voted down a motion to take up a bill that would ban assault rifles by 36-71, despite gun owners campaigning to prevent civilians from possessing such weapons.
According to a Quinnipac University poll, voters support stricter gun laws by 66% to 31%
New Zealand is best placed to survive a global collapse of society, study suggests | World News
New Zealand is the country most likely to survive a collapse of global civilisation, researchers have said.
A study has suggested a combination of ecological destruction, limited resources and population growth could trigger a worldwide breakdown "within few decades", with climate change making things worse.
A "very likely" collapse would be characterised by the disintegration of supply chains, international agreements and global financial structures, according to researchers at the Global Sustainability Institute at Anglia Ruskin University.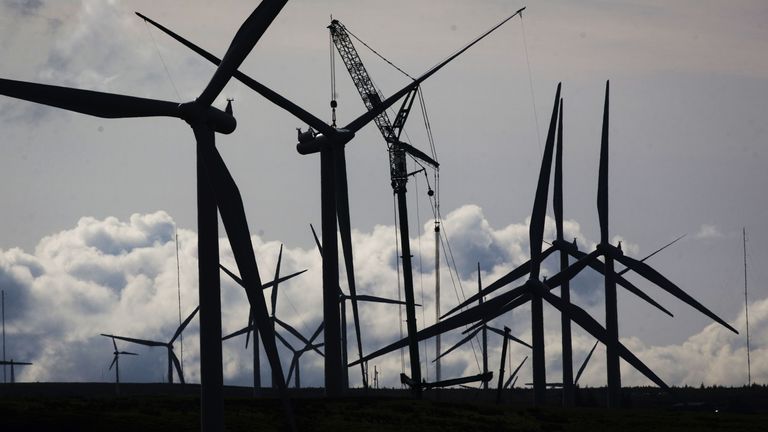 They said problems could spread quickly because of how connected and economically dependant countries are on one another.
Five countries were identified as best placed to maintain civilisation within their own borders: New Zealand, Iceland, the United Kingdom, Ireland and Australia.
All of them are islands or island continents which have fewer extremes in temperatures and varied amounts of rainfall due to their proximity to oceans.
Researchers said this makes them most likely to have relatively stable conditions in the future, despite the effects of climate change – which is expected to hit subtropics and tropics the hardest.
New Zealand's ability to produce geothermal and hydroelectric energy, its abundant agricultural land and its low population would allow it to survive relatively unscathed.
Although the UK has generally fertile soils and varied agricultural output, it does not have as much agricultural land available because of its population density, raising questions about future self-sufficiency.
Britain's reliance on fossil fuels and nuclear energy was considered to be a risk as power sources could be "rendered at least partly inoperable" if global supply chains collapse.
:: Subscribe to ClimateCast on Spotify, Apple Podcasts, or Spreaker.
Researchers said this could be mitigated by the nation's manufacturing capabilities.
Meeting the large population's energy demands through renewables alone would require very extensive infrastructure, they said, but the UK could increase its resilience by harnessing more energy from wind and water bodies like lagoons or barrages in the Severn Estuary.
Professor Aled Jones, Director of the Global Sustainability Institute at Anglia Ruskin University, said "significant changes are possible in the coming years and decades".
He said: "The impact of climate change, including increased frequency and intensity of drought and flooding, extreme temperatures, and greater population movement, could dictate the severity of these changes."
Researchers identified pandemics as another risk to societal stability, citing the United Nations' warning that future pandemics could be even more severe than COVID-19.
Twenty countries were analysed in the report.
Boris Johnson urges world leaders to dig deep to boost children's education across globe | Politics News
Boris Johnson is urging world leaders to dip into their pockets to boost children's education across the globe and help avoid a "legacy of wasted talent" as a result of the coronavirus crisis.
The prime minister will host a summit in London on Thursday with the aim of fundraising among governments, business and charities for the Global Partnership for Education (GPE).
The GPE aims to raise $5bn (£3.6bn) over the next five years in order to get 175 million more children into education around the world.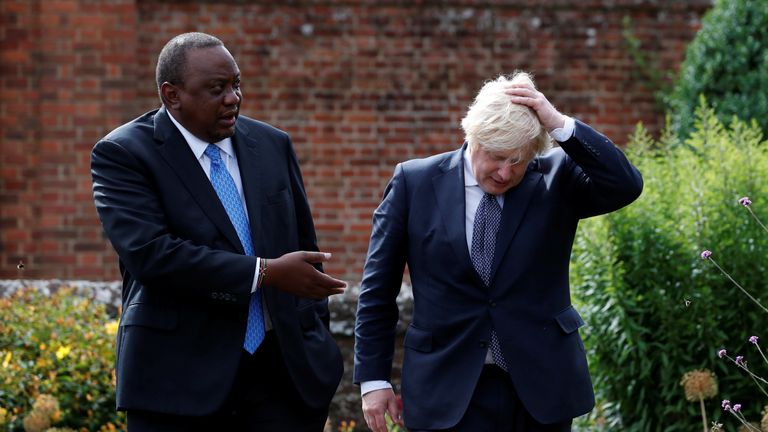 Ahead of the Summit, Mr Johnson said: "We have a fight on our hands to ensure COVID-19 does not scupper the life chances of millions of children, leaving a lasting legacy of wasted talent.
"Too many children around the world – girls in particular – were already out of school before the pandemic.
"Enabling them to learn and reach their full potential is the single greatest thing we can do to recover from this crisis and build better, greener and fairer societies.
"Today I am urging governments, businesses and philanthropists to invest in the future by fully funding the transformative work of the Global Partnership for Education."
Girls are feared to be particularly at risk of never returning to school once they have left, with 132 million girls around the world already estimated to be out of school even before the impact of the COVID pandemic.
Thursday's summit is being jointly hosted with Kenya and will be opened by Foreign Secretary Dominic Raab and his Kenyan counterpart, Raychelle Omamo.
The prime minister and Kenyan President Uhuru Kenyatta, who held bilateral talks at Chequers on Wednesday, will close the summit, along with Australia's former prime minister Julia Gillard, who is the GPE's chair.
World leaders, businesses, UN agencies, charities and youth leaders will join the summit both virtually and in person.
The UK last month pledged £430m to the GPE at the G7 Summit in Cornwall.
Pedro Castillo: Left-wing rural teacher becomes Peru's president, promising a new constitution | World News
A man who was until recently a teacher in a rural part of Peru has been sworn in as the country's new president.
Pedro Castillo, representing a left-wing party, stunned voters and political observers by emerging from a group of 18 candidates and advancing to the run-off, finishing in first place.
His slogan, "no more poor in a rich country", attracted support from the impoverished and those living in rural areas.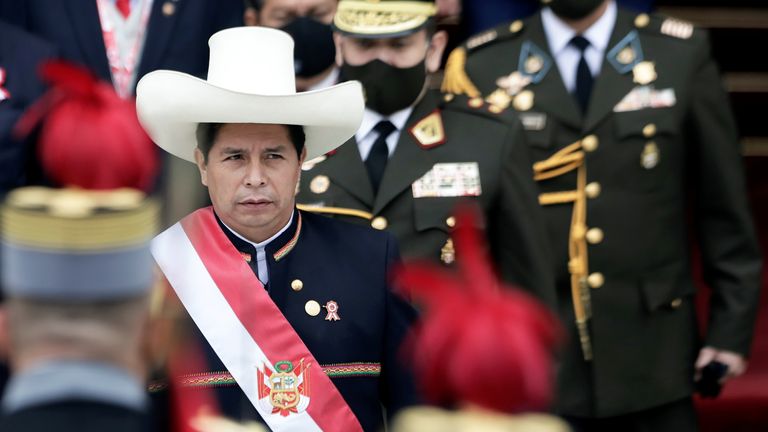 Mr Castillo, 51, has never held political office before, defeating right-wing career politician Keiko Fujimori by just 44,000 votes.
He is promising a new constitution, and to rule for "my peasant sisters and brothers".
The son of illiterate peasants, he led a teachers' strike in 2017. He is his country's first president of peasant origin.
Mr Castillo is married with two children. Video of his wife, filmed at the weekend, shows her sweeping the floor at their house in the Andes and tending to some animals. Their home is in the country's third-poorest district.
Peru is the second largest copper exporter in the world, but its economy has been crushed by the coronavirus pandemic. Economic gains made over the last decade have been eliminated.
Private companies are fearful that Mr Castillo will hike taxes on mining to fund health and education reforms.
Pedro Castillo's family leave behind rural life

But on the day of his inauguration, he said there was "not the remotest" plan to nationalise industry.
He will be seeking a "new pact" with private investors, however.
In a speech shortly after being sworn in, he said he wanted the state-owned bank to compete with private lenders but that he would maintain economic "order and predictability".
He faces a divided Congress, meaning his political abilities will be tested from the start.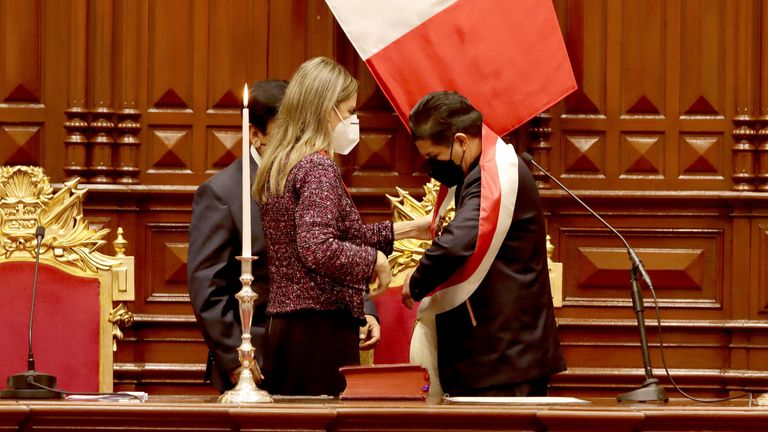 Claudia Navas, an analyst with the global firm Control Risks, said his government begins amid "considerable uncertainty".
She added: "We still do not have clear his main lines of policy. However, we foresee that possibly, due to the characteristics of the Peruvian political system and the current general political and economic situation of the country, that Castillo will maintain a more pragmatic position than he announced during the campaign.
"The key is to build those consensuses and add strength to the proposals on how he is going to achieve them."